ELVIN BISHOP: HIS BLUES IS AGING WELL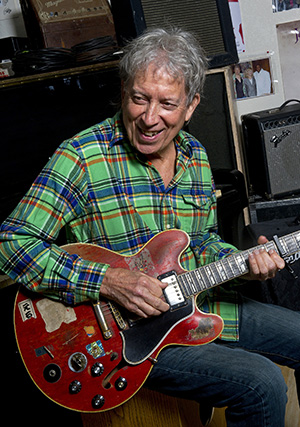 Photo credit Pat Johnson
By Paul Freeman [November 2017 Interview]
Since the 1960s, blues-rock aficionados have raved about the great times they've had at Elvin Bishop shows. So it's no wonder that the guitarist/singer/songwriter's latest band and album are called "Elvin Bishop's Big Fun Trio."
In the '60s, Bishop gained fame as an original member of the Paul Butterfield Blues Band. The guitars of Bishop and Mike Bloomfield entwined with magical results. In 1968, he formed The Elvin Bishop Group. In 1976, he wrote and recorded a smash hit, "Fooled Around and Fell in Love."
As a guitarist, Bishop was jumping all over the place, jamming at Fillmore West and East with artists like The Allman Brothers and The Grateful Dead. He recorded with Clifton Chenier and Bo Diddley. He played often with one of his heroes, John Lee Hooker, and they became good friends.
Bishop has always followed his own path and it has now led him to Big Fun Trio, teamed with guitarist/piano player Bob Welsh and vocalist/percussionist Willy Jordan. Their album (on Alligator Records) is filled with rousing originals, as well as fresh takes on classics like the Lightnin' Hopkins tune "Honey Babe."
Bishop has received many awards and honors, including induction into the Rock and Roll Hall of Fame and the Blues Hall of Fame.
At 75, Bishop is still going strong.
POP CULTURE CLASSICS:
How did the concept for the Big Fun Trio come to you? Was it just a case of old pals jamming and deciding to record?
ELVIN BISHOP:
Well, the guitar player, Bob Welsh, is in my regular band. He's also a hell of a piano player and he doesn't get a chance to do that in the regular band. And the other guy, I've kind of known off and on for twenty-some years and never quite really appreciated fully what he can do. But somehow the three of us got to jammin' and I said, "This'll work."
And it's kind of coming into its own now. We just got back from Florida and we played over the weekend, a couple of concerts, and, boy, it was pretty special — fantastic. It went really good.
PCC:
What impresses you most, individually, about these two guys — Bob and Willy?
BISHOP:
Well, I don't know, but it's the way it fits together. With a trio, it kind of limits the exact material you can do. You've got to scheme a little bit, to keep it sounding full and interesting at the same time. But it just looks like these particular guys have got what it takes. It's the combination. You've got to sort of bring out the best points in everybody. And when it's their turn to be in front, just back them up real good. And it just seems to work. They're really good guys and easy to get along with and fantastically talented musicians… I'm a lot better playing the stuff than I am talking about it [chuckles].
PCC:
The trio format, not a lot of frills, but a lot of interaction among the musicians, is that what you like about it?
BISHOP:
Yeah, really, you've got to be on it all the time. You can't be standing there with your thumb up your watchamacallit waiting for somebody to play a solo. You've got to be on it at all times. There's no place to hide. And if you're not playing a solo, then your job is to back up the person that is taking a solo and make it sound full and still feel good.
PCC:
There's such a sense of fun in songs like "Let's Go" and "That's What I'm Talking About" — were they as much fun to record as they are to listen to?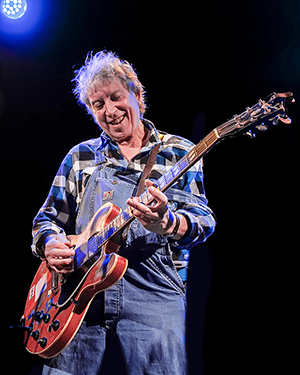 Photo credit Bob Hakins
BISHOP:
Yeah, man. It's a rewarding type of thing. It really feels good. I don't know, it just seems to be the right thing to do at the right time. People have always asked me these questions — Why did you do so and so? When you were doing so and so, did you realize it would be an influential thing? No. Everything I do is just stumbling around and trying to do what feels right at the time. And sometimes it works out. So there you go.
PCC:
What was the atmosphere like at these sessions?
BISHOP:
It's just real cool. You just go ahead and play the music and, if you make a mistake, you do it again. But basically, these are guys that will work on the music and the next time you see them, they'll have it together. And there just ain't gonna be that many mistakes. And I try to get my parts together. A hundred years of experience helps out, I guess.
PCC:
And with the song "Keep On Rollin'," did you relish the chance to comment on the current political climate?
BISHOP:
[Laughs] I guess so. I just sort of write whatever's on my mind, whatever comes to me. I got one goin' now… I don't try to be political, but things are so broken up these days, so divided. I guess people have the social media and the internet and they can jump in that echo chamber and hear what they want to hear and nothin' but what they want to hear. So by the time they get out in the world, anybody who disagrees with them just looks like a totally unreasonable asshole. You know? I kind of based this on — you remember Rodney King? I'm working on one right now called "Why Can't We All Just Get Along?"
PCC:
Music has always been the great unifier, right?
BISHOP:
Well, I hope so, yeah.
PCC:
And then something like "Honey Babe," do you enjoy revisiting a song, creating different interpretations of a classic, over the years?
BISHOP:
Yeah. We just sit down and see what comes out and give each other suggestions and see if we can come up with something kind of unique. At this stage in my career, there's no sense in regurgitating things that have already been done. The world doesn't need to hear another "Got My Mojo Workin'" or "Stormy Monday Blues." I'm just trying to do something that hasn't been heard in a way that hasn't been heard. It's time for me to make my own contribution.
PCC:
And the song "100 Years of Blues" — you co-wrote that Charlie Musselwhite?
BISHOP:
Yeah, they kind of booked some gigs for me and Charlie to do together. And I got to thinkin' about it and said, "Well, I'll write us a little theme song for these gigs." And did. And then Charlie threw in a verse. It worked out pretty good. We kind of ducked into a studio one afternoon and in a couple of hours, we had it.
PCC:
And it was a way to pay tribute to those who inspired you originally?
BISHOP:
I guess so. It's just kind of the truth — and trying to make it sound interesting and entertaining.
PCC:
Your writing process generally — does it usually start with a lick, a title, melody line?
BISHOP:
Any goddamn way I can get something goin', I'm glad to get it. Process is a very kind term [laughs]. I don't know if there is any such thing as a process. Sometimes, like this one I was telling you about, I'll get a line and say, "That's a good title." And so once you get that, it's like hangin' clothes on a line. You just state the same thing two or three different ways and try to make it interesting and take advantage of the good abilities of different guys in the group.
PCC:
And then, when you're writing an instrumental, do you sometimes toy with the idea of lyrics? Or just know a particular song doesn't need them?
BISHOP:
Now that, I usually know in front whether it's going to have words or not. What I don't know a lot of times is if I'll be able to sing it and, if it looks like I won't be able to, I'll turn it over to Willie, because he's got a lot better voice than me. He's a great singer. And I think what I initially liked about him, he's one of the few people in the world who can sing harmony with my raggedy old voice.
PCC:
And the songwriting, can that be kind of therapeutic for you sometimes?
BISHOP:
Oh, yeah. It's kind of like what I do. It's part of where my self-worth comes from. It's like, if I can take something that's on my mind and set myself a task of expressing it and capturing people's imagination with it and just nail it, well, then I'll feel good for a while.
PCC:
How early in life did you realize the guitar would be such an effective way to channel your emotions?
BISHOP:
Just like I said before, I'm not the type of person that basically plans stuff out. I just try to get away with doing what I feel like doing. And, at some point, when it starts working out real good, I realize, "Hey, that's okay! That worked out pretty good!"
PCC:
But in the beginning, was it a painful, arduous process, learning how to play?
BISHOP:
You stated it better than I would have been able to [laughs]. I first started wanting to play guitar when I was maybe 13 or 14 and I'd go to those dances that they'd have, this was in Tulsa, Oklahoma. And I'd see the girls gathered around the guitar players. Plus I liked the sound of the music and everything. But I said, "Oh boy, I'm going to get a guitar."
Nobody in my family was musical. I didn't know what I was doing. Didn't have any money, so I'd go to the pawn shop and the guitars I could afford always had strings about three inches above the fingerboard. So it hurt my fingers like hell. I'd try it for a week or so and say, "Oh, this is impossible.I give up." Next dance happened, "Ah, gotta get back on it!" It was just a matter of persistence.
PCC:
Your time with the Paul Butterfield Blues Band — how did that help you grow as a musician?
BISHOP:
A huge stroke of luck. It was the best place I could be at that time. It was a great apprenticeship. There weren't hardly very many white people interested in blues at the time. And I was lucky enough to find some real good musicians who were also into that.
It was a different time. This was before civil rights and stuff. The only way a white person was ever going to hear any blues basically would be to go to a folk festival. Blues was considered a small compartment of folk music. They'd have one token artist there. And so blues, basically, this great big body of music, had not crossed over to the huge white public. And it was just overdue. And the time was ripe.
And the Butterfield Band, we weren't as good as Muddy Walters and Little Walter and Howlin' Wolf and those guys, but we were good enough to get it over. And the guys had great intensity and great standards. They wouldn't stop working on something till they got it good. And if we were playing live, they would not take no for an answer from a crowd. They'd just keep on getting more intense until they got the reaction. It was a great training ground for me. Right place, right time.
PCC:
What were your impressions of Paul?
BISHOP:
He was a real strong guy. Basically, I liked him. He was a little rough in spots… But the music was the most important thing to me.
PCC:
And the guitar interaction with Mike Bloomfield, did that come naturally?
BISHOP:
We worked on it. We were interested not only in blues, but in R&B, so we were aware of harmonies like horn players did. And we tried to do a little bit of that. That's where the two guitar parts came from mostly.
PCC:
The two guitar parts like that, that was kind of ahead of the curve, wasn't it?
BISHOP:
Yeah, I don't know how many guys have told me, "I got into music, because of you guys." But like I said, none of that was planned out. None of that was intentional or by design. It just happened.
PCC:
And then fronting your own band, was that just part of the natural progression? It became time to do that?
BISHOP:
Yes, it's a natural thing. If you're a so-called sideman… Basically, it's a practical thing. In Chicago, you went to work at nine in the evening and worked till four in the morning. Or five on Saturday. So that's a lot of space to cover. So the sidemen got to do a couple of tunes that were really close to their heart. And after a while, the thought starts growing in your mind, "Hey, what if I got to do all tunes that I wanted to do, that are close to my heart?" And when it gets strong enough and you get your nerve up, you go ahead and jump out on your own, just like a bird leaving the nest, I guess.
PCC:
"Fooled Around and Fell in Love," what was the origin of that song? How did it pop into your head?
BISHOP:
It was one of the easiest tunes I ever wrote. Some of them you got to really work on. Some of them don't fall together for a month or two. But that one, boy, I'd say 20 minutes and there it was. Bang — just jumped out.
PCC:
And the lead vocal, did you think of Mickey Thomas as you wrote it?
BISHOP:
No. before Mickey, I tried to get two or three other people that were in the band interested in singing it and they didn't want to do it. And it was pretty much a total accident, because the album that it was on — I guess it was "Struttin' My Stuff," I'm not sure what the name of the album was — but we did the whole thing except that one. The producer said, "We can use one more piece of material. You got anything else lying around?"
So we did a track for "Fooled Around and Fell in Love" and so I went out there and tried to sing it. And you can hear my voice right now — it did not butter the biscuit. So I asked Mickey if he would mind trying it. He did try it. And he just killed it. That's just the way it happened.
PCC:
And it's become such a timeless favorite. How did it feel to hear it in "Guardians of the Galaxy," such a blockbuster movie?
BISHOP:
Well, I'll be honest with you. I've got a confession. I haven't seen it. Mickey told me his son went and saw it and told all his friends, "That's my dad singing that!" It's a great thing. That thing's been in about twenty-some movies.
PCC:
In the 70s, playing Fillmore East, Fillmore West, jamming with artists like the Dead, The Allman Brothers, what was that whole atmosphere like in those days?
BISHOP:
The 70s was more of a jammin' time. Whoever was around, you would go jam with them. And especially if you liked them real well, like The Allman Brothers, man, I used to race to jam with those guys. Duane and Dickie and I were pretty good friends and we always had a really good time.
Now, I don't know. I think it's a little different. I think everybody's pretty crystallized into a shape. It seemed like everything was pretty wide open in those days. Maybe it's just because I'm getting old, but it seems like now things are a little more cold-blooded and they've got managers determining what's good for the money. You don't see a lot of jammin' like you used to.
PCC:
You recorded with John Lee Hooker. What are your memories of him?
BISHOP:
I loved John Lee. He was like one of my first… When I first started out with a guitar, after I got it going a little bit, basically, all my ear could handle… because I grew up out in the country. We didn't even have a TV. No runnin' water. No electricity. It's kind of hard to conceive of it, but at that time, there was obviously no computer, no video games. It was just a different world.
And the only way that I would hear any music at all, of any kind, was when the weather was right, we had a battery radio, weighed about 20 pounds, had these great big ol' batteries, like halfway to a car battery. But you could hear music once in a while. But now you pop out and there it is. You see kids in grade school, got their iPods and they're walkin' down the street listening to music.
It took me a while to get going. All my ear could handle at first was one guy with a guitar — this is a long-winded reply to your question — but all I could handle was one guy with a guitar. So I loved John Lee Hooker and Lightnin' Hopkins. And then, when I got going and everything, I ended up making friends with John and getting to play with him a lot.
I raise collard greens in my garden and I like to fish a lot, so I'd bring him collard greens and fish and stuff like that. And John loved it. There was just a great feeling to him. The guy went from this big legend in the sky into a personal friend. That was just an amazing thing, really made me feel good.
PCC:
So was it the raw honesty of the blues, the simplicity of it, that drew you early on?
BISHOP:
It was just the realness and the intensity of the feeling, I think. Face it, the place that music plays in most people's lives is just in there with hairstyles and clothes and shoes and stuff like that. It's just one of the little accoutrements of life. And blues is for people that want to connect their music up with something deeper, with actually how life goes… Like I said, I can play it better than I can talk about it.
PCC:
No, that was pretty eloquent. You've played with so many greats over the years. What was the best piece of advice you received from another performer?
BISHOP:
[Laughs] Rahsaan Roland Kirk, I was maybe 24. You know, he's a famous jazz musician, a really great musician — he could play maybe two or three horns at once. And I asked for some advice, he said, "Well, see, you don't have your instrument under control." And the implication was, I'd better go back to the woodshed and practice some more. So I did. That was good advice.
PCC:
You've always been known for your great live shows. Are you still have just as much fun as ever playing on stage?
BISHOP:
I am. It's really great. The romance of travel has worn off somewhat over the years. Well, I won't go into that. Nobody wants to hear about occupational hazards. But yeah, I love to get in front of people. Usually in December, we do a round of Bay Area clubs. And all summer and fall we've been flying out somewhere on the weekend. I've been back and forth to Florida three times in the last couple of weeks. And I think I've seen maybe one plane that was on time. [Laughs]
PCC:
Where are you based now?
BISHOP:
Marin County.
PCC:
People have such a fun time at your shows. The showmanship aspect, did that come naturally? Was that something you honed over the years?
BISHOP:
I don't know. It was kind of like I told you about the standards getting set with the Butterfield Band. I know what I'm there for, which is to make people feel good. I have a wide interest in music and I try to concentrate on the intersection of what I feel like doin' and what the people want to hear. And the stuff that I don't think that people want to hear, I can sit on front porch and play it. I'm trying to be professional. If you don't please people, you won't be asked back. I found that out early.
PCC:
But you have been able to incorporate a lot of different musical influences over the years.
BISHOP:
I just try to throw some stuff in there that I like. I'm not a purist, you know. I just try to do my own combination and hope there's enough people that'll like it.
PCC:
Things like the Rock and Roll Hall of Fame induction, the Blues Hall of Fame, what does that sort of validation mean to you?
BISHOP:
It's pretty amazing. I didn't see any of it coming. It gives you a feeling of accomplishment. Awards are, in a way, kind of jive, because they're kind of arbitrary and it depends on who's making the decisions and stuff. It's like every time I go to one of them ceremonies and if I win a certain category, the first thing, I'll tell the young guys that didn't get the awards is, "Don't worry about it. That's happened to me many times. I think any of you guys could have won it. If you get in a category with an old guy, you could be in trouble. Get in a category with a dead guy, you can forget it." [Laughs]
PCC:
What is the most rewarding aspect of your life in music at this point?
BISHOP:
I think it's that thing of writing a good song. And it always feels good to see the people jumpin' up and hollerin' and clappin' their hands and stuff. It makes you feel good. I'm just a regular person. I like getting positive feedback, you know.
PCC:
And do you feel that you're still learning and growing as a musician?
BISHOP:
I'm trying to, yeah.
PCC:
And with the blues, it's accepted that artists can get better with age.
BISHOP:
The Japanese saying is — [speaks in Japanese].
PCC:
Which means?
BISHOP:
[Chuckles] It says, "With age, the real flavor comes out."
For the latest on this artist, visit www.elvinbishopmusic.com.
And we hope you'll also want to read our earlier interview with Elvin Bishop, which follows below:
---
ELVIN BISHOP: STILL RAISIN' HELL ON STAGE
By Paul Freeman [Dec. 2011 Interview]
Blues-rocker Elvin Bishop has been raising hell on stage for nearly 50 years. And for half of those, he's been doing it clean and sober. Along with his exuberance, that's a big reason for his longevity.
The Oklahoman was born in 1942. Picking up a guitar, Bishop immersed himself in blues, R&B and rock 'n' roll.
He went to college in Chicago, a blues hotbed. There, Bishop met many of the blues greats, including Little Smokey Smothers, who became a mentor, as well as Muddy Waters, Magic Sam and Otis Rush.
He also hooked up with Paul Butterfield. Bishop played with Butterfield's group for five years.
In 1968, his own Elvin Bishop Group signed with Graham's Fillmore Records. In 1976, he had a massive hit with "Fooled Around and Fell In Love" from his "Struttin' My Stuff" LP.
Bishop, a Marin County resident, has survived quite well. His latest album is the rousing, "Raisin' Hell Revue." He has just shot a live DVD, at the Club Fox in Redwood City, Ca.
POP CULTURE CLASSICS:
Where did the fascination with blues and R&B begin?
ELVIN BISHOP:
I'm from Tulsa, Oklahoma, originally. I was in high school like in the 1950's. A long time ago. I heard it on the radio, was what happened. This was back before civil rights and integration and all that. And Oklahoma was a fairly hardcore Southern type city. So the radio was the only chance you were going to get to hear it, really.
PCC:
What about the music grabbed you? The honesty, the storytelling?
BISHOP:
I don't know, just the sound of it. First of all, I remember when there was no rock 'n' roll. It was all just like the Frank Sinatra type stuff and 'How Much Is That Doggie In The Window?' That was what you heard on the radio. Then when Elvis and Jerry Lee Lewis and Chuck Berry and Fats Domino came in, that was really great. That happened when I was a young teenager.
And then, the first time I heard the blues I just went, 'Wow, this is where the good part of rock 'n' roll is coming from!' And that was it, you know?
PCC:
And deciding to go to college in Chicago, was that because it was a blues mecca?
BISHOP:
Yeah, the education was a little bit of a cover story, you know? Just to keep the family happy.
PCC:
Was that an amazing atmosphere for you?
BISHOP:
Oh, yeah. I didn't really know what school to go to. I was lucky I had a scholarship. I could go just about anywhere. I chose the University of Chicago. It turned out to be in a neighborhood called Hyde Park, which sort of like an island in the middle of the southside ghetto, which was where the blues was happening then. This was 1960 and blues was like the living music of choice. It's like rap is now for the black people. And there were hundreds of blues clubs and all the great blues musicians were in their prime. It was just the luckiest place in the world for me to end up.
PCC:
Hooking up with Paul Butterfield, was that just a case of like minds finding one another?
BISHOP:
It was another huge accident. I was living in a dormitory the first year. And I was out walking around the neighborhood to see what was going on. I saw a white guy sitting on some steps, playing a guitar, drinking a quart of beer. And it was Butterfield. And there weren't hardly any other white people that were into blues at that time. So we fell right together.
PCC:
You were able to meet a lot of the blues greats. Which of them had the most direct impact on you?
BISHOP:
A guy named Little Smokey Smothers, who just passed away earlier this year. He was originally from Mississippi, as most Chicago blues guys were. He kind of took me under his wing and really helped me a lot.
Within the first year, I was really lucky to get to meet Muddy Waters and Magic Sam, Otis Rush, a bunch of really great blues guys.
PCC:
Did that give you a perspective on spending a lifetime in the music?
BISHOP:
Well, I don't know. I wasn't thinking in those terms at that time. I was like 17 or something. And when you're 17, you're not thinking of a lifetime of anything. It is what it is, as they say. And I just wanted to play that music. And that was as far as I could see. The guys were really nice to me. It was great, because I knew blues from records only and I got a chance to meet the people and stay with them and see how they lived and everything, and just to see what the words on the records meant.
PCC:
After studying with the greats, were you conscious of wanting to create your own style? Or was that just a slow, natural process?
BISHOP:
Well, it was something I always wanted to do, but it took quite a while to happen. I guess, like you said, it just happened naturally.
PCC:
During that era were people open to something different, musically?
BISHOP:
Well, I think that the blues and the white public were overdue to meet. I think that it was lucky getting involved with the Butterfield Blues Band, because there was such a high caliber of musicians in there and it was so on fire for blues that it was kind of like the perfect vehicle to help cross it over.
It's kind of sad, but true. You know how people are. They were much more willing to accept blues from young white faces than they were from old black faces, just to be honest with you.
And then, one of the main things that I think got blues crossed over was Bill Graham. The combination of a very perceptive, smart guy like Bill Graham and big audience stoned out of their minds on LSD. He just kind of eyeballed them and said, 'These people will accept just about anything. Let me try and put some real good stuff in there.' He'd come up with Albert King, Ravi Shankar and Charles Lloyd or Rahsaan Roland Kirk and B.B. King and, God only knows, Aretha Franklin or something. And it just really opened up a lot of people's minds.
PCC:
And so, for a lot of that music, it was just a matter of getting the exposure, giving people a chance to discover it?
BISHOP:
That's what I think. Yeah. Which wasn't really happening, in the natural course of things at the time.
PCC:
What about your magical connection with the Red Dog guitar?
BISHOP:
I don't know if I'd call it a magical connection. It just turned out to be the type of guitar that suited me. So I stuck with it. I really love it, the Gibson 345. It's got that nice, full, sustained, fat sound that I like.
PCC:
"Fooled Around and Fell In Love," you didn't know instantly that this was a song that would be huge for you?
BISHOP:
No, everything that's happened, in life, as well as in music, has been a total surprise to me. I've never been able to plan things out and get them to come true. I just sort of do the best I can and hope somebody else likes it.
PCC:
Having such a huge hit, was that a mixed blessing, in terms of raising expectations?
BISHOP:
Well, I didn't have any expectations in the first place. I've written hundreds of songs. And you keep throwing stuff against the wall, something's going to stick eventually. I wouldn't say it's a mixed blessing. It's a lot better to have a hit than to not have one, as far as making life a little easier on you. It's not just making more money. It's the money lifting you out of the situation where you have to do things you don't want to do, just to survive.
PCC:
From the 'Raisin' Hell' CD, it sound like you're still having as much fun as ever, making music.
BISHOP:
I've always felt lucky. I've felt blessed to be able to make a living doing the music, because, before I got into music, I did a lot of hard work. I grew up on a farm and I worked in the oil fields and I worked in the steel mills in Chicago and construction and stuff like that. And it sure makes the music seem easy.
PCC:
What's been the greatest challenge as far as sustaining the career in music.
BISHOP:
I don't know. It's all been good. The one struggle I had was cleaning up my bad habits. I got to the place, I'd say around the late '70s, and part of the '80s, where, to be honest with you, I was having a little too much fun, with the drinkin' and the drugs. And quittin' that was a little harder than I thought it would be. But I eventually did it. It's been like 23 years ago.
PCC:
And what was the key to turning that around? Was it your own determination?
BISHOP:
Yeah, just keeping at it until I got it accomplished. I had a little bit of help here and there, a couple of good examples set for me. I'd never seen anybody playing blues that didn't drink. Until, finally, Albert Collins showed me that it was possible to cut down on the drinkin' and still play real good. And a guy named Luther Tucker. He played on a lot of Little Walter and Sonny Boy Williamson records, Chicago blues stuff.
PCC:
So the life outside the music, around the music, is a little tamer these days?
BISHOP:
Well, yeah. I'm not out there raisin' hell and stuff. [Laughs] But it was amazing. I thought, 'Well, you won't be able to get the intensity in the music. You won't be the same. And you're going to be around places where people are drinkin' and doing drugs all the time.' I thought, 'How are you going to handle all that?' The first gig I did, I said, 'Hey, this is way better.' I could hear the stuff so clear. I can see somebody else drink or smell a glass of whisky or a beer and it don't move me at all. I don't want it. The hardest thing is, when I smell a cigarette - it's been about 20 years since I had one - it still smells good.
PCC:
The rewards that make it all worthwhile, have those changed over the years?
BISHOP:
The main thing is, it's its own reward, just the feeling of being able to play the music. It just makes you feel good. It does me, you know?
PCC:
Still lessons to be learned in music, for you?
BISHOP:
Yeah, all the time. Basically, the farther you go along, the more you realize you don't know. I'm just glad that people appreciate what I'm doing, that people like my music, because there's all kinds of music in the world, so the fact that I can entertain people with mine makes me feel real good.
PCC:
Are you confident that blues will always be alive and well?
BISHOP:
No. I don't know. Albert Collins said, every 10 years, a generation of blues fans is born. But I don't know if that's true anymore. It kind of looks, to be honest with you, like blues is heading for a place in American music like jazz has now, where it's almost like a classical form. Not like classical music, but it's just not the music of choice of a big body of young people these days, it doesn't seem like to me.
PCC:
So it's becoming more of an historical form?
BISHOP:
Historical - that's the word I was looking for. That's why you're a writer.
PCC:
So does that notion disturb you? Or it's just the way of things?
BISHOP:
Why get disturbed? That's just what's happening, you know?
PCC:
Do you view yourself as a preservationist, as well as an entertainer?
BISHOP:
I don't know. I wouldn't ascribe any idealistic motives to what I do. It's just, like I said, I try to play the music I like and hope somebody else likes it, too.
For the latest on this artist, visit www.elvinbishopmusic.com