EMEL MATHLOUTHI: A VOICE FOR THE SILENCED ONES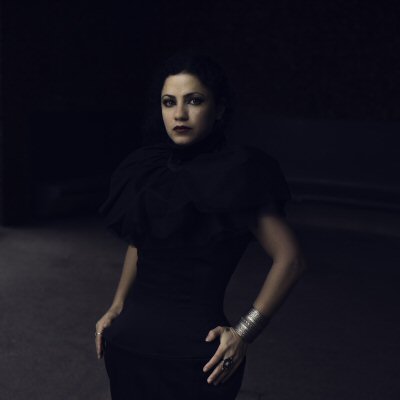 Emel Mathlouthi, photo by Julien Bourgeois
By Paul Freeman [September 2016 Interview]
With her powerful, emotional music, Emel Mathlouthi was heralded as "the voice of the Tunisian revolution." The singer-songwriter-guitarist's impassioned performances expressed not only her own feelings, but those of countless others who felt oppressed and ignored.
Rising to prominence with her 2007 recording "Kelmti Horra (My Word Is Free)," Mathlouthi's songs were embraced during Arab Spring.
The Tunisian artist says, "The stage had been set for a long time for the uprisings that occurred across the Arab World in 2011. Decades of repression, aging governments holding on to old ways, yet growing numbers of young people with more knowledge and ambition than ever before. Governments had to change but they couldn't, or they didn't. And there were many protests before the big ones in Tunisia starting in December 2010. Many also in other countries.
"For some time I sang a lot about the forgotten, the noble quote-unquote little people who are exploited by this world and who deserve and desire much better. I still do. That is important to me to try to give voice to the silenced ones. I also believe though that art is its own message, that especially when you come from a repressive place, or an ignored place, the simple act of saying, 'Hey, I'm here,' is important. The art of presence and insistence."
Mathlouthi continues to grow as a relevant artist, melding folk, rock, trip-hop, electronica and Arabic elements.
Growing up, Mathlouthi immersed herself in her father's extensive record collection "We listened all the time to music, especially classical music. It is the soundtrack of my childhood. We had a big family and my parents were both educators. My best memories are listening to music and being at the beach. I was always proud of my father because he kept hold of all of his ideas, no matter the sacrifices he had to make to do it. I think he wanted and still wants the same for us."
It was while she was in college that she began to write songs. "I was in engineering school, but possessed by a feeling that I didn't want to engineer, that I was more interested in art and also in social causes. I met some guys who felt more or less the same way and we started jamming, mostly playing metal music. It meant a lot to me to express myself and find new things within myself through art and with these friends."
Displaying an acrobatic, exceptionally expressive voice with a wide range, she lists Joan Baez and Bjork, as well as Tricky and Massive Attack among her diverse influences.
"Protestors and innovators have always inspired me. Not just Joan Baez and Bjork, but also in the Arab World, free-thinkers like Marcel Khalife and the great protest and folk hero Shiekh Imam of Egypt. Sheikh Imam was a poet-protestor-singer and he was always thrown in jail, because he sang against power. In jail, he would write more songs. And the cycle continued. I recommend him."
She began writing political songs like "Ya Tounes Ya Meskina (Poor Tunisia)." But the government banned her songs from the radio. She moved to France in 2008 and her live performances there were seen in Tunisia via internet bootlegs.
"I was given a good opportunity to be a part of a supportive group of artists at the Cité Internationale des Arts. France does have a tradition of supporting the arts, which is rare in this world. But more than that it was the need to be free to create."
Instead of silencing her, the Tunisian government's censorship only fueled Mathlouthi's fire. "That was a big motivator and it got my creativity going and helped establish the themes of my music and also my insistence. It is also true that I had to leave the country in order to continue to develop. It was just impossible in Tunisia before the revolution."
Mathlouthi knew that she was taking a big risk, singing out against those in power. "There were many people who warned me against it. Actually, everybody did, even my parents. But I couldn't stop. It was within me, always knocking to get out."
Social media played a vital role in spreading Mathlouthi's music and her message. "It is in the Arab World that social media was growing the most quickly at the time of our revolution and the uprisings. The reason is that this was the first way for us to communicate with each other freely without interference from the government. Well, actually they tried to interfere, but they had no idea what they were doing. So it is true that my music got a big boost from that. I am not sure where I would be without it."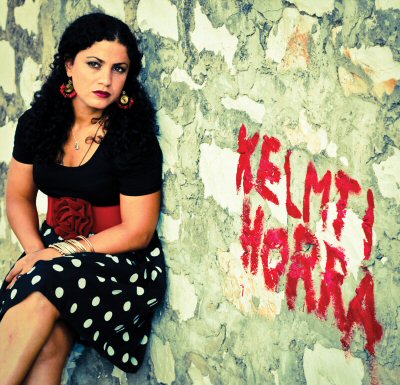 Emel Mathlouthi, photo by Ghaith Arfaoui

Many in her homeland have expressed a solidarity and said that Mathlouthi's music has motivated them to become activists.

"I want everyone to know that I am a person who is committed to a better world for myself, for them, for everybody, especially the most vulnerable and the forgotten. I am inspired very much when people join me in that. But I do take a broad view of what it means to be an activist. Even having fun is an act of rebellion in many places. And creating art within a repressive context is by definition subversive."

She has heard from many people, Tunisian women, and women of different cultures, saying her music has given them strength.

"So many that I am constantly shocked by it. It warms me so much, when I hear that kind of feedback from women and others in Tunisia, across the region and really everywhere. I get lots of messages from people in different parts of the world who say that I inspire them and that also my message resonates with their context. It is a real privilege."

She says things would be a little bit easier now, for a woman trying to communicate through music, in Tunisia, than they were when she began.

"Of course, because they could not have been harder. But although the government has changed, we have to remember that a lot of the old guard are still in control, when it comes to culture. It is still a very hard place to get ahead. But I am really looking forward to returning as an artist someday."

Mathlouthi believes that music has the power to change the world. "Music can inspire people. It inspired me. It can create a platform for people to rally around, to build confidence, to explore within themselves and connect with one another - that's a big part of what the world needs."

She has performed in many parts of the world, including Egypt, Iraq, Canada and the U.K. In Oslo, Norway, she played her songs at the Nobel Peace Prize Ceremony.

"It was such an honor to represent my country and its young people on that big stage. I was almost crying and it was a real privilege."

A new Mathlouthi album will be released in January. "It was an exploration inside myself and around the world that took many years to bring to light. It is not really like anything else and I look forward to sharing it."

Though it will take new directions, it is sure to again defy categorization. "It is an act of freedom. Genres are invented by the industry. Nobody is born wanting to be a genre. We are born wanting to create, and that's what I do. I would sell more records if I were part of a genre, that much is sure. But I wouldn't like my own music."

Mathlouthi's unique music moves audiences. And they have a profound effect on her, as well. "I am so touched and warmed and energized by people's openness and the music they carry inside of them that I am able to remind them of."

She's a citizen of the world. "I move around a lot, spending a lot of time in Europe and in New York and in Tunisia. It does help my creativity a lot to be exposed to so much, and also to see the things that people have in common, plus what makes them all special."

Mathlouthi, 34, is married. "My husband is a born artist, mostly a writer, and also very passionate about justice. He sees things a lot like I do and he has a full appreciation of what I do and what it means to me."

All her life, music has held tremendous meaning for Mathlouthi. "It is the thing that gathered my passions at a young age and helped me make sense of the world. It made me want to try to find and build a kind of truth that I could share."

She shares her battling spirit, as well as her beautiful songs. "People try to keep me in a box. In the early days, that meant politically. Now it means culturally. But that gives me something good to fight against."

The rewards of her life in music energize Mathlouthi. "Connecting with people and discovering the joy and creativity that people have in their hearts, the hope they have and the essential goodness that most people have.

"I would like one day to think that my daughter is proud of me and thinks that I did the right thing with my life. I imagine that if she feels that way, then it will mean that I have created something special and worthwhile."

Visit www.emelmathlouthi.com.