EMILY BERGL: "HOUSEWIVES," CULTS AND CABARET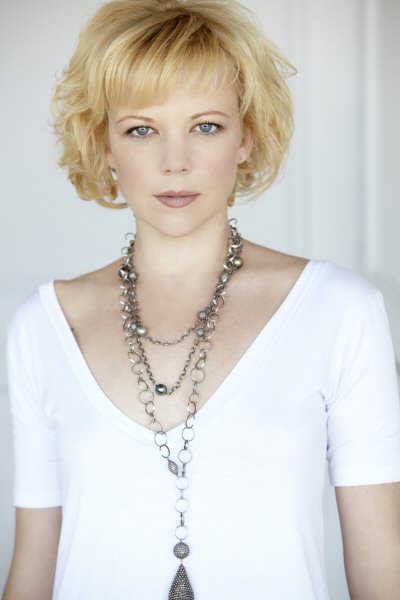 Photo Credit: JSquared Photography
By Paul Freeman [February 2011 Interview]
If you want to create a cult sensation, your first move should be to cast Emily Bergl. The versatile actress played Annie in "Men in Trees" and Tammi in "Southland," both cult faves.
Bergl guested on "Star Trek: Enterprise"and "Medium." She was featured as Dakota Fanning's mother in the acclaimed sci-fi mini-series "Steven Spielberg PresentsTaken."
Most recently, she's been seen on a mainstream hit, portraying Beth on "Desperate Housewives."
Bergl was born in England to a British father and Irish mother. The family moved to the States when she was six and eventually settled in Chicago.
At an early age, Bergl was enthralled by the dramatic arts. Soon after graduating Phi Betta Kappa from Grinnell College, she landed the lead in "The Rage: Carrie 2." Subsequent film roles included "Fur: An Imaginary Portrait of Diane Arbus" and "Happy Campers," penned and directed by "Heathers" screenwriter Daniel Waters.
Consistently captivating, inventive and memorable on screen, Bergl has appeared on such series as "Grey's Anatomy," "The Good Wife," "CSI:Miami," "Gilmore Girls," "ER" and "Providence."
As bright as she is beautiful, the effervescent performer seems poised to land a lead in a hit series of her own. But Bergl also loves the stage and has extensive theater credits, including Broadway.
She's gifted at singing, as well as acting. If you can get to the Bay Area, be sure to catch Bergl's cabaret show, "Kidding On The Square," Tuesday, March 15, 8 p.m., at San Francisco's Rrazz Room at the Hotel Nikko, 222 Mason Street. Tickets are $30 For details, visit www.therrazzroom.com or phone 1-800-380-3095.
To learn more about the performer, visit www.emilybergl.net.
POP CULTURE CLASSICS:
So tell me a little bit about the concept of 'Kidding On The Square.'
EMILY BERGL:
I think the overall concept is just to provide some good, old-fashioned entertainment. Our entertainment has become so fabby and meta, as of late that people have become a little too cool to put on a show and entertain people. So that's really what I want to do. I draw upon songs, mostly from the '20s and '30s. I talk a little bit about that era. Plus I have some modern pop songs in the show and I do vintage versions of them. G. Scott Lacy [Bergl's music director/pianist] has written these incredible versions of pop songs. What I love the most is when I start a song, sing a few bars, and then slowly I hear laughter in the audience as people start to recognize it.
PCC:
So the song takes on a new life.
BERGL:
Yes. And that's why I don't have my playlist out, because I like for people to be listening and then all of a sudden discover what the songs are, mid-song.
PCC:
Do you find the cabaret format especially appealing after working on screen projects, now having an opportunity to have more intimate contact with the audiences?
BERGL:
Uh-huh. I mean, I tend to do a play a year. So I always keep up my theatrical work. Usually I'll take a few months out of the year to do TV. So the cabaret is nice, because while I'm doing that, I can travel around and do it. And, as you said, the relationship is even so much more intimate in cabaret than even in a play. I'd never talked to the audience before. I was terrified to talk to them.
PCC:
So is there room for improvisation there? How scripted is it?
BERGL:
There is room for improvisation. We discovered that we needed to have a basic structure to the show. And there are definitely things that I always want to say and things that connect the songs. But there's always a little improv. I interact with the audience, too. So you never know what they're going to say.
PCC:
What sort of context do you set for the '20 and '30s? You said you talk about the era a little bit.
BERGL:
Yes, I talk about some of the changes that came about, in the era. I have a song, '10 Cents a Dance,' so I talk a little bit about what it was like to be a taxi dancer at that time. But it's not a historical show. I want to bring the songs and, more importantly, the characters that sing the songs, to life. It's not a historical information show. This concept unites these characters that I want to introduce to the audience. I'm an actor who sings, so I don't kind of sit at the piano and sing pretty songs. All of the songs have really distinct characters that sing them. What I like to do is take a song that you think is going to be one thing and then make it another.
PCC:
So that goes into the song selection process - how much the character resonates with you?
BERGL:
Yes. I mean, usually I take a song that just tends to resonate with me. And then a character will just come out of it, as I develop it. I suppose sometimes there's a specific character I'll have and I'll choose a song for them. Most of the time, the song just speaks to me and then a character will just come out.
I like to do darker versions of songs. I have a version of 'Mad About The Boy,' which is usually sung as a very lovely ballad. And when you really look at those lyrics, you realize this person is kind of crazy. So I do a version of the song where the person singing is actually pretty unstable.
PCC:
So you really give your own interpretations to all the standards?
BERGL:
I like to go against people's expectations. The harder thing for me to do is to just sit there and sing a song, which one needs to do sometimes. But what I like to do is pick a song and give it a different meaning, give it a different kind of character that you might not have seen before, singing that song.
PCC:
Has singing always been a passion for you, alongside acting?
BERGL:
You know, it really has. I've sung in choirs and musicals since I was a kid. And as I started making my way in the professional world, it just fell by the wayside, because I was busy doing other things. So the cabaret is such a personal passion of mine, because it helps me to sing again and to have something that's my own.
PCC:
What about performing in generat? Is that something you always knew you needed to do?
BERGL:
I think it was. I didn't admit it to myself for a long time. Nobody in my family's in the business. I didn't know anybody in the business. So, for a long time, I never actually crystallized the idea, because it didn't seem like something that was attainable. But I was staging shows in my garage since I was a little kid.
PCC:
What brought your family to the U.S.?
BERGL:
My Dad was an architect and ended up getting a job in Denver.
PCC:
But primarily you were raised in Chicago?
BERGL:
Yeah, primarily I'm a Chicago girl, a Midwest girl.
PCC:
Having come over from England, was there any sense of being an outsider?
BERGL:
There definitely was. My first day of school, I'd never seen a drinking fountain before, at least not in a school. And then, the teacher had told the kids that I was from another country and that I would say some words differently. And the kids thought that I spoke an entirely different language. So they kept on coming up to me, saying, 'How do you say 'apple' in English?' 'How do you say 'baby' in English? So I thought they were completely crazy.
PCC:
So having the home stage productions and the fascination with fantasy, was that a reaction to that background to some degree? Finding a place where you could fit into your own reality?
BERGL:
I think that when we moved, because I moved around a fair amount as a kid, and especially coming from another country, you start to have a separate identity. Even now, when I talk to my parents, I have a little bit of a British accent. But I have none when I talk to other people.
So I think, when you come from another country, and especially so young, you totally assimilate into the culture, but you're still living another life at home. So I think that's probably a lot to do with it, is that I learned to have these different identities.
PCC:
I noticed that you won a championship in poetry reading. I didn't realize that was a competition.
BERGL:
[Laughs] I know, isn't that so funny? It's called forensics sometimes. Sometimes it's called speech team. People do monolgues and things. And I love poetry. So I would compete in poetry reading;. And I did end up winning a championship.
PCC:
When was this?
BERGL:
I was in high school.
PCC:
And then, afte rcollege, moving to New York, were you confident at that point that you could make your mark? Or did it still seem daunting?
BERGL:
Oh, I didn't think I was going to work at all, for a long time. I went to a small liberal arts college and I wanted to get a broad-based liberal arts education. And then I figured I'd take a year off, move to New York, not get any work and then apply to grad school and then take it from there.
PCC:
And what was the plan from that point?
BERGL:
Then I figured I'd go through grad school, maybe through a grad school showcase, I could get an agent and then hit the pavement, waitress for a while. I really fully expected that it would take me a long time to break in. But I started working right away.
PCC:
Were you shocked when you landed that first film and were instantly in the limelight?
BERGL:
It was pretty crazy. I mean, I'd never done anything on camera before... ever. I'd say it was trial by fire, literally, as they were actually shooting fireballs at me in that movie.
PCC:
Was there a cattle call for the role?
BERGL:
I did end up getting an agent my last year of college in Chicago and they sent me out on that audition originally. And it was about a year later, I'd already moved to New York, that they decided they were actually going to make that movie.
PCC:
And the process of making that movie, was it a series of revelations for you, or did you know what to expect?
BERGL:
I didn't know what to expect. I don't think I had any expectations. I really had no expectations, going into the business. To this day, I still don't. I think it's a trap for actors, to spend a lot of time fantasizing about what will be and not focusing on the immediate steps ahead. So I just try to take what's in front of me and make the best of it. I got some really good advice from somebody who said, in your twenties, you think about your career as something that's going to happen to you. And in your thirties, you realize you're in your career. And so, when I heard that, I thought I never want to waste any time trying to pursue some f antasy and waste time not enjoying the career that I actually have.
PCC:
So whatever you're working on, you're trying to make the most of that moment?
BERGL:
Yes. I mean, I'm always looking for the next job. But it can be very easy to always have a certain level of discontent as an actor. And other people encourage it. People are saying, 'What aren't you in more movies?' or 'Why don't you win a Golden Globe?' I don't think anyone asks my friends who are doctors, 'Why aren't you the Surgeon General?'
PCC:
When 'The Rage' completed shooting and you saw the finished product, with all those special effects, was it a strange experience to watch?
BERGL:
It was so bizarre. I actually found it a hilarious experience.
PCC:
How so?
BERGL:
I'm usually very, very frightened in horror movies. But this one, I'd seen it all. Most of it wasn't CGI, actually. Most of it was actual practical effects. Real fire. Real models of disembodied heads. All that stuff. So I'd seen it all. So I found the end of that movie just hilarious to watch.
PCC:
Were you concerned at all about becoming the next Scream Queen? Did you want to do something totally diffdernt?
BERGL:
I was very concerned about that. So immediately after the movie wrapped, I went right into 'Romeo and Juliet' at the Old Globe. Actually Neil Patrick Harris was my Romeo. And I went and did a couple plays after that. And I turned down a lot of horror movies. I felt that it was more important for me to have the kind of career I wanted, that was maybe more low profile than, to become a cheesy horror film actor and never be able to get myself out of that hole.
PCC:
Was there any trepidation, as far as, turning down what's on the table, hoping for something that might not turn up?
BERGL:
Yeah, that was hard, for sure. That was difficult. But I just didn't want to be put in that box, because I didn't think it fit me or who I am.
PCC:
Working with Neil Patrick Harris, who'd been in the business most of his life, did he offer any career advice?
BERGL:
No, Neil and I, in a way, were coming from the same place, because, for both of us, it was our first professional Shakespeare production. So I remember working really diligently on the scenes together. I don't remember him giving me any advice, which probably speaks to what a great guy he is. He treated me like a peer, even though my experience was relatively little.
PCC:
Were you on Broadway around that time? Or was that much later?
BERGL:
No, after 'Romeo and Juliet,' I was on Broadway pretty quickly after that, in a production of 'The Lion in Winter.'
PCC:
That must have been quite a thrill.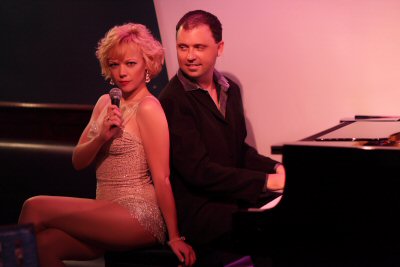 Photo Credit: Michael Creagh
BERGL:
That was a huge thrill. Actually 'The Lion in Winter' was at the Old Roundabout in Times Square. And there used to be a movie theater next door. And 'Carrie 2' actually played there. And you know I never got a photo of those two marquees together.
PCC:
That would have been classic.
BERGL:
Yeah. That was probably the biggest thrill of them all. I got to work with Stockard Channing and Laurence Fishburne. I mean, I'd grown up watching them.
PCC:
Was that a learning experience, as well, being part of that production?
BERGL:
Oh, yeah. I mean, every production is a learning experience. But that one certainly was.
PCC:
And then, 'Happy Campers,' working with Daniel Waters, were you a fan of 'Heathers'?
BERGL:
Oh, yeah, bigtime.
PCC:
So was there a sense that maybe that would happen again with this one?
BERGL:
I think we were all hopeful. It was a very good script. Daniel Waters is one of the funniest, smartest people out there. He's one of these people who's cracking jokes all the time. But he has like a 90 percent success rate, which is amazing, considering the sheer volume of jokes he's putting out there at any given minute of the day.
I think we did have hope for that movie. Frankly, it was disappointment when it was straight to video. I think it deserved better.
PCC:
How do you handle that, when you're happy with the work, but it doesn't really reach its audience? Is that frustrating or do you just take it as part of the biz?
BERGL:
I guess it's just part of it. I try not to have expectations about things, and then it's a nice surprise, if it's a hit. My profession is one profound disappointment after another, if you look at it a certain way. You don't get all of those auditions that you hope for and things don't turn out as good as they should have and things aren't received the way you'd like them to be. So I really try not to have expectations and then be pleasantly surprised.
PCC:
You know going in that there's going to be a lot of rejection in that business, so does that make it any easier to handle or is it still a painful road?
BERGL:
That's the number one thing you have to learn, as an actor, is how to deal with that rejection. What I try to do is to control everything that I can control. So I try to make sure that I am as prepared as I can be for an audition, that I've done all my homework, done all the research, that I've put the time in. And then, after I feel like I've done good work, I really just try and throw it away and not think about it again.
PCC:
What about the film 'Fur'? Great cast. Very unusual film. What was that experience like?
BERGL:
That was a really interesting experience. Steven Shainberg was a really great director. People didn't really know Ty Burrell at the time. He was wonderful in a really straight role. Most of my scenes were with him. I loved doing a movie in that period. And seeing Nicole Kidman work up close was so fascinating. She's such an elusive actor, in the best sense of the word.
PCC:
In terms of her performances being open to interpretation?
BERGL:
Well, you just never quite know what she's thinking.She's just got a wonderfully inherent mysterious quality to her. It's not something to forced. You just really don't know what she's going to do next.
PCC:
Do you like to try to maintain a mystique within your characters, as well?
BERGL:
I know everybody says, 'My character should have a secret.' I'm not a very mysterious person, to be honest with you. I don't think that's something I intentionally try to cultivate. Maybe sometimes.
PCC:
It just depends on the character?
BERGL:
It does depend on the character. But, to be honest with you, I'm just more the type of person who puts it all out there.
PCC:
That can be a valuable quality in a performer.
BERGL:
Yeah, in cabaret, certainly, you have to hold the audience for 90 minutes. And you have to be open. And that was so terrifying. Cabaret was absolutely terrifying to me, even after 13 years in the business.
PCC:
How long have you been doing the 'Kidding On The Square' show?
BERGL:
I've been touring with this about a year. And actually we're just about to develop another show. We'll still gig around with this one, but we're going to develop another show and take that around, too.
PCC:
Will that be set in a different era or contemporary?
BERGL:
I think it will be more contemporary. I've been very attracted to more pop numbers this time, especially pop songs that I grew up with. I talk about my record collection in the current show and I think the next show is going to center around my record collection.
PCC:
Great idea. I don't recall that being done before. Seems like such a natural.
BERGL:
Doesn't it? I do actually have a record collection.
PCC:
You mean actual records?
BERGL:
Vinyl. Yup.
PCC:
So what's the variety in the collection?
BERGL:
I don't know if I'm actually going to be able to do this, but there's one record called, I think it was 'Hot Tracks.' It's all of these '80s pop songs. I can't believe it still plays, because we listened to this record over and over and over when I was a kid. What I really want to do is give the record to somebody in the audience and they can pick whatever song they want to hear from that record. It's a tall order, because I'm going to have to learn 10 extra songs for my show [Laughs].
PCC:
With the acting, what's the first thing that really gave you public recognition?
BERGL:
It was definitely 'Carrie.' It was the first thing that gave me the recognition of people stopping me on the street.
PCC:
Was that a strange feeling?
BERGL:
Very strange. And I found it very difficult at first, not because people were bothering me, but I felt embarrassed that I would be accepting that praise. Now I realize how difficult it is for somebody to approach you. So now I try to make the person talking to me feel comfortable.
PCC:
You must get a lot of that now, having done so many cult-y type projects that have devoted followings.
BERGL:
Yeah, it's interesting. It comes in waves. So I'm kind of used to it ebbing and flowing. Something will be on TV or something will be out and a lot of people will stop me. And then I'll be doing a play and it'll die down a little bit. And then it'll come again full force. 'Desperate Housewinves' has been on a level that I've never experienced before, though.
PCC:
Was it difficult to fit into that show's tone right away? It has a unique feel.
BERGL:
Yes, I was really nervous about getting that tone right, because I feel like, if you don't fit into that show properly, it will be very apparent. And the fans are very dedicated. But I did really respond to the tone and I liked working within it. I found it really challenging and creatively fulfilling. And to my relief, the fans really did respond to my character. It's wonderful. Two people stopped me today to tell me how much they loved the character. I'm glad that people not only like the character, but seem to feel for her and empathize with her and that's what I wanted to do.
PCC:
What did you find most intriguing about the character?
BERGL:
What I found most intriguing about her was how incredibly sheltered she'd been. And to take this person who had really only been living with her mother, absolutely controlling, and then put her literally in the den of the killer. And I also found it really intriguing how she grew to love this person.
PCC:
And what about fitting in with an already established cast? Was that a difficult transition or did they make it easy for you?
BERGL:
No, I have to say they really made it easy. Every single one of them was incredibly welcoming. Literally, a couple of them told me they felt lucky to have me on the show, which I couldn't believe! And, of course, I fell in love with Vanessa Williams, because we both love musical theater.
PCC:
And what about the 'Taken' project? That was very well received.
BERGL:
I think that's the second-longest mini-series in television history. It was eclipsed in length only by 'North and South.'
PCC:
Was Spielberg hands-on as an executive producer?
BERGL:
I never saw him. But I do know that he had something to do with casting me and I know that he had an involvement. But we didn't actually see him on set.
PCC:
It's got to feel good to know that Steven Spielberg had something to do with casting you.
BERGL:
I believe he actually had called up Amy Irving, who had been in 'Carrie' with me and checked up on me, to make sure I was all right.
PCC:
Nice to know they're still on good terms.
BERGL:
Yes, yes. Very good terms.
PCC:
Doing a project like that and also doing 'Star Trek:Enterprise,' does that open you up to the whole world of Trekkers and science-fiction fans?
BERGL:
I was thinking about that the other day. I've really got to start doing these conventions. I actually have a huge, geeky side to my personality, so I think it would be kind of fun.
But yeah, people are still buying my character's card. I had my own card for that 'Star Trek' episode.
PCC:
So that must have been quite a trip to be on that, if you're into the genre.
BERGL:
Oh, my gosh! I mean, come on, who would not be thrilled to be beamed onto the Enterprise? Come on! And it was a wild, wild west episode, so I also got to drive a two-horse buggy around the Universal backlot. Amazing! That was so much fun.
PCC:
What about doing the 'Medium' episode? That's another show that had a fervent following. Many people were upset that it was departing.
BERGL:
I know, it's too bad, because I really thought that show was very good. I tell you, what I remember most, working on that show, was Patricia Arquette. First of all, she had these huge monolgues in that show and they would rewrite them about an hour beforehand and she was able to say the entire thing. She's got this incredible memory. But what's amazing for me, as an actor working with her, sometimes on TV, people just have their TV thing that they do. You know they're talking in their certain voice and they're saying their lines the way they say them. And you don't feel like what you're doing is having a lot of impact.
In the theater, we're more encouraged to be in the moment, as it were, to really interact with one another. And Patriicia Arquette was just so incredibly present every second of every scene.
PCC:
She seems like a dynamic person, as well as an empathetic one.
BERGL:
Yes, we were both campaigning for Obama at the time, as well. And she was knocking on doors in Vegas.
PCC:
That must have been a surprise for people to answer the door and find her standing there.
BERGL:
I know, can you imagine? It's funny. I campaigned a lot during the last Senate elections. But I campaigned in a Latino neighborhood. And I don't think they're big 'Desperate Housewives' fans, because I hardly ever got recognized. It was different when I campaigned in the Presidential election, I did have some people recognize me when they opened the door and that was pretty funny.
PCC:
That was before 'Housewives,' so what did they know you from?
BERGL:
Must have been 'Men in Trees.'
PCC:
That's another show that had dedicated fans who were upset about the cancellation.
BERGL:
Oh, that was so sad. That was a really great show and it just never was given a chance. It's too bad. They yanked it around from night to night and never gave it any promo. And it had this crazy fan base! But it never got the opportunity to get off the ground. They would take it off the air for six months and, I think, in two years, we had about seven or eight different time slots. So people would literally stop me in the streets and say, 'Oh, I love 'Men in Trees,' when is it coming back?' And I would tell them, 'Well, actually, it's on the air. You just don't know, because it's on a different night and no advertising dollars have been spent to tell you that it's back on the air.'
PCC:
'Gilmore Girls' and 'Southland,' two more fine shows that never had massive ratings.
BERGL:
I think it was easier for 'Gilmore Girls,' because it wasn't on a major network. They're not expected to pull the kind of numbers on the WB, as you would be on an NBC or an ABC. And 'Southland' was pulled by NBC to make room for Jay Leno. So, obviously, that wasn't a great business decision. 'Southland' has a very intense following, but it doesn't have the numbers of people watching it. And I'm not sure why, because I honeslty think it's one of the best shows on TV, certainly in its genre.
PCC:
It must be very satisfying for you to be part of all these quality shows, whether they have the mass audience or not.
BERGL:
That's true. I'd rather be on something that I enjoy working in. Who knows where my future will be. But I really don't want to be working on a dead body for the next 10 years, even if 50 million people are watching.
PCC:
You did one'CSI' didn't you?
BERGL:
I did. I was a killer. And I mean, Laurence Fishburne is doing incredible work on 'CSI.' He really made that interesting. But I can't see myself doing a real dry role on a procedural. I don't know if I could do that.
PCC:
What would be the dream role for you?
BERGL:
It's funny, because I really don't think much about those kinds of things. But it would have to be a character that is a character in her own right, not somebody's wife or somebody's daughter. I mean, I can be somebody's wife and daughter, but I'd like it to be somebody who has her own part in the story-making process, a character that's allowed to be both dramatic and funny. And a character that changes and grows.
The great thing about television is that the character can change. And you can also do things that are out of character, because you spend so much time with them. It's hard to do things out of character in a movie. You really only have time to establish who the person is.
PCC:
What is next for you? I know there's a movie called 'Grassroots.' Is that picture's release on the horizon?
BERGL:
Yes. That's a great independent movie about a city council election in Seattle. We shot it on location last summer. I know they're finishing up with the final edit and it's going to go to festivals and will hopefully come out this year. We had an amazing time doing that movie. The director, Stephen Gyllenhaal [father of Jake and Maggie], is so intelligent. We had wonderful actors in that. Joel David Moore is so great. And it's kind of a straight role for Jason Biggs, which I think is a great thing for us to see him in. And Cedric the Entertainer is, of course, hilarious, although also in kind of a straight part. You realize what a good actor he is, in this movie.
PCC:
So it's a drama or a comedy-drama?
BERGL:
It starts out as a comedy, but it's a comedy-drama.
PCC:
That's a challenging thing to pull off.
BERGL:
It is. It's a political comedy, but it's got some very serious undertones to it.
PCC:
So it must have really appealed to you, having such strong political awareness.
BERGL:
I must say, it did. I try to be active politically. And it was really neat for me, having worked on a couple of campaigns, to then portray somebody working on a campaign.
PCC:
I also noticed you're active as far as volunteering. You have that diverse recommended reading list on your web site and...
BERGL:
I haven't updated that in about a year. I have to do that.
PCC:
You must be a voracious reader.
BERGL:
I don't know. I don't feel like I read as much as I used to. I'm always reading scripts now. I feel, actually, really ashamed. I don't think I've started a new book since January.
PCC:
Well, a lot of people would have mention January of which year. So that's not bad.
BERGL:
I just finished this book that I really liked, 'Let The Great World Spin.' It's a series of narratives, all centered around when the tightrope walker walked between the two towers of the World Trade Center. And I'd seen the docunmentary about that. I think it's called, 'Man on a Wire.' I loved that documentary. He is a story in the book. But there's all these other wonderful characters, too. It was written by Colum McCann.
PCC:
These things you've been involved with like Recording for the Blind, Read Across America, Habitat for Humanity, does that give you a different sort of gratification from the career rewards?
BERGL:
It does. I mean, Habitat in particular. Our work is very elusive. There's no one opinion on anything. I mean, there are people who can't stand Meryl Streep! Sometimes people will say, 'I didn't like that performance, but I'm not an expert.' And I say, 'Everybody's an expert, when it comes to acting.' Because acting is human behavior and so we can weigh in and have our opinions and they're all valid.
So it's nice to just build a house and say, 'Okay, I put up this concrete wall and it's straight and it's functional.And it's completed. And it's good.' Then no one can argue with that. [Laughs].
PCC:
Do you also feel you can contribute to the world through your art?
BERGL:
Yeah. I think entertainment is a contribution. I'm wary of overblowing what I do or exaggerating it. But I like to turn on the television and be entertained. I like to go to see a show and be entertained. It's something to do.
PCC:
You had mentioned your record collection. Any chance you'll be recording an album of your own?
BERGL:
You know, I never even thought about that. Maybe. That seems crazy to me. I guess I think of myself as an actor who sings. So thinking about an album is insane. But, I'm not going to count it out. What I really want to do is a musical, because I've never done a musical professionally. In fact, that's one of the reasons I started doing my cabaret show, because I just went so long doing straight plays that nobody knows I sing. And so I started telling people that I sing. And it seemed like nobody was believing me. So I said, 'Fine, I'll just make my own singing show and they can come see it and see that I sing. And I have a very old-fashioned voice, which is partly why I did this material. I'm a soprano. And a lot of musicals now, you have to scream-sing. And I don't do that very well. So I'm a little bit limited.
PCC:
Who would be some of the role models in terms of vocalists?
Julie Andrews -one of the clearest, most beautiful voices out there. I love Kristin Chenoweth. You know, there's been this huge Kristin Chenoweth backlash and I don't really know why. I think she's really funny and she's got a wonderful instrument. Everyone's hating on her and I don't know why.
PCC:
She's terrific. I thought she was everyone's darling.
BERGL:
You know, I think when you become everyone's darling, then people start to roll their eyes at you.
PCC:
Ah, yes. The tall poppy syndrome. The danger of fame.
BERGL:
Exactly. Another singer I love is Kelli O'Hara. She has just got this classic, lyric voice. So unbelievably beautiful.
PCC:
So you're at home with the style of the Great American Songbook. Is that why you focus on the '20 and '30s in your show?
BERGL:
Yes. I have a voice - and kind of a face - of that era. I feel like I have an old-fashioned face. There are some faces and you can put the person in a vintage costume and they kind of look the same still.
I remember I did this play on Broadway, 'The Rivals,' and I remember looking at all these 18th century paintings and thinking, 'Wow I kind of look like these people!' I was like, 'If I was living in this century, I would be a supermodel.'
PCC:
Maybe you have past life experiences to delve into.
BERGL:
Perhaps, perhaps.
PCC:
In the meantime, yoiu can explore all sorts of lives on different stages. Never a dull moment.
BERGL:
Can I just say, it certainly has not been dull, at all. Trying to keep a foot in the theater world and the film world and the cabaret world, it can get a little bit hectic. But better that than the alternative, which is sitting around, waiting for the phone to ring.