ERIC ANDERSEN: ETERNAL TROUBADOUR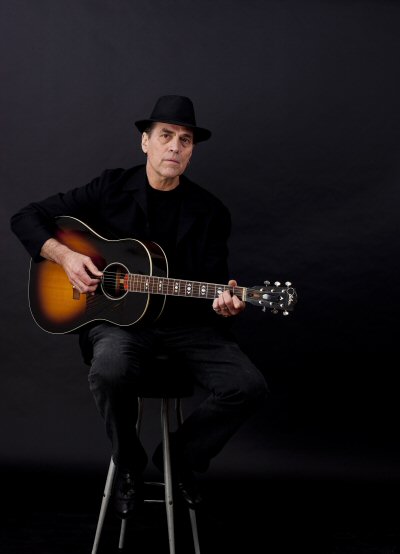 Photo By Meyer Originals
by Paul Freeman
More than 40 years after he began enchanting listeners, singer-songwriter Eric Andersen continues to epitomize the modern troubadour. His songs have been recorded by such artists as Judy Collins, Rick Nelson, Linda Ronstadt, the Grateful Dead, Fairport Convention and Peter Paul and Mary.
Perhaps you've haven't heard Eric Andersen... or even heard of him. Though he's been on the brink of major stardom several times, he remains a cult figure. Like most truly great artists, his work simply isn't meant for the masses. That just makes those who have spent late hours wrapping themselves in his haunting and poetic songs cherish them even more.
He's a restless soul, creatively and geographically. Andersen spends much of his time in the Netherlands these days, though he makes New York his business base. For several years, he lived in Norway. "Yeah, anything that starts with an 'N' and I'll hit it," he quips. "Nigeria might be next. You only live once... and least in my book."
Andersen continues to hit the road, traveling the world with his guitar. "I've been doing other types of writing, so it's good to get into performing again. It's like riding a bicycle. You get back into the groove and you see that the thrill isn't gone yet. It's a good habit and the stage is a good, safe place to be."
As a songwriter, Andersen hasn't played it safe. With the song 'Memory of the Future,' he experimented with what he calls, "Burroughsian non sequiturs of images."
Several of Andersen revered compositions are lengthy, such as the 12-minute "Ghosts On The Road" and the epic, 26-minute homage to beat poets, "Beat Avenue." "'Beat Avenue' is like my personal 'Ulysses.'"
"The point is, if you're going to put yourself through the paces, it's good if you can come up with something that breaks the borders or expands the boundaries of the medium."
Born in Pittsburgh in '43, raised in Buffalo, Andersen taught himself guitar and piano. The early rock of Elvis, Buddy Holly, the Everlys and Little Richard captivated him. Miles Davis and Charlie Parker intrigued him. In his teens, the Weavers' political songs drew Andersen to folk music.
The power of the word fascinated Andersen. He pored over the works of Rimbaud and Baudelaire, as well as Jack Kerouac, Allen Ginsberg, Lawrence Ferlinghetti and Neal Cassady.
In '63, after two years of pre-med, Andersen trekked to San Francisco, hoping to meet his beat poet idols.
"Their writing was informative. It was refreshing for American language. It had a here-and-now aspect. It wasn't artifice. It wasn't stylized in the sense that a lot of writing was. It had this vernacular, this sort of day-to-day presence. It had that marvelous, ephemeral quality to it."
In the Bay Area, Andersen started busking with a black blues singer called J.C. Burris, cousin of legendary harmonica player Sonny Terry.
"You find that happening a lot, performers gravitating towards a black mentor. Happened to Hank Williams, Elvis Presley. When they were young, they would hang out with these people on the corner. It kind of got you underneath the skin of the music. Other people don't get that opportunity.
"For me it was a growing experience. I didn't really care if people listened or not. I was just happy to be playing with him, getting the grooves right. It was a huge lesson."
Andersen drifted to New York, where he was discovered by Tom Paxton. "I met the people in the nascent songwriting scene - the birth of the singer-songwriter.
"They were not singing folk songs, but were writing their own folk songs, writing about things that mattered to them, that were happening around their world. That was a conversion from Pete Seeger to Bob Dylan."
The scene bubbling in Greenwich Village had an impact on the world, politically and socially, as well as musically. In addition to Andersen, Dylan and Paxton, the tight-knit community included Collins, Tim Hardin, Phil Ochs, Fred Neil, John Sebastian and Buffy Sainte Marie
"It was like Paris in the twenties... except the wine was a lot better in Paris," Andersen chuckles.
"Everybody knew everybody, playing those hootenannies, Pete Seeger coming down. It was an exciting time, but it was also a perilous time, because the Vietnam War was starting to roll. Everyone was subjected to being drafted. So anything could have been nipped in the bud. There was the Civil Rights thing. A lot of people were getting physically and mentally damaged. We were aware of these things."
Despite the turmoil, Andersen wrote such exquisite, timeless tunes as "Violets of Dawn," "Thirsty Boots" and "Close The Door Lightly." These songs waft gently through the mind long after the last note has sounded.
For Andersen, the songwriting process can be like watching a movie. "The images that are coming out take you back. That can be an amazing thing. It's a way of living life twice. Most people don't get that opportunity. It's a pleasure, a gift, to go through it again. That rekindles it, keeps your enthusiasm.
"That's what writing's all about - you're living in parallel universes. I consider it a blessing, because you can get a lot more action into one short life."
Geographic changes can be conducive to creativity. "You can write about where you're not, better than if you're there."
Andersen, who has just completed a novel, has no timetable for writing more songs. "A lot of artists just write songs to please a fan base - time to get an album out there - I don't operate that way.
"You can't say that every song's been written yet. It's always a challenge... and I don't mean that in some psychobabble way. It is a challenge to try to come up with something that's different. If I don't, I can get bored."
He continues to weave his magic. If you'd like to immerse yourself in the Eric Andersen experience, pick up his current CD, "The Cologne Concert," a wonderful live recording. You'll find yourself mesmerized by his vocals - velvety, with just the right amount of gravel. The moody lyrical journeys - set to strong folk-blues-rock-jazz backdrops - will enthrall you. Learn more about the artist at www.ericandersen.com.
Though his songs are immortal, Andersen realizes his time on the planet is finite. "Our friends are dropping like flies. Every few months, somebody else goes. The real question isn't why they died, but why are we still here? Why them and not us? It will happen to everyone at some point.
"My wife says, 'You're not going to go until you feel that everything you had to do has been done. When you get to that point, then you're ready to go.' Right now, I still want to keep writing."