ET TU BRUCE:
EXCITING ENGLISH POP-ROCK BAND IS SLAYING AUDIENCES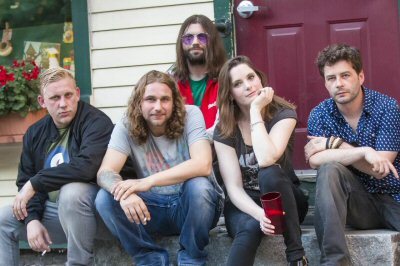 photo credit: Becky Vee
L-R: Craig Bruce (drums), Darryn Bruce (bass), Jamie White (lead singer/guitarist/songwriter), Joanna Griggs, Matthew "Mattie" O'Toole (singer/guitarist/songwriter)
By Paul Freeman [August 2013 Interview]

In 2010, Londoners Jamie White, Matthew O'Toole (both singer-songwriter-guitarists) and
brothers Craig and Darryn Bruce (drummer and bassist respectively) formed Et Tu Bruce. They've just released their debut album, "Suburban Sunshine." Brimming with irresistible, hooky, harmony-laden pop-rock, the record has been earning widespread accolades and, in the U.K., significant airplay for the single "This City"/"Never Seen You Cry."

The foursome received nominations for Best British Band by the Online Music Awards and Album of the Year by the Indie Music Digest.

"Son of a Zombie" isn't a new horror sequel. It describes a second-generation musician making fantastic music in his own right. White's father, guitarist/songwriter/producer Chris White, was a founding member of the legendary British Invasion band, The Zombies.

A smash at Austin's SXSW this year, Et Tu Bruce is now touring North America, opening for The Zombies (fronted by original members Colin Blunstone and Rod Argent). Both of these superb bands play prestigious Yoshi's Oakland, Sept. 4 and Yoshi's San Francisco, Sept. 5 ($39-$60; www.yoshis.com)

POP CULTURE CLASSICS:
The 'Suburban Sunshine' album is wonderful. Going into the project, what was the concept? How did you envision it taking shape?

JAMIE WHITE:
Really, when the band got together, we didn't know what type of record we wanted to make. It became evident fairly soon that the best thing to do was just make the kind of music you love. And that's really what we tried to do. We went into the studio with a lot of songs and just decided that making the music we love is more important than making music that pleases other people, which is, I think, where we've gone wrong, individually, before. We were all in bands previously. This time, I think it comes across well, when you do that. People can hear that it's genuine. Layering the harmonies, doing all the things you like doing, little things, the four or five guitars on every track, which most people probably won't notice, but that's the music we love, the classic pop, as I always call it.

PCC:
There's a lot of stylistic diversity. Is that also just reflecting your tastes? Or was that a conscious decision?

WHITE:
We didn't intentionally try to make all these different sounds. It was just spanning everything we love and everybody's personality on that record. Everybody got to stamp their authority on it, on different songs, the music they wanted to make, all the band, individually and collectively. It wasn't a conscious thing.

PCC:
How did the four of you originally get together?

WHITE:
We're all from an area called West Hanwell, in London, and all four of us had been in bands for years. And one day, when all these bands had split up and we'd all been sitting around, making music on our own, it just made sense to get together and start making music with other people and share the experience, because it can be a very lonely business, on your own, going out and playing music with an acoustic guitar or on a piano, with no one else to share that with. It really is.

And I'd known Craig and Darryn, who are brothers, since I was seven. Yet we'd never been a band together. We'd always been in different bands. And Matthew was somebody that I met in my late teenage years or early 20s. He was somebody I connected with musically. We liked a lot of the same things. And when we like a lot of the same things, it's not always exactly the same tracks. We like the same artists, but different tracks. And that was something I found quite attractive, working with somebody who covers a range of artists and a range of material within that artist or within that genre, which I wouldn't have naturally gone to myself.

PCC:
Vocalist Joanna Griggs is joining the band for this tour, yes?

WHITE:
Yes, she's helping out, because, when we put the record together, and we did layer it with harmonies, there was always a question as to how we were going to recreate this. And she's been singing with the band on and off for a couple of years. When we decided to come and tour America, we knew we needed somebody to do that full time, live. And she's a wonderful addition to the touring band.

PCC:
How did you decide on the band name?

WHITE:
We call ourselves Et Tu Bruce for a number of reasons. One of the reasons is that Darryn and Craig's surname is Bruce. [Laughs] And another one is that love of literature, that love of things English, that love of pretension, at times. We were sitting around one day, trying to think of names and Et Tu Bruce came out. We all dismissed it. But we all found it really interesting. We were originally going to call ourselves The Targets. And after sitting around for two weeks with that name, we thought, it's just not right. And we just kept coming back to Et Tu Bruce from this list of 30 or 40 names and said, 'That's a good name.' You might love it or you might hate it, but you're unlikely to not want to listen to it, when you see a CD with that name on it.

PCC:
Growing up, did you learn about the music world from talking with and observing your dad?

WHITE:
I did. A lot more than I realized. He was away a lot, making music, when I was a child. A long time after The Zombies and a long time after Argent. But he still was producing artists, still writing for them, still working with other people. And I suppose, getting into music was one way of trying to understand why he was away so much... and what he did. And I used to talk to him about music and just listen to everything. He used to bring back tapes of new songs he was working on or new artists he was working with. And I would listen to them for hours on end, so much so that I've got most of his old demos in my house, on tape. He lets me look after them.

But yes, always. We still talk about music now. We still talk about things we like, things we love, things he likes to do. He was round at my apartment the other day and I was playing him a new song and he said, 'Why don't you try going to an A-minor there instead?' We still communicate through music a lot.

PCC:
And you worked with him on a solo project?

WHITE:
I did. Before Et Tu Bruce got together, I recorded and released a solo album, called 'Featherhead,' which he co-produced with me. It was just a simple, acoustic album. It was something I'd really wanted to do for a while. He co-produced and I learned a lot, sitting in the studio, observing him, seeing how he dealt, not just with the sound, but with the people, which was something I hadn't really considered before - how you work with your environment, rather than just how you work with the sound and the material.

PCC:
Was that a further bonding experience for the two of you?

WHITE:
Yes, it was. I didn't realize it at the time. It didn't hit hit me, the magnitude of working with your father and finally, after all these years of sharing so much in music, to spend time making music together. It was only afterwards, when we'd put it all to bed, that it kind of hit me that I might never do that again and most people don't have the chance to do this. It was quite a special time.

PCC:
And that's under the name JJ White, rather than Jamie.

WHITE:
That's right. JJ White. And that's only because I used to go play the acoustic circuit in London, and around the Southeast of England. And there were so many people called Jamie, playing acoustic guitar around [laughs], so much so that I was phoning around venues, trying to get gigs, and they'd say, 'No, no, we had you before and you didn't bring anybody.' I'd say, 'I've never been there!' And it would be somebody else. It'd be Jamie West or Jamie Woon or Jamie Williams or Jamie Lawson or Jamie Scott. There are so many of them.

PCC:
Touring with The Zombies, what kind of experience has that been, so far?

WHITE:
Tonight is the first gig of this tour. But we toured with them in June and July, as well. And I said to them one night, that it was amazing, that I've spent my whole life learning from The Zombies, listening to those records, again and again. And I'm still learning from The Zombies. There's still so much that I learn every night, that we, as a band, learn every night, as we watch them. It's fantastic. And I'm not just talking about professionalism, but how to command an audience, how to communicate, how to get your songs across, how to change things, change your set list on the fly every night, if things are going well. It's been a brilliant experience, absolutely brilliant. It's almost life-changing, because I couldn't imagine this ever happening.

PCC:
And Rod [Argent] and Colin [Blunstone], do they kind of serve as unofficial mentors?

WHITE:
They do. They probably don't realize it. They probably still think I'm Chris' cocky kid [laughs]. They serve as mentors to all of us. Of course, there's a bond, which is hard to explain. You can't really. They were out in the 60s, when they were 20, 21 years old, touring America. And here they are, this many years later, with me on the tour. It's a generational passing of the baton, almost.

PCC:
What is your age now?

WHITE:
In the band, we're all 30, 31.

PCC:
Seeing The Zombies having such a lasting impact, does that make you think about how you'd like your band to be able to endure? How you can achieve that kind of longevity?

WHITE:
It is something that has crossed out minds, how you do it. And they do appeal to a huge audience, ranging from all ages, which is how they manage to keep going on. I think the key to it is having a hit record. And having a record that's as big as 'Time of the Season' and 'She's Not There.' And with Argent, 'Hold Your Head Up.' Those songs will never stop being played on the radio. And having that allows you so much scope to do other things and yet still appeal to a mass audience.

PCC:
Besides The Zombies and Argent, who were some of the key influences for you, when you were beginning to take shape, musically?

WHITE:
I listened to pretty much everything in my parents' vinyl collection. I loved Electric Light Orchestra, The Beach Boys, The Beatles, things like The Eagles, Jackson Browne and lots of 60s English pop I really enjoyed. And I liked 70s rock music, Thin Lizzy, bands like that. It was a range of things, because there was so much to get through. And there's so much to consume, in my parents' vinyl collection. I tried to go through it all. I didn't quite manage it [chuckles], but there was something on every record that could capture the attention, even if just momentarily:

PCC:
Did you analyze what made the songs work for you?

WHITE:
I just wanted to write songs and make songs that I found as interesting as the ones I'd heard on record. And that was probably because I knew that was what my Dad did, was write songs and make records. And I just wanted to do something similar. I felt connected with music more than anything else. Like my brothers connected with film, with art, I found music was where I was happiest. Maybe that was the influence. But as much as I loved the sounds and I wanted to find out how they were made, I was really interested in making sounds myself that sounded nice. I loved melody. And later, I got to love lyrics.

PCC:
It sounds like you always knew that music was going to be your path in life.

WHITE:
I always wanted to do it. That was the only thing I thought I'd be happy doing. But I was also realistic enough to see how much my Dad struggled to make money. I always knew it'd be difficult. But, as with anybody I've met who makes music, if you're going to make music, and you make that decision, no one's going to talk you out of it.

PCC:
So at this point, what are the biggest challenges? And what are the rewards that make it all worthwhile?

WHITE:
The biggest challenge now is, I think, the same as it always has been, which is getting heard, finding someone who'll listen, finding someone who'll get other people to listen, as well. Motivation, we don't struggle with. Writing songs, recording songs, we don't struggle. These are things we love doing. But there's the post bit. After the music's done, after we can get out and play things, it's trying to find people to listen to it. Trying to get heard, it's hard.

PCC:
So that process now, is the key touring? It's great music, so how do you get people to listen?

WHITE:
Radio would be fantastic. And we have had some really good radio back in the U.K. But playing, connecting instantly with an audience, touring, live music, is where it started for everybody. And live music will go on forever, because that experience, you can't recreate. Every night you go and see a band you love or a band you've never heard of, it'll never be the same again. That was the night you got to see that band.

PCC:
So the most important thing is the effect you have on the audience?

WHITE:
Last time we were over here, when we opened for The Zombies, that was almost a revelation to us, the effect of a huge audience, and someone else's audience, as well, taking so well to us and being able to talk to people and just chat about music. It's something that doesn't really happen in the U.K. Everybody likes to keep a distance in the U.K., whether they like it or they don't like it, they don't like to come up and talk to you. Over here, people love to talk to you about music. They're there, because they love music and you're playing music, because you love music. And it's immediately a connection.

PCC:
Are you trying to plan out where you want to ultimately take this? Or is it step by step?

WHITE:
I'm going to spend my life making music. I can't really do anything else. And all of us in the band, want that to go on, to carry on making music. We finished a second album. We're just trying to find the right people to release it. And we used to take it step by step, but now we've gotten this far, playing for these audiences, meeting people, getting a really good reaction, and selling records. It's hard to ever want to do anything else.

For the latest news, songs and tour dates, visit ettubruce.com.