EVIE SANDS: STILL SHINING
PCC's Interview With One of the Greatest Rock/Pop/Soul Artists of All Time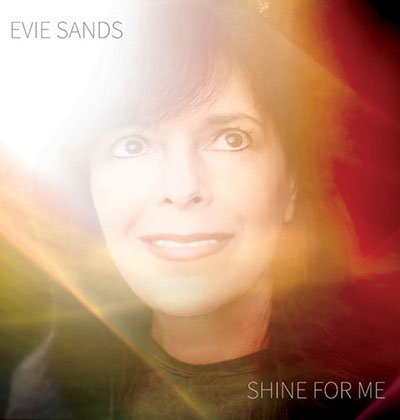 Photo courtesy of wwww.eviesands.com
By Paul Freeman [July 2017 Interview]
Singer-songwriter-guitarist Evie Sands began making great records in the mid-60s. And in July of 2017, with the release of her new EP, "Shine For Me," Sands demonstrates that she's still at the top of her game.
Born in Brooklyn, Sands picked up a guitar early and began writing songs. By 13, she was already recording her first singles. Then in 1965, Sands was signed to Blue Cat, a label headed by songwriting legends Jerry Leiber and Mike Stoller.
With a voice that is supple, soulful, sensuous and searingly honest, Sands seemed poised for superstardom. Of course, her drop-dead gorgeous looks didn't hurt either. All she needed was a killer tune and the right production.
She got it with the Trade Martin song "Take Me For A Little While." This record, which Chip Taylor and Al Gorgoni produced, had smash written all over it. Unfortunately, industry intrigue interfered and her single was supplanted by a nearly identical version by Chess Records' Jackie Ross.
Oh, well, let's just try it again. Taylor, Gorgoni and Sands delivered another surefire hit - "I Can't Let Go." But again, it was lost in the shuffle and The Hollies version went on to grab the charts.
Sands recorded Taylor's "Angel of the Morning" for Cameo. Her performance was irresistible. However, the label collapsed. And Merrilee Rush went on to reach the Top 10 with the song.
In 1969, fate finally smiled on Sands. Taylor's "Any Way That You Want Me" had already been released by The Troggs, The Liverpool Five and The American Breed. But those versions couldn't hold a candle to the one Sands was about to unleash. She delivered an electrifying vocal. And combined with the powerful Taylor-Gorgoni production, the result was one of the truly great records of the era, an epic with the emotional impact of a "You've Lost That Lovin' Feelin'." The A&M single was, deservedly, a bonafide hit.
Sands became a magnetic on-screen presence, guesting on such TV shows as "Shindig!," "Hollywood a Go Go," "Shivaree," "Where The Action Is," "The Mike Douglas Show," "The David Frost Show," "The Joey Bishop Show," "Playboy After Dark," "The Johnny Cash Show," "The Everly Brothers Show" and "The Glen Campbell Goodtime Hour."
The "Any Way That You Want Me" album, released many months after the single, brimmed with wonderful tracks. One of the best is a Sands composition, the first she had ever recorded - the lovely "It's This I Am."
Soon her songs were being recorded by a dazzling array of top artists including Barbra Streisand, Karen Carpenter, Dionne Warwick, Frankie Valli, Gladys Knight, Tom Jones, Helen Reddy and Dusty Springfield, who sang Evie's praises as a singer… and contributed a backing vocal on one of Sands' albums. Beck, Beth Orton and Missy Elliot are among more recent artists to interpret Sands' compositions.
Sands brought warmth and emotion to "Maybe Tomorrow" (music by Quincy Jones; lyrics by Alan and Marilyn Bergman) for Peter Yates' 1969 film "John and Mary," starring Dustin Hoffman and Mia Farrow.
The 1975 Evie Sands album "Estate of Mind" for Capitol's Haven label was filled with jewels like "I Love Makin' Love To You" and "You Brought The Woman Out of Me," again showcasing her rich songwriting. That's also true of her 1979 album for RCA, "Suspended Animation," which contained some infectious dance/R&B-oriented numbers, as well ravishing ballads like "As We Fall In Love Once More."
In 1998, Sands reunited with Chip Taylor and Al Gorgoni for a terrific album, "Women In Prison." It bristles with vibrant, rootsy blues-rock like "I Ain't Done Yet" and "Cool Blues Story," a duet with Lucinda Williams that's fueled by slide guitar and a Bo Diddley beat. The slower-burning, seductive "While I Look At You" is a standout. The exquisite "Angel In Your Eyes" is another. The UK/Euro indie charts embraced several of the album's songs.
In the UK, Sands' early work had been rediscovered. She was hailed as a key component in the Northern Soul movement, as epitomized by her 1966 recording of the stirring Taylor-Gorgoni number "Picture Me Gone."
Teaming with Billy Vera, Sands released the "Queen of Diamonds/Jack of Hearts" album in 2014. It featured songs penned by Chip Taylor.
And now we can celebrate the new EP, "Shine For Me," on her own R-Spot Records label. In addition to her vocals, which remain gloriously compelling, Sands plays acoustic and electric guitars, as well as electric piano and Hammond organ, on the record. Her songwriting continues to be unerringly engaging. Each song here is a gem.
"Rodeo" and "Without You" have a winsome wistfulness. "Like A Rock" is a driving rocker. "Full Dose of Love" eases from a gentle funk feel to a fiery, rocking chorus. The luminous title track, "Shine For Me," with its majestic beauty, will especially move listeners. It recalls "Tapestry"-era Carole King at her finest.
Sands plans to tour, both in North America and the UK. Evie Sands performing live is a thrill not to be missed.
Taking time out from editing video footage from her record release show in Los Angeles, Sands graciously and generously spoke with Pop Culture Classics.
POP CULTURE CLASSICS:
I love the "Shine For Me" EP. What's the feeling for you, after the songs have gestated in the writing process, then taken on an enhanced life during recording, now being able to finally share them with listeners?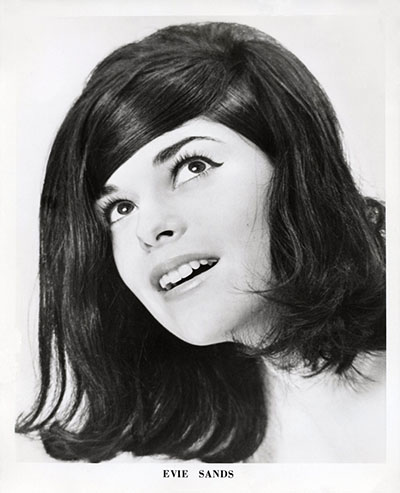 Photo courtesy of wwww.eviesands.com
EVIE SANDS:
It's just the most gratifying thing to see a process all the way through from just the imagining and voodoo or whatever [laughs] of the way songs come and then, hearing records in my head and then actually getting in the studio and going through that process and finally the manufacturing and all that stuff, the artwork, everything, getting it together, and then, finally, as you say, getting it out there so people can hear it.
It's just a magical process. And it's very exciting. I'm always just so excited about it. And I'm really so glad that, so far, we're getting such wonderful feedback, hearing great things from people about how much they're really loving it and enjoying it. Everyone has different songs that are their favorites. Yes, it's really great.
PCC:
The recording process must have been even more enjoyable, having your husband [drummer Eric Vesper] playing and singing on several of the tracks.
SANDS:
Oh, yeah. We've been playing together for a long time and I really thoroughly enjoy working with him. Obviously, we have a great personal relationship. But when it comes to music, skills and things, obviously if he was not on the level of the best at what he does, then, of course, we wouldn't have him playing, because I set the bar really high for myself. But the fact that he's really so good and we sing really well together — our voices blend really well together — it just makes it all the more fun.
He's the kind of drummer that plays for the song, which is a nice thing, like musicians say, to serve the song, as opposed to just kind of being off on our individual world. Doing things on our own as musicians might sometimes be great stuff, but in the big picture, it wouldn't maybe serve the song or the goal of what's best for the recording. So Eric does that really well. And he's really, really easy to work with. Apart from our relationship, everybody that I usually work with, we're all like that, we're really easy to work with and it's really easy to work with each other. So it makes the whole process of doing it really, as you say, truly enjoyable.
PCC:
Do you approach the guitar breaks that way, where it's all about serving the song and not about virtuosic displays?
SANDS:
Yes, I think there's a combination of craft, if you will, and feeling. And in the big picture, feeling is really most important, because things, as you know, can technically be perfect, but somehow, you can't explain why, but it just doesn't either feel great or have a certain magic to it. And sometimes something may be less fancy, but it just feels good and it serves the record. So for me, the ideal thing, with all of it, whether as a musician, doing vocals, is to strive to always be the best that I can be at my craft and at the same time be full of feeling. And somehow the craft becomes invisible and the feeling is there. And definitely serving a song or a record, whether I'm playing on my own recordings or sessions for other people.
PCC:
These new songs will certainly resonate with people. The song "Rodeo," is that basically about resilience in life?
SANDS:
Yeah, I guess you could say that. I just find it so interesting just to get feedback about how songs resonate with people. I guess we can't help but internalize and take things in songs as what we think they mean. Now sometimes, of course, they're really black and white and really straight-ahead, I guess you could say. But I think with that song, I'm talking to myself, as well as just saying things that apply for other people, too.
And yeah, it's definitely about resilience, for sure, the part about how, in life, we all kind of fall of the horse, if you will, a lot of times, but we have a path that we're going on and if we just get right back up and keep going, then we're on our way, it's good. And we may fall down again. And that's okay. It may happen any number of times. But the song is saying, "Grab the reins and hold on tight and tell no lies and just keep at it."
PCC:
The song "But It Did," is that depicting love not working out… but then working out even better than imagined, in another relationship?
SANDS:
Yeah, you know, that's a song that was really inside of me for a long time that I wanted to write, but hadn't, until this new record. I think, stepping back from it, it's not only about a love relationship, which really, of course, it is, absolutely, but kind of in life. I think when we're right in the middle of something, it's really impossible to see the big picture sometimes. And also, because we don't have a crystal ball and we're not capable of seeing the future, we think that something doesn't really work out the way, at that moment, we would like it to.
So in the case of this song, it was about a love relationship that didn't go the way I wanted it to, at the time, and was really heartbroken about it. It could apply to other things, too, any sort of path in life — work and career, any sort of thing like that. And then, as we get further down the road, we find out that we are really exactly where we're supposed to be. We thought it didn't work out, but it did [laughs], because we then find ourselves with the person we really should be with or the career choice or where we live or anything else in life. For me personally, it really resonates. It comes from a place of discovery, for me, myself. So I was glad to finally write that song.
PCC:
And then the lovely "Without You," is that more of a personal expression or something you hoped would again resonate universally?

Photo courtesy of wwww.eviesands.com
SANDS:
It's really both. What happened is, that came about because someone, a writer-musician-producer who lives in Europe, had contacted me and told me about an album that he was going to be producing or co-producing with an artist and wanted to know if I wanted to contribute a song for it. All he told me was that it was a female. He told me a little bit about her. And I wasn't familiar with her personally. I didn't know what she looked like or anything. I said, "Sure, I'd love to." And I hung up and as soon as I hung up, I picked up my guitar and this song started to come out. Also I didn't know what other songs or what direction this album project that he was going to be working on was going to take, but this song started to just come out. So that was the spark for it.
But then, as the song just kind of came out, it also, in this case, is like a personal expression, as well, for myself. In the end, they wound up going in some other, completely different sort of direction with that project and it was delayed for quite a while. But I was really happy, because this song came out of it. It might have been Randy Newman, possibly, who once said, and it's certainly true for myself — not all songs that I write are autobiographical, because sometimes as songwriters, we're really short story writers. It's a short form, as opposed to like, in classical, a concerto would be like a novel. Songs are like short stories. If I'm observing something, I'll write about it. So it's not about me, necessarily. But sometimes it is personal. Or a little of both.
So "Without You" definitely has a personal bit to it for sure. So I'm glad that it happened. I'm always just glad, however songs come, whatever the spark is — they're just treasures and I'm grateful for them.
PCC:
Do you tend to wait for the muse to come? Or do you discipline yourself to sit down and write for a certain number of hours or days?
SANDS:
Sometimes I get so busy with whatever is at hand — other recording commitments or shows or whatever, stuff like that — that I don't actually have the space to just go into that nice place and cut everything off and write. But that's the only reason. A great mentor of mine — Ben Weisman [His songs were recorded by dozens of top artists. Elvis recorded 57 of them.], who unfortunately isn't here anymore — he taught me a lot of things. And, to your question, it's kind of like even when I'm not literally writing, like with the keyboard or the guitar, there's stuff always being planted. And as I say, sometimes I just literally don't have the opportunity to just sit.
But the one thing is, I definitely don't just wait around for inspiration, because there's always so many things going on. I've got so many thoughts and ideas. And sometimes it comes because there's a music thing that happens first and then that just sort of speaks to me and becomes a lyric or title or something. And sometimes there's some thoughts or words and then that suddenly sparks the music. But I've learned over time that I definitely don't just sit around and wait to be inspired, because as they say, sometimes the muse can be with us, but that could be a long time in between, if writers just wait for that inspiration. We always have stuff inside of us. And if we just work, things come out.
PCC:
So sometimes it could start with a title or concept and other times it could be a melodic line or a guitar riff that gets the creative juices going?
SANDS:
Yes, exactly. And then sometimes, almost magically, the two will happen together, where there's just some music, I just hear something in my head, like melody and chords, riffs, whatever, and there's lyrics, words and/or titles happening all at the same. So great! I love when that happens, too.
PCC:
"Shine For Me," the title track, is really an instant classic. How did that one take shape?
SANDS:
Thank you very much, by the way. That one was a little bit different, because I sat down to write, I had some ideas going. It's a keyboard song, so I sat down at the keyboard to write and, as I was sitting there, beginning to do what I thought I sat down there to do, my hands just started going somewhere else. So I was thinking at the same time, "Well, what am I doing? Why am I going off on this tangent somewhere else, when I have a purpose? I sat down because I had this idea that I wanted to work on."
And this thing was really insistent. I didn't know where it was coming from, but it insisted that I do this other thing. So another few seconds went by and I realized, as I was hearing it, that, "Gee, that's pretty good. I don't know what this is or where it's coming from, but I think I should just let it happen." And I really feel that "Shine For Me" is a song that I channeled. I just really feel that that song came through me in a way that it was different. It's just like whoever out there, whatever spirit or whoever, needed to get that song out.
It's kind of like if you visualize being up high, like let's say, when you're in a plane and it's nighttime and it's dark below, but you see a light. And somehow the light was on. I was home, so to speak, the light was on. And the whole thing just came through me. I was just compelled to write this song. The words just came. And words and lines I probably wouldn't say quite that way. And I just was a kind of a slave to this feeling that I had to get this thing done, wherever it was coming from. And then it all just came out. I couldn't do anything but just finish this song.
And then when it was done, it was almost like, wherever I was channeling this from stepped away, as if to say, "Okay, you can tidy up, go ahead, dot the 'i' here. Finish it. I'm done." It just all happened like that. It was a very interesting experience. I was in it and doing it, but I also felt like I was a witness to something that was going on and then, stepping back from it, I thought, "Whoa, this really sounds good. I really like this." It's fun when something like that happens, because it was definitely a little bit different [laughs].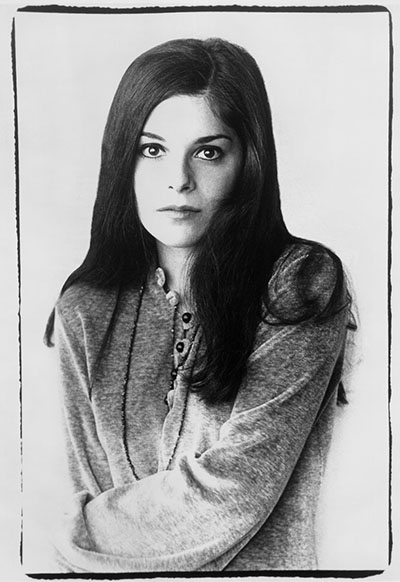 Photo courtesy of wwww.eviesands.com
PCC:
But you have to be open to enable that sort of thing to happen.
SANDS:
Absolutely. This was definitely something like that, for sure. The one thing I've always kind of hoped for, and it hasn't quite happened, is — I have dreamed songs and in the dream, the song just sounds so great and then, as soon as I wake up, it's almost like a pin to a bubble — boop! It's gone. Or just the tiniest like one letter of a word is there, but it's not enough to work with.
That's why I always was fascinated by Paul McCartney saying that he basically dreamed "Yesterday" and was able to somehow remember it when he woke up. And he just thought, "Oh, yeah, this sounds like a real song. It sounds good. It must be somebody's song." But it wasn't. So that's one I haven't quite experienced. I've been where I'm almost asleep, but it's not the same thing, and I get these ideas and then I just quickly get up and just get stuff down so I don't lose it. But I haven't yet had that experience, which would be great - to dream something that sounds great, where a song sounds fantastic in a dream and be able to wake up and capture it before it goes away.
PCC:
And then on the EP, you have numbers like "Like A Rock" and "Full Dose of Love" — it must have been fun to rock out.
SANDS:
Oh, yeah, absolutely. "Like A Rock" really is that. It's fun. It's fun to play live. It's just crazy, just tons of guitars, doing things all at the same time. There's almost sort of like two different leads going on at the same time. So it's really fun. And "Like A Rock" is interesting, because that happened in a little bit of a different way. A little bit of the melody and then the electric guitar riff that happens in the verses, that all pulled together.
That's the one song on the new record that's a co-write. And the guy Scott [Hackwith] that I co-wrote the song with, he had a little bit of a start on what has now turned out to be "Like A Rock." And when he played it for me, I just immediately thought, "Ooh, there's something there that I really like." And we were just going to head out. That was it for the day. And I said, "If you want, just give it to me and I'll take it with me and see what happens." And I took it home and everything just started happening — the lyrics just all came. The guitar riff came. It all just flowed after that. It was fun.
PCC:
Your approach to songwriting, your philosophy of songwriting, has it evolved over the years?
SANDS:
I don't know if I would say philosophy. I would like to feel that I've learned part of a skill set, as far as the craft of songwriting. There are just certain little things. It's hard to explain. But the purity of songwriting and just where that all comes from, the voodoo of all of it, I don't know that I could ever really, truly explain. It's just how to tell a story, a short story and put stuff together.
A lot of people write songs — and this has always been the case, but definitely in these more recent years — where they take the easy way. I'm not saying it's bad. It's easy to not have to paint images with words that are kind of artful, if you will. It's easy to just say, "Take your clothes off and let's 'f,' let's this, let's that." Anybody can say that, really. It doesn't mean that their song isn't enjoyable or the music and the beats and things they put it with, whatever genre, isn't fine. But it is easy. It's easy to say that [laughs].
I think it's a little bit harder to go over familiar ground in a fresh way. Let's face it, there's been a zillion songs, forever and ever, about love, physical sex, romance, whatever. So the experience, when someone experiences it for the first time, it is brand new, whether they're 12 years old or 72 years old. If it happens for the first time, it's magical. So, rhetorically, how do we convey that or how do we say that in such a way, and maybe put it together with music, beats or whatever, that doesn't exactly sound like it's been done before? And to me, that's kind of the challenge as a writer — to just to be able to take people on a journey, I guess, whatever that may be — traveling somewhere, emotionally, to share an experience, to touch people in a way. Because that's what I enjoy, when I listen to other people's work, the stuff that has moved me, just as a fan myself.
PCC:
So do you write with the listener in mind or just focus on coming up with something that pleases you?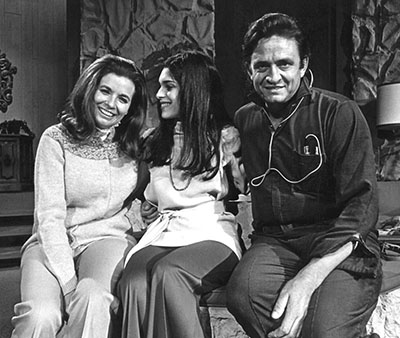 Photo courtesy of wwww.eviesands.com
SANDS:
Oh, I have to please myself first. I think I have the skill set, that if it was some creative thing I was asked to do and I had to take certain factors into account in terms of tailoring something, like even if someone said, "Can you write a song for so-and-so?" And just stepping back and seeing the kinds of things that maybe that artist likes to do, in their range, and things like that. So that already creates a little bit of a parameter. Within that, I can try anything. So I can do that. And if I had to take other factors into account, I suppose I could. But I don't really work that way.
Usually it's just a pure thing. I have some ideas and feelings. I've got something I want to express, again, either personally, or observation or combination of both. I get some ideas, some music or whatever and then there's the spark. And I just write it and then, my little meter [laughs] goes straight up, when it feels right. And I step back and tweak whatever has to be tweaked. When I finally feel that it's done, I guess the answer is that I've pleased myself and then I feel, "Okay, now I can let somebody else hear this." But I wouldn't do something to change it and say, "Oh, I should do it this way, because I think that's what these listeners would like to hear." Just for me personally. Some people may do that and be really successful at it. And that's fine. But for me, I just couldn't work that way.
PCC:
Growing up, what drew you into music to begin with? Did you have a musical family?
SANDS:
Yes, I did really. My mom was a singer. And there was always music in my house. My dad could sing a little bit. He could carry a tune. And they both loved music. And there was tons of it always going on in the house. My brother loved music. In fact my mom — now that you made me think about this — my mom, when she was pregnant, she used to sing to me and she always said, "This baby is going to come out singing." [Laughs] And I did, literally. I used to sing for my neighbors when I was two. My earliest recollections are of listening to the radio, learning songs.
At night — I haven't thought of this for a long time — my mom, we would always have music games. And singing. We'd always do things together. So if it was, "Oh, it's time, let's get you all washed and ready to go to bed," music was part of our little ritual.
PCC:
What were the things she was singing? What were the things you were hearing?
SANDS:
Really kind of a good mix of, I guess you would call the Great American Songbook. So all of the classics like Frank Sinatra and Ella Fitzgerald and Nat "King" Cole and Dinah Washington, Tony Bennett, people like that. And then just like rock and soul and pop. Some things that my parents listened to and obviously my brother, who's older. So that was going on. And then just all the things as I would turn the dial on the radio and be fascinated with all the different kinds of music. And at some point, I discovered R&B music on the radio and that really switched on a light for me. And I found myself drawn to it.
PCC:
And who were some of those artists who inspired you then?
SANDS:
Oh, like the earlier R&B people like Jackie Wilson, Little Willie John. Of course some of the Motown people like Marvin Gaye, stuff like that. Different blues artists. There was something just raw and earthy about it that I love. And great jazz artists like Oscar Peterson. And in a more sophisticated way, kind of connecting the dots between some of these things. Like "Body and Soul" and "Come Rain or Come Shine" that were kind of bluesy, but were Great American Songbook kind of things. So an interesting mix.
And then, of course, a lot of rock — The Beatles and a lot of the earlier English rock. And some of that, of course, was based on American blues, but with a little bit more aggressive guitars and things like that. So it was an interesting stew of music that interested and inspired me. It was all over the map.
I think the only thing we didn't have in our house very much, if at all — no opera. That's great stuff, but we didn't really have it. And only some classical. Not really a lot of pure classics. So only in the way the classics inspired the great writers, I mean the Gershwins and those kinds of people, with their classical training. And the references of how they got to where they were musically. Of course, there are different things that they wrote that were classical in nature. But everything else but classical, we were hearing. So it was good.
PCC:
And far as the pop and rock and R&B songs, how long before you began noticing who the writers were and what was happening in terms of the structure of songs?
SANDS:
Structure, I could always follow everything, but I wasn't aware of it from a songwriting standpoint, all the different kinds of structures of putting songs together until, I would say, I was around nine or so. Because then I really started doing things and began to understand, at least a little bit, "Well, this is the chorus and here's the verse." Or maybe even a little earlier than that.
But then as I began to really get full into it and began to play, I developed a deeper and deeper understanding of all the nuances of like songs and construction and different ways of going about it. And you know what? It's just an ongoing process. That's what's so great about music. It really is never-ending. It's like a constant thing of keeping the plates spinning to not lose whatever I've learned and keep that going. But at the same time, there's so much to learn, so much. It's endless. So it's ever fascinating and challenging and exciting. Always.
PCC:
So how old were you when you actually started to write songs?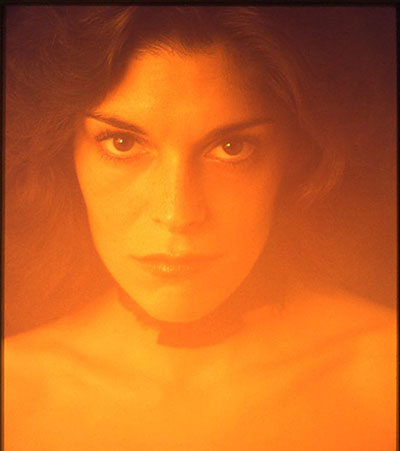 Photo courtesy of wwww.eviesands.com
SANDS:
I'd say, let's see, I'm trying to think when I got my first guitar… I wanted to get a piano, but we couldn't afford a piano. So maybe like in the mid-60s. I think when I got my first guitar. So maybe like around 12.
PCC:
You taught yourself to play guitar?
SANDS:
I did. I taught myself.
PCC:
Did you know that people like Dick Dale and Jimi Hendrix were also playing guitar left-handed, strung right-handed?
SANDS:
Dick Dale, yes. We do play the same way, a righty guitar, but play lefty. Jimi Hendrix actually played the traditional way, the only thing is, he was left-handed and when he was playing, there were very few left-handed guitars made, like the bodies — so the electronics, the cutaways or whatever, the body part of it. So he would just take a righty guitar and he did the correct thing. He changed the nut and reversed the strings so everything was correct, just as a lefty.
PCC:
Were you singing publicly, every chance you had at that point? Or was it something you were doing in the privacy of your room?
SANDS:
Well, once I began to go out there, so to speak and say, "Yeah, this is happening," then pretty much whatever I could do and wherever I could do it, I did. I didn't tell people about it at first, except for my one best friend, because music meant so much to me. It was just so much like my heart and soul. I didn't do it because I wanted to be like popular with kids, like "Oh, hey, I'm going to be in this band." Guys would think that way, and even some girls — "Oh everyone's going to like me" or "I'm going to get dates." It wasn't anything superficial like that. And I just didn't want anybody to possibly trash it or anything. So I kept it to myself and I kept at it.
And then at one point, after my first record came out, we were with some friends and we were listening to the radio and my song came on the radio and my best friend said, "Okay, this is it — it's not a secret anymore." She said, "Hey everybody! That's Evie!" And they were like "Really?" Some of them knew I sang. I did sing. They'd see me goof around with music, maybe play a little bit. But it was, "That's you!" So I guess it was officially full-on public at that point.
PCC:
It must have been a thrill, hearing yourself on the radio for the first time.
SANDS:
Oh, it really was. It was really exciting. Even now, you could say the same thing, but because there were fewer stations, there was no internet, there were fewer channels, fewer outlets to actually get something and hear it on the radio. Again, the things that we as kids enjoy, love to do, to then kind of be part of that and have it be played before or after some other cool song that was on there, it was great.
I remember hearing my song, it was in the car, on one of the early promo tours that I did and I was in the Baltimore/Washington. We were in a car with like the local promo people from the label's distributor there. It came on the radio after a Smokey Robinson record. It was like, "That is so cool!" That was really exciting.
PCC:
How old were you when that first record came out?
SANDS:
Around 13.
PCC:
It must have been life-changing.
SANDS:
It really was. I found it so interesting, because just getting to travel and getting outside the area where I'd grown up as a little kid — still being kind of a little kid — but just to see different things in different cities and people and all the different accents and different names of stores and the culture or whatever they had going on, things that were different. I found it really eye-opening.
It made me realize that, even in that relatively small context, there is a lot of world out there, that there are lots of different things. And different from where I was. And even though where I was, was not tiny. It was in New York City as a little kid. It wasn't like growing up, say, in Podunk, Iowa, which is like really tiny, like a town of four blocks. There's always plenty of things going on in a city like New York. But still, when you kind of zoom out from it and travel, things are different in many places. That was a very interesting thing and something very enjoyable for me that began to happen, as well, that I loved.
PCC:
Being so young, did your mom go to the gigs with you on tour?
SANDS:
Oh, yeah, absolutely, because my dad was working, so my mom was the one who traveled with me. Yeah, for sure. And it was good, because I was blessed to have a mom and a dad who were both loving parents and really supportive. And my mom and I were like great pals, too. So we had fun. She was definitely mom and had her rules and restrictions. But yeah, she was great. We had such a good time.
PCC:
You toured with the Shangril-Las at one point?
SANDS:
Yeah, there was some early stuff, for that short time when we were kind of labelmates. Technically they were on Red Bird and I was on Blue Cat. But it was the same umbrella, the same company. So yeah, most of that was in that Tri-State area — like the New York, New Jersey, Connecticut area, the stuff we would do.
And somebody would come from the label, a distributor or whatever. They would pick us up at our respective homes or something. And they would take us to gigs. And bring us back. And it was local. And sometimes my mom would come. And sometimes, because she knew who it was and what it was, and it was local, then it was okay, kind of like when we'd go to school and do some things on our own. I mean, it wasn't like I was five years old. So I would sometimes go with just Shangri-Las and whoever was driving and one or two people who kind of shepherded us around.
PCC:
With Blue Cat, did you get to know the label founders, Leiber and Stoller, at all?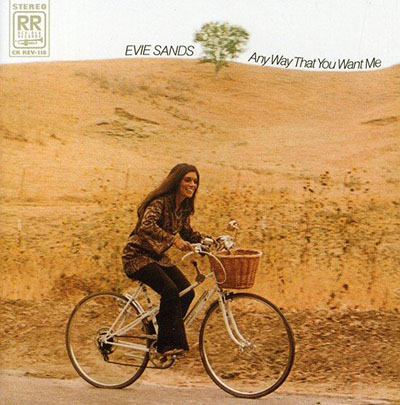 Photo courtesy of wwww.eviesands.com
SANDS:
Not really. I'm sure that we met, but I was really kind of a young kid and I didn't really have anything to do with them specifically, though it was their label, along with George Golder, I guess, was their partner. Because my work was with Al Gorgoni and Chip Taylor. And so they are the ones that really had the relationship with the label. And all of my work and the activities were strictly with us. Maybe I went up to their offices once. I can't even remember. I think we met, but I didn't really have much interaction with Leiber and Stoller.
PCC:
And then with "Take Me For a Little While," that early version had almost a Motown vibe to it. Great sound. It seemed destined for the top of the charts. There are many varying accounts of what happened. Did a pre-release version get out and was then presented to Jackie Ross?
SANDS:
There are a lot of different accounts of it. There is so much rubbish, as you know, on the internet. The reason I can tell you that, is because I know it first-hand. There's all kinds of just complete rubbish out there about me. It's like the telephone game. Maybe at some point, there's some dot or iota that had a basis in fact, but it just got all turned around, including by the way, just a little sidebar, the name and birthday that is all over the internet, just put there erroneously by somebody.
There could be several people with similar names. Somebody in Germany, at some point, I don't know how this ever happened, decided that this particular female, if not just fictitious, must have been me, with not my name, not my birthday, month, day, year. And once something gets on the internet and they stick it on Wikipedia, initially there's no challenge for it and then it just goes everywhere, all over the internet. At first I was really upset by it. And then I just went, "What the… ?" — you know what.
Wikipedia has since taken away the wrong name, because perhaps a few people have contacted them in such a way that meets their criteria for vetting. And they said, "Well, something in here isn't jibing, so we'll take that off." And they finally have the right month and day, but they still have the wrong year. So…
But to go back to your question, yeah, really it just came down to, the Jackie Ross record beat our record out to the street by a week. And it really was just that. There were test pressings that were sent around to get in all the different cities, to get their distributors and promotion people excited about upcoming releases. And in some cases, maybe the promo people will take these test pressings that they have to really good radio buddies. They're just trying to get people excited, saying ,"Hey, guess what? This is coming."
So somehow a promotion guy who actually worked for Chess Records… Jackie Ross recorded for Chess Records. And she was coming off a number one record for her called "Selfish One" and was in the studio, trying to come up with a follow-up to that. And so this promotion guy, who worked for Chess, somehow he got hold of one of my "Take Me For A Little While" test pressings. And when he heard it, he said, "Whoa, this sounds like a huge hit. And this is an unknown artist."
So I guess maybe he figured he'd be a hero and earn some bonus points, because it was going to be a huge hit record. So instead of thinking about what label was behind it and what plans they had, he knew it wasn't released yet, so he took the test pressing over to the Jackie Ross session. And he was kind of like, "Hey, everybody stop what you're doing. I've got the song. I found it. This is the one for Jackie Ross."
And I guess everyone, when they listened to it, they agreed, because they stopped what they were doing and instead recorded "Take Me For A Little While." And they tried to copy, as best they could, my recording. And then, in like either 24 or 48 hours, they had it done, pressed and they hit the streets with it. And as I say, they beat our actual release by about a week.
The way I found out about it, which was kind of odd, for then, I would get all the trade magazines each week religiously, so I opened up Billboard and, after turning the cover, there, on the very first page, which would be on the right-hand side, it had a full-page ad, which was always a big deal, saying, "Destined to be number one, 'Take Me For A Little While,' Jackie Ross, Chess Records." And I remember, I thought, "Oh, wow, that's the same title as my song. Oh, no." I didn't realize then all the nuances, like you can't copyright a title — but you can't. It was like, "Oh, no. Gee whiz." [Laughs] Like dueling banjos here — the same title.
But then Al Gorgoni and Chip Taylor and other people involved with my end of the thing were seeing the same trade magazines and, before long, I'm not sure how many hours it took, the day the magazine came out, to find out, "Hey, it's not just that the title is the . same. It's the same song!" And because this in fact was going to be the first recording of the song — you probably know this, it's still true — if a song is written and it has not yet ever been released, essentially published and released, then you have to get a license and permission to do it. I mean unless you wrote the song, then of course, you give yourself permission [laughs].
Once a song has been released and it's out there, if you are going to make an audio recording, you're still supposed to pay and have licensing and stuff, but you no longer need permission. Anybody can record it. I'm not talking about sync licensing, where you're syncing up music and images, like for placing recordings in film or TV or commercials or whatever. That's different. But just purely the audio, if you just want to make a recording.
So in this case, my recording of "Take Me For a Little While" was literally the first recording of it. So they went ahead and, in doing that, it just was wrong. But because she was coming off a number one hit, so she was known, where I was literally unknown… It's a really cool song and they tried to copy ours, so it's a pretty decent record. The radio just jumped on it right away.
And so behind the scenes, there were all these different things that went on. And, in the end… Chess Records' management really had no backstory about how that occurred, how Jackie Ross came to record the song. When they found out from my label, I guess they were read the riot act about it, they pulled the record off the market. It was done. They just said, "Outta here."
So what happened was, a lot of the record stations that had already been playing hers, — it was starting to get good reaction and moving up their individual station charts — they were really upset and they were kind of upset with the labels and just out of spite, they wouldn't play mine. The only stations that played mine were the ones who waited… Radio, major markets, they just wait and see how songs develop for a while. That's part of the way, like connect one dot to another, seeing how things move around from market to market. So those stations played mine. And wherever it was played, it was a hit. But it wasn't ever able to be played completely nationally, just because of all the behind-the-scenes machinations that went on with it.
PCC:
That had to be crushing, knowing what a good record it was.
SANDS:
Oh, it was really disappointing, yeah. It still is, as far as just looking at some of my earlier works, I just think it still is a great record. It's always been one of my faves. So yeah, absolutely. Just from the reaction it got wherever it was played, I'm sure it would have done very well. I can never predict how far a song will go, because some of that's always been politics. The last jockeying, the sprint when you're in the Top 10, especially in those days in Billboard. But I think it would have done really well for sure. So yeah, it was definitely very disappointing.
PCC:
And then you must have had a similar feeling with "I Can't Let Go," which also sounded great and then became a hit, with a similar arrangement, for The Hollies.
SANDS:
Well, yeah. Bottom line with "I Can't Let Go" is, that was released shortly after "Take Me For A Little While." And having nothing to do with me personally or the merits of the record itself, radio stations that had felt that they had been made to suffer because of the Jackie Ross thing and that whole behind-the-scenes, "Oh, you have to stop playing that record. Take it off the market," they were still gnashing their teeth over that.
So in protest, they just said, "This is how we're going to punish that label." My label had nothing to do with anything. And neither did I. So that's what happened with "I Can't Let Go." There was like a giant wave that happened, coming right on the heels of the "Take Me For a Little While" bit. And so it just got bypassed.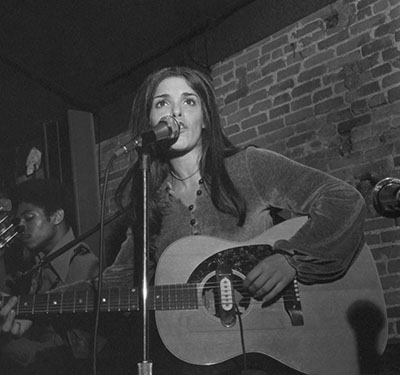 Photo courtesy of wwww.eviesands.com
PCC:
And then your version of "Angel of the Morning" disappeared due to the folding of the Cameo label.
SANDS:
Right. Yeah, because originally it was one of the most requested songs. And again, usual thing — it starts out in some of the secondary markets. And a couple of majors here and there, but mostly just the way records will always build. And I think there were maybe about 10,000 copies initially that were sent out. And those sold out. But yeah, once the label was in the tank, everything stopped. The whole machinery behind it was over. So that was the end of that.
PCC:
And then when you see the Merrilee Rush version going to the top, what was the feeling, when you know it should have been you?
SANDS:
Well, again, it was terribly disappointing. And not the most fun thing [laughs] to experience. But the main thing really is that the overriding, the driving thing of my entire life, then and now, is music. So there was nothing then or now that I can do about just the being compelled to make music. So it just was completely disappointing, for sure. But for me, I've just always moved on.
One of the disappointing thing is that a lot of the stuff that's out there, when people want to refer to things I've done, like many artists, I have a whole timeline. I've had things I've done earlier and in the middle and along the way and, of course, brand new. And they just get stuck, like a photo frame, like one still of a moving image, on just those particular things and dwell on them.
But for me, it's more like an old zen story. I won't go into the whole story, but it's about picking something up and then putting it down and letting it go and moving on. And that's what I've done. So it's been frustrating sometimes when that narrative becomes the focus.
PCC:
And then landing at A&M, a more friendly atmosphere for artists, you broke through with "Any Way That You Want Me." Chip added a new bridge to the song for you, after The Troggs and American Breed versions had come out?
SANDS:
Yeah, that's exactly right. That part — [sings] "Nothing you could say or do can make my love grow stronger…" So that was the new bit that Chip wrote and added to the song, just as you described, yeah.
PCC:
There was such dramatic power to that record, you must have known that this one could actually leap up the charts.
SANDS:
Well, yeah, that one, too, when we did it, felt really, really good. I suppose with a bit of both seriousness and tongue-in-cheek, part of it was that Al and Chip were thinking, "Well, it seems like when we record, within the industry…" and like for me, which was a great thrill and honor, I had all these fans in the industry, great artists and things, and they were saying, let's see what they — meaning me and Al and Chip — were going to do. And depending on the business situation, if it wasn't ideal, they would say, "Oh, good. We'll take it." [Chuckles]
So Chip, as well thought, since, as you said, Paul, "Any Way" had already been released and had already been somewhat on the charts with The Troggs, this would be something different, a different way of going about it. And then by adding the new section, that made it something new, yet again. And then, yes, with A&M, a new label, and we felt that if we made a really good record, which we did, we thought, that we'd have a better chance [laughs], better odds of having things work more in our favor. And they did. So it was really good.
PCC:
Working with Chip so much, what's impressed you most about his writing?
SANDS:
Well, I'd say Chip and Al, because it was always the two of them, really. There's always overlapping skills and yet they each have their own individual kind of things that they do really well. And really good instincts. And great guys. What's so nice is, we've been lifelong friends. We're friends to this day. I cherish the friendships.
PCC:
The "Any Way That You Want Me" album is wonderful. You re-recorded "Take Me For A Little While" for that album?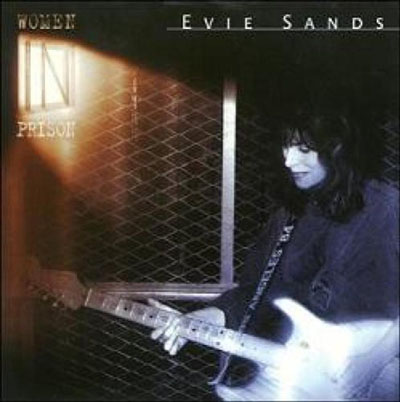 Photo courtesy of wwww.eviesands.com
SANDS:
Yes, we did. It was similar, but a little bit different and, in its own way, a kind of cool version of it. You know this thing that happened with the "Any Way That You Want Me" album, at that time, for a lot of years in the music industry, actually, but focusing on then, artists were not generally given a go-ahead automatically to record an album. And for all the years before all the technology changed, it was really expensive. You can still do expensive things now, too, but there are other ways of doing things with technology that are not expensive. Or not as expensive. But then, because it really was, an artist was not necessarily told, "Oh, here's a ton of money, and just go in and do an album and then we'll pick a single and then we'll go from there."
What they used to do mostly was - "Okay, we're signing you and initially we'll go in dribs and drabs and we'll give you the money to go ahead and record like two or three songs at a time and hopefully there'll be one that'll be a single that'll break through and then that will be the reason that we'll say, okay, now it's time to go ahead and do an album." But sometimes that proved to be problematic. And that's what happened with "Any Way That You Want Me," because we'd recorded a few odd tracks and then, like the early third of getting stuff together, we recorded the song "Any Way That You Want Me," which yes, broke through and was a huge hit, but we didn't have an album.
So there was no album in the stores for people to buy. So immediately, of course, A&M said, "Oh yeah, obviously, go right in the studio and go finish the album, however many more songs you need to record. Go do it, so we can get an album out there." But the process of recording then, even still, when a recording is done, there's still a lot of lead time that always happens, sometimes six months, certainly a minimum of three months just to kind of get it working in the system, for them to work with the distributors and promotion and marketing and gear everything up.
So by the time we were able to record the full album and it was released, it was at least six months after "Any Way That You Want Me" was a hit. So the dots didn't connect. It was just really not a good business model, if you will. There should have just been an album right then. That would have been the optimum situation. I was really excited with that album, because it was the first time I got to record one of my own songs.
PCC:
Yes, "It's This I Am" - gorgeous song.
SANDS:
Thanks! That was interesting, because there was a cover version by Beth Orton, who did a kind of like a trip-hop version of it, which was really interesting, really inventive, just a few years ago. And then Beck actually did the song, too, in a different, inventive way.
PCC:
It must have been great having these new generation artists finding the song and re-interpreting it.
SANDS:
Oh, yeah, it's always, as you say, enjoyable and just so great to hear when anybody does cover versions. I'm always just interested and fascinated by what they do. Sometimes they just really try to copy, basically, if it was my own recording, or if other people have covered the song, and maybe that's how they came to the song, from whatever name artist that they'd heard it by, which was already a little bit different, similar but different from my own… so again like the telephone game, but not in a bad way [laugh].
And in turn, sometimes I can almost tell what the source was, where they heard it, by what they do with the arrangement or certain things about it. But yeah, it's always great to hear what people do. Once in a while, it's not my most favorite thing that I'll hear. But lots of times I've just been over the moon at just how people have done it.
PCC:
Having legends like Dusty and Streisand covering your songs… Were there some that were particularly thrilling for you to hear?
SANDS:
Well, yeah, you mentioned Barbra Streisand. Her cover of "Love in the Afternoon" was one of those that, in fact, was really completely different from my own recording and a very Barbra type of interpretation. Mine was a kind of a more mid-tempo, soul-rock kind of thing. And she did this very romantic ballad, great Barbra thing.
One of the people who was at the studio where she was recording called on the phone and said, "Hey, have a listen. They're playing it back!" And when I first heard it coming from the speakers into the phone, it was like, "Whoa! Wait! What is that? It sounds completely different." But then I finally, of course, got the record when it was released and I sat back and listened to it, I was just really thrilled with it.
In fact, I got to hear her sing it live. She didn't do very much performing, but she performed at the time, at the Columbia convention. Labels would always have their big conventions. And they'd bring in all their people from everywhere and tell them, "Hey, we have all these things coming up and this is who we have," that usual kind of thing that they do at conventions. And then they'd have entertainment. And interestingly enough, Barbra Streisand agreed to perform. And it was because that album, "Butterfly," was about to be released, one of their new releases. And so she did about five songs from it. So people I knew, a couple of musicians, said, "Hey, she's going to be doing your song at the convention." So we managed to find a way to get in and see it, which was really fun. It's fun to just sit back and hear, of course, a great artist, and great players, who are performing something that I've written. It's just a great thrill. So that I loved, because it was a whole other way of doing the song, which is great.
And then there are some other real favorites that I have — like the Gladys Knight version of "I Love Makin' Love To You." We re-wrote the lyric for her, at her request — it's called "Love Gives You The Power." But "Love Gives You The Power" is "I Love Makin' Love To You" from "Estate of Mind" with a different lyric. And such a great record. It's a killer record. It's one of my favorites of the cover versions.
And then Dusty did a great version of "You Can Do It." There's a bunch that have been really cool.
PCC:
And Dusty actually sang on a track on your "Suspended Animation" album?
SANDS:
Yes. Yeah, she came in and sang on a song called "Lady Of The Night" on "Suspended Animation," which did have some cover versions, as well. But that was just so fun, because she was always, and still is, one of my all-time favorites, just masterful, phenomenal. And I was very honored to be one of her faves. So we had this mutual admiration thing going for a while. And it turns out that we had a very dear mutual friend. And so it was through the friend that we were able to really connect.
And that was great. Dusty came in and she couldn't have been nicer and more fun to work with and we kicked around ideas. And it was really fantastic. And then I remember I was thinking like, when it came time to hit record and she was singing, I was thinking, "That's so cool!" I'm in the booth, because that was an album that I co-produced and I was thinking, "That's Dusty Springfield singing, right? That is cool!"
PCC:
Back in the "Any Way That You Want Me" time, you were doing a lot of those music TV shows like "Shindig!" and "Where The Action Is." Were those fun to do?
SANDS:
Yeah, those shows were great, great fun. All the shows. I got to do a lot of fun shows. The great number of music shows were lip-sync shows. "Shindig" was a live show, so that was really fun, because it was great to be able to sing live on a show.
And then the shows like all the Dick Clark shows, he was always just the most gracious host, always really, really nice, one of the nice people, host-wise, to be around, very accommodating and very pleasant and very kind — kind of what you see is what you get, if you watch those shows, his personality was just kind of like that.
And then the other kinds of shows, the talk shows, which we've always had. And then the really fun shows like Johnny Cash and Glen Campbell and The Everly Brothers and things like that. It was so enjoyable.
PCC:
Did you get to sing with Johnny Cash on his show?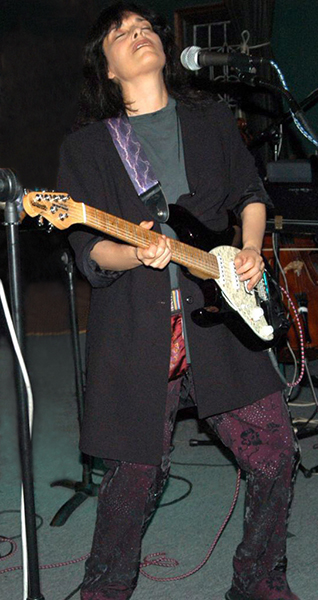 Photo courtesy of wwww.eviesands.com
SANDS:
I only got to sing privately [laughs]. I didn't get to sing with him on the show. I was given a longer segment for my song itself. The "Johnny Cash Show," as you know was really cool and kind of innovative in terms of having artists on and letting them do things different from all the typical kinds of variety shows that we had. I don't even know why I did it at the time, it wasn't even a song of mine, but I combined two lesser known Ray Charles songs and put them together. So it kind of ran fairly long for the segment. So I didn't get to sing with Johnny on the show. I mean, we sang, hanging out, all of us, like in the rehearsal days for the show and goofed around a lot. But I didn't get to sing with him on the show. Johnny and June, two of the nicest people I've ever met. Fantastic. I can't tell you how great they were.
I did get to sing with Glen Campbell on his show, as part of the show. He was so nice and so gracious. Like a cool thing that he did was, talking about singing with him, when it got to the time that we needed to choose what song we were going to do for our duet - First of all he goes, "Well, whatever you want to do. Pick something. It's fine." So we picked the song. And then girls and guys a lot of the time don't sing in the same key. So sometimes you have to kind of massage that around a little bit.
And so I said to him, "Oh, gee whiz, I'm playing it in this key — that's probably not good for you." And he said, "Listen, I have a show I'm on every week. I get to do several songs every week. And I pick the song and I pick the key that's good for me. And I get to have a good showcase, basically, for myself." He goes, "This is all your spot. Don't even think about it. Whatever song you want is fine with me. And you pick the key that's good for you and don't worry. Believe me, I'll find something I can do and sing. I'll figure out whatever harmony or something. Just make sure it's good for you." Of course, Glen is such an amazingly talented guy. He really had all that going on with him. He was truly so sweet, so nice and so gracious. Because not everybody would be that way.
PCC:
And working with the Everlys? What was that experience like?
SANDS:
It was great. I know that off and on, hearing through the grapevine or reading stories, they went through different periods of being on and off with each other. You know, brothers. But whatever was going on at the time, it was really great between them. Or if there ever was any sibling friction, I never saw any of it. They too were like the nicest people. It was so much fun, a lot of joking and goofing around and having a great time. That show, they had Neil Diamond and The Statler Brothers as the other guests.
And The Everly Brothers, I mean, we are not worthy. They are just the greatest sibling… Phil, the greatest high harmony singer; Don is fantastic. With them, I sang a duet with Don. That was fun, to sing with him, of course. That was great.
PCC:
It's a shame those show haven't been released on DVD.
SANDS:
I know. Some of those old shows, not necessarily that one, but many were just destroyed, either inadvertently or stupidly. Sometimes they just weren't cared for properly or they were given to somebody who was supposed to be warehousing these things and they weren't treated properly. There were cases where, just to make money, someone wanted to buy tapes and a guy would say, "I have a bunch of tapes .They're not new. But you could just record over them. They've only been used once." There are stories you would not believe. But for one reason or another, there's tons of phenomenal things that are gone. And it is a shame.
Except once in a blue moon, there'd be an exception, where a station in one of the cities, let's say with one of these national shows, one outlet, like say NBC in Cleveland or something, somebody had a way where they recorded the show and maybe the quality isn't that great, but it eventually somehow surfaces. So there are a few like a pearl in an oyster, somewhere, where one of these shows is found like that. But it really is sad that so many great things are just gone. There's a lot of great stuff out there that could be released, though.
PCC:
And was it on Shindig!" that you sang with The Blossoms?
SANDS:
Yes, yes. Darlene Love and The Blossoms backed me up when I sang "Take Me For A Little While" on "Shindig."
PCC:
"Playboy After Dark," was that one of the stranger shows you did?
SANDS:
Ah, yeah. Let's just say it was [laughs].
PCC:
They did have a lot of great music.
SANDS:
They did. In fact, the show that I was on, they had Smokey Robinson. Yeah, for sure, they had a lot of just great artists, like cool stuff. But it was a little strange. Yeah [laughs].
PCC:
The gap between the "Any Way That You Want Me" album and "Estate of Mind," was that again label issues?
SANDS:
Well, yeah, because what happened is, talking about writing, once I began writing and began to find my own voice, and so I had that first song on "Any Way That You Want Me" — "It's this I Am" — and then I knew that I really wanted to express myself and record my songs. So there was definitely some kind of corporate resistance, being controlled in a certain way. So that truly was the gap.
There was almost something that I did with another label. I won't even get into that now. But in between "Any Way That You Want Me" and "Estate of Mind," I did actually have a record deal and was going to be recording and, I won't even get into all this stuff, but with some really good, talented people. But I just realized, as I was into it — I thought originally that it was going to be a creative path, that it was what I wanted — but I realized that it really wasn't and it was just going to be more of the same.
And not saying in any way that I'm dissing or unhappy or not understanding of anything that I had done prior to that, but, as I say, I started at nine and 12 and I was developing as a person. And I felt strongly about what I wanted to be as a musician and a writer. I wanted to express myself. So once I realized that that wasn't really happening with this other label deal, I asked to be released from it. So these things that we started were not maybe quite all finished, but they exist somewhere. They were never released. And then eventually I managed to get into a situation that seemed like it was what I was looking for — and that turned out to be the "Estate of Mind" album.
PCC:
"Estate of Mind" and "Suspended Animation," both strong albums — was it lack of support from the record companies that kept them from being heard on a wider scale?
SANDS:
Well, once again, it's interesting, fascinating to always learn from things. So let's take a look at "Estate of Mind" first. So "Estate of Mind" was Haven Records, but that was Capitol Records, really. And as always, one of the things that artists are always up against is, there's any number of artists, worthy artists, who have records out at the same time. So then when the promotion people go to the stations and they're like, "Hey Paul, this is what I'd like you to play. I'm here to bug you — starting this week, I'd like you to add this record." So they would always come in with more than one, these promo people. And the level of attention depended on either the politics of it at the label with the artist — or like anything, who was controlling who or what was at stake or what was connected —and the politics at the station.
And there was this whole other rabbit hole. It was especially difficult for females, because radio stations, even when they loved a record and they liked what was happening with it, they would say, "Okay, we see what you're presenting us, it's been played here and here and here. Oh, look how well it's doing with audience response. And okay, you have enough of a resume now to build. And yes, we in fact will add your record this week. But it's a female. And gee whiz, we have…" Fill in the blank, somebody who's female who had a hit record or a song moving up the charts. "Well, you know, we're playing so-and-so. You realize we have to wait like eight hours before we play something by another female." So it wouldn't automatically get into the rotation in the same way that records that were sung by guys would, in general. So the combination of that at the radio stations and then the politics of who and what and where.
Unlike with "Any Way That You Want Me," with "Estate of Mind," we did have an album first. So it wasn't that situation of the tail leading the dog. So that was great. And then we had two hit records off that album. But the way in which those need to be — again it's like spreading something from one market to another — there were again certain politics and things involved in both sides, both the radio end of it and the label end of it, that didn't quite treat it in the way that it should have been treated to just consistently build on the momentum. Because wherever those records were played, they were like number one, number five, Top 10 in all these different places. But also spread out over a period of time when they just didn't put it all together in the right way.
And then with "Suspended Animation," it was something that was a little bit different. And this has happened with other people as well, is that the administration, if you will, that signed me, right after we got signed and got to do the album, the album was done, but as the album was going to be released, the entire administration changed. The president of RCA Records left to go back to England. Somebody else came in and it's like now there's a new Secretary of State, a new Secretary of the Treasury, a new everything everywhere.
And as is typical, everybody has their own projects and their own things that they're doing and they're working on. So unless something had already been out for a while and was already a super hit, or somebody was just like huge, like a gigantic artist, that just goes without saying, everything else was like, "Well, this is cool, but I don't have interest in this. I'm interested in these things I'm already working on." So it just kind of got lost in the shuffle, when the old administration left and a new administration came in. So it was like a weird timing thing.
PCC:
So was it at that point that you decided to sort of step away from recording and performing to focus entirely on writing and producing for a while?
SANDS:
Well, no. That's, in a sense, a little bit of the myth that's out there. Yes, I did concentrate a lot on writing and production. But it's not because I decided to step away from being an artist. I never stepped away from being an artist. It's just that the opportunities that were presented to me were… It's again that element of my story, just wanting to be able to creatively do my work and be offered the same sort of opportunities, again, in general, that a lot of guys get.
There was a ton of resistance to females as either recording engineers or in production. They generally were not encouraged and supported to be able to do that. And even with "Suspended Animation," though I did co-produce it, the word "co" is because it was my production company, I knew that, unless there was a guy involved, that would be like a deal-breaker. It wasn't like I got to do it myself. In the label's eyes, there was a guy there, which made it okay.
So the opportunities that were presented after "Suspended Animation" were like the typical, "Well, we're going to do these arranged marriages. You need to work with this person or that person." I'm not saying that some of them were not really skilled and talented people and all that, which would be great, but it wasn't what I wanted to do. And again, the opportunities that a lot of guys had and would be celebrated for, that's all I asked for.
Or they would say, "Well, we really think you should be doing songs like these…" or backward thinking like, "Give us another song like that." Stuff that, I just couldn't do it. It just was not right. So I never stepped away from it. It's just that because of the contractual quagmire and lack of support in many ways for females, it just was sort of like when someone says, "My way or the highway." And music and creativity is just too much a part of my soul, in honesty. And it just didn't feel right.
So what I could do was, I could definitely write songs. And by then I'd been having a nice degree of success with writing and having all these wonderful, great artists also record my songs. And I had more of, as we would say now, a DIY sense of being able to get involved with production.
Some of the things that I love, I was able to do — writing and production and some studio musician work as a player, and little things, more like kind of under the radar. But that's the reason that I didn't have anything like artist-wise that I was doing. But it's not because I went "Oh, I'm just going to retire from doing it." That couldn't be further from the truth. I wanted nothing more than to continue to do that, as always. None of that ever changed.
PCC:
One of your co-producing efforts was a fine album by Holly Near — "Speed of Light."
SANDS:
Oh, yeah, that was a really cool record and something different for her. I mean, something that she wanted to do. As an artist, I've always been sensitive to that. It's not that I try to impose anything of my own on another artist. But when she came to me and we talked all about those kind of things, she knew upfront the kind of things, listening to some of the songs, the ideas that I had. So yeah, that was great.
And I wound up doing that with Leslie Ann Jones, who is fantastic. She broke, as they say, the ceiling, being if not the very first, one of the very first females to break through as a recording engineer. To this day, she runs like Skywalker. And she's a Grammy Award winner. But how difficult it was for her, where there were guys, men, who didn't even want her in the studio. But she managed to break through and get to do stuff.
So I did that Holly Near album with Leslie in San Francisco. So I kind of had a commute job, if you will. Like every Monday I'd fly up to San Francisco and I'd stay there and we'd work all week and then, Friday night I'd fly home to L.A. I did that for about three months. And that was done at the old Automatt up in S.F., a fun, great studio to work out. And just fun people. Like Sheila E. and cool people from the Bay Area, great artists. Robben Ford. We had some really cool musicians on it.
PCC:
And then it must have been really gratifying to learn what was going on in the U.K., in terms of the appreciation for your music and the rise there of the Northern Soul movement.
SANDS:
Oh, yeah, for sure, because there was a time that I was not aware of the Northern Soul movement and what that was about. And it was a big surprise to me, but a wonderful surprise. And as I was going there and getting involved with artists over there and doing things, I got this great appreciation and also great further knowledge about it. And it was amazing, this whole world of Northern Soul. I guess because it was tied into, in a way, like the northwestern quadrant of England, I suppose that's how the name happened [laughs].
PCC:
Getting back together with Chip Taylor and Al Gorgoni for the "Women in Prison" album, did everything immediately click again with all of you?
SANDS:
Yes, it was kind of a reunion for the three of us. The main difference is, of course, at that point, being a writer now, as opposed to when I met them, being 11, 12 years old, and even before I was really writing and before I was really playing instruments. I was a little kid. With the "Women In Prison" project, it was definitely about writing together, just like holed up in a hotel room, we wrote like nine songs in three days. And just working with some great people.
A kind of little sidebar thrill for me, Al Gorgoni is one of the world's great, great guitar players. People always refer to The Wrecking Crew, well, he was like the Wrecking Crew East, basically, and played on just hundreds and hundreds of things, signature licks, as well as being a great writer and arranger and producer. But a fantastic guitar player, including classical that could just make you cry. Just great.
So I always remember, as a young kid just seeing him play. Al is the one who first told me that I was playing guitar wrong. He goes, "It's upside-down. What are you doing?" And that led to the whole thing about what that meant and you should try to play righty if you can, for various reasons. And if you can't, you can be a lefty, but you have to reverse the strings or try to find a guitar that's made for lefties, so the strings are reversed. It's the same configuration, where the low fat string, the E is on the top and the thin, high E is on the bottom. And that was a real eye-opener for me. So he was there literally at the very beginning. Of course, you know the story, I tried, but obviously I kept my rogue ways in the end and stayed with being a lefty upside-downer.
But with "Women in Prison," what was so fun was that I was now actually sitting side by side with and playing sessions with the great Al Gorgoni on guitar. It was like such a fun, exciting thing for me. Oh, and just recently I heard back from Al, he'd been away, and I heard from him about my new record, "Shine For Me," which I'm happy to say, he really loves. And one of the things he said he really enjoyed listening to was all the guitar work. It's just a personal thing. Here's somebody I really looked at and looked up to.
But yeah, "Women in Prison" was great. We did a lot of it in Nashville. We did some of it in New York City. And Al and I did a little bit of mixing here in L.A. But for the most part, the album was recorded in Nashville and most of it was mixed there.
PCC:
And it received a lot of critical acclaim.
SANDS:
It did. About four or five number one songs on kind of the U.K./ Euro indie charts. A lot of really, really good stuff. And I think there's some really, really good songs on that album.
PCC:
"While I Look At You" is certainly one of them.
SANDS:
Yeah, I was going to say, that's one. In fact, I still play that live. I just did that at my record release show at McCabe's here. Very cool. Good record. Very good song, I think. Yeah.
PCC:
The lefty upside-down playing style, do you think that gives you a distinctive sound?
SANDS:
Well, I think maybe, to some degree it does. Now that I know enough about it to be able to look at it from afar, I think there are some things that are easier to play, if somebody plays the traditional way, whether righty or lefty, the traditional configuration of the strings. And there's some things that are easier to play playing upside-down. And then most of it is a wash. Most of it in the middle, really doesn't matter so much, although you can get technical about the upstroke and the downstroke. Like do you want to hear the low up to the high? Or do you want to just pound the low strings? So I have to hit the guitar differently. Or a little bit of the overtone series is a little bit different. Weird things like that.
But also the difference, for example, for me, because the thin, high E is on the top, when I'm bending the strings, I'm pulling down on the strings. Like I can pull down across the whole fingerboard, whereas, somebody playing the traditional way, they're having to push up from the bottom and pull down. They're pulling the string off the neck. So there are some differences and I think probably in some little approaches to things that make for one's style in the overview being a little bit different and lending itself to articulating certain things differently. Although you have to realize, for me, it's normal [laughs]. It's the right way to play.
PCC:
And doing the album with Billy Vera, "Queen of Diamonds/Jack of Hearts," that must have been fun.
SANDS:
Well, first of all, Billy, I've always been just a huge Billy Vera fan. And I think it's mutual. We met in the days, not at the very beginning, but in the early days of working with Al and Chip. And there was this guy in the next room and I just heard this great sound coming from the next room and it was Billy. So I've been a fan of his forever. And likewise. And he's just a great guy. So we are great pals.
The one thing is though, we had never gotten to sing together. So that was really fun about doing that album. But obviously, that was kind of a different, special thing. The original thing was not intended to be an album. Chip kind of presented me with some ideas about some things. And it's Chip. And like I say, he's a lifelong friend and somebody I really loved. We have a mutual friendship with each other. So I just said, "Well, yeah, that sounds interesting. I'll do that." And he said he'd ask Billy to do something and maybe Billy would do something. And then as we got into doing it, Chip, who's always thinking of different things, he goes, "You know, we're doing this, that and the other, maybe we should have an album and it'll be nice for fans and fun, you and Billy doing some singing together."
So the thing is, on the one hand, it totally was. Chip is great. And we always work really well together, Al and Chip. This was without Al. But we work really well together, have a lot of mutual respect and a great friendship. And getting to sing together with Billy in the studio was really fun. And just the three of us hanging out together was a good time. But, on the other hand, the original thing was not to be an album and because of all the things that I've been doing and I've been looking, of course, to do recordings of my own, that really wasn't specifically the kind of project that I would have thought that I would have released.
So it just kind of evolved. It had a life of its own. So, yeah, it was great. The experience was great. The people were great. And it's nice. It is something that's there for fans. But again, like my real passion is writing and singing and playing and producing stuff and just having kind of a different voice in it, even doing work on other people's albums, like session work or different kinds of things. The whole thing was a very different kind of project, but I'm glad that we did it and it was a lot of fun.
PCC:
And now you have the passion project, "Shine For Me" out there.
SANDS:
Yeah, like I said, I'm really, really excited about it. And I'm not sure time-wise, it may be into early next year by the time it happens, but there will be a full album. I have several albums worth of songs to do. I'm writing all time, either because it's a sowing of the seeds, or actually sitting and writing. I haven't decided for sure, but I probably will wind up doing a crowd-funding campaign with fans to gather some funds toward the full album.
I have my own label, so I'm really exciting about that as a real label. It's a lot of work, by the way.
PCC:
You're a mogul now.
SANDS:
I am indeed.
PCC:
Might there be a treasure trove of Evie Sands previously unreleased and alternate tracks to be unearthed someday and released?
SANDS:
Well, yeah. The plans I have for the label, obviously the next thing is a full album of my own and more beyond that. I'm getting the rights back to some things. I'm looking to getting the rights back to "Suspended Animation." I think I would have the rights back to it, the masters, like in the U.S. And since I wrote all the songs on the album, basically that would be something that I would reissue at some point. It's been reissued in England and all that, but I'm saying I would have it on my own label.
And then I would look back at all the tapes and things. There might possibly be something I would uncover that I'd forgotten about that would be a nice bonus track or something like that. Or alternate somethings that I might find that would make it interesting. And then there's definitely some other unreleased stuff and some rarities and things. I would do that at some point. And then, production of other artists, as well, that I would release on the label. So kind of like ongoing — a lot of things.
But because, at least from my end of it, it's been too long in coming, to have a lot of my own music, new stuff, out there — that's just really exciting to me, in the present and for the future. That's what I'm concentrating on most and will be for a while, because everything else is time-consuming. Plus, being out and touring, performing, being able to see people. I love going out, as well. So the rest is on a back or side burner, those release ideas. But there's definitely a treasure chest of different kinds of things that I expect to have in store for the label.
PCC:
So you do plan to tour more extensively for the EP?
SANDS:
Yeah, we have a lot of different things that are in the works, but it has to kind of make sense and get coordinated, because sometimes there are dates that are offered and then in order to put stuff together, like in different regions, oh, well, this place has a date, but it just doesn't work with this other date. It's too far apart or whatever. The logistics of getting all that together is tricky. I mean, except for some artists — this is true in any time and certainly now — where it's just kind of automatic and it's way easier, I'm not saying it's easy, but it's easier, to coordinate a tour that makes sense both point to point geographically, and also makes sense like the financial end of it — all the different bits and pieces that go into preparing and getting a tour up and running.
So that's kind of what we're working on. There are some things for sure. We're working on the Bay Area, back East, of course, going back to the U.K. and Europe. So I'm looking forward to getting all these things going. I'm doing a festival in New Orleans early in October.
PCC:
Your voice still sounds amazing. How have you kept it in such great shape?
SANDS:
Well, thank you for that, by the way. In some ways, I really don't have a definitive answer, except to say I'm grateful every day. At any time — if you asked me this at any age, at seven or 700, I would say that. And then the rest of it is, who knows? But I would say, probably good genes, maybe. Thanks mom and dad. That helps.
And this is just conjecture, but I've never been a smoker. And just because I don't have a taste for it, I don't drink much, in the way of alcohol. I have a few sips of cold beer like in the summer or a couple of sips of wine rarely. I've never liked the taste of hard liquor. I know people mix it up, but I still taste it and it always tastes like lighter fluid to me. So I don't know, that's just a guess. I don't know if in any way that would or would not have an effect on vocal cords.
And then just good guardian angels and the luck of the Irish or whatever [laughs]. But I'm grateful for it and I think I said earlier, my standards for myself are really high. I think a lot of artists are really like that. As long as I'm always able to maintain and keep up with my own standards, it's all good.
PCC:
Your eternal youthfulness — is music the secret ingredient there?
SANDS:
Part of it is, for sure. I think, as an artist, I'm endlessly curious and interested in all kinds of things. And I'm not ever satisfied to sit down and be still and say, "Okay, that's it. I'm just going to sit here now and I'm not going to move."
And I've always been kind of a tech person. If I hadn't been so much the creative, performing kind of artist, I probably would have officially looked at being a recording engineer or stuff like that. I love technology. I'm a geek, basically [laughs]. And so I think that's great, because it's never-ending. I'm always interested and busy with stuff.
Also, I think, honestly, because when I was really, really little — this is the truth, from my heart — kids notice things. I remember mentioning some things to my mom, like saying, "Hey Mom, why is it that that's like that or this is like that?" And one of the things was about age number, because I noticed — I didn't know how to put it into words, but — maybe there was something going on at school or a sporting thing, a team or something, and there'd be like one kid who was great at doing something and then they'd have to fill out papers or have their mom and dad fill out papers and then they'd say, "Oh, I'm sorry. You're too young to do this," because their birthday was like three months before something or other. So they were like the best at something, but weren't allowed to do it. Or conversely, "Oh, we're sorry, but you're too old for this," because their birthday fell four days after some arbitrary line in the sand.
So I remember asking my mom about that. And she was like, "Oh, I know. That's just kind of how things are." So at that point in time, I completely tuned out from the whole concept of age number, honestly, when I was little. So it's not because, "Oh, you're 30 years old now, that's why you're thinking about it." Or, "Oh, you're 90 and…" No, it's when I was really little, I tuned out from it.
And I've only ever used it when I have to, because of societal rules like, "Well, you can't tell me, because I'm 18 now." Or "I'm 21, so I'm allowed…" I would use it to my advantage in a way that society in general relates to.
Honestly, when people would ask me, "What's your age?", I would say, "I don't really know." I just stopped, like in space, with the capsule, I just separated from that when I was really little. And it has no meaning for me. And, as they say, "Whatever floats someone's boat." I'm not saying that anyone has to agree or be that way or not be that way, but that's just the way that I am. So maybe it's just a combination of all those things… and I like said before, good genes or whatever [laughs]… And here I am!
PCC:
Overall, what have been the most rewarding and most challenging aspects of the life in music?
SANDS:
Well, the most challenging, I think, is probably twofold. One is managing to stay afloat in a crazy business where, as friends would say, "How do you do that, when you don't necessarily know from one week or one month or one year to the next how much money you're going to earn?" I mean, we could pull out from that and say, what guarantee is there for anybody? But typically if somebody has some sort of job-job, where they at least, for however long they're engaging in that job, they have a promise of like x-amount of dollars every week or month or year and they can live, or try to live, as best they can accordingly. So that always is a real challenge. And because maybe there are times when I can say I have x-amount of dollars coming in and then other times when there's not. And then there are better times and lean times. So just the business of living — that's definitely at times a very challenging thing to deal with.
And then just the part of the other aspect of the challenge, I would say, is really the marrying of the music, the art, if you will, with business. Like in some ways, they're kind of oxymorons — just the whole magic of art and creation and all of that, having to kind of be tied into the business of it all, have the twain meet. I've learned lots and lots of things about the music business. But it's the music and the art and the creativity where I really always have come from. So that part, over different years, has been a challenging thing.
The most rewarding thing is basically just the joy and the privilege of doing what I would love to do more than anything in the world. It's just really the greatest feeling in the world, as we were saying earlier, to write and to play and sing and perform and record and then to be able to sing and perform for an audience and connect with people. And then getting to meet so many people all over the world and have experiences because of that that are a little bit different. And also being able to meet and work with so many amazingly talented people. All of that is just amazingly rewarding. So in the big picture, like the glass half empty or half full, I always look at it as half full, because I'm really grateful for it.
But lastly, with the challenge, it's kind of a blessing and a curse [laughs]. There are so many other different things that I could have done or could do, but because I've been compelled to do what I've done, and continue to do… so like the good, the bad and the ugly of it at times, the thought of not doing it was just inconceivable. It would be like not living. I continue and plan on doing this as long as I will be around on this Earth, for years and years. There is nothing else that I would rather do. And I will just keep on doing it.
For more on this artist, visist www.eviesands.com.