GERRY BECKLEY: SINGER-SONGWRITER STILL AMONG AMERICA'S FINEST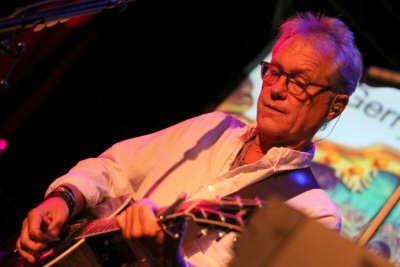 Gerry Beckley at the Whisky A Go Go
Photo by L. Paul Mann
By Paul Freeman [September 2016 Interview]
After nearly half a century, Gerry Beckley, co-founder of the classic rock group America, remains at the top of his creative game. He has proven that with his new solo album, "Carousel."
Sounding fresh and vibrant, the record features Beckley's great new songs like the title track, "Lifeline" and "Tokyo," as well as gorgeous covers of Spirit's "Nature's Way," Gerry Rafferty's "To Each and Everyone" and the Gerry & The Pacemakers beauty "Don't Let The Sun Catch You Crying."
Born in Fort Worth on September 12, 1952 to an American father and an English mother, Beckley started playing piano at three and guitar a few years later. In 1962, he played in a Virginia surf band. He spent summers in England and, in 1967, when his father became commander of a U.S. Air Force base near London, attended high school there. That's where he met Dewey Bunnell and Dan Peek. Together they created America, which broke through in 1972 with "Horse With No Name." Beckley wrote and sang such hits as "I Need You," "Sister Golden Hair" and "Daisy Jane."
Another of Beckley's memorable projects was 2000's "Like a Brother, which teamed him with The Beach Boys' Carl Wilson and Chicago's Robert Lamm. It was the last album Wilson recorded before succumbing to lung cancer.
Beckley continues to record and tour with America, sharing timeless tunes and sparkling new material. He took time to talk with Pop Culture Classics.
POP CULTURE CLASSICS:
Playing most of the instruments, recording in your own studio, not having to be in the band collaboration mode - was that liberating, that autonomy?
GERRY BECKLEY:
It's nice. You're your own boss. Dewey is the world's greatest partner. We've had very successful countless years as a band, but it does give me an opportunity to do things just a little bit different. So that's always fun in the gaps.
PCC:
The song "Tokyo" - I had read that you had written that while waiting to board a flight home - getting yourself into that creative space, shutting out the hubbub around you, isn't that a challenge?
BECKLEY:
You never know when ideas come. There's famous stories of people waking up at night and having an idea. So nowadays, with technology, in our phones, we have notepads, of course recorders and things. So it's a little easier now than it used to be. But I always make the analogy - when you go the ball field, bring your mitt, because you never know when a foul's going to come your way. The guy that's got the mitt - he's the one who gets the ball.
PCC:
Over the years, have you found new ways to court the muse?
BECKLEY:
Yeah, I guess. A song is a song. It can come from anywhere at anytime. The only real mistake is missing it. I suppose again, in the sleeping, you wake up in the middle of the night - 'Oh, that's so great! I won't forget that!' And 100 percent of the time, when you wake up in the morning, it's completely gone. So you've got to have something - we used to use cassette machines and stuff - whatever you can to catch it.
PCC:
How much do you try to map out a song, analyze as you write, how much do you just try to let it flow out of you?
BECKLEY:
It can go either way. Because I write both lyrics and music, sometimes it's completely a musical idea - "Oh, I love those chords together" or something… and you just de-de-de your way through a melody in hopes that you'll find something that's fits lyrically later. And then there are other times, like our dear friend Jimmy Webb, the great composer, he always taught us to keep a running list of titles. He would always start with a title and he thought that the title would then dictate the arc of the tune and the message of the song. So that's equally valid. I use all methods, all of the above.
PCC:
In this age of people tending to play individual tracks rather than an album from start to finish, are you still much concerned with thematic threads and tonal shifts throughout the course of an album?
BECKLEY:
Yeah. I come from the era of the album. And I love that notion of making a listening experience in that way. But I put the burden back on the artist. You've got to make an album something worth listening to. What happened, when we got out of the Side One and Side Two pattern of the old vinyl days, you ended up with a 40 or, God forbid, even 50 or 60-minute one side.
So labels started to front-load the records with the strongest tracks. And inevitably you end up with all the good tunes at the beginning. And it's very hard to maintain the listener. So I much prefer the old school of variety and trying to make an arc through the whole thing that makes people want to listen to the next song.
PCC:
Looking back, do you see a connective thread, in terms of lyrical themes, on this record?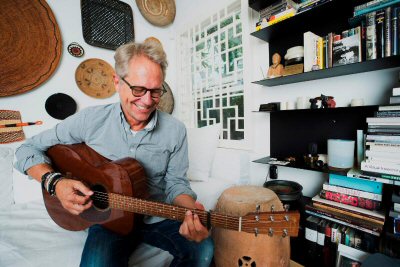 Photo By Joe Beckley
BECKLEY:
You know, I do now, but it really wasn't, in full disclosure, there as I was writing them. But clearly there's a theme of time in this album. When you've logged as many years as I have, I think that that's almost a given. But I didn't realize how much it would be, until I had assembled the tunes and saw, "Well, geez, there really is a theme here." Even the song 'Carousel' was about around and around and keep going and stuff. So I'd say, yeah, that was the overriding theme.
PCC:
So was that something you were reflecting on over the course of the last few years, just in your life, thinking about time and its ramifications?
BECKLEY:
Well, I have. Not just in the last few years. When you grow up in rock 'n' roll, it's easy as you're 18 or through your early 20s to talk about rebellion and all of those early elements of rock music. I use the great Brian Wilson - "I'm bugged at my old man" line from a Beach Boys track. You can do that, when you're 20 or so. But it just doesn't sound right when you're 40.
So the challenge is - how do you address all of these very legit growing up - because we never stop growing up - how do you address all of those things in a way that's approachable, that people can relate to? They're all equally valid chapters in our life, but it's not necessarily a given that they all make great pop songs or rock songs.
PCC:
So when you're writing, are you thinking about how the listener might react? Or is it just about getting out what's inside you?
BECKLEY:
You know, fortunately I write enough that I really don't have to worry about that too much. It's not till you're done that you think about - "I wonder how that will go down?'"The equation I say is, I write 10 to get two. So I always write a lot of material. And I never really cherry pick those - "This would be much better for a radio audience." I don't really go there.
PCC:
Which of the songs you wrote for this album hold a particularly special place in your heart, have a deep personal significance?
BECKLEY:
Well, "Carousel," as a title, I know is a little bit cliche, but the song itself, I've for the last few years, tried to just boil down in songwriting to its simplest elements. I don't like extra syllables. I don't like extra chords, if they're not necessary. And "Carousel," to me, I don't think it could have been a note simpler. But I'm very happy with how it turned out.
PCC:
The covers are also wonderful. What initially grabbed you about each of those three songs?
BECKLEY:
Well, I think for both Dewey and I, we've had enough success as songwriters, that there's really not a problem of diving into that area of cover music. I think of James Taylor and there's no better singer-songwriter of my generation. Yet nobody would question, when he wants to cut "Up On The Roof" or even early on, the Carole King tune he had so much success with, "You've Got a Friend." It doesn't bring into doubt his own ability as a songwriter. So, for me, I've always got a list of cover tunes that I love and enjoy.
The Spirit song has been a favorite since the days of that album. So I always kept that in mind. A few people have covered that over the years. I remember Nigel Olsson, Elton's drummer, covered "Nature's Way" years ago, when he had done a solo album.
Gerry Rafferty - I've been a fan of Gerry's since his earliest recordings and the one I cut is from his very first solo album, from, I think, 1971.
And then the Gerry & The Pacemakers - somebody pointed out to me, "Were you just coverings songs by guys with the same name and spelling as you?" [Laughs]
PCC:
Do you remember first hearing that record, "Don't Let The Sun Catch You Crying"?
BECKLEY:
Yeah! And you know what? We used to be in a cover band in high school. That was one of the songs that I sang. And I always loved singing it. I thought, "Aw, shoot. I should just cut that one day."
PCC:
With your mom being English, you summering in England, then being based there, did that make hearing the British bands explode onto the 60s scene, that much more special?
BECKLEY:
Yeah. I'm really partial to that era. Whenever we list our most influential writers, I like to include Graham Gouldman, who was later much better known as a member of 10cc, but he wrote "Bus Stop" and "Look Through Any Window" for The Hollies, "No Milk Today" for Herman's Hermits, "For Your Love" and "Heartful of Soul" for The Yardbirds. So there's a guy that wrote some of the most pivotal songs of my generation. It was an incredibly creative time and I just love every aspect of that period.
PCC:
Were you always very much aware of the joys of harmonies? Did that strike you early on?
BECKLEY:
Yes, even earlier. We always list The Beach Boys and Beatles as our favorite influences, but you know, harmonies go way back. I remember my brother having Kingston Trio records and stuff. But it didn't really fully resonate for me until The Beach Boys and then, immediately after, The Beatles, who were very clearly a vocal band, harmonies, too. It kind of became ironic that those two elements - Lennon/McCartney and Brian Wilson became the kind of catalysts for what I would consider the most creative front edge of our generation. Both of those teams, back and forth, really set the bar higher and higher.
PCC:
For you, did the songwriting come as naturally as the playing and singing?
BECKLEY:
I think it did. I didn't start writing until I was about 15 or so. And that started with kind of arranging favorite songs. Instead of starting to copy them as close as you could, we started to rearrange them. If it was a ballad, let's speed it up. If it's a fast song, let's try to make a ballad out of it. But those kind of creative elements are the middle ground to starting to write your own stuff. And, yeah, I got on the train pretty early.
PCC:
And besides Brian Wilson, Lennon/McCartney and Graham Gouldman, were there other songwriters whose work you analyzed, trying to see how their songs ticked, how they worked the magic?
BECKLEY:
Yes, Jimmy Webb, who became a dear friend. He's the godfather of my first son. And Burt Bacharach. Those guys I think were equally successful and inspirational to me. I had an event a few years back, where we were honoring the late Sir George Martin - this was while he was still with us. And I sat at a table with Burt and Jimmy and they just kind of head-to-head chatted the whole time and I thought, "Oh, my God, those guys, the stories they could tell."
PCC:
Meeting Dewey and Dan over there in England, was there an immediate connection, based on similar musical sensibilities?
BECKLEY:
Well, I think in high school, we came from that era where you had a band and you played at the dances at school on the weekends. And Dan didn't come till the last year, but Dewey and I were in bands for the last two years of high school. Yeah, we clicked. And it was a great time. And clearly, once the three of us were in a band in high school, that was the step right before America.
PCC:
And the voices blending so beautifully, was that something that just clicked? Did you have to work hard at perfecting that?
BECKLEY:
No, I suppose I could say we worked and worked and worked. We did practice and practice. We used to practice hours a day. But it was pretty clear that Dan was going to have the high part. He had a beautiful, high tenor. Dewey and I were going to alternate the first and thirds. So it did, it just clicked. And as you probably know, a blend is just one of those things. You can't fake it. You can have three other singers hit the exact same notes and it's going to sound completely different.
PCC:
Did you define a concept for the group, when you first got together? Or was it more casual?
BECKLEY:
Well, it was not really like, "Let's put it on paper," but we all three were writing and I think right away, even though the first album leaned a lot more towards Dewey's material, Dan and I were both writing. And by following up "Horse With No Name," with a song I wrote - 'I Need You" - we set the stage for what was going to be the pattern for the group, that we were going hand this songwriting around.
Dan wrote "Don't Cross The River," which was the second single from the second album. So we made it known pretty early that it wasn't just going to be one guy's voice or one guy's style. "I Need You" is probably as different a track as we've ever had from "Horse With No Name." So we established that pattern pretty early.
PCC:
It's amazing - you wrote that song when you were just 16.
BECKLEY:
Yeah. Got lucky early, as they say.
PCC:
Besides The Beatles and Beach Boys, were Crosby, Stills and Nash something of a touchstone for America?
BECKLEY:
Yep. Clearly. You know, three guys on stools, that was a model. But also, that era was James Taylor, Joni Mitchell, Neil Young. Even in the U.K., we had Cat Stevens. We opened for him on his first major American tour in 1971. And he was on a stool and had another guitarist. A fantastic kind of acoustic lineup was happening then. All of it was an inspiration to us.
PCC:
Were there advantages to being an American band launching in the U.K. at that time?
BECKLEY:
I think maybe, with some people, it gave us a second listen. That's why we called it America. It was a way of defining who we were, a little bit, before they actually heard us. A lot great bands were playing around London at that time, groups like Brinsley Schwarz with Nick Lowe, and we all gigged together. We all played the same clubs. We all used to meet at the same place, called the Blue Boar, which was halfway up the M1. The M1 was the main motorway that went south to north, up through all the working cities, up north in England. We'd all end up at the Blue Boar at the end of our gigs. So that was a pretty cool time.
PCC:
When you set out as America, did you have grand ambitions?
BECKLEY:
Well, I think everybody wants to hope and picture yourself as successful as possible. In our case, the first album and single actually went to number one around the world. So you can't really do any better than that. But I have to admit, there was a certain amount of, "Well, that worked!" Everybody around us was in shock. I remember the label, everybody was like, "Unbelievable!" But I think we were a little bit jaded - you put an album out and it sells, that's the way it's supposed to be [laughs]. But I guarantee that we paid our dues later on. In 46 years, there's been periods of tougher times, harder to get gigs and stuff. So you pay now or pay later.
PCC:
So what helped you persevere through the tougher times?
BECKLEY:
Well, just the love of what we do. It's been a gift, from start to finish. We just this weekend did a show with Boz Scaggs. What a legend. And thousands of people as far as you could see. And I thought, after 46 years, we're still doing this. Unbelievable weekend. And that happens virtually every week in our lives. So really, I would never take a minute of it for granted.
PCC:
Obviously, your music has stood the test of time. Why do you think the band has enjoyed this longevity?
BECKLEY:
Well, it's very hard to beat the feeling of looking at the audience and seeing people with the smiles on their faces, having people come up to you and saying, "Your music defines my life" or "my generation" or something. That's priceless.
PCC:
And for the audience, what do you think it is about the music that resonates so well with the listeners?
BECKLEY:
It's hard to put in to words, the songs you hear from 13 to 20, the impact those tunes have, it doesn't matter what generation. For a much later generation, those songs are going to be the songs of Eminem or Madonna or Coldplay or something. But they're going to be equally as important, I guarantee you, because they're going to be the soundtracks that define all of those really pivotal moments in a kid's life. And for us, they frankly were our moments, too. We were 17 and 18. So not only our own music, but the music of that time, is equally important to us.
PCC:
You mentioned George Martin - what impressed you most about him as a person and as an artist?
BECKLEY:
He brought a focus to us. We were clearly huge fans. But it was starting to feel like a little bit of a chore, after the third album. It was a lot of work, producing a record and then going out and touring endless concert dates. We felt that we had to turn this over to somebody. He was top of our list. But I'm sure he was top of everybody's list. So we just never got past the number one guy on the list.
PCC:
Were there particular lessons you learned from him that you still apply to your music?
BECKLEY:
Yeah, it was focus. I mean, he just got us to keep an eye on where you're heading here, because, if you enter into, not only the making of a record, a single or an album, but anything that you enter artistically and you start from the concept of - "Well, what are my options?" Nowadays your options are limitless. It's like the difference between, we used to have like 11 channels on the TV and now we have 1,000 channels. You can't say, "Well, let's see what's on." You've got to have a pretty good idea of what you want to watch. Well, it's the same in music.
PCC:
Was he always opening up the band to new ideas? Or just trying to bring out the best in what you already had there?
BECKLEY:
If we ever had an idea for a Beach Boys kind of thing, he would try and steer us away. I thought, "That's interesting. He doesn't seem to be into those ideas." But the point was, he figured that ground had been covered already. And he just wanted to do something new all the time. Same with Geoff Emerick, the engineer. So it was fascinating to watch them. And it was a learning experience every hour of those sessions. We did seven projects, by the way, together.
PCC:
Geoff Emerick was quite an innovator himself.
BECKLEY:
Yeah, yeah, he was, of course. And, you know, he now lives in Laurel Canyon. He's a dear friend. You go to his house for tea, there's three Grammys for Best Engineer on the mantle of his fireplace. They are "Sgt. Pepper," "Abbey Road" and "Band On The Run." [Chuckles]
PCC:
What was the experience of the "Like a Brother" project for you?
BECKLEY:
Well, it was a labor of love. It took us years to do it. It was about six years, off and on. And those are two of my dearest friends - Robert to this day, and, of course, we lost Carl way too early. But in the sixth year, Carl was diagnosed and within a year, we had lost him. So it was a tragic ending for all of us. The album was incidental, frankly, amongst all the other things that his family was going through. But once a year had gone by and his widow, who's a dear friend, said, "You know, I'm sure he would want this to be heard," we decided to put it out.
PCC:
And the experience of working with Carl and Robert?
BECKLEY:
Well, they're dear friends. And it was fantastic. To be honest, it was lovely to be able to sit back and let a couple of other people make the decisions for a while [laughs]. I loved it. It was like, "I don't know. What do you think, Carl?" It was really great. The thing was, timing was a problem, because if you overlapped either two groups - if you put Chicago's schedule over my schedule, there was so little daylight to actually record. And if you threw Carl's schedule over the top, it was just blank. There was nothing. So it really turned into sometimes in New York just the two of us or the third guy would come in as one guy was getting in the car. It was tough. It was hard to pull off.
PCC:
And Brian Wilson, being one of your original inspirations, what was it like touring with him?
BECKLEY:
Loved it. The Brian stories - you don't need me to add to the myriad of Brian Wilson stories. But yes, we've spent decades with Brian and he's a dear friend and a lovely man. And a gift. [Laughs] And a treat. Don't get me started. And you know, Brian was at the top of George Martin's list. They were dear friends. And George considered Brian to be the ultimate as a record producer. So it's fascinating how this all laces together.
PCC:
With all of these experiences, has your musical philosophy evolved over the years?
BECKLEY:
You know, I suppose the only evolution has been a reaffirmation, daily, of just try and enjoy it as much as you can. It's a gift, from start to finish.
PCC:
And the timelessness of your music, is that something you're conscious of when you're creating it? Do you think about that at all? Or does it have to take care of itself?
BECKLEY:
You know, every day, every week, there's a Top 10, there's a Top 100. And I think that musical minds could listen and take a pretty good shot at which of these songs are going to become classics. But I don't think, in our wildest dreams, we thought so many of the tunes that we were doing would become part of soundtrack of that era. Again, it's an amazing thing.
You know, every album that we did, we were always pretty sure about some of the songs. We knew "Ventura" was going to be the opening track and a featured song of "Homecoming." We were pretty clear that "Sister Golden Hair" was going to be the first single [from the "Hearts" album]. Certain songs jump out at you. But you don't know if they're going to become part of the language.
PCC:
Are there any dreams or goals yet to be fulfilled?
BECKLEY:
They're more personal things. When you've spent so much time traveling, as I have, and you've missed times with your family, loved ones, I'm trying to put more of that into my schedule, because that is frankly priceless, all of those things. And I don't want to just spend my life with a remote control in a Holiday Inn somewhere. I'm trying to do the other incredibly important elements of living a rounded life.
PCC:
Where are you based these days?
BECKLEY:
I live between Los Angeles, California and Sydney, Australia.
PCC:
Why Sydney?
BECKLEY:
Well, my partner is Australian and we have a home in Sydney and we have a home in Venice, California. We have kids all over the place [laughs]. So a lot of flyer miles.
PCC:
What have been the most rewarding and the most challenging aspects of your life in music?
BECKLEY:
Well, I usually say that the George Martin years, even though that was seven different projects and each one very unique, and frankly, very different locations. I'd lump that as one experience - the George Martin years. And right behind that I would say all the years we spent with the Wilsons, touring and working.
I was doing an interview the other day and I was reminded that I was on "Holland." I sing on "Sail On, Sailor." I'd forgotten that I was on it. And they had the track sheet in front of them. And there I was.
PCC:
And the most challenging aspect?
BECKLEY:
The travel, without a doubt, the hours and hours of waiting on planes and cancellations and traveling with 30 pieces of equipment. All of that. But it's something that I turn over, fortunately, to much wiser minds than myself. But it is a challenge daily to get that thing put on. And kudos to the team that we have, because they do an incredible job.
PCC:
Do you reflect much now on what you would like your legacy to be?
BECKLEY:
Well, I don't. I think the legacy is already there, to be honest with you. I think those songs have already stood the test of time. And there's nothing that's going to occur between now and the end of my days that's going change that. I'd like to add more to that, if at all possible… but I'm not holding my breath.
Visit www.gerrybeckley.com.