GRAHAM NASH: EVER STRIVING FOR HARMONY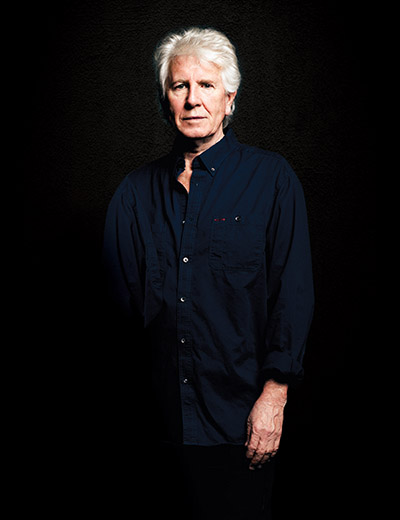 Photo by Eleanor Stills
By Paul Freeman [March 2017 Interview]
Few people on this planet have contributed to as many stirring harmonies as Graham Nash. But Nash has certainly endured his share of disharmony, as well. The clashes within Crosby, Stills, Nash, and sometimes Young, have been epic. And the recent demise of Nash's long marriage sent the singer-songwriter in new directions.
Now in a new relationship, reenergized, he's touring behind a brilliant solo album, "This Path Tonight." And, after declaring months ago that he would never work with David Crosby again, Nash now hints, in this Pop Culture Classics interview, that a Crosby, Stills, Nash and Young reunion is not beyond the realm of possibility.
Originally from Blackpool, England, Nash was a founding member of the harmony-fueled British Invasion band, The Hollies, before teaming with fellow superstars to form Crosby, Stills and Nash.
Inducted into the Rock and Roll Hall of Fame with both The Hollies and CSNY, the Grammy-winning Nash has also been inducted into the Songwriter's Hall of Fame. His unforgettable songs include "Carrie Anne," "On a Carousel," "Stop Stop Stop," "Chicago," "Immigration Man," "Just a Song Before I Go," "King Midas in Reverse," "Marrakesh Express," "Our House" and "Teach Your Children."
A dedicated activist, he has been a staunch supporter of peace, as well as social and environmental justice. In 1979, with Jackson Browne and Bonnie Raitt, Nash organized the ongoing No Nukes/Musicians United for Safe Energy (MUSE) concerts.
Also acclaimed for his artistry as a photographer, Nash has made some of his finest music in "This Path Tonight." Songs such as "Myself at Last," "Golden Days," "Back Home," "Encore" and "Another Broken Heart" are moving meditations on life, love, relationships and mortality.
POP CULTURE CLASSICS:
"This Path Tonight" is such a beautiful album - writing those songs, did that process help you come to terms with new directions you decided your life needed to take?
GRAHAM NASH:
I think the album is a reflection of the journey that I had to get to make me feel reasonably alive and happy. Quite frankly, between you and I, I divorced my wife after 38 years and I fell in love with this beautiful New York artist [photographer Amy Grantham]. And she and I now live in New York City, after 40 years in Hawaii.
So "This Path Tonight" is my emotional response to what was happening in my life, because, quite frankly, I'm sure it's happening in a lot of people's love. You have to keep love alive. You've got to leave that note on the fridge. You've got to leave a flower by pillow occasionally. You've got to keep love alive. If you don't, it f-king dies.
PCC:
Do you find that great pain and great joy both bring a heightened rush of creativity?
NASH:
Yes, it did. Absolutely. I feel more alive now than I have in the last 20 years.
PCC:
Does inspiration come more easily these days?
NASH:
It's not coming more easily. I get my discipline in order to catch the ideas that are flying around the universe. I try to remain open as possible as much as possible. I try and keep in touch with the world. And if I feel something, I have to investigate it. And if I'm still feeling, either anger or love, I have to write about it, because that's how I communicate… mainly.
PCC:
Have the methods of coaxing the muse evolved over the years?
NASH:
I'm not so sure about that. I go into this space where some words that I wrote about something, that's making feel something, come to my mind. And I go, "Oh, wait a second, that goes with that melody that I didn't have any lyrics for." And, "Oh, man, now I've got a line with a melody." And you just go from there. And you build it, like stones.
Some songs come immediately. "Our House," "Just A Song Before I Go" - an hour. "Cathedral" - four years. You've just got to be open and realize that the muse and music is out there and you just want to put yourself in the way of it.
PCC:
With such lovely and personal songs as these on the new album, you must be establishing intimate connections with the live audiences.
NASH:
Indeed. And that's one of the reasons that I want to play intimate theatres. I want to see people's eyes. I want to know that I'm communicating. Those people pay good money to come see me and Shane [guitarist/producer Shayne Fontayne]. I want to give them value for that money. I want them to feel that they've experienced something, that they thought about love and thought about despondency… and anger in things like "Military Madness" and "Chicago" and those kind of things. "Immigration Man." I want to make them feel with things like "Simple Man."
I've been starting with Hollies songs. My show is everything since 1962, when I formed The Hollies and started recording all those many years ago. I started the last tour with "Bus Stop." I've got a lot of music to choose from.
PCC:
The joy you get from creating and performing music, has that changed in some ways, from the beginning, when you started out with The Hollies?
NASH:
No, it's always a thrill to have a new song. I mean, can you believe it? A normal human being sitting down and all of a sudden, an hour later, "Our House" is written. What?!
PCC:
Having idolized The Everly Brothers, the first time you were actually singing harmonies, what was that feeling like for you, being part of that sort of blend with Allan Clarke?
NASH:
The Everly Brothers were incredibly important in our lives. And to be able to sing with them, a couple of times, live on stage, was thrilling to me. I have a recording, a board tape recording, a cassette - it was that long ago - a cassette from the board out in front of the house, of me singing "So Sad" in three-part with The Everly Brothers. It stuns me to this day.
PCC:
Amazing! But what about singing with Allan at the beginning, harmonizing and capturing that sort of magic that The Everly Brothers had created?
NASH:
Yeah, well, we tried our best. But don't forget, Allan and I weren't brothers. I think, genetically and DNA-wise, they have a blend that can't be beat, because they'd been doing that since they were two.
PCC:
Working within the group dynamic, going back to when you were doing more challenging material like "King Midas in Reverse" and The Hollies were reticent to take risks, all the way through CSNY, how difficult has it been for you, having to sublimate creative desires for the sake of a group, when you could have full autonomy on a solo project?
NASH:
Well, sometimes, for instance, it's like Neil's album "Living With War." Everything he spoke about - impeaching the President, the lying, the troops coming home in the coffins - all those songs that we did on that tour, Neil knew that he could go out on his own and do that. But he also knew that, if CSNY were to do that, it would be possible to get a much bigger audience. I mean, he's a smart man. And that's what happened.
Ten percent of the people used to walk out, especially in the South, when we got to that song, "Let's Impeach The President." They had every right to walk out. But I'd like to know what they thought of George Bush now.
PCC:
We are certainly in frightening political times now. What worries you most about the political and social climates now? And do you still have any sense of optimism?
NASH:
It's very difficult to be optimistic right now... although it's the only weapon we have, in many cases. It's a scary time. I don't believe that Donald Trump is bright enough to run this country. I don't like him as a human being. I don't like the things he says. I don't like the things he stands for. And I have never, in 50 years of being in this country, seen this kind of political rhetoric. It's stunning to me. What happened to manners?
PCC:
Can music have an effect in turning things back around?
NASH:
I believe so. Don't forget - even if you change one mind, you're ahead of the game, you know. And I think that music still is a powerful medium to communicate ideas to people, things that are going on with me that I know they're going through. And I have to write a song about it, because that's what I've been doing for 50 years of my life. If I was a plumber, I'd be a fantastic f-king plumber after 50 years. And I want to touch their hearts. I want to give them value for their money. And it means touching their hearts and their minds. That's what I want to do.
PCC:
You must constantly hear from people how much your music has meant to them - what effect would you most like to have had and like to continue having on your listeners? What's the comment that means the most to you, from people who admire your music?
NASH:
I think that, in some way, what we did is the soundtrack of their life. I get that a lot.
PCC:
What's been the greatest gift that music has given to you?
NASH:
The ability to speak my mind.
PCC:
With all you've accomplished, do you have any sense of - oh, I can relax now, my legacy is secure?
NASH:
Not at all. Not at all. I've got so much to do before I die. You've got to understand, kid, I'm 75 years old. So what are the odds? Look how many people we lost in 2016 alone. I had a friend, one of my very best friends and my producer and engineer, Stanley Johnson - prepares a beautiful Thanksgiving dinner, enjoys a nice glass of wine afterwards, with friends, wants to lie down for a moment, of course everybody does after turkey and stuff - he didn't wake up. We have to use every second that we have, the best way we can use it, because we don't have many left... no matter how old your are.
PCC:
But you've found a new sense of contentment in your life, it sounds like.
NASH:
I did. And I'm a lucky man. And I know it.
PCC:
Any trace of regret within you?
NASH:
Only two things in my life do I regret. And that is - not being there when my mother died; not being there when my father died.
PCC:
They must have been so proud of all you had accomplished.
NASH:
I believe so. And I thought of them constantly, when I was at Buckingham Palace with the Queen. They would have flipped out! [Laughs]
PCC:
Of all the praise that you've received over the years, what is the one compliment that would mean the most to you? What do you most want to be praised for?
NASH:
Trying my best. Nobody ever makes 100 percent. We all know that. But I'm trying my best to be the best I can be. I'm trying to be the best friend, the best husband, the best artist, the best everything. I'll never make it. But I'm trying constantly.
PCC:
If Crosby, Stills, Nash and Young is indeed over, what are you most proud of, in terms of those collaborations?
NASH:
If it is over - and you never know with this band - we made some music that made people able to shake their ass and think.
PCC:
That's a rare combination.
NASH:
Yes.
PCC:
It's been said that tensions within groups can actually benefit the music sometimes - have you found that?
NASH:
Oh, sure. It did with us. Oh, sure. It's incredible to be in a band with four strong writers, four strong singers, four strong instrumentalists. It's amazing to be in this band. I mean, I've stood on stage so many times and marveled at how Neil and Stephen are playing together and conversing together on their guitars. It's been an amazing musical journey, I must say.
PCC:
So you're still open to something happening together in the future?
NASH:
Well, you know, we all get angry and we say things that we don't mean. I'm not talking to Crosby. Crosby's not talking to Neil. But the truth is - what does that really mean? I mean, look at what's going on that we could be talking about up there. And I really do believe that the silly things that are keeping us apart pale in comparison with the work that should be done.
PCC:
In "Wild Tales," [his compelling 2013 memoir] it seems like no matter what the indulgences, the distractions all around you, your focus never left the music.
NASH:
No, I've always concentrated on the music.
PCC:
Do you still hear music that sends chills up your spine?
NASH:
Yep. All the time.
PCC:
Does that tend to be old music or new music or both?
NASH:
Both. Absolutely both. Anything from Samuel Barber's "Addagio For Strings," which is one of the greatest pieces of music ever written, to "Dear Mr. President" by Pink.
PCC:
In the Hollies days, when you first started generating hit after hit, all the screaming girls, the fame, everything happening like a whirlwind, at a time, the feeling from the outside was that rock stardom could end in an instant... and with the cold war, the world could end in an instant. Did you have a sense of - I have to savor every moment, live this moment to the fullest?
NASH:
Always. You've got to understand, I made it through the end of World War II. I was born in 1942 and the war didn't end until '45. So even though I was really young, it made an impression on me. I remember the air raid sirens going off. I remember my mother pulling the black curtains to stop the light from the living room attracting enemy bombers. And we made it through World War II. And we'd already made it, years earlier, through World War I. And it gives you a different perspective on the world. Don't talk to me about - your pancakes aren't cooked well enough. Talk to be about important shit.
PCC:
To be considered a rock legend, like your idols growing up, Don and Phil, Little Richard, is that still sometimes mind-boggling to you?
NASH:
Absolutely. That's one of the reasons why it's mind-blowing to be not once, but twice, in the Hall of Fame. I mean, look at the people who are in there. Get out of here! From The Beatles to Dylan to Aretha to Ray Charles to Little Richard and all the people I love. And I'm in there? Twice? People are crazy.
PCC:
In the days of the NME poll winners concerts in the 60s, where you'd have the Beatles, Hollies, Searchers, Gerry and the Pacemakers, Billy J. Kramer, Stones, everybody playing - was there a great sense of competition, as well as camaraderie?
NASH:
I never felt much competition. You always wanted to do great. And you always didn't want to follow The Beatles. You just didn't do that [Chuckles].
PCC:
Have you begun writing for the next album yet?
NASH:
Of course. It's a constant process with me. I write more in my head than I do with my guitar or piano. I'm constantly thinking.
PCC:
And do you try to avoid comparing new material with what you've done in the past?
NASH:
I think that's a deadly game, if you start comparing that stuff to the past. What's past is what was done. All the music that we've made all this time, it's done. Fantastic. What have you got now?
PCC:
Well, judging by "This Path Tonight," it sounds like some of your best work is happening right now.
NASH:
Well, that's great. Thanks a lot.
For more on this artist, visit www.grahamnash.com.
---
GRAHAM NASH:
THE VOICE, THE EYE, THE CREATIVE FORCE
By Paul Freeman [ August 2013 Interview]

An angel's voice. A genius' ear. And an artist's eye, able to capture a person's spirit, the essence, through the camera lens.

These are but a few of the gifts with which Graham Nash was born. Fortunately, this impassioned activist has shared them with the world, creating glorious sounds, with The Hollies; Crosby, Stills Nash & Young; and in his solo works. But he has also displayed a stunningly intense and intriguing visual sense.

No dilettante, Nash skillfully wielded a camera well before he first grabbed a guitar. Though the family was impoverished, his father was an avid amateur photographer and young Graham was enthralled, watching photos mystically develop, the chemicals and special paper forming lasting images.

An award-winning photographer, Nash generously took time to talk with Pop Culture Classics prior to the opening of an impressive new exhibition, "This Could Be You: Photographs & Paintings By Graham Nash," at San Francisco Art Exchange (in Union Square, 458 Geary Street; www.sfae.com. The gallery also presents fascinating artwork by such rock luminaries as Grace Slick, Klaus Voormann, Ringo Starr and Ronnie Wood, as well as album cover designer Roger Dean and king of pin-ups Alberto Vargas). The Nash show runs through October 5th.

Nash's exhibit includes incredibly reflective studies of such fellow artists as Joni MItchell, Johnny Cash, Neil Young, David Crosby, Stephen Stills and others. These insightful photographs offer rare glimpses into the subjects' souls. Self-portraits and abstract works are equally arresting. Political works, such as the bitingly ironic digital collage "Citizens United," as well as the ominous "This Could Be You," will spark thought and discussion.

In 1990, his passion for photography spurred him to found Nash Editions. The company's original IRIS 3047 digital printer now resides in the National Museum of American History at the Smithsonian Institution in recognition of Nash's pioneering efforts in fine arts and digital printing. "Eye To Eye," published in 2008, contains more than 150 of Nash's photos.

Twice inducted into both the Rock and Roll Hall of Fame and the Songwriters Hall of Fame, Nash continues to make magical music. A master of harmony and vocal arranging, he wrote or co-wrote such enduring hits as "Carrie Anne," "King Midas In Reverse," "On A Carousel," "Stop Stop Stop," "Marrakesh Express," "Our House" and the iconic "Teach Your Children." He embarks on a solo U.S. tour in September, which includes a date at Yoshi's, San Francisco, Nov. 14.

Somehow, he finds time to tirelessly work for an array of worthy causes, championing peace, human rights and environmental sanity.

It's been a remarkable ride for Nash, who has made every breath, every moment count. And you can now fully experience it through his autobiography, "Wild Tales: A Rock & Roll Life," due Sept. 17th. It's a terrific read and an exciting, adventurous, inspiring life.

A rock superstar for half a century, Nash remains unassuming, disarming, genuine and friendly. Conversation with him flows naturally and amiably.

POP CULTURE CLASSICS:
Rock photography has evolved, hasn't it?

GRAHAM NASH:
It's very interesting to see the transition of rock photography, really making it to art. Rock 'n' roll and the '60s, you just can't separate them, can you? That's the way it is.

PCC:
It wasn't until Joni Mitchell suggested it that you thought about photographing other rock musicians?

NASH:
That was absolutely the point. I'd been shooting for a while, of course, But I never shared any of my stuff. It was just my life, pictures and stuff. But I never shared them. And then Joni, one day, she'd just had a show of her paintings in Tokyo. This was 20 years ago. And had been treated with respect. And decent sales. And she said, 'Why don't you think about doing a show?' I said, 'I don't know...' She said, 'Come on. These are pretty decent pictures. Why don't you send him a dozen shots and see what he says?' So I sent this guy in Tokyo a dozen shots and he wrote back and said, 'Fantastic! Let's do it.'

PCC:
What had been your reluctance?

NASH:
I've been painting for the last two or three years and I think it's the same thing. It's a different world. And, to a certain extent, I'm kind of on top of my musical life... Right? And why would I want to go out into another art form and be criticized? 'The guy doesn't know what he's doing. They're all awful.' You know, I just wanted to keep my pictures for myself. But when I saw the show in Tokyo, they looked pretty damned good. And I began to realize...

[Momentarily distracted, he rises and moves to the gallery wall]
I just have to straighten this picture. I can't stand it. [adjusts the slightly askew framed print into perfect alignment] My entire universe is 14 degrees off.

PCC:
Your artistic life has always embraced risk.

NASH:
True. Yes, that is true. It's just that they were so private to me, because, one of the things I like to do is be invisible. I don't want anybody knowing that I'm taking their picture, because I've had so many pictures taken of myself, I know when a camera's pointing and I always turn and give them like [flashes a debonair smile] a Tony Curtis look. But I hate those moments, because they're not real. So I like to take pictures, when people have no idea that I'm there. And that way, I can get a certain amount of realism in my images, because when people don't know they're being photographed, they're real.

PCC:
Besides the candor, what's your process in terms of capturing the subject's inner self, making a statement? Is that more intuitive or analytical for you?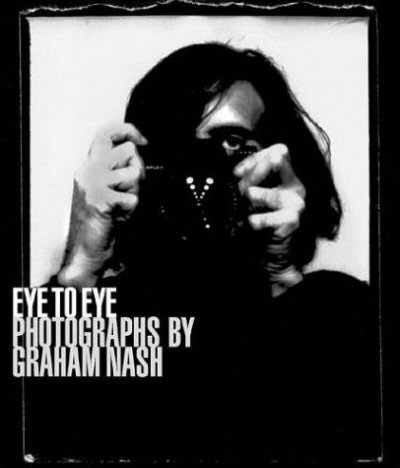 NASH:
You know what? It's really simple with me. I'm just shooting off my mouth. I'm just talking. Whether it's with a song or a photograph or a painting, I'm saying, 'Hey look, what do you think? What do you think about this?' The thing is, time is really precious. And I don't want to waste your time. So I don't want to show you an image that doesn't have anything. I want to move you. I want to wake you up. I want to make you feel good about being a human being, good about being friends. I want you to have a reason to exist, as they say in French, raison d'etre. So I don't want to waste your time. And, most importantly, I don't want to waste my time. I'm 72 next birthday. How much longer can this go on?

My point is, I want to show you an image or play you a song that will enrich your life, rather than just be meaningless.

PCC:
So you try to balance the need for self-expression with the desire to have a specific effect on those who will eventually experience your creation?

NASH:
Yes. Exactly.

And like I said, we don't have much time. We better get on with it. We better have the best time we can. We better love our family and our friends, because, what else do we have, but time and family? What else is there? Nothing.

PCC:
Speaking of family, whenever you're involved in photography, is there still a feeling of connection with your Dad?

NASH:
Absolutely. Every image that I take. I think about my father constantly. He was dead at 46. So he didn't have much of a life, really. And, in a really strange way, I'm living his life and mine, at the same time. I don't really know what I mean by that, but you can get a sense of what I mean, because you can't live anybody else's life, of course.

I'm just insanely lucky to be here. I mean, you have no idea where I grew up and where I came from. After World War II, in northern England, it was dreadful. It was awful. Food was hard to get. Butter and milk and sugar were all hard to get. You had to have a little book of tickets that you could only tear one off and get butter once a week. It was insane. And, all of a sudden, here I am, staying in a suite in this hotel across the street, my art is all over the place. I'm a reasonably successful man in a lot of areas. I'm just a very lucky guy. And I'm just trying to have the best time I can. Period.

PCC:
Coming from that background, is that the root of your desire to make the world a better place?

NASH:
Absolutely. I want a better world, not only for me and my kids, but for you and your kids. Why not? This world is a fantastic place. Why can't it be great? Why all this insane quest for money and more money and yet more money, no matter how many buildings you have? I mean, how much is enough? Why can't we all have a little... and live in peace?

My worldly experience is that most people want their kids to have a better life than they did. They want their kids to be well fed and well educated and have a better life. And that's the same story all over the world. But then these businessmen come and they figure out what they can sell you and how they can control you to be able to sell you stuff and they keep building these incredible fortunes. And for what?

I think about the Koch brothers, for instance [David and Charles Koch, pronounced "Coke," who have fed more than $100 million into right-wing causes]. I mean, there must have been a thousand people telling them, 'Look, you can't pollute the planet and rip it off like this. You can't keep doing this!' Don't they have kids? Do they have grandchildren? Don't they think about their future? And I ask this question a lot. People say, 'It's because they don't care.' How can you not care about the future?

PCC:
All the caring that came out of the 60s, everything we were fighting for and against, how have you been able to surge forward and maintain optimism, fending off disillusionment and frustration?

NASH:
I do get frustrated. But I constantly move forward. And I look at the world through the eyes of my children. What am I leaving for my children? What did their Dad teach them? I have to remain optimistic and I have to remain positive, because, A - I'm a positive person. I'm not Graham Nash. I mean, I know I am, that's this guy over here. But I'm just your friend and we're talking. I'm not like this giant star, as people might - not giant, I don't want to be egotistical - but I mean, yes, I am that guy, obviously, but that's not who I am. This is who I am. And I have to do something rather special.

PCC:
How did you avoid falling into that trap of forgetting who you were originally and buying into a star image?

NASH:
Because I've done it all before. Don't forget, I was in a hit band with all these screaming teenagers and people ripping your clothes off for seven years [with The Hollies] before I ever met David Crosby. I'd already done it all. I'd already been on the best television shows and played the Royal Albert Hall and done all this stuff. I'd already done all that and it didn't mean anything to me. And I know David was in The Byrds and Stephen was in the Springfield, etc. And they'd had their own success level. But I'd been through it all and it didn't mean anything. The only thing that ever meant anything to me was the music.

PCC:
And in the music, when the harmony first clicks, what is that rush like for you?

NASH:
I had some serious thinking to do... for about a microsecond. And the thinking was, 'Holy shit! If I really go into this deeply, I'm going to have to leave England. I'm going to have to leave my band. I'm going to have to leave my bank account and all my friends and just come here.' And it sounded like a ridiculous thing. All my friends said, 'Are you f--king crazy? Leaving The Hollies? For what? Honor? Fame? Money? Girls? What are you doing?' But they hadn't heard what I'd heard. They hadn't heard me and David and Stephen sing. They hadn't heard what it did to people, how it made people feel. They hadn't heard any of it. So that's why they were amazed that I would just get up and leave.

It was a rational decision I made. But one that I made instantly, because, I mean, listen to what we do. How could I not want that?

PCC:
But you had also had that magic with Allan [The Hollies' vocalist Allan Clarke]. The fact that you found it again with David and Stephen, does that seem like destiny? Is it like finding a musical soulmate?

NASH:
It's just me. Here's what goes on. I don't think the universe is out to f-ck me. I think the universe is out to support me. And every morning, I get up and go, 'Okay, I'm still alive, let's go and what the f-ck is this day going to show me?' And I expect the universe to show me fantastic stuff every day. I do. I've always been a very positive person.

You must understand that Europe was devastated by war twice in 80 years. And, when I was a kid, you really didn't know whether your f-ckin' house was going be there tomorrow. Or whether your friends were going to still be alive. I mean, seriously. On a very serious level. Look what happened to London and Manchester and Liverpool at the end of World War II. You didn't know.

So, my point is, the English way of dealing with all that is, 'Oh, it'll be okay tomorrow. It'll be all right tomorrow. Things'll be fine.' There was always this positive outlook, because that's all you really had. Because the other end of it was 'Ah, f-ck, the bombs are dropping again. We can't eat. There's no food.' But you've got to get beyond that... to be able to survive.

PCC:
And what do you see as art's role in helping the world to survive and thrive?

NASH:
I think that job of art is to move the soul. It's to teach yourself about your fellow human being. It's to give you better information about how to deal with the world. It's to make you chuckle. It's to make you think. It's to make you wonder why all these naked women have got these signs painted on their backs. [Nash, glancing at a print on the wall, addresses you, dear reader - 'We're looking at a photograph. We're not peeking!']

You've got to learn from everything. There's so much to learn, even at this point in my life, I want to learn every second of my life. And you'll never know anywhere close to it all. But what can you do? You've got to keep going.

PCC:
There are artists who seem to have a selfish or cloistered existence. Do you feel that an artist has a social responsibility?

NASH:
I think it's more than a social responsibility. I think it's a human responsibility. We have to make this place a better place for us, particularly in this country. You've got to understand, I see America very differently than you do, because I'm not from here. I'm from a completely different country. So I see the beauty in the countryside. I see the beauty in the people that want the same thing that we want - a better life for their kids, leave me in peace, let me have a pint and watch TV, everything's fine. I see America very differently than Americans do.

PCC:
Is that an advantage, to have that sort of outsider's perspective?

NASH:
I think so. I'm an observer. Every so often, I feel like I'm just this brain on a stick that's traveling through the universe. And I'm watching everything. And I'm experiencing the dance of life and realizing what an incredible dance this is. And you can either make it fun and rewarding or you can be the other way and think that everything's out to get you and nothing's ever right. But I'm not that person. I escaped from World War II. I'm lucky to be here.

PCC:
Is there a guiding force that's led you through?

NASH:
I think it's my mother and my father. They were incredibly positive people. That's who I am. That's what happened to me. My mother and father never let me fall for, 'You're supposed to do what your Dad did and if it's good enough for him, it's good enough for you. And your Granddad was down in the mines, also... ' I was never asked to follow that silly gold watch route. And that was an incredible break for me.

PCC:
Were your parents musical?

NASH:
No, not all. I mean, I used to whistle around with my Dad and we'd sing and stuff. But I never heard my mother sing. Not once.

PCC:
But they had faith...

NASH:
They had faith in me. Follow your heart, think about your two choices - is this a good thing or a bad thing? There's two things to do and I always go for what I consider to be the good path.

PCC:
The process of writing the autobiography, did that give you a different perspective on your life?

NASH:
I have tell you that, when I got to the end of the manuscript, I looked down at the page and I said, 'F-ck! I wish I was him!' I don't look back. There's nothing you can do about yesterday. I'm always interested in the song that's driving me crazy as we're speaking right now... I'm still trying to figure out what the last line's going to be in my new song. I don't look back, right? But in writing the book, I was forced to look back. And my overwhelming feeling right now is, 'Thank God! It's down. There it is. Now I can live my life.' And I'm ready for the next 30, 40 years... or 30, 40 minutes, because you never know, right?

PCC:
You've accomplished so much in so many areas. Are there still goals you're burning to achieve?

NASH:
Of course. Are you kidding? There's a million things to do.

PCC:
What sorts of things?

NASH:
Well, it's usually artistic. And it's usually saying something. It's usually trying to support some... I'm always for the underdog. I'm not a football fan. I'm mean, I'm a soccer fan, but I'm not a football fan. But I'll look at the TV and go, 'Oh, they're down by 10. Oh, I'm going for them.' I'm always for the underdog for some reason. I don't know why that is.

PCC:
The most rewarding aspect of your multifaceted life?

NASH:
My marriage and my children. By far. All this other stuff is just shit. It's just a game. This is all a game. And I want to play it the best way I can. But I love being alive. It's going to be very boring, when I'm dead.

PCC:
[Laughs]
Well, we don't know.

NASH:
No, we don't, do we. We don't know. If there is a God up there, the first thing I'm going to ask is, 'What the f-ck was the plan?' What is the plan? What are you supposed to do with your life? I guess I'm happy that I can sleep. Very simple - I can sleep. Because I torment myself constantly. I'm not a good sleeper.

When everything's done and I get into bed, then I'm going, 'Okay, what am I going to do tomorrow?' Then I'm rehearsing this line. Then I wonder if I should call so-and-so. And what about this record I've got to make? My brain does that all the time. But at least I can sleep, knowing that I've done my best. I'm trying to be the best at everything I do. And I'll never make it. But I'm trying.

For the latest news on this timeless artist, tour dates and more, visit grahamnash.com.