GRAND FUNK: STILL ROLLING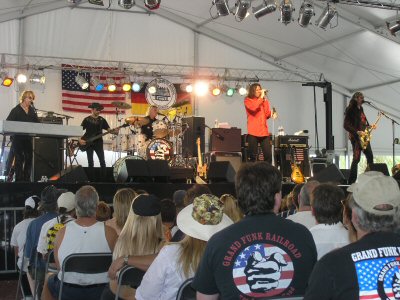 photo credit: Ingritta Tiger
By Paul Freeman [June 2011 interview]
Grand Funk Railroad began laying tracks in 1968. They're going strong in summer 2011, bringing cheering crowds to their feet at fairs and festivals.
Original members Don Brewer on drums/vocals and Mel Schacher on bass have assembled an all-star band that features singer/guitarist Max Carl from 38 Special, lead guitarist Bruce Kulick from KISS, and keyboardist Tim Cashion from Bob Seger's band.
The band's rocking roots are in Flint, Michigan. Don Brewer and future Grand Funk bandmate Mark Farner joined Terry Knight and The Pack, a group that had regional hits [covers of The Yardbirds' "Mister You're a Better Man Than I" and Ben E. King's "I (Who Have Nothing)"] and appeared on a couple of TV shows in L.A.
In Grand Funk's early years, Terry Knight managed the band. They landed a deal with Capitol and the group roused crowds at pop festivals and ballrooms like San Francisco's Winterland.
In 1972, the Railroad was momentarily derailed when the band fired Knight and he launched a series of lawsuits. Soon, however, Brewer and company, produced by such diverse talents as Todd Rundgren, Jimmy Ienner and Frank Zappa, began churning out hits again.
Brewer penned the rock anthem "We're An American Band." Potent remakes of "Loco-Motion" and "Some Kind of Wonderful" followed, racing up the charts. Despite all the huge commercial success, the band didn't receive a similar amount of critical approval.
Grand Funk Railroad broke up in 1977, but has reunited several times, in various forms, and is going strong today. Don Brewer took time to chat with Pop Culture Classics. All aboard!
POP CULTURE CLASSICS:
That's quite an all-star band you've assembled.
DON BREWER:
We've got quite the collection of characters, Max Carl from 38 Special and Bruce Kulick from KISS, Tim Cashion from Robert Palmer and Bob Seger's band. Great band.
PCC:
You and Mel are keeping the whole tradition alive.
BREWER:
Yeah. And still enjoying it.
PCC:
And what is the key to still enjoying it?
BREWER:
You know, I think it's not overdoing it, not doing too many shows a year. And playing the music you love to play. And not taking it too seriously and just having a lot of fun with it. I'm 62 years old and I'm still having a ball. So I guess I haven't worn it out yet.
PCC:
And what's the key to being 62 years old and still having the energy and the strength to keep the funk grand?
BREWER:
[Laughs] Well, that's the tricky part. That takes some work. I have to work at it every day. I'm always either walking or going to the gym. I watch what I eat. All that kind of stuff. I know it takes that to keep it going.
PCC:
Have you noticed a new generation of fans in the audiences?
BREWER:
Yeah, a lot of times, we see three generations of people out there, with grandparents, and parents, their kids. And sometimes the grandkids. So I guess we're going down to four. And they know the words to the songs, which just amazes me, to see some little kid on the dad's shoulders and she's singing the words to your songs. Amazing! [Laughs]
PCC:
What was the original inspiration to get into drumming?
BREWER:
I started off playing in the high school band, playing clarinet. And I also messed around with playing guitar, took guitar lessons. I really loved rock 'n' roll from the very first time I saw Elvis Presley do 'Blue Suede Shoes' on 'The Ed Sullivan Show.' I was like hooked on rock 'n' roll. And in school, the band instructor never wanted to do any rock-flavored stuff. There was a local band that played rock music in the gymnasium. So I was just totally into this rock thing. I finally quit the school band and started my own band.
My Dad, when I told him I wanted to play drums, he was a former swing band drummer, so he was totally into that. So he'd sit down in the basement with me and we'd work on how to play a drum kit. My parents were totally supportive of it and helped me build a trailer to pull the band's equipment behind the car and all that kind of stuff. And it just took off from there.
PCC:
Were there other drumming idols, besides your dad?
BREWER:
Oh, Louis Bellson and Gene Krupa, on and on and on. And then when you get to the hippie era, Jimi Hendrix with Mitch Mitchell and Ginger Baker with Cream, all those guys.
PCC:
So once you're into it, playing in bands, did you have a sense that this was going to build into a career? Or not until The Pack?
BREWER:
[Laughs] The Pack. Yeah, Terry Knight and the Pack. One thing led to another. My mother was constantly reminding me, this is just fun. You need to have a real job. You need to go to school. Got to go to college. 'Why don't you think about being an accountant? Because when this is over...' No, I never really concerned myself with doing anything else. All I ever really wanted to do was play music. And be in a band. And that's all I've done.
PCC:
So for your and Mark Farner, what did you gain from that whole Terry Knight and the Pack experience?
BREWER:
A lot of experience, as you say. We actually had a regional hit. We actually went out and did a couple of TV shows in L.A., which broadened our whole like, 'Wow!, this could be more than just a local band kind of a thing.' That was our whole inspiration to form Grand Funk Railroad, to be not just a local cover band, playing in the bars, doing everybody else's material, but to really strive to come up with new, original material, a new whole kind of a way of doing things. That's why we wanted to do the power trio kind of a thing. We really didn't want to be stuck with being just a local band. We wanted to break out. And I think that's what Terry Knight and The Pack really brought to our eyes, was the fact that we could do that, we can be more than just another local band.
PCC:
Did you discuss much, at the beginning, what you wanted to do with the sound, how you wanted to make it unique?
BREWER:
Well, we were coming out of the '60s and everything we were doing as The Pack sounded very '60s. All the recordings sounded '60s. They had this kind of tinny sound. You were recording everything on either two-track or four-track. You didn't get into the multi-tracking until just as we got started with Grand Funk Railroad, really. We always sounded one way live and then sounded a different way in the studio, because it just didn't translate, all these big, screeching guitars and huge bass sound and pounding away on the drums.
You'd go into a recording studio and the engineer back then would say, 'You can't play it that loud. You have to play this way.' And record everything flat. So we really wanted to go for that sound on our recordings, create that kind of illusion that we were live on the recording. That's what we went for every time. And eventually, it started coming together. The technology improved enough that we were able to capture that sound.
PCC:
When the sound did come together, did you get a sense that Grand Funk was going to be something really huge?
BREWER:
No. We really were taken totally by surprise how quick we took off. Once we became Grand Funk, we started playing the pop festivals and one thing led to another. All of a sudden, we're getting all of the dates for the hippie ballroom places and more festivals. We recorded our first record. It didn't go gold right away, but immediately we were sensing this whole national thing. We were going to become a national band. And we really weren't ready to go there. We just went. We signed a deal with Capitol Records to record two albums and do two tours a year. And that's what we did for the next six years. Bands after that, in the late '70s, early '80s, they started doing one album every couple of years. We were doing two records a year and two tours a year. So we were constantly going and it just took off. We started doing a world tour, went to Europe, Japan. It was just like a rock 'n' roll fantasy thing.
PCC:
Before things went totally south with Terry Knight, what were his contributions as a manger?
BREWER:
Terry was a real Barnum and Bailey kind of guy. He knew how to tell all the lies and make people believe it and make things sound bigger than they really were. He was a salesman. He knew how to get through doors and open up avenues. Not only that. He would direct us, tell us, 'Hey, you're playing a concert. You're playing for 10,000 people. You really need to exaggerate what you're doing and you need to put on a lot more showmanship.' He was very educational in that way, to help us make that transition into being a star act.
PCC:
So when the split came with him, was there any hesitation, worrying about a loss of direction?
BREWER:
No. We found out that he'd been ripping us off. And once the trust had been broken... he was taking the lion's share of the money and the attorneys he hooked us up with were crooked. And we basically ended up with nothing. So it didn't take us long to say, 'This guy's gone.'
PCC:
Even with the disillusionment, were there aspects of rock stardom that lived up to expectations?
BREWER:
Well, yeah. It's amazing to go out of the country and be greeted in all these foreign countries. People know who you are. We played Hyde Park in England in front of I don't know how many thousands of people who came out to see the free show. All of a sudden, you just go, 'Wow! We're just these kids from Flint, Michigan.' It was a bit overwhelming. The good thing was, we stayed in Michigan. We didn't move off to New York or Los Angeles and fall into all of the pitfalls that could have happened there. We really were only together for six years as Grand Funk Railroad. And it kept us together that long, anyway.
PCC:
With all the huge commercial success, why do you think the band didn't readily receive the equal amount of critical approval?
BREWER:
That was a Terry Knight thing, partially. Terry really pushed the critics. He enjoyed pissing people off. He would snub 'Rolling Stone' magazine and, of course, they would take it out in their print. He wouldn't let anybody talk to the band. Everybody had to talk to Terry. It was this whole set-up. And Terry really didn't care. He felt that bad publicity was good publicity. It didn't really matter, as long as you were getting publicity. And especially, he didn't care, as long as the audiences were there. And the people loved us.
He kind of turned that around on the critics and said, 'Look at the audiences who are coming to see this band. Weren't you guys there at the show last night? Why are you slamming my band?' [Laughs]
PCC:
Did you have that feeling yourself - who needs the critics as long as we're pleasing the crowds?
BREWER:
Yeah, I remember reading many reviews and I went, 'This guy wasn't there. He just hates the band and that's what he's going to write. He was not at that show. No way he was there.'
PCC:
When you were writing 'American Band,' did you anticipate that was going to become a rock anthem?
BREWER:
No. We were going through this whole breakup with Terry Knight and we were going into towns and he was suing every city we were playing in. We didn't know whether we were going to make it through this time period or not. So we just kept moving forward
We'd gone into Nashville and recorded a record without Terry, called 'Phoenix.' Luckily, we had a sort of a kind of a hit off of that, with 'Rock and Roll Soul,' which bought us enough time to get to the next record. And during this same time period, FM radio was going away, as far as being an album-oriented format. Everything had to be hits at that point. You had to start writing three-minute songs.
So I started putting my thinking cap on and the thoughts that were running through my mind were, 'We're coming through this town. We'll help you party it down.' And I kept hearing that lyric in my head, so I started messing around with chords and coming up with ideas for the song. And the last thing was putting the tag on it, 'We're An American Band.' And when we finished recording the song, I was shocked. Everybody loved it. I'm going,'You guys really like that song?' [Laughs] So I didn't really think it was going to be a huge hit or anything. I was just going for what's going to get us from Point A to Point B and keep us going, keep us on the road, keep us going through this lawsuit crap. And we really had to sink or swim. So that's what came up. The first time I heard it on the radio, it sounded like a hit record. It really did.
PCC:
And redoing 'Loco-Motion,' whose idea was that?
BREWER:
You know, that just came up. We were in the studio with Todd Rundgren. We were recording our second album with him, as the follow-up to the 'We're An American Band' album. We had 'Shinin' On,' which I co-wrote, really finished the album. And we really didn't feel that we had the follow-up hit single. So just out of happenstance, one day, Mark goes home and comes back to the studio and he's singing, 'Everybody's doin' a brand new dance...' And we all just went, 'Yeah! Grand Funk Railroad doing 'The Loco-Motion,' how stupid is that?' [Laughs] So Todd being the electronic whiz he is, in a studio, he came up with all these outlandish sounds as we worked on tracks. We loved it. It had that Beach Boys, 'Barbara Ann' party feel to it. And that's really where it came from.
PCC:
And then going on to work with Jimmy Ienner, was that a total shift in style?
BREWER:
Yeah, you know, we did the two records with Todd. I wanted to continue with Todd. But Mark, he and Todd weren't hitting it off. So we needed another producer. So we looked around and we pulled Jimmy Ienner in and it was a total different direction for the band. Of course, again, radio was changing. We could feel disco music was coming in. So the influences were, we aren't going to do disco, but we sure do love R&B. And Jimmy Ienner was a big R&B fan, so we started leaning a little more heavily on the R&B influence for Grand Funk and kind of took it off in another direction. That's where 'Some Kind of Wonderful' came from. We used to use that just as kind of a warm-up thing, where we were singing an a cappella version of it in the back of the car from the hotel over to the venue. It was kind of a warmup, just having fun with it. Pretty soon the guys in the studio recorded that and it became a hit.
PCC:
And working with Zappa, that must have seemed like an intriguing idea.
BREWER:
Again it came from making changes. The band was going through a lot of emotional changes. And radio again was changing. We just kind of went, 'Well, we don't want to try the R&B thing anymore. We want to do rock.' And I had gone to a movie, '200 Motels,' and Frank Zappa happened to mention Grand Funk Railroad in his movie and I brought it up to the band and said, 'Let's call Frank Zappa and see if he wants to produce the band.' [Laughs] And by golly, he did. It was like, 'Wow! Frank Zappa wants to produce us? That's amazing!'
PCC:
And was it as much of an adventure as you imagined it would be?
BREWER:
It was fun. We had a lot of fun doing that record, working with Frank, going to meet his family and going between the swamp, which is out in the middle of nowhere in Michigan and going back and forth between that and Los Angeles, at The Record Plant, where all of the crazy people were hanging out, coming and going . So it was a major contrast. And a lot of fun.
PCC:
And then when the group split, did you have a feeling that maybe it wasn't really over?
BREWER:
When we called it, we left that door open. We didn't say yay or nay at the time. Actually Mark and I got back together in the early '80s. Mel didn't want to be part of it at that point. We just kind of left the door open.
PCC:
You've toured quite a bit with Bob Seger's Silver Bullet Band. That experience, did you enjoy it?
BREWER:
I've always enjoyed that. Did two tours with them in the '80s. I just did two tours, 2006 and 2007. And then I just finished another tour this year with Bob and The Silver Bullet Band. It's a whole different experience for me, away from Grand Funk. It's a whole different style of playing. I didn't really play on any of that material, so I'm learning all of these different drummers' material. So it's really kind of s stretch for me. I've really always welcomed that challenge and going out and do it. And Bob is a great bandleader.
PCC:
And you met your wife on one of the tours with him?
BREWER:
Yeah, 1986, I think it was.
PCC:
So how long do you think Grand Funk is going to keep rolling along?
BREWER:
Well, I suppose when wheelchairs enter the picture, that'll slow things down a bit [Laughs]. Of course, I don't know. I understand B.B. King is being wheeled out in a wheelchair. You never know.
PCC:
What do you think makes Grand Funk's music so enduring?
BREWER:
I think some of the greatest music ever created was done in the time period we were together. I'm not saying our music, necessarily. I'm just saying that time period. The late '60s, early '70s, up to the disco stuff. I think that was just a very creative time for music. And a lot of music from that time period is still around today.
PCC:
You must hear from a lot of contemporary musicians how they were influenced by Grand Funk.
BREWER:
Oh, absolutely. As were we. We had all the influences, too, with all the blues guys. And the R&B people, Otis Redding and Wilson Pickett. We were heavily influenced. Motown influenced us. Other bands coming after us, we influenced them. Prince has stated that he was influenced greatly by Grand Funk.
PCC:
And Homer Simpson has declared Grand Funk to be his favorite band.
BREWER:
Yeah, Homer Simpson. We're Mom's apple pie. [Laughs]
PCC:
Looking back, what were the greatest rewards of being part of Grand Funk?
BREWER:
I've made a career, I've made a life out of playing music. To me, that's the biggest reward. And I'm still doing it. And I still enjoy it. I never dreamed, when I was 10, 11, 13 years old and banging around in my basement... I did dream about being a rock 'n' roll musician, yes, but never to this extent, in having it be my life.
PCC:
And the biggest challenges?
BREWER:
You know the biggest challenges are always the financial challenges and trying to keep people together, to keep bands going, that kind of stuff. That's always been kind of one of my things, being the guy who is always doing all of the extra work and driving the car when everybody else is too high or drunk and that kind of stuff.
PCC:
Any plans for new recording?
BREWER:
We've got new material that we play in the show and we continually record stuff. I would think that if we do anything in the future, it'll probably be live.
PCC:
Any regrets, looking back at the history of the band?
BREWER:
Oh, sure. There's plenty of room for regrets all the way along. But I think that this band has progressed the only way that it could. A lot of times, it's been about survival. It's either the band doesn't survive or it goes on. And you make those decisions at those times and you can't look back. You just have to keep going.
For the latest tour dates, photos, videos and more, go to www.grandfunkrailroad.com.