HAL BLAINE: AND HIS BEAT GOES ON...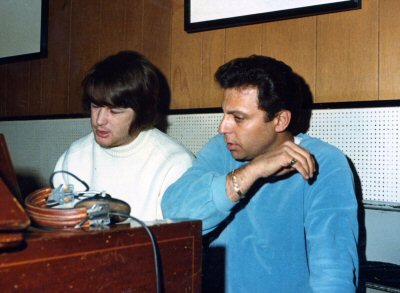 Brian Wilson and Hal Blaine
Photo Courtesy of Magnolia Home Entertainment
By Paul Freeman [June 2015 Interview]
When you think of great rock drummers, who comes to mind? John Bonham, Ginger Baker, Keith Moon, Dino Danelli, Max Weinberg, Ringo?
Well, right at the top of the list of those who have provided the beat for rock's biggest hits sits Hal Blaine. He played on 150 Top Ten singles, 40 of which reached Number One on the charts.
In the 60s and 70s, Blaine was king of session drumming and a key component in the legendary Wrecking Crew. That's Blaine providing the pulse in the recordings of The Beach Boys, Jan & Dean, The Mamas and The Papas, The Byrds, Johnny Rivers, The Association, Sonny & Cher, The Grass Roots, The Fifth Dimension, The Carpenters, John Denver, The Monkees, Neil Diamond, Gary Lewis & The Playboys and countless others.
Blaine was a force in Phil Spector's Wall of Sound, providing unforgettable drum licks in such classics as "Be My Baby" and "Da Doo Ron Ron."
During Elvis' movie years, Blaine drummed on the soundtracks. He can be heard on such Presley gems as "Can't Help Falling In Love."
Equally adept at jazz, Blaine also built a rhythmic foundation for such artists as Frank Sinatra and Herb Alpert's Tijuana Brass.
For a couple of decades, The Wrecking Crew was the backbone of the West Coast pop recording scene. Blaine estimates that he has performed on 35,000 tracks.
The story of those superlative studio musicians is told in highly entertaining and informative fashion in Denny Tedesco's documentary, "The Wrecking Crew." After years of assembling this remarkable work, Tedesco has now made the film available through Magnolia Home Entertainment. It includes reminisces from group stalwarts Blaine, pianist Don Randi, bassist Carol Kaye and Denny's late father, guitar whiz Tommy Tedesco. Also interviewed are such stars as Brian Wilson, Dick Clark, Cher, Micky Dolenz, Nancy Sinatra, Jimmy Webb, Roger McGuinn, Peter Tork, former Crew member Glen Campbell and many, many others whose records relied on The Wrecking Crew. Hours of fascinating bonus interviews are included on the disc. It's a must-have for even a casual fan of rock and pop. For details, visit www.wreckingcrewfilm.com.
It was an honor for PCC to talk with Hal Blaine about his musical adventures.
On the PopCultureClassics.com site, you'll also find our separate interviews with Blaine's Wrecking Crew pals Don Randi and Joe Osborn, as well as film director Denny Tedesco. Be sure to check them all out.
POP CULTURE CLASSICS:
What was you reaction when you first saw the documentary?
HAL BLAINE:
I haven't seen the completed DVD/Blu-Ray yet. I know Denny's been working on it, gosh, it's going on 20 years since we started this thing. And it started out with a little roundtable with the four of us, including his dad, because he knew that his dad was ill. And unfortunately, we did lose him. The only thing I ever saw was some of the very early stuff that still had the numbers running on it for editing, etc., etc. So I understand the big one, the one that was just completed, is just amazing, with all of the extra stuff. I've had a number of calls. And we did this big autograph thing at Amoeba in Hollywood last week and you couldn't get in the place. We must have signed 500 autographs, people buying it.
PCC:
What made that 60s time period perfect for the blossoming of The Wrecking Crew?
BLAINE:
This was really the beginnings of rock 'n' roll and there were a lot of musicians who refused to play this teenage type music with very few musical changes and nothing exciting about it. Most of these were classically trained Hollywood musicians, who did a lot of the great movies, etc., at 20th and Warners and all the great studios, they used nothing but classically trained musicians. And then when pop music came along, they used these people because, excuse the expression, they could read so well, they could read fly shit on a piece of scoring paper. They were so good at it. And all of a sudden, this rock 'n' roll genre came along and they were saying, "These kids are going to wreck the business." It was just three chord changes. It was people like Fats Domino. He came along with this triplet piano playing and how easy it was - bum-ba-bum-ba-bum… Everything in rock 'n' roll was so simplified. And it was being done by young kids who didn't study, who really didn't know their instruments.
So when The Wrecking Crew came along, which was basically myself and Glen Campbell and Leon Russell and Lyle Ritz on bass, studio time was very expensive. The composers didn't even know we were all graduates of music programs at universities, etc., except Glen Campbell, who could not read a note of music. He just played such great electric guitar solos, he was just the guy. People hadn't heard that kind of stuff. We had Bernie Kessel, we had Howard Roberts, Tommy Tedesco, all the great guitar players, who could play anything.
Studio time was very expensive and when these groups came along, people like, just to grab one, Gary Lewis & The Playboys, for example, these guys didn't read a note of music. And for them to go in and do an album would have taken months and months and months of rehearsing and preparation and trying to learn parts. Whereas, we could go in and in three hours practically do an entire album. And that's what we did and that's why were were hired, because we really could get in instantly and do whatever music was put in front of us.
But, of course, most of the composers didn't realize, because we came along in Levis and T-shirts, looking like teeny-boppers ourselves. Rock 'n' roll infiltrated movies, television, pilots, recordings, everything we did. The pop world went upside-down with rock 'n' roll. And I would overhear these guys who wouldn't even speak to us. That was at first. Until they found out who we really were. Then they all wanted to be our friends and work on all the records, because our little nucleus would come in to a Frank Sinatra, to anybody. And we would do hit records, I mean, really big hit records. So they were coming to us from all over the world - The Wrecking Crew. and I just called us The Wrecking Crew, because we could get in and do a session so fast and it was over with.
And so little by little, it really caught on. People would say, "Oh, this is just a fluke, three weeks, you'll never hear of it again." Well, it's almost 67 years later and Brian Wilson is still on television. The Beach Boys, those who were left, are still around. But Brian is still composing and recently we had a beautiful reunion at one of the studios in Hollywood, where I happened to be hired for a documentary being done at Western Studios, which today is called East/West. And when I finished my little bit of the documentary, the director asked me if I'd come next door, someone wanted to say hello. And it was Brian. Brian and his wife Melinda, beautiful lady. And they were working on his new stuff, which has just been released. And Brian, there was no question, he was a genius. This kid was about 17 years old, played a little piano and everything was in his head. So he would hire us sometimes, it would be a three-hour session, union-wise, sometimes we would play for 10 minutes, four bars of music, and he'd say, "Thank you." And he'd leave. We never knew.
But just about everyone that hired us, when we were doing The Monkees and The Partridge Family and Nancy Sinatra, everyone that we were doing, those records, Johnny Rivers, I can't even think of all the artists now… I had a musicologist working on all my stuff who has all of the union contracts and it's something like half a million that he has, because we got them not only in to the Local 47 L.A., but we got them in to the AF of M, in Nashville, in New York, in Memphis. He has practically every contract ever done. Amazing guy. And my personal discography is approaching 6,000. That's just phono records. I just received my eighth Grammy Record of the Year. I had six years in a row, when I got the award. And then a couple of years went by and then the seventh one was "Love Will Keep Us Together" with Captain and Tennille. I heard they broke up recently, so I guess love didn't really keep them together. Daryl Dragon is one of the incredible arrangers, pianists. But we had no idea that song would turn out to be record of the year. It was number one within weeks of its release date.
Anyway, shock of shocks, we went in to do Glen Campbell's movie ["I'll Be Me"] and, of course, Glen is unfortunately in a home for Alzaheimer's in Nashville. But he was out here. We went in for James Keach, the great director that produced the Johnny Cash movie ["Walk The Line"]. And he was doing a Glen Campbell movie. And he asked if we could possibly get a couple of guys in to do some work with Glen. I said, "Sure." And I called Don Randi, a great pianist and I called Joe Osborn, one of the greatest bass players in the world. And we went in and did this little song that Glen had written with Julian Raymond, called "I'm Not Gonna Miss You." And Glen sang beautifully, he played beautifully. And it was just the four of us. We did this record. It became Record of the Year. I had no idea. What a shock! After all these years. It was amazing. So pretty exciting, personally, obviously, just another feather in my cap.
But that's basically why they were hiring us, because we could come in and 90 percent of the time, we wrote our own drum part, we wrote our own guitar parts, etc., etc. And Glen Campbell was the only exception, because he played so incredible that, we'd be playing along on an arrangement and Glen would look at me and I'd point to him and that meant, "Play the solo," because he could memorize any piece of music. He also sang his buns off. He could sound like anybody. In those early days, the late 50s, early 60s, there were song-pluggers and they used to hire us to do what they called demos. Well, they were demonstration records. And we go in and do these demos, not realizing that we were getting this incredible experience in the studios, learning everything about the studios, learning what to play, what not to play. And at the end of Glen's solo, we would say, "That's it." And he would understand - "Don't play anymore" - and he was out of his solo.
And we had so many hit records, seriously, people were coming from all over Europe, all the major capitols, and hiring us, we were The Wrecking Crew. But most of the general public had no idea that we were doing The Monkees and The Byrds and all of these groups. I mean, there were hundreds and hundreds of groups that we were doing.
PCC:
Did you find it ironic, that when Michael Nesmith came out and said it was you session musicians playing on the first Monkee albums, there was such a big hubbub, when, in fact, almost all the popular American bands of the day were being bolstered by The Wrecking Crew?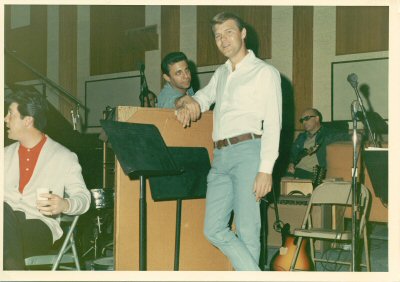 Hal Blaine with Glen Campbell
Photo Courtesy of Magnolia Home Entertainment
BLAINE:
Let me tell you something about that. That's one of the great stories. When somehow the press got a hold of this unbelievable story, that The Monkees did not make their own records, my God! It was such a coincidence that The Monkees went into RCA, there was a little studio, making some records, for the press, and the little studio was jammed with television and film cameras and paparazzi etc. Oddly enough, we were in the big studio next door, doing Monkees records [laughs]. And no one knew it.
But Michael, of course, not only was he a Monkee, he had a group of his own called The Wichita Train Whistle. And it was one of the great, thrilling times for all of us, because he wanted the biggest orchestra ever to happen, in as far as rock 'n' roll or pop or country & western. And we had like six trumpets and 10 trombones and 20 saxophones… and I contracted the whole thing. It was an amazing time. And a lot of people don't know about Michael Nesmith. Michael Nesmith was a young man that was literally born with a silver spoon in his mouth. A lot of people don't know that his mother was the inventor of White-Out, a major, major product in business. And when she passed on, it was all left to Michael. And Michael was the one who started MTV. Quite a guy.
God, The Monkees got so big. Oddly enough, Peter Tork is one of the great, I mean, super guitar players - should have been playing with us and didn't. Al Jardine of The Beach Boys, he was some kind of relative of the Wilsons. He didn't get to play on their records, because it was all us doing that stuff for Brian. It was an amazing time. That's why, I guess, when it hit the fan, so to speak, it was shocking. People had no idea. I know Dick Clark did two four-hour specials on just that thing, the fact that nobody knew that it was studio players that were doing all these gold and platinum records. Grammys - I probably had about 160, 165 Grammy winners that I was on. But people didn't know that. Amazing times.
PCC:
Did it ever bother you that these inexperienced band members received the glory while you guys were the ones actually doing the recording?
BLAINE:
No, it didn't really bother any of us, I don't think, because we were musicians who wanted to play. You've got to remember that we were just working men. And the analogy that I use quite often, we were just no different than a guy working at General Electric, putting doors on refrigerators. I mean, we loved what we were doing. We went from doing demos, where we were making $25, $35 for an entire day, maybe two days - the saying was, "two for $35." We could do two songs for $35. And all of a sudden, from that, when we became The Wrecking Crew, we were making $1,000 a day. Union scale. Union overscale. Union overtime. So who cared about who played on the record? All of a sudden we were buying homes and Rolls Royces. It was an amazing time. You might think it would have gone to our heads. But it didn't. We couldn't care less.
PCC:
You've certainly had a diverse musical career. You played a lot with Elvis.
BLAINE:
Yes. I was with a young man name of Tommy Sands. And Tommy Sands was being managed by a man by the name of Colonel Tom Parker. And while I was working with Tommy Sands, I was going on the road once in a while with Patti Page, a wonderful lady. And she was married to one of the great choreographers, Charles O'Curran, at Paramount Pictures. And when Elvis got out of the army, Charlie asked for me to be in his band, his movie band. And doing all the pre-records, etc., etc., which we did at Radio Recorders. But at the time, I was working as an actor at Paramount, so the contractor said, "No, Hal Blaine is an actor, we can't use him playing music." And they said, "No, no, no, no. You've got to understand - he is really a musician and we want him." And they said, "No, he's an actor." And then it just took a call from Colonel Tom to say, "We want him." [Laughs] That was it!
PCC:
What the Colonel wants, the Colonel gets.
BLAINE:
That's exactly it, yeah.
PCC:
What were your impressions of Elvis over the years.
BLAINE:
Well, Elvis was just a terrific guy. He was a country guy. He'd just gotten out of the service, just came in from Germany. He was a sweetheart of a guy, a perfect gentleman always. Never heard bad words. You never saw drugs and or anything related to drugs. I used to laugh, because of the demagoguery of the so-called Memphis Mafia. These guys - and they all became friends of mine - D.J. Fontana, the drummer, and also Buddy Harman [country session drummer], who really did a lot of those records in the early days with Elvis. Buddy and I went to school together in Chicago. We studied at the Roy Knapp School of Percussion, the Gene Krupa alma mater. And so many other great drummers came out of that school.
So when Elvis was getting out of the service, and they were going to put a band together, of the movies, for pre-record, etc., etc. Elvis knew who I was. Elvis did not like strangers around him. And that's the reason I got the call, because of Charlie O'Curran and Colonel Tom. So I was with him through all of those movies, all of those years, from the time he got out of the service. I think I might have missed one or two movies, when I was in England or something.
PCC:
And you drummed for John Denver?
BLAINE:
I was 11 years with John Denver. He didn't do a lot of touring, but when he did, I was his drummer. And I did all of his records. One of my favorite gold records up on the wall is a John Denver. There's nine albums that I did with him that were all number one, major hit albums. A gift from John. And I thank him. And it was always first class. We never flew in the back of airplanes, that kind of thing. Always first class.
PCC:
And Frank Sinatra.
BLAINE:
Oh, yeah, Frank was the greatest. I was Nancy Sinatra's drummer for 33 years. I did "Boots." I did so many records with her. And then later, we did a bunch of them with the guy who wrote some of her songs - Lee Hazelwood. Went to France with Lee Hazelwood. Toured Europe.
PCC:
You played on the recording of Jimmy Webb's "MacArthur Park."
BLAINE:
Yes, Richard Harris was a great actor in London. And he met Jimmy Webb. Richard Harris had done Broadway type stuff in England. And Jimmy Webb knew that he talked to him about maybe doing an album. And in those days, we did albums with so many actors, I can't tell you, from "Bonanza," to everybody. Everybody wanted to be a singer. Name an actor, we did it. Lorne Greene and "Ringo," that was a big hit record.
Anyway, the point is, to make a long story very short, I get a call from Jimmy. And I was Jimmy Webb's drummer. We were doing all the Fifth Dimension, all that, records of the year, all that wonderful stuff. And Jimmy said, "We're going to bring you over to England, because I met this actor and I'm writing songs. I'm at his country estate and I'm writing an album for him and we want you on the drums." And I said, "Oh, that would be wonderful, but remember, I'm very, very busy, so be sure to let me know plenty of time in advance," because The Wrecking Crew was booked, literally, months in advance. And if they couldn't get us, they waited till the first opening.
Anyway, it wasn't a week later that the phone rings and it's Richard Harris. Wonderful guy. Very British. And he says, "We've got you booked, the day after tomorrow, on TWA." I said, "Wait a minute Richard, I'm busy in the studios." Anyway, it turns out my secretary got me out of all this work. I flew to England and I spent 10 days with Richard Harris in his beautiful Belgravia flat, meeting all the great actors who were his buddies, and all the stories that they told were just amazing.
When I landed in England, and it was about six, seven in the morning, at Heathrow, when I was going through immigration, a fellow looked at my passport and he said, "You're the drummer!" And I thought to myself, "Jesus! A guy in England knows who I am!" I had no idea that England seemed to be way ahead of the times on our musicians. They knew more about our musicians than we did. A lot of fan clubs over there, etc., etc., etc.
And anyway, of course, what happened was that we came back to L.A. and we recorded "MacArthur Park" and all the other stuff in L.A., at Armin Steiner's studio in Hollywood. The whole thing was amazing. Everything was absolutely first-class. They paid me an absolute fortune. I couldn't believe it.
PCC:
You mentioned that, when you were starting out, a lot of the older generation session guys didn't have much respect for the new rock 'n' roll music. You worked with Count Basie and many jazz greats. Did you take the rock music seriously?
BLAINE:
You know, as far as I was concerned, they were paying me so much money, I couldn't care less. I never felt bad about it. I felt thrilled. We became the envy of Hollywood, obviously. Every one of the fiddle players, the musicians, the oboe players, clarinet players, French horns, English horns, these guys had never done any of these kind of records. And all of a sudden, they all wanted to be a part of The Wrecking Crew. It was an amazing time. Everyone who had been putting us down and making fun of our music, all of a sudden they had a great deal of respect for us. I had fellow drummers coming to me, saying, "We had no idea that you really were a drummer. We thought you were one of these kids in Levis that smoked cigarettes."
And everybody in those days smoked cigarettes. That was the only vice. I mean, you would hear about drugs, but you never saw any drugs. There were no drugs around. Our drugs were coffee, Coca-Cola, cigarettes.
PCC:
There must have been a great camaraderie amongst the core members of The Wrecking Crew.
BLAINE:
Oh, of course, there absolutely was. Leon Russell was always with us. Wrecking Crew member. One of the great pianists. Phil Spector created a lot of that, because he had to grab all of us. We were like the A, first-call musicians for todays rock 'n' roll pop music. And Phil Spector called us "the Wall of Sound." And went through all those years with Phil. And of course, the tragedy, the death of that gal. And we know that he didn't mean to murder her. Unfortunately, she was killed by his gun, his gunplay. And, of course, he's in prison today.
And you know, musicians have great, sick senses of humor. And one of the great jokes going around right now - Phil Spector is working on another wall of sound and it's called "the prison wall of sound."
PCC:
Back in the day, what was Phil like in the studio? What was his demeanor like?
BLAINE:
Oh, he was fantastic. He did everything at Gold Star. Dave Gold was the owner. Larry Levine was the great engineer. Stan Ross was the other great engineer, recently passed away. Sweethearts of people, very nice people that got to know us, our little Wrecking Crew. And we became famous and people came from every country in Europe, from Nashville, from New York, the Burt Bacharachs, all these people were coming to Hollywood and hiring us. It was one heck of a run that we all had. And it was wonderful.
PCC:
The Wall of sound, just to listen to it is so mind-blowing. It must have been incredible to be at the center of it, while it was happening.
BLAINE:
Unbelievable, obviously. Talk about the talk of the town. We were the talk of the town, that's all there was to it. In those days, when you got paid, you went to the union once in a while to pick up checks, because everything was sent to the union. Well, one of the big jokes they used to say was, "Don't ever get behind Hal Blaine or Earl Palmer at the union, if you want to pick up a check, because you're going to wait a long time." It was just an amazing time. We went from making 25, 35 bucks a day, all of a sudden we're making 1,000 bucks a day. I mean, it's unheard of.
PCC:
Was it just a job? Or did you have a sense of the impact you were having on the culture?
BLAINE:
I don't think we were thinking about the impact. You know, drummers are terrible show-offs, no question. And that's why drummers, in the old days, used to play so loud - they wanted to be heard. It was ridiculous. And we learned quickly on… I was never a soloist. Buddy Rich became a dear friend. Buddy Rich hired me to play on his daughter Cathy's vocal album. Buddy Rich was a terrific guy. But he rarely handed out compliments. But when some of the guys that knew him said, "How come you didn't play drums on your kid's album?," he said, "I wanted the best." Well, you can't get a higher compliment in the world than from Buddy Rich. My God!
PCC:
Was he one of the drummers who first influenced you, Buddy? Or Gene Krupa?
BLAINE:
Well, my first major influence, of course, was Gene Krupa. That's why, when I got home from Korea, I went straight to Chicago, took my GI bill and studied with Gene's teacher, Ray C. Knapp. What a terrific man. He was one of the first Broadway type percussionists, who played all the mallets.
PCC:
It must be wonderful now to hear so many drummers citing you as an inspiration.
BLAINE:
Oh, I tell you, when I turn on XM radio now, if I go to that 60s rock station, I'm hearing all the records that I played on. It's amazing, just absolutely amazing.
PCC:
When you were making records like "Be My Baby," tracks where you created such memorable licks, fills, were you always looking for little instrumental hooks that would stick in the listeners' minds?
BLAINE:
Well, part of my thing was, I was working as an actor. I worked with some of the great actors. And they were method actors. They wanted to know - what was their motivation? Sometimes they'd go in to do a scene that had started six months before, they had to know what the motivation was. What was the scene about? What does it mean? How are they going to handle it and do it? And that's the way I approached the music. I rarely recorded a song that I didn't listen to first, because I wasn't going to be back there smashing and crashing while some young girl is singing her heart out, or some guy was singing his broken heart out about his girlfriend.
Here's a perfect example - "Be My Baby." That drum lick - boom-ba-boom-bang, boom-ba-boom-bang - you've heard a million times. You'll hear it on rock 'n' roll records. That fourth beat goes on forever. It became a standard in the rock 'n' roll music, the pop music. And when we did another number one record, Frank Sinatra, you'll hear, "Strangers in the night…" boom. "Da da da da da… " boom. More reserved. Sophisicated. But same beat. Identical. A lot of arrangers would come and say, "Just do your thing. Forget the written drum part. Just do your thing. Whatever you think." And we would listen to the sound. And I would figure out what I wanted to do.
Like with Phil Spector, when I came up with jingle bells, guys would say, "Hey, this is not a Christmas record." And Phil said, "No, leave it! Leave it! I love it!" "This is not a Latin record. Why are you playing those castanets?" "No," Phil said, "I love it! Leave it! I love that stuff!" And he particularly loved me, because of my comedy influence. I was a good friend of Lenny Bruce's. And Phil loved comedy. I went at his castle, I can't tell you how many times, he invited me to luncheons, because I could do some jokes. He loved it.
My very first record of the year was one of the great Hollywood stories, was a young man by the name of Herb Alpert. And Herb was a trumpet player, loved jazz. And to this day, he's still doing it. And, of course, he and partner Jerry Moss, became A&M, Alpert and Moss.
And before A&M, he called and said, "We're doing a thing, we put some bucks together, could we possibly get you guys to do a record with us, we can only pay you so-and-so." We said, "Oh, course, Herb. Are you kidding? Sure." And we went in and we did "The Lonely Bull." Amazing record. And it made a lot of noise for them, although I never got credited with that particular record. But the next record we did was "A Taste of Honey." Record of the year that year.
And that's exactly what arrangers and composers used to hire us for - do whatever you think. Now, if you remember "A Taste of Honey," there's a whole obligato of the trumpet and the saxophone, I think. And every time we rehearsed it, everyone came in perfectly. But when we started rolling it was like a train wreck. Nobody was coming in right. And I'm sitting in the middle of the studio. Gold Star. The guys are all around me, Tedesco, all of them. And there's the intro, the pause, and I look at my bass drum and I go, boom, boom, boom, boom. And everybody comes in perfect, automatically. That was the hook. And Herb has given me some magnificent records to hang on the wall. And Herb has come to some of the things where they honored me and he has said, "If it wasn't for Hal's bass drum, who knows where we would be today?" And A&M, of course, became one of the biggest things.
PCC:
Beyond the technical virtuosity, was the key to The Wrecking Crew having guys with the versatility, adaptability and the right personality?
BLAINE:
Absolutely, all of the above. You hit on everything, I would say. All of the above. It was an incredible time.
PCC:
Still playing?
BLAINE:
I think I could. I just got out of a cast. I broke my right arm. Had a very bad fall, spent a couple of weeks in the hospital, then a rehab hospital. It's going on four months. The cast just came off less than a week ago and I'm doing exercises. They took more X-rays, everything has healed beautifully and I'm happy to be home.
PCC:
You've certainly had a fantastic life.
BLAINE:
My life has been pretty amazing, really has. I just turned 86 years old. Hard for me to believe. I don't feel a day over maybe 50. I know I'm a senior citizen and yet, I still kind of feel like a kid. And everyone I talk to says, "You're the same guy you always were." A little less hair on my head. I'm not bald or anything, but a little less hair. My clothes still fit me. I keep my weight between 170 and 180 always. And it's always been that. I've got a closet full of clothing. I've got stuff all over my walls. I've got thousands of pictures. My daughter wants to start a museum with her family. They happen to have a bakery establishment in Joplin, Missouri, which was always a great music town. And they're talking about putting in a Hal Blaine museum.
I don't know anyone who's had more good fortune than I did… except for divorce. I lost all my gold records, all my platinum records, all my awards, because I refused to pay alimony for 30 years. I just sold everything, gave her the money and said goodbye and that was it. I had a home in the Hollywood Hills. Ben Stiller bought that house. Amazing home, great big Spanish castle, three stories, on a half to three-quarters of an acre, and this little drummer from Holyoke, Massachusetts, bought this house back in the early 60s, when I started making money. I'm still on Cloud Nine over this stuff. Ben Stiller just sold the place for something like $12 million. It really is amazing. I really miss that place. But of course, at my age, I miss my yacht, I miss my Rolls Royce. I miss all the great toys that I had and lost, because of divorce, unfortunately. California divorces are brutal.
PCC:
And you had a few of them, didn't you?
BLAINE:
I did. I had four. Two of them were nothing. But it was that unlucky fourth one that really did it to me.
PCC:
But they can't take away the music or the memories.
BLAINE:
Well, that's what I was told. I never had to go to shrinks. In fact, Annie Denver, John Denver's wife, what a wonderful lady, she became after their divorce, she became a psychologist. But I never went in for that, never needed it. My ego was stroked, that's all there was to it. I've said it a million times - it was like falling into a vat of chocolate. It's just amazing.
PCC:
And drumming could be therapeutic itself, couldn't it?
BLAINE:
Absolutely. If you'd had to take stuff out on the drums, if you had certain things bothering you, you could pound the hell out of the drums. But I never really went through that kind of stuff. Divorce was okay. If you've had enough, you've had the best time of your life. I married a gal from Texas, just as I joined John Denver. And I was making a fortune. And then, of course, 50 percent was hers. And for 11 years, I made a lot of money… and half of it was hers. Let alone, putting her into business, buying her franchises and on and on and on. That doesn't mean anything. Those are gifts.
So anyway, I spend my time now, at the moment, since I had this stupid fall, I'm still doing stuff for Denny Tedesco and The Wrecking Crew movie, which was released, DVD and Blu-Ray was just released. Denny is just the sweetest guy. And his dad was one of my best friends. Tommy was just a terrific guy. A funny guy. We had that comedy thing going.
I remember I got a call from Snuff Garrett, great producer, we did Johnny Cash, so many great acts with Snuff Garrett. And Snuff called me and he said, "I know you work with Jerry Lewis." I said, "Well, I've done some records with him, worked in a movie with him." He said, "Well, I need you for his son. His son's got a group called The Playboys." I said, "Oh, okay, whatever." And I happened to be in New York. And while I was in New York, I happened to go by Cartier's jewelers, pretty amazing place. And I when I worked with Dean Martin, I was always hung up on his pinkie ring. It was a beautiful ring. And I happened to spot an almost identical ring at Cartier. I went in and bought it, put it on, took it home.
And so when I walked into this date on Monday morning, I walked up to Tommy and said, "Tommy, I just went into Cartier New York and look what's on this finger." And I show him this amazing diamond ring. He said, "God, isn't that nice? Just beautiful. Wear it in good health." I said, "Thanks." I turn around and the music sitting on the bandstand says, "This Diamond Ring." I couldn't believe it. I looked back over at Tommy, said, "Did you see this?" He said, "Did you see this?" And he showed me his finger. He had a hundred dollar bill wrapped his finger, showing me, "I like your ring, but I like my ring better." [Laughs] Funny, funny guy.
PCC:
Was there a competitive sense within the group, wanting to top one another?
BLAINE:
No, not among us. But every once in a while, we'd bring in somebody, a musician, and all of a sudden, it's the so-and-so doll. You wind them up and they try to take over the session. I mean, these people were ridiculous. They would come in and want so badly to be a part of it, I guess, I don't know. All they wanted to do was have their ideas used on whatever record we were doing. And we would say, "Listen, that's a beautiful idea, but it's not quite what we have in mind." And the artist felt the same way.
I did a record, right at the end, with Brian Wilson, when he was finally coming out of the lunacy he that he went through. And I was with him through all of it. He called me one day and he said, "Hal, I want you to put the band together. I want to try to do a record." I said, "Sure, Brian, whatever you want to do. Of course." And I did. I put a band together. And he was producing his daughters. We do a record. It was magnificent. It was called "Everything I Need" [Wilson's 1998 co-write with Tony Asher] Incredible song. And I loved it. And I said, "You know Brian, I've got to be honest with you, this could be my next and your next Record of the Year," because it was that good. And we brought strings in a couple days later. It was a magnificent record. No question it'll be number one and it'll be Grammy Record of the Year.
And about two weeks later, I get a call from a guy, Joe Thomas from Chicago. He said, "I'm coming out. I'm working with Brian Wilson. And we want you to come in to A&M. We want you to do some overdubs for us." I said, "Of course, sure."
And my drums were set up for me. I had a drum tech that was always one set in front of me or behind me, setting up or tearing down. I never touched drums. I just walked in and played. I mean, I really had it made, that way. So I go to A&M, the drums are set up and here's Brian and the girls. And I said, "What are we doing?" And Brian said, "I don't know if we're doing anything, because Mr. Thomas here is producing this and he wants the record that we did a couple of weeks ago, he wants to add some stuff to it." I said, "Oh, wow, that's amazing. It's such an incredible record." I said, "Personally, I wouldn't touch it. It's perfect, gorgeous, just the way it is." And the girls chimed in, "Exactly. If Hal says that's it, it should be it. I don't think we should touch this record. I think we've got it." And this guy Joe says, "Oh, no, no, no, no. We're going to make it a hit record." Really ridiculous. I said, "Well, what is it you want?" And he pulled out this music, my original drum part and said, "I want you to put in some drum fills in places." I said, "Okay, you're paying the bills. You hired me to do whatever you want."
"I want to have a drum fill here and I want to have a drum fill here and I want some tom-toms here and maybe we could do your high drums up here. And I want to get this and that." And I always had my little toy case, a big rolling case with everything you ever heard of in this case, from Chinese gong, every kind of knock and click and zip and bang and whoosh and whistles. I had whistles of every size and shape. I had train whistle. It was amazing. This guy wanted everything on this record. "Put a click. I want a click, click, click, click going through the whole background." And Brian kept saying, "You know, if Hal says it's good, let's just leave it alone." "No." Now I'm locking horns with this son of a bitch. I said, "Look, you hired me to do whatever you want me to do and I'll do it. That's what I do. But I gotta tell you, once again, you're making a terrible mistake. It's such a great record."
And, of course, he has me do all this crazy nonsense - toys. And when we're finished, we're finished. And about six weeks to a month later, a 45 comes in the mail to me. And I play the record and it's the worst piece of garbage I ever heard in my life. It was released. No one ever heard it. It never did anything. And it was such a pity. I recently had this great reunion with Brian and, in fact, I just sent him a birthday note and he sent me a note back, thanking me, and I kept wanting to mention, "Brian, I don't want to bring up any bad stuff, but whatever happened to the original 'Everything I Need.'?" I've got to ask him that. I was kicking myself all the way back to the desert, where I live, for not asking him, when I was just with him, taking pictures together and everything. Just a shame. But that's the way the record business is. If you have a flop, you go on with the next song, that's all.
PCC:
Having gone through the dark days with Brian, it must have been great to see him come back and make wonderful music again.
BLAINE:
You know, I'll tell you one of the saddest Brian Wilson stories that happened to me, personally. And I was with Brian all the time. He was at my house, playing the piano. My little girl at the time was probably six years old, she would sit on his lap and Brian would play music for her. Michelle is just a terrific gal. Eventually she became a director, got awards and so forth.
Anyway, I get a call from Terry Melcher, Doris Day's son, nice kid [producer of The Byrds, Paul Revere & The Raiders], he had been adopted by Marty Melcher, the producer who married Doris Day, who turned out to be a thief, bastard, one of those things. Anyway, Terry called me one day and said, "Believe it or not, Brian wants to go in and record." I said, "Well, whatever you want." I used to contract a lot this stuff. So he said, "You've got to tell the guys, no jokes, no fooling around with Brian. We don't know where he's at." I said, "Don't worry about a thing. Nobody's going to do anything."
And it was at RCA. I'll never forget. I pulled into my parking space, went into the building. Now, we know that Brian never got out of bed before one or two o'clock in the afternoon. This was a one o'clock call at RCA. We're in the studio at one o'clock. And we're waiting. And we're waiting and we're waiting and we're waiting. It was probably 10, 12 guys. And we're kind of looking at each other. Well, we know Brian's coming, we just don't know what's happening or why. Maybe he's having breakfast. Who the hell knows? But we've got to be ready in case he walks in, so we can start playing.
And about 2:30, the door opens and Brian walks in like a total stranger. He's looking at the band kind of like, "Gosh, what are you guys doing here?" And he goes over and he sits down at the piano. And I was set up where I was usually set up, right to Brian's left side. Brian would always look to the left to me and away we'd go. And in this case, Brian sat down at the piano and he started playing something. It was the intro to one of The Beach Boys' big hits. Brian stopped and looked over at me and said, "Do you know this song?" I said, "Yeah, Brian, I love that song. It's one of my favorites that you wrote." And he turned back and he started playing the identical introduction again to this song. There was a screw loose somewhere, we knew that.
He stopped again. "Do you know this song?" And he's talking to me like he doesn't know me. I said, "Yeah, Brian. That's one of the best songs you ever wrote. I love that song." And he turned around and he started playing it again, the same introduction. And he looked at me a third time. "Do you know this song?" "Yeah, Brian, that's one of my favorite songs that you wrote." And he closed the piano. And he got up and he left. Jesus, you want to cry. Just terrible. And he had a limo out there waiting for him. It's just awful to go through that.
PCC:
What do you see as being the legacy of The Wrecking Crew?
BLAINE:
Well, obviously, you're going to be hearing some of our music for…God, forever, I guess. Who knows? We don't know how long the planet's going to last, the way it's going.
PCC:
What's one of your proudest moments from The Wrecking Crew years?
BLAINE:
There were so many. People ask me, "What's your favorite record?" I say, "Every record that I ever did was my favorite record." And I swear, I mean that. Obviously, there were records like "MacArthur Park" that really hit big, big. And it had to be one of the first like nine-minute records. And in those days, disc jockeys could needle drop, it wasn't just tapes or push a button or computerized, digital and so forth. In those days, it was needle drop. And in those days, if they had to go to the bathroom, they'd put a record on that ran two minutes and 18 seconds or something like that. Here was a nine-minute record. A guy could go have coffee, go to the bathroom, grab a sandwich. The disc jockeys loved that particular record. It was a tremendous history maker. But there were so many of those records.
"A Taste of Honey" with Herb was one of my favorite records, because obviously it was a drum record. The drums became a hook of the record. And early on, we learned a lot of hooks. When I do a clinic - I do clinics around the country - they always ask, "What's the hardest part about playing in a studio?" Finding a parking space. That's one of the hardest things. Now here I was ego maniac. RCA gave me my own parking space in the RCA building, where I did Henry Mancini and The Monkees and on and on and on, all the RCA artists that I was doing. It was just an amazing time in my life. And everything I seemed to touch turned to gold.
And everybody loved everybody. There were never any arguments with anybody. Nobody wanted to make a bad wave. They loved being in The Wrecking Crew. They loved working for Phil Spector. They loved working for Burt Bacharach, who would come out here on occasion. And so many of these people. People like Alain Delon, the great French actor - we did albums with him. People came to Hollywood to record with us. It was amazing. All of the actors that were doing series, all the big stars, they wanted The Wrecking Crew. So many great records. I worked on four Oscar pictures, the one that Glen did with John Wayne, "True Grit." So many great stars. Steve McQueen. And the TV shows. I was switching channels the other night, and I hear my drums and it's the theme song for "Three's Company." That whole opening, you'll hear drums like you never heard. And talk about a show-off! We used to come out every year and Joe Raposo, wonderful composer, would have us redo the song - "Hal, we're going to go a little crazier with the drums this time." Three, four, five years in a row. And the last time, Joe, unfortunately, had passed away, and I said, "Joe, this one's for you" and I pulled everything that I could out of the toy box and played it. And every time I hear it, I think of Joe.
It was an amazing time. It still is for me. I swear, I'm still on Cloud Nine with that stuff. It was an incredible time for me. I'm just grateful I had the strength and the youth to do it all. And the talent to do the L.A. Symphony in the morning and then playing rock 'n' roll in the afternoon. That kind of thing. That's just what we did. Everybody was happy. They were happy to be playing. It was great fun.
And now with the documentary, it's an amazing time for us again. So many lifetime achievement awards. The Grammys have had surprise parties for us. We've been in the magazines, the newspapers. You couldn't ask for anything more.