HRISTO VITCHEV: A WORLDLY GUITAR ARTIST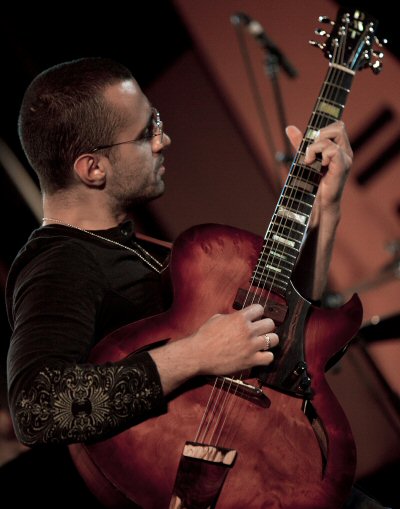 Photo Credit: Bill Wishner
By Paul Freeman [2011 Interview]
Hristo Vitchev's beautiful compositions and elegant guitar stylings display a worldly appeal. He grew up in Eastern Europe and South America, before settling in San Jose. With his playing, rich in nuance and inventiveness, he has quickly established himself as one of the Bay Area's most intriguing jazz talents.
His last album, "Heartmony," takes the listener to beautiful places in their imaginations. It teams him again with talented pianist Weber Iago.
Of his travels as a youth, Vitchev said, "It exposed me to different languages and different kinds of literature, as well as being able to get to know the cultures more in depth. That was an eye-opener. And later that applied to music."
When Vitchev was six, his family moved to Venezuela, where he spent most of his childhood. He began playing guitar at age 12. It was heavy metal music that fired his imagination.
"My dream, when I first started, I wanted to be a rock star. At that age, you don't think realistically about such things and everything is possible. I practiced for hours and hours."
He and his brother, also a guitarist (now an engineer) would compose, play in rock bands and improvise together. In 1996, the family moved to Utah for two years, where Vitchev's parents, both electrical engineers, worked in a high-tech R&D department. Two years later, they made Silicon Valley their home.
Earning a scholarship, Vitchev studied music at Boston's famed Berklee College of Music, where his interest in jazz was ignited. "When someone first played me a jazz record, I thought I was hearing mistakes," he said, chuckling. "I knew it was all improvisation and I figured it's chance. At some point, you're bound to make mistakes."
Gradually Vitchev began appreciating the complexities and intricacies of jazz. He returned to San Jose.
"A lot of talent from the Bay Area would study in New York and then stay there. I love the Bay Area for the weather, the nature and just the vibe of it. It has a lot of world-class musicians , too. There may be fewer places to play, but the community among the musicians, it's a bit more intimate and enjoyable. I feel more at home in this environment."
Still aiming at a career in rock, he attended San Jose State to gain a music degree. Of attending that university, Vitchev said, "This was the real life-changing experience.
I walked into my first class, jazz improvisation, and something just clicked. I had a wonderful teacher - Frank Sumares."
Vitchev set aside metal music to begin mining jazz gold. He sold his solid body rock guitar and switched to a jazz hollow body. Fellow students had been exploring jazz for years. Struggling to catch up, he would arrive at the university's practice room at 5:30 a.m.
"A few times, I came close to quitting. It was overwhelming, trying to see the light at the end of the tunnel, how I would get all this information down. Luckily, I didn't give up and it's been a great journey since then, a very exciting one."
After graduation, Vitchev helped found weekly jazz jams at San Jose's Temple Bar. The jams grew and moved to San Pedro Square. They continue these days at Hotel De Anza. But as Vitchev has become busy with recording and gigging, he has passed the torch to friends to handle the event's details.
On his website, you can purchase Vitchev's book, "Between The Voicings: A New Approach To Chord Building For Guitarists," as well as his other engaging albums - "The Perperikon Suite," "Song For Messambria," "The Secrets Of An Angel" (duo album with pianist Weber Iago) and "Sounds For The Soul" (as part of the Joe DeRose and Amici combo).
Vitchev relishes diverse collaborations. Writing music with DeRose involves more attention to grooves. With Iago, there's a back-and-forth exchange on the internet.
"As an artist, you always want to challenge yourself, put yourself in different situations. The results can be quite unexpected."
Of his own composing, Vitchev said, "It happens on a subconscious level. All the places I've lived, all the different types of music I like, that all enters into it. I listen to bebop, swing, big bands, ECM, pop music, classical, New Age. Those elements all come through.
"I get inspiration from non-musical events, whether it's going for a walk, capturing the scenery and the mood, or maybe going to a museum and seeing a great painting."
"Every time we do a new project, I feel like I'm growing. When we perform live, that's when I grow the most, because improvising over different types of structures, you play something that's never anticipated. I'm always looking for something new. It's not changing who you are as an artist. It's just adding new colors to the palette," said Vitchev, who paints his own album cover art.
In pleasing himself musically, Vitchev, 31, has been able to uplift others. "Music is my life, my passion. Even if there wasn't a single listener out there, I would always do it, even if it was only for me. It's something that I can't help but pursue. My body wants me to do it.
"But I've had people come up to me after a show, maybe somebody's who's terminally ill or is going through a very hard time in their life and they will shake your hand, almost in tears, saying, 'You know man, you really took me to a better place tonight.' And they will tell you their story. It's so gratifying, the responses, to change somebody's life or just to see a person smile when you do something with the music. It's so much more special when that music is your own, not covers. When an original composition of yours touches someone, there's no better feeling in the world."