IAN HUNTER: MOTT AND MORE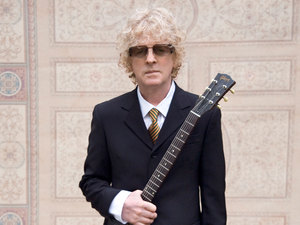 Photo Credit: John Halpern
by Paul Freeman [2007 Interview]
It's been six years since the last Ian Hunter CD. It takes time to shape an album as spectacular as "Shrunken Heads." This latest work from the former Mott the Hoople front man bristles with edgy, powerful, pertinent rock.
"It takes me a while to write," says the British-born Hunter, who has lived in Connecticut since 1975. "It's been that way for the last 20 years."
At the moment, however, the songs are flowing forth. "I've never had a roll like I'm on right now. Usually you make the record, you tour, then you forget how to write. I don't write on the road. Then there's like a two-year gap where I write rubbish. Slowly it starts working out to the point where I like some of the things. Then slowly it leads up to the next record.
"But this time around, I seemed to just not stop. I don't understand it. But I'm not knocking it. I've had to learn the past songs for various sets I've done over the last seven months. And every time, something else takes over. When I'm supposed to be rehearsing old songs, they keep veering into new stuff."
The great old songs of Mott the Hoople are still revered by fans, including today's rockers who have been influenced by the band. Mott formed in 1969 and was on the point of demise before David Bowie produced their 1972 "All The Young Dudes" LP, which finally garnered long deserved acclaim.
So they went from one extreme to the other -- frustrations of not getting attention, then pressures of sudden success. "Either way, it was a drag," chuckles Hunter. "We had a couple of years of banging up against the door and nobody would open it. Then, when they did, it was pretty tiring, too."
He penned a penetrating book, "Diary of a Rock 'N' Roll Star," before leaving Mott. His departure marked the band's end.
"I'm not very good at the band thing. We never had flaming rows. I'm not an ego fanatic. But I do like things my way. Most people do, who have a firm belief in what they want to do. That can rub 'em up the wrong way."
Offers to revive Mott in the subsequent decades didn't tempt Hunter. "It was a personality thing there and usually people don't change. In fact, they get more fixed in their ways."
Still, he speaks highly of his Mott experience. "It was cool. Everybody gave 110 percent. I don't think we were that brilliant musically. It was the combination of desperation and ferocity. That's another reason I don't think it should go back together. That kind of fierce power, you couldn't have that now. We're a little more worldly. People have grown up."
Hunter turned down an opportunity to become the Doors' lead singer after Jim Morrison died. "I never considered it, because I thought, 'I ain't following that guy. I was never an oil painting. He was," Hunter laughs. "I know what I can handle and what I can't."
In '75, Hunter launched a solo career. His eponymous debut spawned the hit "Once Bitten, Twice Shy." The following concept LP, despite Queen backing vocals, didn't equal that commercial triumph.
"I was pretty ambitious. Then I did an album called 'All-American Alien Boy,' which effectively curtailed my career. A horrible experience at the time, but one that got me thinking. In a way, it was a lot better, because the heat was off.
"I don't think I responded well to pressure, even if it was just self-inflicted. So wallowing down a couple of leagues was good for me. I was a lot happier. Of course, people don't think you are, because you're not selling what you used to. And this business is gauged by popularity and record sales. But some of us -- the guy from Nirvana comes to mind -- do not have the mental makeup or the background to deal with that kind of success. I had it for a couple of years. That was enough for me."
His new attitude, ironically led to numerous memorable hits, including 1979's "Cleveland Rocks" (later used as the "Drew Carey Show" theme song). But during the '80s, Hunter wondered whether his creativity was ebbing.
"I had a terrible period. It gets scary. I'm old enough now to know you're going to dry up and then there'll be times when it's going to happen. I know I'm going to have down periods."
Hunter is now enjoying an "up" period. "Shrunken Heads" contains 11 superlative songs -- potent rock with intelligent lyrics. A super band backs Hunter, including, on three tunes, Wilco's Jeff Tweedy.
Several songs, most notably "Brainwashed" and "Soul of America" reflect Hunter's bewilderment with the current political situation.
"Not only here, but England as well, it seems that people have been very stupid in their voting habits. Maybe it was that they didn't have a choice. A lot of Republicans will tell you that Kerry was not an option, that our only choice was Bush. And in England, the same thing with Blair. But people seem to be sharpening up really quickly now, as reality catches up."
Hunter meticulously rewrote those two songs. ""You prune, hone, fine-tune. You can get a lyric in the area, but it's still wrong. That's where persistence comes in, where you wait another day, another week, another month, until you get exactly what you were trying to say out, not a reasonable facsimile. That's what takes the time."
When he's not in a productive writing period, Hunter feels guilty. "It's like a soldier without a weapon, that's what it's like not having a song. It's particularly horrible when you've just finished a record and you've got nothing in the bank to start off with again. It can go on for a couple of years and you think you'll have to retire. You think all kinds of silly things.
"But I've been doing this for 40-odd years. So it's obvious it's what I'm supposed to do and I do it, regardless. Right now I'm very satisfied with the music. Of course, you open your big mouth and say that and the following day, you're clammed for a year. So it's not a clever thing to say. But I am chuffed with what's going on at the moment."
Hunter released the "Man Overboard" album in 2009. For the latest Hunter news, go to www.ianhunter.com.