ILIZA SHLESINGER: GENERATING MEANINGFUL LAUGHTER
The Stand-Up Sensation and TV Host Speaks Out in Defense of Women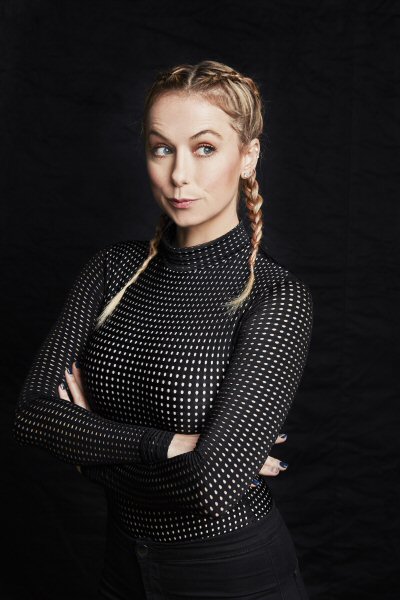 Photo of Iliza Shlesinger by Marteen Deboer
By Paul Freeman [September 2016 Interview]
Of course, Iliza Shlesinger is going to make you laugh - loud, long and often. But her comedy is also going to make you think - uncommon in todayís world of stand-up.
Shlesingerís third Netflix comedy special, ďConfirmed Kills,Ē reflects her evolution and growth as a performer.
Shlesinger, 33, who grew up in Dallas, has known since childhood that comedy was her path in life. She took a huge leap forward when, in 2008, she became the first woman and youngest contestant to win NBCís ďLast Comic Standing.Ē She hosted ďExcused,Ē a reality-based dating game. More recently Shlesinger hosted the TBS series ďSeparation Anxiety.Ē And her scripted show ďForever 31,Ē for ABCís digital platform, has been renewed for a second season.
Shlesinger has been a featured performer on this yearís Oddball Comedy and Curiosity Festival. Her book ďGirl LogicĒ will be published in the spring of 2017.
POP CULTURE CLASSICS:
The new Netflix special is wonderful. Were you consciousÖ
ILIZA SHLESINGER:
Of how wonderful it was?
PCC:
[Laughs] Of it really reflecting how youíre evolving and growing as a performer?
SHLESINGER:
Absolutely. You know, itís my third hour. And this was a chance to say something, obviously funny first, but meaningful to a large platform. And I felt I sort of owed it to the art I had created to not just do social commentary, but to sort of give an explanation and maybe defend women a little bit, while also including men.
PCC:
Do you hope to start a discussion amongst men and women?
SHLESINGER:
Ah, no. I mean, I think men and women will probably never be able to discuss anything. But my hope was to be able to say something in defense of women. And I think people respecting me as a comedian is important. You can make people laugh, but having them really want to hear what you have to say, that takes trust and time. So hopefully Iíve earned it with this special permanently.
PCC:
Youíve always been able to get them to laugh. Is it significantly more rewarding, when you know that youíre giving the audience something more?
SHLESINGER:
It is. Itís a great feeling to know that Iím saying something substantial. It also feels good to get to a place in my career where I have the confidence to say something socially important and know that I can back it up in a heartbeat. Iím not just throwing opinions out there. These are heartfelt and researchedÖ with plenty of ancillary evidence.
PCC:
When you touch on topics like oppression and sexual harassment, how difficult is it to make the point and still make it funny?
SHLESINGER:
You know, difficult is an interesting word, because the jokes - and a lot of comedians are this way - the jokes will sort of come to me. You kind of just get on a roll in your own head and the jokes just come out. And you say it, it gets a laugh, youíre like, ďOkay, thereís something there.Ē
The jokes are specifically worded. I take my word decision veryÖ wow, I just had a total brain fartÖ I take my word decision very seriously. And if somebodyís not going to get the joke, itís really because of lack of understanding on their part. And I think most people are intelligent enough to understand what Iím saying. And again, Iím wanting women to be heard and protected. Itís not like Iím saying anything outlandishÖ although, maybe for some people, that is [laughs].
PCC:
And it wonít bother you if some people do find it outlandish?
SHLESINGER:
You know, thereís always going to be peopleÖ Like I have a joke in there about how confident African-American women are about their bodies. And if you listen to the joke, itís me saying we should be more like African-American women, because theyíre so confident. And I had somebody in an audience who said, ďYour black jokes arenít funny.Ē And he was white, with a black date. I was like, ďOkay, that tells me you didnít listen to itÖ and youíre trying to be a white knight, no pun intended.Ē
PCC:
Do you find that, at this point, audiences tend to be hungry for material they can sink their teeth into, something thatís smart, as well as funny?
SHLESINGER:
I think women are ready to hear something empowering, thatís also funny. And I think men, can appreciate it, because itís smart and funnyÖ and Iím not berating them. And this isnít nagging, as it were. This isnít man-bashing or anything like that. This is just kind of standing up for women in a digestible way. So women come up to me after the show like, ďThank you for saying something positive.Ē We have enough dick jokes and slut jokes out there. I didnít want to contribute to that cache.
PCC:
Another thing you talk about in the special - is this something youíve found disturbing for a long time - many women confusing being sexual with empowerment?
SHLESINGER:
Every women is entitled to embrace feminism or being a woman on her own terms. Iíve never been a dirty comic. Iíve definitely been called dirty, because Iím a woman saying the ďfĒ word. But thereís a trend in comedy, where women just say the filthiest thing possible and people reward them, because, you know, sex is funny. So I was alway a little disappointed that not a lot was expected from us. And then, once in a while, you get someone like a Tina Fey or Melissa McCarthy - just up there being funny and theyíre not telling crass jokes. So I just think that women are ready to set the bar a little higher.
PCC:
You mention women accepting, even embracing derogatory terms like ďwalk of shame,Ē instead of bristling at it. Has that really rankled you for a long time?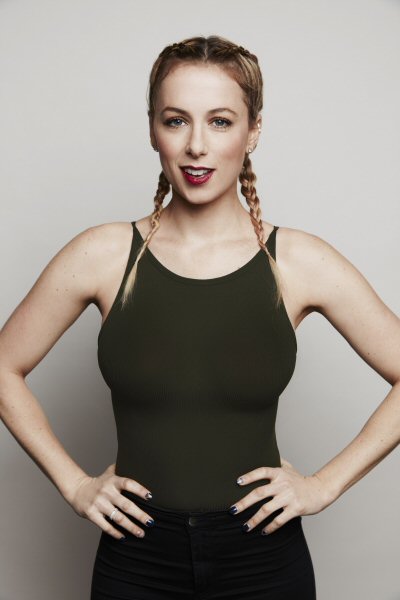 Photo of Iliza Shlesinger by Marteen Deboer
SHLESINGER:
Well, I donít know if it has for a long time, because Iím 33 and here I am coming out of my twenties only three years ago, doing stand-up. But it just kind of hit me that while a grown woman, you can defend yourself and say, ďI own the word Ďslut.íĒ Or I own ďwalk of shame.Ē ďI own all these things.Ē If we make these words okay, then someone will start saying these to 14-year-old girls. Or children will start calling themselves these things. And they donít know about the world. They donít know how to defend themselves. You know?
It would be like a rapper says, ďIím okay with the íní word.Ē And then people start thinking that wordís okay. And you say it to a kid. And he doesnít know how to digest that.
So, well, no, Iím not on a mission to save the children. But I think, the effort, on an individual basis, is slightly misguided. Letís just stop talking about womenís sexuality on the whole [chuckles] and focus on our contributions in generalÖ while still owning our sexuality at the same time. Itís a very precarious thing.
PCC:
And in talking about the connotations of feminism, do you wonder why there would even be a question about the value of feminism at this point?
SHLESINGER:
Itís shocking. Itís shocking that there are men who roll there eyes. I did some of these jokes for the women out there who are maybe embarrassed to say itÖ or donít understand it. How can you not want to be treated like an equal? How could not want to be paid the same amount as someone else for the same job? One of my jokes deals with how people have the wrong idea of what feminism is.
Feminism honestly isnít really even a word that I started using until recently, because without knowing it, Iíve always been a feminist. Iíve always run with the guys. Iím sure I make just as much, if not more, than some of my male counterparts. I have no problem speaking my mind. And Iím able to do it in a way thatís not, quote-unquote ďannoying.Ē And I think the world needs to get over the fact that women are capableÖ and hereÖ and funnyÖ and smart.
PCC:
You also talk in the special about the issues of body image and self-esteem. Does that continue to grow as a problem? Are people paying enough attention now, so that itís changing?
SHLESINGER:
To be honest, I donít think looking at womenís bodies and judging them will ever go away, just by virtue of the fact that weíre the ones who are in charge of having children and our sexuality is more pronounced. For example, if I meet a man, I canít tell if he has a small penis. But you can tell right away if I have big hips and big boobs. Our sexuality is more out there. We wear things to pronounce it. Women like feeling sexual. Women like to feel desired.
I think weíve come a long way in terms of confidence. Size has become okay. Having a big butt was never okay until the last several years. So weíre getting there. Itís hard, too, because Iím an in-shape, white girl. So I would be remiss to stand here, as an in-shape white girl, and be like, ďEveryone should just love their bodies.Ē I donít know what itís like to be mocked because of your skin color. I donít know what itís like to feel overweight. All I can do as a woman is have compassion and treat other women with kindness and allow them to just be happy and not judge them for it. I think thatís the key.
PCC:
Growing up, did you have your own self-esteem issues? Or were you always confident and good at self-expression?
SHLESINGER:
You know, I donít think any teenager feels like amazing all the time. But Iíve always been funny. So through that, you learn self-defense and you learn witty repartee. It was a little bit different. But with being funny and with being outspoken, you get the guys that donít like you and the teachers that roll their eyes and the boys that will physically put their hands on you, if they donít like you. I, for sure, had that happen. So everybody has their cross to bear and everybody has their issues. But it still never once occurred to me that Iím not as good as everyone else. And thatís a gift I wish I could give to every girl.
PCC:
When did you realize you wanted to make comedy your career, your lifeís path?
SHLESINGER:
Itís been my whole life. I never questioned it. Itís been since I was little. I was always going to be funny for a living and I just had to find what kind of funny.
PCC:
Who were the big inspirations for you?
SHLESINGER:
God, I hate this question. Can I skip it? Is that okay?
PCC:
Sure. So once you decided you were going to do stand-up and began doing open mics or whatever, what were the biggest challenges you faced before breaking through.
SHLESINGER:
You know, itís a hard question to answer, because I won ďLast Comic StandingĒ three years in. And when youíre in your early twenties and youíre working hard, you donít realize how shitty your life isÖ because thatís what your early twenties are for - like being hung over and driving for two hours for 10 minutes of time. And you kind of just grit it out. I will say that, as Iíve gotten older, being a part of a cool group is important, knowing the right people - but thatís Hollywood.
Challenges I face? I donít know. I think people look at me and think, ďWell, sheís cute and blonde. We donít want that. Sheís not weird enough. Thereís no hook there.Ē I canít apologize that I wasnít molested and I canít apologize for what I look like. I wonít. I think sometimes people, without hearing me, just write me off, because of that. But thatís definitely changing. And I think, with this special, hopefully theyíll just see a really smart comic thatís got something to say.
PCC:
The stand-up world has always been very much a boys club. Is that changing at all?
SHLESINGER:
Thereís more and more women doing stand-up. I mean, women have always done stand-up. And now thereís definitely more of a spotlight. Thereís more avenues. Youíve got non-linear platforms, digital platforms. Thereís a jillion channels. More women are being given chances. And thatís great, because then we eventually stop saying, ďfemale comic.Ē
Personally, I always compete against men. When I did ďLast Comic Standing,Ē it was me against boys. When Iím on the road, I look at calendars for theatres and clubs, and itís usually only men. So Iíve never seen women as my competition. I think women like to pit women against each other. And Iíve always competed against men. Iím not about to start turning against other women, just so people have something pretty to look at.
PCC:
In doing the Oddball Festival, is there more of a sense of camaraderie or competition amongst all the comics?
SHLESINGER:
Oh, we all know each other. Thereís no competition. The orderís all set. Obviously, you want to crush. And it would be great, if you crushed so hard, you would be hard to follow. But you know, youíre not on that show, unless youíre good. Thereís no question. You donít have to audition. You got asked. So, no, I mean, theyíre all comics that I work with on a weekly basis. Weíre all buddies.
PCC:
Do you feel like a rock star, going on stage in these amphitheatres? Is it challenging to play that large a venue?
SHLESINGER:
I walked on stage to a 6,000-person amphitheatre in the Midwest. My heart rate could not have been slower. I donít think Iíve ever felt more at home in my entire life.
PCC:
Why? Itís just where you want to be?
SHLESINGER:
I was just built for this. My comedy is energetic. Itís loud. Itís intense. And it works on a stage like that. Iíve been bringing this type of energy to my audiences since the day I started. So I fit right in.
PCC:
And how much easier is it now than when you started, having fans already on your side, when you get up there, instead of having to begin from scratch each time you hit the stage?
SHLESINGER:
Well, sometimes you do. Again, Iím not headlining this Oddball tour, so thereís definitely some people out there who donít know who I am. But lucky for me, Iíve been clawing my way to this point in my career. So winning people over is not only something Iím used to, but Iím also very good at it.
PCC:
Youíve got the book ďGirl LogicĒ coming out, what are you communicating there?
SHLESINGER:
ďGirl LogicĒ is my commentary on the thought process that women apply to things, I believe because of the expectation on women to be perfect. All of our decisions factor in the past, present and future. And ďGirl LogicĒ is sort of an exploration of that. I thought it was important to do something quasi-academic and not just write a tell-all about all the men Iíve slept withÖ because that would be about 15 pages long.
PCC:
Do you now feel comfortable that youíve established yourself, or is this a business where you have to constantly be proving yourself?
SHLESINGER:
I donít think I will ever feel comfortable. And thatís part of the business.
PCC:
And is that a good thing, to not be comfortable?
SHLESINGER:
To not be complacent. But a little comfort once in a while goes a long way in terms of relaxation [laughs].
PCC:
And ultimately, where do you hope the career takes you? Where do you see yourself down the road?
SHLESINGER:
Iím developing a late-night show. Thatís what Iíve always wanted, a late-night show. Late-night is my goal. Iíve written a couple of screenplays. The objective is to get to do art on my terms, bigger and better. And I think, as a comedian, thatís all you can ask for.
For the latest news and tour dates, visit www.iliza.com.