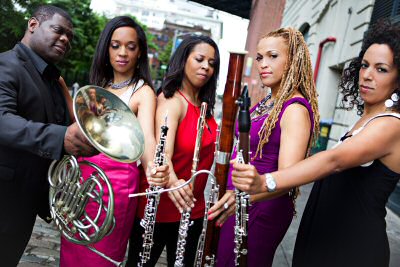 Imani Winds, Left to Right: Jeff Scott, Toyin Spellman-Diaz, Valerie Coleman, Monica Ellis and Mariam Adam
Photo by Matthew Murphy
IMANI WINDS: FAITH IN CHAMBER MUSIC

By Paul Freeman [April 2015 Interview]
Imani Winds, in its 18 years of existence, has become one of the most in-demand and inventive wind quintets. The New York-based group blends world music and jazz influences into its classical repertoire.
When they began, the quintet had no idea that would be a formula for success. But the name "Imani" means "faith" in the Swahili language. And the musicians kept the faith… and kept honing their distinctive sound. And acclaim followed.
Peter Van Zandt Lane of The Boston Musical Intelligencer says, "The ensemble is strikingly virtuosic, immaculately tight, stylistically agile, and they know how to engage the audience with sincere, succinct and thoughtful comments about the music they perform."
When Imani Winds first assembled, the quintet's oboist, Toyin Spellman-Diaz didn't harbor grand dreams. She tells Pop Culture Classics, "I was expecting to have some pizza and then go back and keep practicing my orchestral excerpts and try to win a job. But I did have faith. And even more, Valerie [founder/flutist Valerie Coleman] had faith. Really, it was her vision. I was lucky enough to be carried along."
The group came together in 1997. Spellman-Diaz,says, "Valerie was sitting in the practice room at graduate school, waiting to be called to do gigs. And while she was waiting, she decided to take the future of her career in her own hands and start a group. She wanted it to be made up of musicians of color, who were as interested as she was in changing the face of chamber music.
"As soon as we got together," says Spellman-Diaz, "we started playing music that wouldn't necessarily be European composers. We started reading the more diverse repertoire that was already out there at the time, so pieces by Paquito D'Rivera - who is a fantastic Cuban composer and musician - and other composers of color. But Valerie is also a composer herself, as is Jeff Scott, our horn player. So early on, we were trying to change not just the face of the wind quintet, but also the sound of the quintet."
Coleman, Scott and Spellman-Diaz are joined in Imani Winds by clarinetist Mariam Adam and bassoonist Monica Ellis.
A recent Imani Winds program at Stanford University included klezmer music and pieces by Rivera, Miles Davis and American composer Samuel Barber, as well as Scherzo from "A Midsummer Night's Dream" by Felix Mendelssohn.
Imani Winds has commissioned works from diverse composers, including Wayne Shorter, Jason Moran, Palestinian-born Simon Shaheen and Rivera.
"Like a garden, you have to have a variety in there, in order to have healthy soil and create beautiful new landscapes," Spellman-Diaz says.
"It's important for all musicians to always look inward when they're preparing to play new music and see what inspires them. And it may not necessarily be Beethoven and Mozart. It may be other things."
Spellman-Diaz was always more drawn to chamber music, rather than orchestral music. "Around the time that Valerie was thinking of starting a group, I had an epiphany that I didn't really want to play in an orchestra for a living. With chamber music, you're more in control of what you're doing than when you're playing in an orchestra. Of course, you have interpretive control over your line, but when you lean back to the trumpet section and say, "Could you play that a little louder?," people will get offended. Well, actually, no trumpet player would ever complain about being asked to play more loudly," she says, laughing.
"When you're an oboist and you come to this decision, it's really hard to find alternative career paths. So it was fortunate for me that Imani got started. Also, when I was playing in orchestras, I missed seeing people that looked like me. So when Valerie called me and we got together for the first time, I was so excited to see people who have similar backgrounds playing their instruments at such a high level. I was really wanting to do something different."
And Imani Winds is indeed different, in terms of backgrounds, musical influences and goals.
Spellman-Diaz says, "Part of the idea, from the beginning, was to inspire children of color to play instruments. But what it's grown into now has grown beyond the color."
She grew up in Washington, D.C., where her father worked, for 30 years, for the National Endowment for the Arts. He would receive complimentary tickets and take her to operas and ballets from the time she was four years old. He was also a jazz historian/critic. That has influenced her listening habits and her performance style.
Because so many students in her youth orchestra had chosen her preferred instrument, the flute, Spellman-Diaz switched to oboe. "It was an opportunity to get more solos. And my uncle happened to have a plastic oboe and he gave it to me. You know, they say that oboists go crazy after a certain amount of time, because there's a lot of head pressure," she says, laughing.
Each member of Imani Winds teaches, as well as performs. Spellman-Diaz, 42, is on the faculty, Pre-college Division, at Manhattan School of Music, where she earned her Masters and Professional Studies degrees. She's married and has a five-year-old daughter. "She's taking piano lessons and I'm terrified she'll be a musician, too," Spellman-Diaz says with a laugh.
Imani Winds is involved in outreach programs. "When we go to different colleges, like Stanford, and stay for a few days, we really infiltrate the school and try to promote our style of performance practice - the whole idea of connecting with the audience, down to the basics of how to hold yourself while you're playing and how to breathe correctly."
The group's most recent album is "Rite of Spring." They have shown that their performance style can stand the test of time.
Spellman-Diaz says, "Our longevity is due to the fact that, more than looking somewhat similar, we enjoy the same kind of things and we enjoy each other on stage. I think a lot of that has to do with our backgrounds being mirror images of each other's backgrounds. But it also has to do with a real sense of purpose, driving us to create an inspired performance every time we play, whether it's for children or adults."
"I've listened to rock bands in interviews and they often talk about how they try to connect with the audience and shape the experience and the energy coming their way. It's kind of rare to find that connection between audience and performer in chamber music. But that's what we try to achieve. That connection with the audience is something that I work on every time I perform. It's kind of like using the performance stage as your practice room. It's partially spiritual and partially practical. And I love working on that."
Wherever the group performs, audiences warm to Imani Winds. "I think at first, people concentrate on the visual of us being African-American and Latino. But once they experience the concert, they're kind of surprised by how much they connect with it.
"Our success has been thrilling and, frankly, kind of astounding to me. I'm actually making a living, playing music full-time. There's a lot of gaping holes in the music industry these days. And somehow chamber music has managed to rise out of the ashes and become more viable of an option for young musicians, partially because it's cheaper to bring in a smaller ensemble. It's kind of like the difference between a jazz big band and small ensemble. So being a part of that wave of new, inspired musicians is wonderful."
Visit www.imaniwinds.com.