INXS: LIFE GOES ON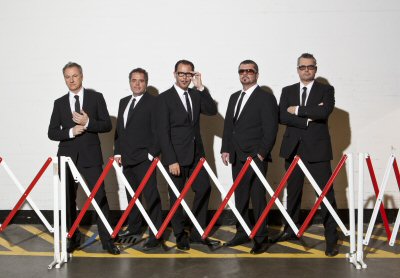 L to R: Garry Gary Beers, Andrew Farriss, Kirk Pengilly, Tim Farriss, Jon Farriss
By Paul Freeman
The INXS/Berlin Tour
Upcoming Date: The Mountain Winery, 14831 Pierce Road, Saratoga
When: 7:30 p.m. Tuesday 7/19
Tickets: $35-$89.50; www.ticketmaster.com
In the '80s and '90s, INXS enjoyed an excess of success. The Australians created such seductive, enduring hits as "Need You Tonight," "Devil Inside," "Suicide Blonde" and "New Sensation." Their sound encompassed, alternative rock, New Wave and dance.
But their good fortune came to a screeching halt in 1997 with the tragic death of charismatic lead singer Michael Hutchence. After a break from performing, brothers Jon, Andrew and Tim Farriss, along with fellow original band members Kirk Pengilly and Garry Gary Beers, returned and found audiences still hungry for INXS hits.
In 2005, a reality show, "Rock Star: INXS," allowed viewers to help them choose a new lead singer. J.D. Fortune was the vocalist who survived the grueling competition. New chart tunes like "Pretty Vegas" and "Afterglow" resulted.
Now INXS is back with "Original Sin," imaginative new mixes of their past smashes. The album features guest lead vocals by such artists as Ben Harper, Nikka Costa and Pat Monahan. The title tune, with Rob Thomas singing, reached the number one slot on Billboard's dance/club chart.
"It developed quite organically, really. INXS had been pioneers of remixing back in the '80s," explained drummer/percussionist/backing vocalist Jon Farriss, who served as an executive producer on the new project. "And we're sort of used to different genres and that kind of thing, but back then, it was kind of unusual.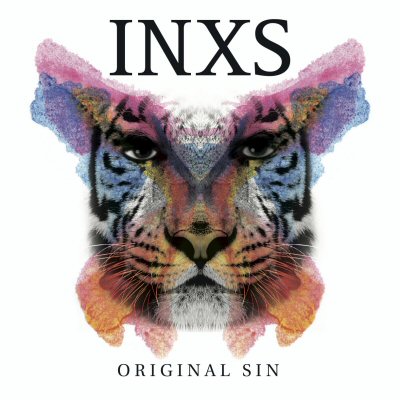 "And I think, when we decided, in 2008, to get James Ash, who's won some accolades in Australia, in particular the ARIA, which is like the highest sort of accolade I suppose you can get in Australia, for his remix of 'Need You Tonight,' which got us thinking, 'Why don't we get James to prepare us some demos, where we could kind of imagine us pulling the songs apart, basically doing covers of our own material, broadening, thinking outside of the box, outside of the square. And do covers, but instead of doing other people's covers, do our own songs," Farriss chuckled. "And so, integrate the remix/cover concept. One thing led to another. Originally we thought it was going to be instrumentals, then we decided, 'Why don't we spread it out a little wider and invite some singers?' And once momentum developed, we had a full-on project with people being very interested in it."
It was vital to identify and round up the right singers for each song. In addition to the star vocalists, INXS chose such eclectic artists as John Mayer, Tricky, Argentina's Deborah de Corral, Australia's Kav Temperley and Cuba's DJ Yalediys.
"It was sort of hard kick-starting," Farriss explained, "because we weren't really sure how to go about it. What are we doing here? Are we going to go for sort of underground? Are we going to knock on all the big knobs' doors? How we going to do it? And what we decided was a balance, sort of introducing some people and having some well known artists and friends, cultural integrations and linguistic integration and as we're spreading and broadening our musicianship, why not broaden the cultural aspects? And also go for doing some ambient to kind of club/gospel/whatever. We were just having fun. And also kind of spreading our wings a little bit, musically, which is showing the diversity of us as musicians, in an area which we had never really done before. We've always been able to do different types and styles of music, but we'd never done that as a concept."
Objectivity was a key. "There's a pretty stringent gallery of ears that has to pass through the band, including myself. I'm extremely critical of everything. But throughout the project, the more and more it became clear that part of my task as executive producer, along with Chris Murphy, was to sort of integrate producers and, when necessary, co-produce songs. At the end of the day, you can't do everything by yourself. It's a team effort.
"It was important to have band members who could have a little bit of distance from it, so that they could have clean ears. The bulk of the songs were written by Andrew and Michael. For Andrew to sit in the studio while his all songs were being dismantled, torn apart, kind of thrown on the floor and put back together, was an overwhelming thing for him to experience. It was a no-brainer that somebody like me was able to, at arm's length, be able to get to the heart of the project. I wasn't too emotionally thrown off, because I wasn't in there in the room when they were conceived."
At the time of Hutchence's passing, it seemed difficult to conceive of INXS without him. But the band proved to doubters that there was plenty of life left in their music. Jon Farriss had known Hutchence since childhood and shared a house with him in Hong Kong for several years. The two co-wrote a number of INXS songs.
"When Michael died, that was the beginning of something new," Farriss said. "At that moment, you're catapulted into a different dimension, by default. It will never be the same. At that point, obviously, everyone grieves in different ways, including fans. At ground zero, it would be the end of the world. Slowly, but surely, as you move through each day, you realize that what you're left with is life. And life goes on. We are musicians. It's born and bred into us. It's what we do. For us to wear black clothes and black veils and not do anything anymore is unnecessary. I think it would be disrespectful to stop. And every night, every day, there's part of Michael in us that's on stage."
Farriss has fond memories of Hutchence as both bandmate and friend. "Michael and I shared a place for a number of years. I lived in Hong Kong and so did Michael. They were probably some of the best times. We were doing a lot of writing together. We had this place on the water. We'd come off tour and, ironically, we'd end up going back and sharing a car back to our house in Hong Kong.
"There were some fun times. Certainly, off the road, there were some fun times. We had our fair share of moments, as all relationships do. But when we were away from the pack and it was just us, I think you always have a different kind of bond, don't you?"
The five surviving original members have managed to co-exist amicably for decades. "It's pretty f--king complicated," laughed. "Can you imagine? It's like a marriage, although, when you put it that way, it's quite a sick concept, I suppose. A very bizarre experiment, especially considering how long we've been together, which is since 1977. Of course it's a marriage. Trying to get two people to decide where to have dinner is hard enough, let alone having, originally six and now five original members... Over the years, sometimes things get harder, sometimes things do get easier. But you do learn. You become wiser. And you learn when's a good time to do something and when isn't. It's always a challenge. But with INXS, we've always taken risks. Once you become stagnant and if you're doing everything on automatic, that's a very dangerous position to be in and if we're not exploring new things... and the reason we chose our own music to do covers, obviously, we don't run the risk of insulting anyone else. But it's a bigger risk, because it's our songs. We've already recorded them. They're historically out there."
The fact that four of the members are siblings can make things easier... or, in some ways, more complex. "I think it's a mixture of both. But I think more on a positive note. It really does integrate the sort of family tie-in and look. Way back when we were kids, the Farriss brothers were all very active in music, but separately. It wasn't until the first time we all got together, Michael, Andrew, Tim, Jon, Gary and Kirk, in the one space, we were booked in this little studio and there was no name for the band, because it was the first time we'd all gotten together. And the guy booking the studio said 'Well, what's the band? And Tim was like, 'I don't know, the Farriss Brothers and friends.' So they put down Farriss Brothers. And from there, that first time we played together, it was on. And for lack of a name, we just called ourselves The Farriss Brothers, until, obviously, we got a name, changed the name to INXS.
"Back then, in '77, Kirk had been staying over every night, for years and years, going to school with Tim every day. So he was effectively a brother. Andrew and Michael went to school together, same school as I did, although I was two years senior to them. Gary went to school with Kirk and Tim. It really has been a family. Everyone would come around to the Farriss house and do their washing and it was sort of like our Mum and Dad were the Mum and Dad to the band."
It isn't easy to add a new member to a tight-knit family. The "Rock Star: INXS" competition was another difficult time for Farriss. Ten thousand aspiring rock stars auditioned, with only the best reaching the televised portions.
"Look, I didn't know what to expect. Every day was like some kind of weird experiment. It was extremely stressful for me, personally. I know for other guys in the band, it was just great fun. I didn't find it fun. I found it stressful, because I didn't know who was going to be what. And, as usual, I take everything on board and think about it. And it was really hard. We were working really hard. We were also up really early, doing some of the shows, starting at 6 a.m.
"So we were up really early. And so were the singers. We really had to put them through the drill, because we had to see what they were like under pressure. And throw tasks at them. That was the point, to see who's for real, who crumbles under pressure, who's just full of shit, what are people going to be like when they're put in a situation with other people, what are their characteristics? There was a heap of stuff that it was imperative that we see.
"The original concept was a documentary of us auditioning people around the world. For us to be able to do that, it needed to be backed by a good producer. And we ended up with Mark Burnette, who's brilliant at what he did."
It was a nerve-wracking process for judges, as well as contestants. "It was a lot for everybody," Farriss said. "I mean, look, this is certainly a career that's not for the faint-hearted. There was a lot of talent on that show. We auditioned at least 10,000 people. Could have been more, but sometimes, more isn't more. It was important for us to concentrate on a few cities around the world, to make sure we could cover as many of the corners of the world as possible. We wanted to integrate as many parts of the world as we could. And that TV show was the first formula that had the world involved in voting. And that, in itself was a challenge, because we had 24 hours to rope in different countries that were playing the show at different hours. It was kind of complicated, because we had to get the votes in from around the world. And that helped us narrow it down to J.D."
"The night before that show, it was probably the most stressful night I've ever had. I didn't sleep a wink. I'm sure the three remaining singers didn't either," he said, chuckling. "Nor did we sleep for like the next few months after that, because we were working so much. That was a pretty full-on ride."
Though J.D. Fortune impressed the band and the viewers with his voice and his poise, he had trouble handling the pressure once he began touring with the band. In 2009, he said in a television interview that he had struggled with drugs and was fired from INXS.
"First I heard of it was when I saw it on television," Farriss said. "The firing never happened. So I guess whatever problems he was going through, it wasn't over, because he only made it worse for himself."
But now Fortune has apparently changed. The band invited him to sing "The Stairs" track on the "Original Sin" album. And he's again doing lead vocals on the current tour.
"We're out to give people a go," Farriss said. "And we'd spent a lot of time. And we'd toured together. And, hey, he wants another chance. Of course, we'll give him another chance. That was never in question."
Opening for INXS on the tour is another popular '80s band, Berlin. Said Farriss, "It wasn't like we got up one day and said, 'We're going to zero in on pulling in this full-on '80s synth thing. The promoter had fielded some requests and Berlin came up and I thought it was a good idea. I'm really looking forward to seeing them, Terri Nunn and the gang. It's interesting, North America's always been great, supportive of the '80s and stuff. Of course, 'Original Sin' is a celebration of material that was written back then, as well."
Putting the "Original Sin" project together was very time-consuming. During the process, Farriss, 49, and his wife Kerry welcomed their first two children.
"The family thing was probably my biggest life goal. I really wanted to experience that. And I'm really, really grateful. Lovely family. Lovely wife and two beautiful children. And a beautiful band with a legacy of incredible experiences."
For the latest info on the band, including other tour dates, visit www.inxs.com.