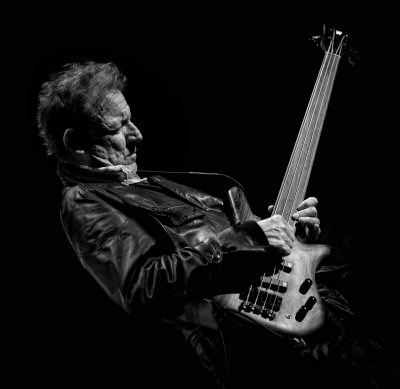 Photo Credit: Marek Hoffman
JACK BRUCE:
BASSIST/SINGER/SONGWRITER WAS CREAM OF THE CROP
By Paul Freeman [1993 Interview]


Jack Bruce was one of rock's most adventurous and creatively pure-minded forces. Whether fashioning dazzling bass lines, singing searingly or writing unforgettable tunes, he made a lasting impact.

A native of Scotland, Bruce won a scholarship to study cello and composition at the Royal Scottish Academy of Music and Drama. To support himself, he took gigs playing jazz bass. The Academy told him it was college or jazz - choose. So he left. Nothing and no one could ever harness Bruce's creative spirit.

He ventured into rock, prog, psychedelic, blues, jazz fusion and classical. Among the many groups he lent his abundant talents to were Blues Incorporated, The Graham Bond Organization (with Ginger Baker), John Mayall's Bluesbreakers, Manfred Mann, The Tony William Lifetime, West, Bruce & Laing and Ringo Starr's All-Starr Band.

And, of course, Cream. He formed the ultimate power trio in 1966 with Eric Clapton and Baker. The band's life was short, but its popularity was huge. And its influence on future generations has been massive. Bruce sang lead and co-wrote (with lyricist Pete Brown) many of Cream's iconic hits, including "Sunshine of Your Love," "White Room, and "I Feel Free."

In 1969, Bruce released his debut solo album, "Songs for a Tailor," a critical and commercial triumph.

When I spoke with Bruce, he had just released his 1993 album, "Somethin Els," with Clapton among the guests. Bruce continued to make great music until he passed way of liver disease in October of 2014, at age 71, six months after releasing another brilliant album, "Silver Rails."

Clapton posted on Facebook about Bruce, "He was a great musician and composer, and a tremendous inspiration to me." Roger Waters described him as "probably the most musically gifted bass player who's ever been."

POP CULTURE CLASSICS:
The new album is terrific. Did you go in with the idea of creating a mix of moods and styles?

JACK BRUCE:
I always liked the first solo album I did, '"Songs for a Tailor," many years ago. And that was a kind of similar mixture of styles, if you like, of influences, really. And I guess I've been fairly nostalgic in that way, trying to do it, obviously, in the 90s. [Chuckles]

PCC:
And how different is it, in the 90s?

BRUCE:
Oh, it's kind of different. Let me think - how is it different? [Chuckles]

PCC:
Is it just in terms of technology? Or approach, as well?

BRUCE:
Well, yes, it's all recorded digitally, which is one major difference. We had lots of tracks, instead of just eight, or whatever we had in the old days. But I think it all boils down to the same thing. You kind of have an idea of a tune and you try to make it. I suppose one difference is that you can do backing tracks and then get the people that you want to play on them, you can get them later, which is useful.

PCC:
How much is planned out and how much is the result of experimentation in the studio?

BRUCE:
With me, unfortunately, in a way unfortunately, most things are completely written in advance, in my head. Once I've get an idea, it's pretty fixed. I try to recreate what I hear in my head, as it were. In a way, it would be nice to go in and change things. But that's just the way I work. I tend to write things down on paper.

PCC:
And you end up with a more cohesive result that way?

BRUCE:
Yeah. And it's easy, as well. For me, it's easy - I know what I want. And for better or for worse, I try to get it. But I guess it's not exactly, well, it's a little bit different from maybe the way that a lot of people would work, but it just happens to be the way that I've worked.

PCC:
Do you ponder how accessible to try to make it, while keeping it adventurous enough for yourself?

BRUCE:
Well, not really. No, I've never really thought in that way... not for a long time. I guess in the 60s, I was sometimes trying to write pop songs as singles - because we used to have those in those days [chuckles], songs that were written in that two-and-a-half, three-minute form. People like The Beatles were the masters of that. And those things were written as singles and released as singles. And that market, if you like, doesn't exist anymore. If there are singles, they come from records, from albums, or whatever they call them these days. But I kind of admired that form. I think it's a loss, the fact that people don't really make singles anymore, as a kind of form.

Things like "White Room," for instance, that was an attempt to do that. Or "I Feel Free," I guess, those sort of things - to try to see how much you could get away with, but also get across to the folks.

PCC:
The songs on "Somethin Els" register immediately, but then reveal more layers with subsequent listenings.

BRUCE:
Well, that's a great compliment. If I could succeed in doing that, then I'm very, very happy, because, normally, when I do a record - and they're few and far between [laughs], but when I do do one, people say, "Oh, yeah, I like it." But it takes them about a year to say they like it [laughs].

PCC:
Do try to be conscious of all of that or does the whole creative work have to evolve naturally?

BRUCE:
I just go with things, really. I'm not very good, I don't think, at working to formulas.

PCC:
Do you have to push yourself to do the next album each time? Or does it just come bursting out of you?

BRUCE:
Well, usually it's problems with the business side of things. That's the only reason really why I don't record more. Usually you have problems getting record companies to let me [laughs]. It's not a question of I don't want to do it... or I don't have the inspiration or something like that. It's usually trying to get the lawyers to get a deal [laughs].

PCC:
Is that because you want to make sure to retain creative control?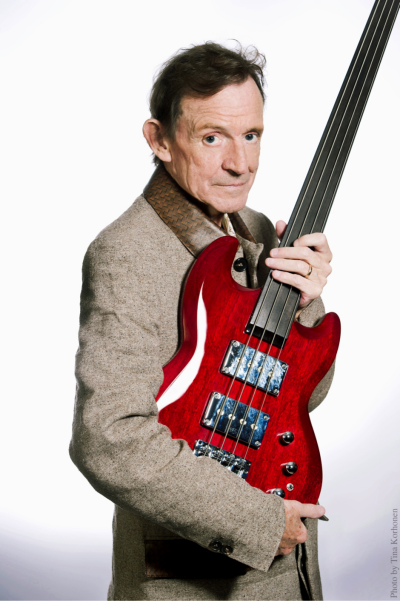 Photo Credit: Tina Korhonen

BRUCE:
Yeah, exactly. That's the thing. That is certainly one big change, from the olden days to now, that the business side of things has become much more important. There seems to be a lot of paperwork [laughs]]. It's computers. They press a button and a contract comes out.

PCC:
But when they do want to make a deal, do they try to prod you to steer things a little more this way or that way to make it more commercial?

BRUCE:
They know better than to try that with me [laughs]. It wouldn't work.

PCC:
What about the Rock and Roll Hall of Fame induction? Do you think that might enhance your position in terms of making deals with labels?

BRUCE:
I don't know. I really don't know. Maybe it shows that I'm willing to go along with the establishment, at least to a certain extent, you know? But if they thought I wasn't before - which I don't think they did [laughs]... But I don't know. I mean that was just a kind of nice thing, a one-off thing. I think that only happens once in a while, something like that. And I was really knocked out with it. I thought it was great, just the whole event. I got sucked right in there.

PCC:
How meaningful was it to you? Did it put your career in a different perspective for you?

BRUCE:
It did. For myself. Now I know what I am. I didn't know what I was. Now I know I'm rock 'n' roll.[Laughs] I didn't know that before.

PCC:
Do you like being categorized? Or do you prefer not neatly fitting into any classification?

BRUCE:
I've managed to get away with not being really categorized. And I'm not going to change. I'm still going to make a variety of things. I'm working with the Balanescu String Quartet. I'm doing a thing with a symphony orchestra later in the year, which I don't really want to make a deal about, because they are fairly experimental things. So probably best not to make a big deal out of [laughs]. So there's a few nice things happening, but I'm not going to suddenly change or anything. I'm always going to want to do different things.

It's like in the old days, after Cream finished, I immediately got into doing a bunch of different things with different people - with Tony Williams, Carla Bley, because I enjoy that. I like doing other people's material, as well as my own. It always comes down to sort of just singing with a band.

PCC:
How did it feel to be singing with Cream again, at the Hall of Fame event?

BRUCE:
It was kind of indescribable, because when you're on stage anyway, when you're performing, or at least, when I'm performing, I tend to sort of not really be there and I get a lot of flashes happening of the past and various things that I remember, while I'm performing. So this was really ridiculous, you know? [Laughs]

PCC:
Did it click right in, the minute you guys got back together?

BRUCE:
Yeah, I thought it was amazingly good. It was also nice to know that it was a band, because so much has been said about that band and you think about it, you kind of shy away from the great success of it, in a way, because the British are very shy of anything that's successful. They like failure. [Laughs] And it was kind of nice to know that there must have been something there. There had to be something there, because 25 years later, we played and it sounded pretty good - a neat little trio [chuckles].

PCC:
And it's still influencing countless musicians. The band was together just three years?

BRUCE:
Yeah, two-and-a-half, three years.

PCC:
Has it surprised you, how much impact that band has had, in such a long-lasting way?

BRUCE:
Well, if you'd asked me that then, yeah, I'd be amazed that people are still into those things. But I guess, if I'd been cleverer, I would have known that that would happen, because the same thing happened in jazz music. Round about the time when I was starting to listen to jazz, I was able to go back and listen to Jelly Roll Morton and Earl Hines and so on. The same thing happens now. People have a kind of overview of the rock thing. There are new things coming along all the time. But they can always go back and dig into the early stuff, too.

And we've become part of a whole musical tradition, frighteningly enough... which is what I kind of thought might happen, in the 60s, when we were playing in places like San Francisco, I kind of thought, "Well, maybe this is the beginning of a musical language." That didn't quite happen. I think things got extremely commercial, not just music, everything. Everything got pretty commercial, didn't it?

PCC:
Leaving Cream, had it just become too confining for you, creatively?

BRUCE:
It just got too big for me. That isn't why I got into the music business. I mean, I like to hang with the guys, you know? I'm like that [chuckles]. I'm not really into the limos and the private planes and everything. Never was. And once it got to that level, I just kind of lost interest. And so I was off playing in clubs in my spare time, because that's really what I always wanted to do, to try and find myself, musically, really. Once you get into stadiums and all of that, to me, it's too big. I'm not comfortable with it.

PCC:
No regrets, watching Clapton's post-Cream commercial success?

BRUCE:
No, not at all. I have a great life. I can do what I want. If you're really successful, in the commercial sense, there are so many people always demanding that you do things. Record companies are going to be upset, if you don't do records [laughs]. And I have to sort of cajole them into it. But no, I have no regrets, or anything like that, at all. Also, for me, I'm still alive... and probably wouldn't be, if I had done some of the things that were offered to me or were possible in those days.

PCC:
How did you avoid the pitfalls?

BRUCE:
I didn't [laughs].

PCC:
Well, how did you avoid them enough to survive? Let's put it that way.

BRUCE:
Well, I guess I'm just strong [laughs]. I didn't avoid anything. But I was able to take long periods for recuperation. [laughs]. I think lots of us who went through the 60s are still trying to get over it - physically and mentally.

PCC:
Get over it or recreate it.

BRUCE:
It would be nice - I don't think we can - but it would be nice if that kind of spirit would come back.

PCC:
Do you think we're getting to a place where music is more adventurous again?

BRUCE:
Well, I think it's always been pretty adventurous. I mean, I'm always amazed when I hear people say there's nothing happening because I hear a lot of great things. I always do. In those days, it was just a much smaller scene. And so everybody had a handle on everything. Like buy every Stax record that came out -we'd get one of those. Every Tamla record. The Beatles would put out a record. It was very easy to see what was happening. But now, with obviously so much more product, as they call it, it's so much more difficult... unless you've got a lot of time to keep up with it. But I hear some good things.

PCC:
Getting Clapton to play on "Somethin Els," how did that come about?

BRUCE:
Oh, well, basically, he did a TV thing here and he asked me to do it with him. I thought,
"Well, I'll ask him to do something with me in return." An exchange of labour.

PCC:
And is there a special chemistry there, in terms of creativity?

BRUCE:
Oh, yeah. I think there's no doubt about that. The three of us together is a special thing. But I think the same thing applies to a lot of the bands from that time. You got a kind of strength from the fact that you were in a group. Musical strength. Not just musical. You can deal with all the other stuff, when it's happening, when it's nice, it makes it easier than if you're the band leader and you've got to deal with all the stuff.

PCC:
Any chance of a new Cream album or tour?

BRUCE:
Well, I think there might be a chance of an album. I don't know about a tour.

PCC:
Would it be difficult, competing with your past?

BRUCE:
I don't think so, not having played recently. It's obviously different. We're all much older, obviously. In some ways, speaking for myself, I think I'm a better singer. I think a lot of people who have sung for a long time feel that they get better, as long as you're not just doing the same sort of things all of the time. I certainly feel more comfortable with singing. And my playing is... Oh, I don't know, it all sounds so smug, when you say those things. So yeah, it would be different. It wouldn't be as new, obviously. It would certainly be a challenge to do a record. That would be a real challenge.

PCC:
When you talk about the singing getting better, is that in terms of technique, or just having more life experience to draw from, emotionally?

BRUCE:
It has to do with lot of things like that... probably to do with the experience, yeah. Being more comfortable with yourself. Being less competitive, in a way - like the old kind of gunslinger attitude we had in those days.

PCC:
You mean knowing that there could always be someone in the wings, waiting to knock you off?

BRUCE:
It's like the first time we played in America. Obviously, American music, we loved it. It was very influential. We had so much respect for it, that we felt kind of second-class. And to overcome that - I remember the first thing we did was in New York, and a lot of people, like Wilson Pickett and The Miracles, and a lot of people with great big bands, horns and all this. And then there's us - guitar, bass and drums. So it's kind of nice, in a way, to be accepted for what you are. So you feel more comfortable about just being yourself, as opposed to trying to prove something, I guess.

PCC:
The post-Cream period, I read that you felt that the Tony Williams Lifetime was the ultimate musical experience for you, at least to this point.

BRUCE:
Yeah, I don't think I could ever have a greater experience, musically, because we all came from the same kind of point, if you know what I mean. We were all improvising musicians, playing in a new way, really. Unfortunately, Larry Young [organist] is no longer around. That is a band I would really love to collaborate with again. If Larry was still around, that would definitely happen.

PCC:
And there was a point where you were actually planning to form a band with Hendrix?

BRUCE:
Oh, yeah, with Tony, yeah. It didn't happen - for obvious reasons. We were with Jimi just before he died.

PCC:
His passing must have shaken you up.

BRUCE:
Oh, I think it shook everybody up, his passing, yeah, definitely. I did very little recording with him, unfortunately.

PCC:
When you're playing with someone like that, what's going through your mind? What are you aiming for, creatively?

BRUCE:
Well, unfortunately, the few times I played with him, they were just jamming things. You know what they're like [laughs].

PCC:
You have a new, blues-related album in the works?

BRUCE:
Yeah, I'm hoping to finish that this year. The idea really was to do blues songs, like Willie Dixon for example. Obviously someone like Willie Dixon was a tremendous influence on me, being a bass player and a writer. And I just like the fact that he doesn't write blues that are only traditional 12-bar shuffles. I wanted to write some songs with different kinds of forms, but that were still within the blues feeling. And I've been working with Kip Hanrahan on the songs. And hopefully, we'll get that finished, someday [laughs].

PCC:
Is it important to you to keep playing with different musicians?

BRUCE:
Yeah. This album that's just come out, most of the tracks were written with the musicians who played on them. And I tend to do that. I tend to write songs for people, as opposed just writing songs and then thinking, "Well, who can I get?"

PCC:
And does every album seem like a new exploration for you?

BRUCE:
Very much so. All the solo records I do are kind of like diaries to remind myself of what I was feeling and, in a way, what was happening around me. So I can listen to my third solo album, it's called "Harmony Row," [1971] and it brings all that back, brings back what was happening at that time.

PCC:
So is the work therapeutic for you?

BRUCE:
Yeah, definitely... once it's finished [chuckles].

PCC:
Do the musical horizons seem just as limitless to you at this point?

BRUCE:
Well, I think they get more limitless. For me, there are more opportunities to do interesting things. And that's what I like.

PCC:
Do you think bass is sometimes under-appreciated as an instrument?

BRUCE:
I think that's the nature of the instrument, really. Obviously, the rock world, everybody loves the lead guitar, because it stands out, it's very romantic. The bass is more functional. But again, it goes back to the Tamla records, the classic Tamla records, quite often, the bass is the melody instrument. And I think that was a big influence on me. James Jamerson was a big influence. And the fact that with bass, you've got more freedom, often... because nobody's listening to you [laughs].

PCC:
Do you still feel that you're trying to find yourself musically? Or is that an answered question now?

BRUCE:
Oh, well, I guess I will always be trying to find something else... no pun intended [laughs]. But I also have to say that I feel more comfortable doing what I do. I don't want to sound smug, or like I've arrived or something. I'm never really happened with what I do. I'm always trying to find somewhere else to go. So I think that answer has to be "yes." Or "no." [Laughs], depending on what the question was.

PCC:
Are you still living in London?

BRUCE:
No, I live out in the sticks, out in the middle of nowhere - Suffolk. I'm married and have five kids, from 23 to three months.

PCC:
Any musicians in the bunch?

BRUCE:
The three-month-old, it's a little hard to tell [laughs], but the rest all play. One of them, in fact, the second oldest one, who's called Malcolm, is playing in a band with Kofi Baker, who's Ginger's kid.

PCC:
So did you give Malcolm any cautionary advice?

BRUCE:
I don't really think it's worthwhile. I think you have to learn for yourself. Obviously I've told him things, but judging by what's he's been doing [chuckles], I don't think he's listened.

PCC:
What's the name of his band?

BRUCE:
I don't know. [Laughs] As long as it's not Sons of Cream, I don't mind.