JACK LEMMON: HONEST ACTOR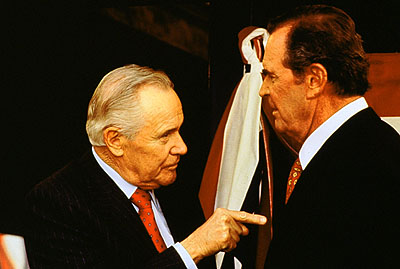 Jack Lemmon and James Garner in "My Fellow Americans" - 1996, @Warner Brothers
By Paul Freeman (1997 interview)
Who is the ultimate film actor? Names that immediately leap to mind are Jimmy Cagney, Jimmy Stewart and Jack Lemmon.
After establishing himself in theatre and television, Lemmon hit the big screen. There he sustained stardom through five decades, proving himself to be equally adept at comedy and drama.
Perpetually versatile, likable and believable, he gave unforgettable performances in such memorable movies as "The Odd Couple," "Days of Wine and Roses," "Glengarry Glen Ross," "Grumpy Old Men," "The Great Race," "The China Syndrome," "Bell Book and Candle," "How To Murder Your Wife," "Missing," "The Out-of-Towners" and "The Prisoner of Second Avenue."
With Billy Wilder, Lemmon fashioned classic comedies, such as "The Fortune Cookie," "Irma La Douce," "The Apartment" and "Some Like It Hot."
Lemmon won a Best Supporting Oscar for "Mister Roberts" and a Best Actor Academy Award for "Save The Tiger." He was nominated a total of eight times.
Every performance he gave is worth watching and re-watching.
Off screen, Lemmon was an accomplished pianist, intrepid golfer and ardent activist.
I had an opportunity to interview the charming Lemmon while he was promoting "The Grass Harp" (based on a Truman Capote novella). Chatting with this marvelous artist and beautiful human being is one of the personal highlights of my entertainment journalism career.
POP CULTURE CLASSICS:
Walter Matthau's son Charlie directed you in '"The Grass Harp.' Charlie said you're like a second father to him.
JACK LEMMON:
That's very sweet that he would say that. I'm very flattered. I had fun. I had a hunch I would be working with Charlie back when he was at USC, when I saw a couple of student films of his. And they were excellent. I said to my wife, going home, 'I bet one of these days, I'll be working with Charlie.' She said, 'I hope so.' I was delighted. He's good. I enjoyed working with him very much.
The biggest problem with most young directors is they direct too much. They start telling you what to do before it occurs to them to sit back and see what the actor might do... and take from it. And enlarge. Or throw it out. Say yes, no, a little more, a little less, or not at all, etc. But every good director, without exception, in the theatre and in film, will do that. He will wait, not impose the direction like a traffic cop. Wait and see what the actor has to offer first, which Charlie always would do.
His Dad has been a great influence on him, just the way he has conducted himself as a complete professional and a thoughtful actor, a giving actor. And Charlie's been around him all his life. I'm sure he picked up on that. And he's been on sets and seen the behavior of top people working on every craft level and I'm sure that's all helped.
PCC:
You've helped bring to life so many superb screenplays. Is it more difficult to find that quality of writing these days?
LEMMON:
It's difficult to find literate scripts. They're very rare. One of the things that disturbs me the most about films today, about a plethora of them, is the fact that they're not at all about people. They're about things. And usually things that go boom in the night. And blow up all over the screen. If I had the average blood bill for some of these films, I could do a couple of Shakespearean tragedies. Jesus, I mean, you know, everything is special effects and explosions and arms and heads and eyes flying across the screen and everything else. So finding films that I would care about, that are about people, that are about us, that we can identify, becomes increasingly difficult. Although, I do think the pendulum may be swinging back.
PCC:
Are literate scripts not being written or is it a case of people not wanting to produce them?
LEMMON:
Well, yeah, people don't want to produce them, because they don't appeal to a huge spectrum of moviegoers. Scripts like that are too tough. You have to pay too close attention. And half the people are going to say, 'What's that mean?' I did 'Hamlet.' When that comes out, it'll be it's going to be the same thing. It's going to have a limited audience. It's a spectacle and it's huge, Kenny Branagh and so forth, so that helps tremendously. But, nevertheless, a Shakespearean film or a film by Truman Capote is not going to have the broad appeal of a Joe Eszterhas or something... or blowing up buildings and all of that crap.
PCC:
Were you surprised by the success of 'Grumpy Old Men'?
LEMMON:
We were stunned that it worked, frankly. It was fun to do, but we didn't think it was going to work, certainly not on anywhere near the scale that it did. We have a third one coming out, but I think that'll be it, because we can't do 'Grumpiest-er.' Sophia Loren is a marvelous addition. She is just such a lovely lady and a fine, fine actress, without question. And what a cook! Ooh, boy! She cooked for all of us. She's terrific. Best pasta I've ever had.
PCC:
Is the on-set experience different now than it was in your early movie acting days?
LEMMON:
There is a difference, overall. I have not felt it as much as I know that many, many others have, including friends of mine. There's a pressure nowadays. It's like starting out under a dark cloud, with an independent film. Instead of having a slate of films from the studio, each film is going to live or die by itself. So you've got handmade automobiles. There is no assembly line. And if you go a little bit late or a little bit over schedule, or a little over budget, there's guys with grey flannel suits coming out of the woodwork. And they're all running down there and every one of them says, 'I'm one of the producers.' There's about 25 producers on every film suddenly. And they all have ideas of what to cut and how to pick up and what shouldn't be in and what should be in and how to rewrite and how not to do this and how to do that. And they're all full of baloney.
There'll be about one in 10 that knows a damn thing about films. They have no film history. And they don't belong there. But they're there. I'm exaggerating very slightly to make my point. In other words, this doesn't happen on every film, obviously. But you can get an awful lot of pressure. And on young directors, it can be very tough. You have to just forget it and do your film.
PCC:
When you're acting with a young performer, do you feel a responsibility to help them along?
LEMMON:
Yeah, I think it's part of being considerate of your fellow actor. You always want to be conscious of working with them. Too many actors don't work with you. They work at you. And they act at you. In other words, they're just saying lines and that's what they're thinking of. They're not looking at you and thinking of you and what the point is that they're trying to make. They're thinking of the line and what the next cue is, etc. So that's acting at you, not with you. A good actor never does that. He works with you. He's not deliberately waiting, so he can give a reading of a certain line. A good actor, when he says a line, means it.
I remember Jimmy Cagney saying to a young actor, one of the kids who was playing a crewman, back in 'Mister Roberts,' a million years ago, he says, 'Just look at the other actor in the eye and say your line. But mean it.' And the kid said, 'Yes, sir.' And he probably blew the line. [Lemmon chuckles]. That's an oversimplification, but there's an awful lot of truth to that. It's really basically getting down to what it is - saying the line and really meaning it, as the character.
The greatest single thing I ever heard about acting was from George Burns, because I've never been able to define acting. I've never been able to come up with something that I thought encompassed it. But George Burns, one night, this has now become a famous line, but I was there, at the next table, at a restaurant, and he, Carol Channing and some friends, we'd all said hello, we were sitting here, they were sitting right there. And it was one of those moments where there's total silence in a full room, even though there's a lot of people. There's that split second where suddenly there's silence. And George was speaking. And once he started speaking, everybody stayed silent. And George said, 'I'll tell you the secret of acting. It's honesty... If you can fake that, you've got it made.' [Laughs] And I was under the table. I've always thought it was the greatest thing I've ever heard about acting.
PCC:
Do you ever get to the point where you feel that you've mastered the craft? Or is it still a constant learning process, even now?
LEMMON:
Oh, yeah. Every time out. And when a long time goes by in between - the last few years, I've been so damn busy, it's been great , and this coming year will be just horrendous, as far as any time off, I won't have any - but when time does go by, there's still that old feeling, you begin to think, ' Jesus, have I forgotten how to act? What's it going to be like, if I get another job? Holy God!'
But then again, I remember what my mother said, when Felicia [actress Felicia Farr] and I got married. She wasn't able to be there, because we were married in Paris, while I was doing 'Irma La Douce.'
And when we got back here, we went, first night back, to pick up Millie, my mother, and go to dinner and celebrate. And we were having cocktails at her flat before going out, and telling her all about the marriage and the short honeymoon and all of that. And she said, 'My God, maybe I'll get married again. And if I do - she'd been separated from my father for a hundred years. She was well into her sixties - she said, 'If I do, he's going to be young and he's going to be handsome and about 180 pounds, all muscle and this and that.' I said, 'Wait a minute, do you think you can handle something like that?' She says,' It comes back to you, just like swimming!' So that's my approach - it comes back to you, like swimming.
PCC:
You seem to have maintained a sense of fun about the work. Sometimes it can become too much about business or whatever.
LEMMON:
Yeah, if I lost that, boy, I'd want to quit. I love it more than ever. I really do. And I respect it as much as I ever did, if not more. I think it's a great, great profession. And it's not just a craft. It can be an art, when you raise it up. Some people can do that, raise it to a level of art, I think.
And there's great satisfaction on two levels. One, when you can contribute and go up above and beyond what the author intended or what he saw and what he put on the paper, when you can add, creatively, using that as a stepping stone, and on the plus side, not to a side where the author says, 'What the hell was that? That isn't the guy I wrote!' But where he is happy and says, 'Man, that's fleshed out.' That's a term we often use.
And also, when the material allows it, which is not too often, but there's a tremendous satisfaction, when you get a property, and you're part of it as an actor, that does have something to say. It has a point of view. And when people see it, they are affected. They are moved by it. And they're made to think, where they might not have thought at all in that direction, if they had not seen that particular film. Like 'Missing' or 'China Syndrome' or 'Save The Tiger' or whatever. So you move people. And being able to move people and enlighten them is something that's a gift that's given to you. Because very few of us can do that.
A writer can do it much more easily. An actor can't do it that easily. He's got to have something to work in and a part to play in front of people. But he can do it... or help in the process. And it's a tremendous feeling, when you can be part of a film like that... or a play.
PCC:
Were you aware, as far back as you can remember, that this was the gift you wanted to pursue? Or as a child were you interested in sports and music.
LEMMON:
Oh, yeah, I was. Music still, too. I still write music. I've got a trunkful, if you ever want any. Yeah, from the time I was about eight years old.
PCC:
Does the music serve to complement the acting in some ways?
LEMMON:
Yeah, it's interesting. Very often, if a person has a talent in one of the arts, there will also be a talent - maybe nowhere near as pronounced - but there'll be a talent in another direction, too. There's many, many actors that are good painters, some better than good. Hank Fonda was a marvelous painter. Kim Novak, who never was known as a great actress, is a very good painter. And has a hell of a collection of oils that she's done. And a lot of actors are good writers and directors. So, in other words, there's another outlet there, very often.
PCC:
What made you realize that acting was going to be your path?
LEMMON:
Doing a play. And the kids liked it. And they liked me. And it had nothing to do with talent, whatsoever. It had everything to do with being accepted. It's that simple. I wanted to be accepted by my peers, by my fellow kids. And they hooted and hollered and all that. And I thought, 'Oh, shit, I love this! This is great!' My little ego was salved. And so I started holding my little seminars between classes at school. I'd tell stories and jokes. I'd stay up all night. Instead of doing homework, I'd make up stories. And then I'd tell them to the kids. And they began to expect it. So I began to do it every damn day. So I was giving some kind of a little performance day. And then being in every play I could get my ass into, at the various schools that I went to. And then in college.
But it was after I really started working professionally that I began to really gain a great respect for acting, far more so. I mean, I had actors that I adored and thought were brilliant, when I was very, very young and starting out - Tracy, Robert Donat and of course, Keaton and Chaplin and many of the early comics. But I really began to respect acting later, as I said, when I realized what you can do, which is beyond just entertaining. You can go farther than that, depending on the material. Which I think is just terrific.
PCC:
Your son Chris has multiple talents, including acting and music. Do you let him go his own way or do you offer advice on roles?
LEMMON:
Yeah, I offer advice when he wants it. But I don't push it. When I feel that he's wondering about something that he's working on, or this or that, I'll offer an opinion, if I have it. Or if he says to me, 'Pop, I've got a problem, maybe you can help me.' Then I will. But I don't want to be one of those fathers who says, 'Here's what you do...' Who the hell am I to... I don't know what to do [Chuckles]. I've got enough trouble trying to figure out myself what to do with a part. But I can, obviously, out of experience, be of some help. So when he wants it, I'm there.
PCC:
You mentioned how busy you've been lately, but still, you seem to have a good balance, between career and family and other aspects of life. Is that something that was difficult to achieve?
LEMMON:
Not too difficult, because I think a lot of it has to do with my wife, too, who's very levelheaded and sensible and whose tastes and desires I appreciate and are very much, I have found, like my own. But, when I say 'like my own,' I think a lot of mine changed and went in the direction that she would go, because we love to do things together. So, as a result, being married almost 35 years now, Saturday will be 34, being married that long, and being in the business, we really have a way of living. And, starting decades ago, it eliminated, more or less, the Hollywood nightlife crap and the big parties and the openings and all of that. It's very seldom that we go to any of those things. Usually, I'm sick. I've come down with some fatal disease. I can't make it.
We will go to some of them and some of them are great fun. The Kennedy Center and the AFI dinners, things like that are usually great fun. And also very often, we're friends with whoever the person being honored is. That's a whole different bag then. Then you're going out of respect and friendship for them. And to help make the evening as pleasurable as possible.
But there's less of all that than there used to be anyway. That's the good old days, to some people. I'm sure they miss it. I don't miss it at all. I never did like all of that stuff. But we've more or less done most of our socializing at home or at somebody else's house, you know, from home to home, dinner with a few people at somebody's house or this and that. We'll go out now and then, sure. But not very often. And never to those damn opening shindigs and stuff. Getting my wife to go to the Academy Awards is a feat in itself. But we will do something like that... especially if I'm nominated, of course.
There's the grandchildren, too, now, which is great. We have three grandchildren. Five, one-and-a-half, and a brand new one. And that's great fun. They live in Connecticut. Chris found a farm with a fairly new house on it, in old Glastonbury, outside of Hartford. And it's just gorgeous. He's got a river and a forest and every other damn thing around. But he just rented a house out here in Toluca Lake, so he can be out here part of the time, too. Because you can't get work being back there. Out of sight, out of mind sort of thing.
PCC:
Being a grandparent, has that changed perspective on things?
LEMMON:
Yeah, I just love it. There is something different between being a parent and a grandparent. The old jokes about 'Okay, now you can take them home,' and not having to worry, that's true. You don't have the responsibility that you do as a parent. It's a different kind of responsibility in a way... or not as severe. And God, it's fun. It's such fun to play with grandchildren and to watch them. I guess because you're older, you look at them differently... and appreciate them more.
PCC:
Are you still politically involved, as well?
LEMMON:
Ah, yes. I never have been as involved politically as I have been in other things, like ecological problems. But I am involved. In the last film that I did, called 'My Fellow Americans,' I had to play an ex-Republican President. It was the hardest thing I ever had to do, playing a Republican. Jesus Christ. But, yeah, I'm still involved.