THE JACKSONS: REUNITED


PCC Talks With Jackie Jackson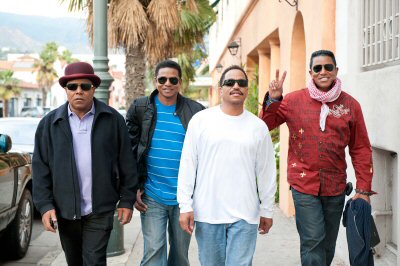 The Jacksons: Tito in hat, Jackie in blue stripe shirt, Marlon in white, Jermaine in red
Photo Credit: Harrison Funk
By Paul Freeman [July 2012 Interview]
Since The Jacksons' last big excursion, 1984's "Victory" tour, the family has changed. And so has the world.
One thing that remains the same is the devotion of the brothers' fan core. Jackie, Tito, Jermaine and Marlon are drawing enthusiastic crowds to their "Unity 2012" tour. It comes three years after the tragic death of Michael Jackson.
Jackie tells Pop Culture Classics, "My brother was supposed to tour and then take a break for three months. Then we were all going to go out as brothers and tour the world. But that never happened. We mourned for three years. And the fans around the world were sending us emails, 'Please tour, guys. We want to see you.' They wanted to hear the songs again. So we decided to get together and go out."
Jackie says that the fifth brother, Randy has been ailing, but will join the tour at some point. The four Jacksons perform at Mountain Winery, in Saratoga, California, July 27. (Concerts.MountainWinery.com). For more dates and info, visit www.thejacksons.com.
Some early dates were canceled. But Jackie shrugs that off. "What happened, we just decided to do all the major cities, the big cities. And that's what it's all about."
As soon as The Jacksons began five weeks of rehearsal, the harmonies and dance moves fell into synch again.
"The magic was there, once we got together and we started feeding off each other. We know each other's moves. And it's like old times, totally back again."
Deciding on the set list was a challenge. "Yeah, it was the hardest part, because we have so many different songs. There were a lot of songs we left out. But most of the songs in there are the songs people want to hear. We hope so," Jackie laughs. "That was the hardest part, was trying to put all these songs into a 90-minute show. We'd like to be able to go out there for three hours. But you can't do that."
Jackie is excited about audience response. "The fans are having such a great time. We can see it from the stage. People are dancing in their seats and singing along. It's great energy. And that's what we want - one big party. We want everybody going home feeling good. That's what it's all about."
The tour is attracting a wide age span. "Yeah. Everybody's there. Most generations. Kids that weren't even born, when we started out. But they love The Jacksons. The turnout is great. We love it. "
As for the group's lasting appeal, Jackie says, "I think it's the music and how we carry ourselves as people. Great music over the years and people love to sing the songs. And it's the type of songs that make people happy. That's what I think it is."
The brothers feel Michael's presence in the house, every time they perform. "We're doing a piece on him in the show and we can see some people in the audience crying. And sometimes we tear up at the same time. All during rehearsals, we were doing that, because we know what it would be like, if he was here with us. But he's still here with us. And this is something he would want us to do, carry it on, keep the name alive."
The Jacksons are working on a new studio album, to be followed by a world tour. "We're going to give the people what they want to hear. Of course, we're going to give them today's style, the hip-hop beat and all of that. But we want to give them that old Jackson style that's going over so well on the tour, as well, on the new record."
Growing up, Jackie loved the records of Jackie Wilson, The Beatles, The Rolling Stones, James Brown, Otis Redding, Wilson Pickett and the Motown acts, such as The Temptations. "At that time, we were singing all their songs. Because we didn't have our own songs to sing. We were like little amateur kids at the time. We used to play the Apollo Theatre and do six shows a day, before we made it."
The Jacksons' household was always very musical. "At the time when we first started singing, we were singing country and western music. You know, my mom was an avid country and western fan. She loved to sing country and western music. People don't know that. We were always harmonizing with her. So the radio broke. The TV broke. We were always singing with her, harmonizing, that's how we all started.
"Then my father had this group called The Falcons that he was in. He played guitar. He would go to work and leave his guitar in the closet. And he said, 'Do not touch my guitar.' The guitar was brand new. But Tito would sneak the guitar out and play it all the time. Then he would put it back. But one day Tito played the guitar and he broke the string. And he did not know how to re-string the guitar. And my father came home and said, 'Who touched my guitar?' And we all pointed at Tito. And Dad was getting ready to give Tito a spanking. Right? But Tito took the guitar and showed him that he could play the guitar. And my father said, 'You're kidding me! You can play the guitar like that?' And my father started buying us instruments."
Jackie says that, as youngsters, the Jackson kids didn't feel pressured to succeed. "It was something that we loved. It wasn't about the money. We just loved entertaining. It was in our blood. We used to rehearse at home, this little house in Gary, Indiana. And kids used to come from all over the neighborhood and peek into the windows. And that was our audience."
According to Jackie, there was no sense of competition amongst the siblings. "No, it wasn't a competition. The competition was in our neighborhood. At the time, we had these major, major talent shows in the neighborhood. Deniece Williams was on those shows. A lot of groups came out of the Gary area. And we would always win first-place on these talent shows, when we were competing, trying to win the high school trophy in the auditorium. There are photos of that."
Jackie's falsetto complemented the leads of Jermaine and Michael. "I always had the highest voice in my family. Sometimes when I'm on the phone, people think I'm a woman," he says, laughing.
As the oldest brother, Jackie had added responsibility. He vividly recalls an amateur night at the Apollo Theatre. "This group that was on before us, they were so horrible, the people started throwing eggs at them. We were next and Michael was so scared that was going to happen to him, he started crying on the side of the stage. He didn't want to go on. So I had to get him together. I said, 'Michael, just do what you've been doing. We're going to be fine.' So he came on and we got a standing ovation.
"I was the big brother. I kept everybody in line. When my Dad wasn't there, I had to take over. But it was easy. There's a lot of groups today, when they're finished performing, they run to the clubs. And they get in trouble. At the clubs, things always happen. Even with athletes, the same way. We never had that problem, because we did our clubbing on the stage."
The brothers weren't daunted, when they hit the big-time. "It wasn't difficult at all, because it was something that we wanted to do and we were ready for the challenge at that time, ready for the big challenge, ready for the big arenas, ready for anything that could happen on stage. We knew that, if the mic cord goes out, don't panic. Just take your time and go to another mic or we'll fix it. We knew all those little tricks of the trade, as little kids, because we'd rehearsed so much. We worked at stuff like that, in case something like that would happen."
When they joined the Motown roster, Berry Gordy became a mentor. "He taught us so much, about recording, about interviews, about being on television. He and his staff groomed us. It was like going to a college. We learned so much there.
"It was amazing to hear our first record on the radio, 'I Want You Back.' It was amazing working with some of the greatest musicians in Motown history, who recorded on a lot of The Four Tops, Diana Ross, Smokey Robinson and Marvin Gaye records. That was a dream come true."
With lineup changes and the passage of time, Jackie sang leads, wrote songs and recorded solo albums. "Well, that was going to happen eventually. It happens with a lot of artists. As you grow, you learn, you write some of your own songs. And you still take product from other producers and hit songwriters, as well, because a hit record is a hit record. It doesn't matter where it comes from. You don't necessarily have to write every hit record you sell. As long as I can get a hit record, I want it," he laughs.
But it was Michael who soared to the entertainment world stratosphere. "He was a major, major superstar. He wanted a career like that. He worked at it 24/7 and became one of the biggest artists in the world."
The cost? 24/7 under the media microscope. "He was our brother. We prayed for him. That's what happens when you reach that level. It happened to Elvis. That happens to major artists today, Lady Gaga, all of them. It comes with the territory."
Jackie found himself under heightened scrutiny during A&E's reality series, "The Jacksons: A Family Dynasty."
"That was difficult for us, having a camera following us around, 24/7. I wasn't too fond of that. And neither was my brothers. And people want to see dirt or see us fight or argue. But we're not like that toward one another.
"It was good for us. It was something we'd never done before. But it isn't something we'd like to do in the future. That's why we decided not to continue anymore."
Much more pleasant for Jackie was his surprise appearance on Oprah Winfrey's show. She had named him as her teenage crush. "Yeah, it was a kick. I took her out. It was so much fun. She had no idea I was coming. I blew her mind."
Jackie accepts that show business careers have peaks and valleys. "That's part of this entertainment business. Ups and downs. It's a roller coast ride."
The Jacksons have never won a Grammy as a group. That's one goal Jackie, 61, would still like to see fulfilled. But he has no regrets about his long career. "It's wonderful, just the way it is."
Jackie Jackson, who runs his own record labels and production company, has a son, Siggy, who's a radio personality, and a daughter, Brandi, studying to be a filmmaker. He offers them advice. "Nothing comes easy. You've got to work at it, if you want to be successful. Keep an even keel. And stay humble. It can all be taken away from you."
As for The Jacksons' legacy, he says, "I'd just like people to remember how we gave 110 percent in the music industry and how we made people happy."