JAMIE CULLUM: THE PURSUIT OF MUSICAL ADVENTURE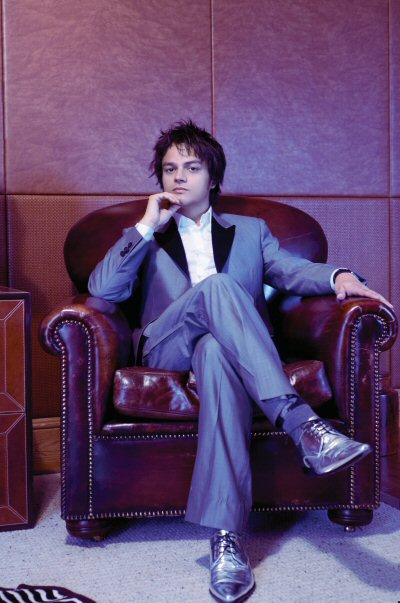 Photo Credit: Deborah Anderson
By Paul Freeman
Singer/songwriter/multi-instrumentalist Jamie Cullum quickly established himself as the biggest-selling British jazz artist of all time. But he wasn't ready to rest on his laurels. Seeking to hurl himself out of his comfort zone, he has released his first album in four years, "The Pursuit." The collection includes not only Cole Porter and Stephen Sondheim tunes, but Cullum originals that range from swingin' to contemplative to house dance beats.
After enjoying huge worldwide success with his previous two albums, "Catching Tales" and "Twentysomething," Cullum, 30, took his time with the new recording.
"I had quite a big break between 'Catching Tales' and 'Pursuit,'" Cullum said. "It was quite a challenge, reminding people that you're there and what you can do and coming back. I wanted to make sure the album really made a big statement."
He sought to reinvent himself. "I'd made a few albums and I felt I'd been growing with every album. I've never been one of those people that's obviously trying to make the same record twice. But I just felt like I needed to take a leap with myself and sonically, to try and make it sound more like a 21st century record, really.
"Just a bit more presence, maybe a few more bells and whistles, as well. But without sacrificing the live sound. So, just to sonically make it happy to sit alongside lots of stuff I listen to now, but keeping that kind of foot in the world of that classic stuff that I like."
The album showcases his versatility, yet Cullum managed to tie it all tie together. "I'm very much a record collector. I have been very interested in various types of music, throughout my whole life. So those things sit alongside one another in my head, very comfortably. But whether they would all work on a record is another thing.
"So I guess it was all down to careful sequencing, letting the story unfold, with regard to putting the record together. If you're going to have things as diverse as the first track, which is essentially a big band jazz track, and the final track, which is very much an electronic kind of dance thing, you don't want to seem as though you're just trying to, 'Oh, look how many things I can do, kind of thing.' You want it to exist in a musical universe that seems cohesive. There are tricks you can do. But just believing in it and doing it all with a sense of truth, that's the most important thing."
Putting his original tunes next to works by the greatest songwriters provides the ultimate test. "It means that your quality control is always at its most attuned. If you're trying to follow a Cole Porter song, as the first song on your album, you know it's got to speak... and it's got to be f--kin' witty," Cullum said with a chuckle.
Cullum does a lot of his writing in the kitchen, where he keeps keyboards. He often creatively multi-tasks, cooking while whipping up new songs. "The kitchen's where everyone hangs out anyway, so it's natural to have a piano in there."
His head is constantly filled with music. "I'm pretty much always tuned in to some kind of tune. There's always a soundtrack to my life. Music has always been a passion. I was a passionate listener, before I was a player."
The album's title came from one of Cullum's fiancee's [model/author Sophie Dahl] favorite books, "The Pursuit of Love." But it also has deeper meaning.
"This album definitely felt like a pursuit. It was not an easy road. I just like the analogy of what a musician is like, to your life. It reminds you that you never really reach the finish line. You're always kind of searching and pursuing things."
At one stage of its development, the album was a bit darker in tone. "I had a kind of lucky coincidence with the album. I finished the album in October of that year and I delivered it to the label and they were like, 'Well, it's been delivered too late to put it out for Christmas. We're going to wait till next September to put it out.' As an artist, it's kind of a nuisance to have to wait.
"After working on a film project, I'd actually written a few new songs and they were too good to be left off the record, really."
He had kept busy between albums. He collaborated with Clint Eastwood on the Golden Globe-nominated song "Gran Torino," from the film of the same name.
" I gained everything from the experience, really, new levels of confidence about what I could do, what I could contribute to. Being able to work alongside such greatness gave me an immense, renewed confidence in myself, that what I was doing was valuable. To be given props by Clint Eastwood, you probably think you're doing okay. It's validation from the highest seat in the world of creativity, really."
Having studied film at Reading University, Cullum had been well aware of Eastwood's musical prowess.
"I've been, obviously, a fan of his, as most human beings who walk the Earth are. And I've known his son, Kyle, which is how the hookup happened in the first place. So I knew that Clint Eastwood had been composing music for his films for years and I admired his talents in that world, as well."
Cullum, who was the singing voice of Frankie the Frog in Disney's "Meet The Robinsons," would like to do more work in film composition. "I would love to. But you see, the problem is, it's like your first meal being caviar, when you start with a Clint Eastwood film. Where do you go after that?"
Cullum has worked with a broad spectrum of artists, including The Count Basie Orchestra, Kylie Minogue, Will.i.am and Burt Bacharach. Collaborations expand his musical palette.
"Whenever you work with someone, whether you get something out of it for your album, necessarily, doesn't always matter. You get an insight into someone else's working process. And even if you don't come away with something to show for it, you always gain something from the experience, really.
"It's such a random thing, really, making music and writing songs, that just to get any kind of validation, observing someone else doing it, seeing that they work equally as strangely as you do. It's good to know you're not the only freak out there."
As a teen, Cullum was a heavy metal freak. But jazz eventually lured him. "it was the improvisational aspects, really. I was really into guitar solos. I was learning ridiculous Eddie Van Halen kind of guitar solos and stuff. And when I heard jazz, from a very basic point of view, I realized that they were the greatest virtuosos that I'd heard. I was listening to a lot of guitar music and I heard Wes Montgomery and Django Reinhardt and I thought, 'Oh, my God! These guys are playing faster than Steve Vai and Eddie Van Halen put together!' And, for a 12-year-old, 13-year-old, that was something that initially attracted me to it.
"I think, after that, it was the focus on the musician and the spontaneity of the musician and the knowledge of the musician. It wasn't about the way you looked. It wasn't about being part of any scene. Rather it was about whether you could play. And as a shy, confused teenager, that made a lot of sense to me."
Spontaneity is a big part of Cullum's live shows. "Every night is different. I mean, you do get into a rhythm, when you're on a long tour like this one, but there's definitely a different slant to every night, musicians running around, wondering what the hell is going on. Keeps it interesting, you know?"
Cullum's music is consistently interesting, because he takes what he learned from pop and jazz classics and moves it into the present and the future.
"It was certainly not a grand master plan. It was something that just happened in a very organic way. There was a time where I was just trying to write Ben Harper type songs, you know, acoustic guitar things. There's been a time when I made nothing but sampled music, with beats and electronic sounds and stuff. And then there was a time when I was just sitting there with songbooks from Irving Berlin and George Gershwin and learning the chords and the things like that. So it all feeds into the same thing, but not in as conscious a way as you might imagine. Much more random."
The musicians Cullum admires are those who never stop growing and exploring. "Totally, yeah, from Miles Davis to Ben Folds to Beck to Bjork to Madlib to Herbie Hancock. It's never-ending, really.
"I really, really admire the careers of people like Elvis Costello, all these people who never sit still. Tom Waits. Never sitting still, always challenging yourself. And putting the musicianship and the joy of what you do above everything else.
"It's not about not selling out, because you can have a hit. Having a hit, a radio hit, is a huge honour and difficult. It's not an easy thing to do. But, you know, pride in musicianship and the truth of being a musician is the most important thing."
He views his own music as still being in its infancy. "I'm five percent of the way there. I've got a long way to go. That's part of the fun. It's what gets you up in the morning."
So Cullum continues to bravely move forward, musically. "If you're not taking risks, then you're off to Vegas, I guess.
For the latest Cullum "Pursuit" World Tour dates, visit: www.jamiecullum.com.