JAN & DEAN: THE ETERNAL MAYORS OF SURF CITY
PCC's Vintage Interview with Surf Rock Legend Dean Torrence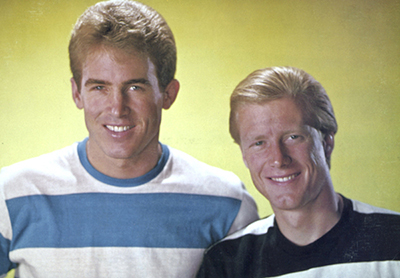 Jan Berry, left, Dean Torrence, right
By Paul Freeman [1996 Interview]
Maybe even more than The Beach Boys, Jan & Dean epitomized the fun-in-the-sun vibe of Southern California in the early and mid-60s. But it was their rise from the ashes, overcoming incredible challenges, that made them one of rock 'n' roll's most uplifting comeback stories.
Jan Berry and Dean Torrence brought an irresistible humor to much of their work. That was evident in such numbers as "The Anaheim, Azusa & Cucamonga Sewing Circle,Book Review and Timing Association" and "One-Piece Topless Bathing Suit."
Berry, an innovator, was a clever songwriter and brilliant producer. He occasionally collaborated with the duo's pal Brian Wilson.
Jan & Dean earned their first gold record with 1959's "Baby Talk." Many memorable hits followed, including "Heart and Soul," "Linda," "Little Old Lady From Pasadena," "Sidewalk Surfin'," "Popsicle," "Drag City," "Honolulu Lulu," "Ride The Wild Surf" (theme song to the movie), "I Found a Girl," "Batman," "You Really Know How to Hurt a Guy," the anthemic "Surf City" and Jan & Dean's magnum opus, "Dead Man's Curve."
The duo's charisma, energy and charm, as well as their happy harmonies, made them favorites in live shows and on television. They served as emcees of the legendary "T.A.M.I. Show" concert in 1964 and had a TV series pilot on the front burner.
Then in 1966, in a tragic, ironic twist, Berry, a UCLA medical student, smashed his Corvette on "Dead Man's Curve" and was in a coma for two months. He suffered permanent brain damage and partial paralysis. Just surviving surprised the doctors.
In his absence, Torrence recorded a masterpiece album, "Save for a Rainy Day," which was seldom heard until Sundazed reissued it 30 years later.
Torrence, who had studied Advertising Design at USC, became an acclaimed graphic artist, designing eye-catching album covers. He won a Grammy for his efforts.
Berry's painstaking efforts to relearn how to walk and sing resulted in a comeback for the duo. They rode a new wave of interest, following the success of the 1978 TV biopic "Dead Man's Curve," which starred Richard Hatch and Bruce Davison. Jan & Dean's live performances thrilled and inspired fans. And Berry's miraculous triumph galvanized physically challenged members of the audience.
Jan and Dean continued to perform until Berry's death, at age 62, in 2004. But the joy of their music lives on.
Torrence has written a book chronicling the duo - "Surf City: The Story of Jan & Dean."
Pop Culture Classics spoke with Dean Torrence in 1991.
POP CULTURE CLASSICS:
Even before the surf and car hits, Jan & Dean had some memorable doo-wop style recordings.
DEAN TORRENCE:
Yeah, when some people hear those, they probably think it's our dads.
PCC:
Who were some of the earliest influences?
TORRENCE:
Even though you wouldn't know it from the early recordings, we were always just interested in vocal groups. But since there happened to be only two of us and the fact that the recording technology was not there yet for us to multiple-record, it sounds as though we were probably listening to The Everly Brothers, but we weren't.
We were listening to a lot of the vocal groups - The Coasters and The Drifters, Dion & The Belmonts and even some of the earlier doo-wop groups or like The Four Aces and The Four Freshman and The Four Preps and all those kinds of groups. So we were always more inspired by the vocal groups than anything else.
PCC:
In those earliest days, was this just a lark, basically, or were you thinking about it in terms of a possible career?
TORRENCE:
It was a lark for me. I didn't even know how to spell the word "career." [Chuckles] Jan, who was about 30 to 40 points higher in I.Q. than the rest of us, I'm sure that Jan had it in mind that there could be such a thing. But the rest of us were there just teenage kids, having a good time. Plus all the cute girls were hanging around Jan, so we figured, this has got to be a good way to get some good phone numbers.
PCC:
And Herb Alpert was part of this flock? Or how did he come into the picture?
TORRENCE:
Let's see… Herb was somewhat after. Actually Jan had already had a hit single with one of our other friends, Arnie. He had already had the Jan and Arnie recording. And Jan met Herb Alpert and his partner, Lou Adler, because they were working with Sam Cooke. And Jan and Arnie were on the same bill as Sam Cooke at some event. Jan met Herb Alpert and Lou and was very, very impressed with those guys. They were kind of junior partners, if you will, in the Sam Cooke organization.
When Jan & Arnie broke up and Jan & Dean got together, Jan really realized that we needed help, needed an actual team that would consist of management and production, another couple of sets of heads to bounce things off of. Those guys were absolutely perfect for it. We were very, very fortunate that we ran into them. They were perfect.
PCC:
Herb, coming out of the classical and jazz training, was he really open to all the newer sounds?
TORRENCE:
Well, he was real open in the beginning, to the newer sounds. They were working with Sam Cooke. And they were thinking, as young people themselves - they seemed like men to us, because they were five or six years older… and they wore suits - but they wanted to be in the pop music field - in a big way. One of Herb's interest was jazz and he was maybe into some classical stuff. But Herb also is just a music enthusiast in any direction that he went. He was just happy to be involved in music.
PCC:
You and Dean, you kept your education going, which is unusual for rock artists. What kept you on that course?
TORRENCE:
Just didn't trust it. It was pretty evident, from what we saw, that people could come and go, fairly quickly. And I guess that all came from our upbringing, our parents. My mom didn't even want me to give up my summer gas station job, unless this music thing really, really got busy and productive. She just had no real faith in it.
PCC:
At what point did she decide music wasn't such a bad thing to pursue after all?
TORRENCE:
Well, I think, once you have your first Dick Clark show [laughs] and a record on the charts. Up until you really have something tangible, it still is just a lot of talk. It sounded good. Jan was real good at talking. And, in Jan's case, he usually backed it up. But as a 16 or 17-year-old, he hadn't had the chance exactly to back it up. But he soon did. So [sighs] I had to give up that job at the gas station.
PCC:
Then making the transition from doo-wop to the surfing sound, was that just a natural progression? Had you seen people like Dick Dale?
TORRENCE:
No, I'd never even heard of Dick Dale. We pretty much were on the national charts, so everything we were watching and monitoring were things that were national. We didn't even pay any attention to anything local, because that seemed like step backwards. You kind of started out local and then you went national. Once you went national you should never have to think about being local again. So, like I said, we had never heard The Beach Boys. We'd never heard Dick Dale.
Two things kind of happened at once - we started to run out of material and we were fairly uninspired, writing about the same old, same old. In the early beginnings, it was a teenage, female market. Like 80 percent. That was your target market. We started thinking about a little bit more along the lines of expanding, doing songs for males, as well. And just about that same time that we were deciding that would be a good idea, we heard our first Beach Boys record. We went, "My goodness!" We were intrigued by it.
We liked it. But we were quite concerned that people in landlocked communities may not know what you're talking about - nor care. And as soon as we saw that they did, indeed, care - and care in a big way - we decided, "We may as well do that." And luckily, we ran into Brian Wilson and Brian Wilson had more songs at that particular time than he was ever going to record. So we ended up with a whole bunch of his rejects.
PCC:
You had a lot of originals, too.
TORRENCE:
Yeah, sure. It was a combination of both.
PCC:
So with The Beach Boys, was it all camaraderie? Was there any rivalry?
TORRENCE:
There was friendly, very, extremely friendly camaraderie. And I guess you'd say there was some competition there. But it was friendly competition. As a matter of fact, Jan taught Brian a whole bunch of studio secrets and stuff that had taken us years to perfect and to learn. And Jan was more than happy to share it with Brian. And Brian taught us some vocal technique stuff, which, because we were not a singing group, per se, were things we had not experimented with. So it was a nice, two-way street.
And Jan and I had met pretty much on the football team. It was very kind of natural for us. We played a lot of team sports, including volleyball and track and baseball and stuff. So it seemed kind of natural to us to work in groups, to share stuff. That just worked out really, really well. We were surprised to find that most artists didn't do that, didn't share stuff with one another, and, for the most part, wished not very goodwill on the competition. We were just kind of the opposite. We realized there was plenty of room on the charts for everybody and it would be healthy for everybody to get along.
PCC:
Had you been a surfer? Did you get into surfing at that point?
TORRENCE:
Oh, we had been surfing. I had a pickup truck, when I first met Jan, and the reason I had a pickup truck was so I could carry surfboards and paddle boards, water skis and a couple of volleyballs and fins - every piece of equipment you would possibly need for a trip to the beach. Standard equipment that most California teenagers had in their garages or in their trucks. That was just part of life.
PCC:
As you say, it seems like there would be a question as to whether the landlocked listeners would get into the surfing concept. Why do you think it has been such a widespread, well-loved genre?
TORRENCE:
I don't know. That's really kind of hard for me to be objective about that, because I've been around it all my life. It's something that I enjoy doing, if I'm doing it. And then, if I'm not doing it, I don't necessarily give it a second thought. But for somebody who doesn't have the opportunity to do it, they may almost obsess about doing it. Especially, in the 50s and the 60s, we realized there were a lot of landlocked teenagers who were inspired by it.
It's very sexy and provocative. It's a pretty sport. And it just captured the imagination of a lot of young people. And I'm sure a lot of those people, being young and dreamers, when they became old enough and they were on their own, came this way. It was a strong attraction, to most people, what was happening in California.
PCC:
And all the teens were into cars, so those songs like "Drag City," was that again an attempt to expand the audience? Was it a reflection of your own lives?
TORRENCE:
Again, we weren't that sophisticated marketeers, per se. So we weren't particularly saying, "Okay, target market - now we need to expand and not just limit ourselves to the surfers." And there really weren't that many surfers. Yeah, I mean maybe it was 10 to one, in terms of young people or young males maybe more interested in cars than in surfing. And cars were a very important part of our lives, as well. Again, it just became something kind of natural. And the bottom line was, we were just looking for anything to have subject matter to write about that wasn't the same old, same old. And cars were something we knew something about. And we knew enough of the words and the terminology to be able to write a song around it.
PCC:
It does seem like you guys were in tune with whatever was happening in the pop culture at the moment, whether it was topless bathing suits or sidewalk surfboards.
TORRENCE:
Well, by the time we got there, then my antennae were up and we were looking for little sub-categories, as well.
TORRENCE:
Championing the sidewalk surfing, do you feel somewhat like the daddy of skateboarding, that whole phenomenon?
PCC:
To a certain degree. We were the first ones to take all that stuff national. That song almost came out before most people even knew what the dang thing was. I think we were the first ones to do a skateboarding record and one that had words on it.
PCC:
There always seemed to be room for humor in Jan & Dean albums. Do you think that's something that was lacking in later rock? Did some of the fun go out of it?
TORRENCE:
Well, possibly. But as things evolve, money is always a big piece of any sort of business. And the basic reality to the music industry is, you pretty much have to make money. So that's always going to take a little bit of the fun out of it, is that there are a whole bunch of things that you have to do to make sure that it's a money-making proposition. And we were lucky to be in early enough so that we could kind of combine the two. You're probably right. There's probably a lot less humor going on. There's some, but there's a lot less than was going on in the 50s or the 60s.
PCC:
In listening to the Jan & Dean albums, it seems like they would be a lot of fun to make. Were they? Or as depicted in the "Dead Man's Curve" TV movie, was there a lot of turmoil and conflict? Or was that just dramatic license?
TORRENCE:
Ninety-five percent of it was fun. And it was starting to change, as things do. I guess I was pretty lucky, in one regard, to not have to face the change. Pretty much Jan crashed and it was over. And I really didn't have to go through that transition. It was done for me. It was just time to move on. So I don't know how all of that would have sorted itself out. Probably it would have just gone through some sort of transition and it would have been okay. Possibly it wouldn't have been okay. We'll never know.
PCC:
Do you mean in terms of your relationship with one another? Or just the changing times?
TORRENCE:
Yeah, the relationship between us and what our objectives were and such. So, yeah, the TV thing was a little dramatic, but we were going through those little bumps. I sense we would have gotten through them fairly easily, compromised, and gone on as usual.
PCC:
Was is strange to see yourself depicted in the TV movie?
TORRENCE:
Yeah, a little. It was hard to come to terms with it. We were there every day, watching it being made. Actually I was very involved in putting the screenplay together, even shopping the dang thing for years. So it was a project I was kind of used to, by the time it finally got made and I saw actors doing it. So I was pretty well prepared. I had seen it in my mind's eye for two or three years. So it wasn't as impactful as it would have been, if I had just sat down in front of the TV one night and watched it just play in front of me.
PCC:
But having the career change so suddenly - usually there is some period to adjust - wasn't it a shock to the system for you?
TORRENCE:
It kind of was… but it kind of wasn't. It was probably a little bit of both. That was one reason why we were going to school, was to prepare for this. And now, theoretically, we were prepared and it happened. So it kind of did what we had anticipated it might do and there we were, in that situation that we said might be a reality… and then again, it might not, we didn't know. But as it turned out, it was exactly as we said - the music was not going to last forever.
PCC:
But right before the accident, with a Jan & Dean TV project ahead and there was talk of your own label - was there a sense that the best was yet to come?
TORRENCE:
Oh yeah. One of the reasons we were starting our own label was that we were producing our own records anyway and didn't particularly need anybody else. And we had sold a television series that was going on and debut the same time as "The Monkees" were going to debut. They were on opposite networks. We kind of had an in-common company, a company called Screen Gems that was involved in both of our careers. So we would have debuted the same season as they did. And we would have had a huge head start on them, by the fact that we'd already hit records for six to seven years. So, based upon that and seeing what "The Monkees" did, I think our show was a little bit better than theirs. And the fact that we did have real hit records, it probably would have been gigantic.
PCC:
Was it a terrible frustration to not have had that opportunity?
TORRENCE:
Not really, because after we shot the pilot, we kind of didn't like doing it. The pilot wasn't what we wanted to do particularly, but as we did it, we found elements of it that we did like… and a whole lot of elements that we didn't like. And we thought, "Well, maybe when we got a little bit of power we would be able to change those things. But maybe not. The pilot, parts of it were real good. And parts of it were real corny.
We had all these old television people around us who said, "This is our project. We've been doing this for years. We know what's best." And whether or not we would have been able to overcome that and take it in the direction that we saw, which was almost MTV-ish, "Saturday Night Live," what we wanted to do… They wanted us to be more Monkee-like. But there was a chance that wouldn't have been that satisfying, even though it probably would have made a lot of good money. But it was a lot of work and if we were making Elvis movies, we weren't going to be that interested in it.
So it was easy to rationalize and say, "Well, it all fell apart and we never got a chance to do it. Maybe it was just as well."
PCC:
Maybe it will see the light of day in a video release someday.
TORRENCE:
Maybe. I guess so. They've dug up almost everything else. I'm surprised that it hasn't. But it's not that good, so…
PCC:
But from a historical point of view…
TORRENCE:
I guess. I've got kids at home and I don't have time for the historical crap. Unless it really means something to me, something I can be proud of and look at and kind of go, "Yeah, that was cool…" Just to be historical, at this particular time, doesn't mean anything. Maybe when I'm 80 or so.
PCC:
What are the things you're most proud of?
TORRENCE:
Just getting through it [laughs].
PCC:
Do you think that's part of the appeal now, just the fact that you persevered through everything and survived and thrived?
TORRENCE:
I think that's pretty important. There are a whole bunch of people who didn't. And I kind of took a lot of that for granted a while back. But now that I have seen that a lot more didn't make it through than did, I kind of feel fortunate about that.
PCC:
Once you had moved on, you had established the graphics company, how difficult was it for you to step back into the performing?
TORRENCE:
I've just been lucky. I had the graphics business [Kittyhawk Graphics] for 13 years that I really enjoyed and was pretty successful at. I was graphically successful. I wasn't real successful at learning how to collect the money. I had a big, huge accounts receivable going. I probably would have gotten better at it or gotten people involved that could actually get these people to pay their bills. But about the same time,the graphic thing was starting to maybe take a change - the change was the record industry was going through a cycle of getting control over graphics.
For 10 or 15 years, we wrestled all that away from the companies and did most all of our graphic stuff outside of the company and outside of the art departments and did it for the artist and management and production people who were involved directly with the artists' careers, not necessarily the guys that were manufacturing the records. But, especially when CDs were coming along, graphics were starting to be not that important again. So I got the chance to be involved when you had beautiful packages that opened up and had neat stuff inside them. We had all sorts of promotional pieces that went along with them. And the company hated that. That cost way too much money. And you spent too much time thinking about it. They didn't like that. So they were just happy to get it back down to neat little pieces, where it was just a piece of photography and type and move on.
So I was probably pretty fortunate that, about that same time, the music thing, with "Dead Man's Curve," all of a sudden the music thing was available to us again.
PCC:
Any discussion of making a new studio album?
TORRENCE:
No… well, I don't know. I thought this was over in 1961. I doubt it. That takes a lot of time, a lot of energy. The only reason you ever sat down to write a new song in the first place, when we started, was that either you didn't have anything going and/or you had something going, a hit, and then the hit fell off the charts. And if your hit fell off the charts, you had no more play. It was over with. Gone. And now, with classic radio and oldies radio, your stuff gets played all the time.
For more on this artist, visit www.jananddean.com.