JANE BIRKIN: NOUS T'AIMONS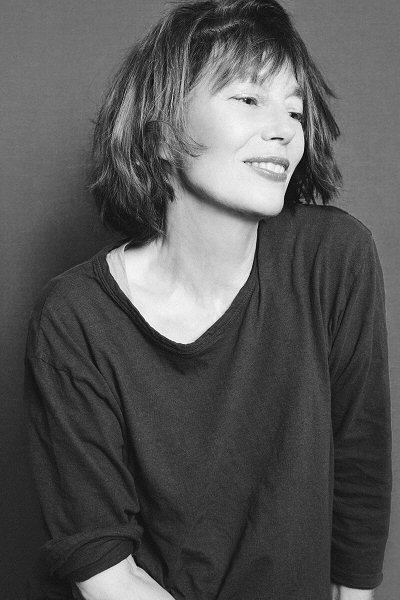 Photo by Jeffrey Galvezo Sales
By Paul Freeman [ Nov. 2011 Interview]
To achieve icon status in any one artistic field is an amazing achievement. Jane Birkin has attained that lofty status in three - music, film and fashion.
Birkin, who was born in London and now resides in France, rocketed to global attention in the late '60s and early '70s. Spectacularly lovely, she was an arresting, unforgettable element of such films as "Blow Up," "Wonderwall," "Slogan," "If God Were A Woman" (co-starring Brigitte Bardot), and later, "Death on the Nile" and 1988's "Jane B. Par Agnes V." Birkin directed, wrote and starred in the brilliant 2007 film, "Boxes."
Following her marriage to composer John Barry (1965-68), Birkin connected with Serge Gainsbourg, one of the 20th century's most distinctive singer/songwriter/actors. They were together for 12 years and created bold, beautiful, enduring pop music.
In 1969, the duo recorded the erotically charged, internationally controversial "Je T'Aime, Moi Non Plus." Birkin served as Gainsbourg's muse, which resulted in her marvelous "Di Doo Dah" album and Gainsbourg's classic "Histoire de Melody Nelson" (adorned with a seductive shot of Birkin on the cover).
Birkin evolved and grew as a musical artist, as evidenced by her recent albums, "Arabesque" and, especially, the exquisite "Enfants d'Hiver."
Birkin has always had an impact on the fashion scene, as well. In 1981, Hermes chief executive Jean-Louis Dumas introduced the Birkin bag, based on her design.
Birkin's humanitarian work is at least as impressive as her artistic endeavors. She has worked extensively with Amnesty International, bringing attention to immigrant welfare and AIDS issues. Seeking to help, she has courageously immersed herself in such tumultuous hot spots as Bosnia, Rwanda, Haiti and Palestine.
In 2001, Birkin was awarded the OBE. She has also been awarded the French Ordre National du Mérite.
Her daughters, Kate Barry, Charlotte Gainsbourg and Lou Doillon, have all displayed ample artistic talents.
Birkin's own creativity continues to blossom. She has remained active in television and film. Always honoring Gainsbourg's work, she put on a solidarity concert in Japan, following the recent calamities there. She's currently touring North America, with the Japanese musicians, presenting fresh interpretations of Gainsbourg's timeless songs.
We were fortunate enough to speak with Ms. Birkin just prior to The San Francisco stop on her current concert tour [The Lodge at Regency Center, 1290 Sutter Street, S.F., 8 p.m., Friday, Dec. 2, $35-$47; www.AXS.com; or by phone at 888-929-7849].
POP CULTURE CLASSICS:
It's a rare treat to see you performing in The U.S.
JANE BIRKIN:
I've only done it once before, for 'Arabesque.' I played Los Angeles, Boston and San Francisco. It was just before Bush was re-elected and all my Arab musicians had to go through customs three times, if not four.
PCC:
The sets you're doing now, they're primarily paying homage to Serge's work?
BIRKIN:
Yeah. I had a rendezvous to do a few concerts in the United States, because it was 20 years after Serge's death and because it was 40 years after 'Melody Nelson.' But I didn't really know how to do it. I was sort of chickening out a tiny bit. I had been a lot to Canada and around Europe and I thought, to suddenly be on the road again, how can I do it differently?
I'd come to Japan as fast as I could, after the nuclear disaster and the tsunami. I'd rung up a friend who's always organized all my concerts there for the last 10 years. And I've been doing them there for the last 40 years. So I rang her up and said, 'Can you fix up a concert, because I'm coming over. I've bought myself a ticket and I'm on my way. But it would feel rather good if I were part of a sort of solidarity concert.' This was a Thursday and by the time I turned up on Sunday and did a rehearsal for that night, I realized the musicians were extremely talented. One had a trumpet. And the drums were very violent and exciting. And there was a very interesting man behind the piano. He was called Nobu.
We did the concert. I went on to see the refugees and to stay there for a few days to do things I thought I should do. And then, on coming back to Paris, I did a solidarity concert there, where everyone I rang up - Deneuve, Aznavour, not one person said no. They were all for doing something for Japan. And all the money went for the Red Cross in Japan.
I sold my Birkin bag, which went for $163,00 dollars, if you can imagine. Someone in America, I don't know who bought it. This old bag. I could hardly believe it.
And then my agent said, 'Have you forgotten about the concerts you're doing in America?' And I said, 'Well, actually I had.' I'd hoped they'd sort of filtered out a little bit. And he said, 'No, you've got a few dates and you have to do them.' I got out of the Hollywood Bowl, because I didn't know how to do it or what to do there. But for the other dates, I said, 'The only way I can think of something exciting to do for those is if Nobu would be able to do all the orchestrations of all Serge's songs and then there would be a Japanese element. And maybe if the Japanese musicians would come with me, then that would get them out of Japan and maybe they'd be pleased. But also people would remember Japan, even in six months time, where otherwise, they might have forgotten, with all the other news on the newsreels.' To my delight, Nobu, who's a composer in his own right and is very well respected in Japan, said yes not only to the orchestrations, but to coming for the whole tour. We're going to go on for at least a year, because it's starting to be such a success, because they're such good musicians and they're doing the music in such a different way from what I've done before. And Serge's artistic director, Philippe Lerichomme, thought of all these other songs of Serge's that I hadn't sung before, so it would be original and people, like in Canada, who had seen me before, wouldn't think, 'Oh, I've seen this before' and that everyone would be surprised. And we could take these boxes around for this charity for all these children that had been traumatized and probably needed psychiatric help and there's this organization that tries to help through means of music. So I thought we could be useful, as well.
Also, these Japanese musicians are great, great fun. In Germany and Rumania, they tucked into some strange local delicacies. Yesterday, in Seattle, I couldn't get them out of the fish market, because they were eating the most extraordinary things and drinking strange beer called Naughty Nellie [Laughs]. I thought we'd never get them into the plane. So I realized there's a Japanese mentality of living for now. It's rather catching. I mean, I can't do it, because I always have a cold and I have to think about my voice and I have to be good and come back to the hotel. But they go off all night, exploring all the local delicacies. They're constantly curious.
In Japan, I said to Nobu, 'Aren't you afraid, since we don't have a geiger counter, that you might be eating food that's contaminated?' He said, 'Well, you've got to eat.' I said, 'Don't you want to leave the country?' He said, 'To go where?' So I understood this philosophy, that maybe, if you're born on a faultline, that changes everything - their literature, their way of thinking, everything. And it's a rather inspiring thought. Even I've started to not feel guilty about having pleasure in the moment.
PCC:
The fact that they have a fresh perspective on Serge's music, does that give you a sense of rediscovery?
BIRKIN:
Absolutely. There's one of the most beautiful versions of a song Serge wrote called, 'La Chanson De Prevert.' And there's a song, not a famous song in France or the U.S., it's called 'L'Aquaboniste.' It's played with such reverence towards the end, almost a cappella. And it was number one for almost six months in Japan, because, it was my good fortune that they stuck in onto a soap opera thing, something about someone having a facelift or something and then falling in love with the surgeon, something rather silly. But it meant that everyone heard this song, five times a week and went out and bought it. Serge had written it for Francoise Hardy, so that she would sing it about Jacques Dutronc. But she didn't want it. So I grabbed it, because it was such a good idea. It was a made-up word. An aquaboniste is someone who says, 'Well, what's the point?' When I sang it in Japan, which I did on Serge's death, I started the show with it, because it was a portrait of Serge, as well, or people could take it that way, anyhow. But when the play it, it's practically nothing - with just the saddest of trumpets, just the tiniest of violins, the most delicate of pianos. It's quite exquisite. And yet, when they do, 'Ces Petits Riens,' it's so military and so exciting. I'm enjoying having this whole new choice of Serge's songs.
PCC:
To you, what was so unique about Serge's artistry?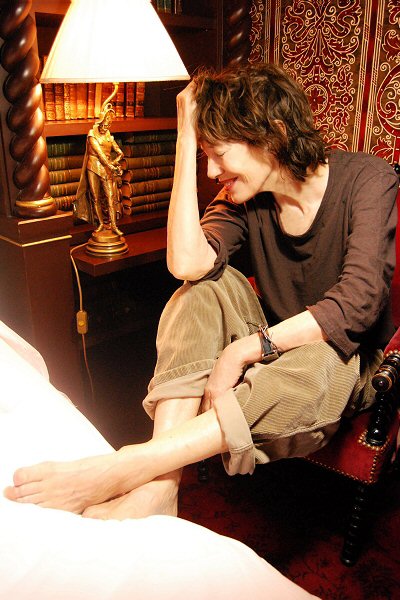 Photo by Franck Laguillez
BIRKIN:
Well, there will never be anybody quite like him. He reinvented the French language. That they've now understood, because, at the time of his death, he was the most beloved personage, because he used to speak his mind on television and usually be quite shocking and people used to light up their telly, just to see what he'd do next. He became a person like that at the end of his life. He couldn't resist. There was always quite a good reason, actually. He lit up his hundred franc note, because he was showing everybody what he was paying in taxes, which was more than half. So that was a rather reasonable thing to do. That it was against the law is another thing. But they weren't such stupid reasons as people made out on the other side of the channel. But he was already the most loved man in France, in a way.
He'd stuck up for the Rastas. He was attacked by the ultra-right group of fascists in France. And he dared go onto the stage - I was with him and saw him do it. He kept all the Jamaicans in the bus, because he said 'They've got enough problems, I'm not going to get them in trouble just for me. We'd had bomb threats in the hotels. He walked straight onto that stage, no orchestra, because they were all in the bus. And he sang 'La Marseillaise.' But he sang the original version. So those in the front row didn't know what to stand up or stay sitting down or take their caps off. They looked real idiots. And then he did stuck two fingers in the air. He was so furious that he'd had to annul that concert. By the time we hit Paris, it was in all the newspapers and he was the number one hero. It was the first time that anyone had been attacked in that way.
And there had been a very snide and nasty article that had been written, saying that Serge was doing no good to the men of his race. It meant, that, by his being Jewish, to have dared to sing 'La Marseillaise' with a load of Jamaicans, displeased this man, who was immediately called up on the race relations act, rightfully. Serge was delighted, because suddenly he was on the political page and not only on the social or entertainment page. So that already gave people quite a shock.
After his death, it's become far more of a realization that they've lost their Apollinaire. Even Mitterand said he was their Apollinaire, their Baudelaire. So even at the time of his death, people who knew poetry realized the greatness of his writing. They also realized that he was about 20 years in advance of everything that's been done since. So 'Melody Nelson,' which was done 40 years ago, but didn't sell one, at the time of its release, or only a few, is now everyone's favorite. And it's thanks to young people,. At his funeral, there were as young people as there were people of his age and my age. They were the ones who made 'Melody Nelson' into a gold record and then a platinum record. And now it's everybody's favorite record. So the French woke up to the fact that they'd had on their hands, for the past 50 years, one of the greatest writers.
His heroes were painters, Valasquez, Raphael, Rembrandt. But if he couldn't be a great painter, then he didn't want to be a painter at all. He didn't think songwriting was a major art. It was a minor art. So he was modest in that way and yet, he knew very well that he was the best in the field that he was in.
And his writing is very like Cole Porter, too, because he cuts words in half and moves them to the second line. But he also has two meanings. Even 'Je T'Aime, Moi Non Plus,' didn't mean 'I love you, so do I.' It meant, 'I love you, nor do I.' So it's used in political statements and everything. So he was just a man who was 20 years in advance of his age, of his time. And it's remarkable that he was able to profit from it at all, because he could have been found later to be so great and not have profited from it at all.
He didn't like himself. He thought he was ugly and he had complexes of having big ears and didn't like his nose. I said, 'Well, who do you want to look like?' He said, 'Robert Taylor.' I said,' Oh, God, what a bore!'
He created his own style. I helped him a bit, because I didn't like people that were closely shaved and they looked a bit shiny. So I said, 'Keep your beard on for a couple of days. That will look a lot nicer.' And I brought him diamonds and sapphires, because he had no hair on his arms. I thought that was so sophisticated, not to have a hairy chest. I thought he could be bedecked with jewelry. I found a little jacket for him in a little antique market in Chelsea, in London. And he wore that with his jeans. And then I found him the little pumps, that were ballerina pumps, because he had delicate feet. He said he had the feet of the wandering Jew, because he had flat feet. So I got him these little ballet pumps. And now, if you look around, well, all the boys have got a four-day growth of beard, everyone's got jewels around their necks and everyone got little white pumps on their feet and everyone's wearing jackets that don't go with the bottom half. And so, that was whole style that he had, the sophistication. He was an aesthete.
Even his house was black. He did that, because he sneaked into Salvador Dali's house with a girlfriend when he was very young. And Dali's walls were black. His bath was very low and had a sheet in it. Dali used to have a bath with the sheet in it and then after, you send the sheet to the laundry - extremely sophisticated and a pretty idea. So Serge, in the Rue de Verneuil, had the walls done black and a very low bath, with a chandelier in the bathroom, and a most sophisticated taste. He couldn't bear anything to be out of place. It was maddening to live with, because it was like living in a museum. Anything out of place would drive him absolutely crazy. So he was a great aesthete, as well.
So for all these multiple reasons, and also for being a clown, which does add great charm. He was basically a very good man, constantly opening up his attaché case, which was filled up with enormous great franc notes, because he liked to have a lot of loose cash with him. The taxi boy one day was so pretty, but he had cracked teeth and said he was going to the dentist. Serge pulled out the equivalent of 300 pounds out of his case, saying, 'Have them done, but have them done so they look as though they're rotten teeth, so they look as though they have cracks in them. That would be really chic. To have your false teeth done like some politician, all white, is really vulgar.' So he had great taste, but also great generosity and great humor. I never saw anyone pay a bill. He always paid every bill in advance of everybody else. And it was his honor to do so. He was a great honest character. He didn't have any money in Switzerland. He came from a family who'd immigrated, so he believed in doing things in the right way.
And he was a great man's man. He was really happiest when he was with a lot of fellas. And he was a great mate. And had great kindness. I think people saw that. He had a book where he used to write down all the Jewish jokes an all the Belgian jokes and he used to stand up on chairs and tell them after dinner, when he was plastered. And so he was just the most comical person to have around. And I think that's what seduced the girls - it's certainly what seduced me - was the fact that he could make you laugh until you cried.
So put all that into one person... you won't find another like him.
PCC:
At the beginning of your musical collaboration, did you feel daunted?
BIRKIN:
No, not at all. I was doing a film with him, called 'Slogan.' And after an initial, mutual, horrific start, where I thought that he hated me and he was so arrogant and difficult... and he thought that I was so stupid and couldn't speak French... after an appalling beginning, after we did fall in love with each other, then after the film 'Slogan,' I was asked to do a film 'La Piscine' with Romy Schneider and Alain Delon, and Serge was madly jealous and came rushing to St. Tropez with a vast car that couldn't get down any of the streets. It was extremely humorous. And with my daughter Kate that I'd had by John Barry, he looked after Kate, whilst I was doing the film.
And then he said to me after I was done with the film, 'I've got this song, 'Je T'Aime, Moi Non Plus,' that he'd written for Brigitte Bardot, but she didn't want that to come out, because it would have meant a divorce with Gunther Sachs. So Serge had been a gentleman. He put the song in a drawer and said he wouldn't bring it out with her. But a year later, when he met me, he was no fool either. And he decided to bring it out with me. And he asked whether I'd sing it an octave higher, so I'd sound like a choir boy. And I said yes, because I imagined the recording being done in some sort of telephone cubicle. I didn't know what a recording studio looked like. And I didn't want any other girl singing so close to him. So I did it out of pure jealousy. And the other side was 'Jane B,' which was Chopin. And he did that to seduce my mother, so that she would think that I was singing classical music. And she fell in love with him, too, because he reminded her of 'Nightingale Sang in Barkley Square' and [lyricist] Eric Maschwitz, who had been her great love before my father. So he had really sort of seduced the entire family, by the time I got over being so miserable, having been left by John Barry.
And after that, he decided to make my first album, which was, I think, 'Di Doo Dah.' No, that's right, it was 'Je T'Aime, Moi Non Plus.' It was supposed to come out as just a single, but the head of Phonogram in Paris said, 'Look children, go back to London, because I'm willing to go to prison for a long-playing record, but not for a 45. And we had to go back to London and sing another 10 songs, so they could bring it out under a cellophane wrapper. It had 'Not under 16' or something written on it. And the head of Phonogram in Rome did go to prison. And we sent him oranges. The Vatican banned it... and the BBC, as well. And then, for the rest of my life, Serge just went on writing albums, until his dying day, In fact, the last album he wrote, he wrote for me, which was called, 'Love of the Dead' ["Amours des Feintes"] He wrote it four months before dying.
PCC:
Your role of muse, was that satisfying in itself? Was there any sense of frustration at not being recognized solely for your own artistry?
BIRKIN:
No, it was wonderful. Having come out of a marriage, where I thought I wasn't able to keep my hands on the most attractive man in the world and the most brilliant, which was John Barry, and he'd gone off to America, and there I was with my daughter Kate, in London, with this other man, a year later, who found me attractive. Flat-chested, which was what he adored. He wanted girls that looked like boys. I just couldn't believe my good fortune. After that, he wanted me to sing. He wanted me to be famous. He wanted me in front somehow and to be on a pedestal. I couldn't imagine anything more glorious. It was great fun. There were no musicals in Paris at that time. But we used to have a show a week, like Lucille Ball and Desi Arnaz [Laughs]. And so I did comic films, as well, which meant that I was very popular in France for being a comic girl. And so we had great, great fun for 10 of the 12 years together. And then drinking and the monotony of nightclubs until six o'clock in the morning, all that, sadly, was the end of that.... but not the end of our great, great friendship.
I realized when I left him, that I was singing his pain. So I said, 'Do you mind, if I say that I am your feminine side?' And he said he thought that would be very appropriate. And that's exactly what I've become. So he sang all the sort of ballsy songs. And I sang the sad, feminine side.
PCC:
And what about your own growth as an artist?
BIRKIN:
I went on doing my own movies, making my own movies, doing other people's movies. Because I was with [director] Jacques Doillon, I was suddenly in films that went to Cannes and I was doing films with Jacques Rivette [including the remarkable "Around A Small Mountain"] and playing in classical theatre, which I'd never done before, because of this film career that really kicked off when I was quite old. I did 'La Fausse Suivante,' with Patrice Chrea, after which, I started to sing for real, in the Bataclan, because I realized, if I could play a countess, on a stage, then I could do that, too. And I played Electra. And I haven't been frustrated in any way. The only thing that's obviously very difficult for anyone else who's with you is that a taxi driver automatically turns around and says, 'Oh, we miss him so much' and then puts on a record of Serge's. So bang goes any future boyfriend [Laughs]. But there you go.
PCC:
Was the "Enfants D'Hiver" album particularly validating, showcasing your own songwriting and earning such glowing reviews?
BIRKIN:
Ah, that I loved doing, because I thought, 'Well, I can't be brilliant like Serge, but I can be gutsy.' I can do things like the film I made, which was a thing of which I'm the most proud, which is something called 'Boxes,' which I did with Michel Piccoli, and Geraldine Chaplin and John Hurt and my own daughter Lou Doillon. And whilst trying to get the money to make that film, I wrote all the lyrics and they were very personal, because they were all about childhood nostalgia and that I wanted to get out of me. So it was very personal. It wasn't a big seller. But I think there will be a few songs on that that I'll be happy to sing again one day. And I was pleased with it. I was pleased to be able to have the chance to express myself on film and on the record. Artists are lucky that way. Other people just have to scream in the bus until people stop them and say they're mad. Whereas, we can actually do it and people pay to come and see it. It's a bit of good fortune.
PCC:
With all you've done in film and music and fashion, are they all equally gratifying for you? Just in different ways?
BIRKIN:
It's fun doing the touring. It's a pity, because I miss out on the children and the grandchildren. I was off to Japan and now America and I'll be off for Christmas and we'll all have Christmas in my house in Brittany. Sometimes you lose out on family and things. But it' really doing tours, when you meet people and go to different countries, I've gone to Hong Kong, Jakarta, Vietnam - I mean, how lucky am I? So that's the fun for me, is to do these concerts, because they take me places. And also, if I've got no band with me at all, I can kick off on my own, buy my own ticket and sing for people in the streets. It's another side of what I like doing. And that I've got the money to do and the health to do. And I like speaking up for people, like Aung San Suu Kyi [General Secretary of the National League of Democracy, imprisoned for her defiance of Burma's military regime] and have done for 10 years. Now I speak out against the death penalty in any country I can, especially in America.
I hope to be making my own film by the end of next year and to be in a Japanese film in between times. And a rather peculiar American film, maybe. So I'm not a frustrated person.
PCC:
All the humanitarianism and activism, is that something you were brought up with?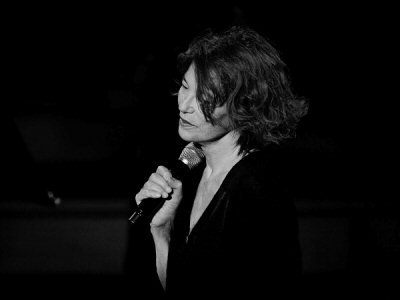 Photo by Anna Schwarz
BIRKIN:
Yes, my father made me a member of Amnesty, when I was 12. We walked together against the death penalty in England, when I was 14. I've still got my letter from the home office, saying 'Thank you, Miss Birkin, for your letter. We appreciate it. We'll take it into all consideration.' It's only in England that you get letters like that.
And my father used to look after boys, so that they didn't go to prison. He was a war hero and he was a navigator in the last world war and under coat of darkness, he used to leave the English coast and get to France to pick up the French resistance and drop off people, like a spy. He didn't have to kill anyone. So he had a lucky war, he said. But, in fact, he was extraordinarily brave and also a very, very good mathematician, to actually work things out, because he had to leave on nights with no moons. It was always like winter time. But it got his health down. He was coughing blood. He had tuberculosis, emphysema and God knows what. In the end, he just tried to help people not go to prison and then tried to get them out of prison as fast as he could. So I suppose I picked up a lot of that from him.
But I'm bound to say, a lady interviewer in New York, said her grandmother told her that my mother [actress/singer Judy Campbell], during the war, was singing 'A Nightingale Sang in Barkley Square' in the theatre and there was a bomb raid. And my mother, in this dramatic element of the song, which was made famous by Vera Lynn later, but was written for my mother by Eric Maschwitz, she cupped her ear with her hand, as if she was listening to something. And it was a great bomb going off in the building next door. And this woman's grandmother remembered it and the woman asked if everyone ran out of the theatre. She said, 'No, everyone started laughing. It was a wonderful joke.'
So my mother was extraordinary during the war, as well. And had gone on being in plays. She was Noel Coward's muse. She was the person who he wrote a great deal of his plays for. And so she was pretty wonderful, too. She went to New York after 9/11 to sing in New York, because she had been through bomb raids in London. And she did what I did for Japan. When all the airplanes were empty, she was flying to New York. And I think she sang in the Town Center that I'm going to sing in. That will be very romantic, if it's the case.
PCC:
Was she the one who encouraged all the creativity in both you and your brother [screenwriter/director Andrew Birkin]?
BIRKIN:
Well, she certainly gave me a good start, because she told me to go up for an audition for 'Carving a Statue' by Graham Greene with Sir Ralph Richardson. And I got the part. And my father wanted me to stay at home. He was scared stiff that everyone was going to go into the artistic mode. And he was very nasty to my mother about it, because my brother was already working for Stanley Kubrick and he somehow felt that my mother was influencing us all to go into the theatre or the movies. It wasn't really fair, because my father's cousin was married to Carol Reed [director of "The Third Man"] and we all were always around Pempie and Carol Reed's place. And I'd already been on 'The Agony and the Ecstasy,' which he was making in Rome. So it wasn't my mother's fault. But I'm bound to say, she did encourage me. Or she didn't deter me.
She was so well known and so beautiful that maybe one of the reasons I felt that I was doing all right in France and wouldn't somehow be seen and could be having a secretive and rather sexy and funny life and I don't know, maybe have my own world and not only hers, that perhaps was why I stayed in France.
My children don't have to do that, because they're all such great actresses in their own right, Charlotte is recognized as being so. And next year, Lou will be recognized as being so. But they don't have to run away from anything. But I somehow had perfect parents. So perhaps it was one of the reasons it was easier to go to another land. It's something you think about after, not at the time.
PCC:
The fact that your children have all carved out their own creative identities, had you actively encouraged them as they grew up?
BIRKIN:
Like anything. One of the best things I ever did was Super-8 films I made with my father and mother, playing parts, being pirates and everything like that. And so, I put Charlotte up for a film when she was 10, because like Hayley Mills, who was my brother's first love, I thought that being a child in a film, you get a lot of things out of you and I'd just separated from Serge and I knew that she was hankering to play in a film called 'The Pirates' that I was doing with Jacques Doillon and I thought that would break Serge's heart, so she couldn't do that, but I could get her on a film with maybe Catherine Deneuve or get her up for an audition, like my mother had done for me. So I did. And she got it. And the rest is history. And the same thing for Lou. So Lou's made her own record. She's written the lyrics. She's in Jacque Doillon's latest film. And she's going to be playing Chekhov, the main part, in a few months. So, yes, I encouraged them, like anything, to start as early as possible. Because it's a career that needs great discipline. And when you're very young and you might very easily suddenly be taken to going to nightclubs and into drugs. In fact, on films you have to learn your text, you have to get up at six o'clock in the morning, you have somebody who's bugging you to do your homework. And you're in a fairly rigid, but very attractive setup. Also, if it doesn't work out that you're an actress and you want to do something else, you can do something else. So I thought, in all their cases, for Kate's as well, I thought it would be great. But she went the other side of the camera and decided to be a photographer. In all their cases, I thought that it might easily be just their cup of tea.
PCC:
Are they facing an entirely different sort of environment now, compared to the uniquely artistically fertile era of the late '60s, early '70s?
BIRKIN:
No. They're just as artistic now. What was fun was being in England at that particular time, in retrospect, although all I cared about was hanging onto John Barry. But, as it happened, what was interesting was that it was a cultural revolution and it wasn't only fashion. It was fashion, it was David Bailey, it was Twiggy, it was Jean Shrimpton. But it was also Michael Caine, Terence Stamp, people from the north of England, with Cockney accents or north of England accents. It was The Beatles. It was mini-skirts that girls could buy for one pound at the King's Road or just wear their own T-shirts. They could be big and they could be fat and they could be gorgeous and they could be smiling. And it was the same for everybody and it didn't cost a penny. And that was the great thing. It was the liberty of wandering around just exactly as you like and suddenly you're the center of the world, because Antonioni comes over and makes 'Blow Up' in England, because that's where it's all happening. But that's only in retrospect. At the time, I was a housewife and wanted to hang onto John.
PCC:
Do you prefer to look ahead rather than reflect on the past?
BIRKIN:
I never look back. It feels as if I was a completely different person. I think I was, too. Newsweek described me as John Barry and his E-type Jaguar and his E-type wife. Hmmm, hardly a complement [Laughs].
The best thing to do is to live by the day, not think too much about tomorrow, because that, you never know. But at least, like the Japanese, have a bit of fun today. And responsibilities of today, as well. But looking forward, I find that a little depressing. I like to be engaged, to know that I'll be doing a play or doing a movie or something will be happening. But I don't think too far ahead either.
But certainly not back. Other people make you look back,because of Serge. But I don't willingly look back.
PCC:
With all you've achieved, in so many areas, what's been the most important to you, the most gratifying?
BIRKIN:
I think that nothing could have been as gratifying as being pregnant three times and having those three girls. And they didn't come out half bad [Laughs].
---
Don't miss an opportunity to experience this great artist in live performance.
The Jane Birkin Tour Continues:

December 2011

02.
United States
San Francisco
The Regency Ballroom

03.
United States
Los Angeles
Luckman Fine Arts Complex

05.
United States
Chicago
Portage Theatre

07.
Canada
Toronto
Queen Elizabeth Theatre

08.
Canada
Montreal
Métropolis

09.
United States
Washington
9:30 Club

11.
United States
New York
Town Hall Theatre

January 2012

10.
Spain
Barcelona
Palau de la Música

13.
Israël
Tel Aviv
Reading 3

14.
Israël
Tel Aviv
Reading 3

18.
Turkey
Istanbul
Babylon

19.
Turkey
Istanbul
Babylon

22.
Hungary
Budapest
A38

24.
Switzerland
Zurich
Kaufleuten

25.
Switzerland
Lausanne
Les Docks

26.
Luxembourg
Luxembourg
Tba

27.
Belgium
Ghent
Tba

March 2012

16.
Sydney
Australia
City Recital Hall

17.
Adelaide
Australia
Adelaide Festival

18.
Melbourne
Australia
Melbourne Recital Centre

19.
Brisbane
Australia
Brisbane Powerhouse

Visit the artist's website: www.janebirkin.net.