JANIS PAIGE: THIS STAR STILL SHINES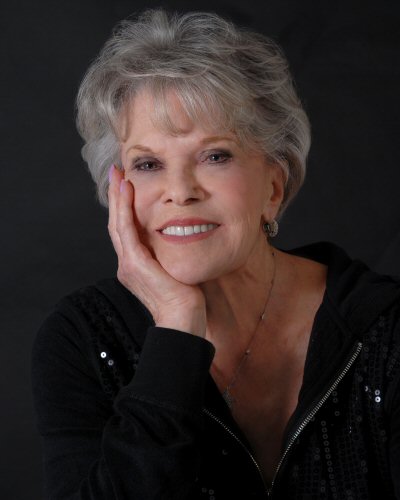 Photo credit : Jane Hunt
By Paul Freeman [August 2010 Interview]
It can be difficult to define the qualities required for show biz stardom. But it's easy to see why Janis Paige has made such an indelible mark in so many entertainment formats.
Certainly, Paige met the Hollywood prerequisites of gorgeousness and glamor. But the bright, engaging performer also proved to be an extraordinary vocalist, gifted comedienne, riveting dramatic actress and an irresistible personality.
The legendary star of stage and screen brings her warm and winning one-woman show to The Rrazz Room at Hotel Nikko, 222 Mason Street, San Francisco, Sunday, September 26, 3 p.m. and Monday, September 27, 8 p.m. Tickets are $35. Limited VIP admission is $45, which includes a private meet & greet with Ms. Paige.
For information, visit www.therrazzroom.com. For tickets, phone Ticket Web at 866-468-3399.
Ms. Paige was born in Tacoma, Washington and began singing publicly at age five in local amateur shows. After high school, she moved to Los Angeles and sang at the Hollywood Canteen, a studio-sponsored oasis for servicemen during World War II.
There she was signed by MGM who cast her in "Bathing Beauty" with Esther Williams. After her contract lapsed, Paige was snapped up by Warner Brothers. The studio showcased her in the all-star film "Hollywood Canteen."
Paige excelled in comedies and musicals, but proved her versatility in everything from noir to melodrama to adventure to western pictures.
Her movie credits include "Of Human Bondage," Two Guys From Milwaukee," "Her Kind of Man," "The House Across The Street," "The Younger Brothers," "This Side of the Law," and "Romance on the High Seas" (Doris Day's first picture). Paige co-starred in "Silk Stockings" with Fred Astaire and Cyd Charisse, "Winter Meeting" with Bette Davis, "Please Don't Eat The Daisies" with Doris Day and David Niven, "Bachelor in Paradise" with Bob Hope, "Welcome to Hard Times" with Henry Fonda, and "The Caretakers" with Joan Crawford.
When her time at Warner Brothers ended, Paige headed East, where she became a nightclub sensation. That led to Broadway, where she created the role of Babe in the smash hit "Pajama Game," opposite John Raitt. She later took over the role of "Mame" from Angela Lansbury.
Paige also conquered TV, singing on countless variety shows. She also guested on numerous shows, including "St. Elsewhere," "Mannix," "Fantasy Island," "Happy Days," "The Rockford Files," "Charlie's Angels," Hawaii Five-O," "The Love Boat," "The Mary Tyler Moore Show," "Columbo," "The Fugitive" and "Wagon Train." On "All In The Family," Paige memorably portrayed a waitress who tempts Archie Bunker.
Paige starred in her own sitcom, "It's Always Jan." She had recurring roles on such series as "Eight Is Enough," "Trapper John, MD" and the soap operas "Capitol," "General Hospital" and "Santa Barbara."
Paige is the widow of songwriting great Ray Gilbert, who penned the lyrics to Disney's "Zip-A-Dee-Doo-Dah."
In her one-woman show, she offers renditions of songs close to her heart, as well as captivating anecdotes from her remarkable career.
The radiant Ms. Paige graciously chatted with Pop Culture Classics about her inspiring journey.
POP CULTURE CLASSICS:
Does the show encompass material from throughout your career, as well as other standards?
JANIS PAIGE:
It does. Mainly the show's about people who influenced my life. People come along in our lives and we don't realize it at the time, but they're life-changers. You don't realize until maybe many years later that that particular acquaintance or friendship or influence changed your life.
I have a number about Fred Astaire whom I just adored and worked with him in 'Silk Stockings.' And I talk about Frank Sinatra. And then I have some particular songwriters that I admire so much. And I do some of that. It's personal. It's very personal. And I've never been afraid of that. So I hope people enjoy it.
PCC:
Who are some of the songwriters who made such a great impression on you?
MS. PAIGE:
Amanda McBroom. She is a great storyteller. There's also a wonderful woman, who lives in New York, called Francesca Blumenthal. She's another one who just knows how to tell a story.
PCC:
So that's what your looking for, primarily, when selecting songs, a relatable story?
MS. PAIGE:
Yes, I think so. I think we all do that.
PCC:
You've been singing pretty much all your life...
MS. PAIGE:
All my life, since I was three, when I first sang, 'My Blue Heaven.'
PCC:
Was that something your mother encouraged?
MS. PAIGE:
My mother was very talented. My mother sang. She played piano by ear, never took a lesson. I don't know if we inherited, or it's by osmosis, or what. She was not able to fulfill her career, so I suppose a great deal of her ambition for herself probably was placed, or misplaced, in me.
PCC:
When you were performing in talent shows at an early age, was it just fun for you or did you feel pressured?
MS. PAIGE:
I don't remember. I don't think I felt pressured. I know that I've always, always enjoyed being in front of an audience. I love the give-and-take that a performer can get from an audience. I think we instill, from performances, memories that they might have about someone. I think performing is fascinating. I really do.
PCC:
Was Hollywood your original goal?
MS. PAIGE:
Oh, never, never. [Laughs] Oh, no. I grew up in Tacoma, Washington, and there were amateur shows. In high school, I performed two of the operettas. I don't know, if at that age, we even have ambitions about that. I studied opera. So I certainly had no ambition about Hollywood. Maybe my mother did.
PCC:
So were you planning to pursue a career in opera at that point?
MS. PAIGE:
Oh, yes. I was greatly encouraged by my high school teacher and my singing teacher. I was encouraged to do that.
PCC:
That formal training, did that help you when you were later performing pop material?
MS. PAIGE:
Oh, very much. Yes.
PCC:
Primarily because of the discipline it gives you?
MS. PAIGE:
The discipline. And I think the good training I had. I was trained bel canto [a light, bright operatic style dating back to Italy of the Middle Ages, known for its fluidity, continuity of tone and sustained passages]. And I always sang. I sang naturally. But then when I had some formal training, he was a bel canto teacher.
I know Tony Bennett and I've heard him so many times. The reason he sings like he does today, in his eighties, is because of his bel canto training.
PCC:
So singing properly contributes to longevity as a performer?
MS. PAIGE:
Absolutely.
PCC:
Your big break came in the film 'Hollywood Canteen'?
MS. PAIGE:
That's where the big break came, yes.
PCC:
And another actress had become unavailable at the last minute?
MS. PAIGE:
That was during World War II. The world was at war and so, if you were traveling commercial airline, for instance, I know I was bumped off of TWA, which is no longer in existence. But if they needed the servicemen to be in a certain place, and they couldn't get there any other way, they would bump the passengers off of the commercial flights to accommodate the servicemen.
And a young starlet called Angela Greene was detained in her hometown. I believe it was in the East. And I walked in to the set that day to be introduced to Delmer Daves, who was directing. And the casting director at Warner Brothers said, 'I know Angela's stuck, but we need the role, to go to work.' And Delmer Daves said, 'Oh, I think Janis will be fine. Get her to wardrobe.' They took me to wardrobe that afternoon and the next day I worked. Remarkable. You know, it's the stuff that dreams are made of.
PCC:
And you had actually been volunteering at the real Hollywood Canteen?
MS. PAIGE:
Oh, yes. I sang there. That's where I was discovered.
PCC:
And from there you were signed by MGM first. Did they try to nurture you along?
MS. PAIGE:
They put me in a picture called 'Bathing Beauty' when I first met Mr. Mayer. They put me in that picture with Esther Williams and Red Skelton and Ethel Smith and a Latin singer called Carlos Ramirez, who was very important in his day.
But when my year was up and they let me go, they had Judy Garland, they had Lucille Bremer, they had Cyd Charisse, they had June Allyson, they had Gloria DeHaven. They had so many young stars that they simply didn't know what to do with me. So they let me go. But the luckiest day of my life - the day I walked out of Metro was the day I walked into Warner Brothers and into the role of 'Hollywood Canteen'
PCC:
And Warners really became a home for you.
MS. PAIGE:
Oh, yes. Five wonderful years. When you're so young, you don't really realize the gift that's been given you. They put me to work and I did so many pictures for them. I never stopped working. And, at the end of five years, I was known all over the world. So it was a great gift, because, when Warner Brothers let me go, I was able to go out and earn a very good living and go on to Broadway and nightclubs and television and everything.
PCC:
Did you see the studio system of that time as an ideal situation?
MS. PAIGE:
It was for me. [Laughs] I'll say it was. There's a reason why they call it, 'The Golden Age.'
PCC:
You made a lot of pictures at Warners with Dennis Morgan and Jack Carson...
MS. PAIGE:
Oh, yes, they were good friends.
PCC:
Other close friends among the contract players there?
MS. PAIGE:
Oh, Dorothy Malone. I did 'One Sunday Afternoon' with Dorothy. You know, it's funny, everyone thinks that everyone knows everyone else in show business. But we work together intensely, for a very short time, and then we go on. And I spend most of my life traveling after I left Warner Brothers. I did an enormous amount of traveling all over the world and working all over the world. So you can of lose track of people.
PCC:
What was the story about you getting a streptococcus infection after singing and dancing in the rain for two days on 'The Time, The Place and The Girl'?
MS. PAIGE:
Oh, that's a true story. I caught a very severe strep infection, when I was at Warner Brothers, must have been '45, '46, something like that. I was young and terrible sick with it. And when they took me to the doctor, they found that I had a very rare blood type. I am AB Negative with an RH factor. I am, I may be wrong about this, but as I understand it, one out of every 300,000 people has my blood type. And, in those days, they had penicillin. I was given penicillin and they found that I was allergic to it. They found that I had anaphylactic shock.
It was amazing. I don't remember a lot of this, because I was very ill. But they sent out word [Warners publicity department, utilizing the media] to the servicemen in the navy and the army that anyone with my blood type, would they kindly donate some blood to me. And a young sailor, coming into Terminal Island with the navy, gave me a pint, probably saved my life.
PCC:
So, once again, the fates were with you.
MS. PAIGE:
They really were [Laughs].
PCC:
And then, 'Winter Meeting,' what was your experience, working with Bette Davis?
MS. PAIGE:
Oh, she became a very dear friend. She became not only a dear friend, but she became like a mentor to me and promoted me and talked about me. She was wonderful to me. I will never, never forget that woman.
PCC:
And did she give you a lot of good advice along the way?
MS. PAIGE:
No, she didn't give me advice. I learned a lot about her from knowing her. She was very open. She wasn't afraid of anything. And I think a misunderstood woman, by a lot of people. But a brilliant talent. And believe me, she and Olivia de Havilland were probably the first feminists who fought for better contracts and who fought for equal money. These were very big stars and both of those women fought very hard for all the women following them... at great risk to themselves, careerwise.
PCC:
They changed the landscape forever.
MS. PAIGE:
Yes, they did. We owe them a lot.
PCC:
Yes, even the actresses coming up today. They should know that.
MS. PAIGE:
But they don't know it. They don't study the history of these amazing people.
PCC:
Maybe outlets like TCM will help remedy that.
MS. PAIGE:
Oh, I think they're wonderful! They keep us alive. Robert Osborne is a dear friend. They really do keep us alive. I got a phone call last week from someone who said, 'I saw 'The Caretakers.'' I said, 'You did? Where?' They said, 'Turner Classic Movies.'
PCC:
So now the young people are discovering the great films of the past.
MS. PAIGE:
Absolutely. You know, it's interesting, when I opened this act at the Gardenia down here [Los Angeles], I hadn't worked for seven years. And so I opened and there were a lot of young people in the audience that night. And I tell stories about Frank Sinatra and Fred Astaire and various people who have meant a lot to me in life. And certainly, I can't fit them all. It's impossible in the time limits, the time element I have. But it's interesting, I had four young people, one young girl and three young boys, in their twenties, come up and say, 'Oh, we want more of those stories. We didn't know that. We've never heard those. We haven't heard about those people.' I was absolutely blown over by that. I didn't expect it. It was wonderful.
PCC:
What did make Fred Astaire one of the life-changers for you?
MS. PAIGE:
Working with him. I wasn't a trained dancer. I was really terrified. You can imagine. First of all, just meeting him, because he was bigger than life to all of us. And he was a major, major star. And when Arthur Freed offered me the role and to have a dance number with him, I was really terrified, because he had danced with the greatest - Vera Ellen and Cyd Charisse and Barrie Chase - they had been Fred's partners. And here I was, untrained. And yet, it was life-changing to see his patience.
He and Hermes Pan, his choreographer. The patience. He never, never criticized me, not once, for not knowing something. They only figured out what I could do and then, when they found out I could do that, they would ask me to do a little more and a little more and I never said no. But I did it. And I think I learned something about myself during that time. You can push yourself and push yourself and push yourself. We're the only ones who put limits on ourselves.
PCC:
And Frank Sinatra, what was the experience like with him?
MS. PAIGE:
I had never met him. And I was alone in New York for the first time in my life and had never been away from home. And it was a holiday. And the phone rang. And it was Frank Sinatra, inviting me to have dinner with he and his wife Nancy and friends. It was at the Latin Quarter. He said, 'I understand you're alone.' I never, to this day, know how he found out I was alone. And I spent the entire day, hours and hours, with those people. They treated me like one of the family. I never forgot that. Ever, ever, ever. You never forget things like that.
PCC:
Leaving Hollywood for the East Coast, was that a difficult decision?
MS. PAIGE:
Part of it was personal. I had been married. And not happily. Supporting everybody. And I guess I just got fed up. I got tired. I got fed up. And, in 1950, I went to New York and did a movie called 'Mr. Universe' with the late Vince Edwards, who later became a big star on a thing called, 'Ben Casey.' And New York just kind of opened up a world for me. There was Broadway and a different feeling. It was such a big city. It was just good for me.
PCC:
And playing cabaret and clubs?
MS. PAIGE:
Oh, that was a godsend. Warner Brothers gave me this name and groomed me and I could sing. I could entertain. And I could earn my living. It was hard at times, but I wouldn't give up a minute of it. There were three or four years there where I worked the big old Vaudeville houses with films. You'd have four performances a day and on Saturday and Sunday, you'd have five. I remember working the big Paramount. All three big theatres in Times Square are gone now - the Paramount, the Strand and the Capitol. They're all gone. All torn down. But there was no experience in the world like that.
PCC:
It must have been difficult to keep up the energy level for that many shows.
MS. PAIGE:
I have enormous energy. Thank God, I have it. We did it. It was our job.
PCC:
Did you work with Martin & Lewis in those days?
MS. PAIGE:
I worked with Jerry and Dean on stage once. We did a charity event together. But I knew them. I remember Dean and Jerry were at the Paramount theatre. And I was doing 'Remains To Be Seen' [comedy-mystery stage hit] and I went backstage to say hello. We always did that.
I liked them. I always thought that Dean was a much deeper... you know how somebody can be a comic or a singer and suddenly, like Frank got 'From Here To Eternity' and it changed his life, when he got that part? I always thought that Dean missed a mark by not being given or by somebody discovering this talent that he had, beyond singing and beyond being funny. I did his television show for him a couple of times and he was incredibly funny.
PCC:
For you, was it a natural transition to go into theatre and Broadway?
MS. PAIGE:
Yes, I think so. I had a lot of experience. And I loved being on the stage. The stage is very challenging. I've played blizzards. It hit the Earle Theatre. I don't know if it's still in Philadelphia anymore. But we had four people in the audience, because we had a terrible blizzard. It was 26-below outside. But you still go on and do a show.
PCC:
And 'Pajama Game,' did you know right away that it was going to be a smash?
MS. PAIGE:
Oh, no. None of us knew that. As a matter of fact, they had a hard time getting the money, because potential backers would say, 'I don't want to put money in a show about a pajama factory. What does that mean?' And look what happened.
PCC:
Your performance as Babe in that show was so acclaimed. Did you take it philosophically when the role in the film adaptation went to Doris Day?
MS. PAIGE:
I was disappointed. I was disappointed mainly, because it was a gamble. They wanted Frank Sinatra to play Sid. And if Frank had done Sid, I would have done Babe. So they offered my part to Doris and they offered the part of Sid to Frank Sinatra. And the deal was that, if Frank turned it down, Doris would get it. And then the rest of the stage company would perform. If Frank had done it, I would have gotten my part and the rest of the company would have done theirs, as they did in the picture. So it was just luck.
PCC:
And you did actually work with Doris.
MS. PAIGE:
Yes, I did her first picture with her. I enjoyed working with her very much. I knew she was going to be a star. You could just see it.
PCC:
You were able to do a lot of different types of films, even westerns. That must have kept things interesting.
MS. PAIGE:
I was really lucky. It doesn't happen that much anymore, I don't think. We have a very different system today. But when you're under contract, they own you. And they put you where they want you to work. So, in many ways, people thought it was terrible. I thought it was incredible, looking back, because I was given incredible opportunities to do different roles.
PCC:
You mentioned 'The Caretakers' earlier. That was an incredibly powerful dramatic role for you.
MS. PAIGE:
Very. Very. And I thank Hall Bartlett [producer/director/co-writer]. Hall has been gone many years now. But he bought the property. And he was the one who called me on the phone and took me to dinner and said, 'I want you to do this role.' And I said to him, 'Hall, they're never going to buy me. I'm known as a comedienne.' And he said, 'I don't care. I am going to cast you in this role.' And when he cast me in this role, the bank said 'No, we think she's wonderful, but she's a comedienne and we don't believe she can do this role.' And Robert Stack [the film's male lead] said the same thing. He said, 'I love Janis, but I don't think she's right for the role.' Hall stuck by me.
PCC:
And he was right. It was a great performance. And Joan Crawford, what was she like to work with?
MS. PAIGE:
I had known Joan for years. Joan remained a good friend. And every Christmas, I would get a note from her, wishing me a Merry Christmas and a very Happy New Year. And when my late husband Ray Gilbert and I were married, we were married in Nice, France. And we were on our honeymoon one night. And we ended up in Lugano, Switzerland. And we walked into this suite. And there was a big basket of champagne and fruit and everything. And I said, 'Who could this be from? How does anyone know we're here?' And we opened the envelope and it was from Joan and her late husband. Isn't that nice?
PCC:
Being married to Ray Gilbert, was it fascinating to be around while he was working on his lyrics?
MS. PAIGE:
Oh, God, yes. I learned a lot from him about what it takes to write a lyric. About six weeks before he died, he had worked on one single lyric for eight years. He had not been able to break through. And I was in bed one night. It was about 11 o'clock. And he was sitting out at the bar, where we had all of the music equipment and the stereo.
And he poked his head in and he said, 'Honey, are you awake?' And I said, 'Yeah.' And he said, 'Come on, I think I've finished 'I Live To Love You.' And I said, 'You're kidding!' So I went out and sat down and he worked to a very scratchy album of a man called Eddie Heywood, a pianist. And he sang it for me. And I absolutely was knocked over. I said, 'You've just written poetry.' And he said, 'Speaking of writing, I was thinking that I wanted to write lyrics since I was nine years old. That's all I wanted to do.'
He grew up in Chicago and when he was about 13 or 14, when the Rush Street speakeasies would open and the stars like Harry Richmond and Sophie Tucker and Joe E. Lewis would walk out from their shows, about three o'clock in the morning, he and his little partner Lew [Pollack] would sing for them. And Sophie Tucker bought his first piece of material. Isn't that something? He said, 'I'm one of the lucky ones in the world. I've done exactly what I wanted to do all my life.' And you know, not many people can say that.
PCC:
Was there something in particular that inspired him to finally finish that one last song?
MS. PAIGE:
I really don't know what it was. He wasn't well. He had heart trouble. I didn't really know how sick he was. He didn't confide that in me. He was one of those kind of stoic men of his time, who didn't talk about it. I miss him. He was a life-changer for me, if there ever was one.
PCC:
And his music certainly lives on.
MS. PAIGE:
Yes, wonderful music.
PCC:
You had great success in television, as well.
MS. PAIGE:
I did. I've been really a fortunate person. I've been very lucky. I've also worked very, very hard.
PCC:
You participated in TV's golden age of variety shows.
MS. PAIGE:
Oh, my gosh, yes. And live! That red light used to go on and we were not on tape. We were performing for millions of people live. The first thing you think about it is, 'Oh, my God, what if I make a mistake?'
PCC:
You had your own comedy series, 'It's Always Jan.'
MS. PAIGE:
Oh, I was in 'Pajama Game' and Procter & Gamble came to see the show and wanted to do a series for me and they did.
PCC:
And later you joined Bob Hope on his visits to the troops.
MS. PAIGE:
Oh, yes. Bob. There are no words to describe Bob. If anyone was ever bigger than life, it was Bob Hope. I did three of the overseas shows. We were the first troupe to go into Vietnam, when the war was escalating. And Korea, the mountains of Korea, a place called Camp Casey, which was just one sea of mud. And before we came in, they built a wooden walkway to the restrooms and so that we could get to the stage. And you look out and you are looking at 5,000 of our men, waiting for a show, in the freezing cold, in the mud. I never would forget those shows. So much happened to me, so many field hospitals and experiences that I'll never get over.
PCC:
It must be so gratifying to know what you brought to them .
MS. PAIGE:
Well, what they give to us is beyond worth. There's not enough that you can do for people who offer their lives for your country and for the citizenry. And I don't know if we can ever be grateful enough for what they do.
PCC:
Do you get any sense at all that the variety type TV shows might be showing signs of a resurgence?
MS. PAIGE:
Gosh, I hope so. You know, when I was in the era of the live show, that was Dinah Shore and Perry Como and George Gobel and Milton Berle. We would go in and rehearse and rehearse and rehearse, whether it was in New York or here or wherever it was.
I even did 'Kukla Fran and Ollie' in Chicago once. And I adored them. And, when I met them, Burr Tillstrom built a whole show around me being in the audience. And Kukla was trying to control Ollie and Ollie was banging his head every time he saw me, in love with me. It was the cutest thing you ever saw in your life. It was such fun.
PCC:
And then, I'm sure a lot of people remember you from the 'All In The Family' appearances.
MS. PAIGE:
Yes, my favorite!
PCC:
That was quite an achievement, to make Archie Bunker a romantic figure.
MS. PAIGE:
Yes. There's an interesting story that goes along with that. As you know, that was the number one show in the world. They wrote this marvelous part for me and it was a half-hour show. So you'd have a dress rehearsal and they would film that, so they could cut and intersperse, if they wanted to. And then, at the time between the dress rehearsal filming and the actual filming, we would fix makeup and grab a bite to eat. And we ran long at rehearsal. And the producer, Norman Lear, came running into makeup and said, 'We're not cutting a minute of this. I don't care, if I have to make this a two-parter or a three-parter. We are not cutting a minute of this show!' And he didn't. He left everything in and made it a three-parter.
PCC:
And 'Mame,' was that another of your favorite roles?
MS. PAIGE:
If you're lucky enough to play Mame, you're really lucky. Any woman would love to have the good fortune of getting on that stage every night, wearing those clothes and singing that score. Oh, gosh. That was a great time for me.
PCC:
You also did a number of soap operas.
MS. PAIGE:
You know, when you look at my career, is that not amazing? I mean, I am amazed at it. I loved soaps. I'd get off the stage so late at night and I could never go to sleep, so I would wake up late in the morning and I would always watch the soaps, having breakfast, some donuts, my favorite breakfast.
So I got a chance to do 'Capitol,' which was going off the air, by the way. They had three more months. And I was given this wonderful role of a catatonic. And the producer of that show was also one of the producers of 'Santa Barbara.' So when we finished 'Capitol,' I was given a wonderful role in 'General Hospital.' I was there for six months and got a chance to play a heart transplant patient. You know how they do on soaps. Anything can come along. You pick up the script and go, 'Oh, my God, what am I going to do with this character today?!' But it really is great training.
And then I got the offer to go on 'Santa Barbara.' And it lasted two-and-a-half years, until they went off the air.
PCC:
And was it just fun? Or was it a bit grueling? There are so many pages to shoot each day.
MS. PAIGE:
Oh, it's hard work. But it's so interesting. You have very little rehearsal. You really have to know what you're doing. Anybody who ever thought soaps were easy was crazy.
PCC:
And as you say, it's a great training ground. A lot of top actors are coming out of soaps these days.
MS. PAIGE:
I would wish it for anybody. It's great training.
PCC:
With all the changes in the entertainment business over the years, do you think, at the core, it's fundamentally the same?
MS. PAIGE:
Oh, I don't think it would even be the same fundamentally, because there have been so many power shifts. For instance, I remember when Gulf & Western or one of those big companies bought a studio. And they're kind of bottom-line people.
I knew a marvelous producer and when I was up for a really wonderful role, I met him and we talked for a while and when he walked me to the door of where we were to meet the committee, I said, 'Come on.' He said, 'I can't go in.' I said, 'What are you talking about?' And he said, 'I am not allowed to go in and be a part of the decision, as to who gets the role.' I looked at him and said, 'But who is making the decision?' And he called them, 'the committee.' I'm not criticizing it. It's just the way things are done today. But I think that they had a huge power shift.
And then, I think today, also, the independents make a difference. We have wonderful, wonderful movies made by independents. It's more difficult to get money today. Motion pictures are a gamble, at best. We never know. You put the best heads in the world together and have the greatest stars and the greatest story and the greatest producer and you can have flops. So it is a gamble. But we're still going. That's remarkable. We're still going. And we're still doing it. And wonderful work is being done.
PCC:
You mention running studios by committee, there must have been a lot of advantages to having the studio czar, like a Jack Warner or Louis B. Mayer.
MS. PAIGE:
Oh, they ran the studios. And if you had a problem, there were people you could go to. The producer was the producer. Men like Henry Blanke or Arthur Freed were producers. And they were number one. They chose the director and they chose the cast. When I got 'Silk Stockings,' Arthur Freed came to see the show, with a big party of people, at the Ambassador Hotel, when it was the Coconut Grove. He offered me the role that night. I never had to read for it or screen test for it. He knew my work and offered me the role. And it doesn't happen that way today. I suppose that an Al Pacino doesn't have to go in and audition. But I could name you some of the biggest stars in the world who now have to audition for what could be a very small role. It's just very different.
PCC:
The amazing longevity you've had with your career, do you attribute that to your work ethic, your versatility?
MS. PAIGE:
I do look back on it in amazement. There were several times I quit. I said, 'I just can't do this anymore.' And then something comes along and I'm back at it. I don't know what it is. I appreciate it more than I've ever appreciated it. I think I appreciate my own ability more than I ever appreciated my own ability before. Everything kind of came naturally to me. But I worked harder, the last 10 years, than I've ever worked. And it's gratifying to see the results and to know that you're not through.
PCC:
Were you able to deal with all the ups and downs?
MS. PAIGE:
Well, everyone has ups and downs. We all have ups and downs. And how we handle those ups and downs is the trick.
When my husband died, he left me his business, a music publishing corporation. And I didn't know the first thing about it. But I studied it and learned it and built it. And then the technology part of it just got beyond me and I have a marvelous man who represents it for me and takes care of it for me. But during that time, the five or maybe six years after he died, became very difficult for me. And I went into therapy. I only went into a group. I never had private therapy. And I was lucky enough to have two great teachers and therapists and a group that became my family. They would come and go and new people would enter it. And I had to examine how I coped with new people and my own feelings about it.
My therapist said to us one night, 'You get nothing from out there.' And he waved his hand, as if to say, 'out in the world.' 'You get nothing from out there.' The only journey you need to take is the one you take inside yourself. And you plumb the depths of yourself. And it's painful. And it's all worthwhile. And some decide to do that and some don't. I decided to do that. And you reach the point of no return... and you want to find out more, because you find out why you've made mistakes, how you've made mistakes, what's caused it. And it's a hard thing to talk about. But it's my journey. And I'm here today, because of that journey.
PCC:
Being aware of that journey, has that helped you as a performer?
MS. PAIGE:
As a person, as a performer. In every way. How I handle my life. How I handle obstacles and problems. You have to get capable to live in this world. It's not an easy life. It's not an easy place. But you have to get capable enough to take care of your own stuff... and not add to somebody else's problems.
PCC:
With all that you have accomplished, is there anything in particular that jumps out as something you're most proud of?
MS. PAIGE:
I think I'm probably proudest of this time in my life. I'm going to work in San Francisco. I'm going to work at the Gardenia. They're talking about New York next year. Here I am, still working, still doing what I've done since I was about five - that's to get in front of an audience. But I've also accomplished other things in my life. So I'm really awed by it and humbled by it. And grateful.