"THE UNBROKEN CIRCLE"
THE PCC INTERVIEW WITH
JEFF HANNA of THE NITTY GRITTY DIRT BAND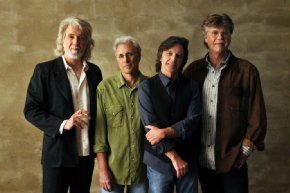 Left to Right, John McEuen, Bob Carpenter, Jeff Hanna, Jimmie Fadden
By Paul Freeman [August 2011]
Remember when music was fun, authentic, entertaining, moving, and uplifting?
It still is. You just have to get right down to the real Nitty Gritty.
Since 1966, The Nitty Gritty Dirt Band has been creating music that's as enjoyable as it is meaningful. The always engaging group seamlessly blended folk, rock and country.
They were among the first to showcase the songs of such gifted writers as Kenny Loggins, Jerry Jeff Walker and Michael Nesmith. But they could also pen wonderful originals.
Their early hits include Steven Noonan's "Buy For Me The Rain" and Walker's "Mr. Bojangles.
But it was 1972's "Will The Circle Be Unbroken" that firmly established The Nitty Gritty Dirt Band as a group of historic significance. Having already pioneered both the folk-rock and country-rock hybrids, the band took the opportunity to introduce the aging legends of traditional country music to a wide, young audience. "Circle" had a huge impact and spawned two sequels.
In the '80s, The Nitty Gritty Dirt Band was a fixture atop the country charts, thanks to such irresistible hits as "Long Hard Road," "Modern Day Romance," "Baby's Got A Hold On Me" and "Fishin' in the Dark." They've helped to shape Americana music into what it is today.
Their most recent album, "Speed of Life," features 11 terrific originals, as well as covers of Canned Heat's "Going Up The Country" and Stealers Wheel's "Stuck in the Middle."
The current lineup, Jeff Hanna (vocals/guitar), John McEuen (multi-instrumentalist), Jimmie Fadden (drums) and Bob Carpenter (keyboards) continues to delight audiences. The band offers skilled musicianship, spot-on harmonies and plenty of charm.
It was a pleasure to chat with founding member Jeff Hanna, who co-wrote many of the band's memorable songs, including "Bless The Broken Road."
POP CULTURE CLASSICS:
I've admired the band's work from the beginning and just caught up with "Speed of Life," which is terrific.
JEFF HANNA:
Thank you very much. We're really proud of that one. I think it's in our batch of favorites.
PCC:
You can really hear that the band has as much enthusiasm and fun with the music as ever.
HANNA:
I think, in the case of that record, we hadn't been in the studio in five years. And we had two guys at the helm in terms of producing the record, George Massenburg, he's a genius, one of the great innovators in digital recording, one of the actual pioneers of that format, and also has been working, making records forever. He engineered Little Feat. Produced Aaron Neville, the 'Trio' record with Linda Ronstadt and Dolly and Emmylou, just a stellar producer. And a really good guy, too. He had a studio here in Nashville, the Blackbird Studio, C was the room that he designed.
And he co-produced the record with our friend Jon Randall Stewart, an amazingly gifted songwriter and musician and a great singer, too. And a big fan of our band. J.R. is a kid, relatively. Maybe he's 40 or something. A kid to us. So the combination of George and Jon Randall was great in terms of the sort of cheerleading, a combination of trying to get us excited and challenging us. We recorded that record, essentially, live. If we had vocal fixes, for example, I'd have to go in, for my part, and play the guitar again [Chuckles], because the idea of the record was to sort of encourage instruments bleeding into each other. So there was a lot of leakage, in a good way, that gave it this organic quality that I'm really pleased with.
And the songs, we had a great time with that batch of songs. It was really fun.
PCC:
In general, keeping the passion alive, and having that excitement amongst the four of you, how do you manage to sustain that?
HANNA:
Well, having new music to play really helps. I can't deny that factor. The truth of it is, the thing that's always kept us excited is playing live, year in and year out, whether there's a new record to promote or not, it's always about our audience. We've been extremely fortunate to have people that have kind of passed these records along to the next generation... and even the next generation after that.
I have people that say that their grandkids are fans of 'Fishin in the Dark,' which was this big country hit that we had several years ago. It's kind of a newer generation Dirt Band hook, as it were, as far as the music goes. And then we've got folks that go back to 'Mr. Bojangles' and, of course, the 'Circle' records, the original 'Circle' record and volumes 2 and 3, also.
So we're lucky to have this really broad fan base. It gets confusing sometimes, because we've had so many different musical hats, although, if you look close it's not that complicated. Our music does have a center to it that's consistent. And we've always been fans of bands like The Lovin' Spoonful and The Beatles and The Byrds, in their first incarnation, that had multiple lead singers and stylistically, they would take the side roads sometimes, the back roads. And I think that keeps it interesting.
To get back to your original question, it's touring. If we didn't tour, it would be really hard for us, in terms of keeping it alive.
PCC:
As far as your roots, you were from Michigan originally, but did you grow up in Southern California?
HANNA:
Yeah, I was born in Michigan, but I was eight years old, when we moved out west.
PCC:
Growing up there, it must have been around the time of the British Invasion and surf music. How did you get interested in roots music?
HANNA:
Well, that was an odd thing. There was a guitar store called McCabe's, in Southern California. It's not the one that everybody plays at in Santa Monica. There were two of them. They're affiliated. But the one we hung out at was in Long Beach, California, although we were big fans of the Santa Monica store and we played there. It was great.
But Long Beach is right on the border of Orange County and L.A. County. There was a big folk scene going on down there. There was a great club in Huntington Beach, called the Golden Bear, that everybody played at. And then further down south, in the city of Orange, it was either Orange or Tustin, I think it was Orange, California, Orange County, called The Paradox. And The Paradox, there were three young singer-songwriters - Tim Buckley, Jackson Browne and a guy named Steve Noonan, and they kind of ruled the roost at this little club.
And we got in there. We were a jug band, when we started. That's where we were coming from. Also I had a jug band in my last year of high school. Two of us who were sort of founding members of the band, a guy named Bruce Kunkel and myself, and then met these other guys, when we were hanging out, trying to figure out a way to not have to work or go to school. [Laughs]
But, as far as the interest - I'm sorry, I got way off message there [Laughs] - you asked me about my interest in roots music. Well, that's something we all had in common. I called us 'folk puppies.' Because of this vibrant, folk roots scene in Southern California, we could see people like Doc Watson. I remember seeing Mississippi John Hurt play live, which was really so great. And people like Sonny Terry and Brownie McGhee. The Greenbriar Boys. A lot of acts that were either on Folkways or Vanguard Records.
We were surrounded by surf music and we were surrounded by bands like The Byrds and The Lovin' Spoonful - actually, when I had my first jug band, the Lovin' Spoonful didn't exist yet. John Sebastian was playing in a band called The Even Dozen Jug Band. But that music really appealed to us. It's kind of a way to have a band without using the typical blueprint of electric bass, drums and a couple of guitars. Instead, you get a washboard, and a washtub bass [Laughs]. And everybody bangs on an acoustic. And everybody plays kazoo. Or harmonica. And that's kind of where that all started. It was all for fun. We were all kind of doing our individual little tiny Bob Dylan thing, with a harmonica rack and an acoustic and singing... very earnestly.
And then we started, kind of jamming together at McCabe's and started listening to this band called The Jim Kweskin Jug Band , who were from the Boston area, Cambridge, Massachusetts. And we were really liked obsessed with them. So we started digging back, looking at the names of the people that wrote the songs on their records and went back and started listening to people like Gid Tanner... and Gus Cannon had a great band. And Mississippi Sheiks was a great band. These were all amazing jug bands and blues outfits from the early twenties and thirties. So we became like musical archaeologists. We were totally obsessed. And that's kind of like how the Dirt Band started. Why it became kind of a commercial entity, I have no idea [Laughs]. We did everything we could for that not to happen.
We loved playing everything that was so uncool. But then we had a hit single. We got signed to a record deal in '67 and we had a single called 'Buy For Me The Rain.' And it was kind of a folk-rock cut. In fact, our friend Steve Noonan wrote it, with another guy named Greg Copeland, another great writer. And that was a song that we heard every night at the Paradox, while we were sitting around, playing music together.
So that became this big hit, up and down the West Coast and up and down the East Coast. It didn't do so well in Middle America, because the song was banned [Chuckles].
PCC:
Banned?
HANNA:
Yeah, the B-side was a Reverend Gary Davis song called 'Candy Man,' that had a line that said, 'I'd do anything in this God Almighty world.' And some guy who owned a bunch of stations in Texas said that was blaspheming. Seems a little crazy today. In a whole sort of record-burning incident, there were a bunch of current records on his current playlist that got banned. One was 'Penny Lane.' Another was 'Let's Spend The Night Together,' which started this whole brouhaha. And 'Devil in the Blue Dress,' Mitch Ryder.
So we thought, 'Wow, we're in good company.' They wrote us up in Newsweek magazine, which we thought was kind of cool. But it was unfortunate, because it had nothing whatsoever to do with 'Buy For Me The Rain.' It was the B-side. And it was a stupidly lame excuse to ban a record anyways. The guy that wrote the song was Reverend Gary Davis. So...
Anyway, everywhere we went, in Southern California, we heard our record 50 times a day. So we figured, 'This is easy.' And then we didn't have another hit single for 10 years after that. Actually, it was more like four... but it seemed like 10.
PCC:
During the jug band days, didn't you open for The Doors?
HANNA:
Yeah. It was kind of a musical free-for-all in those days, from like '66 to '70, as far as the mix of acts. You could hear Flatt & Scruggs and Jimi Hendrix, back-to-back on the radio. Seriously. It was a great mixture. The first time we played The Fillmore in San Francisco, we played with Blue Cheer, who were billed as 'the world's loudest rock 'n' roll band.' It was pretty crazy. If you can imagine a power trio and jug band on the same bill, that's kind of where it was.
So opening for The Doors was totally natural for us. The way we saw it was, we were both West Coast bands. Period.
PCC:
Perfectly natural.
HANNA:
Perfectly natural for guys wearing pin-striped suits that they bought at the Salvation Army, opening for the Lizard King. The Doors were great, by the way, really great guys. Jim Morrison didn't really hang out much. But the guys in the band couldn't have been more gracious and friendly. It was fun. Odd, but fun.
PCC:
After 'Buy For Me The Rain,' weren't you getting a lot more interest from the TV and mainstream entertainment worlds?
HANNA:
Oh yeah. We were on 'Laugh-In' and we were on The Smothers Brothers' show. We did pretty much everything but 'Ed Sullivan.' We did 'Bandstand' a couple of times. We thought that was easy, too. We figured these TV people just called you up. Just to underline, we were teenagers. The oldest guy in the band was 20.
So we continued for a couple of years. We did a film with Clint Eastwood and Lee Marvin, called 'Paint Your Wagon.'
PCC:
What was that experience like? It had a huge budget and big expectations.
HANNA:
At the time they made that film, it was the most expensive film ever made. We shot it on location in the Whitman National Forest in Oregon, like really in the middle of nowhere. We flew in helicopters every day, to get to the location. And it was great. They had built this town, No Name City, in the middle of the woods out there.
And Alan Lerner produced the film. It was a huge hit on Broadway. They got Clint, and they got Jean Seberg, who was like the hottest actress in the world at that time. She had done this amazing movie, 'Breathless.' She unfortunately committed suicide. But she was just amazing, really great.
Clint, this was his first big-budget American film. He'd done all those spaghetti westerns, 'Fistful of Dollars' and 'The Good, The Bad and The Ugly' and all of those. Lee Marvin, of course, was a bad ass. Just the best. So it was fun. It was three months of boredom for us. We'd never been on a movie set. The amount of time sitting around was astounding. We were all so ADD and here we were, guys who were used to playing four or five nights a week in a club, or on the road, and we're just like twiddling our thumbs. We did a lot of jamming.
But by the time we got back from that film, we were really kind of disillusioned about our band. Our musical directions, there was a lot of disharmony in our group about, stylistically, what we should play. And we had started to experiment with the influence of country music. Because we were always fans of Buddy Holly and the Everly Brothers and certainly all the bluegrass guys, especially the Greenbriar Boys, Flatt & Scruggs.
So we heard this record that The Byrds did, called 'Sweetheart of the Rodeo.' We thought, 'Man, that's pretty cool.' But half the guys didn't really want to play that. So the guys that did... Actually, the band broke up for a little bit at that point, in '68. For the better part of '69, we did different things. I played with Linda Ronstadt. My friend Chris Darrow, who was in the Dirt Band at the tail-end of that run, we had a band called The Corvettes. It was like a little country-rock outfit. And we backed Linda.
I met up with John McEuen at the Golden Bear in midsummer. We were both into Poco and The Flying Burrito Brothers. We thought, 'Well, we can come up with sort of our own take on that,' which was a little more mountainy. We didn't have a pedal steel player. That was a common thread in The Burritos and Poco. They were a little more Buck Owens in intent. And we were a little more Flatt & Scruggs, with a little more fiddle. So we were up and running. We started recording again at the end of '69, maybe early '70. And did this record called 'Uncle Charlie.' That kind of became our blueprint. That's what we've been doing ever since.
PCC:
That was really when the band found it's identity, on that album?
HANNA:
Well, not only did we find our identity, but we were allowed to. Prior to that, when we did the jug band records, rather than dealing with the creative type folks at Elektra Records, that our contemporaries were working with, like Jackson and Steve Noonan, where they signed an act and let them do what they do, these guys wanted to turn us into a teenybopper act. This was our opportunity to shape an album ourselves.
PCC:
You did a couple of great Michael Nesmith covers, as well as Kenny Loggins tunes.
HANNA:
When I sang with Linda Ronstadt, we did 'Some of Shelley's Blues' every night. So I brought that. That was the first tune we worked up, when we put the band together. So it was already there. Michael gave me a tape that had 'Propinquity' on it.
And Jimmy Ibbotson actually brought the Kenny Loggins tunes in. His roommate was a guy called Dan Lottermoser, and Danny had written a couple songs with Kenny that we ended up recording. But Kenny had a whole bunch of other stuff. Kenny came to John McEuen's and John made a little demo of all these tunes, just Kenny and an acoustic guitar. And 'Danny's Son' was in the pile. There was some great music in there. This was before Loggins & Messina. So yeah, it was a really good fit.
We're all good songwriters, I think, but finding good tunes that fit us has always been just as important to us. If you can find something, where it seems like it could have come out of your mouth, and the listener believes that, and musically, it fits what you're doing, great. That's what I learned from Linda. She's one of the great song interpreters. Linda, along with Bonnie Raitt. I was always astounded at their song sense. That's a gift, a talent in itself.
PCC:
And how did you come across 'Mr. Bojangles'?
HANNA:
I was flipping through the radio dials and heard the last couple of verses and, typical FM late night jock, no back-announcing, so there was no title, no songwriter. Nothing. The song had knocked me out. I came into rehearsal the next day and started telling everybody about this song about this guy and this dog and how it was so beautiful that it just brought me to tears. And Jimmy Ibbotson said, 'I think I know what that song is.' And he goes out to his funky old Dodge Dart that he had, digs through some records and pulls out a copy of 'Mr. Bojangles' by Jerry Jeff Walker. So we found a funky record player, stacked a bunch of pennies on the arm, so it would play. And we started working it out. It was another one of those things, crazy, weird, but cool.
The record was so scratched up that we messed up a couple of lines in the song, which Jerry Jeff forgave us for. It was beneficial for all of us.
PCC:
Entering into the first 'Will The Circle Be Unbroken,' did you realize it could be something historic?
HANNA:
Well, it started out as just a chance to play with Earl Scruggs. Earl and his family came to see us play at Vanderbilt University. We were on a swing through the South. It was in late '70 or early '71. They came to the show and, you can imagine, John was just shakin' in his boots. His ultimate hero, Earl Scruggs, is watching him play the banjo. Earl paid John a great compliment, about the song 'Randy Lynn Rag,' this instrumental that we recorded on 'Uncle Charlie,' which had been named after Randy Scruggs. He said, 'That's the way I always intended it to be.' [Laughs]. Pretty cool. I mean, Earl was just the best. His wife Louise was amazing. Great lady. Really cool woman. A force in her own right. And Randy and Gary were really cool and they're both very talented. 'Speed of Life,' the title song, just for it to come full circle, was a song that Gary Scruggs wrote.
So they came to this show at Vanderbilt. And Earl mentioned that it would be great for us to do some recordings. Earl had just left Lester Flatt and started his own band, called The Earl Scruggs Revue, with his boys. It was a concept that he really liked, the idea of playing with us. His kids liked our band. It was kind of, passing that generational torch along.
Moving along, it was Bill, John's brother, who called each of us and said, 'What if we expanded this idea? Instead of it just being Earl, what if we put a list together, a wish list of the guys you'd really like to record with?' We were immediately thinking Merle Travis, because we had worked with him in our jug band days, and Doc Watson, those were the first names. We asked Bill Monroe. He turned us down. He didn't understand it, just didn't get it, which is unfortunate, because we were lifelong fans of Bill. And he's still on my iPod. But we got Jimmy Martin to come and sing, which was a great surprise. Jimmy was so amazing on the record. And then Mother Maybelle Carter. And the final holdout was Roy Acuff.
I had read a magazine article that quoted Roy as saying, 'I'll play real country music with anyone, anywhere, anytime.' So I got really excited and called Bill McEuen up and said, 'What do you think?' Bill said, 'Well, let's see if he'll put his money where his mouth is.' We had a meeting with him in Nashville, that Earl Scruggs arranged with Wesley Rose, who was running Acuff-Rose Music and had a lot of that great Hank Williams stuff. And Acuff didn't really get it. He was kind of suspicious of the whole concept. So he basically sneaked into the studio, when we were recording with Merle Travis, and stood in the back, in the control room. We turned around and it was like, 'Whoa! Roy Acuff just walked in.' And he said, 'Well, that ain't nothin' but country. I'll be here tomorrow morning. Be ready.' [Laughs]. So that worked out. We had a great time with Roy.
And I've got to mention that that band, which included Norman Blake, the late Junior Husky on upright bass and Vassar Clements on fiddle, was just unreal. It was so inspiring, playing with those guys. They had fun. These were guys who were all entrenched in the Music Row scene and the machinery of making records here in Nashville, which, on some days was great, and on some days, was just a job. So they had a blast, because we were so enthusiastic about this music that it was contagious.
So we made this record. I personally didn't think anybody would notice. I thought it would be more of like a keepsake for us. [Laughs] I had no idea. It only dawned on us after the record was made and we sat down to finish it that it might have the impact that it had. And everywhere we go, a fellow musician will say, 'That's the record that got me into this music.' And that's so gratifying.
I met a guy last night at a benefit that I played here in Nashville, a guy named Buddy Greene, a really great singer-songwriter. He went on and on about that 'Circle' record, how great it was. It was so important, exposing that music and the talents therein, like Earl and Doc and Maybelle and Acuff and Vassar, to people. That felt really good.
PCC:
It was the first chance many people had to realize how cool traditional Americana music could be.
HANNA:
Yeah and I think there's the generation gap, too. We got letters, 'My Dad and I never agreed on anything... and then we got this record. And it was something we could share.' That's touching. That means a lot.
PCC:
And the cultural gap, as well as the generation gap.
HANNA:
Absolutely.
PCC:
Being the first American band to tour Russia, was that that quite an adventure?
HANNA:
Yeah, it was quite an adventure. We were approached by the State Department to do that. We didn't really chum the water on that one. We got a call and we thought it was a crank call, actually. By the time we sorted through it, it turned out to be legitimate. It was the Soviet Union they asked us to tour, not just Russia, but Armenia and Soviet Georgia and Latvia, for a month. So we did it, hopped on a plane. It was interesting. There was no internet, obviously. If you wanted to call home, you had to order a phone,12 hours ahead of time. And the connection sounded like Earth to the Moon [Laughs]. It's hard to even explain it to people now, nearly 30 years later. But it was great.
It was quite an eye-opener for us. We had toured Japan and Europe, but the Soviet Union was a whole other thing. The crowds were great, couldn't have been more receptive. The fans really didn't know who we were. We were just that band from America. We had a lot riding on us. I think we played pretty good. There were enormous crowds. We spent the entire month of May there. We came home and sort of kissed the tarmac when we got off the plane, so happy to be home. It was quite an experience. We returned in 1989, right before the wall fell. Gorbachev was running the place at that point. And he was a much more sort of liberal, forward-thinking dude. So it was a different country, although, not like it is now. But they were leaning that way.
PCC:
Humor's always been a big part of the band. You must have enjoyed being part of the whole 'King Tut' phenomenon with Steve Martin.
HANNA:
Well, that was a demo. Steve had written the song. Bill McEuen managed Steve. John and Steve went to high school together in Garden Grove, California. So they'd been old buddies. And Bill started managing Steve. And Steve was our opening act for a long time. Then he started taking off. He had made this movie called 'The Jerk' and did his first album, called 'Let's Get Small,' I think. And by then he was headlining, playing all these big rooms. It was great.
And we were playing a gig in L.A. and came to the dressing room and he had the lyrics scrawled out. He said, 'It feels kind of like this. Just play, boom, ba-boom.' So we kind of vamped along as he recited it. And we totally winged it on the stage that night. It didn't really sound like what would become the record. People went crazy for it.
We got back to Colorado, where we were living at the time. Bill said, 'Hey, Jeff, I want you to make a demo with Steve.' So the guys that were our rhythm section at the time, a guy called Richard Hathaway and a guy called Merel Bregante, the two of them and me and Steve got in the studio and did this demo. We knocked it all out and arranged it. Steve had a lot of the background vocal ideas. I sat there playing the electric guitar with Steve four feet away singing the song live, in character. And it was all I could do to keep from busting out laughing.
We got the tracks, got the vocals. Added the sax. Took it to L.A. and played it for the head of Warner Brothers Records, thinking that they would want to take it and cut it with the A-list session guys in L.A. But they said, 'That's it. We'll put it out next week.' [Chuckles] So we ended up being the Toot Uncommons.
PCC:
After having the sporadic hits, there was that period in the '80s where there a string of consecutive hit songs. Did that seem ironic to you? Or a feeling of having finally gotten a well deserved reward?
HANNA:
Well, yeah, we'd had 'Mr. Bojangles' and then we had a couple of other singles that followed that did okay. We had a version of 'House at Pooh Corner,' the Kenny Loggins tune, and 'Some of Shelley's Blues.' All of those were Top 40 hits. 'Bojangles' was a Top 10 single.
And then there was kind of a lull there. And then, in 1980, my old friend Linda Ronstadt agreed to sing the song called 'An American Dream,' that Rodney Crowell wrote, that we recorded. And that became a Top 10 hit for us. And then right after that, the following single was a song that me and Bob Carpenter wrote called 'Make A Little Magic.' And Nicolette Larson sang with us on that one. So we had like back-to-back hits. And that never happened. We had songs that were like both Top 20 on the Billboard chart. And it was actually music that we liked. We were proud of it.
Then there was a little kind of bump in the road as far as the radio thing went. And this guy that had become our manager, Chuck Morris, had been down to Nashville, checking the lay of the land, as far as the kind of music that was coming out of here. And he said, 'You know, really, what's on the radio now is so much like what you guys were doing in the '70s.' And he pointed to Alabama. And we checked Alabama out and said, 'Wow, that is a lot like what we did.' So we decided to make a record in Nashville with Norbert Putnam, the producer who had done Dan Fogelberg's records and Jimmy Buffet's. It included a song called 'Dance Little Jean,' which became our first Top 10 country single.
And we were really lucky, because we weren't considered interlopers, carpetbaggers, whatever, because of the 'Circle' album, I think, and because of the kind of music that we played. Although it was played on pop radio and rock radio, it had a genuine country element to it. They let us in [Laughs], which was great. And then we had a string of songs. If you go back to 'American Dream,' which was on both the country and the pop charts, we had a run of like 16 songs in a row that cracked the Top 10. And we were like, 'Wow!' That was fun!' [Laughs]
I think our last big country hit was 1990. And then, from that time forward, we continued making records, with varying degrees of success, but we always made records because it was important and still is, for us to have this turnover, a constant musical transfusion of new material running through what we do.
What I like to point out is that, when we were popular on country radio, our contemporaries were Rosanne Cash, Rodney Crowell, Emmylou Harris, Ricky Skaggs, John Hiatt, Lyle Lovett, Steve Earle, which are are all like the board of directors in Americana music, basically. Steve Earle called it, 'the great credibility scare.'
PCC:
It must have been great for you to watch the rise of Americana as a genre.
HANNA:
Oh, yeah. It's the suit that's fit us the best, ever. It covers everything we've ever done. The kind of music we played as kids, I'm hearing in bands like Old Crow. I went to Bonaroo this year and had an opportunity to hang out with my friends from Buffalo Springfield, which was really great. It was amazing. Richie Furay has been a buddy of ours since the '60s. They just blew me away. It was so great to see Neil Young smiling. He was having the time of his life. I've seen him play a number of times and he will crack a grin occasionally. But that evening, he was just beaming for the whole set. And I haven't heard Stills play with that passion and conviction in a long time. It was really, really great. One of the things I love about this reunion is that Richie Furay is getting his due, finally. He's a really, really important figure in the history of this music. But there I go again, getting tangential.
I saw Mumford & Sons, just prior to those guys. And I was just blown away by them. I've been a fan of theirs for a couple of years. But live, they just killed me. There's this whole kind of thing happening. I think Old Crow was the first to do it in this generation. It's sort of a wild, skiffle-y approach. Mumford & Sons is a little more refined, in terms of the songs. But the approach is similar. With those guys being from the U.K., it's got a Celtic element, too. Back when we were a jug band, that was kind of our approach, like balls-to-the-wall, here we go, ready, set, boom. And I love that. So much of the musical intent is passion driven, rather than just precision driven. And when there's a combination of both, it's pretty cool. Americana covers all that. It's a big umbrella. And we're happy to be under it. [Laughs].
PCC:
You're based in Nashville now?
HANNA:
Well, I am. Our business is based here. But we live all over the country. Jimmie Fadden lived here for a while, but he moved back to Florida. He lives by the Gulf Coast, in Sarasota. John McEuen's lived in New York for the last few years. And Bob Carpenter, our keyboardist lives out in L.A.
PCC:
Do you find Nashville to be a real fertile ground, with so much creativity around?
HANNA:
You know, Nashville's always been this amazing, creative place. And even with all the - sometimes even from my mouth - criticism of the record business, there's always been guys like Rodney Crowell and John Hiatt around. And John Prine. All these amazing writers. Any given night, you can hear amazing music that covers a broad spectrum. There's a vibrant rock scene. Jack White's lived here for a while now. That's a great shot in the arm. The Black Keys moved down here a couple of years ago. So, all of a sudden, people are like, 'Wow! This is a hip place!' [Laughs] And there's a little hipster-esque thing in the ether here now, too, which is all good. I love it. And country music is alive and well.
PCC:
You have a very talented wife. How did you and Matraca Berg get together?
HANNA:
We've known each other since the late '80s. And we were married to different people when we met. And, in fact, our spouses were friends of each other. It's a long story. But both of our marriages imploded. After the dust settled, I didn't even know she'd gotten a divorce, until I'd gone down that road myself. And somebody suggested that we get together to write. So we did. We wrote a few songs and started just hanging out. We were really just pals. One thing led to another and we ended up together at the end of 1991. So we've been together for, gosh, 20 years now. And I'm really, really lucky. Like one of my friends, in a football analogy, said, 'You've out-kicked your coverage,' is the way he put it. Or 'marrying up,' is another one I like. She's a really, really cool girl. And an amazing talent.
PCC:
It must be great to have one another as sounding boards, as well a collaborators.
HANNA:
Sounding boards, yes. We don't write together as much as we did, which I think is not uncommon, when the agenda changes. It's hard to separate those two things. But we just wrote a tune recently that I'm really proud of. But I love watching her career. She's got a big hit with Kenny Chesney right now, on the country charts, which we're pretty excited about. And her new album, called 'The Dreaming Fields,' is just stellar. It's a really, really fine piece of work.
PCC:
With so many achievements over the years, what's meant the most to you?
HANNA:
I think the longevity. We haven't just plodded through this. I mean, there have been years where it was really job. But looking back, there is so much of the recorded catalogue I'm really proud of.
The life experiences have been tremendous. The people you get to know. Moving here, this musical community reminds me of what L.A. was like when we first started, at the end of the '60s and into the early '70s, where people hung out and wrote songs together and there were real friendships, a support system. What Nashville went through last year, when we had the devastating flood here, watching the community as a whole come together was just astounding. We kind of fixed our city buy ourselves, which is really great. There was assistance, but it was amazing the way people pulled for each other.
I was at a benefit last night and people from all walks of music showed up to help out this guy, a friend or ours, and it made me realize how cool the friendships are. It's the friendships that came out of the music that really mean so much. Looking back over our career and my life, that's what's really mattered.
The 'Circle' records, those experiences were amazing, for sure. And it continues. I'm looking forward to shows we have coming up.
PCC:
And hopefully not a long wait for the next album?
HANNA:
I don't know. When it kind of hits us all, we'll do it. That's always on the radar. It's just a matter of figuring out whether we're going to do something different or if we're going to kind of continue on the same path, in terms of the approach to recording. Who knows? We have a new live EP that we just did. It's called 'Under The Big Top,' six songs. We recorded it last year in Wisconsin. And that's available online, on our website, and at iTunes.
PCC:
Any unfulfilled musical dreams?
HANNA:
Oh, man. [Laughs] That's a tough question. There's a bunch of artists we'd still love to record with. I'd like to get in the studio with some of the guys I talked about earlier, like Old Crow, Dave Rawlings and Gillian Welch, there's a bunch of folks, if we do more collaborating stuff, and I hope we do, because that's so much fun, that would be a real cool place to go.


The Nitty Gritty Dirt Band will soon be going to:
11.03.2011
Colorado Springs, CO
Pikes Peak Center

11.11.2011
Springfield, MO - SOLD OUT!!!
O'Reilly Family Event Center on the campus of Drury University

11.12.2011
McPherson, KS
McPherson Opera House

11.13.2011
Belle Plaine, KS
The Bartlett Arboretum

11.14.2011
Emporia, KS
The Granada Theatre

For more info, great videos from throughout the band's career, cool merch and more, visit www.nittygritty.com.