JIMMY CLIFF:
REGGAE SUPERSTAR'S CAREER "REBIRTH"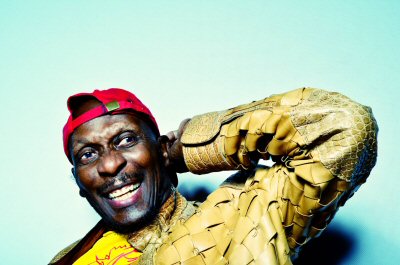 PHOTO BY THOMAS SHEEHAN
By Paul Freeman [September 2012 Interview]
It's been 50 years since Jimmy Cliff first hit the charts in his Jamaican homeland. But the reggae legend's career seems to be hitting new highs these days.
In 2010, he was inducted into the Rock and Roll Hall of Fame. His latest album, produced by Rancid's Tim Armstrong, is appropriately titled "Rebirth." This is Cliff's first full studio album in seven years.
In addition to autobiographical numbers like "Reggae Music," Cliff covers a Clash song, "Guns of Brixton," and a Rancid song, "Ruby Soho," on the new album.
Young people are responding enthusiastically to Cliff's music at events like Bonaroo. He plays the Harmony By The Bay festival at Mountain View's Shoreline Amphitheatre on September 29. The event includes foods, yoga, sustainable world market and three stages. In addition to Cliff, the performers include The Shins, Tegan and Sara, Alison Krauss and Union Station featuring Jerry Douglas, Beats Antique, Matisyahu, Kimbra, The Dirty Heads, Eric Hutchinson and Givers. ( livenation.com; 800-745-3000)
Cliff's first hit in Jamaica, "Hurricane Hattie," came in 1962, when he was just 14. His global breakthrough came with the 1972 film, "The Harder They Come." The soundtrack exploded with such dynamic Cliff tunes as the title track, "Many Rivers To Cross," "Sitting In Limbo" and "You Can Get If If You Really Want." Originally, he was just to write and record the music. But he ended up playing Ivanhoe Martin, the lead role in the crime drama, a part that was reshaped for him in the form of an aspiring singer.
Cliff has worked with many fellow icons, including The Rolling Stones, Elvis Costello and Annie Lennox. His songs have been covered by such diverse artists as Willie Nelson, Bruce Springsteen, Cher, New Order and Fiona Apple.
Cliff's music remains as relevant as ever. The new album includes the poignant economic indictment "Children's Bread" (which he co-wrote with Armstrong) and an updated version of Joe Higgs' "World Upside Down." In concert, Cliff has also brought today's headlines to his own song from 40 years ago, "Vietnam," making references to Afghanistan.
After making music for half a century, Jimmy Cliff is still going strong.
POP CULTURE CLASSICS:
'Rebirth' is a wonderful album. Do you feel reborn, musically and career-wise, these days?
JIMMY CLIFF:
Oh, yeah, absolutely. And it's been coming since the beginning of this millennium. But it has grown, year by year. As you probably know, in 2010, I received an induction in the Rock and Roll Hall of Fame. And prior to that, I was writing a lot of songs and recorded some of them in Jamaica. So it's been building up. And now I think I'm at the place where the rebirth has taken place.
PCC:
In terms of where the world is at, why do you think this is the right time?
CLIFF:
Where the world is at now, we're coming into a new time, a new energy, cosmically, because it's a time of complete change - politically, spiritually, economically, socially. So we see all of that happening around us, if we just look around. And cosmically, it's something that has been foretold by the ancient Egyptians, which passed on to the Mayans, passed on to the Hindus, passed on to the Tibetans. And some of them have heralded it. In this part of the world, we know about the Mayans. Most people don't know that it originated with the ancient Egyptians. So that is what is going on. And I'm aware of these things. And this is the rebirth of us all on this planet.
PCC:
And with that sort of climate of change, politically and cosmically, is that a good time for reggae music, generally?
CLIFF:
It is a good time, because reggae music has always had a spiritual base and expressing, also, the political and the social aspects of things. So that is a good thing. However, reggae has got like two branches now, which is the girls and cars and superstars branch. But still there is the Roots and Culture branch, which is what I represent.
PCC:
Were you conscious of really going back to the roots with this album, to that classic sound?
CLIFF:
Yes. If you want to make a real change, you need to go back to point zero. So going back to the roots of music is really what I've done. And in doing that, it reminds the people who grew up with this music, in that way, that it's still alive and expressing everything that they are aware of. And also for the new generation, to let them see that there is also another music form expressing things that are on their minds and in their hearts, too.
PCC:
What was the working relationship like with Tim Armstrong?
CLIFF:
Very easy and flowing. because, I think, reggae music has influenced punk music and expressed the same kind of sentiments, politically, especially, and socially. So from these standpoints, it was easy. And also Tim Armstrong is a connoisseur of reggae music. So that made it flowing and easy.
PCC:
And you first heard of Tim through Joe Strummer?
CLIFF:
Correct. Joe Strummer, the last song that he made was with me, on my last album, a song called 'Over The Border.' And, at that time, we talked about a lot of things, musically. And he actually kind of introduced me to Rancid, Tim Armstrong's band. And that's how I became familiar with his music.
PCC:
And the notion of covering the Rancid and Clash tunes on the new album, was that a bridge to the new generation?
CLIFF:
Yeah, that was one of the aspects of it, to build a bridge. Also, since reggae music had influenced punk music, on both sides of the Atlantic, I thought those were like the two best sources to show the sameness, the oneness of mind there, those were the two best sources to draw from, to show that.
PCC:
Mentioning the new generation, it's got to be gratifying to you, to see the young people responding so enthusiastically to you, at events like Bonaroo.
CLIFF:
Oh, yes, that was very encouraging. Throughout the tour, this year, that I've been doing, it's been a lot like that. Different generations of people are in the audiences. And that really makes me feel great.
PCC:
When you were starting in music, who were the artists who inspired you?
CLIFF:
Well, besides the Jamaican people, like Derrick Morgan, Prince Buster and Joe Higgs, people like that, they were mainly American, from the jazz/R&B idiom, which is like Smiley Lewis, Professor Longhair, Fats Domino, Sam Cooke, Ray Charles, Duke Ellington and some of the big bands.
PCC:
Once you began to get established at home, were you conscious of wanting to spread reggae throughout the world?
CLIFF:
Well, I was very conscious, in Jamaica, that Jamaica was not big enough to give me a comfortable living. So I've always had this global outlook, to say, 'I want my music to be successful in Jamaica, commercially, as well as the globe.' So that was my vision.
PCC:
As far as the global appeal of the music, is the positivity a big part of it?
CLIFF:
Yeah, I think that is a big part of it and for the fact, also, that addresses the human condition, not only about the relationship, but also the social aspects, the political and spiritual aspects, it addresses all of those things in a positive way. So I think that's what gives it the global appeal.
PCC:
As far as political themes, where the the idea originate to include 'World Upside Down' in the new album and to update the lyrics?
CLIFF:
Well, like I said, Joe Higgs was one of the people who inspired me, while I was still in school. And when I went to Kingston, I met him. And I was even more inspired, at meeting him. And that song was a song that I always had in mind, that I would put my own spin to it. And the time had just come. You know, he wrote that song a long time ago.
PCC:
And the idea of 'Children's Bread,' was that something you thought was especially important to get across?
CLIFF:
Yeah, I think 'Children's Bread' is an idea that's been going on, it's something that's been going on among leaders in the religious and political spheres. And it's something that I've always felt strongly about. And the time came for me to express it now.
PCC:
As far as the timelessness of songs, your song 'Vietnam,' from 40 years ago, remains relevant.
CLIFF:
Yes. I'm singing the same melody, to Afghanistan now, with a few different lyrics. And yes, it is really very gratifying to see that people are responding to it.
PCC:
What do you recall about sharing a bill with Jimi Hendrix? Was that a memorable experience?
CLIFF:
That was a very memorable experience, because Hendrix is one of the originals, and for the fact that he opened for me. And we had some nice conversations. I remember the first conversation we had, the night that he first opened for me. He was a great soul. Very inspirational spirit that came on the scene here. He did his work very quickly and just left, left the scene.
PCC:
As you became prominent in reggae, Bob Marley, did you consider him a comrade or competition?
CLIFF:
Absolute comrade, because I was the one who gave him his first start as an artist. He came to Beverly's establishment, recording place, where I had already established myself as an artist in Jamaica. And he sang his songs to me. I immediately saw his sensitivity with rhythm and words. So I recognized that he was a poet. We picked three songs and they all three of them really tell the story of his whole career.
PCC:
I understand there's a possibility of a sequel to "The Harder They Come."
CLIFF:
Yeah, that is still on the table. We've kind of cleared all the barriers that were in the way, the obstacles, business-wise. So there is a script existing now. And, on both sides of the table, from my point of view and from Perry Henzell's [the director] estate point of view, we are both not so happy that the script is where we want it to be. So we decided we would work further on the script. So that is still on the table. Plus I have two other scripts on the table at the moment. So, hopefully, I should go into production early next year with one of them.
PCC:
Would the sequel be picking up this character all these years later and seeing the changes in him and in the society?
CLIFF:
Yes. See the character has spent some time incarcerated and had a son. So he came out now to a new world and we see how he functions in this new world, with a son that he didn't know about. So basically, that's the plotline there.
PCC:
Is it true you were originally just to write the score?
CLIFF:
Yeah. Originally, the producer/director came to me and said that he would like me to write some music for a movie that he wants to do. And do I think I can do it? I said, 'What do you mean, do I think I can do it? I can do anything.' And two months later, I got the script and he said, 'I would like you to play the part.' So that was how that worked.
PCC:
It's hard to imagine anyone else playing the part now. What did you most relate to about the character?
CLIFF:
You see the original character, as a little boy, I used to hear about Rhyging [the real-life criminal upon whom the character was based) and what he did. And at that time, it kind of struck terror in the hearts and minds of people, when you hear about him, because for someone to even own a gun at that time was a big thing, but then to have killed the police, that was a huge thing. So that side of his character, I didn't really identify with. And he had nothing to do with music. So the musical side of the character that I played was developed along the way, to go along with the time that we wanted to portray in Jamaica.
PCC:
Why do you think the film has had such a lasting impact?
CLIFF:
I think why it has become quite a classic like that is because we captured a moment in time. And that character could be anywhere in the world. That character could be coming from whatever part of New York state or Florida state, wanting to go to the big city, where they are told that that was the place to make it, and got into the same kind of trouble. And, at the time, the energy in the air was people fighting for freedom. And that was what that character was representing. So we captured a point in time on film. And that's what I think gives it its longevity.
PCC:
How dramatically did the success of that film change your life?
CLIFF:
Oh, dramatically, on an artistic level and as a man. Artistically, it really propelled me, on the world stage. And, as a man, I had to learn how to deal with that, how to balance all of that. So it was kind of a dramatic change. I managed it. But just.
PCC:
People must come up to you and tell you how much songs like 'You Can Get It If You Really Want' and 'Many Rivers To Cross' have meant to them in their lives.
CLIFF:
Oh, yes. That is something really, really good. Like the song, 'You Can Get It If You Really Want,' the Sandinistas in South American or Central America, used it in a political way. And they are far left. Then the Tory party in England, which is more to the right, have used it, politically. Music is really like oxygen. Everyone can use it. Everyone can breathe it.
PCC:
Do you believe that music can change the world?
CLIFF:
Well, music has been changing the world. But it can't alone change it completely. But music has been changing the world, in the '60s and coming right up, in whatever way. Because music is an element in life where you can use it constructively or destructively.
PCC:
You must hear all the time how your life and career have inspired others, both artists and the general public.
CLIFF:
Yes. And that is gratifying to me. People like Jimi Hendrix worked in such a short space of time and then left, whereas, my work, I'm not a sprinter, I'm more like the long-distance, 400-meters runner. Or even maybe 800 meters. [Laughs] So along the way, I'm inspiring to people. And by being inspiring to them, I'm inspired. So it's really great.
PCC:
Any goals yet to fulfill?
CLIFF:
Yes, I want to win that Oscar [Laughs]. And I've not made a string of number one hits yet. And playing all the big stadiums. So those are some goals.
For the latest news on this legendary artist, visit www.jimmycliff.com.