JIMMY WEBB: MAKING MUSIC FOR THE AGES
PCC's Interview With the Legendary Songwriter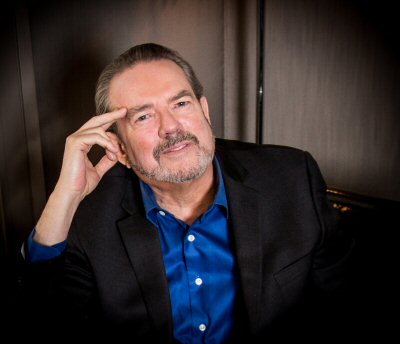 Jimmy Webb, photo by Jessica Daschner/Rock Stars and Babies
By Paul Freeman [January 2017 Interview]
The son of a preacher, Jimmy Webb found his own way of reaching people, moving and inspiring them. His congregation is the world and his gorgeous songs of people and places, life and love, have helped provide a soundtrack to the past half century.
When we think of the art of songwriting, we think of Jimmy Webb. Genius is a term that's bandied about far too often in the music world, but the word definitely applies to Webb.
Melodically, there are surprises in his songs, making the listener's eyes widen and ears perk up. The moments are unexpected and yet so undeniably right. The perfect notes, plucked from the cosmos. They can make your heart soar… or break.
And Webb's textured, tantalizing lyrics, so warm, so intelligent, so brimming with feeling, have a poetic quality. The rhythm and sound of the flowing words are sometimes almost as important as the meaning.
The list of memorable songs he has penned is mind-boggling. Just to name a few - "By The Time I Get to Phoenix," "MacArthur Park," "Didn't We," "Worst That Could Happen," "Do What You Gotta Do," "Up, Up and Away," "Galveston," "Wichita Lineman," "Where's The Playground, Susie," "The Highwayman," "P.F. Sloan," "Adios," "All I Know," "If These Walls Could Speak," "Elvis and Me" and "The Moon is a Harsh Mistress."
Among the countless artists who have recorded Webb's songs are Richard Harris, Glen Campbell, Frank Sinatra, Nina Simone, Barbra Streisand, The 5th Dimension, Brooklyn Bridge, Joe Cocker, Donna Summer, Michael Feinstein, America, Johnny Cash, Rosemary Clooney, John Denver, Isaac Hayes, Tom Jones, James Taylor, The Supremes, The Temptations, Dionne Warwick, Judy Collins, Nanci Griffith, Joan Baez, Art Garfunkel and Linda Ronstadt.
On his most recent album, the enrapturing "Still Within The Sound of My Voice," Webb revisits many of his classic tunes, with a little help from such friends as Lyle Lovett, Carly Simon, The Jordanaires, Keith Urban, Rumer, David Crosby and Graham Nash, Marc Cohn, America, Kris Kristofferson, Amy Grant, Brian Wilson and Art Garfunkel.
An earlier album, "Just Across The River," also featured Webb masterpieces. Joining him were Vince Gill, Billy Joel, Jerry Douglas, Willie Nelson, Lucinda Williams, Jackson Browne, Glen Campbell, Michael McDonald, Mark Knopfler, J.D. Souther and Linda Ronstadt.
But Webb's own vocals are all that are needed to deliver his songs with their full emotional power. At age 70, his voice sounds better than ever. Though he speaks of his vocals with modesty, they are, in fact, earnest, expressive, nuanced and strong. He has released many worthy solo albums, dating back to 1970's brilliant "Words & Music."
Jimmy Webb wrote the book on songwriting. Literally. His "Tunesmith" [first published in 1998] remains one of the most informative, insightful and meaningful books about the craft.
Webb began writing timeless hits in his teens, receiving his first gold record at age 18. He is the only artist to earn Grammy Awards for music, lyrics and orchestration. He was the youngest inductee into the Songwriters Hall of Fame. Other honors have included the prestigious Ivor Novella International Award and the Academy of Country Music's Poet Award.
In October 2016, Webb premiered his first classical piece, "Nocturne for Piano and Orchestra (Nocturne for "Lefty")" with Orchestra Kentucky.
In April, 2017, St. Martin's Press will issue "The Cake and the Rain," Webb's memoir. His fascinating stories will paint a compelling portrait not only of his illustrious career, but of his times, as well.
The singer-songwriter continues to tour with "An Evening With Jimmy Webb," in which he shares stories about his enduring hits. His works have served as beautiful, colorful threads, woven into the fabric of our lives.
We were able to chat with the legend in advance of his concert at Saratoga, California's Carriage House Theatre at Montalvo Arts Center, 8:00 p.m., Saturday, February 4, 2017 ($40-$45; www.montalvoarts.org; 408-961-5800). He was generous with his time, as he has been with his extraordinary talent.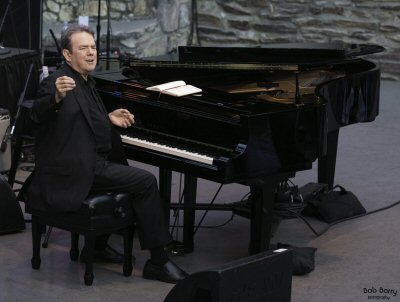 Photo by Bob Barry
POP CULTURE CLASSICS:
You share stories about the songs during your concerts, putting them into context?
JIMMY WEBB:
I started doing that probably 10 years ago. It was something I gradually began to expand, the sort of anecdotal part of my show, because by and large, people come to hear music. So it was something that I began a little bit hesitantly. And it was very sparse. And then, as time went on, I had requests for more stories.
I always go out front and meet the fans and sign memorabilia and just kind of try to take the temperature in the room. And it's been very successful. I usually have a hundred or so people standing there and I get a chance to talk to a lot of people and it's always, "The music was great, but I loved the stories! Could you tell more stories?" [Chuckles]
By five years ago, my show is like 50 percent anecdotal. And to be honest with you, there are some other performers, that I'm not going to name, who began doing the same thing in their shows. And it was successful for them, as well. But I like to think that I was one of the first to really create that style of show.
PCC:
There's such emotional depth in your songs, I would imagine you've heard very poignant stories from fans, regarding what your music has meant in their lives.
WEBB:
You know, first of all, they're the most wonderful people in the world. And I may be a little bit prejudiced, but I think the people that come to my show are really top drawer. And I mean that, because I've met them. And there will be a certain number who always come with a story that they have to tell - "'Wichita Lineman' was my father's favorite song. We buried him last week and I wanted you to know that we sang the song at the gravesite." I mean, this is pretty heavy stuff.
Or "This is my wife, Alicia and she and I had broken up and then we heard 'All I Know' and we got back together. And here are our three children" [laughs]. And here are these three little blond-haired, beautiful kids. And you're kind of going, "Whoah! I'm just a songwriter." Certainly I'm not aware that I'm altering the course of history in that way. But of course I am. And of course we all are, to some degree. When we reach out into the world, we change things… and that changes other things.
PCC:
Not all songwriters are great performers, you've been able to really connect with audiences. Was performing something that came as naturally to you as writing?
WEBB:
It was a transition. I had a very difficult time. I recorded Time-Warner. I recorded for Reprise, when Mr. Sinatra was still alive. I recorded for Warners. Then it was Asylum. Then it was Atlantic. And with the exception of the last two albums, which were Entertainment One [aka eOne Music], I'm a label jumper. I've never been without a label. But I've never been able to nail down a really successful commercial album. Actually the last two albums, I have charted. They were in the fifties in the Adult Contemporary charts. But I've really been a coffeehouse artist most of my life. And I have a very, very loyal cadre of beyond diehard fans.
I'll be playing in Texas and somebody will drive from Minnesota. And I'll say, "Did you look at my Events list?" "No, no." "Well, I'm coming to Minnesota in two weeks" [laughs]. You know, they sort of like to do it. It's like a mission or something. I just share this zeitgeist with this group of people. And they support my albums.
I've been very active in social media. I had a chat room going back many years. I had a chat room that eventually blossomed into one of the first music websites. And so I love it. I'm not stuck in the past. I'm not a Luddite. I carry an iPhone S. I don't like the kind of attitude of some of the professional organizations toward our generation and it seems as if there's a kind of attempt to make us irrelevant. But whenever you look at a commercial on television, most of the time, it's one of our songs.
PCC:
But the original dream for you, was it to be onstage getting the applause, rather than only writing for other artists?
WEBB:
Oh, yeah. I played the Dorothy Chandler Pavilion, standing up, with a microphone in my hand. It was a tremendous disaster. And I write about that in this memoir that's coming out on St. Martin's on April 17, called "The Cake and the Rain." And I write about the travail of trying to transition to performing. By the way, I gave up standing up immediately [laughs]. I never did that again.
But I had voice lessons. I worked hard at it. I made terrible mistakes. I remember the Cellar Door in Washington, D.C., I had four people thrown out of my show one night, because they were making noise. It turned out that they were sick on some Brandy Alexanders that were made with curdled milk. So it wasn't their fault. They were throwing up. And I had them thrown out. I never did that again.
I remember one night, I chewed out the band in front of an audience [laughs], I never did that again. That had longterm ramifications. So you learn. If it's really the only thing you can live for, that's the only way you stick it out. If you breathe music and that's the only thing that keeps you alive, you stick it out. And after a while, all of a sudden you realize, "Hey, I sang that pretty good! That almost sounded a little bit like Glen."
And over the years, I tell you quite candidly that my voice is stronger than it ever was, when I was in my twenties and my voice was very unmanageable. It's become somewhat dependable. I know what it does. I know what it can do and what it can't do. And I give people a professional show. It's not something to be afraid of. I think I carry my own weight.
That being said, though, I must say that there are better singers. And most have them have recorded my songs. So I'm aware that the comparison is sometimes not favorable. But I'm up against the people who recorded my songs - the Ronstadts, the Campbells, the Sinatras, B.J. Thomas, Barbra Streisand. I'm up against the cream of the crop. And, as a vocalist, certainly I don't believe I belong in that group. I'm a homespun singer. And yet there are people that say there's something in the performance that is very important to them. And they come.
PCC:
It has been said that, to really hear the essence of a song, you have to hear the songwriter perform it. Would you subscribe to that theory?
WEBB:
I would. But I remember after my concert at Dorothy Chandler Pavilion, Leonard Feather, the great jazz critic had been there and he wrote for the L.A. Times that Jimmy Webb definitively disproved his theory that a songwriter can sing a song better than anyone else [laughs]. It was funny. I put it in my book, because Leonard - it was kind of a love/hate thing. He wanted more. And his successor, a kid my age, who followed him, the two of them regularly raked me over the coals in L.A.
I never got a particularly great review in L.A. from the L.A. Times. But I hasten to add that, over the broad spectrum, my support among critics has been phenomenal, something I would never have anticipated, something that I wasn't particularly seeking in my sort of insolent twenties and early thirties. I didn't think much about them one way or another. But I found out that they were very supportive. Jon Landau wrote, in Rolling Stone, that my first album, "Words and Music," was one of the great undiscovered pop masterpieces of 1971. He wrote that and I thought, "Geez, I owe this guy!" [Chuckles]
And there were other people, in Detroit, in various cities around the country, who would get behind me. I really believe it was the critical press that kept my career alive and kept me touring and so really carried the weight for me. Because it wasn't really the record companies. And it wasn't the radio stations. It was always a kind of word-of-mouth, inside thing, like, "This guy's pretty good, you know." But the critics were behind me, up to and including Stephen Holden at the New York Times - I don't think he's been prejudiced in my favor, but he's been staunch in his support of the good things that I've done. When I've done well, he's called attention to them. So I never thought I would be saying, "Yeah, I owe a debt of gratitude to the critics," but I do. I owe a deep debt.
PCC:
Did writing the memoir bring you a sense of discovery or rediscovery, give you a new perspective on your life?
WEBB:
It's almost traumatic. I don't know why I'm qualifying it. It's traumatic. Socrates says, "The unexamined life is not worth living." But the examining of a life is a traumatic experience. And you start peeling back layers and you realize right away that your memories are fallible and that you have to review everything you think you know about yourself. And it's a rediscovery of self. And sometimes it's very harsh. And I don't believe there's any two ways about it - sometimes you have to own it, even when it's something that sort of makes you blush, makes you ashamed for a second.
Being a cocaine addict is not a wonderful thing to admit to yourself. You can always stand off and say, "Well, it was only social thing and I only did it around the guys in the studio" - all those little rationalizations that protect you from the truth that you were doing cocaine every day. And "Everyone else was doing it." Well, that's probably true. L.A. was pretty much infected with that. But in a memoir, none of those excuses hold up. They have a hollow look on paper. And so there's only one path. And that's the complete reveal - this is what happened.
I tried not to hurt anyone else. I don't feel that my job, in telling my story, is to reach out and do harm to somebody else. So I feel a certain recalcitrance, a judgment in what things to bring forward. It has to include respect for others. But otherwise, it's candid. I think it was somebody like Franz Kafka who said, "Pursue the truth relentlessly." It might not have been him, I hasten to add.
And I was reading autobios and I read Joseph Conrad's, which was really inspiring. And I was reading books by friends - David Hemmings. I read a wonderful biography on Oxford Press about Harry Nilsson [by Alyn Shipton]. Harry was one of my closest friends.
So I found this, when I wrote my first book, "Tunesmith: Inside the Art of Songwriting," I found out that I had been reading for four years. I didn't write a song for four years, because the book just moved in and became omni-important. And I found myself sliding into the same groove, where, all I could think about was the memoir and whether I told the truth, whether so and so really said what I thought they said. And I had to check stories. I made calls. I said, "Did this happen?"
I called Jim Messina up one time and said, "In San Bernardino, when I was in high school, did I sell you a car for $250, because I remember my father and I spray-painting it." And he laughed and he said, "No, I sold you the car." So you can have a memory, a perfect memory, it's all the detail you could ever hope for, but it's exactly wrong. It's completely, 180 degrees wrong. And those are kind of terrifying things, because they make you wonder why do people do some of the things that they do and are they doing them based on memories that are out of phase.
PCC:
Relentless pursuit of the truth, is that something you have sought in your songwriting, making sure that the emotion is honest?
WEBB:
I've tried to. And I'd like to say that I'm a 100 percent, USDA approved authentic songwriter, but I really can't, because, when I launched into "Wichita Lineman," I didn't know that I had gotten two different kinds of power lines up there that shouldn't have been… I found that out from the union. And from the union newspaper - "Jimmy Webb's got this wrong."
In "Highwaymen," I had some of my nomenclature criticized by maritime experts, regarding the ship that I sailed around the horn to Mexico. And what happened on board the ship was called into question. So all of a sudden, I'm going, "Well, yeah, but I just write these songs. They're songs."
They sort of come out in a rush and I'm channeling something that I don't completely understand. And then I go back and I check and I re-check and usually I find out that the technical stuff is 95 percent accurate.
But in a song like, "By the Time I Get to Phoenix," if you're going after absolute truth, I mean, I had an engineer run into my dressing room one night, past security, and he had this map and he had a stop-watch and he had some calipers and he came in and he actually was wearing a pocket protector. He came in and said, "I'm an engineer at Lockheed. It would be impossible for you to drive that… by the time you got to Phoenix, you wouldn't be working. By the time you got to Albuquerque… don't you see, it would be impossible for you to get, by the next day." In other words, the criticism was that you couldn't drive it in one day. I've actually driven it a few times and I think that you would have to be hot-footing it. You would have to have the pedal to the metal to drive it in one day. But there are people who get upset about details [laughs].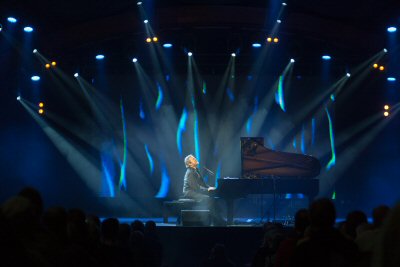 Photo by Sasa Tkalcan/Helsinki Festival
PCC:
But the important thing is that the emotional truth is there.
WEBB:
Yeah, I mean, sometimes you have to compress time. And I'm not excusing myself, but a song is only three minutes long, so you have to compress things and sometimes there's a distortion that's built into the brevity of the art form… or what used to be the art form.
I don't know, honestly, what's happening to songwriting. I know that there's a tremendous chasm between my generation and the one that followed us. There was not a lot of mentorship and there's not a lot of understanding sometimes of some of this stuff that my generation, the names that we used for parts of songs - the bridge, the chorus, the lean-in, the fade, the hook. All these things - it's like now a forgotten language.
I think my generation failed in mentorship. We were all relatively reclusive and somehow guarding what we had in the way of knowledge - "I'm not going to tell you how to write a hit song, because I really need the money myself." So my generation was not as generous as the guys that I learned from - Burt Bacharach, Hal David, the great arranger Marty Paich, Mr. Sinatra, Sammy Cahn - all these people. Even Louis Armstrong was a big help to me. So all these people were still on the scene and they were giants who were willing to pass along what they knew.
And you realize, as you grow older, and I turned 70 on August 15th, that it's more and more important that you write this stuff down in some way or another, that you pass it into the maelstrom of time, so that someone can rediscover it, if they want to rediscover it, because the hand-off didn't take place between us and Generation X. So they're in a minimalist kind of formless, kind of chain-of-consciousness style of writing, whereas guys like me had fairly strict forms. We had ways of doing things. It was sort of like a game that had rules. And so, within those rules, if you excelled, you were praised for that, you were given awards, you gained status by executing things in what I would call a proper way. That's out the window. So things are just sort of something we would never do.
I'll give you an example. Someone from my generation would never write a song called "White Christmas." The reason that they wouldn't is because there's the Irving Berlin standard, "White Christmas." It's a standard. And there's no way I'm going to write a better song. And I'm what I'm going to end up with is a version of "White Christmas" that's not very good. So we would never do that. We never transgressed on what we would call a sacred ground. Today there's no sacred ground. So a rap artist wouldn't think twice about doing a record called "White Christmas." And you can't copyright a title anyway. So a lot of the formality, which had its own beauty, has really left the building. And I don't exempt any of us.
But many of us have participated in efforts to pass along information and to co-write with younger writers. I'm on the Board of Directors at ASCAP, we do a big thing in L.A. every year, ASCAP Expo, which is about nothing but connecting with young writers and helping them along. So efforts have been made. But somehow or another, a very, very long tradition of mentorship and handing down, it ended with our generation.
PCC:
There's certainly much to be learned from your book "Tunesmith." You mention in there that songwriting is hell on Earth. Is pain a vital part of the process?
WEBB:
I remember one time when Randy Newman was being inducted into the Songwriters Hall of Fame. And Paul Williams, who's now Chairman of the Board at ASCAP, he and I, who have been friends forever, we were inducting Randy Newman and we did a medley of Randy's songs. We did "I Love L.A." and I did an old one called, "Cowboy" and Paul did "I Think It's Gonna Rain Today." We really did a nice, sort of a five-song medley of Randy's stuff.
And then he came out on stage and it was my honor to present the induction to the Songwriters Hall of Fame, with Paul, it was only right, we stood together, and we inducted this paradigm of brilliance and originality. He walked up to the front of the stage, looked at the audience and said very distinctly, into the mic, "I hate writing f—king songs."
But writing songs is hard. And writing good songs is even harder - the self-examination, the writing and rewriting. Then, even after you think the song is finished, you play it for someone, you don't get the reaction you anticipated, you go back and look at it and you go, "Of course! Of course! This is all wrong, this second verse! I don't have the right line here." Because that's what it's all about, it's about the emotional line.
In "Tunesmith," I devote a sizable portion of a chapter to the emotional line. I diagram it. I say, "A song should peak here." And I actually have a graph. And depending on the form, there would be different places where you want the lyric and the melody, in concert, you want them to build to a crisis point, the same way a screenplay does. It's a great performance by an actor. The singer is the actor in this tiny little play, three minutes long.
So the emotional lines become very compressed and accentuated and the importance of each word is magnified. So it's sort of like putting on your jeweler's loop and cracking a Swiss watch and saying, "Now why isn't this thing running right?" And sometimes you find a word or you find a line… or you can look at the song and say, "The title's wrong. The title is buried in the lyric." And you pull the line out and say, "The song should be called this." And then all of a sudden, things begin to fall into place. It's very ticklish. It's tricky.
A lot of people now write together. I'm not credited, but I wrote 35 percent of Kanye West's "Famous," because it's got my song in it - "Do What You Gotta Do." And I'm getting ready to engage NARAS [National Academy of Recording Arts and Sciences, the institution that runs the Grammy awards] over the fact that I wasn't nominated. On "Famous," they didn't sample my song. They re-recorded it and used it. But there are 12 writers on the song. Twelve writers, if they choose to list me, which, in a free and equitable universe, they should. That is 35 percent my song. And there's 11 guys who each have about five percent. So whose song is it? Who's carrying the weight? It's me.
So I think I'm going to be pretty upset, if they don't list me as one of the writers. It's a battle that I'm willing to take on, on behalf of all songwriters. I will pay the legal costs and I will pursue it as far as I have to pursue it, because there's just the idea that, if you're not under 30…
If an artist re-records your song and uses substantial portions of it in a rap song, you deserve credit as a co-writer. It's not a sample. You become one of the co-writers, one of the 12 guys who wrote "Famous" with Kanye West. I mean, what do I care? Twelfth guy? It means nothing in terms of the award. But I want them to put my name there, because 35 percent of that is my song. So put my name there. Do the right thing. Okay? If some guy who contributed five percent, if his name is there, because he's in his twenties, I guess… Anyway, let's move on. I don't want to get stuck on this. [Editor's note: On his website, Kanye West has Jimmy Webb listed among the songwriters of "Famous," even if NARAS does not, as of this writing.]
PCC:
Earlier, you mentioned the singer as actor. That brings to mind Richard Harris, who was so extraordinary in the dramatic power he brought to your songs. What are your recollections of working with him?
WEBB:
Well, he was a wild man. He used to take a pitcher of Pimms No. 1 Cup, he would take that to the studio with him and we would more or less gauge the session by the Pimm's. When the Pimm's ran out, the session was over.
He was extremely enthusiastic. He always called me [sounding like Richard Harris] "Jimmy Webb." He never called me "Jimmy" and he never called me "Webb." But he always called me "Jimmy Webb."
He was a character. He fastened onto "MacArthur Park" right at the beginning. Slammed his fist down on the piano and said, "I'll have that, Jimmy Webb! I'll make a hit out of that, I will." And he did. He became the driving force. People say, "Well, where did 'MacArthur Park' come from?" And it really came from him. He wanted to do it. I thought it was reaching… it was three songs, really. It was seven minutes, 21 seconds. I used to get paid for three performances every time it was played on the radio.
So for it to become a hit is just one of those out-of-left field things that truly caught everybody in the business with their pants down, including The Beatles. The Beatles took "Hey Jude," which is like a three-minute record, they took it back in the studio and created a fade, which they repeated over and over and over again and were able to extend it out to seven minutes, 17 seconds. And they did that, I have it from George Martin, personally, because he was there the night they did it, and they did it as a response to "MacArthur Park." So it had everybody's attention, that there was this incredibly long, sort of dramatic record on the radio. And it was an actor! [Chuckles]
People say, "Well, why'd you get Richard Harris?" Well, he had just sung the lead role in "Camelot," the Lerner and Loewe musical. And it was a big success. So it wasn't that he wasn't a singer at all. His record is still my favorite version. Donna Summer cut "MacArthur Park," it was number one. And I loved Donna. I loved her as a person. And I loved her voice. But my favorite version - and there have been 300 of them - is Richard's. I tried to match the sort of dignity of the Shakespearean influence, I tried to incorporate that into the arrangements. And I made very, very much Hollywood movie arrangements. And the whole album was done that way.
Yeah, just a tremendous relationship. Best friends for a long time. We kind of had a falling out. I always felt bad about that. In fact, I was in Limerick at the Richard Harris Film Festival this year with Jared [Richard's son] and all the kids. And had a wonderful time. I'd like to go back, because I miss that connection. He was like a big brother to me. He was a wicked big brother. And he got up to lots of mischief. And he took me along, which was really fun. Yeah, just a wonderful chapter in my life. Just like the big brother I never had. When he died, it just left a hole in my heart, really.
PCC:
And Glen Campbell, another great interpreter of your material. What made him so magical in terms of finding the heart of your songs?
WEBB:
Glen Campbell had the perfect voice, as fate would have it, he had the perfect voice for my songs. I think it was really fated, because when I was 14 years old, I heard a record of his called "Turn Around, Look at Me" [a classic ballad written by Jerry Capehart, who also wrote Eddie Cochran's iconic rocker "Summertime Blues"] And I decided that I was going to write songs for Glen Campbell. By the time I was 19 years old, he was on the radio, singing "By The Time I Get to Phoenix." I didn't even know him, but he had found one of my songs and recorded it and it was like, "Wow, this is what I prayed for, was that Glen Campbell would record one of my songs."
Possibly it was all those years thinking about Glen and writing songs, I was so influenced by that early record, "Turn Around, Look at Me." And before I came into the picture, there was "Universal Soldier" [Buffy Sainte-Marie's song indicting the world's war-mongering mentality], there was "Gentle on My Mind." I would have been very proud to have written "Gentle on My Mind," the John Hartford song.
It was an honor. And then Glen and I got to know each other a little bit and two people couldn't have been any more diverse. He was right-leaning. He was, we call in California, an Orange County Republican type. He liked to hang out with John Wayne and Bob Hope. I don't want to go into too much detail, but I was pink, I was left of him. And there were uncomfortable moments, because we were just pulling on different angles on some of the material that I wanted to do. Ironically, he had recorded "Universal Soldier," but he wouldn't really touch anything that was anti-war.
But there were enough songs in there - "Wichita Lineman," I wrote for him. After "By The Time I Get to Phoenix," I wrote it, it took me an afternoon. I wrote it, I sent it over with a note saying, "This song isn't finished." They recorded it anyway. And it went to number three in the country and sold 44 million records worldwide.
As the years went by, we were friends for 50 years. We shared the stage on many, many occasions. It was wonderful to play with him. It was wonderful to react to him, because he was so quick and such a virtuoso on the guitar. But the thing that I suppose is the most irreplaceable about him is his voice. His voice was a unique thing. It was a true gift from God. It was like this glistening, glass slipper of a voice. It really didn't have a break in it. And it was a five-octave range. I mean, nobody… Harry Nilsson could sing. Billy Joel can sing. There's a handful of people from our generation who can sing. And I don't think anybody's sung better than Glen.
So that was really the decline and fall of Glen Campbell, a la Alzheimer's, and the documentary that was made about it ["I'll Be Me," directed by James Keach], which I gladly supported and was part of, and the ongoing friendship, because I visit Glen in the facility that Vince Gill and Amy Grant built in Nashville. And I visit him there whenever I'm in Nashville.
And I could go into a long evocation of the sadness of the disease, Alzheimer's, but there's no way I could fully express what it's like to watch someone you love and someone with so much talent, who you've shared so much success with, to watch someone like that gradually fade away, like the end of a record. It's a very, very sad thing. It doesn't go away. You don't get over it in the same way you get over someone dying. It leaves a very, very open wound, to experience that kind of parting. And that's coming from me, as a friend. And my suffering has no relevance compared to what Kim [Campbell's wife] and Ashley and Cal and all the kids, the whole family, which was so wonderfully close-knit - what they've gone through is something that I can't imagine.
PCC:
You said in "Tunesmith," "Creativity is not well understood by those who practice it most successfully." Have you built a better understanding over the years?
WEBB:
I think that, when I wrote the book, that I began to understand a little more about it. But I had to analyze my own song. I had to actually go back and tear apart my Modus Operandi. And then I realized that there were certain patterns to the way I work, that I had menus that I went through and I selected things from the menu and carried them over to another page and joined them with something else.
And there was a method. I never knew there was a method. I just did it. So the first thing I did was, I broke down my method and then I began to learn about other methods. And I think I presented a fairly cohesive picture in my book of the fact that there's no single way to write. There are multiple ways to write. There are as many ways to write as there are songwriters. I think it's helpful to have a method, a way of achieving a goal.
PCC:
There have been countless covers of your songs, by such diverse artists. Is it sometimes frustrating, when they veer too far from how you conceived the song? Are there other times when there is a sense of discovery, when they bring something wonderful to the song that you hadn't anticipated?
WEBB:
Paul, I've never turned down a check [chuckles]. I'm always happy to see a new record. I remember one time, when there was a big buildup about Ray Charles doing one of my songs ["I Keep It Hid"] and I had looked forward to it for a long time, the buildup and everything, "Oh, Ray Charles is doing one of my songs! Is it going to be on the album?" Because even though they recorded it, it might not be on the album. It's an obstacle course.
And then finally you hear, "Oh, yeah, Ray's gonna put it on the album." "Oh, great, man! I can't wait!" And then you wait and wait and wait. Ray Charles! Ray Charles is my favorite. He's my father's favorite. And you get the record and you put it on and the record and the arrangement, it sort of lays there. It's clearly not one of his most inspired things. It isn't "Modern Sounds in Country and Western Music." It isn't "I Can't Stop Loving You." It's a more commercialized, a sort of Ray product, if that makes any sense to you. It's a Ray product. And it is Ray. But it's not the way you imagined your song would sound with Ray. That happens. I'm still glad he recorded me. In fact, I think he did two or three things.
But for every one of those, there's three or four records that come along that actually propel the song into places that it's never been, I mean actually elevate and interpret the song, sometimes reinterpret the song, and put it higher on the excitement scale than you would have dreamed. "Didn't We" by Barbra Streisand, that's absolute elegance compared to Richard's kind of theatrical approach. All of a sudden, there's this liquid voice that you know from hundreds of songs, and suddenly it's caressing your lyrics and your melody. And those are just life-changing moments.
I can remember feeling, when I heard Mr. Sinatra sing, "By The Time I Get to Phoenix," or one that's a bit more little known, which was "Whatever Happened to Christmas," with a beautiful Don Costa arrangement, and hearing it on the radio and thinking, "That's history. That's going to be there forever." That feeling, that's a transcendent feeling, because you know that song belongs to the ages. And it's humbling. It makes you believe in a higher power.
PCC:
Does it all feel like it was destiny?
WEBB:
I was born in basically a two-bedroom shack on a sharecropper's farm in Oklahoma, you know? And my father was a Baptist minister and we worked hard all of our lives. I was 16 years old, I moved to L.A.. And it's a fairy tale. Suddenly you're in that fairy tale. And you know that you're just one of the luckiest guys who ever lived.
Like if you moved the sight just slightly to the right, you wouldn't have that perfect moment. It wouldn't have been the right day for Glen to listen to "By The Time I Get to Phoenix." The variables stack up. And you look at the variables and you go, "It's overwhelming. The odds against this happening to me are astronomical and overwhelming." And yet here I am. And this is what I get to do. I get to live a life of music, making music. And what a tremendous gift. I don't take it for granted. I never take it for granted for a second.
For news, concert dates, videos and more, visit www.jimmywebb.com.