JINX JONES:
THIS GUITARIST'S ROCKABILLY RIFFS RIPPLE WITH DIVERSE INFLUENCES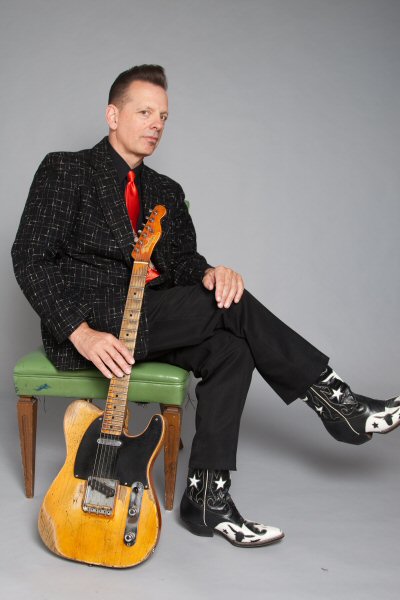 JINX JONES - Photo Credit Carolyn Carricione
By Paul Freeman [April 2016 Interview]
On guitar and vocals, Jinx Jones really knows how to rip it up. Guitar International Magazine called him, "one of the top rockabilly guitarists on the scene today."
But he's accomplished at a lot of styles. Jones has played everything from R&B to jazz to show tunes to rock.
The Oakland, California resident tells Pop Culture Classics, "One thing I like about rockabilly - anything you can play in a blues, jazz, swing, or country music context, you can put all of that stuff into rockabilly and it fits."
Jones has fit a lot of excitement into his latest album, "Twang-Tastic!" It features rip-roaring originals like "Ruin My Bad Reputation" and "Wham Bam Boogie," as well as Jones' terrific take on the theme from the James Bond flick, "Thunderball."
Originally from Denver, by fifth grade, Jones had picked up the guitar and by 12, was in a band, playing professionally.
One of his early inspirations was a Boulder, Colorado guitar band called The Astronauts. They had a 1963 single, "Baja," that reached the charts. Jones saw them perform at an amusement park.
"The sound of surf music was kind of a cool celebration of everything you could do with electric guitar. They drenched it in reverb. It was real exciting music. And as a kid, I said, 'Wow! Listen to that! I want to make that sound!'"
Then he immersed himself in the sounds of The Ventures and the British Invasion groups. One day, a friend of his said his dad could take them to a concert at a nearby college.
"I said, 'Who's playing?; He said, 'I don't know, some band from England.' 'What are they called?' 'The Jimi Hendrix Experience.' 'Oh, I never heard of them. But that sounds cool. I'll go see them.' And that pretty much set me down the path there."
It wasn't until much later that he took the turn towards rockabilly. "I always liked music of that era. But the really cool rockabilly stuff was kind of obscure and I didn't hear a lot of the more obscure stuff that was released as like regional singles until maybe the late 70s.
"I like a lot of styles of American music. A lot of my early experience was playing in R&B bands. And I always loved jazz. I've got a sideline, playing jazz, as well. And rockabilly really combines a lot of that. It's very guitar-oriented. There's a blurry line between a whole bunch of styles and rockabilly seems to connect with all of them. The best rockabilly guitarists, the ones I really admire, play a lot of different styles and bring all that into rockabilly. A lot of the vocals in rockabilly, I think you'll find, draw heavily from R&B. And the ability to throw a lot of jazzy chords and licks in, I think just makes it more exciting."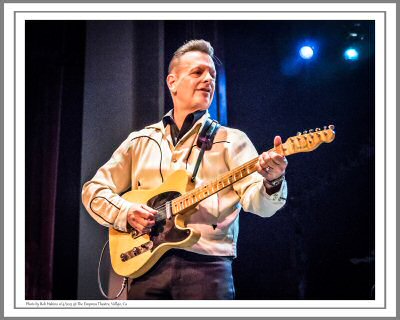 Photo credit Bob Hakins

He moved to Los Angeles for a while in 1981. He put together a rockabilly band with some guys from Detroit. They named themselves The Tel Rays.

"L.A. is a little more fad-oriented than the Bay Area. We did a few lightly attended shows around the clubs. We went out on the road and came back like six weeks later and rockabilly was the biggest thing happening. This was like the summer of 1982. We'd do shows and there'd be vintage cars as far as the eye could see. So I was part of that early 80s wave of rockabilly in L. A., which was a big scene there."

Even after the fad died down, Jones' passion for rockabilly didn't subside. "From a guitar player's standpoint, it's super fun to play."

And fun for audiences to experience. "It's an exciting kind of music. It's high energy. And it combines a lot of forms of American music, which is one of the things I like about it. The rhythm of it draws from swing music. It draws from what they used to call hillbilly music. And the guitar parts are often really jazzy guitar parts, even the stuff back in the 50s, where you had Cliff Gallup, who played with Gene Vincent, and Scotty Moore, who played with Elvis, Franny Beecher, who played with Bill Haley and the Comets. These guys were very good at playing jazz and jazzy styles of guitar. And they just added it to the rockabilly rhythm and then you put on top of that a vocal that's like R&B kind of vocals. It's not really pop singing, but a lot of the vocal parts in rockabilly are very soulful, actually."

Some of Jones' playing is sometimes referred to as "jazzabilly." "I don't know if it's a universally accepted sub-genre, but like I said, there's definitely a very blurry line between the two. And a lot of the records I've put out have a jazz song included, but played with a rockabilly kind of guitar sound, a kind of twangy tone. And I like to include that in my records. It seems to fit pretty well. So, like I said, the line where you leave one and you start the other, it's kind of a blurry line there."

Showmanship has always been part of rockabilly. And Jones embraces it. He's been known to play the guitar behind his head or pluck the strings with his teeth.

"It's all about having fun doing it. I think it really comes down to that. If you're performing in front of an audience, and you're having a ball, you're having a real fun time doing it, it's going to be fun to watch. And conversely, you have what one of my friends calls 'shoegazer bands.' They're looking at their shoes while they play. And they make very little contact with the audience. And they be very good and, I think, on a certain level, that's great, I'm certainly not criticizing anyone, but I don't know if it really connects with the audience in the same way as an artist, whatever style they're playing, if they're really having a lot of fun doing it.

"I don't know if I'd say that showmanship came natural to me, but it's pretty enjoyable. I played in R&B bands, when I was growing up. I was in bands that were opening acts for people like Harold Melvin & The Blue Notes, The Dells, and Johnny Taylor. So I got to see a lot of that. And that's where I learned a lot of stagecraft, because these folks, back in the day, they were very polished, they were very professional and very entertaining. They had a very big emphasis on entertaining the audience. But they were just so smooth at what they did. And I was a young kid at the time, so I was looking at everything I saw with my eyes wide open."

That applied to vocalizing, as well. "Again, really appreciating great vocal performance came from playing with R&B bands, when I was starting to play full-time, professionally. I was still pretty young at the time, but I was exposed to people who were phenomenally talented vocalists and that kind of set a new standard. And, like I said, I had my eyes wide open at the time and I was saying, 'Hmm, so that's how it's done, that's how you do it.' So that was a very good background, looking at vocal performance in a different way and setting a higher standard."

Europe is hotbed for rockabilly and Jones has developed a fervent following there. "Yeah, Europe, they're mad. And in many ways, it's kind of humbling. A lot of people I've met in Europe are real historians. They know American music history in ways that their American counterparts may not. And another thing that's interesting is they just look at things in a category of American music. They don't necessarily see a hard line dividing different styles of music, like we have here. And I think that's pretty cool. They're very open. You will see a lot of different styles of American music. They play. A lot of these people are conservatory-trained musicians over there and they approach American music the same way they would approach a symphonic composition of Mozart or Tchaikovsky or something like that. They take it very seriously. They have almost an academic approach to it.

"I've played some festivals over there and you think you're in America, because in some of the countries, if you buy an American car and have it imported and it's older than 1958 or 1960, I think, something like that, you get this huge break on what the tariff is. So you've got a lot of vintage American cars over there, vintage motorcycles and things like that. And the audiences are very enthusiastic. They love American music. In a way, it kind of makes you realize how great the American contribution to this art form has been. A lot of times in America, the masses are so in tune with what's the latest style or something like that and they can lose sight of the great things that have come through the history of American music."

Jones has worked with a number of American music legends. He played selected dates with Chuck Berry over the course of nine years.

"He would fly into an area and use a regional band, play a few shows, and he would be off to the next venue. I really feel very grateful that I got a chance to play with him. But it was thing where, it wasn't like we rehearsed before the show, it wasn't like we hung out, or anything like that. He was all business. He came in, he got paid immediately, he put on a show and we'd have to be ready to play any one of his tunes at the drop of a hat. That's kind of how it worked with him.

"And a lot of the songs, when he performed them live, were not in the same keys that he recorded them in originally. But he had this thing he would do, he would stick his leg straight out and then he would kind of slam it down on the ground and what that meant, that was your cue, if you're not playing, start playing, and if you are playing, stop playing. It was a really cool experience. I got to play some really big shows with him. I did one with Chuck Berry and The Beach Boys at Mile High Stadium, about 50,000 people.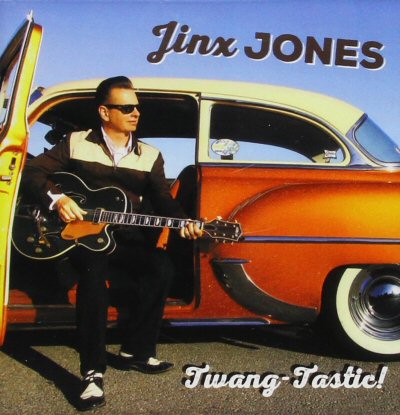 "The first time I played with him, in Houston, I was very young at the time, I was 22 or something like that, I remember standing next to him on stage, and I was really close to him, and he breaks into that iconic duck walk across the stage. And you couldn't see this from the audience, but from being right on stage with him, the look in his eye, when he was doing it, was kind of frightening," Jones says, laughing. "He looked like he was kind of possessed when he was doing that. But it was like, 'Hey, I'm standing right next to Chuck Berry doing the duck walk. I mean, how fortunate am I to be experiencing this!'"
Jones played with guitar legend Roy Buchanan for two summers, 1985 and 1985. "That was almost like an opposite experience. I did spend a lot of time hanging out with Roy. Not immediately, but several years after that, I noticed that everything I did on guitar really absorbed his influences and changed dramatically. Roy was a different kind of guy. Roy was so darned good. He'd come in and he'd be the calmest guy in the world. That was a little different from playing with Chuck Berry. Roy Buchanan is a guitarist's guitarist. He's a virtuoso. And his music is, in may cases, more complex than Chuck Berry's. It would be more difficult to just go up there and wing it with Roy.
"So I'm at this place called the Olympic Ballroom, I'm in the dressing room and I've been listening to his songs and making notes and trying to be prepared to do the show. And the promoter comes in and says, "Oh, the plane's late. He's going to be late. You guy's won't get a rehearsal.' And Roy comes walking in, he's got his guitar, with no case, he comes in, he's saying hi to people backstage. Finally, I have this piece of paper with a list of his songs, and I walk up to him and I go, 'Excuse me, Mr. Buchanan, which of these songs will you be playing tonight?,' Jones recalls, laughing. "And I'm like really nervous and he just looks at me in a very calm way and he says, 'You know what? We're just going to go out there and play. And it's going to be great.' And the way he said that, I just completely relaxed. I completely calmed down. And he was right.
"And I talked to him many times, hanging out at hotels and stuff like that after shows or between shows, and his thing was, he knew how good he was and he was really not intimidated or scared about playing with people that he had not played with a lot or had not rehearsed with, because he knew that he could, no matter what happened, that he could blow the audience's mind with his guitar playing. And it was absolutely true. I stood there on stage and would watch him do these long guitar cadenzas where he'd play these slow kind of almost making the guitar cry and stuff. And you could just watch the audience reaction from the stage and it was incredible. I've never seen anything like it. It was really an experience.
"But he was a wonderful guy, very giving, really just a very special human being. And he would stay for hours after a show was over and anyone could come backstage and chat with him. He would make time for them. And maybe sometimes there would be someone who had had a few too many or something like that, that might be a little obnoxious. But he would make time for everyone. He'd have a little chat with everyone. And I thought that was really cool, because after a show, you're tired, you want to get back to your hotel, you would like to finish off the night. But he would take the time. That was a real cool thing.
"Absolutely one of the biggest influences I ever had. Probably the biggest influence I ever had was working with him those two summers. He was a very ground-breaking guitar player who really established a style that's now very pervasive. And I had the best seat in the house. I was standing right next to him on stage every night. So that was quite a learning experience for me. It really changed my approach, my right-handed technique and my view of the instrument, in terms of its possibilities. It kind of rewrote the rulebook for me."
Solomon Burke, R&B great, was another artist who utilized Jones' guitar talents. "That was really cool. Solomon Burke, in my experience, was a great, great artist. It was an honor to play with him. Magical voice. What a voice! But I have to say, I've played with a lot of artists, but I've never seen anyone come to a gig as late as Solomon Burke [laughs]. We'd be in this big theatre/nightclub kind of place and the emcee would be up on the stage, saying,'Ladies and gentlemen, Solomon Burke!' And he's not there. He's not even in the building yet [laughs]. I think that was something he did to build anticipation in the audience. But he was a big guy. When I played with him, it was also when I was very young, but he was a big guy and a big presence. And he had a big voice, too."
Jones has been an in-demand session musician, playing on En Vogue's triple-platinum "Funky Divas" album.
"When I first moved out to the San Francisco Bay Area from Colorado, I really didn't know that many people out here. I was kind of looking to make connections. There was a recording studio in Richmond, California, called Starlight. And I knew a couple of people who worked there. So I started kind of hanging out and helping out. I'd get paid a couple bucks to work on a session that went from eight in the morning, stringing mic cables and stuff like that. And I met these two producers, Tommy McElroy and Denny Foster. And they would rent out studio time. And they had some success with some other artists. And they were doing a record for Atlantic Records for a group called The Nation Funktasia. So they brought me in to play rhythm guitar on that album.
"Shortly after that, they did the En Vogue project and they brought me in to play with them in the studio. So it was kind of being in the right place at the right time for me, because, as I was recording the material, I had a feeling, this stuff is probably going to be a big hit. But you never know for sure. I remember coming home the night that I did the song 'Free Your Mind' and I played all the instruments on that except drums - I played guitars and bass and everything. And I remember coming home and thinking, 'Wow, someday there'll be a 'Greatest Hits of the 1990s' and this song will probably be on it.' [Laughs]. So that was a really cool experience. Everybody involved in that project was top-notch talent."
The session work enabled Jones to use his versatility. "I think that's what really helped me become the person that played on that record, because what they were trying to do - they were trying to show that the girls could do different styles of music. They wanted a rock song and they needed some old school funk, they needed some modern funk, they needed some modern kind of pop/R&B - and the ability to shift gears and play different styles, that worked well for me.
"Where I grew up, if you were a professional musician and you needed to keep bread on the table, you had to be able to play a lot of different styles of music. You had to be versatile, if you were going to be in demand as a player. So a lot of it was dumb luck, being a Colorado musician, having to play a lot of different styles just to continually work."
Jones moved back to the Bay Area in 1989. He had played at Bill Graham's club Wolfgang's, on Columbus, in San Francisco in 1984 with The Tel Rays, who were touring with Mink de Ville. He spent an off-day riding around a city bus and loved the area's atmosphere. "I didn't even know where the bus went, but I figured it must go somewhere and I can see the city and somehow it would come back to where I got on [laughs].
"I'd lived in L.A. a few times. When you're a kid growing up in Colorado, moving to California is like everyone's dream."
As for the rewards of a life in music, Jones, who's currently cooking up some ideas for a jazz album he plans to record in the near future, says, "We've talked about a lot of things - places I've played, people I've played with. I've been doing this a long time and the thing that's exciting for me is being in the moment with other great musicians who challenge me and creating music in the moment.
"My whole approach to everything really is kind of similar to a jazz musician. I like when music happens at a certain moment in a song and it may never happen that way again. And there's a kind of adventure to that. There's a risk to that. It's like creating art in the moment, collaboratively with others. And that's, to me, the biggest reward."
Jones is still discovering new things on guitar. "Absolutely. I'm still trying to get better every day.
For the latest news and tour dates, visit: www.jinxjones.com.