JOAN JETT STILL SOARS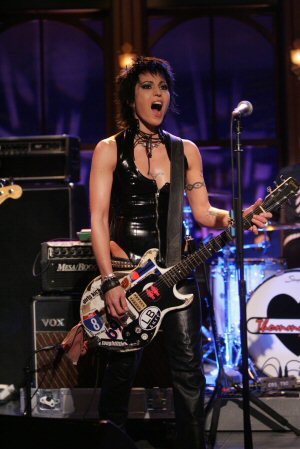 Photo Credit: Monty Brinton, CBS
Joan Jett performs on "The Late, Late Show with Craig Ferguson"
By Paul Freeman (from his 1987, 1996 and 2007 interviews)
It might have seemed incongruous when Joan Jett recorded "Love Is All Around," the theme from "The Mary Tyler Moore Show." But nothing could have been more appropriate. Just as Mary politely cracked the glass ceiling of the newsroom, Jett smashed through music industry doors, paving the way for every woman rocker who's emerged in the past three decades.
Fiercely loyal and ferociously independent, Jett seems capable of meeting any challenge. Rock 'n' roll pours from every pore... the throbbing, driving, grab-you-by-the-short-hairs, gutsy kind of rock. It's at the core of her very being.
Many cutting edge rockers mellow over time. Not Jett. She remains as raw, raucous and real as ever. Intensity, grit and integrity - Jett hallmarks.
In the 70s', at age 15, Jett took off with the all-girl band, the Runaways. "Part of what we wanted to do was to inspire other girls to be what they wanted to be," Jett says. "If it's a musician, great. But if it's a nuclear physicist, that's great, too. Girls have very few life choices that people support. They're allowed to be certain things and that's it. When they try to do other things, people look sideways at them. There aren't enough women in science and mathematics careers. It's not just music where women have a tough time."
Jett, tough when she needs to be, tender when she wants to be, was born Joan Marie Larkin, September 22, 1958, in Wynnewood, Pennsylvania, a Philadelphia suburb.
She had a healthy relationship with her parents. "They brought me up saying, 'You can be whatever you want to be. Men and women are equal. You can strive for any goal. This is America.'"
Jett's family moved around a lot. Her first concert experiences came in Rockville, Maryland. "I saw T. Rex, The New York Dolls, Grand Funk Railroad, Black Sabbath. I felt a euphoria at the shows. Having the crappy seats in the back, I could look at 18,000 kids looking at the stage and the lights and everybody's going crazy, including me and I'm thinking, 'Wait a minute. That's what I want to do. I want to be up on that stage, making people feel happy.'"
At 13, after a year of playing air guitar, she got her first real one from her parents for Christmas. "I took lessons for about a month, about three or four lessons. I'm sure they thought I was nuts, a 13-year-old with an electric guitar, saying, 'Okay, teach me rock 'n' roll.' They taught me 'On Top of Old Smokey.' So after I learned the basic chords, I quit and went home and played guitar to all my records, Grand Funk Railroad, 'Humble Pie Live.' And I taught myself to play rhythm guitar."
In 1972, her family settled in West Covina, a Los Angeles suburb. When she formed the controversial, all-girl group The Runaways at 16, her parents worried, but didn't try to stop her.
"I always had my parents' trust. I gave them every reason to trust me. I always did well in school. I was on the honor roll.
"I couldn't do six hours of school each day and six hours of rehearsal. I couldn't put all my efforts into both things. So I took the G.E.D. and got out of school a couple of years early. I just felt that I had already learned enough in high school.
"My parents and I had an agreement - I could go off and play my music as long as I kept in touch with my family and let them know I was okay."
Jett was influenced by Suzi Quatro. "She was a female playing what I consider to be sweaty rock 'n' roll. I thought, if you could have one girl up there and it could be that exciting, what if you had five playing that kind of rock 'n' roll? I figured it would be like another Rolling Stones. I didn't realize people were going to look at it like a big threat."
Meeting flamboyant record impresario Kim Fowley proved to be a pivotal point for Jett. "I told him I played guitar and I wanted to form an all-girl band. He went, 'Oh, do you have any demo tapes?' I didn't even know what a demo tape was. I was very naive. That was the end of the conversation.
"A couple of days later, he ran into Sandy West, who said, 'I play drums and I want to form an all-girl band.' He said, 'That's funny, because I just talked to a girl the other day who wants to do the same thing.' So he exchanged phone numbers and Sandy called me up. I took four buses down to her house in Huntington Beach, California. And we jammed on some Chuck Berry song. We got along great.
"We called Kim Fowley on the phone and said, 'Listen to this.' And played this Chuck Berry song, just guitar and drums. He said, 'That sounds good. You guys oughtta form a band.' He put an ad in different papers and Sandy and I put together a band."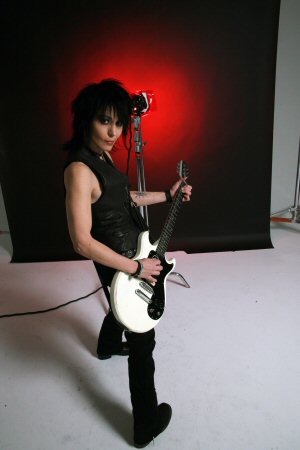 Photo Credit: Mick Rock

In addition to Jett and West, the original lineup included Cherie Currie, Lita Ford, Jackie Fox and Micki Steele.

The reaction to The Runaways frequently heated Jett's temper. "Think of the lowest things a girl can be called. Then go twice that low and that's how The Runaways were talked to. I would get violent sometimes.

"People would sit down, all serious, we'd be ready to answer questions about music and the first thing out of their mouth is, 'So you all are sluts, huh?' I'd turn the table upside down, grab them by the collar and say, 'Get the f--k out of here or I'll drop you off the balcony!' That's how I got my bad reputation. I didn't take any shit."

Jett entered the fray with naiveté. "I was as green as you can be. Green and hopeful. And then disillusioned. I went into it thinking everybody was nice and would do the right thing, which was actually a good way to go into it, because you believe things are possible. You believe that you can beat the odds. If you knew the real score, you never would have tried, because you'd know that there was no way that you could fight the industry or the status quo.

"You have to understand, it was quite different in 1976. Five girls, 15 and 16 years old, playing sweaty, loud rock 'n' roll, stuff you don't hear on the radio even today. Today, when you listen to mainstream rock radio, when you hear the women singing, it's fairly mellow music. It's not hard rock. And that's today.

"You can imagine in 1976 what people did when they saw us. They thought we were freaks. They thought we were crazy. They were amused at first. But then when they saw we were serious and they didn't really know what to do with us, people got mad, like, 'You shouldn't be doing this.' And we got mad back, saying, 'What do you mean? Girls should be able to do this.' And then people would call us names. Whore, slut and dyke would follow real soon after that. All because we wanted to play music. That's pretty amazing."

The hostile reactions baffled Jett. "I didn't understand. It just wasn't logical to me. You start out thinking things like, 'Okay, there's five girls in Los Angeles. We found each other and we all play music. Now there's millions of girls in the world. There's got to be other people around.' You'd go around with a logical hope like that, that you would run into people who would have like interests. And it just didn't seem to be. It was very frustrating that we didn't seem to have any female fans. It was very frustrating that most of the guy fans were fixated, obviously, on the female thing and the sexual aspect of it.

"But I've got to give a lot of guys credit. There were constantly people who said, 'Oh, I came to see you just because you're girls. But you really rock. You're a great band.' So it became more than whether we were female or not. It was a real learning experience for a lot of people, not just myself, but also for a lot of people in the audience.

"And then there were people who didn't learn and were just ignorant and would say stupid things regardless. But it always boggled my mind that people were so threatened. I didn't understand that. And I guess you realize somehow, that you've latched onto something really powerful, that, at the root, it scares people.

"Even still, you don't hear about women doing 'aggressive' things. Now we're just seeing women playing basketball, which is wonderful. You see how popular the WNBA has become. That proves that there are women out there who want to be physical, who don't want to just sit back.

"If one place should be safe for a woman to feel her strength and to do what she wants to do, be aggressive in her own way, it should be in the entertainment industry, right? But when you get looked at funny from writers or fellow musicians or audiences that you think are fairly savvy, it's very confusing. People aren't as sophisticated as you thought. It's nice to think that things are starting to change. But the change is real slow.

"Unlike Jane's Addiction or Nine Inch Nails, women bands like L7 and Bikini Kill never got the airplay or the publicity or the praise for being heavy or playing on the edge of various subjects. A woman does that, it's like, 'Holy shit!' She's some monster, some weirdo, some sicko.

"In a way, I kind of relish that. It kind of makes me smile when people have that attitude towards me, because I know I'm getting them riled up."

The Runaways attained popularity in Europe, Australia, Canada, South America and, especially, Japan. But they could only achieve cult status in the U.S. Abroad, their opening acts included Van Halen and Tom Petty and the Heartbreakers.

The Runaways called it quits on New Year's Eve, 1978, in San Francisco. "We suddenly realized, 'Hey, man, no one's going to take us seriously, no matter what we do, no matter how great an album we write.' The radio programmers are not going to give us a shot. We've got no real chance at making it now."

The band's brief, but trailblazing existence, had lasting effects. "The Runaways opened the doors for other girls to enter this field," Jett says. "This is not a cut-down of The Go-Go's or The Bangles, but The Runaways were much more intense than either of those bands. It was like five me's. Hopefully we made it a little easier for other girls. I know the Go-Go's took a lot of the same sort of cut-downs that The Runaways did. But hopefully, not to the same disgusting degree."

When The Runaways ran out of road, Jett had to draw upon her inner strength. "For a long while, I just took refuge in my friends. I had friends who supported me and who were into what I was doing. But once The Runaways split, I was really bummed. I was so disillusioned with the whole music industry. I felt that everything I'd brought up to believe - that the underdog can win and that believing in something does matter - I felt utterly defeated and really didn't know what to do next.

"A couple things kept me in it. One, I didn't know what else to do. It was really all I knew. And I was lucky. I ran into Kenny [Kenny Laguna, who produced Jonathan Richman, Bill Medley and Greg Kihn] and I had someone else to fight with me. Certainly when The Runaways broke up, that was the lowest point of all and, if I was going to quit, that would have been the time.

"I'll never know if I would have quit, if I hadn't run into someone like Kenny, who was supportive, who was a creative entity with me, and made me feel valuable as a songwriter."

It was a disastrous project that had brought about the fortuitous teaming. Jett recalls, "I was writing songs with him for some B, schlocky movie in 1979 [Jett was fulfilling a contractual obligation for a never-completed Runaways low-budget comedy, "We're All Crazee Now!" Scraps of the footage was slapped into the obscure 1984 underground flick "Dubeat-E-O."] Kenny and I hit it off really well and became very good friends. Kenny was in Tommy James & The Shondells and a lot of the late '60s bubble gum bands.

"He kind of got stuck managing me, because no one wanted to deal with it. As he saw this resistance, seeing that people wanted nothing to do with me, it made him mad. So that gave me strength. I really took refuge in our friendship," Jett says, "because, at a time when I felt like I just wanted to give up, here I met somebody, and a guy on top of it, who saw the injustices. In working with me, he saw the way people treated me, the way they talked to me. And he got pissed off. He saw the underdog getting shit on. So he started to fight along with me.

"We started looking for other musicians and that became The Blackhearts and that was how I got my desire back - because I had somebody else to fight with, someone who had been in the business."

Jett moved to Long Beach, New York, Laguna's home base. Laguna agreed to act as producer on the songs he had co-written with her. That turned into her first solo album - "Bad Reputation."

Unable to generate record label interest, they marketed the album in venue parking lots. Jett recalls, "We were starting out, playing around the Tri-State area here in New York, New Jersey, Pennsylvania, little shows. We printed up 5,000 copies of our first record, 'Bad Reputation.' Kenny had just had a baby daughter. He took whatever he had saved for her college and he printed up 5,000 'Bad Reputation' records. And we sold them out of the trunk of the car for a few dollars after the shows. And they all went real fast.

"Five thousand sold in a couple of weeks. So we printed up another 5,000. And those went And we got a real buzz happening around here. We got played on local radio stations. And a couple months later, 'I Love Rock 'n' Roll' happened. And the rest is history, I guess."

Neil Bogart's newly born label Boardwalk Records eventually picked up the album for distribution and it enjoyed massive success.

Jett felt vindicated. "Definitely. We sent this music around to 23 labels, all the majors, all the indies. And they heard 'I Love Rock 'n' Roll' and 'Do You Wanna Touch Me?' and 'Crimson and Clover,' all our demo tapes. And they turned them all down. They said, 'You have no songs. You need a song search.' So all these labels heard 'I Love Rock 'n' Roll' and passed on it. It's got to make you wonder, as an artist, do the record companies not listen to the music at all? Or when they listen, do they hear the wrong thing? Either way, it's scary that they can't hear a hit record, something as obvious as that."

Kenny Laguna says, ""We originally became indie, because nobody wanted us. Now it's something that she wears like a badge."

Their close friend and business partner, Neil Bogart died shortly after "Bad Reputation" broke through. Jett says, "He was responsible for signing me to our first record deal in America, after The Runaways broke up, when no one would touch us with a 10-foot pole, over my bad reputation. Neil Bogart was one who saw through all of that. We had a very big hit, 'I Love Rock 'n' Roll,' number one for eight weeks. And he died of cancer while it was number one. I was close to him, but I never knew he was sick until it was too late."

Laguna and Jett founded their own Blackheart Records label, which has thrived for 30 years. They have written tons of terrific songs over the years, but he has also encouraged her to experience collaborations with a variety of other writers.

"We both come together in a certain place," Jett says of writing with Laguna. "We both key on melodies. Kenny's got this bubble gum thing going on. I've got a different thing going on. I think I've got a lot more dirt in my thing. Kenny cares about hits. It's a different mentality.

"You want people to like the songs, obviously. You want people to relate. I don't want to give you the wrong impression, because it is great to have hits and great to connect on that big kind of level. But you don't want to cater to that exclusively. I think Kenny's a great songwriter and I think the way we work together is great and I'd be happy to write that way, regardless of whether or not we have success. You can never tell. What if you think you have an album full of hits and the radio doesn't give you a shot? You'll never really know."

For a decade, Jett and Laguna pumped out hits. They've never stopped creating potent rock music, though airplay gradually diminished. Fans, new and old, continue to relate to the music, even if the corporate music world doesn't.

"It can be very frustrating," Jett says, "because I think every time we have songs that are certainly palatable enough to be on the radio. Certainly, hearing some of the songs that are on the radio, you're not quite sure what the bar is."

Paul Schrader cast Jett in his 1987 drama, "Light of Day," Jett and Michael J. Fox play siblings who channel their frustrations into their Cleveland bar band. Gena Rowlands portrays their oppressively religious mother. Jett turns in a riveting performance and sings the Bruce Springsteen-penned title tune.

Walter Hill had asked her to star in "Streets of Fire." "Jett declined. "I didn't want to play a musician, first of all. I had a lot of resistance to 'Light of Day' at first, about accepting the script, because it had to do with music. But I'd always wanted to act. I thought it would be fun to do a movie. But if I was going to do one, I wanted to really act. I didn't want it to be something where I'm playing myself.

"After I'd read Paul Schrader's script over and over again, I realized it was a real acting role. I can really relate to Patti Rasnick and I can probably give more authenticity to the character than a lot of other people, because I've lived that bar sort of life a lot. I know what it's like. I know what you've got to go through. But at its core, the movie is really a family drama. Music is such an integral part of everybody's lives now anyway."

Jett approached acting just as she did music - with total commitment. "I had an acting coach. I was very well prepared before I went into it. I have a lot of concentration. I become very focused, when I need to be. I wasn't thrown by having to memorize things, because I'm used to doing that with lyrics. I've memorized 40 million songs, so that was no problem.

"I'd been used to having cameras in my face. So that was no problem. The thing that was funny, I'm very animated. I talk with my hands. In the movie, you have to bring yourself down and be very still. What would seem natural for me in real life would look spastic on screen. So instead of communicating with your body language, you had to really let everything come right up the middle of your body and right out your face. So all the emotion came out through the face. So any hand motions that you made were that much bolder. So bringing down my animation, that was the challenge. And to stop chewing gum - that was hard.

"It's all about the preparation. You can compare it to the music. When I go on stage, I'm not looking at my guitar, where my hands are going, because I know it so well, it comes naturally to me. I knew the script so well that the dialogue was second nature to me."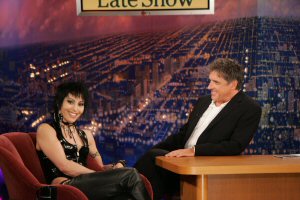 Photo Credit: Monty Brinton, CBS
Joan Jett performs on "The Late, Late Show with Craig Ferguson"

The character of Patti Rasnick is very different from Jett. "We both give the outward impression of being rebellious. And she was really into music. But that's where the similarities stop. I'd like to think I'm a lot nicer person than she seemed to be. And the music - Patti changed from the Barbusters to being in a heavy metal band, just so she could stay on stage. I would never do that. I play my rock 'n' roll music. Nobody tells me what to play. Either I do what I want to do or I'm not going to do it at all.

"I would never change my style just to get to a bigger venue or something like that. I don't conform."

Patti Rasnick has a line about the hour on stage making the other 23 worthwhile. That's a feeling that Jett shares. "That's kind of what I've been saying since I was 15. People ask me what's so great about performing. 'You have to travel. You don't get any sleep. You don't eat right. What makes it worth it?' I say, 'You're not on that stage like I am. You don't see what I see. That hour-and-a-half on stage makes everything worth it.' It's interesting that there was a similar line in the movie."

In the wake of "Light of Day," Jett was offered a lot of roles. "But they all had nude scenes in them. So that was like the only option - 'You want to be an actor? You've got to take off your clothes.' I can see it for a role you really want to do, but it just seemed gratuitous. I want to be an actress, but I don't want to do it that bad. It's not that important to me."

Jett did play Columbia in a Broadway production of "Rocky Horror Show" and appeared in the indie films "Boogie Boy" and "The Sweet Life."

"I'd love to do more acting. It's just a matter of the right roles coming up. Things come in from time to time, so we'll see what happens."

With Jett, great rock 'n' roll music continues to happen. Her music ages so well... and she doesn't seem to age at all. She still sizzles with endless energy.

In 1996, Jett recorded "Love Is All Around," the theme song from "The Mary Tyler Moore Show." It's one of many highlights on her new "Greatest Hits" CD.

"That was a song that we had messed with for a couple of years, with The Blackhearts, at sound checks and stuff. And it just fit perfectly when the whole opportunity to work with women's college basketball came up. We decided to do the song to help them promote the college basketball. And just by luck, I guess, it went from the TV to the radio. Some of the jocks in New York were big sports fans, saw it on ESPN and started playing it on their morning shows. It broke out of that scene and started getting played," explains Jett, who's a big basketball, baseball and football fan.

Jett's 2006 album "Sinner," opens with the politically charged "Riddles," written by Jett, Laguna and Linda Perry. It reflects a repudiation of the Bush era.

"It came out of what our country had incrementally become," explains Jett. "The economy, lack of jobs, outsourcing, the environment, the war, Katrina response, spying on citizens. The fact that now we could torture people. That's not what America's supposed to be."

The Bush administration's spin tactics rankled the no-nonsense Jett. "They did not talk to us straight. They used language to confuse. Like it's a p.r., they said what they know we wanted to hear. It's the George Orwell thing -- up is down, black is white, bad is good.

"The administration played the fear card. It's back to what Ben Franklin said, 'If you give away your liberty for security, you deserve neither.' You think about what the people who formed America fought for and the checks and balances they put in - these guys destroyed it."

Jett and her band frequently play for the troops overseas, raising morale. So the tragedy hits home for her.

It's not only the elected, but the electorate that angers Jett. At one point in "Riddles," she yells, "Wake up, people!"

"People go, 'It's bad... but what can I do?' Unless it's directly screwing up their life - they've lost someone in the war, lost a job or can't get the medicine for their dying mother or father - then too many people don't care. They're too comfortable. So 'Riddles' came out of wondering what the hell was going on in this country."

The song "Change The World," is a call to action. Can rock precipitate change? "On an individual level it can. Sometimes I get cynical about whether or not you can change it on a movement level, like get people en masse in the streets. But you can certainly inspire people to do big things with their lives."

The "Sinner" album's cover versions of the Sweet's "AC/DC" and the Replacements' "Androgynous" fit Jett's refusal to conform. "I know I'm a woman. I love being a woman. I embrace it. But I'm not comfortable with rigid gender roles, the choices that are out there for women. Even something as seemingly trite as what I'm supposed to wear. It's about blurring those lines, confusing those roles a little bit."

As unwaveringly honest as she is, Jett doesn't feel compelled to relinquish her privacy. "People will always try to push the boundaries. It's human nature. We all want to know things. It's interesting. So there's going to be curiosity about that stuff. But we're at a point in society where this whole reality mentality has taken over. Everybody is in a frenzy about wanting this stuff. It seems weird to me that people want to indulge in that. It seems egotistical, like 'Watch me! Watch me!' I don't get it. So I just say I like to make my private life private."

Jett doesn't fret about image. "I like the mystique factor. People don't have to know exactly what you're like."

"Sinner" earned ample college radio airplay. But gender bias hampers exposure on mainstream stations.

Laguna tells of an alternative rock radio exec who said he loved the new CD, but couldn't play it, because Jett was too old. "She's younger than some of their core artists. Joan is not older than the Chili Peppers or Mike Ness. It's funny how they look at things, if it's a girl."

Corporate radio's reluctance - even when critics are raving and audiences are cheering for her new songs - doesn't faze Jett. "All you can do is control what you can control -- and that's putting out the best songs that we can come up with," she says. "The rest is in the universe's hands. At a certain point, you just have to say it's not important whether it's a commercial success or not."

Laguna says, "Joan is extremely pure. There's no compromise."

It confounds Jett that rock music remains rough terrain for women. "It's dangerous that we have this illusion of equality. 'Oh, we're liberated now. Yeah, if a girl wants to play rock 'n' roll, she can.' But that's not really true. If you notice, there aren't any popular girl rock 'n' roll bands much above the club level. It doesn't seem like girls can get much beyond that.

"There was a point, in the mid-'90s, where I thought women might break through. There were a lot of girl bands making some noise, getting some radio play, getting a lot of press -- L7, Babes In Toyland, Bikini Kill. I thought things might be opening up a bit. I'm not sure what happened. That resistance is tough to deal with, when you're living it day to day, constantly being derided, because you just want to play music."

Throughout her career, Jett has battled gender prejudice. "People can be really hostile. I'm sure they can be hostile to men, too. But not quite in the same way. With a woman, they start attacking the self-esteem issues.

"Whenever they talk about a woman in press, immediately following her name, they put her age. It's not the same thing with guys.

"My rebellion stems, basically, from people telling me, 'Girls can't play rock 'n' roll. What, are you crazy? That's not your place.' 'Oh, yeah? Not my place, huh? Talk to me at 11:30 tonight and tell me what my place is.' That was a motivating thing, just to prove everybody wrong.

"If girls can play cellos and violins and things like that in symphony orchestras, you're going to tell me girls can't play guitar? I was very angry when I was younger, 15, 16, and people would come at you with these things like, 'Don't you think that your guitar sounds different, because your female skin touches the strings?' They were asking seriously. I be sitting there like, 'What?!' I'd jump up and say to my manager, 'This has got to be the all-time dumbest question I've ever been asked.

"Those things got frustrating, but then I realized, how angry can you get at ignorance? Instead of being negative and getting angry at people for being so silly, why don't you talk to them about it and make them realize that they're looking at things the wrong way? So I turned that around a little bit. "

Passion for performing helps Jett soar beyond the pettiness of the business. "I remember a lot of shows that I've gone to in my life and all the great times I've had, those moments that I'll always take with me. To me, that's what it's about -- creating all those connections, locking eyes with people, seeing them smile and you're both in the moment with the music.

"And people take it with them. They tell me years later about a concert they saw or a moment in time. For me, that's what it's about - creating that and keeping it going. I love the way people respond to the music. Music can get you through some rough times"

In 2006, Jett played the Warped tour, dazzling a new generation. They knew Jett songs like "Bad Reputation" from TV shows and movies such as "Freaks and Geeks" and "Shrek."

"It was a block party, punk rock circus the whole time. I saw a lot of bands I loved. I'd seen NOFX before, but I got a chance to really get absorbed in their whole show. Fat Mike is hysterical and the music is a lot of fun and it's very politically aware. And it's great to see the kids into that aspect of it, the political angle. There were a lot of great bands - Anti-Flag in Pittsburgh, Against Me! out of Gainesville, Florida, The Bouncing Souls out of New York, The Casualties and Helmet, also out of New York.

"And the camaraderie was great among the bands. The fans were great. I had a blast."

Joan Jett is a reminder of what the rock is supposed to be - edgy, defiant and fun. Young audiences respond with wild enthusiasm to both her classic tunes and new material.

"When you're performing, you feel a real oneness with the audience. You're like on automatic pilot. You don't have to think. Everything comes out of your mouth spontaneously. You don't feel like a jerk. Everything just flows. What it feels like - and it sounds really corny - but it's true, it feels like pure love... tinged with a sexual vibe, because I think people are looking at you that way a bit. But it's a pure love in the sense that people have respect and love for your music.

"It's not like a boyfriend-girlfriend type love or a maternal sort of love. But it is some sort of love that has a tangible, sexual attraction there, too."

Performing offers a rush. "It's like sex without coming," Jett says, "prolonged ecstasy, a prolonged good feeling. I'm not a dancer. But I used to go out with my friends and dance. And it's sort of like that. When the music completely envelopes you, completely takes over your body. It's a physical sensation as the actual music fills your body. And you're emotionally attached, too.

"For me, a rhythm guitar is an aggressive thing, but it's very sexy, too. And I find the bass and drums to be really sexy.

"So it feels good. And that's what draws me to it. It's a release. And I enjoy doing that with other people, seeing them have a truly good time, laughing and dancing and clapping and getting a release, because life's a bitch, not always fun.

"You share this special experience with people you don't even know and then you go on your way. It's a very unique experience. I don't know a lot of jobs that can provide all that this one does. I've learned to think of my audiences as friends."

Jett has made a point of playing smaller venues before launching a big tour. "Once you're in a coliseum, you're a million miles away from everybody. So having that close contact of a club or a bar where you can actually sweat on the people, you can touch them and give them something they'll never forget, they really appreciate that. They say, 'Thank you for playing these places, because other bands don't do that. They don't care about us.'

"I believe that music is a live medium. When it's on TV, it doesn't come across the same. When there's a live concert, you wake up all excited, call your friends you're going to go with, decide what you're going to wear. You go to the venue and see the other people. And you're so excited when the band comes on. I'm sorry, but TV cannot match that excitement. Don't just accept what you see on TV. Go out and see those bands that you like, because experiencing music live is like nothing else in the world."

With "The Runaways" hitting movie screens around the world, today's teens will discover Jett's pioneering efforts. If the film captures a fraction of the original band's live excitement, it should be a smash. Jett finds great satisfaction in the renewed interest in the band.

"It's always been really hard to find the original records. They were out of print. So it's going to be good for me and all the girls in the band to have a good representation of what we did in the late '70s, because I'm really proud of those records. And I felt we were a very good live band. So I look forward to turning people on to it.

"You know what's interesting, I have met women, in recent years, who have told me that they were big fans of The Runaways, at that time. But they were the same age as me. They were 15, 16 years old. And their parents wouldn't let them go to the shows. I didn't think of that. I guess a lot of the girl fans that we did have were too young to get into the bars that we were playing, where we were really too young to be playing. We could get in there to do our work, but we couldn't go in there to hang out. So I think a lot of our audience was shut out, because of the age thing and the bar thing. Maybe we just didn't speak to young women in their early twenties, as much as we did to teenagers.

"It feels good to have women, whether you know them or not, say that they've been inspired by you or influenced by you. It's great. Kathleen Hanna from Bikini Kill is a friend of mine and I know that she was a Runaways fan. And some of the women in L7 told me they were Runaways fans. It's great, because it's reciprocal. I'm a big fan of theirs. It goes around in a nice circle. It feels good.

"I knew right from the beginning that what we were doing was going to make it easier for other teenage girls to try. Maybe they wouldn't be so shy. It's really easy to get scared off. People are mean, unfortunately, and don't try to let you pass or fail on your own merits. You just have to push through all that."

Jett still relishes life on the road. "I have a really good time. It doesn't get to be a grind for me until I've been on a tour for many months. I enjoy the traveling, meeting people, seeing the different audiences."

Adopting a healthy lifestyle has helped her. "I became a vegetarian about 1990. That was out of not wanting to eat so heavy on the road. A cheeseburger at three in the morning is just a killer. You feel terrible. So I stopped eating meat to not feel so heavy. And then, when I got off the road, I had no desire for meat. So I stopped. And then it became a little more of a moral issue to me."

There's no reason Jett can't keep rocking for many years to come. "Occasionally,for a split second, I think, 'Wow, how long am I going to do this?' But it's so fleeting. I don't really entertain the thought of not doing this. It's really going to be when it stops being fun. Then I'll stop. But I don't see that happening anytime soon."