JOAN OSBORNE'S "WILD" RIDE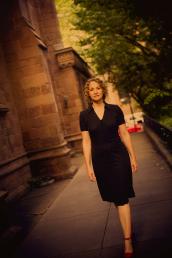 Photo credit: Todd Chalfant
by Paul Freeman [September, 2008 Interview]
Joan Osborne's career has been a wild ride. The phenomenal success of her 1995 Grammy-nominated "One of Us" single, as well as the "Relish" album, vaulted her to stardom.
Even though she hasn't subsequently reached those dizzying commercial heights, Osborne has continuously created exhilarating, heartfelt music. She has lent her sizzling, soulful voice to a wide variety or projects, from Lilith Fair to the "Standing In The Shadows of Motown" to the Grateful Dead.
Her new CD, "Little Wild One," reunites her, for the first time in 13 years, with her "Relish" collaborators - Rob Hyman and Eric Bazilian of the Hooters, plus producer Rick Chertoff.
The album establishes its own identity. Osborne says, "We weren't interested in making 'Relish 2.' We didn't want to go into it expecting that we were going to recreate that degree of commercial success. We just wanted to make some more music together."
Osborne says that the chemistry clicked again immediately. Bazilian used his impulsive sense of musical adventure. Hyman polished. Osborne brought emotion to the lyrics and singing. Chertoff sat back and looked at the bigger picture.
"When you're in the middle of writing or singing, you don't always want to be thinking of the larger project," Osborne explains. "Writing is very much about the particulars. Singing is very much about being in the moment. So it's nice to have someone who can keep that larger picture in mind."
The poetic imagery of Walt Whitman inspired Osborne's songwriting for this project. "This record has a sense of place that came in the aftermath of September 11th. I was not a person who could sit down a year later and come up with an album about those events. It was so huge and overwhelming to me, I could only write about it in little bits and pieces."
Kentucky native Osborne says, "One of the things that kept coming to me was a renewed appreciation for New York, my adopted home. That sent me back to Walt Whitman, a favorite of mine who was adept at chronicling the life of the city and had a unique perspective of the city as a spiritual place. He never lost sight of this idea of the city as being made up of thousands upon thousands of individuals and individual moments.
"He has descriptive passages of walking through the streets, meeting the eyes of the other people walking, having a connection with them, all creating this moment of life together in this particular place. It's a great thing to keep in mind for anyone who lives in any large city. People can feel alienated from each other in those environments. But he looked at it in the opposite way."
Walkling around New York fed Osborne's imagination. "I visited neighborhoods that I hadn't been to in a long time, soaking up the life of the streets again, as I had when I first moved to New York... and was reinspired.
"New York is made up of people who came from all around the world to build a different life for themselves. That breeds a certain amount of tension and conflict, but, at the same time, it creates a lot of excitement and beauty from different cultures melding."
For Osborne, who is raising a three-year-old daughter in that cultural mecca, fame holds little excitement.
"Nobody likes to hear somebody who got famous complain about how awful it is. It's enabled me to create music that means something to other people and that's what we're all looking to do. So it was gratifying in that sense.
"Returning to that moment of white-hot media attention, however, is not something I'm looking to do. I'm a pretty prrivate person. After a while, I felt like I was on a treadmill of promoting my own celebrity. I didn't even have time to sit down and write a song or be with friends."
Osborne retained a healthy perspective, because success didn't snare her until she was in her early thirties. "I had worked for a llong time, playing in little clubs and bars, feeling excited about performing even at that level. I wasn't somebody who was 17, became hugely famous and didn't have the life experience to understand what it meant. I knew it might not last forever.
"Also, I wasn't doing it to become rich and famous. It was always about the music first for me."
Osborne's musical odyssey included a stint with the Grateful Dead. Initially, she feared fans would view her as trying to fill Jerry Garcia's shoes. "Thankfully, audiences were just so glad to see their guys back on the road again that anybody who was helping to make that happen was fine with them. Those were some of the greatest shows I've ever done, as far as audiences being appreciative."
We spoke to Osborne on the eve of her show at San Francisco's Great American Music Hall.
"San Francisco is such a wonderful town. It has that western frontier thing mixed with a complete originality and a craziness. Anything can happen there, even more than in a place like New York, where you think you've seen everything. You go to San Francisco and you're like, 'Well, haven't seen that before," she laughs. "There's a uniqueness and a sense of the absurd that I appreciate."
Osborne''s career has afforded her the opportunity to play to appreciative audiences across the globe.
"If I can keep doing work that I'm proud of and supporting my family, then that's enough. I'll keep doing this until the day I keel over."
For the latest Joan Osborne news and tour dates, visit www.joanosborne.com.