JOANNA SMITH: "CRAZY" FOR COUNTRY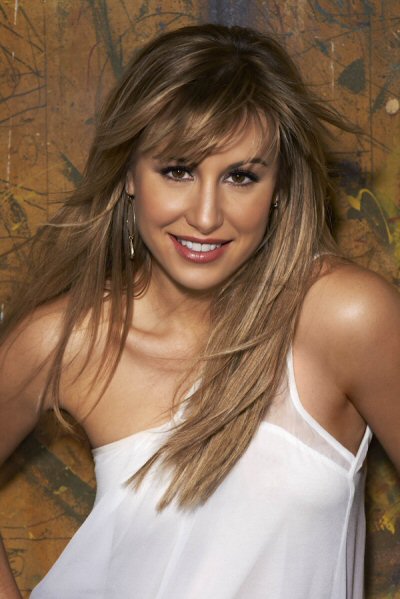 Photo by Russ Harrington
By Paul Freeman [Interview April 2013]
Growing up on a farm in rural Georgia, far from the bright lights, Joanna Smith fantasized about country stardom.
She tells Pop Culture Classics, "I was so far away from ever achieving that, it almost made it seem more attainable - if that makes any sense - because I was in a dream world. I lived in my head, out in the middle of nowhere, and knew that there was nothin' I couldn't do. It's funny, because, looking back, I'm just like, 'Wow, I was such a long way away.' But, at the time, I didn't realize it."
Smith is a lot closer now. Her latest single, "Girls Are Crazy," is upbeat, cheeky and extremely catchy.
"That came out of just a regular, old writing day like any other. I was running late, which is even more normal. I arrived and I was writing with two guys that day [Ben Daniel and Brandon Kinney. Kinney co-produced with Smith] and they had already had time to have had a beer at 10:30 that morning." Smith laughs. "I walked in and they said, 'We have a song idea for you, Joanna.' I said, 'What?' They said, 'Girls are crazy.' And I was like, 'Right... Okay, anyway...'
"And then I started thinking, 'Actually, written by a girl, for girls, but also that guys could relate to, that could be challenging, but fun."
In the song, Smith sings, "Boy, don't you love adventure, the rush and the thrill of the chase? And wouldn't the world be boring, if all the females were sane? But we ain't "
It goes over great in live performance. "Especially, of course, when you get to the bridge," Smith says, with a giggle. "Everybody seems to like that."
The bridge includes the lyrics, "We're crazy in love. Crazy in the head. The crazier we are, the crazier in bed."
Hopefully, a full album will soon follow. "The country music biz is weird. It's so radio-driven. They'll do a single and see how it goes on the radio charts before they really move forward with the development of the album. I've cut tons of songs that I can compile an album from. But I'm hoping that the single will be successful and I can have time to really woodshed, like they did in the old days, just kind of camp out in the studio and make it a work of art, rather than a patchwork quilt."
Being part of the Miranda Lambert tour, should help raise Smith's profile.
Smith says, "Her audience is a conducive one for me to show my work and get some more fans. So I really think it will help. She's just so on top of the world right now. To use her spotlight for a 15-minute set just absolutely couldn't be any better.
"I can't say enough about Miranda Lambert. She's the consummate country female artist. I just love the way she's managed to wait for success and not compromise her art. And then be able to attain that success. She's just such a great example, because she hasn't ever sacrificed her art for success. And success has found her."
Smith's foundation began in a small town in southwest Georgia. "It was good. My father is still there, still farming that same land. I'm the sixth-generation on my family farm. So it's just a very grounded way to grow up. And I'm really appreciative of that, especially now, venturing out into the world, being kind of a traveling, gypsy song girl. It really helps to have had a grounding and roots that run that deep.
"My Dad was the biggest music fan you could imagine. He loved all different types of music. And again, we were just so isolated, on this farm, in the middle of the boonies, that music was one of the few joys that we had. The work never stops on a family farm. Music was something that we could take with us to work and make it a little more palatable."
She loved K.T. Oslin, The Judds, Keith Whitley and James Taylor. "I even enjoyed some of my Dad's other music, like Steely Dan and Chicago and Average White Band, which was a Scottish funk band. And I liked my granddad's music, which was traditional, Patsy Cline kind of material. So it was definitely a wide range."
When she was five, her mother entered her in the Little Miss King Cotton Horse Show pageant. Smith recalls the interview portion.
"I told them, 'I already am a professional country singer. I just don't get get up on stage much.' And I believed that with every fiber of my being. I was convinced."
Smith laughs. "You know, I'm getting paid to write music and play music today and I don't even feel quite as sure as I did then."
After her freshman year at Auburn University, her parents' alma mater, (she had earned a full scholarship), she left for Nashville and briefly performed in an all-girl country band called Mustang Sally. After struggling to achieve recognition, the singer-songwriter decided to study international politics at Vanderbilt.
"I had been in Nashville for four or five years at that time. I had really knocked on every door and hadn't gotten a serious 'yes' from anybody. I was kind of down to my last dime and at the end of my rope, playing for tips down on Broadway. I was really questioning a lot of things. So I applied at Vanderbilt and got in. And shortly thereafter, just cold-called the A&R department at Sony and took this meeting with this lady and she really expressed interest that I had never really had before. And lo and behold, after a series of meetings, I ended up getting a record deal. Then I ended up being enrolled in Vanderbilt, so I went for a semester.
"I'm really passionate about international relations and international politics. I wasn't really sure, specifically, where I would have gone with that degree. But I love to write and I always thought maybe I could be a foreign correspondent of some sort or work at the U.N. All that kind of stuff fascinated me. And still does. I'm hoping that, through music, I can find an outlet to do some sort of humanitarian or charity work in that field."
Nashville is jammed with talented musicians in the country music field. It's not easy for a new artist to carve out an identity.
"The key to that is to just be as true to yourself as you can and not try to chase anything, not try chase what's happening at the moment. You know, it's easier said than done to say, be true to yourself. When I first came here, I was writing music that was very obviously me. But sometimes, what's very obvious about you, for me, saying, 'Here I am! I'm a country girl! I'm from south Georgia and I grew up on a farm,' that's less compelling and less true artistry than digging down a little deeper. And it takes years to discover that and then, afterwards, to be able to communicate it in an emotional way that's universal. It takes a lot of time and a lot of practice."
Smith said she was determined to learn about broken hearts and honky-tonkin'. "I came from a very 'Leave It To Beaver' sort of a background. I was isolated and I had a sense of dying to get out, dying to see what was out in the world. I wanted the real experience. I didn't really want to go the route of the TV shows that were becoming popular at the time I was moving to Nashville. I wanted to get down and get dirty with it, go down to Broadway and have to pass the tip jug to survive. And so I did. It's been a long, hard road, and I think a lot longer road than maybe some people have endured. But I wouldn't trade it for anything."
The struggles will benefit her in the long run. "You never know the amount of success that you'll gain. It's becoming even more secondary to me. To me, it's more important, whether I sell record one or not, that my art just be as pure and as good as it can be. And I know that my experiences will help me in that area.
"My biggest benefit, from playing at places on Broadway for tips, in those bars, downtown, you have a small, built-in crowd that's always there. And then you've got schoolteachers in town, for a convention, sitting right next to the biker dude. And you definitely learn how to perform in a universal way and to please the crowd. And it becomes a sort of intuition that you can only gain by doing it a lot."
Once she had landed a publishing contract, Smith's songs were recorded by performers like Billy Ray Cyrus, who chose her "Flying By."
"It was exciting. Cuts on other artists' albums are really huge. I'll never forget the day, going to the record store and buying an actual album, unwrapping it and finding my name. That was really neat. Very rewarding."
Smith is managed by The Judds' manager. "That's really cool, because they were my childhood heroes. And, lo and behold, their manager ended up being my perfect match. She's great.
"The Judds have given me some advice. Wynonna, I opened for her at a show and she tossed me a bottle of hair spray/body glitter spray and said this was the most important thing that I would need," Smith says, laughing.
She has a healthy perspective on career. "I read a quote the other day, I believe it was Hemingway, and he said something like, 'The man that sets out to write the epic is the biggest failure,' or something to that effect. When you're trying so hard to be great and have a grandiose sort of a plan, you usually fall short. We all want to be great. But, at the end of the day, if I can just write music and capture the emotions that transport people and express things for people that don't write songs, then I think I've done what I wanted to do."
Another of Smith's favorite quotes comes from Teddy Roosevelt: "Far and away, the best prize that life offers is the chance to work hard at work worth doing."
"I love that quote, because I come from a family where work ethic is one of our most important values. We're kind of a humble family. We don't have a lot of fame or fortune to tout, but I've seen my Mom and my Dad be very passionate about what they do, on a daily basis. And I think that is what makes work worth doing. That's just kind of what I want to do every day - enjoy what I do. And hopefully, it will benefit other people in some way, as well.
"The biggest reward is just getting to do it every day. And the days I don't focus where I'm going and how I'm going to get there and more just enjoy the fact that I got to walk through the doors of the publishing company and got to sit down with somebody I really like and write a song about a common experience. That is the greatest reward.
'"In other careers, and in school, which was my previous experience, there's an equal payoff you get for hard work and perseverance. It's usually fairly proportional. But here, it's definitely not. So you learn to just enjoy the everyday process of it and not focus on success, because, if you do, you're going to go crazy.
So Smith, who makes her Grand Ole Opry debut in June, tends to avoid setting long-term goals now. "It's so funny. I've always been such a Type-A and goal-driven individual. And not focusing on success might seem like a defeatist strategy, but it's not so much. I think it's a freeing thing. I've really learned to just enjoy the ride and not worry about the accolades and success. If it comes, great. If not, that's all right, because I'm still enjoying the process."
For the latest on this artist, visit: www.joannasmithofficial.com.