JOE BONAMASSA: GUITARIST/VOCALIST HONORS BLUES ROYALTY


Three Kings, a Muddy Wolf and a plugged-in Les Paul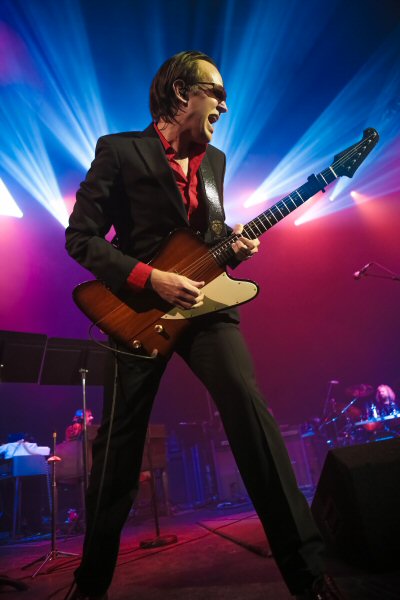 Photo by Christie Goodwin
BY PAUL FREEMAN [August 2015 Interview]
To become a great blues guitarist, it helps to be standing on the shoulders of giants. And no one is more cognizant of that fact than Joe Bonamassa.
The blues-rocker, a force on stage, is currently on his ďThree Kings Tour,Ē honoring the material B.B. King, Albert King and Freddie King made famous. His latest release, on DVD and as a two-CD set, is ďMuddy Wolf.Ē Recorded live at Red Rocks, itís an homage to roots icons Muddy Waters and Howliní Wolf.
Bonamassa, whose father was a guitarist, picked up the instrument at age four. By 12, he was performing professionally, sharing the stage with greats like Eric Clapton and B.B. King.
At 18, Bonamassa was featured in the band Bloodline with the sons of Miles Davis, Robby Krieger, and Berry Oakley.
Earning acclaim as a solo artist, Bonamassa has topped the Billboard Blues Charts repeatedly. His 2013 album collaboration with Beth Hart, ďSeesaw,Ē earned a Grammy nomination. And Bonamassa won the 2015 Blues Music Award as best guitar instrumentalist.
He has helped fuel hard rock supergroup Black Country Communion and jazz-funk band Rock Candy Funk Party.
At 38, he continues to grow as an artist, honing his songwriting and vocal skills, as well as finding new ways to dazzle with guitar riffs.
Bonamassa has established the nonprofit Keeping The Blues Alive Foundation, which funds music education resources.
He has recorded his Three Kings set at the Los Angeles Greek Theatre concert. So everyone will get a chance to bow down gratefully to four greats - B.B., Albert, Freddie and Joe.
POP CULTURE CLASSICS:
Howís it going?
JOE BONAMASSA:
Weíre currently being soaked. Weíre in Cape Cod, on a show night. Weíre outside. But thatís part of touring.
PCC:
The ďMuddy WolfĒ discs are terrific. What is it, individually, about both Muddy Waters and Howliní Wolf, that speaks to you so deeply?
BONAMASSA:
Those guys are great poets. And you forget about the poetry of music, you know? And they were so original and so deep. Alan Lomax actually discovered Muddy Waters in Mississippi. And they defined a sound that went on to define the sound of rock íní roll. Led Zeppelin and all those bands would sound a lot different, if it wasnít for Muddy Waters and Howliní Wolf.
PCC:
And you found your way to those kinds of roots artists through the British blues-rockers?
BONAMASSA:
Those were my gateways, the British guys. But subsequently I went back and discovered those original masters.
PCC:
Is it important to you to serve as a gateway for young people to discover these roots artists?
BONAMASSA:
Hopefully you do. Hopefully youíre able to introduce a newer generation to music that they may never have heard before.
PCC:
The Three Kings tour, what does it mean to you to be paying tribute to these particular great artists?
BONAMASSA:
Well, I knew B.B. almost 25 years before he passed. And this tour was in the works a year ago. The dates were booked a year ago. And my one regret as far as this tour is that he isnít alive to see itÖ or at least have somebody show him a YouTube video of it. His music means so much to me. And Albert Kingís music means so much to me, that at the end of the day, it was just a natural extension of the ďMuddy WolfĒ stuff, to do the Three Kings. And itís been going great. I have a show in an hour and all is well.
PCC:
With B.B.ís passing recently, what will you most fondly remember about him?
BONAMASSA:
His sense of humor. He was a funny dude. He also showed me how to drag music from my computer to an iPad. He was really a hip cat,,, Other than the fact that he was one of the greatest, if not, arguably, the greatest singer/blues guitar player of all time. The biggest challenge of the Three Kings tour, to me, is vocally, because youíre servicing three of the greatest singers and then also three of the greatest guitar players. I mean, give me a fighting chance! But itís been very, very rewarding. Itís also been very, very challenging.
PCC:
There are similarities among them, but what were the distinctive styles that separated each of them?
BONAMASSA:
Albert was a soul singer and basically was rooted in soul music, not blues music. Thatís my opinion. He was a blues musician, but also more Sam and Dave or Wilson Pickett. Freddie, arguably the forgotten King, arguably has the hardest catalogue to pick from. Do you want to do his instrumentals? There are several areas of his music you can get into. He had a very short career, compared to the other two, but extraordinarily productive in those years. And B. B. King is B.B. King. We try to take songs that are deeper out of the catalogue that isnít just the usual suspects.
PCC:
When you are taking on the material of these greats, whatís the process of making it your own?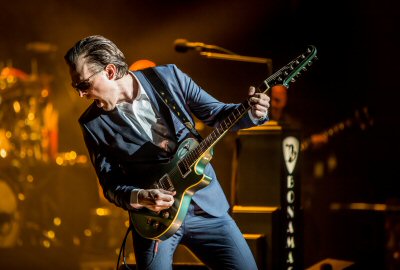 London, 2015, photo by Marty Moffatt
BONAMASSA:
Iím not B.B. King. Iím not Freddie King. Iím not Albert King. Nor will I ever be, no matter how hard I try. So it would be to my advantage to not try to just mimic what I hear. Itís more of - just be yourself. And service the music properly and pay it the proper respect.
PCC:
Immersing yourself in the works of the masters, can you benefit from that when you go back to writing your own songs?
BONAMASSA:
Absolutely. I think that this tour is giving me a much deeper appreciation for the music. And I think, vocally, itís something that has been really, really challenging, but it ultimately going to make me a better singer by far.
PCC:
And songwriter as well?
BONAMASSA:
Maybe. Who knows? I havenít written a song yet, so we have yet to see it.
PCC:
Already being a terrific player by age 12, how much of this do you think is something you were born with?
BONAMASSA:
Oh, very little. I think 10 percent I was born with, the ability to play the guitar. But mostly it was just kind of sheer will and something that I really, really loved. And I will always love.
PCC:
What made you pick up a guitar at such a young age?
BONAMASSA:
My father played. He plays and was always into music. So Iím a fourth generation musician and very much born into it, to be honest with you.
PCC:
How early did you sense it was going to be an extension of yourself, an important form of self-expression?
BONAMASSA:
Almost immediately. Iím a different human being with a guitar in my hand than I am without. So say what you will, thatís pretty much where it is.
PCC:
All the hours perfecting the craft, did it seem grueling or was it just something you enjoyed?
BONAMASSA:
Itís something I enjoyed. I still enjoy playing. I love playing guitar.
PCC:
Standing onstage, as a kid, with B.B. King or Eric Clapton, was that daunting or were you just lost in the moment and the music?
BONAMASSA:
Well, itís always a little bit daunting to stand on stage with your heroes. But you take it in stride and you can only do what you do. What I do know now, that I didnít know before, is - you can only be who you are. Itís in your DNA. And if, fortunately, it works out to where you have a natural gravitation towards a certain kind of music, or youíre able to put something together that resonates with people, then great. Thereís only one B.B. King. Thereís only one Eric Clapton. And thereís a reason whey theyíre Eric Clapton and B.B. King. They have ďit.Ē You know? And to me, Iím just an interpreter of songs. Iíve written my fair share of decent tunes, but nothing to the calibre of the aforementioned greats.
PCC:
The band Bloodline, what was that experience like? Was that an education in some ways?
BONAMASSA:
It was 22 years ago that the album was released. I donít remember much about that, other than we were a bunch of punk kids that didnít know shit about how the music business worked. And luckily it didnít fatally ruin my career, because I was so young that I was able to transform myself into the artist I am today. I think it hurt other members of the band, being that they were in their mid to late twenties at that point in time. Now they find themselves just kind of pigeonholed with that identity. It was not even a successful band. It was just a band that had a record deal.
Yeah, itís like you remember American Pharoah, because he won the Triple Crown. Do you remember the horse that came in 19th place at the Kentucky Derby? We were at the Kentucky Derby, but nobody gives a shit about Bloodline. Itís just one of those things. We didnít really have a chance to get out of first gear due to the fact that we were all kids and we didnít know what the hell we wanted to be. Everybody wanted to be something different. One guy wanted to be a superstar front man. Another cat wanted to play stoner rock. One guy was just kind of awkward. I was awkward and wanted to play the blues.
PCC:
Youíve explored a lot of genres, but the blues is always at the core - what is it about the blues that you feel so connected to?
BONAMASSA:
Ask Joshua Bell what is it about classical music that keeps him in it for all these years. Itís in his core. To me, itís just something where, when I listen to it, I go, ďYeah, thatís what I want to be. Thatís what I want to hear.Ē Iím excited to hear the music.
PCC:
There seems to be another resurgence of interest in the blues. What makes blues eternal?
BONAMASSA:
Itís so just adherent to the personís DNA that it doesnít matter who plays it. Itís just in the DNA. So the same three chords can be played by 10 different people and it will all sound different ways. And thatís what keeps the music coming back. These kids start figuring it out. Gary Clark figured it out. And put a different kind of spin on it. Same three chords. Same E-chord. You know? But he twisted it in a way that made it interesting and hip again. Itís that kind of cycle. It comes around. It goes around, somebody figures it out.
Then it gets stale.There was that movement of everybody wanting to sound like Stevie Ray Vaughan and then that got stale, because there were too many people. Then there was this and there was that. And you know, ultimately, what happens is, somebody figures it out, the same three chords together, in a very fresh way. And people go, ďOh, wow! I love the blues again!Ē And itís happened time and time again.
You can trace it all the way back to Hendrix. You can trace it all the way back to Stevie Ray Vaughan and Robert Cray, Gary Moore and Walter Trout, when they were running in Europe. Rory Gallagher. Clapton in í66, when he did The Bluesbreakers album and taught everybody how to play rock guitar. Thereís always somebody thatís going to figure it out. And thereís going to be somebody that figures it out 10 years from now, 20 years from now, 30 years from now. And hopefully thereíll be a venue and thereíll be a farm system still in place, where people can break out and make a name for themselves, vis a vis having to set up their iPads and take videos of themselves and hope somebody on YouTube sees the video. Thatís kind of become the farm system. You donít get a lot of clubs that open, you know?
PCC:
So is that the mission of the Keeping The Blues Alive Foundation? To let kids develop and find their way in blues?
BONAMASSA:
I donít know. Basically, I wouldnít want to start now. Itís not impossible. Itís just a little harder than when I did it.
PCC:
But what prompted you to set up the foundation?
BONAMASSA:
Itís just something to give back to the fans and the kids, the people who have supported me over the years. Basically, for all intents and purposes, if we can give a kid a guitar, or give kids some strings or a saxophone reed or whatever, thatís giving back. There are so many people who have done so much for me over the years.
PCC:
The songs that youíve been performing for years, are you constantly discovering new things, new ways of interpreting them?
BONAMASSA:
Thereís no version of a song that Iíve played live thatís ever the same twice.
PCC:
Whatís the key to continuing to evolve musically?
BONAMASSA:
Doing stuff like this - The Three Kings. And the upcoming acoustic tour. Changing the band and doing different formats, different kinds of projects. It all ends up in the music at the end of the day.
PCC:
Do you know what your next recording projects will be?
BONAMASSA:
I just finished an album and weíre going to record The Three Kings live at the Greek Theatre.
PCC:
For you at this point, what are the greatest rewards and challenges of life as a musician?
BONAMASSA:
Itís all rewarding. I got into this, so I didnít have to have a real job. Thatís why I step on stage and play music, itís so rewarding. Even at its worst, itís rewarding. Donít feel sorry for meÖ even in the rain.
Visit this artistís website, bonamassa.com.