JOE OSBORN: THE WRECKING CREW'S
IRON-FINGERED, MUSICALLY INVENTIVE BASS PLAYER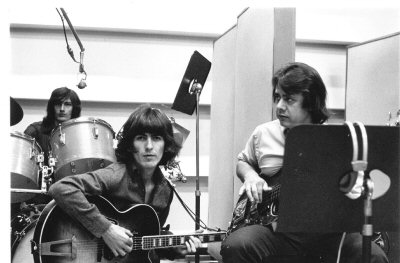 Joe Osborn in a session with George Harrison
Photo Courtesy of Magnolia Home Entertainment
By Paul Freeman [June 2015 Interview]
Think of an unforgettable bass line on a hit record of the '60s and 70s. Chances are that was Joe Osborn playing.
As a key member of the legendary Wrecking Crew group of session musicians, he played on, to name just a few of the classics: Rick Nelson's "Travelin' Man," "Teenage Idol" and "Fools Rush In," The Carpenter's "Close To You," "We've Only Just Begun," "Rainy Days and Mondays," and "Superstar," The Association's "Windy" and "Never My Love," The Fifth Dimension's "One Less Bell To Answer," "Stone Soul Picnic" and "Aquarius/Let The Sunshine In," Richard Harris "MacArthur Park," Gary Lewis & The Playboys' "This Diamond Ring" and "Save Your Heart For Me," Helen Reddy's "I Am Woman," Simon and Garfunkel's "Bridge Over Troubled Water," Tommy Roe's "Dizzy," Barry Maguire's "Eve of Destruction," Neil Diamond's "Cracklin' Rose" and Holly Holy," The Partridge Family's "I Think I Love You," Johnny Rivers' "Secret Agent Man" and "Baby I Need Your Lovin'," The Monkees' "Valleri," Boyce & Hart's "I Wonder What She's Doing Tonight," Grass Roots' "Midnight Confession" and "Temptation Eyes," The Mamas and The Papas' "California Dreamin," and "Monday Monday," Spanky & Our Gang's "Sunday Morning," The Turtles' "You Baby," Olivia Newton-John's "Don't Stop Believin'" and Glen Campbell's "By The Time I Get to Phoenix."
The story of the golden days of the L.A. session scene is told in highly entertaining and informative fashion in Denny Tedesco's documentary, "The Wrecking Crew." After years of assembling this remarkable work, Tedesco has now made the film available through Magnolia Home Entertainment. It includes reminisces from group stalwarts Osborn, drummer Hal Blaine, pianist Don Randi, bassist Carol Kaye and Denny's late father, guitar whiz Tommy Tedesco. Also interviewed are such stars as Brian Wilson, Dick Clark, Cher, Micky Dolenz, Nancy Sinatra, Jimmy Webb, Roger McGuinn, Peter Tork, former Crew member Glen Campbell and many, many others whose records relied on The Wrecking Crew. Hours of fascinating bonus interviews are included on the disc. It's a must-have for even a casual fan of rock and pop. For details, visit www.wreckingcrewfilm.com.
On the PopCultureClassics.com site, you'll find our separate interviews with not only Osborn, but his Wrecking Crew compadres Hal Blaine and Don Randi, as well as film director Denny Tedesco. Be sure to check them all out.
A Louisiana native, Osborn joined his old pal James Burton to play in Ricky Nelson's band for four years, starting in 1960. Then Osborn became the ace of bass in countless L.A. studio sessions. In 1974, he moved to Nashville and continued making great records there. He's working on a book. Pop Culture Classics was delighted to hear some of his great tune tales in the following interview:
POP CULTURE CLASSICS:
With "The Wrecking Crew" documentary, the musicians are finally getting some long overdue recognition. It must be so gratifying.
JOE OSBORN:
Well, it is. I've been doing some of the screenings. There's a Q&A afterwards and it's really interesting to see what people feel about that information - that their favorite groups didn't play on their records. Very interesting.
PCC:
Are they mainly surprised? What is the reaction?
OSBORN:
Yeah, surprise and maybe a little bit disappointed. I dont know exactly what it is. What amazes me though, is how few people realized that. Of course, for a long time, the musicians didn't get any credits on the albums, so there was no way for the fans to even think about that. They just assumed - buy a ticket, go see their favorite band, they're playing, copying the record [chuckles]. So you know, to find out that we did all of that, yeah, I'm sure it's a surprise.
PCC:
I guess the bands who became known for music they hadn't actually performed in the studio didn't want the public to know.
OSBORN:
Well, yeah, they didn't admit that they didn't. In fact, The Association, one morning, just really begged us. They pleaded, "You guys, please don't tell anybody that you play on these records." [Laughs] No they wanted the fans to think that they played.
Richard Carpenter never cared. And they had a great band. And Richard being a perfectionist, they rehearsed and rehearsed and copied the record. So it sounded like they played on the record, but he never tried to say that. Somebody commented about their bass player, how great he sounds on the records and he set him straight instantly [laughs].
PCC:
Did it bother you and the other guys in The Wrecking Crew that the young bands got the credit, that they got the glory, instead of The Wrecking Crew?
OSBORN:
Oh, it didn't make any difference to us. That's what people still don't get. They see the glamor that might have gone with all of that. Well, we didn't see any of that. We were just working a lot. And that's really all we saw, one session after another. It was nice, when they started putting our names on the records, saying that we played. But no, I don't think there was ever any resentment about that.
PCC:
Were some of the young musicians resistant to having session guys play? Did they want to play themselves sometimes?
OSBORN:
Oh, well, yeah. They usually wouldn't be at the sessions. But sometimes they would be. There was one session where their bass player showed up - I don't even remember who it was, whether it was a hit record or what - but they would come in and they would wonder why they weren't playing.
And then I knew some of them. Like with The First Edition [featuring Kenny Rogers], their drummer was a close friend, Mickey Jones. He used to play with Trini Lopez. And then he joined us, the Johnny Rivers band, at the Whisky A Go Go. And then sometime after that, The First Edition happened. And he wasn't strong enough to do the records. Hal Blaine did most of it. And Mickey resented that, because I knew him.
But I have to assume that the rest of them did, too. They don't understand - "I'm good enough to play on stage. Well, what's the difference?" And there is a difference that they never realize. It's like two worlds - playing in the studio, playing live - one has nothing to do with the other. They weren't able to make that adjustment, to the phones, you can't turn your amp up loud. They couldn't make those adjustments and be able to do it.
PCC:
So what is the key to being a good session musician? Is it the discipline? Just the approach?
OSBORN:
Well, there's more to it than just being able to play an instrument, which we could. And we were able to recreate and give the song what it needed. And one of my lessons is, don't go in with anything preconceived, like what you might do. You don't know what you're going to do until you hear the song. The song tells you what to play. Well, a lot of people couldn't get that part. Then it's attitude. That's a big part of it. That cost me a lot of money.
PCC:
What do you mean?
OSBORN:
Oh, well, I've been too opinionated at times. It's really a stressful business, going from one to the other… and then the hours, working 16 hours a day, all kinds of a music, a lot of it not good. And then you have the producers, that don't really know what they're doing and they really just put you through the ropes. So you've go to try to maintain some kind of gentleness, through all of that. And it's sometimes hard to do.
PCC:
I read that you had turned down opportunities to tour with Elvis and with Bob Dylan. So you must have enjoyed the session life.
OSBORN:
Oh, that's all I wanted to do. I didn't like playing live, because it didn't sound good. You were always fighting the sound man and the monitors. And it's not the same. I love the microscope. Playing there with the headphones, you get the sound and you're able to get the part right. Playing live, when you make a mistake, it's gone. And I just never liked it.
PCC:
So you were never tempted, no matter who wanted you as part of their touring band?
OSBORN:
Not at all. For one thing, it was all about making a living, really. They didn't pay enough. They didn't pay as much as we were making in the studio. And then you're away from home, which I always hated and still do. So that's just a different world there.
PCC:
When you were growing up in Louisiana, who were the artists who influence and inspired you, who made you want to make music?
OSBORN:
Well, you know, I learned how to play guitar in church, when I was 12 years old. I don't think anybody that age knew that there was anything like what I ended up doing. The session business didn't really flourish until the late 50s and into the 60s. Even the early 50s, artists were using their bands, such as Elvis was using his band. It was in the 60s, even up into the mid-60s that we started to replace the bands.
PCC:
You started out playing with Dale Hawkins. Was that a training ground for you?
OSBORN:
Well, I think everything you do is training. The first record I played on was 1957 with Dale Hawkins, as a guitar player. But we didn't have any concept of music as a business or that it was any way to make a living. It just sort of came with time, what that was.
PCC:
It was while you were with Bob Luman that you switched from guitar to bass?
OSBORN:
Yeah, that was sort of an accident. This is one point I make in my book, which I've been working on and plan to have done by Christmas. And the how-did-you-get-started-in-the-sessions question. That's a two-year answer. In the first place, I had to be a bass player. And I was a guitar player. But playing with Bob Luman we had another guitar player, Roy Buchanan. We played together for quite a while. We went to Las Vegas. We were both playing guitar. At some point, I was elected to be the bass player. People say, "How did you decide to do that?" I didn't decide anything. That was decided for me. And that was fine. So I went and bought a [Fender] Precision bass down at the local store and the next night I was a bass player. I had to have the right instrument in my hand. That's the answer to how I got started. Now I had the right instrument. And things like that kept happening, being in the right places, things that had to happen just as they did, to put me where I finally wound up.
PCC:
Was it an easy transition for you, from guitar to bass?
OSBORN:
It was all the same. It only had four strings, but it looked the same. I still had the pick. I had no idea that you didn't use a pick. There was a bass player pointed that out to me, though. And I turned the amp up, all the treble on there, where you could hear the notes. "No, man, you can't do that. The bass should be felt and not heard." I didn't know what to say to that except, "Well, I guess you're going to get both."
PCC:
Playing with the pick, did you stick with that, because of the sound it gave you?
OSBORN:
Well, it was the only thing I knew, from the start. But yeah, I liked the way it sounded. But the pick just automatically came, because the next night, I'm the bass player, I've still got my pick, my amplifier. I didn't know any other way to do it. So as far as planning and how did you decide to do that? There was none of that ever.
So after that long period there, me and Roy went to the Southside Chicago, Calumet City to play with a guitar player that we had met at the Showboat Hotel. And what a nightmare, looking back at that two or three months. We had eight sets a night, seven days a week, started at eight o'clock, didn't get off until four in the morning. Besides that being a full-time job, I look back now and see that I was learning how to play the bass and I was getting chops. I could play anything. I had iron fingers.
Wound up back in Bossier City [Lousiana] after a while, early 1960. And I had gone to school with James Burton. He put me and Roy with Bob Luman. And he didn't know that I had already started playing bass. He had already been working with Ricky Nelson for a couple of years. They had broken up. When he said, "Ricky's putting a band together. If you want to play, let me know," I just said, "Well, of course."
Well, two weeks later, I was in L.A., working in Ricky Nelson's band. Now, to look at the whole thing, in order for me to have been involved with the music that I was involved with, I had to be in Los Angeles as a bass player in a situation that would get me noticed. Well, being Ricky Nelson's bass player got me noticed. James Burton gets all the credit. He took me out of that bar and put me where I needed to be. Now that seems like it can be nothing but fate. No planning on my part. I just said, "Sure."
PCC:
You actually found the song "Travelin' Man"?
OSBORN:
Yeah. I found it and took it to Ricky and that turned out to be the biggest record he ever had.
PCC:
How did you find it?
OSBORN:
There was a roomful of demos. At that time, there were only reel-to-reel tapes or acetates. There were no CDs or anything. Anyway, Ozzie Nelson came to me and he gave me a $25 a week raise, to send all that stuff back, because he was worried about getting sued, if somebody claimed their song was stolen. He said, "Just mail it all back."
Well, I don't ever remember actually mailing anything back. I started listening to it and there it was - a Jerry Fuller demo of "Travelin' Man." And when you look at how phenomenal that really is - if I had followed directions, that song wouldn't have existed anymore. Biggest song that Ricky had, as far as my exposure. That was after just a few months. I started in the summer of '60. Early '61, we recorded that record. So it was just a few months and bam! I'm on the biggest record of Ricky Nelson's career.
The publisher that Jerry Fuller worked for, they wanted me to come and play on all their demos. I didn't realize this at the time, I knew nothing about all those cutthroat politics, they knew that if I was on their demos, if they heard something I liked, I could get it to Ricky. You know? Of course, they never said that and I never thought that. But that was it [laughs]. But anyway, that led to my getting calls for some real sessions after a while.
PCC:
What was it like working with Ricky?
OSBORN:
Well, it was all good. Ricky was a great person. He didn't have any of that egotistical attitude that a lot of stars get. He wanted to be one of us. And we hung out with him a lot up at his house in the hills… not his parents' house [laughs]. But he was great.
PCC:
What was the atmosphere like at the sessions for songs like "Travelin' Man" and "Fools Rush In"?
OSBORN:
Oh, it was just totally relaxed. For one thing, we would rehearse all these songs on the lot there, they called it the Nelson Bungalow. We would work all these songs up, so we knew what we were going to do, when we got there. And it was just us - me and James and Richie Frost playing drums and Ray Johnson played piano. So the atmosphere was great, relaxed.
PCC:
Did you film the TV segments, as well?
OSBORN:
Yeah, we would do that. When Ricky would have a new record out, they'd bring us in to synch to the record. So we'd be on that at the end of the show.
PCC:
Was that fun to do?
OSBORN:
No, no [chuckles]. It was just something to do. Ozzie took the fun out of everything. He'd get us over there at six o'clock in the morning and get to our part at 6 p.m. But we're hanging around at the bungalow and practicing and just doing nothing.
I'll tell a story about Ozzie, without calling him any names. We were getting $100 a week as a retainer. And we weren't doing anything. Ricky wasn't traveling at all… until after that big record, then we did some traveling. But we weren't allowed to do any other work for anybody. And I usually didn't turn down anything. But when we would go in and do a session, they would file a contract with the union, with all the musicians' names, send the check to the union, go around and pick it up and that would be deducted from our retainer. So, I don't know, I didn't want to call him cheap… but there you have it.
PCC:
But you did do some live shows with Rick?
OSBORN:
Yeah, we did a tour. Spent several days in Australia. Three cities. Then we played in Manila, at that big auditorium there. And then we did a lot of dates in the States, played New York several times. So we did some things.
PCC:
Some of those shows must have been pandemonium, like early Elvis concerts.
OSBORN:
It really was. And that's one of the things I remember about that, it's the only person I worked with, where I got to see that, to look out at 10,000 faces. That was thrilling. And the screaming and all that. But I didn't play with anybody else that saw that. Ricky was big.
PCC:
After that, you played with Johnny Rivers' band for a while?
OSBORN:
Yeah. I met Johnny Rivers here in Bossier City, where we were working in some joints. He used to come up from Baton Rouge and sit in with our band. This was in the 50s, way back. So we wound up in L.A. about the same time. And hooked up, because we were acquainted. He had nothing going. So we started playing around a little bit. He called and said he was opening a new club, wanted to know if I would come and sit in with him and a drummer, was all he had, for a couple of weeks. It was the Whisky A Go Go. I said sure. Well, that turned into two years [laughs]. And that's when we recorded his first hits, the live album. And then we did a couple of road things. We actually went on a bus tour for a month, was the biggest nightmare I ever had, a chartered Greyhound bus. We went all over everywhere. But he didn't draw. Not good. He never had any packed houses. So I didn't see that with anybody else but Ricky [laughs].
It was sometime during that time that I started getting a lot more session work and working with these groups. I met Lou Adler through Johnny Rivers. He actually came in right when we were starting to do the live album and produced the album. And then he started producing The Mamas and The Papas and that was an automatic that I'm there. And I was the bass player. That came from being acquainted with Rivers. And then Bones Howe was the staff engineer at the studio, doing those sessions. And I was working with him quite a bit for a couple of years before, doing demos, he was the engineer, doing demos for Lou Adler's publishing company. So when Bones started to produce, that was another automatic. I was there. I was the bass player. And that goes for Hal Blaine, as well.
PCC:
That rhythm section of you and Hal Blaine, did that click right away? Did you have a chemistry?
OSBORN:
Right from the first beat, it was just magic. Lou Adler makes a comment in the film about how he put me with Hal for The Mamas and The Papas, which is not true, but that's okay, if he wants to say that, but I was playing with Hal before that. But the way he phrased it was really nice. He said, "I put Joe with Hal and he gave Hal what he needed; Hal gave Joe what he needed. And that was the magic." To quote Lou Adler [laughs].
PCC:
And what do you think Hal gave you?
OSBORN:
Well, I was able to play with Hal. This is another problem that people don't realize. Okay, you pick a drummer and a bass player and a guitar player and you put them together. If they're in the union, they must be good… which is totally wrong. We locked in. Just automatically, because we felt the beat in the same place. So that wasn't something you go in and work it out. That was a thing that just was. And we got so tight together, after so many records, that we could read each other's minds. I could tell, if he was going into a fill, I knew exactly what it was and I could go right with him. And he would do me that same way. So that's what Lou meant by that.
PCC:
You went in without having a lot of formal training, but you taught yourself music theory at some point?
OSBORN:
Well, I learned how to read.
PCC:
You thought it was important to add that to your toolbox?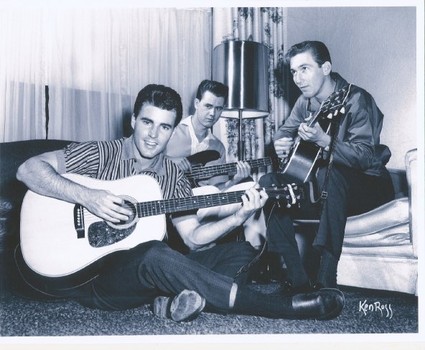 Left to right: Rick Nelson, Joe Osborn, James Burton Photo Courtesy of Joe Osborn
OSBORN:
Well, Tommy Tedesco made me do that. Tommy was reputed to be one of the best readers in Los Angeles. He'd even help string players out with their parts. And they can read anything. But we'd just go in and learn the songs, with no charts, nothin'. We'd just learn the song and play. And Tommy hated that. He wanted his part written out. To have to try to figure out what to do, he hated that with a passion. He could do it. But he told me one day, and we had done a lot of things together, he said, "Man, you know, when you get busy, you're just working your ass off, coming up with all those parts." He assumed I didn't like it either, because he didn't [laughs].
So he said, "If you learn to read, you'll get all these other sessions. And you go in, you don't have to think. You read the part, grab the money and run." He said, "Your work will double." I went and bought a beginner's bass book and I got to page eight, got the fundamentals. And I learned the rest on sessions.
PCC:
On many of the records, your bass is so prominent, playing melodic lines, Association records, Grass Roots, Mamas and Papas, the song "Aquarius." Were those mainly things that you invented in the studio? Or were those things that were charted?
OSBORN:
Well, a lot of that was just what I felt to play. They weren't dictating to anybody. John Phillips would just come in and play us the song and we would play what we felt to the song and he might have a suggestion like, "Do something in these two bars going into the bridge," like a fill or something. He would never tell us what to play. He might tell us where to play. And those things just came out.
Like on "Aquarius," the segue to "Let The Sunshine In," Bob Alcivar [arranger] wrote all the parts out for The Fifth Dimension on the rhythm tracks and we played pretty much what he wrote, with our own enhancements, now and then, which Bones welcomed and encouraged that we do. So "Let The Sunshine In," the bass part was similar to "Aquarius," except different tempos, a little different feel. Bones came out to me and Hal and said, "Can you guys do more in this section?" That's all he said. The next take was the record. And that part just came. It was purely spontaneous.
PCC:
And what about The Association's "Windy"? Did those lines just come to you?
OSBORN:
I don't know how the intro actually came about. Bones might have said, "Can you do the melody in the front?" And then Larry Knechtel doubled the bass part on the Wurlitzer piano, gave it nice sound. But that wasn't a written part. So somebody must have suggested it.
PCC:
During that time, when you were hearing those records being played on the radio, was that exciting, hearing the parts you had dreamed up?
OSBORN:
I didn't hear anything. I didn't turn on the radio in the car at all. I never put a record on at home. People would send records. I still have a closet full of albums in the shrink wrap. I didn't listen. But I'd run across those songs now and then and say, "Wow! I remember that." Yeah, it would be nice to hear. We'd be checking the Billboard charts. All the studios, in the coffee room, would have a Billboard magazine and we'd check and see how many records we're on. It would average at least 15 in any given week.
PCC:
The session for "MacArthur Park," was that especially challenging? Seems like it would have been quite difficult, it's so complex for pop song.
OSBORN:
Well, it was totally challenging. This is the thing, we were playing all kinds of music with all kinds of people. We would go in with John Phillips, play his song, then Jimmy Webb would come in with classical music, all of a sudden. Same band. There's me and Hal and Larry [keyboards] and Tedesco. I think Mike Deasy [guitarist] was on that. No, that was extremely hard.
And Jimmy came in. He had intended to do it in three sections, because it actually was like three songs. So we started to run it down and after an hour or so, we started to make the segue. "Oh, okay. Let's go from the top and see how far we get." We knew we could do the segue. Went on in to the next section. And that's how it developed over six hours. And then we did one take at the end of the six hours and that was the track. That was absolutely a challenge.
PCC:
Going through all these challenges together, there must have been a great camaraderie amongst these musicians.
OSBORN:
Well, there was. And that's what made it work, too, is because we all liked each other, we all played together well. We weren't a band. People sometimes think we were. We were individual, freelance musicians. We just ended up together a lot on the same sessions. That's because the producers figured out - you get those guys and you'll get your feel, because those guys have played together so much.
PCC:
Were there producers who seemed to particularly bring out the creativity in the musicians?
OSBORN:
Well, Lou was great. Bones Howe was great. Bone was a musician. Lou wasn't. But he knew who to put in the studio and leave them alone.
PCC:
For you personally, what are a couple of your most proud moments from the Wrecking Crew days?
OSBORN:
Well, that's a hard one to answer. You're going to automatically go to the biggest ones. "Bridge Over Troubled Water" and so forth. And some of those were the most grueling. It took a week to get a basic track on "Bridge Over Troubled Water." So as far as people saying, "Well, that must have been really fun and exciting," there were times when it was pure drudgery [laughs].
But working Simon and Garfunkel or the Fifth Dimension after they'd already made it, you knew you were working on a hit record. And that might have added some kind of excitement or energy, but not necessarily, because even without talking about it, the rule is, you don't play favorites. You go and put in your 120 percent every time. If a person from Iowa has saved money to put his kid into the studio and hire the best musicians in the world, how could you not appreciate and respect that and give it all you got? And most of the time, it's not good - song's not good, the kid can't sing. But they come out with some great tracks. We didn't chuck it. I saw some that did - "Hey man, it's only a demo. Don't worry about it." Oh, yeah? We'll you better worry about it. So really, working with these artists that were famous, that didn't matter.
PCC:
You had a hand in discovering The Carpenters?
OSBORN:
Oh, yeah. I had this studio in my garage in the valley. That particular night, when they came by, this little engineer would come over and engineer for me once in a while. He'd charge $5 an hour. It was Jim Messina, who would later be part of Loggins and Messina. There was magic in that room.
But Richard and Karen were still in school. They came over with a horn player one night. He had some stuff he wanted to play for me. I don't remember who he was or if he ever got anywhere with his music. But Richard and Karen hung around. This girl on the drums sang "Ebb Tide," not an easy song. She was 16 years old. And that voice - my God! It was there, as strong and as big as it ever got. Richard was playing the piano. They weren't known at all at the time.
So I like to say I didn't discover The Carpenters. They found me. They just were there one night. So we talked. And I knew she was something special. But I didn't know what to do about it. So I talked to Richard. He had some songs that he had written. And they couldn't afford to go and do any demos. So I offered use of the studio. And we did that off and on for a couple of years. And that gave Richard a chance to experiment with ideas that he'd never had any way to do, like stacking vocals. I don't think he'd ever considered that. He learned to do that.
But at that time, they were a band. It was the Richard Carpenter Trio. It was a jazz band. They played instrumentals. Karen wasn't even singing in the band at the time. But they were very accomplished musicians at that time. Karen was a great jazz drummer. Richard had studied classical music since he was born and you can hear that influence in all their records.
So anyway, we did that for a while and then one night, me and Richard had some sort of problem. I gave him a stack of tapes and said, "Here, go get yourself a deal." And he did! But I was there from the first note. In fact, that very night, he said, "Well, if I get anything, I'm going to insist that you produce us." No, you can't do that. You go into a label, they've got their own producers. You can't go in and make demands. He hooked up with Herb Alpert, of A&M. I'd known Herb, of course. And the rest is history. They made all those great records.
PCC:
Did you want to get into producing?
OSBORN:
No, I really didn't. And there's another hand of fate that protected that whole deal. I really didn't get along with Richard. It was all Karen. If I had said, "Yes, I'll produce the record," I wouldn't have let him do what he wanted to do. That would have been a disaster. I wouldn't have let him do everything he wanted to do, which would have been totally stupid on my part. So he wound up with a producer, Jack Daugherty, who wound up not interfering at all. And as it turned out, that was what Richard needed. Karen was the voice. Richard picked the songs, wrote the arrangements. He developed The Carpenters' sound. That was totally him.
PCC:
So once they were signed, was it special for you, playing on their sessions?
OSBORN:
I always enjoyed those sessions, because Richard is one of those people that encouraged me to play - you know, you don't have to play what's written, do what you feel. And he found out that you could do melodic things on the bass. And he started to write for that and encouraging me to do that. So I learned how that could be used through that. So it was a learning process from the first day.
PCC:
What made you decide to leave L.A. in '74?
OSBORN:
I got tired. And I was still busy. I just thought I wasn't going to play anymore. It was too stressful. I just felt angry all the time. And not about any particular thing, just angry. And then if something came along, it would spark a terrible thing [chuckles]. Anyway, I wanted to quit. A friend said, "You don't want to quit, you probably just want to do it in a different place." So Nashville was the obvious place. And I did it all again in Nashville.
And it's all the same, same routine. But I guess I got a little different head on somehow and it wasn't quite as stressful, for some reason.
PCC:
From your perspective, what's the legacy of The Wrecking Crew?
OSBORN:
Well, it affected music altogether. And that music will live forever. And that's another thing we didn't realize. "How'd you feel, playing on all those songs that were going to be such monsters?" We didn't know anything about what's going to be a monster. [Laughs]. But to look back on it and to find out that we were influencing musicians and bands all over the world… We had no idea about that, that we were maybe changing somebody's life. So without knowing it, that's what we gave to the world. We taught the world how to play [laughs].
For the latest on this great artist, visit www.facebook.com/joeosbornbass