JOHN DOE: X-TRAORDINARY MUSICAL ARTIST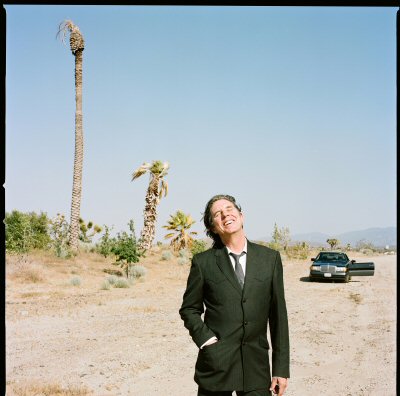 Photo Credit: Autumn DeWilde
By Paul Freeman [2012 Interview]
Itís not easy to sustain a rock career for over 30 years. In the case of the far-from-anonymous John Doe, artistic integrity is one of the key factors in his unwavering relevance.
Audiences have been eager to hear what Doe has to say since he emerged from the L.A. scene with seminal punk-rockers X. He continues to express himself in thought-provoking and moving ways on solo albums, including the brilliant ďKeeper.Ē It encompasses rootsy rockers and gentler Americana tunes. Doe is a literate lyricist and a skilled melody maker. There are more upbeat sentiments here than you might usually associate with him, a little bit less anger and darkness. But Doe sounds utterly genuine in whatever he expresses.
Doe will bring his optimism and honesty to intimate solo shows at Redwood Cityís Club Fox, Feb. 2 (www.clubfoxrwc.com), and Santa Cruzís Kuumbwa Jazz Center, Feb. 3 (www.kuumbwajazz.org).
Doe has never lost his edge. A punk Woody Guthrie, Doe is all about artistry, not dough. That was the case with X, then in his work with The Knitters and his solo efforts.
Long identified as a staple of Southern Californiaís music scene, Doe now resides in the Bay Area, in Fairfax, near San Rafael, Ca. He feels more at home in this forward-thinking political climate.
Doe, who will celebrate his 58th birthday on Feb. 25, plans to collaborate with X-mate Exene Cervenka on new band songs soon. Whenever Doe creates music, you can be sure it will grab emotions and provoke thought.
POP CULTURE CLASSICS:
Youíve played in just about every imaginable type of venue. Do you prefer the more intimate spots?
JOHN DOE:
Sometimes you donít have a choice. I have played some giant stadiums. And thatís interesting. But itís a real challenge to connect with an audience. In a smaller setting, you can relax a little bit and invite the audience into the stories of the songs, have a more intimate, genuine connection.
PCC:
Playing solo, was that something you were always comfortable with? Or did it take a while to get over the naked feeling?
DOE:
Maybe at the very beginning, but then you realize that you donít have to worry about anybody else. You can slow down. You can just stop, if you want to. Itís hard to do that with a band.
PCC:
When you write, do you tend to be unconcerned about outside reaction and just try to please yourself?
DOE:
Well, Iíve never done anything purposely obscure or purposely obtuse, so the songs and the music Iíve done are fairly accessible. But it is definitely not geared toward a pop market. I donít think I could do that, if I tried.
PCC:
The new album [ĎKeeperí] is great. Were you conscious of wanting to express an optimism within it, or was that just a reflection of where you are in life right now, happier?
DOE:
Reflecting where I am. Things change in your life. And things are better. But it wasnít easy to write songs that had a more positive slant, a more positive overall message. So that took a little extra work.
PCC:
So itís easier writing when youíre in a darker mode?
DOE:
Oh, yeah. Then things are at a crisis point, so your emotions are ragged and stirred up. And you want to try to relieve that by expressing yourself.
PCC:
So in the happier time, what are the writing pitfalls? What do you have to overcome?
DOE:
Well, youíre not as driven to writing. You donít have to solve the problem, the problem of being depressed or sad or lonely or things that are more negative. If youíre having a good time and youíre happy and satisfied, then, what the hell? Why write? But at some point, you realize, thatís what you do. Thatís your sort of career, so you have to figure out a way to get through it. And the biggest pitfall is maintaining an edge and still have it be a generally positive thought.
PCC:
Generally, your writing process, has it changed over the years?
DOE:
Yeah, a little bit. Every song is a bit of an adventure. You have to keep experimenting, so that you donít just repeat yourself. My more recent experiments have been starting with the melodies, instead of starting with the chord changes. Starting with a melody attached to a lyric and then working out what the chord structure is, which I think is a more standard way for songwriters to approach it. My adventure is more standard.
PCC:
Do you try to discipline yourself to sit down and write regularly? Or wait for inspiration?
DOE:
I just wait. I mean, Iíll pay more attention when I realize itís time to buckle down. But Iím not that disciplined.
PCC:
Are you constantly hearing phrases and thinking theyíll work their way into songs at some point.
DOE:
A little less, lately. [Laughs] Iím not worried about it. I have plenty of storage.
PCC:
Thereís such terrific energy on ĎKeeper.í Your connection to rootsy music - Do you find that production frills just distract from the communication process?
DOE:
Itís a very seductive process, when youíre recording a record. You can easily add too much. Iíve found that the less you have, the more space there is for each of those instruments to have impact or to speak. Like I said, Iím not a grand plan person. Iíll leave that to other people, like, modern day, Sufjan Stevens, old school would be Brian Wilson. Iím much more tied to roots music, country, country-western and blues music. I like simplicity.
PCC:
Growing up, was your family encouraging as far as musicality or creativity?
DOE:
Actually, my mother sang, through college, singing various types of music, opera and things like that. And my dad played piano, classical stuff. So there was music. And I always had records as a kid. Back then, folk music was kid music. So folk music has a lot of evil and death and dying, so thatís where maybe the early themes started taking root. The themes for our punk rock mayhem were borne out of Leadbelly and people shooting faithless lovers or things like that.
PCC:
So you absorbed the works of the folk artists and then your own style emerged?
DOE:
Yeah, later on. It gives you a vocabulary. But at the beginning, youíll mimic some writers. Youíll write a song like somebody else. And then, slowly, youíll find your own voice. But with the earliest stuff, you have to kind of draw a line and say, ĎOkay, no more of this. No more of that. No more using tools that other people have used. We have to strike out and do our own thing.í Thatís what, I think, every movement does. The rock Ďní roll movement, the British first invasion, Motown, the psychedelic movement, they all said ĎOkay, this is now.í I think that's important.
PCC:
So that whole L.A. scene, when X was emerging, did you have a sense that it was one of those times when there was something really revolutionary happening?
DOE:
Yeah, we had a sense of that, but didnít get too caught up in it, because, we didnít think it would last, didnít think it would have the sort of impact that I think has had. And it was sort of in the air. It started in New York and then kind of went to England and then came back through L.A. By 1976 L.A. had a scene that was starting. We had the luxury of a couple of years to be left alone, to write songs, to develop our sound. And then, our first single, was out in Ď78, out first full-length in 1980. So there wasnít the compressed version of a band trajectory like you have these days, where you write four songs and youíre immediately worrying about your Facebook page... and branding.
I heard somebody talking about branding a band that doesnít even have a record out. Well, hell, a brand is after youíve had a chance to figure out who you are. Thatís a brand. Kleenex is a brand. Xerox is a brand. Itís just too bad, I think. Thatís the one thing that I think is sad about the way music has developed nowadays. Are you going to be an artist or are you going to be a marketing person, a p.r. person? Pick.
I think thereís always people who are going to be artists first. It doesnít mean you have to be an idiot about your business. You can be smart about business. Just donít think about marketing first. Thatís a tragedy.
PCC:
For you, was aiming at the mainstream even an option? Or did you just have to follow your own path, musically?
DOE:
Oh, I think X tried to be a little more mainstream in Ď84, Ď85, Ď86. And we realized that we never would be, because we were just too odd. And by the time I had that opportunity, I wasnít really interested. Maybe I did that on the first solo record for Geffen. And then, I just realized that I was uncomfortable with that sort of game.
PCC:
You mentioned lasting impact. What do you see as being Xís lasting impact?
DOE:
I think Exene [Cervenka] is a great role model. And she continues to be. When X plays, there are 15, 18-year-old women that are looking at Exene and sheís a badass. As someone said to me, ĎShe doesnít really care what people think about her, when sheís talking to them.í She just is blunt and says what she thinks. Most people are worried about what people think of them. Sheís not. So thatís a great thing. So Exene being a role model. And X bringing rockabilly and poetry into the punk rock genre, I think that had an impact on other bands.
PCC:
Itís got to be so rewarding to you, the fact that you are reaching a new generation on that same kind of visceral level, nothing nostalgic about it.
DOE:
Well, Iím hoping that, in the next couple of months, Exene and I can really write some new stuff. Weíve written a few songs here and there that have appeared on my solo records. But Iíd like to try to write some new X stuff. And yes, it is rewarding to see young people. But I saw Chuck Berry in 1972 and it was past his original prime, but he was great. I was really happy to see him. And it was inspiring.
PCC:
So rock artists, just like blues and jazz artists, can improve with age and have more to draw from?
DOE:
Hmmm [Laughs] I donít know. Probably not.
PCC:
Because of the energy factor?
DOE:
Yeah. Just being able to physically do it. But The Rolling Stones have done pretty well.
PCC:
Being able to do these solo projects, does that keep things fresh for you, when you return to X?
DOE:
I think that both Exene and I would become less grateful to play with X, if we didnít have a creative outlet in our solo stuff.
PCC:
The acting, is that something you get a different kind of reward out of?
DOE:
I havenít really done very much acting in the last couple of years. I was in a zombie movie thatís going to be released, called ĎZombex.í Itís a Prozac-like drug that turns people into zombies. Wait a minute, that is Prozac! I worked a day on that. But yeah, itís rewarding. I still have an opportunity to do it, but Iím touring quite a bit.
PCC:
Youíre based in Northern California now?
DOE:
Yeah, I live in Fairfax, near San Rafael.
PCC:
What prompted the move from Southern California?
DOE:
My sweetheart lived in San Francisco. We moved in together. My daughters [ages 19-24] all go to school up here, in this general area, San Francisco State and Santa Cruz. Itís nice up here. I lived four years in Bakersfield and itís not nice. Itís very real. Not nice. Itís difficult to live in a town where people are not as like-minded with you.
PCC:
Are your daughters politically involved and like-minded?
DOE:
Oh, yeah. The oldest daughter is actually teaching a garden program in Pacifica. Itís a new thing, food politics. Teach kids young that they can grow their own stuff, whatís good to eat, whatís bad to eat, having some kind of connection to where your food comes from, thatís a revolutionary way of thinking, going back to the way people should think.
PCC:
The current socio-political landscape, do you find it more depressing than usual? Or is it a cyclical thing.
DOE:
I donít know. [Laughs] Weíll see. I wish - I wish a lot of things - but the main thing I wish is...
I really identify with the Occupy Movement, regardless of what their point - or lack of a point - is. Their point, at least for me, is economic disparity and that people on Wall Street walked away from a disaster and went to their luxury homes and everyone else had to pay the price. Thatís wrong. I wish that Obama would have done something about that.
PCC:
Do you see hope for change? Maybe a third party? Or something outside of the realm of traditional politics?
DOE:
I think we should wait until spring, because spring has a way of being a catalyst to movements. Maybe weíll have Arab spring in the United States [Laughs].
PCC:
What about bringing political messages into the music? Is it difficult to not preach or to do more than just preach to the choir?
DOE:
Iíve never been very good at that. Maybe the song ĎNever Enoughí is my most political song recently. And the subject of that is consumerism being harmful. And greed is useless. Or destructive. I donít think the people in the U.S. really understand that... yet. Theyíre getting there.
But yes, itís difficult to write political stuff without being preachy.
PCC:
Is there a hope that someone will actually change their viewpoint, because of a song?
DOE:
No, I think itís bigger than that. Youíre another voice thatís adding to the choir. I didnít make that up. I didnít come up with this idea that consumerism is bad. But Iím adding my two cents to it. So collectively, people start saying, ĎYeah, you know, we should eat more vegetables.í And collectively, people say, ĎYeah, the banks should be regulated and Ronald Reagan wasnít a genius when the Savings & Loan situation collapsed and started this whole f--king mess. But it takes a long time. Unfortunately, the kind of powers that be have gotten a pretty strong hold on the situation.
PCC:
Over the course of the career, what have been the greatest satisfactions for you? What makes it all worthwhile?
DOE:
Well, definitely one of my greatest triumphs or greatest satisfactions has been my family. My daughters. But, in the career, the first thing is the longevity and the fact that I still get to do it. Other than that, there are certain achievements, certain shows that you play that make you feel that itís worth it. I got to play Lincoln Center last year for the American Songbook. I got to headline the Great American Music Hall [in San Francisco] last year. So that was a little mark. X opening for Pearl Jam in South America was kind of another high water mark.
PCC:
The longevity, do you think thatís in large part due to the integrity of the music?
DOE:
One would hope that has something to do with it. I mean, not that people pay much attention to integrity. Some people do. And Iíd rather be talking to those people.
PCC:
What about the challenges? What are the most difficult aspects of maintaining that longevity?
DOE:
I just guess coming up with new ideas, new songs, just feeling creative. But a lot of that has to do with drive and will and just life force. I think X and I both are lucky that we enjoy it. I enjoy playing for people. I enjoy singing. I enjoy entertaining. There are plenty of people who are creative and great songwriters that donít enjoy live. So weíre lucky in that way.
PCC:
Any goals left to fulfill?
DOE:
I would be happy for X to reach an even larger audience, sure. Other goals? I still feel like I have some film work and writing to do. Both poetry and songwriting.
PCC:
But is there some sense of being able to relax a bit, because you know youíve already created works that are lasting?
DOE:
[Chuckles] Not really. You canít rest on your laurels. But, I think, after a certain amount of time, you realize, you allow yourself to enjoy what youíve accomplished. After five years of a career, you canít, because then youíll be full of yourself and youíll be insufferable. After 30 years, you can stand back and say, ĎYeah, I did a good thing.í
Get the latest John Doe news by visiting www.theejohndoe.com.