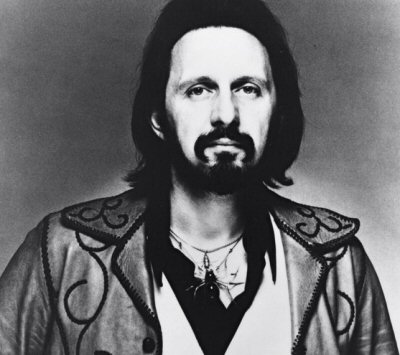 JOHN ENTWISTLE: THE WHO'S THUNDERING BASS PLAYER
By Paul Freeman [1996 Interview]

He may have been known as Ox, but no one could put a yoke on this artist.

John Entwistle was also known as Thunderfingers. And his rumbling, innovative bass lines were an invaluable component in the sound of The Who.

Entwistle released several dynamic and often gleefully macabre solo projects. He was also an accomplished visual artist.

On June 9th, 1996, The surviving original members of The Who - Pete Townshend, Roger Daltrey and John Entwistle - reunited to play the Prince's Trust charity event in London's Hyde Park. It was their first concert together since 1989. They were joined by drummer Zak Starkey, Ringo's son, who filled in admirably for the late Keith Moon. A tour followed, promoting the release of a remastered version of "Quadrophenia."

Entwistle died at age 57 in a hotel room at the Las Vegas Hard Rock Hotel and Casino, June 27, 2002. The cause of death was a heart attack, induced by cocaine. The thunder was stilled. But its echoes remain, surging through all of the classic Who recordings, influencing new generations of rockers.

Pop Culture Classics had an opportunity to speak with Entwistle as the 1996 North American tour got underway.

POP CULTURE CLASSICS:
During the time apart, were you confident that the three original band members would reunite at some point?

JOHN ENTWISTLE:
No, I hadn't the slightest idea. I was telling everyone, "When hell freezes over."

PCC:
So how difficult was it to arrange all of this?

ENTWISTLE:
It wasn't very difficult at all. We did that charity gig at Hyde Park. And we'd done three weeks rehearsals for it. And we figured, "Well, why waste all those rehearsals and all that time for one two-hour show?" So we tried Madison Square Garden and we had such a good time, we decided to do a proper tour.

PCC:
Did you have to set any ground rules for how this was going to work, amongst the three of you?

ENTWISTLE:
Not really, no. We're just trying to get around to where everybody's happy [chuckles].

PCC:
Is it easier to get to that place these days, than it was years ago on tour?

ENTWISTLE:
Well, it's been difficult, because Pete has been playing a lot of acoustic. It's difficult to sort of balance the band out. But in the encore, I've started playing "Boris The Spider," so that balances out the acoustic version of "Won't Get Fooled Again," which I wasn't very happy about... but I do "Boris The Spider" afterwards, and it's kind of an orchestral version in the middle of it. It kind of balances the whole thing. I'm quite happy.

PCC:
Do you find that a lot of the fans are now rediscovering "Quadrophenia"?

ENTWISTLE:
I don't know that they're rediscovering it. Most people I've spoken to, it's always been one of their favorite albums. It was an album that was very difficult to get into. It's like getting to know a piece of classical music. It wasn't as sort of really likable as "Tommy." "Tommy" was a lot simpler in music structure. In actual fact, we dropped it like a hot brick after playing it a couple of times, when it didn't work [chuckles].

PCC:
But you welcome the challenge of doing it at this point in time?

ENTWISTLE:
Yeah. I mean, we were using tapes before. And we had a lot of trouble with the tape system. Keith could never hear the click tracks and just actually staying in time with the tapes was very difficult. And also, it was such an involved sort of work. The audience hadn't had time to get into it. So they kind of sat there with a blank expression, waiting for the songs they recognized to come. And we got a little bit scared and we dropped it like a hot brick and we just played about five of the main songs instead of the entire thing. So we welcome this chance to actually play it in its entirety.

PCC:
Life on the road, has that changed much over the years? Bands these days are into golf and Evian.

ENTWISTLE:
[Laughs]. I'm not from the golf and Evian set. I'm from the Remy and staying up late set.

PCC:
Some things don't change [laughs].

ENTWISTLE:
I don't change, no. I've done four tours in the last three years, so I haven't really been away from it. I did Roger's tour in '64 [meaning '94]. Then the Ringo Starr All-Starr band in '65. Then I toured with my own band in January, February and March of this year. So this is my fourth one in three years.

PCC:
So you must love the whole world of touring.

ENTWISTLE:
I do. I mean, even my bedroom in my house is like a hotel room. It has its own bathroom, dressing room, refrigerator, microwave. And I have a 50-room house, so rather than rattle around in it, I've got two-thirds of one floor as my apartment. My girlfriend and I stay in there.

PCC:
You've got this new release coming out on Rhino, "Thunderfingers: The Best of JOhn Entwistle."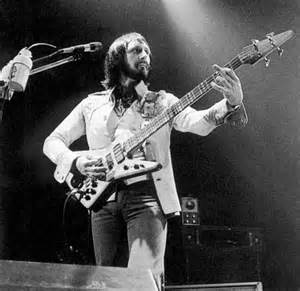 ENTWISTLE:
Yeah, it's a selection of tracks from the five solo albums.

PCC:
So covering a span of 10 years and having certain songs plucked out to be featured, does that give you a different perspective on the music?

ENTWISTLE:
Yeah, as I think back, I go "Wow, where was your brain at there?" [Laughs] It's kind of weird, because it's dated quite well, I mean, seeing as how quite a few of those songs are 25 years old. I first started in '70, '71. And I think the last solo album was round about '80.

PCC:
Is there talk of another solo album?

ENTWISTLE:
I'm working on one with my band at the moment. I'm really not sure whether it's going to be all of the John Entwistle Band or whether I'll put some solo tracks or guest artists. I'm not really sure yet. But we've recorded a few tracks so far. We did it before The Who went into rehearsals. And I guess, when The Who wind down again, then 'll get straight back in the studio.

PCC:
Has there been discussion about, once The Who does wind down whether it will pick up again at some point?

ENTWISTLE:
We have no idea. We're really sort of playing it by ear at the moment. We know we've got this American tour set, but don't know what's happening next year at all. We're making decisions as we go along.

PCC:
Is it important to you to keep it going? You do have other things on your plate.

ENTWISTLE:
Well, yeah, I do have the album I'm working on. I'm trying to finish a book, the first of a trilogy, the funny things that have happened to us. I've got the artwork. And I've got my own band. So either way, it doesn't really matter - I've still got plenty to do.

PCC:
You're working on a trilogy you say?

ENTWISTLE:
I have to write it as a trilogy, otherwise, I'll never finish it. The first one goes from the day I was born to the end of the '67 tour. And the second book will carry on from there and will cover Woodstock and everything. But it's sort of tricky to write, because it's a funny book and I have to be in a good mood, otherwise, I can't be funny [chuckles]. So it's taking a while.

PCC:
Are the other guys worried about what's included in there?

ENTWISTLE:
They shouldn't be. It's a funny book. No sex. We're British.

PCC:
Is the whole experience as much fun as it was when you started out? The whole rock 'n' roll world?

ENTWISTLE:
Um, we're a lot more isolated on the tours now. We used to be like out with the audience, you know? Staying in truck stops and traveling by bus. That, in a way, was a lot more interesting than being isolated and sitting in your hotel room. The whole private plane stuff. I go back into it, anyway, when I'm out with my own band. We can travel in two buses with the equipment and the road crew. And I get to meet the audiences after the shows, because I'm playing clubs and small theaters. And that's fun. You find out what the audience want to hear.

PCC:
You like that direct connection.

ENTWISTLE:
Yeah, I really do. I've got my own web page. So I do interviews on the web. We get reactions from fans. The fans do their own reviews of the shows. And I guess they're a lot more realistic than the press reviews.

PCC:
The nickname "Thunderfingers," that came form Roger?

ENTWISTLE:
Yeah, I guess from the way I play bass, I make thunder, yeah.

PCC:
And who gave you the nickname "Ox"?

ENTWISTLE:
I think that was Keith Moon, basically because I had the constitution of one.

PCC:
Any plans to do a book of your artwork?

ENTWISTLE:
Not at the moment, no. But I've got an art show coming up in San Francisco, one in L.A., Chicago, Boston. I have four, worked into this tour. Whenever the band gets a day off, I don't.

PCC:
The visual art, has that complemented the music, in some ways?

ENTWISTLE:
Yeah. I mean, when I did my last solo album, I really didn't want to write any more songs. And I found when I started writing songs, I spent all my spare time in the studio, writing. And it wasn't exactly relaxing. I wanted to carry on creating and relax at the same time. And the drawing was perfect for that.

PCC:
Do you also enjoy the fact that it's all basically under your control?

ENTWISTLE:
Well, I've pretty well got everything under my control now.

PCC:
That must be a good feeling.

ENTWISTLE:
It's a great feeling, yeah. You get a little bit more of a helpless feeling with The Who, because you've got two other people that have different opinions. But my own career, I seem to be working the whole year around on one or another project. So I'm a lot busier than I have been for years.

PCC:
Is the band better able to handle those differing opinions these days than in the past?

ENTWISTLE:
Uh... yeah, I guess so. We don't really have that much of a difference of opinion. We sorted most of our differences out in the past. The most difficult thing is deciding which songs to do for the encore. [Chuckles]