JOHN LODGE: TOASTING THE MOODY BLUES

Left To Right: Justin Hayward, Graeme Edge, John Lodge
By Paul Freeman [May 2011 Interview]
The Moody Blues are on tour again. And for John Lodge, founding member, bassist, singer and songwriter with the legendary British band, the Bay Area was the most anticipated destination.
In Sausalito, the connoisseur unveiled his own wine in Sausalito prior to a Marin concert. A blend of cabernet, merlot and shiraz, it's called Krisemma, after Lodge's son Kristian and daughter Emily. Fine wine gets better with age... and so do The Moody Blues.
The band's timeless appeal was proven once again when their classic song "Nights in White Satin" soared up the U.K. charts again recently, reaching number two. It had been showcased on Simon Cowell's hit British TV show "The X Factor."
The Moody Blues first huge chart success was 1965's bluesy "Go Now." They didn't lock themselves into a formula, instead, veering off in a different direction, writing complex, classically influenced rock pieces, such as "Tuesday Afternoon" and "Question." Lodge penned such enduring songs as "Ride My See Saw," "Eyes of a Child," "Send Me No Wine," "Candle of Life," "Minstrel's Song," "Emily's Song," "Isn't Life Strange" and "I'm Just A Singer (In A Rock and Roll Band)."
Album after album saw them expanding their musical vision. Among the magnificent creations are "Days of Future Passed," "In Search of the Lost Chord," "On The Threshold of a Dream, To Our Children's Children's Children," "A Question of Balance," Every Good Boy Deserves Favour, "Seventh Sojourn," "Octave," "Long Distance Voyager" and "Strange Times." The band has amassed 14 platinum and gold discs.
Lodge teamed with fellow Moody Justin Hayward for the 1975 album "Blue Jays" and released an excellent solo album, "Natural Avenue," in 1977. In that decade, Lodge produced the band Trapeze.
Moody Blues Fans remain firmly faithful. In July, Universal Music Enterprises will release a greatest hits CD, "Icon."
Married to wife Kirsten since 1968, Lodge has been able to find a beautiful balance in life. And he still relishes stepping on stage to thrill packed venues with memorable Moody Blues songs. The band's musical integrity and innovative style has earned them remarkable longevity.
It was a pleasure to chat with Lodge for Pop Culture Classics.
POP CULTURE CLASSICS:
It must have been a great feeling to have "Nights In White Satin" become a huge hit on the U.K. charts again.
JOHN LODGE:
Yes, number two in the charts. All from 'X Factor.' One of the most gratifying things about it being number two was that someone else from the television show performed it and you'd have expected that one to go flying up the charts. But everybody downloaded our version, which was a really, really nice thing for us, to be honest, because it's out of the blue.
PCC:
But the band's albums are so rich and textured, does it concern you that young people tend to pluck individual songs from iTunes, rather than complete albums?
LODGE:
That is a problem. But if a young person just hears one snippet of a Moody Blues song and they like it, maybe they'll come to the concert and maybe they'll see two hours of Moody Blues and then maybe they'll go, 'You know, I think I really should have bought the long-form version. That's what we hope, of course. But it's very difficult in some ways. If you were just coming to The Moody Blues now and said 'Which album should I buy, that says who The Moody Blues are?,' I wouldn't know. I wouldn't know at all. I could say, 'Start with the first one and work your way through.' That's probably the only way to do it. But I wouldn't know what album sort of says who The Moody Blues are.
PCC:
Are there particular elements that make The Moody Blues' music instantly recognizable?
LODGE:
Yeah, there are. And those elements are on all the albums, from day one. And the other interesting thing is, we've written the songs ourselves, the songs are really about us at a particular time in our lives and about experiences that we were having or we had had. And you suddenly realize, that transcends generations. When I was writing a song like, say, 'Peak Hour,' which I wrote probably when I was 22, it still seems to appeal on stage today. And the same words in that song are still relevant to what's happening to everyone today. If you can transcend everything, transcend the leaps from one generation to the next, then you can still appeal.
PCC:
You were just 14, when you began playing in bands.?
LODGE:
Yes, at 14. And Ray Thomas, who was the flute player in The Moody Blues until just a few years ago, he was 16. And we met and formed a band. And we were together for four years before The Moody Blues. Interesting times.
PCC:
How did the fantasy of life as a rock musician compare to the reality?
LODGE:
I don't know whether there was a fantasy. Until I was probably 13, although music was all around me - radio, at school, everywhere else - I never saw myself playing an instrument. But then this thing called rock 'n' roll turned up from America. It wasn't just about the music. It was rock 'n' roll. It was something about young people. It was something new. It was about the bold adventure through the fifties. I wanted to be part of it. It wasn't just the music. It was everything - the cars. American cars were just supreme. And 'Rocket Man.' [campy TV crime fighter of the era] All those things were just supreme. When I suddenly realized I did have ability to learn how to play a guitar and use it on stage, it just became an extension of me. I don't think there's any fantasies. It was just a case of, 'It would be fantastic if we could go and play at the youth club next week.' And that's what we did. We played the youth club. And then eventually, we'd say, 'It would be fantastic if we could go play at a proper club, where people pay to go and watch.' And then, suddenly, you're doing that. So, I suppose, you live the fantasy, as you go along. You don't actually know that the fantasy is.
PCC:
It must have been a pioneering phase for electric bass in rock.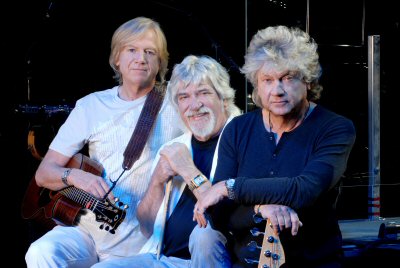 LODGE:
It was. I came from Birmingham, in England, and you could not buy an electric bass guitar. I actually didn't even know what an electric bass guitar was. I was playing a regular electric guitar, but I was playing the bottom strings, because that's the area of sound that I was really interested in. I was also interested in the driving force of what those bottom strings do. And there were people like Duane Eddy playing on the bottom strings of his guitar. And it just enthralled me. And then I went to see an American band, which you've probably never heard of, not many people have, but they are well worth looking up, a band called The Treniers. And I went to see them live in Birmingham, at a concert, and I'm looking, and there are like three guitarists. And I thought, 'Just a moment, that guitar in the back doesn't look like the other ones.' It had only four strings. And I went, 'Ah, that's what the electric bass looks like.' It was a Fender Telecaster bass. And that was it then. I just had to try and find this bass. And then one appeared in Birmingham, a Fender Precision bass, in 1959 this was. And I remember rushing home to my Dad and saying, 'Dad, can you help me? I can't afford to buy this. I have no money. I'm in school. Can you help me?' And we bought this Precision bass and then I learned how to play it and had to build amplifiers to get the sound to come out of it. You needed some good speakers and a powerful amp. And then I recorded the first 10 albums with that bass, can you believe?
PCC:
At the beginning, in the Denny Laine days, it was more of a blues-oriented band?
LODGE:
Yeah, The Moody Blues, in the beginning, with Denny. 'Go Now' was a fabulous song. But it was written by Bessie Banks. It wasn't written by The Moody Blues. And the band was based on a blues band. Strangely enough, none of us had ever been to America. And it was strange to be sort of copying American music, when you've never actually been. I think that's why we decided to start writing all our own music and then we came up with 'Days of Future Passed,' because we wanted to be the blues, but English style. We wanted to sing about the blues in our lives, being from England. And that's what we did.
PCC:
And the complexities of the music, the classical influences, where did all of that come from?
LODGE:
Well, that came about, because we are all different people within the band. And for me, personally, I went to what's called a grammar school in England. And before that, I was at a very small school and every afternoon, there would be a quiet period and they would play classical music on a record. And the reason for this, I think, was that Birmingham had, still has, one of the great orchestras in the world, the city of Birmingham Symphony Orchestra. So I have this influence of classical music, which I never thought was going into my psyche, to be honest. I thought I was just falling asleep. And then, Birmingham is a motor town, so you have all these heavy steel industries. So you've got the yin and yang, really. You've got the orchestra and then the heavy metal. That's why you've got bands like Ozzy Osbourne out of Birmingham. You've got all the heavy metal bands that came out of Birmingham, as well. And then you've got the orchestral-leaning bands like Moody Blues and Electric Light Orchestra. That's my theory, anyway. [Laughs]
PCC:
It must have been an exciting time for music generally, with all the stylistic experimentation going on.
LODGE:
It was absolutely a brilliant time. I don't know exactly how many bands there were in Birmingham at the time. But there must have been at least a thousand bands in Birmingham, playing. And there were so many venues. When I was 15, 16, 17, I was playing probably five concerts a week in Birmingham, around the area. It was just a fabulous time. But you'd just meet up with all these other artists, they're all friends, and talk about music. It was wonderful. Everyone would meet on a Saturday afternoon at two music shops in Birmingham and while you were in there, you'd be saying where you'd be working that night. Even if you weren't working, you'd tell somebody you were. [Laughs]
PCC:
There were so many different directions in music happening at that time.
LODGE:
So many different directions. Because you'd go to see one band and say, 'Yeah, I really like this band, but we've got to do something different. We don't want to go that way.'
PCC:
Do you hear much musical adventure and daring in rock music today?
LODGE:
Not really. To be honest, no, I don't. There's a lot of bands out there we all like. But I think they should experiment more. It seems to me, it might be the record company, they find a formula for a band. The band has a really good record. And if you listen to the following albums, they're sort of hanging on the same formula, instead of saying, 'Okay, that's that one. Let's try something else completely different.' And it's still them. It's taken the risk out of it. But you've got to take risks in music. If every album sounds the same, how can you extend yourself as a creative person?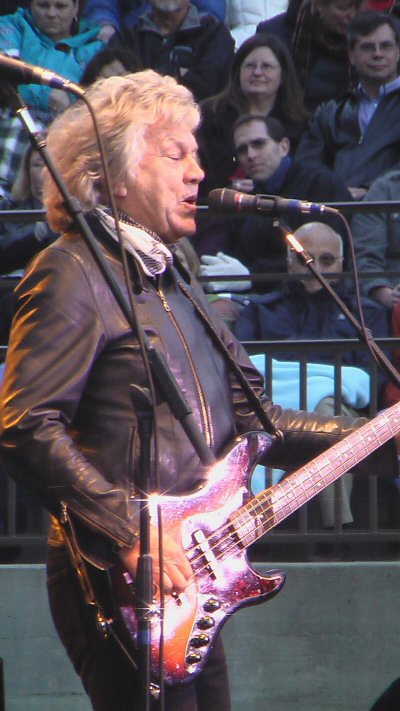 The Moody Blues, Mountain Winery, Saratoga, Ca., May 27, 2011
PCC:
At the height of the band's popularity, how did you avoid all the pitfalls and excesses of the rock life?
LODGE:
Well, we did take a lot of them, but we'd take the good ones [Laughs] and the ones that were going to give us grief, kept away from those. It's as simple as that. 'Hang on, this could be grief here' and get out of it. And 'Oh, this could be great fun here.' We had all the excesses, jaunting in planes all over the place. For 'Future,' we chartered a plane and even had a dance floor on the plane with an organist playing [Laughs]. I don't smoke and neither do a couple of the other guys. When you're chartering small planes and people are smoking, it really is awful. Of course, nowadays, you can't smoke. But we got to the point of having smoking and no-smoking jets, which seems ludicrous, really. But you can understand why we had to do that, because I didn't want to be full of smoke. So that was an expensive grief, but it worked. And then, of course, eventually, the whole world comes around to thinking the same as us, that you shouldn't smoke on a plane. So now we're okay. We only have one plane.
PCC:
The togetherness factor, what is the personal chemistry amongst you and the other original members, Graeme Edge and Justin Hayward, that's allowed you to co-exist so long?
LODGE:
Well, very simple, really. We love each other for our music. And we support each other on our music. We've grown up together since we were like late teenagers, early twenties. And we've got our own independence of each other, which is really important. You mustn't live our of each other's pockets. We do our own things, when we're not together in the band. But we're in touch with each other all the while. And there's a friendship there. If one of us wants to go out to dinner, the other one fancies going to dinner, we go to dinner. One goes to the cinema, we go to the cinema. And that's it, really. And to be truthful with each other. But it's all about the music. We got together to make music, make Moody Blues music. And that's what we've done ever since.
PCC:
And what have been the greatest rewards over the course of the career, musically?
LODGE:
Oh, there's too many. If I had to take one, straight off the top, while I couldn't really do, Justin and I wrote a song called 'Gemini Dream,' where there's always two things. You can never choose one. And I'm proud that my family are happy at what I've done. Growing up through this crazy rock 'n' roll world and they understand and they're proud of it. And they're proud of what we've done. And the other one, which is probably the biggest one, is the amount of people that still come out to see The Moody Blues. That is one of the most heartwarming feelings you get, that people are at a concert to listen to our music. That is one of the most heartfelt things, to me. The rewards, they just come. The rewards and the awards, they just arrive. But they're not here for any other reason than the audience.
PCC:
It must be great to hear from fans how much the songs you have written have meant in their lives.
LODGE:
That is fantastic. That is the heartfelt thing. When somebody writes to you about some particular thing in their life that a particular song has meant so much to. And you're just really pleased that, somehow, you managed to write that song.
PCC:
There's a new album coming out in July, a greatest hits collection called 'Icon'?
LODGE:
Yeah. The Moody Blues' musical career, which has been a long one, a lot of different record companies around the world have got different albums and different contracts and everything else. And last year, we managed to get all our licensees or whatever they're called, 'round the world, into one place, into Universal Records. And Universal Records really want to put out what they consider to be a greatest hits that has come from the record company, instead of having hundreds of different ones. I look sometimes and some of these Moody Blues greatest hits albums, I'd never seen before and I wonder who issued them. You have to be worried about the quality of the sound and the quality of the artwork and the quality of everything, because it's got our name on it. And sometimes, to be honest, a lot of the greatest hits albums, the artwork looks dreadful. Really not pleased. Over the years, we've taken so much care to try and make things right, so the whole Moody Blues experience, in not only the music, but even the sleeve and the liner notes, is as good as it possibly can be. So hopefully, this one will put back who The Moody Blues are, into a greatest hits package.
PCC:
I understand you have your own wine that you're now making available?
LODGE:
Yes, I am. I've enjoyed wine all my life. Not just the drinking of it, though that I quite like, as well [Laughs]. The whole thing about the wine, the countryside where wine is made is always fascinating to me, because it's the most immaculate places. It doesn't matter where you go. If they're growing vines for wine, the countryside is immaculate. I've been all over the world. I've seen wine being grown in India, in Australia, New Zealand, all across the United States, all across Africa. And, of course, all across France and Spain and Portugal. And it's always the same. It always looks immaculate. There's always a great vibe. And, if you ever get the opportunity to get to Napa Valley or Sonoma, that is probably the best vibe there is, in the USA, looking at wine. I was very fortunate, about 10 years ago, to meet a company called Behrens & Hitchcock in Napa Valley (St. Helena, Ca.). And we discussed making a wine, a particular high-end wine, not just a wine to make a wine, but a really great blend, like the great blends from Bordeaux in France. And they made this one and it's a vintage 2002 and it really is drinkable right now. It's just come to fruition. It's aged beautifully. And, I thought, as I'm in the San Francisco/Napa/Sonoma area, perhaps we should launch it this year. And so I'm very excited to see what happens. The only problem is, I never drink when we're doing concert tours, so I won't be drinking. It's all right. More for everybody else.

The Moody Blues, Mountain Winery, Saratoga, Ca., May 27, 2011
PCC:
Married for over 40 years, a rarity in today's world, let alone the rock world, what's the secret?
LODGE:
As I said, I think, look for the grief first. Most people I know who are on their third, fourth, fifth marriages, have still got grief all over the place. I've been very fortunate in the fact that, I met my wife and we fell in love and still are. We speak every evening when I'm on the road and she's not with me. We speak at least twice a day. And that's it, really. You've all got to give. As a musician, I can really do anything I want to do. There's people around all the while, wanting to do everything for you. If you accept all that, then you really are going to find grief. You've got to be able to give as much back and think about other people who aren't getting all these benefits. You've got to be down to Earth, as well. It's wonderful having private planes and limousines and security and all of that. But, at the end of the day, I'm just John Lodge. I'm married. And I've got two children and a grandson. So that's who I am, really.
PCC:
How have you been able to maintain such a healthy perspective on life?
LODGE:
I keep kicking myself. No, seriously, you have to do that. You have to do reality checks, because you could actually fall for everything that's here. I wrote a song in 1978 on 'Octave,' called 'Steppin' in a Slide Zone' and that's basically what that song's about. Just be very careful, whatever you do in life. Don't let the light at the end of the tunnel be the thing that your whole life is based on, irregardless of anyone else. I don't think that works.
PCC:
Over the years in rock, what have been the greatest challenges?
LODGE:
There have been big challenges. The door opens everywhere, you know. But, as I say, go through the doors that you want to explore. Remember that the most important thing in life is not to hurt other people, either physically or emotionally. To me, that is the importance in life. You've got to try and put that right. You don't want your ego to get so big that you don't see anything or anyone else.
PCC:
The band's always remained true to themselves. Is that a key to the longevity?
LODGE:
We believe everything we do. I don't think we've ever done anything as a band, that we haven't believed in and haven't believed that it's the right time to do it. In the mid-seventies, we became the biggest band in the world. We were. It's not a boast. The awards had turned up. I'm just saying. And it was all getting out of hand. And we all took the decision not to work together as a band for four years. It was the best decision we ever made, I think, because it made us evaluate who we were again and plant our feet back firmly on the ground.
PCC:
The band has been so innovative and influential, do you find it baffling that the Rock and Roll Hall of Fame has, so far, snubbed The Moody Blues?
LODGE:
I suppose, the people who run the Hall of Fame, they're on their own agenda. And whatever that agenda is, it has nothing to do with me. But obviously, from a fan point of view, they're saying The Moody Blues haven't contributed to American rock 'n' roll history. But 70 million albums later, incredibly successful tours, and the most devout of fans, I would beg to differ.
PCC:
How do you view the band's legacy?
LODGE:
To me, as long as there's Moody Blues music out there, that is good enough for me, it really is, because I believe in The Moody Blues' music and, as long as it's out there, that's fine. As I said earlier, all the accolades, it's like Alice in Wonderland, really. Actually, it's like the Tin Man and the Lion wanted a medal. When they found the Wizard of Oz, they realized, 'Oh, he's only an ordinary chap. Do these medals mean anything?' And that's the thing with awards. What do you do with them? Hang them on the wall? Polish them? It's nice to have them. But it's not what it's about. It's about the music.
For the latest Moody Blues news and tour dates, visit www.moodybluestoday.com.