JOHN OLIVER: THE LIFE OF WRYLY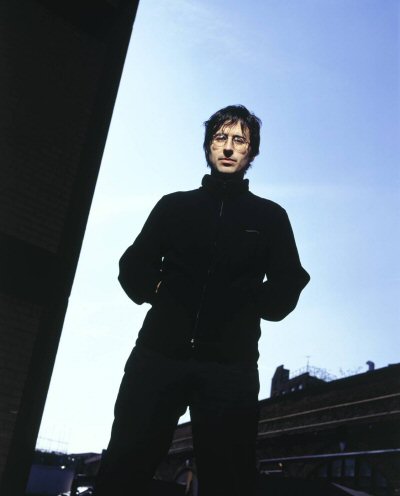 Photo by: Dragomir Vukovic
By Paul Freeman [Dec. 2010 Interview]
Since being introduced to American audiences as "Senior British Correspondent" for Comedy Central's "The Daily Show" in 2006, it seems like John Oliver's wry wit is finding new showcases on a daily basis.
Oliver's stand-up special, "Terrifying Times" has been released on DVD. With Andy Zaltzman, he co-hosts a weekly satirical podcast, "The Bugle." Oliver played Dick Pants in the movie "The Love Guru." He has a recurring role on NBC's sitcom "Community." And he hosts Comedy Central's new series, "John Oliver's New York Stand-Up Show." Currently, he is writing a feature film script for Paramount.
The 33-year-old native of Birmingham, England, raised in Liverpool, then Bedford, graduated from Christ's College, Cambridge and was vice-president of the famed Cambridge Footlights. In 2001, Oliver made his first appearance at the Edinburgh Festival Fringe.
His British TV credits include "Green Wing," "My Hero," "Fighting Talk," "Mock of the Week" and "People Like Us." He played several roles in Comedy Central's "Important Things With Demetri Martin." In the movie "The Love Guru," Oliver played Dick Pants.
But Oliver most cherishes his slot on "The Daily Show." He fits that format perfectly, managing to expose the unvarnished truth, while finding hilarity in the headlines.
Oliver, now based in New York, is engaged to Kate Norley, an Iraq War veteran who served as Army combat medic.
Humor is the scalpel Oliver deftly wields. In responding to Pop Culture Classic's questions, he had us in stitches.
POP CULTURE CLASSICS:
Did you feel instantly at home on "The Daily Show"?
JOHN OLIVER:
I really did. It just so happened to be my favorite show back in England, even before I got offered the chance to come to America to work on it. That fact made my first day simultaneously both more relaxed and more nerve wracking.
PCC:
On that show, how do you find the balance between the need to get the laugh and the desire to make a relevant point?
OLIVER:
Well, our first priority is always to try to make anything we do funny. As a comedy show, that is our main, and only real responsibility. But Jon also likes to make sure that each segment has a strong point of view – even if we then like to almost completely bury that point of view under a mountain of jokes about testicles. The point is always under there somewhere, if you're willing to dig hard enough.
PCC:
Does the show's staff have a familial sort of vibe?
OLIVER:
Definitely. We have at least five dogs walking around the office at all times, and lots of people have been working here for over 10 years. It's hard to imagine working somewhere else and being as happy. We're institutionalized. It's like being in prison, in a way. A nice, white-collar prison, with free lunch, where you get to leave and go home around seven o'clock every night.
PCC:
What impresses you most about Jon Stewart?
OLIVER:
I always knew he was a phenomenal comedian, but his management skills, and the way he manages to make the production of the show run smoothly, is mind-blowing. His work ethic is both inspirational and intimidating. He's also a much better soccer player than you'd think.
PCC:
Do you believe political satire to be a vital tool/weapon in our society?
OLIVER:
No. It's a fun tool to have, but I can think of hundreds of tools and weapons you'd rather have first. I certainly wouldn't like to find myself running into battle armed only with pages of jokes lampooning the opposition army.
PCC:
Does coming from another environment give you an advantage in terms of having an objective eye?
OLIVER:
I think it does help a bit. Comedians are naturally outsider figures, and to have the different perspective of coming from another country, a different political system, can sometimes be useful. Also, the fact that I speak differently (or as I see it, correctly) makes that distinction even greater.
PCC:
Is it sometimes difficult to find the humor, when the political figures are so maddeningly unresponsive, irresponsible or irrational?
OLIVER:
We've not struggled to mine humor from deep frustration so far. Jon Stewart has been working down in that mine for the last 12 years.
PCC:
Has the government become a parody of itself?
OLIVER:
There are certainly occasional moments when we realize that they are getting dangerously close to self-satirizing, and are thus threatening to cut us out of the process completely.
PCC:
Is it as fulfilling to work within the confines of a network sitcom, like "Community"?
OLIVER:
Doing 'Community' is fulfilling in a different way. I never really had any desire to be on a "regular" sit-com – but then 'Community' is hardly a regular sit-com. The writing is fantastic, and the whole show could hardly be any more conceptually ambitious. The entire Christmas episode was in stop-motion 'Claymation', for goodness sake! You don't see 'Two and a Half Men' trying to pull that off! The fact that they turned me into a Claymation Christmas Wizard means I am in their debt for the foreseeable future!
PCC:
You met your fiancée, who was representing Vets for Freedom, at the Republican convention. Does the fact that you're both politically involved add spice to your relationship?
OLIVER:
She is actually not politically involved at all. She is a veteran of the Iraq War, and attended both conventions lobbying for veterans rights. She was in the Army; a combat medic with 1st Cavalry, and I couldn't be prouder of her service.
PCC:
How would you describe your experience at the Rally to Restore Sanity? What did you feel the event accomplished, beyond the fun?
OLIVER:
The only thing we could hope to accomplish was a fun day out for the people that turned up. I really hope they enjoyed it. For me, it was probably the strangest experience of my life. There was one moment when I was dressed up as Peter Pan, in front of 250,000 people on the Washington Mall, and I found myself dragging Stephen Colbert off the stage, nearly tripping over R2D2 and falling into Tony Bennett. I knew then that I was having a pretty weird day.
PCC:
Growing up, who were some of your comedic influences?
OLIVER:
I loved Monty Python, Armando Iannucci, and Richard Pryor. I used to listen to Richard Pryor's albums every night when I was at high school, and knew most of them off by heart. Believe me, you haven't heard the comedy of Richard Pryor until you've heard it secondhand, through the voice of a white, 13-year-old, British boy.
PCC:
Were your parents happy about comedy as your career choice?
OLIVER:
Would you have been? They were definitely more supportive than I'd have had the right to expect.
PCC:
What made you decide to move to the U.S.?
OLIVER:
I was offered the job on the Daily Show. That was it. I had never been here before, and I was offered the job. It all happened so fast that I am still struggling to take it in.
PCC:
What can you share with us about the upcoming Smurfs movie?
OLIVER:
I don't really know anything. All I know is that I'm Vanity Smurf, and I spend the whole time gazing at myself in the mirror. I think the producers decided that the British accent was the best way to sonically portray complete narcissism. I take that as a compliment.
PCC:
Do you add up-to-the-minute political references to your stand-up sets? What other material might be included?
OLIVER:
Sometimes. That's the beauty of live stand-up – you can talk about what you want. I think inevitably I end up talking about what has happened to me, or to the world that day. It's half the fun.
PCC:
Having lived in the U.S. for a while and analyzed our country, how has your perspective on the nation evolved?
OLIVER:
It hasn't evolved at all. I still fervently believe that you should return to the open, abusive arms of the British Empire. The Queen would take you back in a heartbeat if you'd just apologize to her for that whole Boson tea hullabaloo.
PCC:
Do Americans seem to have a different attitude towards their leaders than British citizens do regarding theirs?
OLIVER:
I think Americans start with a fundamental respect for the office of President, and then hope not to be disappointed. Whereas British people start with nothing but complete contempt for all our politicians, and then have a faint hope that we may be proved wrong.
PCC:
Could someone like Sarah Palin have gained any traction in the U.K.?
OLIVER:
She'd certainly gain a great deal of traction. There's no doubt about that. Whether that traction would be positive, or spectacularly negative I couldn't say. But it would be fun to watch, and, for what it's worth, my money would be on option two.
PCC:
If you were elected to Parliament one day, what would be your agenda?
OLIVER:
The only item on my agenda would be to see just how quickly I could correct the huge electoral mistake that had just occurred.
PCC:
What's your dream gig? Your ultimate show biz goal?
OLIVER:
To not get fired from my current job.
PCC:
Are you writing screenplays for yourself?
OLIVER:
I am actually writing a screenplay for Paramount, which is due in a few months.
PCC:
Is it encouraging that so many "Daily Show" alumni have gone on to stardom in other avenues?
OLIVER:
It's both encouraging and intimidating.
PCC:
Do you find the podcast form liberating?
OLIVER:
It's great fun. I have done a weekly podcast called "The Bugle" for the last few years with Andy Zaltzman, in England. And I'm both very grateful, and completely surprised at the extent to which The Times of London have just let us do whatever we want. They seem happy to ignore us, just assuming that we're up to no good.
PCC:
What's next? Any film roles set? Another Comedy Central special?
OLIVER:
There's a chance that I'm going to be working on a movie with Terry Jones from Monty Python, in the Spring. I'm definitely filming another series of my stand-up series for Comedy Central in January. And otherwise, I'll just be doing what I love doing the most; 'The Daily Show. '
If you're near the Bay Area, you can catch John Oliver performing stand-up live, Dec. 29 - Jan. 1, at Cobb's Comedy Club, 915 Columbus Ave., San Francisco. Tickets at www.livenation.com. Information at www.cobbscomedyclub.com; (415) 928-4320