JOHN SCOFIELD: GREAT GUITAR MUSIC - PAST, PRESENT, FUTURE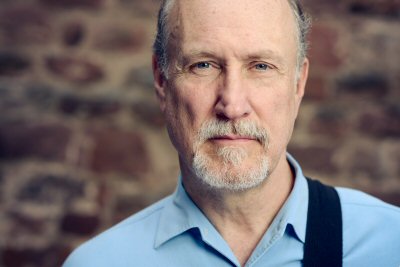 John Scofield, photo by Frank Stefan Kimmel
By Paul Freeman [February 2015 Interview]
John Scofield is one of the most influential guitarists of his generation. The veteran bandleader, an accomplished composer, has collaborated with such legends as Gary Burton, Joe Lovano, Joe Henderson, Wayne Shorter, Herbie Hancock, Jack DeJohnette, Charlie Haden, Bill Frisell, Mavis Staples, Government Mule and Phil Lesh.
Scofieldís first recording date had him teamed with icons Gerry Mulligan and Chet Baker. He also recorded with Charles Mingus. He spent three formative years with the Miles Davis band.
A native of Dayton, Ohio, Scofield has recently been playing with a quartet featuring Lovano. In the early 90s, his John Scofield Quartet recorded acclaimed albums for the Blue Note label. His saxophonist was Joe Lovano. Scofield, now 64, had originally met him when they were in their first year of college at Bostonís famed Berklee School of Music.
The 2016 Grammy Award winner for Best Jazz Instrumental Album, ďPast PresentĒ (on the Impulse! label), Scofield continues to tour the world. The married father of two is also now an Adjunct Professor of Music at New York University.
POP CULTURE CLASSICS:
Whatís the chemistry like between you and Joe Lovano?
JOHN SCOFIELD:
Ah, better living through chemistry [laughs]. Yeah, Iíve known Joe for many, many years. I just turned 64. I think heís 63. And we met when we were like first year of college at Berklee School of Music. And we became friends then and have been friends ever since. Kind of came up in the scene, moved down to New York around the same time, started to play with big-time bands, in different bands, but always stayed in touch. I always loved his playing. He was kind of my favorite tenor player of our generation. Then in 1989, when we first got together, he was in, I guess it was my band, it was called the John Scofield Quartet, for a bunch of years, in the early 90s. And we made, on Blue Note, three albums [ďTime On My HandsĒ 1990, ďMeant to BeĒ 1991, ďWhat We Do,Ē 1993], then thereís a bootleg - four albums back then, CDs that came out. And weíve reunited for my new CD, ďPast Present,Ē on the Impulse! label.
PCC:
Getting together after many years, did it feel like you were picking up where you left off?
SCOFIELD:
Yeah. To tell you the truth, when I decided to make this CD, thatís called ďPast Present,Ē I sort of thought in my head, ďI want to make it a jazz CD, as averse to some of the funk-ish records Iíd been making. I want to make this more of a straight-ahead record. And I like to be the guy who plays the chords, so I didnít want to do it with keyboards. Maybe it would be nice to get a good saxophonist.Ē And, yeah, Joeís the best. So I got him. And then I got the drummer I used to play with, who Iíve been playing with all this time, since the early 90s - Bill Stewart. And we picked a great bass player - Larry Grenadier. I didnít really think of it as a reunion record so much, even though I knew that thatís what it was. But I just had this music that I wanted to play. And I couldnít think of anybody better to play with.
PCC:
What do you most admire about Joeís playing?
SCOFIELD:
I think itís the way we play together. That feels effortless. First of all, I just love to listen to him, because he swings so hard and his ideas are really great and heís coming from a really soulful place. And a lot of the things he does, I try to do on the guitar, maybe not the exact same notes, but conceptually. I guess Iíve always been a tenor saxophone fan and tried to play guitar a little bit like that. And yeah, Iím a fan of Joeís. Heís very adventurous, but deeply rooted in the past. And the tenor saxophone has this huge tradition in jazz. It might be the greatest instrument for jazz improvisation, the most expressive one.
PCC:
From your perspective, whatís the key to effective improvisation and the whole interaction thatís involved with that?
SCOFIELD:
Well, I wish I could sum it up for you [laughs], because this is what weíve devoted our lives to trying to do. And what I tell my students is, if you just practice and work on it, itíll happen. You canít explain it. If I had to say what the key to all this is, itís listening to the other members of the band, which sounds simple, and it is, but to play your ideas while really listening to the other peopleÖ In a way you donít have to change what youíre playing. If you listen to them all the time, youíll subconsciously come all together. And I think thatís what makes really high quality music like that, rather than virtuosos all playing together, but itís sort of better when they just play by themselvesÖ or they think theyíre playing by themselves.
PCC:
For you, does improvisation often lead to new compositions?
SCOFIELD:
Yeah, theyíre very, very close. I mean, I improvise compositions and then, ďOh, that sounds good.Ē And I write it down and then try to make it better. But itís all part of what I play, which is sort of what I can think of. And when I improvise, thatís me. And when I write a tune or compose something, thatís me, too, and itís coming from the same place. And the nice thing about compositions, you can just slow it down and try to get it right. And this band, and pretty much all the great jazz bands, actually, are combinations of composition and improvisation. And compositions that set up improvisation. So itís this idiom that uses both things.
PCC:
When you say, youíre playing what you can think of - how much do you intellectualize it and how much is it just instinct or emotion?
SCOFIELD:
Well, thatís another good question. Man, weíre getting to the heart of the issues. You know, we would like to ideally think that we donít think at all. Right? We idealize a thing about a musician who just goes on pure emotion. And you donít want to be thinking technically. You want to be good enough so that you can sing through your instrument. But I have a brainÖ and it works. And itís always working when Iím playing. And sometimes Iíll think of things. Iíll think like this and that, because I know about music technically and all. So I do think about stuff. Everybody does. But you learn to go to this special place where youíre kind of just speaking through your instrument.
PCC:
And have you found special ways to get to that place?
SCOFIELD:
Nah. Everybody says, ďHow do you get to that place?Ē I have no idea. I just do it all the time. I used to not be able to get to that place very often. I tried everything - getting high, not getting high, meditating and thinking, practicing all the time, trying every sort of thing I could to get to whatever that place was supposed to be. And, in the end, Iíve found that no artificial stimulation is necessary and I just do it all the time. And some days are better than others.
PCC:
What inspired you to first pick up a guitar, at age 11?
SCOFIELD:
Well, you look back, in 1963 or whatever it was, guitar was it. In order to be cool, you were either a guitar player or an athlete. And I failed at athletics. I really loved music too, plus I thought it was like the thing. I think itís a little different nowadays.
PCC:
So back in the 60s, were you listening to jazz? Or was it more like the British Invasion bands?
SCOFIELD:
Oh, no, I didnít start by listening to jazz. I started with rock íní roll and whatever was on the radio.
PCC:
And was that British Invasion? Or even earlier stuff?
SCOFIELD:
Well, right at the beginning of the British Invasion, but there was also a holdover from the folk music era, I was into as a child, really. And music in the early 60s wasnít just the British Invasion. When we look at it, there was a lot of kind of old show business stuff still around, if you look at the Top 40 lists. And a lot of that was actually jazz feeling music. And I was aware of jazz from the very beginning - the rhythm jazz and swing music. And then I got into it later, when I was more like 16.
PCC:
Who were some of the primary influences early on?
SCOFIELD:
I became obsessed with the music and listened to all the greats. And that took a while, because thereís a lot of shit out there. But, on the guitar, first I liked blues, like B.B. King. He was my man. I used to go hear him, when I was 14 and stuff. And that was great. And that, in a way, never left. I still love that kind of guitar playing. But then I got into Jim Hall and West Montgomery and Pat Martino and George Benson, the greats of jazz guitarÖ as well as really the horn players - Miles and ColtraneÖ and [pianists] Monk and Bill EvansÖ what everybody who is really serious about jazz listens to.
PCC:
And the process of shaping a style thatís your own, was that a conscious thing? Just something that comes with time?
SCOFIELD:
Yeah, I mean, itís conscious, in that I knew that thatís what you were supposed to do in jazz. And, in a way, it was more of a relief for me, because I said, ďHereís this kind of music that allows you to be yourselfÖ and Iím failing at copying the people I really want to copy.Ē I couldnít quite get it, you know? [Laughs] And I thought, ďBut thatís okay, because this is jazz, where everybody says youíre supposed to have your own sound.Ē So I accepted it. And I knew that it was actually important. But I think it happens by itself.
PCC:
From your perspective, what did become the most distinctive elements of your sound, your style?
SCOFIELD:
My sound? I donít know. I try to play guitar a little bit like a horn, because I like lines and stuff. But I play electric guitar - and itís pretty electric, as averse to acoustic. So I use the sound of what the electric guitar can do. And a lot of that is sonic stuff that kind of comes from rock, as well as jazz. Stuff that happened after Jim Hall and Wes Montgomery, I use on the guitar. Iím not the only person that does that.
PCC:
How important was your studying at Berklee, to have that sort of formal foundation?
SCOFIELD:
It wasnít that formal, it turns out. I went for two-and-a-half years. I took guitar lessons before that. I always wanted to study music. And I would read about it. And I took lessons from a guy who taught me how to read music. And I was learning jazz from written music, as well as from records. When I went to Berklee, it was the same study, that helped you to study on your own. There are a lot of things I didnít get to in school, like classical counterpoint or real classical music theory or orchestrations - I never did any of that. I kind of wish I had. But in the end, itís turned out to be practicing and listening. And when I went to Berklee, what was really important was hanging out with other young kids that were way into it, because I came from a little town in suburbia and there were not so many jazzheads. But all of a sudden, everybody was into it. Berklee now, I think thereís a lot of serious jazz kids, but there are also ďAmerican IdolĒ wannabes. That wanít there, when I was there. It was a jazz place.
PCC:
And then, recording so early in your career with Gerry Mulligan and Chet Baker [in 1974], was that daunting? How did that all come about?
SCOFIELD:
[Laughs] That was daunting. I mean, that was when I couldnít get into that space, we were talking about before. I played with Gerry just a couple of times. This was when I was still in Boston. Iíd just dropped out of Berklee and I met him. And he hired me to play with him. So I was kind of in his band. I didnít even know it. We played a week at the jazz workshop. And then, like a month later, he called me to do another gig. And it was in New York with Chet Baker, as part of this recording. And I was really green and I just drove to New York City. I actually went to the stage door at Carnegie Hall with my amp and played the gig and was so nervous I could barely stand there. But it was great to play with those guys.
PCC:
What were your impressions of Gerry and of Chet?
SCOFIELD:
Gerry, at that point, was a seasoned veteran. He was probably younger than I am now. Iím pretty sure he was. But he seemed like this guy who had already made it. And in a way, he was like this guy from another era, because fusion had come in and everything. But I loved him. I loved his music. And people loved him, too. He had a huge audience. He was incredible, man. Chet, [chuckles] Chet had just come back from Italy, where he had been really estranged from the world. He had even served prison time and stuff. Chet and Gerry, it was their first reunion, I think, since their famous stuff in the early 50s. And actually, I wasnít as aware of the history as I became afterwards. But Chet was very, very nice to us young musicians. He was like a beatnik, but he seemed like a very quiet sort. He was a real jazz guy.
PCC:
And what was your experience like with recording with another real jazz guy - Charles Mingus?
SCOFIELD:
Oh, man. With him, I really only played on that one record [ďThree or Four Shades of BluesĒ]. But he was very intimidating. Not on purpose. But again, he was a super legend. But it was with Miles, I played with him after that, and that was the superstar of jazz I actually hung with and played with his band for almost three years and worked with him and got to know him. So that took like a year of being intimidated and then I really got into the music with him.
PCC:
And what did you learn, working with him, that you could apply to your own career?
SCOFIELD:
Well, I learned I couldnít act like Miles Davis, because a lot of guys that played with him tried to act like that to other musicians, the way he would just be this incredible character and say all kinds of outlandish shit and pull this stuff on you. And you canít do that unless youíre Miles. And Miles was one of a kind. But what I learned was playing melody and with space and with really great rhythm to really burn. I just took his style and tried to apply it to my guitar.
PCC:
Working with Miles and with Gary Burton, in his quartet, were those big steps in terms of leading your own bands?
SCOFIELD:
Oh, absolutely. You know, Gary Burton, a lot. Gary was a guy I met before Mulligan or anybody, because he went to teach at Berklee, while I was there. So I really got to know him and see how he led a band and how he organized music. And I really realize now that Iím really from the Gary Burton school of how to put a band together and how to organize the music.
PCC:
What were the characteristics of Gary as a leader that you wanted to take into your band-leading?
SCOFIELD:
Oh, I donít know. Wow. I mean, I had no idea what people did. But he had the music written out really nicely and made little suggestions to how each guy would play. Then we learned the tunes and played them. And you had to know the shit out of the music. And it was very simple. And of course this was, turns out, what Miles did and what every bandleader did. I didnít even know thatís how you did it [laughs] in jazz. So Gary was just the very first like big-time guy, really high level jazz bandleader who I ever met.
PCC:
So for you, was it a natural transition into leading bands?
SCOFIELD:
Yeah, I was always thinking about that. When I was moving to New York, which was in the 70s, when I got to play with Mingus and Miles and all that stuff, if I had gotten to be a studio musician then, if the phone had rung and Iíd gotten good-paying studio dates every day, like the real top-level studio musicians were getting, I would have done it. But that didnít happen. So I got to pursue my real interest, which was jazz. And in jazz, you sort of have to be a leader, unless youíre a bass player or a drummer, maybe. If youíre a guitar player, youíve got to just put your own music together and do it. You canít just wait for the phone to ring.
PCC:
You have had a lot of great collaborations over the yearsÖ
SCOFIELD:
I did a lot of great stuffÖ and in the jazz world. But Iím talking about those guys - which this scene doesnít exist anymore - but there were guys in the 70s that just went from studio to studio, playing whatever music. And it was a great life, at that time, for them.
PCC:
But collaborating over the years with so many great musicians, has thatÖ
SCOFIELD:
Yeah, Iím really glad I got to do that. The whole deal for me is getting to play with all these great players, like Steve [bassist/composer Steve Swallow]. He was really my mentor.
PCC:
Youíve collaborated with stylistically diverse musicians. Is that part of the growth process for you?
SCOFIELD:
Yeah. I just kind of went from one thing to another. And now, if you look on a piece of paper, it might look diverse. And it is diverse, but basically I always played this kind of funky stuff, as well as real jazz. Because I started out when fusion was becoming a big thing and there were a lot of fusion bands. I got to do a lot of R&B-ish kind of stuff. And still do. Or jam band or whatever you want to call it. So, yeah, itís been great to be in a few different worlds. And I think each world has informed the others. So I bring one thing from one scene to the next.
PCC:
And your teaching at NYU, is that a learning experience for you, as well?
SCOFIELD:
[Laughs] You know Branford Marsalis, right? Well, he had the funniest thing, man. Cracked me up. Somebody asked him, ďTell us what you learn from your students.Ē Branford said, ďI donít learn shit! They learn from me!Ē [Laughs] Iíve got to love him for saying that. But you know what? I used to not like teaching. Like most jazz musicians, Iíve had a lot of chances to do it over the years. Back when I was in my 20s, I gave guitar lessons for money. And I would always try to get the student to comp for me, so I could practice kind of, you know? But now I really enjoy the people thing, with the people at NYU. A lot of them are really good players. Theyíre graduate students. Theyíre, believe it or not, getting their Masters and Doctorates in Jazz, which, Iím not so sure about that. But itís just the way it is nowadays. People want to get big-time gigs at universities. So anyway, I enjoy the back-and-forth with the students a lot. And I feel like I do learn, because I see what theyíre into and it allows me to sort of peep into other kinds of music, that I wouldnít on my own, maybe.
PCC:
So at this point, what are the most rewarding and the most challenging aspects of life as a musician?
SCOFIELD:
Well, Iíve been really lucky, because Iíve ďmade it.Ē The challenging part of being a musician is having a life. Itís really hard. You see people who go down by the wayside, who really were good players, talented, but for whatever reason, they just couldnít make ends meet. And by the time you give up, when youíre 43 years old, and just go work at the gas station, that sucks! And itís terrible. Itís not an easy thing. When I became a musician, when I was 18 years old, I didnít know anything. I was just thinking, ďI donít care, man, Iíll just give guitar lessons. I just want to be part of this. I love music.Ē Thatís what I was thinking. But now, looking back on it, Iíve been able to have a middle-class life with a wife and kids and put kids through colleges. And we have two cars, live in a house. And most people canít do that. So thatís what the challenge is. And I feel really sorry for the people that really made the effort to really learn how to play and then donít have a chance to do it. I mean, thank God for jazz education that gives jobs for people. But in some cases, you have to get a day gig, and boy, if that had happened to me, man, I wasnít ready for anything. I had no college degree. I had nothing.
PCC:
The reward, is that just being able to do what you love? Does it have to do with the effect your music has on the listeners?
SCOFIELD:
The reward is getting to do what I love with great musiciansÖ and for people that want to hear it, for audiences that give you back so much. I feel like Iím really lucky and that certain things just came together and that I was the type of person who just was able to play the cards I was dealt and I realize that some people, their personalities, they just get in their own way. Not that I developed that or anything. Iím just not that kind of guy.
PCC:
Do you tend to view music as a lifelong study?
SCOFIELD:
It is a lifelong study, which makes it interesting, thatís for sure. I know some other guys who are ďrock musiciansĒ or whatever and they donít even play anymore. Thatís not what itís about for them. But for me, I want to get better. Thatís true of all the jazz musicians I know. The music has been played on such a high level, too - if you call yourself some kind of a jazz musician, youíve got to practice. Youíve got to work on it. There are new things. Itís not just playing the same shit over and over again. There are all kinds of new things to learn and incorporate in music. And right now, Iím feeling good that I keep finding stuff. I donít think thatís going to stop. I think my body will stop first.
For the latest on this artist, visit www.johnscofield.com.