JOHN SEBASTIAN: STILL MAKING MUSICAL MAGIC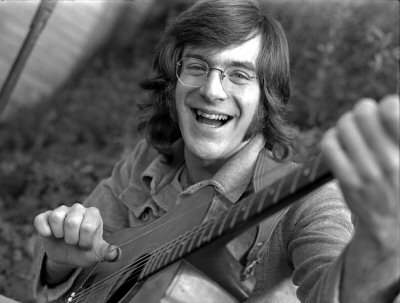 Photo @CSP Images
By Paul Freeman [October 2010 Interview, with a few quotes from my 2007 interview]
Classical music buffs sanctify Johann Sebastian. But for rock 'n' rollers, it's John Sebastian's classic tunes that prove heavenly.
From childhood, John Sebastian was exposed to the multifaceted magic of music. His father, a classical harmonica player enjoyed a wide spectrum of sounds. He would tour the country in a station wagon, returning home with obscure blues and folk songs he had heard along the way.
The teenaged Sebastian sat under a camera at an educational television show, which featured his father playing Bach, a Shakespearean actor, an unknown folk singer named Joan Baez and blues great Lightnin' Hopkins.
Within six months, Sebastian was toting Hopkins' guitar and playing with Mississippi John Hurt. Soon the young musician discovered the joys of jug band. He joined The Even Dozen Jug Band, displaying his talents on guitar, harmonica and autoharp. A much-in-demand player in the Greenwich Village scene, Sebastian worked with such artists as Fred Neil, Tim Hardin, Mississippi John Hurt, Judy Collins and Bob Dylan.
With Zal Yanovsky, Steve Boone and Joe Butler, Sebastian founded the Lovin' Spoonful in 1965, taking the jaunty jug band sound and giving it a new, electrified charm.
The Lovin' Spoonful served up numerous timeless hits, such as "Do You Believe In Magic," "Summer In The City," "Nashville Cats," "Daydream," "Rain on the Roof," "Six O'Clock," "Darlin' Be Home Soon," "Did You Ever Have To Make Up Your Mind" and Younger Girl."
Sebastian contributed music to Woody Allen's "What's Up Tiger Lily," Francis Ford Coppola's "You're A Big Boy Now" and the Broadway show "Jimmy Shine," which starred Dustin Hoffman.
Sebastian's extraordinary songwriting abilities helped the Spoonful earn a spot in the Rock and Roll Hall of Fame. He segued into a successful solo career that included an impromptu Woodstock Festival performance and a number one hit with the theme song to "Welcome Back Kotter." He wrote tunes for many animation projects, including "The Care Bears."
He never lost track of his original inspirations. In 1996, Sebastian and his J-Band released a jubilant jug band record called "I Want My Roots," followed in ''99 by the "Chasin' Gus' Ghost" album. 2007 brought a duet album with mandolin great David Grisman.
In 2008, Sebastian was inducted into the Songwriters Hall of Fame.
Prior to playing Montalvo Arts Center in Saratoga, Ca., October 22nd [http://montalvoarts.org/events/john_sebastian], John Sebastian affably chatted with Pop Culture Classics.
POP CULTURE CLASSICS:
Your current sets, do they encompass the entire career?
JOHN SEBASTIAN:
Yeah. They sort of have to. But I must say that audiences affect that. My set isn't as written in stone as a lot of guys who play with bands. You know, I don't have to turn and tell the drummer, if I'm not going to do something.
I've had various parts of the country that especially enjoyed the jug band, when I had that going. And there's parts of the country where you know it's going to be more mainstream and they're going to be more interested in Spoonful hits and 'What was it like at Woodstock?' or whatever. So those kind of things are part of what performing is.
PCC:
It must be nice to have that leeway.
JS:
And it is nice to have that leeway. And it's probably one of the reasons I've ended up playing solo so much. There's people that I play with that have a wonderful sixth sense, like David Grisman and so on. That offers you the same amount of fluidity. You can't throw a guy like that off.
But the audience does affect the set list. Their moods affect me a lot.
PCC:
As far as your background, growing up around so many artists, having that affect you through osmosis, did you feel that music was a way of life, rather than a decision?
JS:
Well, when I was a teenager, I didn't really know yet that music was going to be my life. I had a tremendous hunger for it, but I still didn't really know what might be possible.
PCC:
How much of an impact did people like Burl Ives, friends of your dad's have on you when you were so young?
JS:
Well, not much. I mean, that was my life when I was five or six years old. But, after the '40s, there were things about my father's career, like he had a more successful period. So we were maybe off in Europe while Dad did concerts very often. And I wasn't as much right there in Greenwich Village until I was 15, 16, then that again became a consistent element. For a little while, I was going to NYU, so that meant that I was pretty much in New York year-round. Then I was playing music, which meant I was in New York year-round [Laughs].
PCC:
Even though your father was a classical harmonica player, he was open to folk and blues?
JS:
He was not a classical snob by any means. In fact, it was my father who introduced me to Sonny Terry, who is largely responsible for my journey. Being able to play the harmonica by the time I was 16, in Sonny's style, permitted me to work in New York City, making $50 a day. That was very big money at that time.
PCC:
Was it in your teens that you were hanging out with people like Lightnin' Hopkins?
JS:
Yeah. Those kind of wonderful accidents all happened. I think I was 16 when I first heard Lightnin' and my Dad always said that he saw me leave home that day, at that television show that he and Lightnin' did together.
PCC:
Your Dad just knew that was going to be your path?
JS:
Yeah [Laughs].
PCC:
Is it true that Vivian Vance was your godmother?
JS:
Well, yeah, she wasn't by blood. But Mom and her were best friends. And so there was a back and forth between Viv's house in Mexico, when she eventually had it. And then she had a house in Connecticut that we used to visit. And she'd visit us. We've got family pictures with Viv and Phil Ober, who was her husband back in the '50s, '60s.
PCC:
And did she know your mother through your mother's radio writing work?
JS:
Yeah, they were Midwestern girls, came to New York about the same time, hitting it from different angles. I really never heard how the friendship started. But, by the time I was old enough to discern faces, she was in my life [Laughs]
PCC:
So there was humor and music, all sorts of artistry swirling around you?
JS:
Absolutely. A very fertile situation.
PCC:
When you began interacting with Fred Neil, were you both just starting out, trying to figure things out?
JS:
No, I'd say Fred was quite a bit further along, as far as figuring things out or experience in the music business. My music business experience had been limited to about six blocks. I was getting jobs, with the help of Paul Rothschild, by that time, and I ended up playing harmonica on quite a number of folk records of the time.
But Fred came to New York with two or three careers already behind him. He'd already been a kind of a rockabilly cat and had a career singing in gospel, like a sextet or something, one of those gospel vocal sextets. So he had already had a couple of careers and, in fact, was already pretty cynical about the music business. And I think that's one of the reasons why Fred is known almost more by the people he influenced than by his own particular work. But that work heavily involved me and Felix Papalardi for several years... and Peter Childs.
PCC:
Hearing about Fred's disillusionment, did that clash with your youthful, wide-eyed wonder?
JS:
Actually, I felt like I had the big end of the lever [Laughs], being the newcomer. I wasn't intimidated by a lot of things that I felt like a lot of guys that were three or four years older than me were inhibited by. This feeling like we're the hip. And they're the square. It was just the first generation where that was starting to collapse. And there were going to be hip people at record companies [Laughs]. I didn't end up seeing them. Well, no, I did, actually. I guess a certain amount of theft was going to be involved there, no matter what I did. But I did hook up with the standard sharks that were in the tank at the time.
PCC:
What attracted you to jug band music?
JS:
It has tremendous magic. It has swing and humor. Maybe the humor is the part that is most alluring.
PCC:
Was it through The Mugwumps that you met Zal Yanovsky?
JS:
We had met once before. Yanovsky again and again reassured me [Laughs] over the years, 'No, no, we didn't meet at Cass' house. We met at The Purple Onion.' When I was playing with a guy named Valentine Pringle. And hands were shaken, I think. But that was part of our joke of our friendship - Yanovsky always swore that I never remembered anything about it.
PCC:
And The Mugwumps, did you get a sense you were on the verge of something big at that point?
JS:
No, here's what I thought - This was a wonderful occupation for a while, for my very good friends. And a very logical thing for them to do at the time. Unfortunately, they were hooked up with people who weren't really able... Well, I knew that The Mugwumps were somewhat of a dinosaur even as they began, because they had come so much out of vocal folk music and commercial folk music, there wasn't the attachment to, oh, I don't know, whether it was going to be for the blues or for country music or something a little deeper in. What the group had was, they were in the right place at the right time to get the right job. And even invited me along for a couple of weeks for a hired accompanist, as a harmonica player.
But the manager of that band decided that I was having a bad influence on Zal Yanovsky. And I was. I was playing little licks across the stage to him. And he would come back with a little lick that wasn't in the arrangement. This was this time when people still thought that, when you want to put together a group, you hire a good arranger, then you hire a good songwriter, then you hire a good... But I knew that the next thing was going to be this self-contained unit, where the band writes, plays and the whole package.
PCC:
And did that seem realistic at the time, before it became prevalent with the British Invasion?
JS:
Oh, it seemed realistic to me, because I was playing in New York a lot with these session guys who could play with each other, instinctively. And I'd had experience with a few guys like Papalardi and that gave me the feeling of, 'I'll know when I'm locked in with somebody, in the right way, musically' So I did know that instantly, after playing with Zal Yanovsky one evening at Cass Elliot's house, on the night of The Beatles' first 'Ed Sullivan Show.'
PCC:
So that night was revolutionary for you?
JS:
Oh, yeah, that whole evening, all the components of that evening played out as years would go.
PCC:
Were you already thinking that maybe there was a way of putting that Beatles energy into the essence of folk and other traditional forms?
JS:
Well, you know, folk wasn't really our... [Chuckles], I mean, I know we're known religiously as folk-rock. And poor me and Roger McGuinn carry that mantle around as bravely and as proudly as we possibly can. But look, here's the inside scoop - The Spoonful didn't give a shit about folk music. The Spoonful cared about Elmore James and Buck Owens and The Buckaroos and Floyd Cramer and pedal steel and things like that really was our focus. And jug band music, which is a blues form. It's just blues before electricity.
PCC:
And the chemistry between you and Zally, was that just based on similar musical tastes and viewpoints?
JS:
Absolutely. And we also had a very common experience of having accompanied folk groups almost alone, that is, maybe one of the guys in the folk group, or two, strummed. but nobody really played with their fingers. And both of us had learned a finger style that would incorporate melody or move forward or back in the focus of an arrangement. So I'd say the first time we played together, it sounded kind of like a really good one guy. That two or three was what we, forever were pursuing, was this super guy, that we could put together, with overdubs.
PCC:
But were you also being affected by that first wave of singer-songwriters coming up in the Village?
JS:
I'd say, well, yeah. Certainly, heavily affected, to the extent that I pursued it until I was in the studio with these guys - Fred Neil, Timmy Hardin. And Bob Dylan's whole life unfolded right under my nose, because I was living four blocks from where all that was happening. He and I were fans of Victoria Spivey and would end up in the basement of Mike Porco's club [Gerdes Folk City]. We would end up in the basement of various folk clubs, playing harmonica and goofing around. That was still like in '62.
PCC:
Lot of excitement around there at the time.
JS:
Yeah.
PCC:
And then, in forming the band, how did you connect with Steve and Joe?
JS:
There were other bands on the street, at that time, when we were trying to put The Spoonful together. One of them was a band called The Sellouts. The Sellouts consisted of Skip Boone, who was a really good guitarist, who played a Les Paul Gibson, included Joe Butler as the drummer. We listened to Butler and thought, 'No, no. Not him.' And then Skip explained that his brother, Steven, was going to come back from a motorcycle trip in Europe and would be back in the Village in a couple of weeks. And they were actually all Long Island guys. And, in fact, Steven and Joe had played together in twist bands on Long Island.
So, after we had Steven, Eric Jacobsen was really strong on the idea of including Joe, because he sang well and was pretty. So that eventually seemed like a good idea, also because he and Steven had already had quite a good amount of time as a rhythm section.
PCC:
And, in those early days of recording, how much of an impact did Eric Jacobsen have on shaping The Spoonful sound?
JS:
Eric Jacobsen was a fifth Beatle. He really was important. I don't know whether people understand the degree. His marshaling the sounds and his particular taste in trying to create a sound that you hadn't heard before, out of components of familiar things - pure Eric Jacobsen.
The intro to 'You Didn't Have To Be So Nice,' there's a guitar playing a line and underneath is a set of chimes, orchestral bells. And those bells aren't up loud enough that you say, 'Hey, those are orchestral bells!' But you do think of the guitar as, 'Shit, man, that really has a chime-like quality!' So that's by way of saying that Eric's skill at assembly was incredibly good.
Between Zally and I, we were all over the place, from one instrument to another, try this, try that. And some of these definitions - rhythm guitarist, lead guitarist - yeah, Zally was the lead guitarist. But a lot of these things we were coming up with in these album projects were kind of like a co-arrangement almost, that then would allow Jacobsen to say, 'Let's throw this out, throw that out. Let's just go with these two sounds, only we're going to bury this one under that one.'
We were great for playing what we called 'the fash' guitar, which meant that you just hit all six strings on every note and you hear those brass strings. We used to call it fashing.
PCC:
Was there any resistance from record company execs to the band including jug band standards, as well as originals on the first album?
JS:
No, they didn't know any of that. They didn't know what that was. Things like 'Wild About My Lovin' or 'Rich Gal, Poor Gal, My Gal,' these were things we discovered listening to the Harry Smith catalog record that came out in that era. That was so important. But that was important to a lot of folkies, not just us. But it was also a time period when nobody was really conscious of who the composers of these songs might be. It was sort of this blank authorship. Unknown author.
The Spoonful's first album had five or six tunes that were jug band-related or we'd heard Jim Kweskin do and wanted to do a rockier version. That includes 'Wild About My Lovin'' and 'Blues In The Bottle.' Jug band music was infectious. It was blues-based. It was a lot of things that rock 'n' roll already was. So it wasn't such a bitter pill for listeners.
We had to rewrite a number of these tunes, which, at the time, were too rough for '60s radio. Words that are commonly used in rap now were off the menu for jug band music in 1965. [Laughs]
PCC:
It must have been satisfying to get mainstream young audiences to listen to that traditional material.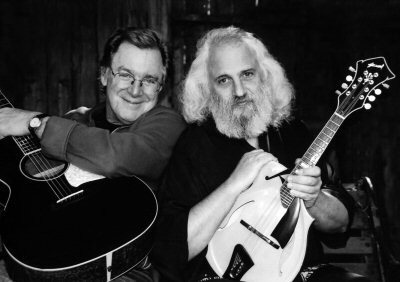 Photo @CSP Images
John Sebastian with David Grisman
JS:
It was our go-to pile, really.
PCC:
Did you get a sense that you were bucking the British Invasion in those days?
JS:
Oh, absolutely. And especially in how it affected audiences and the deejays. The Spoonful felt like we had something to offer musically. But we didn't consider ourselves nightclub idols or anything [Chuckles]. And that might have been where the folk music effect was very much present in our background.
The folk music scene was the opposite - very laid back. Part of being in it was being able to sit in a coffee shop and going, 'That's f---ing Bob Dylan sitting next to us.' 'I know. Don't f--king say anything.'
It was restraint. People pulled back... or at least affected the stance of pulling back from fame. Now come The Beatles and the thing for The Spoonful was, we wanted our audiences to get past the instruction of their disc jockey. For The Beatles, fine, scream. But for us, we're happy if you just smile a little. You don't have to tear the clothes off.
I mean, you might get lucky on some weird, off-night at a folk festival somewhere [Chuckles]. But girls were not flocking to jug bands at that time. So we didn't come on that way, so we didn't feel that we should be taken that way.
But it was an unfortunate side effect that these disc jockeys would kind of incite these poor 14-year-old girls to riot. And to us, it was not really what we were intending. There were elements of The Beatle invasion like that, but the music was all wonderful. And complete fodder for reinvention. And all of us were doing that. It was back and forth. It wasn't just one way. Paul McCartney has been very gracious over the years in reiterating how The Spoonful affected the band, The Beatles.
PCC:
It's understandable that McCartney would appreciate your songwriting. You travel along similar lines, in terms of melodic sensibility.
JS:
Well, there's a direct line between 'Daydream' and 'Good Day Sunshine.' He's the first to point it out. And there's also really cool, unofficial Beatle rehearsal tapes that I've heard, where you hear, 'Dom-bom-be-dom.-bom-be-dom...' [the 'Daydream' intro] [Sebastian launches into a Liverpudlian accent] 'No, John, it's not a major, it's a minor.' And then there's this little fudge of the chords and then you hear, 'F--kin' tunesmiths!' Thank you. That's my best compliment. I'll take that. I like it when he says it.
PCC:
You joined The Beatles on the covers of 'Tiger Beat' and '16' and all those teen magazines.
JS:
Oh, that stuff. Yeah. Well, I had a girlfriend who somehow was working for 'Hit Parader.' So that helped, too [Laughs].
PCC:
Did you do some of those Dick Clark Caravan of Stars type tours?
JS:
Not really those kinds. We were involved in a couple of Murray Kaufman holiday shows, which were a big deal at that point.
PCC:
It seemed like every Spoonful hit had its own personality. Was that something you were conscious of?
JS:
That was. We didn't want to sound like the same guys every time out. We relished coming out and going, 'Now let's be like a bunch of country guys.' 'Now let's be like a poor man's Phil Spector... with four guys.'
PCC:
And yet the fans seemed to follow you wherever you went.
JS:
It did seem that way, didn't it?
PCC:
Which was unusual for the time.
JS:
Yeah, well, the songs were good, the playing was good. And it was real. And kids could tell it was real. The kids could tell we weren't hiring Hal Blaine, going, 'Okay, we'll worry about how we play this live, later. Right now let's get a hit.' [Laughs].
PCC:
'Would You Believe In Magic,' I've read that the intro was inspired by the intro to 'Heat Wave.'
JS:
Oh, yeah, very much. We were listening to all that kind of music, all the early Motown stuff during that era.
PCC:
And there was a similar kind of thing with 'Daydream,' a connection with 'Baby Love'?
JS:
Oh, yeah. That straight eight feel of 'Baby Love' and 'Where Did Our Love Go?' Zally and I wanted to have a song that had that straight eight feel. And so it was out of that that I came up with that figure for 'Daydream.'
PCC:
'Daydream' was one of your songs that was covered by such a wide variety of artists. Do their interpretations sometimes surprise you?
JS:
Terry Melcher sent me Doris Day doing it. But that doesn't top Kate Smith. There's a version, [sings in a vibrato-crazed soprano] 'What a day for a... ' Really amazing.
PCC:
Must have sounded like Mrs. Miller.
JS:
[Laughs] Exactly. You've got it in one.
JS:
And 'Summer in the City,' how did that come together? Your brother Mark had actually written part of it?
JS:
That's right. My brother had actually written the chorus. He'd written a song with that chorus. I actually said, 'I like this chorus so much, that it should be preceded by something that has no clue that this is coming.' And that was where I came up with the verse figure. And then Steve Boone had had this middle, this figure, this 'Bum-ba-ba-bum-bum-bum-ba-ba-bum' forever. [Chuckles] He'd been trying to put it in a song. And we kept going, 'Steve, that's not a chorus. It's not a verse. It's not anything. Don't play it anymore.' And then, in the studio...
You know, there's a Jackie Gleason segment that has this same payoff, where Ed Norton, every time he plays anything, he begins with, 'Ba-ba-ba-ba-ba-ba-ba-ba-ba' ["Old Folks at Home"] and the Ralph Kramden character goes to quiz show and they play, ''Ba-ba-ba-ba-ba... '
PCC:
And it's the one song Ralph doesn't know.
JS:
[Laughs] The one song he doesn't know. Exactly.
PCC:
With your writing, did you tend to start with a title or a lyric line or a melodic phrase or a riff?
JS:
You know, it does happen all of those ways. When you're writing fast, you eventually do something in every one of those ways.
PCC:
Did they tend to come fast and not be part of a torturous process?
JS:
Very often, there's a period where it pours out. And then, in order to finish the f--ker, you might have to really agonize a little bit.
PCC:
So it takes a combination of inspiration and patience.
JS:
Yeah, that's right. There's a little of each. And in different proportions. I wrote 'Make Up Your Mind' on the back of a Lucky Strike pack and it was done. I wrote it in the cab. And by the time I finished the third verse, I'd reached the studio. I was ready for the session [Laughs].
PCC:
What about the film experiences around that time, 'What's Up Tiger Lily?' and 'You're A Big Boy Now'? Did you already know Woody?
JS:
There was a connection between our two management companies. That really was the connection. I had been a wild fan of his, but just a kid sneaking into the Bitter End and watching him. I think I saw him in his first months as a professional comedian. I don't know what he might have done before the Bitter End. But I probably saw him right at the beginning.
I knew the type of humor. And I knew that it would be a wonderful opportunity. But I couldn't tell you that I had a big connection with Woody. In fact, during the process of making that music, we saw very little of Woody. It was really the territory of Jack Lewis, the producer for that particular project, because that was a situation where Eric Jacobsen sort of stepped aside, so that we could do this at the speed that they needed movie soundtracks done, instead of hit records, because that was slower.
PCC:
It must have been a blast to be part of a project that was so offbeat.
JS:
Oh, yeah. It did provide a very free palette for us, for sure.
PCC:
And 'You're A Big Boy Now,' that's where 'Darlin' Be Home Soon' came from?
JS:
I had been writing that just at about the time that that opportunity came up. Now Francis [Ford Coppola] was there every day, well, not every day, once we got into the sessions. But he was very different. His preparation was much more specific.
He'd sit me down and say, 'I've got the good girl. I've got the bad girl. My problem is, the bad girl, she's a little more appealing than the good girl. So now I need a weapon to get this audience. And the weapon has got to be a melody.' And I'm like sitting there, thinking, 'This is Filmmaking 101 I'm taking here.' And then he'd show me how, 'Okay, now we got the song. This is the right kind of thing. Good. Perfect.' And you could see him already imagining the next thing. He'd go, 'Now I can take the guy and put him on the screen. I don't even need the girl anymore. I put the guy on the screen and play this melody and the audience will go, 'He's thinking of that girl.'' [Laughs]. And all of these devices. You're not born with this stuff. So that was pretty cool. That project was much more informative. I was learning every day that we were doing that project.
PCC:
The 'Jimmy Shine' project, Broadway, Dustin Hoffman, that must have been exciting.
JS:
It was frustrating. Oh, my God, so frustrating. That project, they had 'She's A Lady.' They had a couple good songs. But when I was called into the first meeting, they said, 'We really appreciate your doing this project.' I said, 'Yes, and listen, you really don't need to worry about a huge musical bill, because I'm used to working with four people.' The producer leaned forward and said, 'Could you do it with three?' [Laughs]'' And that was like the template for the entire experience. It kept coming back.
I was told, 'Look, this isn't a musical. This is a play with a few songs.' 'Okay.' So, the fact was that they used a couple of tunes of mine that I thought were appropriate. But then they didn't like go the whole distance. The thing was never recorded. The music was always the poor stepchild, So it was a really frustrating experience. And sometimes it's not hard being gay. That was one of those times.
PCC:
[Laughs]. So this must have been before Dustin Hoffman had the clout to run everything as he saw fit?
JS:
Well, Dustin wasn't running it. He had that power, but he was in the chapel of Murray Schisgal, who had written 'Luv' and some very popular theatre of the time. And so he was really happy to be working with Schisgal. And I don't think, in any kind of a mode... You know, that's not his personality either. He doesn't need to mouth off. Also, he was kind of a countercultural figure already. He was the anti-Rock Hudson, this new creature, at the time.
PCC:
Do you feel that The Spoonful might have gone on much longer, if it hadn't been for the drug bust that affect Zal's visa status?
JS:
It would have gone on for another year or two. But much beyond that, I don't know, because part of what made The Spoonful so much fun was that it was kind of an unprofessional approach. And we didn't have our business together nearly as well as the English guys that were now crowding the scene. And also, the particular musicianship that we had was good for certain things and not for others - the kind of syncopated bass lines and drumming that requires independent coordination and Zally was never going to be a big, blustering guitar god. He was the guy who played that way, but then, he'd be crossing his eyes and laughing at the same time.
He did it in front of Eric Clapton at the Rock and Roll Hall of Fame. At the end of the show, there's a moment where the camera goes to Clapton and you can see he's not playing, he's just watching, going, 'F--k, this guy's great!' So yeah, but like I say, Yanovsky's thing never had that guitar god atmosphere to it and so nobody ever took it that way.
PCC:
So going solo, other than legal wrangling with record companies, must have seemed creatively liberating, being able to draw on any kind of music and musicians you wanted.
JS:
It was tremendously liberating. I decided I was going to do it and within a month or two, I met Dallas Taylor. People have forgotten, but he was such a good drummer. And his sound was very modern, very different. At the same time he had a lot of the devices of the standard drummer, he also had this Texas fire in him that was just, wow! Like the Stevie Ray Vaughan of drums. So, yes, it was liberating. And the freedom to play in all those styles that came about as I was working on that first solo album, that was a lot of fun. [Laughs] If it had only come out after I had finished making it, it might have seemed contemporary.
PCC:
Having the Spoonful's label hanging you up on a technicality must have been terribly frustrating.
JS:
Oh, that's what was really awful about that.
PCC:
And then, the 'Welcome Back Kotter' theme, did you see that as a big opportunity? Or just another gig?
JS:
It did start out very much as just another gig. My approach was, 'Dude, you're the most out-of-style guy in 1975 that you could pretty much come up with. So just put your head down, be a musician, and work.' And so, in that period, there were a number of cartoons that were coming my way. And the television show. It just happened all the right way.
The guy looking for the theme song called my manager, who had been managing me for two weeks, and said, 'I'm looking for a John Sebastian-type guy. I'm looking for an urban-sounding soundtrack to a television show.' And my manager said, 'Hey, I started managing John two weeks ago. You don't need the new John. You need the old John.'
So I got along famously with the producer, a guy named Alan Sachs. We started insulting each other within five minutes of meeting each other. It was all related to 'Well, you're from Brooklyn and I'm from Manhattan.' And so we had this tremendous insult comedy going back and forth. And all the California businessmen thought that their deal was falling apart. [Laughs] But what was really happening was that we were bonding.
PCC:
New York Style.
JS:
Yeah, New York Style. And that carried over into the theme. Because it was kind of, 'Welcome back,' when you put the back of your hand under your chin. 'Welcome back, f--k you!'
And it played into a lot of cool things. It played into my dyslexic background in school, which was painful. You can't beat pain as the source for a song [Laughs].
PCC:
But I imagine you had a less painful inspiration for 'Care Bears.'
JS:
That's right. Well, that was like the payoff stuff from earlier projects that had, in some cases, been more exciting and in some ways more fun. But actually, I really liked 'The Care Bears' thing. The 'Strawberry Shortcake' was maybe a little hard to get through. But 'The Care Bears' stuff was already kind of lighthearted again. I had a connection during those years with this Canadian animation firm, Nelvana. And one of the guys, really the main director, was like a total contemporary of John Lennon and all the lads that were two or three years older than me. He played with all these guys. So he was like the perfect guy to hook up with.
And he could use shorthand. He could go, 'Okay, so this little section, you have to be huge. You have to be like John Bonham!' So his input was valuable. And he remains a good friend of mine.
PCC:
And you ended up having a lasting imprint on that generation of kids.
JS:
You know, I remember how big some of those Gene Autry records were for me. I guess that let me fill a little bit of his shoes there [Laughs].
PCC:
On the other end of the spectrum, you played harmonica on The Doors' 'Roadhouse Blues.' What was that session like?
JS:
[Laughs] Everybody was always hoping that the Lizard King would appear. But at that particular time, the Lizard King had kind of taken a vacation. And we had Bimbo in his place. What was really exciting about that session - and I think that, if you asked Ray Manzarek about it, he'd say the same thing - was that we had Lonnie Mack playing bass. And for anybody that had played guitar in the '50s, to be standing in a room with Lonnie Mack absolutely made you shiver.
I don't want to get into Jim-bashing here. But we were at this transitional point. He hadn't really come down to really bad stuff yet. But the band really relies on that core of players. And then you add Jim and it becomes this modern sort of splatter art thing. So I did get used to - because we then played live several times - to playing with them. And I used to enjoy the dynamic, I must say, of Jim may go nuts [Laughs] and we're going to just keep playing. I still consider myself very good friends with all of those guys, all the surviving guys.
PCC:
With The Spoonful getting back together for Paul Simon's movie 'One Trick Pony' in 1980, was there any thought that it might be the beginning of something more?
JS:
No I don't think anybody thought that at that time, because by then, Zal's restaurant was just at the point where he could push it over the hill or he could let his energies drop and it would push him down the wrong side of the hill. So he couldn't suddenly stop and become a pop guy again. And I had no interest in The Spoonful with no Zal. So it was a lot of fun. And we went immediately back into the entire band dynamics. And it did remind us that, no, we were glad that we did move on. I think Zally and I were, maybe less so for Steven and Joe, whose efforts were directed towards getting the band back together for several years after that.
PCC:
And are you fine with the two of them continuing to perform as The Lovin' Spoonful?
JS:
Yeah, I'm fine with that. They were in the band. [Laughs] What can you say? They were in it from the beginning. And even Jerry Yester has been involved with the band since the '60s. They've now been The Lovin' Spoonful about five times as long as I've been in it. [Laughs]
PCC:
You're still based in Woodstock?
JS:
I am.
PCC:
Your performance at the Woodstock Festival, is it true that was unplanned?
JS:
That's right. I was there attending as an audient.
PCC:
Seems like that would be a huge pressure, to get in front of that crowd when you weren't even expecting to play?
JS:
Well, look, it was exciting, but let's not be falsely whatever. That's what I do for a living - get up, stand up in front of crowds and let it happen, be spontaneous, whatever it is. So yeah, there was a certain amount of 'Holy shit!' involved. But, at the same time, it was the job we were used to doing.
PCC:
And you actually used Tim Hardin's guitar?
JS:
Yeah, I borrowed his Harmony Sovereign, yeah.
PCC:
Are there still echoes of the festival in Woodstock? Or is that just viewed as ancient history?
JS:
Well, remember that Woodstock is still 50 minutes from where that actual festival happened. It was the name. It had to stay on the posters, because the posters were already made [Laughs]. But the location changed in the last couple weeks.
PCC:
And as far as the Woodstock generation, do you still see it as having had a lasting effect on the world in some positive ways.
JS:
Yes, absolutely. The humanism that was part of what we were espousing, I do see. It's crowded out by the things we didn't do [Laughs], but there are wonderful echoes of that period in things like Wavy Gravy's efforts to bring sight to thousands of children with the simplest medications. That has been really gratifying. He's the real template for what was good about the '60s, that summer camp for kids with cancer. He's inspiring. There's people that have carried that message, that haven't lost it.
PCC:
What are you own greatest satisfactions, over the course of your career?
JS:
Well, some of them are not the most obvious. I mean, it was great standing around with John and Paul and the lads and everything here and there. But maybe it's even more exciting to play in a nasty club with Johnnie Johnson [Chuck Berry's innovative piano player] or to hear Yank Rachell [late blues mandolinist] playing on a session with me. They were my own private moments of bliss.
PCC:
Your own music has proved to be timeless. Is that something you can aim for, when you're creating it?
JS:
I don't think so. I certainly never thought past the next three months. That was the time frame that we were always thinking of. Get a record out there that has a life on the charts of three months, you've done it [Laughs].
PCC:
Do you feel compelled to help keep forms like blues and jug band music alive?
JS:
Well, just in my own life, I try to keep it alive. Bonnie Raitt said, 'If you like these bluesmen so much, hire them as opening acts,' which she did with that great pianist, Charles Brown. But I don't know if it's a mission to keep the blues alive. I just don't know how much interest is going to remain consistent. This period that we've gone through has raised the awareness of a lot of musicians who had gone before, maybe more than when they look back in 2030 to 2010, I don't know if it's going to be as fertile a ground.
PCC:
Do you still have unfulfilled goals?
JS:
There's an old joke about a folk singer who wins a lottery. And he's got $13 million dollars. And they're interviewing him and they ask, 'Now that you've become wealthy, what are you going to do?' The folk singer says, 'Well, I guess I'll just keep playing till the money runs out.' [Laughs]