JOHN WATERS: A MAN OF EXTREMES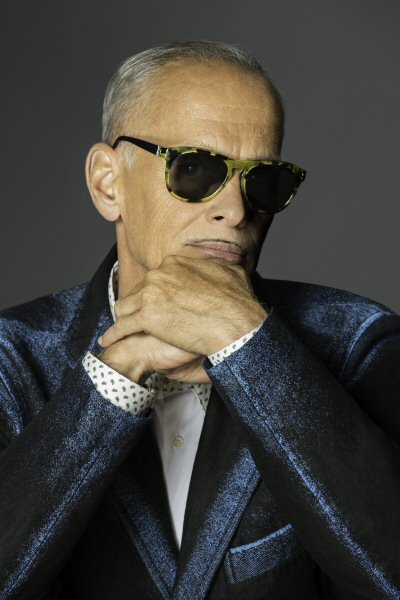 John Waters, Photo By Greg Gorman

By Paul Freeman [November 2013 Interview]

Wondering how to allocate your holiday budget? Cast thy bread upon the Waters. Tickets to a John Waters one-man show is bread well spent indeed. You'll have a time that's simply divine, when you attend his hilarious "This Filthy World" at Yoshi's in San Francisco, 8 or 10 p.m., Saturday, November 23rd [1330 Fillmore Street; 415-655-5600; www.yoshis.com; $30-$40]. The show "celebrates John Waters' film career and obsessional tastes."

In December, fans in such cities as Seattle, Portland, New Orleans, Atlanta, New York, Alexandria, Virginia and the writer-director's hometown, Baltimore, can catch his wonderfully weird, annual Christmas extravaganza.

In a world of sameness, Waters is one of a kind. William Burroughs referred to Waters as "The Pope of Trash."

In the 70s, Waters attained cult status thanks to the outrageous films [including "Female Trouble," "Pink Flamingos" and "Polyester"] he made with the titanic transvestite Glenn Milstead, better known as Divine.

By the time Waters shot 1988's "Hairspray," celebs were chomping at the bit to be part of his colorful screen sensations. The cast for that film included Ricki Lake, Deborah Harry, Sonny Bono, Jerry Stiller, Pia Zadora and Ric Ocasek.

Johnny Depp starred in 1990's "Cry-Baby" and Kathleen Turner headlined 1994's "Serial Mom."

In 2002, "Hairspray" became a Broadway smash. It won eight Tony Awards, including Best musical.

A successful author, Waters is readying his latest book, "Carsick," detailing his 2012 hitchhiking journey from Baltimore to San Francisco.

POP CULTURE CLASSICS:
Tell us a little bit about the one-man show, the format and topic range.

JOHN WATERS:
Well, it's just me. It's completely written and rehearsed and memorized. No safety net. No notes. I talk for 70 minutes about any possible thing you could ever imagine about Christmas, from music to true crime to dealing with insane parents, what a good time it is for criminals, how I've always wanted to break in someone's house when they're at midnight mass and not steal anything, but just open all their presents, a Christmas special I'd like to have on TV. It is 70 minutes of Christmas mania. And even if you hate Christmas, I think that you will have a good time. I understand hating it, even though I don't.

PCC:
What is your relationship to the holiday?

WATERS:
Well, if it's Christmas, I'm like a drag queen at Halloween - I'm working. I'm doing 13 cities. And I'm older than Santa Claus. I'm happy. I've got a sleigh full of smut and I'm on the road.

PCC:
Growing up, what kind of Christmases did you have?

WATERS:
They were good. There weren't many bad ones. The Christmas tree fell over on my grandmother, which wasn't that terrible. I've exaggerated it. I have it in "Female Trouble." It's a very well known scene in one of my movies. And I talk about how I think you should rig the Christmas tree to fall over at that moment of happiness, Christmas morning. From doing this Christmas tour for many years, many people have confided, the Christmas tree falls over a lot. And it's very traumatic for people. So I think that you should make it happen yourself and then no one can be disappointed.

PCC:
Was your childhood one of disappointment?

WATERS:
No, not at all. I always hated the Easter Bunny, because he was always trying to be cute. Santa Claus was much better. I think Santa Claus should kill the Easter Bunny. But I like the Tooth Fairy better than any of them. And I still tell children that, when their tooth falls out, if they put it under their pillow, they'll get a hairdo, which really scares them. I don't mean to scare them. But many times, I've known children who have grown up and they'll say to me, "You freaked me out, when you told me that, when I was younger. I'd wake up in the morning and run and look in the mirror to see if I had a new do." [Laughs] It's a Baltimore thing.

PCC:
How so?

WATERS:
That's why they believed it, because, in Baltimore, on every corner, there's a beauty parlor, a church and a bar.

PCC:
How much do you think the city shaped you?

WATERS:
Oh, a lot. What really shaped me was to be proud of things that people tried to hide. And Baltimore, used to, when I was growing up, have an inferiority complex. It doesn't have one today. And I'm for that. And I think I might help that a little bit.

PCC:
And the love of film, I had read that "LIli," with its puppet sequences, was a big inspiration. Or was it more about the drive-in exploitation type pictures?

WATERS:
Yes those and Christmas movies, too. "Christmas Evil" is my favorite one. But I remember "SIlent Night, Bloody Night"... The whole tradition of Christmas exploitation movies. Sadly there aren't that many of them anymore. There needs to be. Bring this back. Harmony Korine should make one. He made the greatest sexploitation movie this year - "Spring Breakers." I'm rooting for Harmony to do a Christmas movie.

PCC:
Isn't that something you're tempted to do?

WATERS:
Well, yes. I tried to make this movie for five years, called "Fruitcake," my children's Christmas movie about meat thieves. And it still might happen, but I'm having a tough time. So I'm writing books now. My last book did great. "Role Models" was a bestseller. My new book about hitchhiking comes out in June.

PCC:
The new book, what did you learn from that whole cross-country hitchhiking adventure?

WATERS:
That you have to wait, that it's very different to hitchhike, when you're 66 than when you're 16. But still, the mantra is, "It only takes one car." And it's an optimistic book. People were great.

PCC:
As far as the role of film in your life, did you sense, early on, that there was a correlation between art films and the campier B-films?

WATERS:
Well, I loved all extreme movies. Not everybody went to see all three kinds of movies that I did. I grew up loving foreign art movies, because they broke all the censorship rules and could get away with it, because they were serious. But then I went to the drive-in and saw exploitation movies and gore movies and I went to the grindhouse that used to show like the nudist camp movies and everything. And then I went to underground movies, which was certainly Genet and Andy Warhol and the Kuchar Brothers and Kenneth Anger. So all those influences pushed me toward trying to make a genre that was really exploitation films for art theatres. But I was never as successful as Johnny Knoxville, who ended up making movies that were very similar to the spirit of mine, only they all made $100 million. So I give him great credit.

PCC:
Around the time of "Pink Flamingos," were you just happy to be building a cult following? Or were you hoping to break through to the mainstream?

WATERS:
Oh, I was really happy to have a cult following. Are you kidding? I mean, "Pink Flamingos" played at one theatre for 10 years at midnight. That would be impossible today. There wasn't video then. But my career's been like a growth stock market. It goes up and down. Nothing happens really quickly. It goes up and down over the years. And you keep doing fine. So all my films, from "Pink Flamingo" on, are still in print. All my books are in print. So as I get older, my audience gets younger. That's the most encouraging thing of all.

PCC:
As soon as you picked up a Super-8 camera, did you feel that you'd found your instrument for self-expression?

WATERS:
I'm older than that. It wasn't Super-8. It was 8 [laughs].

PCC:
But did you feel like that camera was an extension of you?

WATERS:
No, I'm not that good a cinematographer. I'm a terrible cinematographer. But I've always said that, if you come out of the movie and the first thing you can say is, "God, the cinematography was great," then it's a terrible movie. Cecil B. DeMented says it best, I think, "Technique is nothing more than failed style." So I think my movies are much better when someone else shot them. But, in the beginning, I had no choice. I did everything. I did the sound. I did everything.

PCC:
So it's a good education.

WATERS:
Well, yes. I didn't go to school. But I learned by doing it, just from the mistakes and spending the money I had, whole days when the film would come back black and it didn't work. I would really learn why [Laughs].

PCC:
From the outset, was the filmmaking about interesting and entertaining yourself? Or being outrageous and shocking people?

WATERS:
No, it was about telling stories. It still is. Everything I do is really telling stories. I've only made movies that I write. So I'm still telling stories. When I was in camp, when I was about 14, I was like a work boy, which was in between being a camper and a counselor. And I wrote a story that I read to the kids, every week, a different chapter of this horror story. And at the end, they all freaked out. Their parents called the camp and everything. And I'm still doing that. It's same thing. I had a puppet career, with puppet shows, when I was 12 years old. I was always going to be in show business. I knew that. That's why I should have quit school, when I was 16. You go to school to figure out what you want to be. I knew! They wouldn't let me, though! Today they might.

PCC:
What was the unique presence that Divine had?

WATERS:
Oh, it was like all kids - when kids make their first movies, they make them with their friends. And Divine was my friend. And I was just lucky that I had a friend that had a hidden star inside him, which I think I helped bring out. Mink Stole was my friend. She is still my friend. She has been in all my movies. It's like all kids, they make films with their friends. I just had the kind of friends that were more theatrical [laughs].

PCC:
Later, in the original "Hairspray" movie, when you had that wonderfully eclectic cast, did you know the chemistry would work, that they would fit together?

WATERS:
Sort of. I think the first time I did it was in "Polyester," when we had Tab Hunter, which I realized, made it quite successful to have a Hollywood star and my gang at the same time. The public seemed to like it. And the critics seemed to like it. And "Hairspray." And then, with "Cry-Baby," I think I maybe half-invented the term "stunt-casting." But then I stopped doing it, because it seemed too obvious to do that. And then I just hired people, I could get the very best actors, who would never wink at the audience, who would say every ridiculous word I wrote as if it were very, very serious.

PCC:
When you had the more mainstream Hollywood actors come in, did they always fit in?

WATERS:
Yes, they all did. And I think I could tell that from having the initial, they call it, "meeting." Real stars don't read for you. So you have a meeting. And they're looking at you, thinking, "Is this guy going to ruin my career?" And I'm looking at them and thinking, "Will they ever be able to get through six weeks of making a low-budget movie in Baltimore with my gang?" But you fake each other out. And I've always said that, if the actor uses the word "journey" or "craft," too often, I knew it would be bad.

PCC:
Was there anybody who surprised you by how well they adapted?

WATERS:
Oh, all the people I hired. I don't know if they surprised me, but everyone I hired, I never had a wrong hunch. There were many people that we had meetings with, that didn't happen and I don't know if it would have worked or not. But I never judged wrongly.

PCC:
Was there anyone in particular that you were dying to have in your films?

WATERS:
All of the people I had in my films, I was dying to have. Every one of them. So I was really excited to get Kathleen Turner, Johnny Depp, all of them, I was really excited. And I'm still friends with most of them. So I think that part, casting, is really one of the most exciting parts of a movie.

PCC:
The idea of adapting "Hairspray" for Broadway, how did that come about? Did you view that as a natural transition or a risk?

WATERS:
Well, I didn't do it, but I was involved like a studio executive, right from the beginning. They wanted my involvement. And I was there out of town, right up to opening night. I was there for the whole thing. And I learned really a lot. And I'm really spoiled, because I knew, from the minute I saw it, I knew this could possibly be a huge hit. And no one could say that out loud, they didn't want to jinx it. But Margo Lion, who produced it, got great people together. And I learned really a lot. And I actually then went on to do "Cry-Baby," [briefly on Broadway] which was different people, but I really liked what they did, too. And it was a failure, even though we had four Tony nominations, including Best Musical. So I learned a lot about it. And certainly "Hairspray" on Broadway is the thing that made the most money of everything I've ever done in my life. So it was thrilling. Are you kidding? When I was up there on stage when it won the Tony, it was amazing.

PCC:
Are there are show business dreams you haven't been able to fulfill yet?

WATERS:
I always joke - and it makes people puke - that my dreams came true years ago. My friends go, "Yecch," when I say that. But they have, really. So this is gravy. I haven't written a novel. So I might like to do that.

PCC:
Any of your films or characters that you feel particularly reflects you?

WATERS:
I think they've all reflected me. I don't know why one was a hit and another wasn't. To me, they're all the same. If you want to see a John Waters movie, just close your eyes and pick any of them. They all sort of say the same thing, which is, "Don't judge other people. Exaggerate what other people use against you and turn it into a style and you'll win." So that's old politics. But I think it works. And weirdly, my films are never mean. I think that's why they've lasted as long as they have. I think they actually weirdly are politically correct... without preaching, ever.

PCC:
But that message, do you think it's even more relevant?

WATERS:
I don't know. I would never say that I do the whole thing for a message. Today, I joke and say, "I want to be an insider. I'm sick of being an outsider. Everybody wants to be an outsider now." Republicans want to be outsiders. Everybody wants to be the outsider. I want to be a devious insider. And I really am! That's the irony, in a way, because, God knows, I haven't changed, really. My last film [2004's "A Dirty Shame"] had an NC-17 rating. I don't think I've changed much. When you read my new book, I don't think you will think so either. But, at the same time, I'm really lucky. I have been understood. My career has been a really good one. The first 10 years, I didn't get good reviews, but that's okay. I built a career on bad reviews, which would be impossible to do today.

PCC:
Is there any wariness on your part, being some kind of insider, instead of an outsider?

WATERS:
No, I think that's hilarious. No. For all the years that I was considered an outsider, to be an insider now is really funny, I think. I'm always amazed that I have any power. And if I do, it's kind of really delightful, because I didn't ever set out to get it.

PCC:
The course of indie films, how have you seen that evolve... or devolve?

WATERS:
I think it's the worst that it's ever been, ever. I mean, I think TV's much better. I think people don't go to indie films anymore. I think it's over. I hate to say it, but it's not encouraging. I still go, but mostly they're foreign movies. There's a couple of hits. Like "The Way, Way Back" is a hit. There's certainly ones that can be. But less and less. I think the international market has gotten so strong that people want international tentpole movies. That's what they're looking for. They're not looking for the next Woody Allen. And hey, I think Woody Allen has the career that anybody should be the most jealous of, because he just continues to make the exact movies he wants, over and over. And I think they're all good.

PCC:
So do you see any of the new media, the internet maybe, taking the place of what indies used to be?

WATERS:
For me, it would be books. I can always go write books. And I go on tours. Because it's just different ways to tell stories. But I believe television could be the alternative, when you look at what's on TV now. And I don't watch 'em. And I'm not being a snob. I like to read. I can't do both. But from what I hear, what's on television is really, really good. And this whole binge viewing and all that. I watch "The Wire" every week, which I've always said is the best show on TV since "Pee-Wee's Playhouse." And that was the best one since "Howdy Doody." And I've seen 'em all [laughs]. I've been around since TV started. So I think it's a good time. I think it's just shifting, about how people are going to see any kind of movie or TV show.

PCC:
What's been the greatest source of satisfaction to you, over the course of the career?

WATERS:
Oh, I think it's a general satisfaction that I never had to get a real job. And I'm never around assholes. That's the main thing. And I can buy any book I want, without looking at the price. That's rich.

PCC:
And how do you manage to avoid the assholes?

WATERS:
Because of 50 years of laying groundwork to avoid them and not have to be in business with them. Yes, that's power! I'm not around assholes. Ever. Next year, it'll be 50 years since I made my first film. So it's been 50 years of social negotiation [laughs].

PCC:
That famous quote from William Burroughs, was that a thrill for you?

WATERS:
Oh, are you kidding? Yeah, it was great. I mean, I feel like I've milked it to death. I'm actually doing a show in honor of William Burroughs in Lawrence, Kansas, where he died. And I knew him. I toured with him. Yeah. Are you kidding? That was like the Pope coming out and making you a saint. It was a great honor.

PCC:
Have you been surprised over the years by how relatable your seemingly unique perspective has been? It seems to really resonate with people.

WATERS:
Well, I'm flattered. And I think the main reason is because I'm not a separatist in any way. And I do a lot of jokes that gay is not enough anymore either. I think that the rules have changed and everyone just wants to hang out together. I really have always been against separatism. Always.

PCC:
Are we moving past judging everyone and everything?

WATERS:
Even the gay community, they have too many rules. I have always said that my best fans are people that don't even fit into their own minority. And what am I? I can be married and choose not to. Will I be discriminated against? The gay struggle continues. Who knows? But I find it interesting. I love the concern of the butch lesbian movement that feels somehow threatened by the transgendered men. And yet they can't say it, because they feel butch culture is vanishing. I love all that kind of obscure political debate.

PCC:
Is the key just to not align oneself with any group?

WATERS:
Oh, I listen to all of it. The thing that always attracts my interest is when there is no fair answer. If I hadn't done this, I would be a criminal lawyer. That's what I would have done. And I would have been a good one.

PCC:
Why have you had such a fascination with true crime?

WATERS:
Because anything that I can't really imagine doing is interesting to me. And the extremes of life. That's what my last book, "Role Models," was about - people that have had more extreme lives than me, no matter if it's Johnny Mathis who had success from the very, very beginning and still works constantly and is still ahead and yet avoids the media. Or like my friend Leslie Van Houten, who did a terrible thing with the Manson family 40-some years ago. How do you get past something you've done that you regret so much? So any extreme situation in life has always interested me.

PCC:
Have you gotten to the point where you've started to think about your own legacy?

WATERS:
Well, I can't be that much of a megalomanic. I mean, I'm lucky enough to have a film archive, all my films, at Wesleyan University. I'm in great company. They have Scorcese, Ingrid Bergman, Clint Eastwood. Of course, I met Clint and said, "Just think, Divine's cheater [fake vagina] will sit next to Dirty Harry's police badge." I can rest in peace.