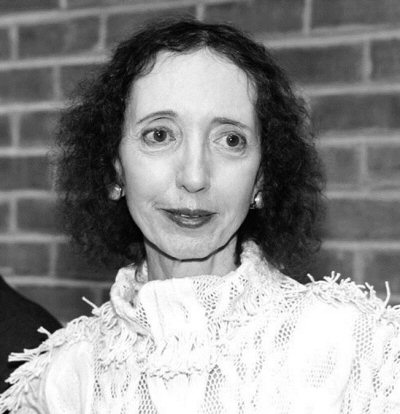 Photo credit: Star Black
Joyce Carol Oates: "Sacrifice" And The Wellsprings Of Inspiration

By Paul Freeman [March 2015 Interview]
A parent's ultimate terror. A missing teenage daughter. Anguish. Dread. A thousand horrifying scenarios playing out in a mother's mind. Best-selling author Joyce Carol Oates vividly paints this unnerving portrait in the opening pages of her new novel, "Sacrifice." Oates' talent for describing all the sights, sounds and smells, as well as the harrowing emotions, makes this a gripping read from page one.
Though the powerful story could have been ripped from today's headlines, it's a fictionalized version of the tragic 1987 Tawana Brawley case. The African-American teen was found in tatters, degraded, brutalized. Brawley said she had been battered and raped by several white men, including police officers. Her claims came under harsh scrutiny. For Oates, this presented an opportunity to fearlessly examine racism, misogyny and our criminal justice system.
Over the course of her 50-year literary career, Oates has earned many honors, including The National Humanities Medal and a Pulitzer Prize nomination.
Oates tells Pop Culture Classics, "Since my novel 'Them,' [1970], galvanized by the Detroit riot of July 1967, in which I'd written about a white family, I had wanted to write a novel set in a similar environment, in the aftermath of the 1967-1968 urban civic disturbances - including also Newark & Los Angeles - from the perspective of a black family.  The Tawana Brawley case is also memorable for its media tabloid notoriety - the way in which the media somewhat shamelessly magnified the incident for sensationalist purposes."
Throughout her writing career, which has included the novels "We Were The Mulvaneys," "Blonde," "The Accursed" and "The Falls," Oates has relished blending fact and fiction.
"It is challenging to explore a seemingly public event from the perspective of fictitious persons living through it.," Oates says. "The intimate experience is the only truly human experience."
She hopes "The Sacrifice" will spark heated discussion. "Clearly the novel explores the predicament of black urban dwellers in a kind of occupied territory in which mostly white law enforcement officers have the freedom to harass, intimidate, beat and occasionally kill them at will."
The process of writing this book, being able to shine a light on injustice, was cathartic for Oates.
"I did feel passionately about the entrapped people - who lash out at one another somewhat blindly, cruelly. I felt a strange sympathy for Anis Schutt [the victim's stepfather, who had beaten his first wife to death] who is finally goaded beyond endurance, kills two of his harassers, and is shot down himself in the street. I had had the final line in mind throughout - 'Finish him.'"
Despite our society's progress, Oates finds discouraging signs of unrest that is spurred by inequality and oppression.
"The Civil Rights enactments of the 1960s were enormous social accomplishments.  Who would have imagined that, in the 21st century, they would be in danger of being undermined in some of the southern states?"
At least topics such as racism and sexual violence are more openly discussed in modern times. "There have been watershed moments and novels on these themes - dating back to the 1970s.  It is certainly true that one can approach such subjects far more directly and honestly than in the past." 
Oates' writing can illuminate, as well as enthrall. "Writers vary greatly and widely," she says. "Some hope primarily to entertain and to have commercial success. Others are pursuing a more interior, idiosyncratic vision - to find the perfect language to express the inexpressible: life in its complexity."
A novel's creation can enlighten the writer, as well as the reader. "A writing project of months will always evolve in ways unanticipated at the outset.  We always learn about ourselves in the process of learning about others," Oates says.
Now 76, Oates, long a professor at Princeton University, begins every novel thinking it might be the most important she has ever written.
"Yes!  It always feels that way," she says, "that one's very life is at stake."
Yet Oates doesn't pause for relaxation once she completes a project. "I usually move at once to shorter work - short stories, essays and memoirist pieces, reviews.  I have many ideas for fiction in folders."
As for what sparks her ideas, Oates says, "Most of us have had to be our own muses.  I have never felt inspired to write for or to another person. The wellsprings of inspiration are mysterious and varied."
To coax the muse's arrival, Oates simply spends time thinking or meditating. "Best while walking or running, in solitude. The crucial thing is to be somewhere free of interruptions."
Raised in the countryside outside of Lockport, New York, Oates attended a one-room schoolhouse through the elementary grades. Receiving a typewriter at age 14, she trained herself to write novels throughout her high school and college years. After a short story collection was well received the previous year, Oates' first novel, "With Shuddering Fall," was published in 1964. She has accomplished so much through her writing. But Oates still strives to achieve more.
"Immersed in a new novel, I am hopeful and challenged, simply to complete it in the way I've envisioned - as a mirror held up to life, yet also suffused with the interiority of life, its beauty, pain and mystery."