JUDY BLUE EYES AND GOLDEN VOICE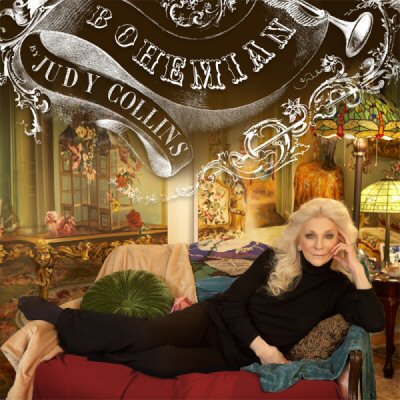 Photo Credit: James Veysey
By Paul Freeman [September 2011 and September 2008 Interviews]
The term "legend" is readily bandied about these days. Folk-pop singer/songwriter Judy Collins is one artist who definitely has earned the appellation.
For half a century, Collins has thrilled audiences with her gorgeous voice. Her music has always touched the heart and moved the spirit, providing healing and hope.
She plays San Francisco's The Rrazz Room at Hotel Nikko, 8 p.m., Tuesday through Saturday evenings, September 20 through October 1. For tickets ($50-$55) and information, phone 800-380-3095 or visit www.therrazzroom.com.
At the intimate venue, Collins will perform many of her classics, as well as selections from her exquisite new album, "Bohemian" (due October 18 from Wildflower Records) The record brims with gorgeous original compositions, as well as her interpretations of works penned by other wonderful songwriters, such as Joni MItchell ("Cactus Tree") and Jimmy Webb ("Campo De Encino").
On the "Bohemian" album, that distinctive Collins voice sounds as stirring and supple as ever. How does she manage that? "I live the life of a nun and that doesn't hurt," she laughs. "No screaming, no smoking, no drinking, no staying up all night... that's the way it works."
Her original aspiration was to be a concert pianist. At 13, the prodigy made her public debut performing Mozart.
Of her classical music study, Collins tells Pop Culture Classics, "In the long run, that's given me a huge amount of control and patience, all the things that you need to hang in here for 50 years."
She grew up surrounded by music. Her father was a sightless Seattle disc jockey. "His tastes were very eclectic. He was a great singer, as well. He wrote songs. He was terrific."
At the dawn of the '60s, Collins' appreciation for lyrics drew her to the folk revival. "I loved the stories," she says.
She wended her way to Greenwich Village, where she sang the songs of rising poets such as Bob Dylan, Phil Ochs and Tom Paxton.
"It was exciting. Every day you'd walk down the street, find people and ask, 'Got any new songs?' I would, anyway. It was marvelous."
Collins has a gift for finding great songs. She recorded the works of Leonard Cohen ("Suzanne"), Joni Mitchell ("Both Sides Now") and Randy Newman before they were widely known.
"Why do the music and the artist come together? Every artist is different. I chose songs that I could put a unique stamp on that would make them mine."
Perhaps it's destiny. "Absolutely. It's the life of an artist. You are fated to do certain things. And you do them."
She has always been an extraordinary interpreter of Jimmy Webb's works. On Collins' previous album, "Paradise," one of the outstanding tunes is Webb's "Paul Gauguin in the South Seas." "It is a fiercely divine and amazing song," Collins declares. "I think it's the best song I've ever recorded. And I've recorded a lot of great songs. But I think it was the most challenging song I ever recorded. It's beyond belief what a great song it is."
Collins' 1961 album debut, "A Maid of Constant Sorrow," featured songs penned by Bob Dylan and Ewan MacColl, as well as traditional numbers. That release began a long association with Jac Holzman's Elektra Records.
"I was very lucky. I was with a great company. I was just reading Jac Holzman's book again last night, called 'Follow the Music,' in which he details these decades that we worked together and how extraordinary it was."
Collins now operates her own label, Wildflower. "I'm trying to put into practice the things we learned from Jac, my mentor, who's still my friend."
Throughout her career, Collins has been a strong voice in the human rights and peace movements, as well as a tireless worker for UNICEF.
She says the activism of the '60s wasn't futile. "People change the world in different ways. They say the most important thing to do to change the world is to change yourself. We were also very much changing ourselves, taking mystical, magical tours, changing our boundaries, changing the things that we were allowed to do and not allowed to do. That was an outgrowth of our insistence on artistic freedom and challenging the status quo."
Does she see that sense of exploration in today's performers? "Any artist worth their salt is doing that... and the rest don't count. A person who calls themselves 'an artist,' has to be on the cutting edge of his or her own life and own inner journeys to meet their own standards and to break the barriers down around them.
"There's a great prohibition against being an artist. Doctors say the first job is to do no harm. With the artist, the first job is to do any harm you can think of - to challenge the status quo, to say, ''m going on my own path. I don't want to be told what to do, nor are you going to tell me. And if you do, I'll do something different anyway.'"
The self-described "boat-rocker" has explored many artistic avenues in her quest to challenge the status quo. She has written a number of books and directed an Academy Award-nominated documentary, "Antonia: Portrait of the Woman," which is now available on DVD (http://www.judycollins.com/new_products/antonia.html).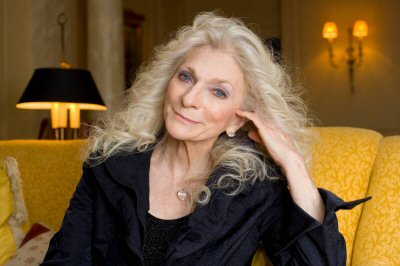 Photo Credit: James Veysey

Collins has dealt with personal tragedies, including her son's suicide. "The creative process and the thing that you are chosen to do is actually the machinery that gets you through. It's the thing that saves your sanity.

"That's why you have to hone that skill and to demand that you're heard as an artist, demand that you find a way to work and get your creativity out there. The heartache that comes from not facing up to that, from not finding a way to let it come through, can be devastating."

Collins remains as creative and artistically productive as ever. On October 18, her memoir, "Sweet Judy Blue Eyes," and a children's book/CD, "When You Wish Upon A Star," in addition to the "Bohemian" album.

"When I got the book ready, my editor at Random House said, 'I'd like you to do a album, to be released at the same time, so that we can cross-promote.' I said, 'That's a good idea, because I have some of this new material that I'd like to finish up.' And I always have thoughts about songs that I want to do, that I haven't quite gotten to.'

"I thought I should reach back to some of the things from the '60s. I had a list that included some Dylan. For instance, I was going to do 'Girl From The North Country.' I'm glad I didn't, because I heard Crosby, Stills and Nash do it the other night. And I thought I might take a crack at a couple of the more difficult pieces from the '60s. I thought I might do a Jim Morrison song, too. I had already recorded all the Leonard Cohen songs I love.

"But I wound up with these songs, because they winnowed down. Also, I wanted more of my own material on the album, so there wasn't as much room. Having a balance of half and half is pretty good for me. And the songs I ended up with make me very, very happy. I'm thrilled with the album."

The inclusion of "Pure Imagination," from "Willy Wonka & The Chocolate Factory" proves to be a delightful surprise. The imaginative Ms. Collins first noticed the sweet confection on British telly not long ago.

"That's how out of it I was in the '70s, when the movie came out. I was busy touring and trying to keep my life together. 'Amazing Grace' was a big single, when that came out. So I didn't hear it. But I heard it in London. They used it in a commercial for AT&T over there. I heard it for the first time and went, 'Oh, my! I'm going to have to do this!' And what a great song it is. I love it."

Also on the album is Woody Guthrie's perpetually relevant "Pastures of Plenty." "I've known and loved this song forever and forever. It was probably one of the first songs I ever heard of his. I liked the idea of doing something that touched on the problems of immigration and what fools we are to see these people as our enemies and to punish them for having come up here to pull the grapes from the vine and provide a work force that we were desperate to have.

"They passed this bill in Congress a couple of years ago, about a special dispensation for people to come up here and work on the crops, because we can't get our crops harvested. Nobody wants to do that. Maybe it'll change, now that 15 percent of our country is at the poverty level. But we have issues we need to deal with, which Woody always took on the chin. I mean, it was a problem then. We had all these union battles then. Everybody was fighting the unions, from the very beginning. And now, they're trying to tear them down, top to bottom. It's disgusting. Nobody's probably surprised by my politics, so I wouldn't think they would be too surprised, if I sang a Woody Guthrie song," Collins laughed.

"The work force that we try to ignore and stamp on and build walls against and criminalize, it's sad, especially in California. Look at what an incredible thing it was to have those people around to help us."

The song "Veteran's Day" shows true compassion for those who serve their country. "I'm a judge on one of the gifts of the internet, which is a contest run by Noel Stookey, of Peter, Paul & Mary. It's a contest called 'Music 2 Life.' And every year I get to hear 20 songs or so and vote on them. And that song came through maybe three or four years ago. I tucked it in a pocket that says, 'Songs I'd Like To Record.' And finally I said, 'Now's the time.'

"It's so sad what's going on with our vets. It's just pathetic, first of all that they dying in these wars, secondly that they're coming home with these horrible, unspeakable injuries. And then they have to go through all of this rehab, to be able to walk and have lives again. And then they don't have any jobs. I mean, how awful is that?

"I really feel strongly about these issues. I'm not a retro thinking person. I'm a forward-thinking person. My belief is that we will solve these things. I really am an optimist, despite my bleak predictions, at times," She says with a gentle laugh. "You have to be an optimist."

How does she maintain optimism in the face of the world's problems? "Well, today I'm in Colorado and I got up and looked out the window and saw the mountains. That'll do it And I think, 'I'm not in the Donner Party today. Things are good.'" She laughs again.

Kenny White joins Collins on "Veteran's Day." Ollabelle creates glorious harmonies on "Morocco" and Shawn Colvin's voice perfectly complements Collins on "Cactus Tree."

The most moving song on the album is Collins' "In The Twilight," a lovely, loving homage to her mother, who passed in December.

"My mother was a very, very vital woman. She traveled all over the world. She read copiously. She was a docent here in the museum in Denver for 30 years. She was married to my father, who was a difficult and extraordinary man. And she raised five kids.

"I spent a lot of time writing about my father, who was a very powerful, strong personality. And I think I'm going to have to write a book about my mother now. Sometimes I've written about her in my books. She was an amazing woman. I think I will write a book. But writing the song was wonderfully helpful, too."

Collins had actually begun writing the song before her mother's passing. "The last time I saw her was about two weeks before she died. I saw her all the time. Colorado is my second home. I'm here very often during the year to work and also to ski and have family reunions. And so I had thought about the song, because when I saw her last, the first line came to me. One of the people who worked at the place she was in, which was this beautifully, incredible facility in Denver, called The Park Place, she said, 'You know, your mother is such a lady.' And so, that, of course, is the first line. And then, as I was leaving, I thought, 'Well, it's twilight. And she's sleeping. I think she's ready to go.

"She was not sick. She was losing her mind, of course. They sometimes say, when someone begins to go like that, it's not them. I don't agree with that at all. I think it's the same person, the same spirit, the same persona. Maybe they can't remember who you are... but they sure remember who they were. Very powerful memory of who they were sometimes. In her case, certainly powerful."

Writing her autobiography brought Collins new insights. "Everything happened at once. I finished the major work on 'Sweet Judy Blues Eyes' in March. Through all the time I was recording this album and writing and finishing and editing the book, they were in each other's pockets. There was no way I could get away from one without turning to the other. There are only 24 hours in the day, so I had to do as much as I could every day on each of those projects. So they were very much integrated. And I think they belong together, really. The back story is in the book. But the present tense is certainly in the CD."

She didn't grapple with the issue of how revealing to make the book. "I like to say it's a tell-some book. You can't tell it all. It's too big a story, really. But I told a lot of things. I went in depth with a lot of things I hadn't really talked about before. I wanted to make it sound fresh. And also, to focus on that fantastic time, where we were building this thing called, 'The Great Folk Scare' We were part of it... but it was also part of us. The politics and the social struggle were all part of the story, as well - the marches, the going to jail for certain activities."

In a less altruistic incident, Collins was arrested in a plane a few years ago for using a phone. 'They came and took me off the plane in handcuffs, in St. Louis. And I mentioned to my granddaughter and my husband, who were with me, that it was the first time I'd ever been arrested, when it wasn't on a political action," Collins says, laughing.

Collins' magic transcends politics. With her children's books/ CDs, she's enchanting young fans. Preceding the new "When You Wish Upon A Star" was "Over The Rainbow."

"I got a call from my friend Peter Yarrow. He said I want you to do a song on my new book imprint. I said, 'Sure, what do you want?' He said, 'I want you to sing 'Over The Rainbow.' And I said, 'That's great! My mother taught me that song and told me that I was named after Judy Garland.' So that was intriguing. And there I was, doing that song. And now I'm doing 'When You Wish Upon A Star' and that's been terrific fun, doing those."

Performing is still fun for Collins. She has said she plans on touring for the rest of her life. "I'll keep doing it until they knock me down and put me out, I guess.

"It's the life of the troubadour. And that's what it takes. You do what you do and you do it as long as you can. And thank God you have a job. I think that my career chose me. And I feel very lucky that it did."

Her recordings have proven to be timeless. The integrity of the emotion transcends place and time.

"A lot of it has to do with my luck in my audience and my assistants, my personnel and my friendships, my ability to weather a lot of storms."

Collins is as vibrant as ever. She seems eternally youthful. "Well, I do take care of myself. I exercise every day. I eat well. Exercise, the sleep and the eating are probably the fundamentals. But it's also having good friends, loving to laugh, having a wonderful family who's always on my side. That certainly is part of it."

Still there are challenges. "It's always hard, whether you've been in the business for 40 years or 10 or five weeks, it's always hard. And things morph and change. They look different and sound different, but a lot of them are the same.

"The changes have to do with the internet. I forget what the statistics are. But apparently, we learn more, become more creative, at an increment that is so much greater, technologically, than the way we evolve and change as human beings. And the second quotient doesn't always keep up with the first quotient... which I think is what's wrong with the world right now. Too much money, too much access and too little time to think about what we're doing.

"I did a concert last night in Leadville whose producers give part of the money to a shelter, a food program for seniors and a rehab center for people who have drug addiction and alcoholism. That should be a part of everybody's policies. And they should pay their taxes, these big companies. and the wealthy. But I think what's happened is, we've technologically gone out of our minds. Yes, it's helped. But it's also been an enemy. I don't know how you change that, unless you reach more people with a better message, perhaps that's it."

She's grateful for the life she's been able to lead. "I've always had the tremendous benefits of doing what I love and being an artist, because the first person who gets helped and healed by that is me. And then it goes out to the world. How fortunate I am. And I really consider it to be a service business. It's not for everybody. As Michael J. Fox said on Letterman the other night, 'We're all here, because we're not all there.' Collins laughs.

"I believe that's true. It's not for everybody. I mean, this is a crazy life I lead. And most people who are my friends in New York, don't know where the hell I am or what I'm doing on any given day."

There are goals yet to fulfill. Collins would like to write and star in a Broadway show. She still relishes getting her music out to the people. "I've been on the road my whole adult life, since I was 19. To bring an audience together and sing to them for two hours, that's pretty powerful stuff."

Her singing continues to uplift listeners. "I hope that's always going to be true. I've learned to do that. It's my job to do that."

Human connection is the reward that has always motivated Collins. "The ability to discipline yourself and to focus changes. The lessons and languages you can learn - about how to put a point to your desires, ambitions, ideas and visions about the world - can be honed. Different things come into your life, different things to get over, different things to celebrate. You never stop being open to new experiences.

"But the driving force is still pretty much the one that drove me when I was five years old. I lead a wonderful life. I'm a very privileged person."

For more information on the artist, including other concert dates, visit www.judycollins.com.