Kate Miller-Heidke: Catching The Crowd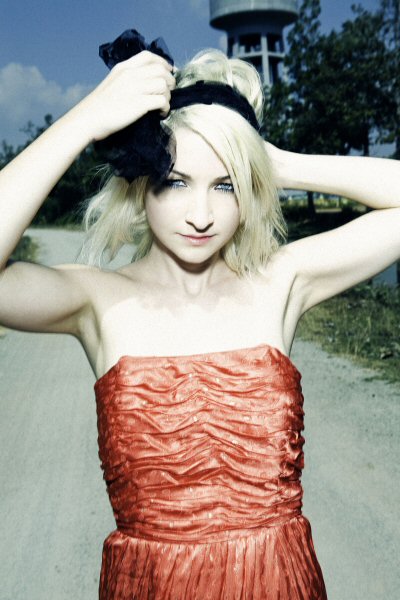 PHOTO CREDIT: Joseph Llanes
By Paul Freeman
Pop singer-songwriter Kate Miller-Heidkeís captivating new album ďCuriouserĒ has awakened the curiosity of North American listeners. Sheís already a hit in her native Australia.
In this country, Miller-Heidke has been gaining tons of attention for her song ďAre You F--king Kidding Me? (Facebook Song).Ē
Miller-Heidke can also deliver more meaningful numbers, such as ďCaught In The Crowd,Ē which confronts the topic of teen bullying. It won the prestigious, Nashville-based International Songwriting Competition, whose judges included such luminaries as Tom Waits, The Shinsí James Mercer, The Cureís Robert Smith, Neil Finn and The Kinksí Ray Davies.
Such songs prompted Ben Folds to invite Miller-Heidke to tour with him last fall and again this spring. She returns for a headlining club tour in June.
Miller-Heidke has also played big showcases, including South By Southwest and the Coachella Festival. This summer, sheíll play some Lilith Fair dates.
As a teen in Brisbane, Australia, Miller-Heidke discovered Joni Mitchellís ďBlueĒ album and soon explored her own songwriting talents.
Now 28 and based in London, Miller-Heidke puts her songs to good use. She has been involved with raising awareness of the human trafficking issue and played the MTV Exit Foundationís concert in Angkor Watt, an ancient temple in Cambodia.
Miller-Heidke told Pop Culture Classics that believes music can have a tremendously positive impact.
POP CULTURE CLASSICS:
Ben Folds originally found you on YouTube?
MILLER-HEIDKE:
He apparently had heard of me while he was living in Australia, then saw me on YouTube and called me out of the blue. He invited me on tour and then was kind enough to ask us back this year. Weíve been very lucky to play to his audiences. Theyíre really genuinely music-loving people and weíve played in a lot of great theaters, as well. Heís a really lovely person and an incredibly inspiring, brilliant, genius musician. He has a history of being supportive of new acts, up-and-coming musicians. And heís been very generous with us.
PCC:
Youíve played big showcases, South By Southwest and Coachella Festival. Did you feel pressure at those events?
MILLER-HEIDKE:
I always feel pressure. Itís a big responsibility to get up on stage and have a whole roomful of people stare at you. Itís not a natural state of being. So I always get really nervous. At Coachella, I was nervous that nobody would be there, because we were the very first act to play the festival. But actually, it ended up working out really well, because there was nobody else on at the same time, on any of the other stages, because it was so early. We were the only option for anyone who was there at that time South By Southwest, that was really a strange experience. Iíve never been around so many musicians. That was kind of a weird thing. It took me a few days to get used to it. I think, if I went back again, knowing what to expect, Iíd enjoy it more next time. But at the time, it was kind of overwhelming. Itís not so much on stage, itís everything else that goes along with it, like being surrounded by all these musicians who each want to Ďmake it big.í I donít know. I felt a bit tense sometimes. Too, youíre used to feeling a bit special as musicians. Youíre used to being in the minority. And all of a sudden to realize how distinctly unspecial you are, surrounded by all those other musicians, it was a bit of a wake-up call.
PCC:
Was there camaraderie, as well as competition?
MILLER-HEIDKE:
Iím just pretty shy. I think a lot of musicians are either painfully shy or full of bluster to mask their underlying shyness. So it makes for some strange social moments.
PCC:
As a child, were you fantasizing about a performing career?
MILLER-HEIDKE:
I wasnít fantasizing about this, in particular. I love musicals and I used to think that Iíd love to be in music theatre. I still love ĎMary Poppinsí and ĎThe Sound of Music.í Julie Andrews - Iím fascinated with her. But then I guess, after I became prepubescent and had things I needed to express, and also, having discovered some great music, at that point was when I fell in love with songwriting. And I think itís actually a good life for a shy person. Because, for that time that youíre on stage, you can almost play a role, play a character and explore part of yourself that normally you donít have the courage to. And thatís so liberating. The big turning point came when I found Joni Mitchell. Iíd never heard of her. I was a 14-year-old kid in Brisbane, Australia. She wasnít exactly a household name, where I was from. But I had a guitar and I used to sing songs and subject my friends to that, every time they would let me, which wasnít all the time. And eventually someone said, ĎOh, you sound a bit like Joni Mitchell,í who Iíd never heard of. So I went and bought her album, ĎBlue,í and it really opened my eyes to what a great song could be, just the poetry of it, how moving and expertly crafted it all was.
PCC:
Did that help you find your own direction as a songwriter?
MILLER-HEIDKE:
Well, then I just started copying Joni Mitchell for a couple of years. Went through phases copying people. Then eventually you find your own voice.
PCC:
Did you find that songwriting ability, to some degree, was something you were born with?
MILLER-HEIDKE:
The thing is that, when youíre an adolescent, that self-censorship node in your brain hasnít quite developed, or for me it hadnít, anyway. So there was never any question about, ĎOh, I donít think Iím very good yet.í There was no self-doubt. The songs just sort of spewed out of me, fully formed. That doesnít mean that they were good [She laughed]. But I think I just fell in love with the act of doing it. If you do something enough, if you love it enough, then eventually, youíll develop some skills, I think.
PCC:
And today, do you try to avoid self-censorship, putting a song through too much of a filter?
MILLER-HEIDKE:
Definitely. In the initial stages, itís the feeling of channeling something, as opposed to creating something. That tends to be what works for me the best. But then itís good to have the craft and the ability to be critical of yourself in the later stages, when it comes to finishing up a song, which can be quite tedious at times. You have to be willing to cut the fat off.
PCC:
Having already enjoyed success in Australia, does that make it easier to pursue attention in the States?
MILLER-HEIDKE:
I donít really have much to compare it to. I guess itís nice to know that, if everything goes to shit over here, then thereís a backup plan [She said with a laugh] Australia is quite small and it can be quite challenging, having a long-term career in that country alone, because there just isnít the population to sustain it, especially when people are always moving on to new things. Itís hard, as an original musician, in such a small country. So itís always been a goal of mine to have some small level of success in another country. And things just keep happening over here. And as long as people keep asking me to play, then Iíll keep coming to play.
PCC:
Did your success in Australia come quickly?
MILLER-HEIDKE:
It took a long time. When I became full-time original musician, I guess it was four or five years ago. But that involved a couple of years of just scraping by.
PCC:
So having it evolve gradually, did that make it easier?
MILLER-HEIDKE:
I donít know, because it was the only experience Iíve had. I guess in some ways it was easy. In some ways, it was frustrating, because radio in Australia is very conservative. But I think it was a healthy way to do things, because I slowly got fans, one by one, through word of mouth, mainly through my live shows. And those are the kind of fans that are going to stay loyal and keep coming out to the concerts. Itís only recently that Iíve had a radio hit and, while itís lovely to have all these people listening to one of my songs, I wouldnít be surprised if, a year from now, I never heard from any of those people again.
PCC:
Because itís the live performance that really cements the relationship?
MILLER-HEIDKE:
Yes.
PCC:
And what is it about live performances?
MILLER-HEIDKE:
I do think that the people who love live music, itís a very powerful thing. On those nights when it really works out, itís a powerful form of communion with a whole bunch of people. Itís almost like church, in a way.
PCC:
What was your first radio hit in Australia?
MILLER-HEIDKE:
A song called ĎLast Day On Earth.í
PCC:
The ĎFacebook Songí is certainly garnering a lot of attention here in the States.
MILLER-HEIDKE:
Itís funny, because nobody cares too much about that song in Australia. [She said with a laugh.] But over here, for some reason, it became a song that a whole bunch of people posted on their Facebook page. And it sort of traveled around by word of mouth, online, which was brilliant. And Iím so grateful. Even though itís a silly little novelty song and it will be dead in two years time, I canít underestimate how many doors thatís opened for me over here. Even things like Coachella and Ben Folds tours. It really helped
PCC:
At the other end of the spectrum, you have the touching song, ĎCaught In The Crowd.í
MILLER-HEIDKE:
I collaborate with Keir Nuttall, my partner [and husband], who is on the road with me, as well. He plays guitar and the piano. Itís an actually an idea that he had, from something that happened in his youth. And, like most people, Ií had also been slightly traumatized at school. It can be a very character-building experience. And yeah, all the elements clicked, I guess. Itís just a poignant little story, filled with little grains of truth. And I really, really like it. Itís still my favorite song on the album.
PCC:
I would think a lot of people approach you and tell you how that song resonates with them and their own lives
MILLER-HEIDKE:
Yeah, they do. And itís even being used, to my surprise, in schools in Australia, teachers saying, ĎNow listen to this song. Now discuss.í Itís got a few ambiguities and poses a few moral and ethical questions. But that wasnít the point of it. Itís just another song, really. But itís great that everybody can make it their own somehow. You listen to a song and you apply it to your own life. Thatís the power of songwriting, I suppose.
PCC:
And that song won the competition, with judges such as Ray Davies and Tom Waits.
MILLER-HEIDKE:
I know, I know. Some of my songwriting heroes were on that panel. So that was really great.
PCC:
Is outside validation important to you?
MILLER-HEIDKE:
Itís pretty much only important when I get it.
PCC:
So youíre not looking for it
MILLER-HEIDKE:
Well, no, because that would be a recipe for disappointment, I think.
PCC:
The collaboration process with your husband, does that vary?
MILLER-HEIDKE:
Yeah, it does. Usually one of us will have an idea and get lazy and ask the other one to finish it. Thatís kind of how a lot of ĎCuriouserí happened. Although a few songs were written together in a room. But I do like to have time on my own to refine ideas and I think Keirís the same. Iíve never had a good experience being in a room with another songwriter and trying to create something in that environment, not yet, anyway. Itís a bit more personal for me.
PCC:
Does that go back to your shyness? Is it difficult bare your soul with something thatís yet fully formed?
MILLER-HEIDKE:
Maybe. I think a lot of songwriters are the same.
PCC:
The human trafficking issue is heartbreaking. How did you get involved in raising awareness of the problem?
MILLER-HEIDKE:
One of the people that works for the charity, MTV Exit, was a fan and asked us to come and do this amazing gig in Cambodia, Ankor Watt, which is an ancient temple. Placebo were also on the bill. And it was one of the most incredible concerts Iíve ever done. They lit up the temple with these beautiful colored, shifting lights. And there people just literally walking out of the jungle to see the concert. It was very special. And from then on, Iíve tried to help and be involved with anything that they do, because Iíve seen firsthand what they do really has an impact. They do great work. Since then, Iíve been back to Nepal and to Viet Nam.
PCC:
Is it dismaying to see how many people are unaware of this problem?
MILLER-HEIDKE:
Yeah. I mean, itís very, very widespread in Asia and a lot more people are aware of it over there. People who live in remote, poor communities, they donít always have these kind of discussions. They donít go to school. And itís hard to get information to those kind of people, which is why MTV is such a great tool. Itís something that reaches all those poor communities and thatís why it works, I guess.
PCC:
Do you believe in the power of music to have a positive effect?
MILLER-HEIDKE:
Iím not sure. Iím a bit disillusioned, I guess, because I grew up listening to a lot of Ď60s and Ď70s music and it certainly didnít change the music long-term, that I can see. But I think that songs can change or help individuals, people who they touch on an emotional level, definitely. One to one, songs can help people. Songs have helped me. And I get a lot of nice e-mails from people about my music, as well. And I guess thatís why I do it, in the end.
PCC:
How have songs helped you?
MILLER-HEIDKE:
Just to deal with whatever emotional issues were happening at the time. Music can be a healing thing.
PCC:
With pop stardom, how does the reality differ from what might have expected?
MILLER-HEIDKE:
In Australia, itís very easy for me. I guess I generally donít look that unusual. The only time I get recognized is when I dress up, with my hair done. Itís as simple as wearing a hat, and nobody looks at me twice. So thatís nice.
PCC:
What are the most challenging aspects of a performing career, the most difficult?
MILLER-HEIDKE:
The most challenging thing is really just not taking anything for granted and appreciating the fact the fact that Iím lucky enough to be living what is a lot of peopleís dream. To really, really appreciate the time on stage that I get each night and the attention of the audience. And just to enjoy everything.
PCC:
So is the greatest satisfaction the connection with the audience?
MILLER-HEIDKE:
Yeah, at the moment, on tour, that is it, that half an hour that we get, opening for Ben each night. Thatís kind of what makes everything else, all the crap, all the flying and driving and room service, crappy food, makes all that worth it.
PCC:
Do you take this all moment by moment or look ahead to goals you want to achieve within the career
MILLER-HEIDKE:
I think itís just a question of finding balance. One thing I know and that is that itís completely unpredictable. You can make all the goals you want, but things can change in a day. And so I just try to kind of do what feels right. I think it comes down to instinct a lot of time and just taking opportunities when they come. Iím not one of those people who says, ĎMy goal is to win a Grammy by five years time,í or something like that. Yeah, thatís not important to me.
PCC:
it must be comforting to know that regardless of outside forces, you can continue to make music that pleases you
MILLER-HEIDKE:
I hope so, yeah. As long as people keep listening to it, thatís all I could want.

SUMMER 2010 ITINERARY
06/22    San Francisco   CA       Cafť Du Nord
06/23    TBA
06/24    Los Angeles     CA       Hotel Cafť
06/25    San Diego       CA       Casbah
06/27    Calgary         ALB      Lilith Fair
06/28    Edmonton        ALB      Lilith Fair

07/01    Vancouver       BC       Lilith Fair
07/06    St. Louis       MO       Old Rock House
07/07    Chicago         IL       Schubas
07/09    Philadelphia    PA       Side Chapel
07/10    Charlottesville VA       PVCC Maxwell Ė will be broadcast live on WCNR
07/11    Vienna          VA       Jamminí Java
07/13    Cambridge       MA       Passim
07/14    New York        NY       Le Poisson Rouge
07/24    Toronto         ON       Lilith Fair