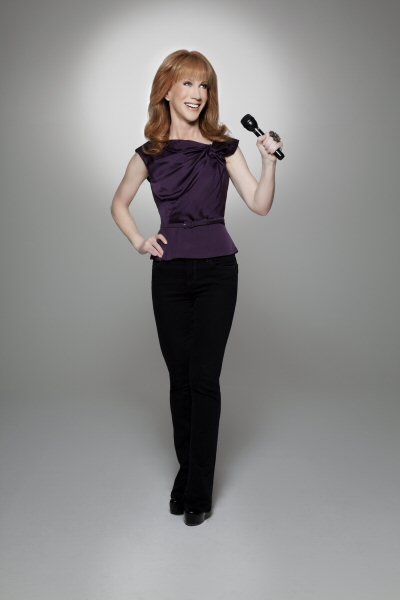 KATHY GRIFFIN: WIELDING THE COMEDY HAMMER
By Paul Freeman [December 2014 Interview]

Kathy Griffin's comedy is not for the faint of heart. If you're a celebrity and you say something stupid... or do something stupid... or wear something stupid - watch out! Griffin's scalpel-like wit will instantly whittle you down to size.

It's hard to remember back to when Griffin was a D-Lister. She's enjoyed one success after another. She's won two Emmys, a Grammy and GLAAD's Vanguard award.

She's in the Guinness Book of World Records for performing in 23 TV stand-up specials. Griffin debuted at number one on the New York Times Bestseller List with "A Memoir According To Kathy Griffin."

Griffin has acted on such shows as "Suddenly Susan," "Seinfeld" and "Law & Order: SVU." Her talk show appearances are myriad and memorable.

Recently, she was anointed the new host of E!'s "Fashion Police." As always, she will be an arresting presence.

PCC:
Are you welcoming the challenge of hosting "Fashion Police"?

KATHY GRIFFIN:
Yes, and it's going to be a fun challenge. I think that it's time that we continue in the tradition of my late, great pal Joan Rivers and we take the piss out of fashion and red carpet events. Enjoy the pomp and circumstance, but also, it might be time for Mrs. Kathy to bring the hammer down.

PCC:
Do you think it's part of the job to take celebrities down a rung on their pedestals?

GRIFFIN:
Oh, I don't know about taking the celebrities themselves down, but I would say, certainly, it is going to be tent-pole destination for people that are watching all the pop culture coverage and hearing nothing but coverage saying everyone is perfect and everyone loves each other and it's all a big family. And you need someone to just point out what is probably true, which is, sometimes these people are ridiculous, behave in a ridiculous way and look ridiculous. And that is why I'm using the phrase, "Bring the hammer down." I'm going to be like the Tom DeLay of "Fashion Police."

PCC:
Are people really more obsessed with celebrity these days? Or is it just that the media is inundating us with it?

GRIFFIN:
No, we are more obsessed with it than we've ever been. And the lines are blurred with who's a celebrity and who isn't. And so I am just fighting to maintain some sort of recognition for some goddamned legitimacy. Because with two Emmys and the current Grammy Award winner for the album and the body of work that I have behind me, I'm going to be taking down everybody from the movie stars to the reality stars who also think they're movie stars. So that's another thing to have fun with in the world that we live in now, is the cast members of "Favor of Love," "Rock of Love," "Utopia," "Matchmaker," they all kind of think they're Meryl Streep. Meryl Streep is just trying to show up and win an award and look halfway decent in an Armani gown. So there's a lot of room to play with there.

PCC:
Going from your struggling days, pre D-List to now, when you've achieved all this show biz success, can you relax? Or is there just as much pressure, just of a different kind?

GRIFFIN:
Look, Paul. You can't shit a shitter. I know you're kidding here. I will be on "Fashion Police," but I'm certainly not invited to these events. Are you kidding me? I'm still persona non-grata, when it comes to celebrity events. And typically, I don't get invited to these shows unless I'm nominated. I never went to the Emmys unless I was a nominee. I never once went to the Grammys unless I was a nominee. [Laughs] I certainly know my place.

And, at this point, I really do have the attitude that Joan had, which was, I don't want to say I don't give a f--k or I couldn't buy a f--ck or, if you gave me a dollar, I couldn't buy a f--k, but I'm somewhere in between there. You know? I mean, that was one of the things that made Joan so great is it's very liberating to see someone who, at 81 years old, Joan just really stopped giving a shit in the most delightful way. And I'm just right about there. I mean, Joan's style was much more zingers and one-liners, as you know. And my style is much more improvisational. But hopefully the thing that we share is the fearless nature in which these things should be approached, because at the end of the day, this stuff is really just silliness. So if you can't have a laugh, well then, damn it, you're going to hear from me about it.

PCC:
There have been some celebs who don't take the jabs as well as others. Do you ever weigh beforehand whether a joke might be going too far?

GRIFFIN:
Well, I just had Ariana Grande ask me personally to please not say anything bad about her on "Fashion Police.'" And I said, "Sweetie, I don't make those deals." So I don't intend to say anything bad about any one person. I'm just saying, everyone is on the table - friends, unfriends, not friends, people I don't know, people I do know. And the nice thing is, I've finally, at 54, reached a nice place where, typically most of the celebrities finally get it and they finally get that it really is just in fun. But no, nothing is off the table and no one is off the table.

I mean, I have to be the person on the panel who is going to do that, because you've got everyone else on the "Fashion Police" panel and they're all fantastic, but Brad [Goreski] is going to talk about hemlines and fashion details. And Kelly Osbourne is obviously bringing the perspective of the lavender-haired young woman with the gazillion Twitter followers. And Giuliana Rancic has the perspective of the person who was actually on the red carpet with these celebrities and has to be nice to them. And then I come in - with my gavel - and just pass judgment on all of them. With impunity.

PCC:
You've talked about the bullying in high school, does this approach to humor serve as a defense mechanism?

GRIFFIN:
No. And anyone who thinks it does, has never truly been bullied. All right, this is not a No Hate campaign. This is a comedian making fun of ridiculous outfits that ridiculous celebrities might be wearing in a ridiculous fashion. And by the way, I've been on those lists, too. And me being on the worst-dressed list is hardly likened to me being bullied in high school.

PCC:
So at this point, how do you deal with your vulnerabilities and insecurities? What is therapeutic for you?

GRIFFIN:
Oh, comedy! There's nothing like it. I'm on tour all the time and I've got about 50 cities lined up. And that's what keeps my head on straight is I love doing the television stuff and I love touring and I love going everywhere. I mean, I'm playing the Kennedy Center and I'm playing Thackerville, Oklahoma. And every kind of venue in between. I have no idea what I'm in for. Trust me, neither do they. I should warn you, it will be an evening of swearing, cursing and negativity. It's about time!

PCC:
You said no one is off the table as a target. But is there any subject, any style of joke that you would consider off-limits for yourself?

GRIFFIN:
No, I mean, everything has to be on the table. I think it's important, especially with everything that's going on in the world, in comedy, in pop culture. Let's see who leans in and who doesn't. Let me tell you, when it comes to that microphone, I'm going to leaning in.

PCC:
You always have to keep the material so fresh, how much of a challenge is it, even with the avalanche of celebrity news and gossip these days?

GRIFFIN:
Well, that's the good part. It's not a challenge at all. I mean, look, I love my contemporaries that write this perfect, hour-long monologue and it's almost rehearsed like a Shakespearean monologue and they recite it. And they always kill, they always do well. That's not my story. My show is really improvised. I never know what's going to happen, right up until show time. It's so twisted at this point, that I have to check my phone or my iPad until five minutes before I go on stage, to make sure no one from my act has died."

So every audience is different. Every environment is different. And I love changing the material to whatever that evening commands. And the audience lets me know. I kind of take their temperature all during the show. And I can tell if they're into more political humor or celebrity humor or if they want to hear about my alcoholic mom Maggie and her box of wine, which she'll be halfway through. And I like to see what the audience is into that night. And it's kind of an unspoken back and forth. Well, they're not allowed to speak. I do quite a bit of speaking.

PCC:
You must love the risk involved in all of that.

GRIFFIN:
Of course, that's what makes it fun and fresh. That's what I find to be the most exciting part of stand-up. I can't understand these comics that have people write for them. What's the point? I've done 23 specials. I'm in the Guinness Book of World Records. I can't stop generating material. The celebrities in particular, but the world as it is, whether it's pop culture or anything you read in the paper, it's constantly generating new material.

PCC:
You really have accomplished so much. What has been the most satisfying aspect of the career?


GRIFFIN:
I think constantly being inspired to always make fun of something new. I think the fact that, whether it's an election year or something has happened in a regional way, the fact that, every single day, there's something new out there. It excites me every single time I hit the microphone. There's always something to make fun of. I don't care if it's the local restaurant. sometimes it's something I've heard in a hallway, moments before I go on stage. Sometimes it's a funny billboard that I've seen. Sometimes it's something I've read in your very own publication. There's always something local to talk about. And then there's always the elephants in the room. So will we be talking about the latest with Kim and Kanye? Yes. But we're going to probably be talking about Bruce Jenner more. So we're going to cover anything and everything. I expect anything and everything.

PCC:
Even though there's the silly side to celebrity, you've been able to use yours to help worthy causes, like LGBT rights. How important has that been to you?

GRIFFIN:
Very. As long as I've been doing stand-up - and I really did start out anyplace that would have an open mic night - frankly I had the best response in gay clubs. And I have had a natural allegiance with the LGBT community, since I can remember, since there wasn't a phrase called "LGBT" community," by the way. And yeah, that work has been very important to me. And it's legit. And it will happen whether or not I'm doing comedy. But I find that gay audiences - I call them my unshockable gays - and I find that gay audiences are great, because, when you're a gay person, you're growing up - anywhere around the world - you're growing up with challenges that other people don't face.

And I find that people that are in any kind of an oppressed minority, they tend to like humor that is pushing the envelope, because there's nothing they haven't heard or seen. There's nothing I can say to an African-American woman who hasn't heard anything crazier. So there's nothing I can say to a gay person who hasn't heard something crazier in their real life. So that's really helped form my style of comedy and also inspired me to do all the other work that you're talking about, with all these other groups, because then, when you meet these folks, one on one, you get more involved, and you hear their stories and I just find that the best way for me to contribute to the LGBT community or frankly women's groups or battered women's groups or rape victims, or going to Iraq and Afghanistan, which I did, is, believe it or not, after working with all these groups over the years, and I will certainly continue to, the best way I can contribute is to quite simply to make them laugh.

I mean, I'm not the richest person in the world. but, at the end of the day, I have found that the one common denominator is that people need a laugh. They want a laugh. They want a hard laugh. They want a belly laugh. They' don't want a safe joke. They don't want to hear about airline peanuts or the difference between dogs and cats. They want to hear something that's maybe going to give them a bit of a gasp and a laugh at the same time. And that's what I hope to do.

PCC:
You've written a best-selling memoir. In looking back, any regrets?

GRIFFIN:
No, I keep thinking I should have some, but, whenever somebody comes up and says, "Oh, I like when you said that in your book" or "I'm glad that you were honest about that" or, more importantly, "I can't believe you said that, because I was thinking it, but I didn't want to say it," then I know I've done my job. And I expect some walk-outs. Frankly, I don't feel I've done my job until I get some. I mean, I demand at least two per show.

PCC:
You've had such a diverse career, is there something that you're still dying to try?

GRIFFIN:
Well, I think "Fashion Police" is going to be a great new challenge. And I'm looking forward to it. And it's working with a new group of people. And it's a new network. So I've got my hands full on that one. The one challenge? I guess the one thing I haven't achieved yet - I haven't officially gotten Anderson Cooper fired from CNN on New Year's Eve. So I have that coming up. I'm ramping up for that first, before I even really dive into "Fashion Police."
But you know, my work is not done there. So as long as Anderson Cooper is still even slightly associated with CNN, my work there is not done.

PCC:
You've done some fun work on sitcoms and the talk show format still seems like a natural fit for you. Any chance of revisiting those forms, if the right circumstances presented themselves?

GRIFFIN:
Well, it's about time for a woman to do a late night talk show. It's not since my pal Joan Rivers, in 1988, that a woman has hosted a nightly network late night talker. And people don't realize that. They think, "Well, Chelsea is wonderful." But Chelsea is cable. I love all the guys that are hosting. But not since 1988 has a female had her own late night talker. And, if it isn't me, it better be one of those girls coming down the pike, because it's time.

For the latest news, visit kathygriffin.com.