KENNY BARRON: JAZZ MASTER PIANIST STILL LEARNING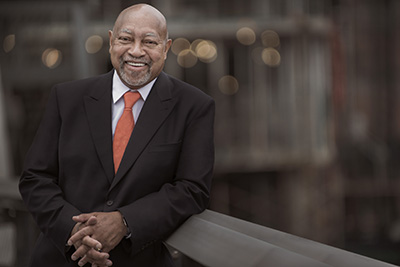 Photo credit: Philippe Lévy-Stab

By Paul Freeman [August 2017 Interview]

He was honored by The National Endowment for the Arts as a Jazz Master. An 11-time Grammy nominee, he was inducted into the American Jazz Hall of Fame. But, at 74, pianist/composer/bandleader/educator Kenny Barron is still learning.

The Los Angeles Times named him "one of the top jazz pianists in the world" and Jazz Weekly called him "The most lyrical piano player of our time."

For his latest album, the Grammy-nominated "Book of Intuition," which also features his longtime bassist Kiyoshi Kitagawa and drummer Johnathan Blake, Barron wrote seven of the songs. The album also includes two Thelonious Monk tunes.

Barron grew up in Philadelphia. He and his four siblings all studied piano. His older brother Bill became a noted tenor saxophone player.

Early in his career, Barron spent several years with trumpeter Dizzy Gillespie's band. Barron has also played with such greats as Buddy Rich, Milt Jackson, Freddie Hubbard, Woody Shaw, Charlie Haden, Stan Getz, Ron Carter and Ella Fitzgerald. In the 80s, Barron co-founded the quartet Sphere, which focused on Monk's music.

At the suggestion of multi-instrumentalist Yusef Lateef, Barron completed his college studies while touring. He then taught at Rutgers University for more than 25 years, earning tenure.

However, Barron still considers himself a student of jazz. "It's never-ending," he tells Pop Culture Classics.

POP CULTURE CLASSICS:
What is your composing process like? Does it tend to be more about the self-discipline and making yourself do the work? Or more just waiting for the muse and being open when the time comes?

KENNY BARRON:
Probably the latter. More so that. I'm not a methodical kind of person. So I can't say, "It's five o'clock. Time to write music." [Laughs] I can't do that.

PCC:
Have you found ways over the years to coax the muse, to put yourself more in the creative frame of mind?

BARRON:
Not really. The only thing that makes me kind of buckle down, so to speak, is if I have a deadline. So a deadline will kind of force me to spend time doing that. But normally, unless I'm working on a new recording or a particular project, then I just kind of wait for the music to hit. Otherwise, I'll spend time working on it, but I don't always like what I write in that kind of situation. When I feel like I'm trying to force it, I don't always like what I write. Of course, that doesn't mean it's bad, it's just that I don't like it [laughs].

PCC:
When it does come, does it tend to begin with a little snippet of melody and then you expand from there?

BARRON:
That has happened, yeah. And you develop it later on. Sometimes you just save it and you come back to it. Sometimes you work on something even in the moment — and you get stuck. So sometimes you just leave it and you come back to it a few days later or a week later. And you kind of have fresh ears, so to speak.

PCC:
You included a couple of Monk tunes on "Book of Intuition." Was he a primary inspiration for you?

BARRON:
Not primary inspiration. But definitely an inspiration, especially in terms of his compositions, he was definitely an inspiration. So whenever I do a recording, I'm going to try and somewhere, somehow or another, record a Monk piece.

PCC:
What was it about his composing style that most impressed you?

BARRON:
I don't know, it's just so quirky. Unique. As a pianist, he was a stylist. He's the only person I know who could play a standard and make it sound like he wrote it. But his compositions are just very, very unique, colorful. You think they're simple… but they're not [laughs].

PCC:
And the song "Nightfall" on the album, is that sort of a tribute to Charlie Haden?

BARRON:
Well, it's not a tribute. It's just a piece that I used to play with him. And I especially loved it. So I figured I'd record it. I never recorded it with him. I did play it with him. And it's a very, very beautiful piece, so I definitely wanted to record it.

PCC:
And what was it like working with Charlie?

BARRON:
Oh, very, very cool. Very easy. He was very easy to get along with. He had a few quirks, which are well known. He had a thing about hotels, hotel rooms. He had to be in the best hotel room, no matter where it was… even if that meant going 20, 30 miles out of the way. But that was one of his things, you know? But other than that, he was beautiful… in spite of that, even with that, he was beautiful to work with and work for.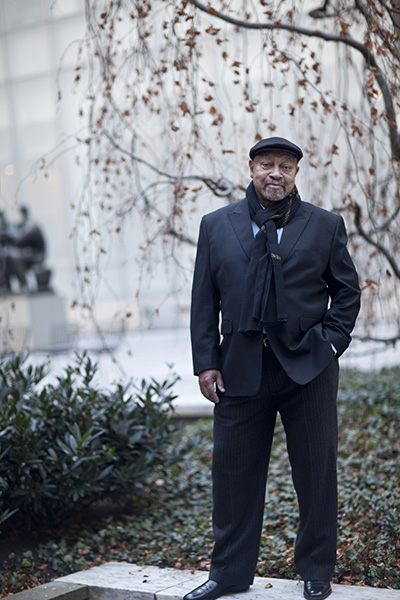 Photo courtesy of Kenny Barron
PCC:
Your trio on the album, this is the first recording together. They had been with you for years prior. Were you waiting for the right moment?
BARRON:
Kind of. The recording company, Verve, for France, Universal, they were going through some internal stuff, so it was a problem of whether I should record now or later, just when to do it. So my manager was able to finally hook it up. And my next record, I think will actually be the last on my contract. There is one in the can. That's a quintet record. I'm not sure when that will be out. So I don't know what's happening for another record, beyond that.
PCC:
When you're working the trio format, does there have to be an intuitive sense among the three of you?
BARRON:
Oh, very much so, yeah. The bass player, Kiyoshi's been with me nearly 20 years. And Johnathan's [drummer Johnathan Blake] has been with me for about 10 years. And Justin [Faulkner], who has filled in for Jonathan, when Johnathan is playing elsewhere, he has such a keen ear, too. He plays with Branford Marsalis. I happened to hear him at Dizzy's, playing with [Berlin-born pianist] Jacky Terrasson one night. And when the situation came up and I needed a drummer, I said, "Why not call Justin?" He's from my hometown. And it worked out perfectly. So it's good to have other people you can call on, because sometimes everybody's not available.
PCC:
Did you grow up in a musical household?
BARRON:
Well, I had an older brother who played tenor saxophone, Bill Barron. And everybody — I had two brothers and two sisters — and everybody studied piano. Bill and I were the only ones who became professional musicians. But yes, it was kind of a musical household. Bill had a huge collection of 78s — Bird, Dizzy, Fats Navarro, Dexter Gordon, people like that. So I used to listen to those. And then Philly also used to have a great, 24-hour jazz radio station. That was a joy to listen to.
PCC:
Being exposed to jazz, what was the allure of that music for you?
BARRON:
It's hard to say what it was. But it definitely pulled me in. Maybe it was the freedom of expression, the joy sometimes in the music, the feeling of swing, which is a magnificent thing, especially when things are going right — when the band strikes a groove and you can't play anything wrong [laughs]. Those situations happen sometimes. So all of that.
PCC:
Who were some of the key influences, as you were starting out?
BARRON:
Probably my earliest influences were Hank Jones and Tommy Flanagan. But mostly Tommy Flanagan, who I heard when I was in junior high school. So he was a big influence on my playing, because of his touch. That's what I loved about him was touch. And also his lyricism. He was a very lyrical player. Everything he played made perfect sense.
PCC:
And then, in terms of developing your own touch, your own sense of style, what was that gradual process like?
BARRON:
Well, it is a gradual thing. You synthesize all of your influences. And I listened to a lot of other people, as well — Wynton Kelly, McCoy Tyner, who's from West Philly, Herbie [Hancock]. And a bunch of other people. Even young people. So I'm still learning. Gerald Crayton. I love Aaron Parks. Sullivan Fortner. These are all people that I admire and respect.
PCC:
So have you found that constantly, ever since you began playing, your musical palette continued to expand and evolve?
BARRON:
Oh, yeah, always. It's never-ending. Never-ending. Somebody once made a statement that music is a journey, but you never want to arrive.
PCC:
Working with Dizzy Gillespie, what were you learning at that time? And what were your impressions of him?
BARRON:
Oh, he was great to work for. Dizzy knew a lot about music. He was a fairly decent piano player. He wasn't a soloist, but he knew about chord voicings and things like that, so he was always very generous, sharing that knowledge — "Why don't you voice that chord like this? Try voicing it this way." He always knew a lot about rhythms and he would often pull [drummer] Rudy Collins into playing some different things, suggesting what to do with each limb, sometimes — "This with your right foot, this with your left foot, hit the cymbal here, you get a different kind of sound." So he was very knowledgable. And without being demanding. They were always suggestions. But again, he was very knowledgeable… and willing to share.
PCC:
And you worked with Buddy Rich, what were your impressions of him?
BARRON:
Oh, he was magnificent — magnificent to work for and an amazing drummer. Of course, there are always horror stories about how difficult he could be, but I never had any problems. The guys in the particular band I was in never had any problems.
PCC:
And a funny guy?
BARRON:
He could be. I mean, the worst thing I saw him do, he had a club at one time, in New York, on Third Avenue. And we were playing there and it was prom night, so there were a lot of young kids in there, who were making noise. So he actually put them out. He actually paid their bill and put them out. [Laughs] It was quiet after that.
PCC:
You did a lot of wonderful work with Stan Getz. What do you remember about him?
BARRON:
Oh, yeah, same thing. It was great to work with him. I think we had an affinity for each other, because were both intent on playing lyrically. That was my thing. That was his thing, as well. So we got along great. It was the same thing — a lot of horror stories, but by the time I started working with him, he was great.
PCC:
What about playing with Ella Fitzgerald. What were your memories of that?
BARRON:
Well, that was only once and it was at a recording session in L.A. But she was very, very, very gracious. I was a little nervous, I have to admit. I mean, I forget who else was there, it might have been Benny Carter, Sweets Edison, I don't remember who else. It was so long ago. Maybe Bobby Durham on drums. You probably know better than I do [laughs].
PCC:
And there was that magical quality to Ella's voice.
BARRON:
Oh, yeah. Well, there always was. So I was grateful to have the opportunity. And it was towards the end of her life, too. So I was grateful to have the opportunity to perform with her.
PCC:
In general, the experience of collaborating, what does that open up in you as a musician or even as a composer? That interaction?
BARRON:
You learn. You learn from all those situations. You learn different things. So it does just kind of open you up. It exposes you to what somebody else may think. It exposes you to things you may not have thought of. Things you may not have heard before. So again, all of it is a learning experience.
PCC:
You decided to go back to college after you had already earned success in the music world?
BARRON:
Well, semi-success [laughs]. But yeah. And in 1973, I started teaching at Rutgers University in New Jersey. And that was at the behest of the bassist, Larry Ridley, who was head of the jazz program there. So he asked me about joining the faculty. And I was a little hesitant, because that was definitely going to be a challenge for me, or new experience. But I went on to be there 25 years.
PCC:
Was it a notion you had been toying with?
BARRON:
Not at all [laughs]. No, it was the furthest thing from my mind. But when he asked me, I said, "Well, let me give it a shot." And I was a part-time co-adjutant and then that became a yearly contract full-time. And then from that Assistant Professor. Associate Professor. And eventually I had tenure. And so it was great. I got all the other mundane things like health benefits, a pension and stuff like that, which is always good [laughs].
PCC:
Beyond that, did you find different satisfactions as an educator?
BARRON:
Yeah. It was great, because I had some great students. And it's nice to feel that you had an impact. A lot of them are out now, doing very well themselves, like Terence Blanchard, who was one of my students. Ralph Peterson, the drummer was one of my students. Ralph Bowen, the tenor saxophonist. Aaron Parks was one of students. Gerald Crayton. So it's nice to feel that somehow or other, you may have had a small impact.
PCC:
In addition to bringing your own music into the world, is it part of your mission to keep alive the music of masters like Monk and Ellington?
BARRON:
Oh, yeah. It is. It is. Very definitely.
PCC:
What is the key to that, in terms of putting your own imprint on their compositions, but retaining the original essence?
BARRON:
Well, you try and do both. I was part of a band called Sphere. And we played a lot of Monk's tunes. But we did our own arrangements. And musically, I think it was quite successful. We didn't try to imitate Monk. Except one aspect of his playing, which was his ensemble sound. He had a certain ensemble sound with a saxophone and piano playing the melodies together. That was his classic sound.
So we used that as much as possible. But in terms of the arrangements — totally different from anything Monk might have played. Because we were younger, we knew the more modern things, the current things that were happening at the time. So we utilized that, as well.
PCC:
Is that an exciting process, to find new ways to present classic compositions?
BARRON:
Oh, yeah, it is. It very definitely is. And at the time, that was a full-time project, so we devoted a lot of time to doing that.
And playing Dizzy's music, which I did for four years, I was with him, you try to do certain things, but then there are certain things that, when you listen to them, you just hear Dizzy [laughs]. You know? So sometimes it's hard to get away from it. And it's hard to get away from playing "A Night in Tunisia" without hearing Dizzy playing those high notes or hearing things like that.
PCC:
So the current state of jazz, do you see it as being healthy and vibrant?
BARRON:
I think it's healthy, in terms of what's happening, yeah, I think it's healthy. There are things I don't necessarily agree with, but so what? [Laughs] I'm sure a lot of people didn't agree with Bebop when it came out. But myself, I'm a firm believer in swing. I like to swing. I love it. And I'm not going to apologize for it. At the same time, I still listen to, and am influenced by, some stuff that the younger guys are doing. They stretch harmonically and I can really appreciate that. And in terms of technique, they're all unbelievable. So, yeah, I think the music is in good hands.
PCC:
The designation of "Jazz Master" from NEA, what did that honor mean to you?
BARRON:
Well, it's kind of acknowledgement from your peers. So it's a great, great honor. Yeah.
PCC:
Over the course of the career, what has been the most rewarding aspect of your life as a musician?
BARRON:
Just playing the music. And playing with so many great people. Having a chance to play with people from Freddie Hubbard to Dizzy to Woody Shaw to Yusef Lateef, Stan Getz, Ron Carter. So it's been an exciting life. And I've learned from all of it. They've all been my teachers.
For more on this great artist, visit www.kennybarron.com.