ANGELIQUE KIDJO: SONGS OF HOPE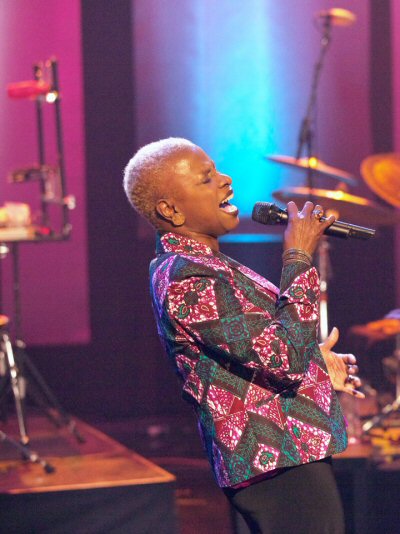 photo credit: Cheryl Richards
By Paul Freeman [February 2012 Interview]
Angelique Kidjo's powerfully expressive , show tunevoice can pull the maximum emotional voltage out of any song, be it show tune, rock, reggae, ballad or African traditional number.
"It doesn't matter how hard we try to categorize things and divide things, in order to think that we are in control of something or somebody," Kidjo explains. "Music never fits in any compartment you want to put it. It's impossible. It's like you want to capture the human spirit and lock it down. How can you do that?"
If you want to share the uniquely uplifting experience of Angelique Kidjo in concert, catch her on tour. In the meantime, you can enjoy the magnificent Africa-born, New York-based vocalist via her new release, "Spirit Rising," her first live album. It's available in DVD form, expanding on her PBS special.
"What I wanted to do with this was to let people see the magic that music allows me to create with the public, the bond that it creates," Kidjo says.
Having been recording for more than 20 years, collaborating with an amazing array of artists along the way, choosing songs and guest artists for this project was difficult. The selections in "Spirit Rising" include Kidjo originals, as well as unusual covers of The Stones' "Gimme Shelter," a bilingual rendition of the Aretha Franklin classic "Baby I Love You" and the Swahili number "Malaika," made famous by Miriam Makeba, one of Kidjo's inspirations. Artists joining Kidjo for this concert recording include Dianne Reeves, Branford Marsalis, Josh Groban and Vampire Weekend's Ezra Koenig.
"I've had such a range of songs through my career," Kidjo says, "that every time I pick one and not the other one, I feel guilty. It's like choosing one child over the other one. And who to invite and who not to invite. There's so many people that I love to do stuff with. It becomes complicated. How do you keep the unity in what you do? It was finding the right balance between the guests and what I wanted to express. What I wanted to express was the universality of music."
The passing of her father in 2008, set the wheels in motion for "Spirit Rising." "My father used to sing very beautifully love songs and he played the banjo. And for years, I used to say, 'Dad, we have to do a duet together. I have to show the world the voice of my father.' And I never had the chance to do so. So one of the ideas of the live album was to pay tribute to the legacy of my father. To bring together different types of artists that I worked with throughout the years, to make a statement, that, 'Dad, you're no longer here, but here is what you taught me, how I should use my music.
"He said to me before he passed away, that I cannot cancel any of my musical engagements, even if he's on his death bed, because he didn't bring me to this world for me not to do what I came to do, which was singing. So the whole process of doing this live album is also in that regard, to bring people together."
Kidjo was raised in Benin, West Africa. Her father made sure she and her nine siblings were exposed to a broad spectrum of music.
"When I was in Africa, growing up, and listening to all this music, in the late '60s, early '70s, I thought it was normal. It was meant to be. And that's the way it is everywhere. And I moved from Benin in 1983 and settled down in France and I would be singing and people would say, 'How come you know that song? How come you know classical music?' And I was like, 'Why are you asking such a stupid question. Why can't I? Because I'm from Africa, I can't know this music?' And later on, I realized that I was lucky to be born in the family that I was born. It was important to be open to the world. Because, when we would get out of this house, the world is big, and yet small. And if you know a lot of cultures around the world, you can feel comfortable in your shoes. You can respect yourself and respect other people's differences, too.
"Look at the history of this planet. It was one continent. And then you have separation and there was distance between us. But music has always been there, every form of the arts has always been there, to let us not forget that we are always one humanity."
Kidjo's began performing at age six, in her mother's theater troupe. "My mother sang to me when I was in her belly. And my auntie said to my mom, you're going to have a girl and she's going to be a singer.' I started singing before I started talking, actually. I was always hanging out with my mom, because every time she'd be doing something, she'd be singing."
Kidjo was exceptionally curious. "My nickname in my family and all throughout my village was 'What, When, How and Why.' I never had enough answers. I see something and, if I cannot process it myself, I have to have an answer to put it into my logic, to put it into my life. So I'd be asking questions like, 'Why this costume instead of that costume?' 'Why this song versus that song?' Blah-blah-blah-blah. I have so many questions that sometimes my mom would be like, 'Oh, my God, I wish you could be quiet.' But always she answered. Always she'd take the time.
"Even if they were busy, everybody in my family would be like, 'Can you wait? When we finish this, you can come back with your question and we will answer it.' Or 'We can give you a quick answer now, or if you want a full answer and a discussion, wailt a little bit, come back.' So I'd be boiling, waiting, going, 'When will I get my answers?' I wanted to learn everything."
Kidjo says that music helped her avoid trouble. "Most of the girls I went to school with, they are grandmothers today. They started having kids very early. And the boys I went to school with, some of them ended up doing drugs. Some of them died early.
"And what kept me out of trouble, as soon as a new album would come to the house, I studied them, from the first song to the last song. I'd be in school, thinking about that. And the first thing I'd do when I came home, I would spend time listening to it.
"And my friends would say, 'Let's do this, come on with us.' And I'd be like, 'No, no, I don't want to go out.' 'Don't you see that cute boy over there? Let's go see him.' 'No, I don't see no boys. I'm listening to music.' Some of them stopped calling me. They would say, 'You're always stuck in your music. I don't know what you find in your music.'
"But music was my breath. Music was a place where I would find answers to a lot of stuff, where I would feel happy, strong and determined to make something out of my life."
The bonds of family also gave Kidjo a sturdy foundation. "I always had the feeling of being loved and protected. I know that, as I'm sitting here talking to you now, if something happened to me, my family would all be here. That's where my strength comes from. We can disagree. We can fight. But the love we have for one another is beyond the fight. We always find a way to overcome our problems. I'm not saying our famliy is perfect. There's no perfect family. It's as dysfunctional as any other family. But one thing we learned is to talk about issues. We can take time, poke that pouch and let everything fall out of it. That's how I was raised. And protected, not only by my mom and dad, but by my brothers and sisters."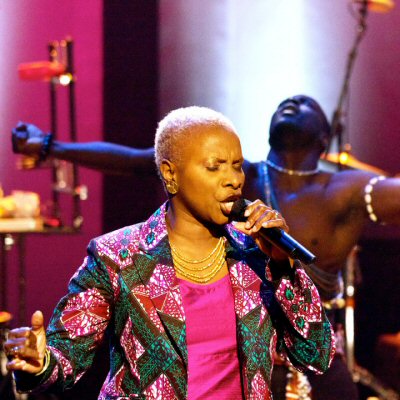 photo credit: Cheryl Richards
Pursuing music wasn't always easy. "When I was a little girl, singing, people would say, 'She's such an angel. But as soon as you hit puberty, that changes, when you're a performer on stage, when you're not a traditional singer, and you play with drums, guitar, bass, keyboards and all those kind of instruments that the elderly people call 'evil instruments.'
"Rock n' roll is something that is not really big in Africa, because it's so linked to free sex and drugs and parents are like, 'Its not coming into our house. We don't want our kids to do this.' When you're a boy and you do music, you're a drug addict. And nobody wants you to be their son-in-law. And when you're a girl, of course, you must be having sex with everybody on the planet. So that was the belief.
"I was called 'whore' and all these horrible names. It is hard when you're a teenager. One day, I came home and said 'I don't want to sing anymore, because they call me 'prostitute.'
"My grandmother said, 'If you let them decide your fate, it's your problem. You have to stand up for what makes you feel good, what makes you feel proud. You cannot stop jealousy. And in this life, you can't love everybody. Everybody cannot love you. You can't accept everybody. And everybody can't accept you. So when you know that, you do what's good for you and that's all that matters. Let them speak.' That's the background that I come from. After my grandmother gave me that lesson, from that moment on, they could say whatever they want, I didn't care. And my family gave me the freedom to do whatever I wanted."
But her family made sure Kidjo stayed grounded. "My father used to film all my shows in Super-8mm and would give me one week to enjoy it, the fantasy, 'Oh, I am the best,' blah-blah-blah. You go on an ego trip. And then, after one week, he would put it up on the screen and we'd start looking and then you know, your life is going to go down. 'You're singing flat there. You're too up. You don't want to do it that way again. Blah-blah-lah.' It was such an intense moment that I'd go back and sleep and all those songs come back into my head and I start thinking, already, how I'm going to make them different, how I'm going to make them better. My family never allowed me to have a big head, not in my house.
"One day, I came back home and said, 'I'm making money, why should I go to school? I'm not going to school anymore.' My father said, 'That's the choice you have. You go out with your money, you rent your house and you live by yourself. Because, as long as I pay for your tuition at school, you go to school. You don't go to school, you don't sing. Period.'"
At 13, Kidjo wrote her first song, inspired by the tragic death of one of her singing idols, Bella Bellow.
"I was fortunate enough, a couple of weeks before she passed away, to take a peek at her on stage, because she playing a club where a child was not accepted. But I looked through the kitchen doors. And she was singing so flawlessly, so beautifully, with the smile of an angel on her face. I thought, 'Oh, my God. This is God's face here. If singing makes you look so beautiful, I want to do that.' And a couple of weeks later, when she died in a car accident, it was a trauma for me. I couldn't cry. I couldn't scream. I couldn't do anything. I was just like petrified.
"So I wrote my first song, called 'Bella Bellow' on my first album, 'Pretty.' And in my high, pitchy voice of a little girl at that time, I sang about how sad I was, how heartbroken I was, not only me, but all of us in Africa, to have lost her so young. When she died, she was only 27. That was my first one."
Two years later, Kidjo wrote her second song, after learning about slavery and apartheid. "I heard Winnie Mandela talking about Nelson Mandela in jail. So I turned around and looked at my father, because, it reminded me of when I was nine years old, I discovered Jimi Hendrix. And my brother told me that he was a slave descendent and grandmother started telling me about slavery. I didn't believe what she was saying. And my whole world just collapsed. I was so upset. How can you be telling me every day that, human beings, it doesn't matter what color they are, there's only one humanity, when we are able to do such horrible things to one another. If couldn't put it together.
"Out of my outrage, my anger, I wrote this song, called 'A Day Will Come.' And my first draft was so hateful. My mother listened to me and said, 'Realize, you're never going to sing that song. It's not going to go on an album. It's not going to get out of this house.' I said, 'Why not? That's how I feel.' She said, 'I understand how hurt you are., how devastated you are about this. But your job as a singer, is to find, even in the most horrendous situations, a path to cope. You've got to be the hope bringer. You've got to be the empowering person. You can't dig down in hate. Hate is not a solution for anything in the world. Hate brings violence. And violence is useless. So you go back and you write this song and make it something joyful and hopeful for the future. Or you don't sing it anymore.
"And I went back and wrote this song, which became a very hopeful song, where I pray that, in the future of humankind, we will never be faced again with the oppressor and the oppressed, about how we will all live together and not take pride in oppressing one another. Life without hope is no life. Period."
The Grammy-winning Kidjo has made activism and philanthropy vital parts of her life. She established the Batonga Foundation, which provides educational opportunities for African students, so they can one day help to change her homeland for the better.
Kidjo believes music can also change the world. "As far as I'm concerned, as long as we still have war, still have extremism in religion and politics, in every way, I will still be there to defend every human being's life, in my songs, in what I can do, till I die. Because we haven't learned from the past very well. We still have the same stuff going on."
Ms. Kidjo is touring North American through March, then heads for Australia. For details, visit angelique.kidjo.com.