RIDE 'EM KINKY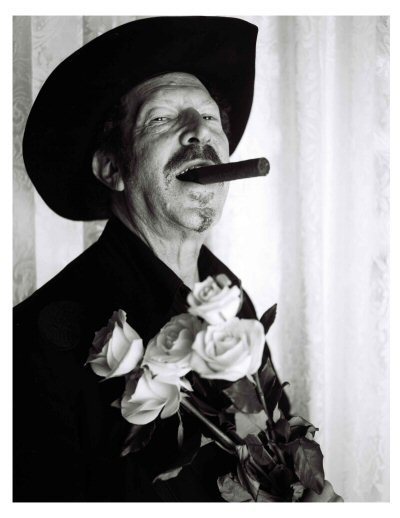 Photo Courtesy of Conqueroo
By Paul Freeman [July 2010 interview]
Kinky Friedman was never your typical country music star. Let's face it, you're not likely to hear Toby Keith warbling the pro-choice ditty "Rapid City, South Dakota," the poignant number about the Holocaust titled "Ride 'Em Jewboy" or the Haggard spoof "Asshole From El Paso."
In the '70s, Friedman and his band, The Texas Jewboys, rode onto the scene with withering wit, a zany streak and unabashed political incorrectness. Chomping on a cigar, he delivered such memorable numbers as "They Don't Make Jews Like Jesus Anymore," "Sold American" and the merrily misogynistic "Get Your Biscuits in The Oven and Your Buns in the Bed."
Friedman's fans included Bob Dylan (whom he joined on the Rolling Thunder tour), Willie Nelson (who became a close friend), John Belushi, Robin Williams and Don Imus.
Eventually, prose pulled Friedman away from songwriting. In the '80s, Friedman rescued a woman being mugged at a Manhattan ATM. Based on that experience, he created the Kinky Friedman detective character who solved murders in a string of best-selling mystery novels. Faithful readers included Bill Clinton and Nelson Mandela.
With a keen eye for the world's absurdities, Friedman found himself intrigued with politics.
When voters grow sickened by the morass that is modern politics, they need a candidate who's a bit kinky. So, running as in independent, Kinky Friedman garnered 600,000 votes, 13 percent, in the six-contender 2006 Texas gubernatorial race.
In a 2010 run for Texas agricultural commissioner, Friedman received 48 percent of the vote. Close, but no cigar... for the man who markets his own brand of top-notch cigars. (www.kinkycigars.com).
He has just launched the "Go West Young Kinky Tour of 2010," his first left coast dates in 20 years. Joining Friedman will be guitarist Washington Ratso and original Texas Jewboy Little Jewford on keyboards and kazoo.
Friedman is now 66 (though he says he reads at a 67-year-old level). He keeps busy with wide-ranging pursuits. He has two new books - "Heroes of a Texas Childhood" and "What Would Kinky Do?"
On his typewriter (scorning the internet), he pens a column for Texas Monthly. Friedman will be co-writing a new tome with Billy Bob Thornton. He's also working on a book about Steven Rambam, the New York City private eye/Nazi hunter who served as Friedman's technical advisor on his mystery novels.
A tour of Australia is in the works for later this year, teaming Billy Bob Thornton & The Boxmasters, Billy Joe Shaver and Friedman.
And Friedman devotes time and effort to his Utopia Animal Rescue. (www.utopiarescue.com).
We were delighted that the Kinkster consented to spend time with Pop Culture Classics.
POP CULTURE CLASSICS:
Are you ready to make music a priority again?
KINKY FRIEDMAN:
I think so. I think music has a lot more truth in it than politics does. To be a musician is a better thing than to be a politician, a far better thing.
PCC:
And maybe you can actually have more effect with music, than in office?
KINKY:
Yeah, maybe so. I've always believed that, if musicians ran the world, instead of politicians, that we wouldn't get a hell of a lot done in the mornings, but we'd work hard and we'd work late and we'd be honest.
PCC:
Are you eager to start touring again?
KINKY:
As far as doing a tour goes, I feel like Willie Nelson, you know, it's really great to be on the road again.
PCC:
What did you miss about it?
KINKY:
Well, it's a different rhythm. And this one is a real tour with about 16 shows in 16 days or something like that. And that's about the right time to stay in any one place. And then, also, any time I leave Texas, I do well. It's a financial pleasure for The Kinkster. I think the shows are already selling really well and I think the crowds are going to be very eclectic.
My problem is the curse of being multi-talented. So a lot of people might be coming because of the politics. I mean, after all, that governor's race in 2006, we won that every place but Texas. Some people come because of the books and don't know the music. Some people come because they remember the music. If I could coalesce all three, I'd really have something. But as it is, doing this with word of mouth, the shows seem to be selling really well. And I think they have a chance of meaning something.
PCC:
Is there a chance for another run for office?
KINKY:
Well, does the Pope wear a humorous-lookin' hat? As long as Willie keeps playing, there's always a possibility. It's just so hard for an Independent to even get on the ballot in the big states. I mean, like in California, what chance would an Independent have of winning?
The political parties have already demonstrated to all of us that they're just full of self-interest. And they don't really care about the state or the country... or the future. This is George Washington's worst nightmare. This is what he warned against.
PCC:
If you could make changes on a national scale, what would be the first you would implement?
KINKY:
Throw all these bastards out. They've been in office forever. I mean, if Nancy Pelosi gets one more facelift, she'll be wearing a beard. How long do you need to be in office? Forty years? You become more and more corrupt. They become the bullies of the playground, the political parties... and these people that have been there forever. My definition of politics: poli, meaning more than one. And tics, bloodsucking parasites. We really should limit all elected officials to two terms - one in office and the other in prison.
PCC:
Most politicians look like used game show hosts. A lot of people must have really welcomed your entrance into the Texas campaigns.
KINKY:
Well, 26 percent of the people voted. That's the problem. If it had mandatory voting, like Australia, I would have not only won, I would have won in an landslide. So, we get what we deserve. We now have two perfectly packaged candidates, just commodities of their political party. And it's really the lesser of two boll weevils.
PCC:
So as people become more and more fed up with that kind of thing...
KINKY:
Now they start to appreciate me.
PCC:
Exactly. So why not Kinky for President?
KINKY:
[Laughs] Well, you know, it'd be nice to have a President who wanted to be President for all the people. And we haven't had that in a while. And we certainly don't have that now. In Texas, the last man of the people we had as governor was Sam Houston.
People like Molly Ivins, the conscience of Texas, Barbara Jordan, the first black congresswoman from the South, they had a moral clarity that the Democrats seem to have lost. They used to be a great populist party that would stand up for the people. And now, the Democrats have lost that. And it's too bad.
It's really too bad that I can't think of one living politician that I admire and respect. A lot of dead ones.
PCC:
Who are the politicians you admire?
KINKY:
Well, Winston Churchill leaps to mind. Barbara Jordan, Molly Ivins, Ann Richards, Harry Truman, JFK, I do admire Bill Clinton, as well.
But generally, politics is the one occupation where, the more experience you have, the worse you get. Every other field, the more experience you have, the better you get. It's very strange.
PCC:
It's just the corruption of power?
KINKY:
Yeah, absolutely. They're just around too damn long.
PCC:
Capital punishment was one of your big issues.
KINKY:
I'm the only statewide politician, I think, in Texas, who's spoken out against the death penalty. We're number one in executions, even though we're 49th in education.
As a Christian, if a guy's a killer, you still don't kill him. I'm sorry you have to hear this from a Jew, but remember folks, that's who you heard it from the first time.
PCC:
What were the main things you learned from the experience of running for office?
KINKY:
Smile more. And, you know, if you're a devious, deceitful kind of person, you'll do better in politics. That's the real problem - good people are not drawn to this profession anymore. They say, 'Why the hell would we want to do that?,' whereas bad people - and by that I mean former hall monitors - Young Democrats, Young Republicans, they're the ones who run for office. In Texas, we've got a classic choice of paper or plastic.
There are so many scandals in politics. Gay scandals, other kinds of scandals. And all most all of these politicians are married and have kids. And they've been lying all this time, just like Tiger Woods. Tiger might make a good politician.
PCC:
So this being the case, is the situation hopeless?
KINKY:
Well, it's certainly humorous. I've written an article for the August issue of Texas Monthly on Rick Perry and Bill White [The incumbent Republican and Democrat candidates for Texas governor]. I worked out my last will and testament and, when I die, I'm to be cremated and the ashes are to be thrown in Rick Perry's hair. So everywhere I go now, people volunteer to help. I don't know if they want to hurry me to the grave...
But it's a sad situation. And the honest to God truth is, musicians could run the place better than politicians. We really could.
PCC:
Well, it's certainly within the realm of possibility that could you win elective office. For someone who recognizes the absurdities of life as you do, wouldn't it be almost unbearable to work in the government?
KINKY:
Well, I don't think so. Since we won the race in every place but Texas, that meant, to me, that people in California and London and Israel and New York and everywhere else don't care about Rick Perry. He's irrelevant. But if I had won, not only would we not have the death penalty in this state, but it would be transformational for Texas, because Texas is not really a backwards state. It's just bipolar. And it could suddenly, overnight, become the most progressive state in the country. We are, I think, the 10th largest economy in the world and there's no limit to what we could do... if we could just throw the bastards out.
PCC:
When do you leave Chicago for Texas?
KINKY:
When I was one year old. I was born in Chicago, couldn't find work, and moved to Texas... and haven't worked since, actually.
PCC:
What did your family do?
KINKY:
My father was a professor of educational psychology at the University of Texas in Austin. My mother was the first speech therapist in the Houston public schools. And they ran a camp for kids, for about 50 years.
PCC:
And did you get into music in that setting?
KINKY:
Yeah, I did. I was always drawn to country music.
PCC:
It can be traumatic growing up Jewish anywhere. Was it even more so in Texas?
KINKY:
Oh, no, no. There was no problem here... because the Texans were too busy picking on the Mexicans. The only thing I noticed was the way the Texans pronounce the word 'Jewish' is one syllable. And the way they pronounce 'Jew' is about 11 syllables.
I also noticed that the one thing the cowboys and the Jews have in common is they both like to wear their hats indoors.
PCC:
When you were just starting out with The Texas Jewboys, playing bars, wasn't it scary at times?
KINKY:
Yeah, it was. But I didn't mind that, because we alienated everybody. Next to Lenny Bruce, we probably offended more people than anybody. All kinds of people. But I think Barbara Jordan stated correctly that political correctness will do us in.
Now you have a situation where there are people who use the 'n' word and aren't racist at all. And you have people who don't use the 'n' word who are racist.
We see that Richard Pryor or George Carlin or Mel Brooks with 'Blazing Saddles,' never would have made it today. If they were coming up today, they wouldn't make it. You wouldn't know who they were.
PCC:
So when you were starting out in music, was that something you were conscious of - the importance of political incorrectness?
KINKY:
Well, yes. We were chased off campus, needed a police escort to get off the University of Buffalo campus, because of the song 'Get Your Biscuits In The Oven And Your Buns In The Bed.'
PCC:
Really? Out of all your controversial songs, that was the one that triggered it?
KINKY:
Yeah, well that got a group of cranked-up lesbians very agitated and they attacked the stage. And we had trouble from just about every ethnic group you can think of... including Jews.
PCC:
Today, do you find that young people respond appreciatively to your music?
KINKY:
What's interesting to me, having just done an extensive tour of Europe last year, was that these shows were not only sold out, but they were filled with young people, younger than the songs, in many cases. And they knew all the lyrics. They'd read all the books. And they were looking at this a little differently.
They view 'Sold American' as something more than just the story of a country singer who dies in Nashville. They take to a song like 'Rapid City, South Dakota,' which really was the first pro-choice country song. In fact, it's the only pro-choice country song.
As Willie says, 'If you fail at something long enough, you become a legend.' That's what's happened. And so I meet young people all the time who say, 'I can't wait till I'm 18, so I can vote for you.' No young people want to be Rick Perry when they grow up.
Really, you never know who you're going to reach... in politics or in music. And blessed is the match that kindles the flame.
PCC:
In the current shows, are you playing the Kinky classics from the '70s?
KINKY:
I have not written a new song in 20 years. What we've really done is rotate the crop.
PCC:
You must be proud of the fact that you've remained so relevant.
KINKY:
I define a difference between being important and being significant. Governor Arnold Schwarzenegger, whatever you think of him, he is important. He's the governor. But someone like Tom Waits or Molly Ivins, Iggy Pop, those people are significant. You either become significant or you don't.
There's lots of acts that are lots more commercially successful than I am. I mean, The Rolling Stones could play, but they would be important, they would not be significant anymore. They would be nostalgia. I strive to be significant. And when I see young people at the shows, that's important to me. Oh, I'm sure there'll be some old farts there, too. But in general, that's not the audience.
We'll also do a reading from the new book 'Heroes of a Texas Childhood.' And we'll have several different books available for signing. I will sign anything but bad legislation.
PCC:
The 'Heroes' book, was that something you'd been contemplating for a long time, wanting to recognize the people who inspired you along the way?
KINKY:
Yeah, that's 23 heroes of mine... and these are people who are heroes. And I'm a little surprised to see that young people, and that includes college graduates, never heard of Audie Murphy, the most decorated soldier in World War II, a Texan. Never heard of Barbara Jordan. I mean, they ought to know upon whose shoulders they stand. If I ever get to be governor, this book will be mandatory reading in the public schools.
There's a lesson here and that is, these 23 people are where they are, they're heroes, because of the way they handled the failures and the tragedies of their lives.
PCC:
Do you have any sense of optimism about the new generation?
KINKY:
This generation looks good. I mean, it's a bad time culturally, I'd say. But there's a lot of young people that seem to get the message.
To paraphrase Oscar Wilde, 'To fail and die young is the only way to remain an artist. So it gets very hard for Willie Nelson or Bob Dylan or Kris Kristofferson or someone like that, to write at the level they once did, because success gets in the way. Distances you from your art. So I don't want to be happy. I fight happiness at every turn, because I think all great art was created by someone who felt bad.
PCC:
Happiness just makes you complacent?
KINKY:
Yeah, yeah, totally. That's if you want to be an artist.
PCC:
You have two original Texas Jewboys with you on this tour?
KINKY:
It'll feature Little Jewford, who's a Jew and he drives a Ford and he plays the most irritating instrument in the musical kingdom, the kazoo, as well as being an idiot savant on the keyboards. And guitar player Washington Ratso, who's Lebanese. And Washington and I met on the gangplank of Noah's Ark and we've been playing maybe 35 years together, on and off. We think we represent the last true hope for Middle East peace.
PCC:
What effect do you hope to have on the audiences?
KINKY:
Let's put it this way. Barry Manilow is, what do we call him? A musician? An artist? An entertainer? Barry Manilow writes and sings songs that make you feel good for a short period of time. But a Kristofferson or a Merle Haggard will write songs that will stay with you for a lifetime. And I would like to think that I write songs that make you think. And that they stay with you for a lifetime. We'll see if they do. I haven't written any new ones. These'll have to do.
PCC:
But is new material a possibility? Do you get ideas and think maybe the time has come?
KINKY:
Yeah, maybe. It could happen. Right now, 29 books I've churned out... I mean, carefully crafted. So anyone who could write 29 books, that's an index of an empty life, I can tell you. And I go off in a lot of different directions. We have Utopia Animal Rescue Ranch here [www.utopiarescue.com) and that's a big deal. And the politics. With the death of Molly Ivins, I think somebody's got to be on the outside looking in here. And it's us people on the outside looking in that have got to fix this system,because those people on the inside sure aren't going to do it.
PCC:
Any chance of the detective novels being made into movies?
KINKY:
Yeah, they're always flirting with me, Hollywood is. I think F. Scott Fitzgerald said that Hollywood was the graveyard of all talent. And that's very possibly true. I don't put much stock in it. I'm holding out for immortality. I think after I fall through the trap door, then they'll make a movie.
I'm not ready for the Shalom Retirement Village yet.
And I draw inspiration from others - Willie and Bob being out on the road. I look up to both of them for wisdom and advice, even though they're shorter than I am.
Willie, by the way, gave me good advice recently. He said, 'If you're going to have sex with an animal, always make it a horse, because that way, if things don't work out, at least you know you have a ride home.' So that's why we call him 'The Hillbilly Dalai Lama.'
PCC:
Are you enjoying an idyllic existence on your ranch?
KINKY:
Yeah, the ranch is real nice... and it's a contrast. It's a monastic sort of life out here, very quiet.
PCC:
Do you think honesty has been one of the keys to your success?
KINKY:
Most musicians are truthful people. Politicians never give you the truth. And it's gotten worse with the YouTube era. Now you really don't get anything from them. Their platform is useless, unless they've got a trap door that opens. There's no use for them to have a platform. They don't mean anything they're saying.
Mark Twain was right - the only true criminal class in America is the U.S. Congress.
Obama's proven that he's just a politician. He's one of them. That's not what he tried to project during the campaign.
PCC:
Do you see politics as one disillusionment after another?
KINKY:
Yeah, it really is. Obama has disillusioned a generation. Leave it to America to elect a black man as President without any soul. I don't know how we found a way to do it, but we did.
PCC:
Can anyone retain their soul while succeeding in politics?
KINKY:
Yeah, good point. It's really ridiculous when the only three honest people in Washington are the three wing nuts - Dennis Kucinich, Bernie Sanders and Ron Paul. At least we know they're not corrupt. Everybody else is. And they can't help it. It's the way of their people.
Go West Young Kinky Tour of 2010
As an added bonus, there will be an autograph session immediately following.

July 26th -  Vancouver, BC
Biltmore Cabaret, 2755 Prince Edward
604-676-0541


July 27th - Seattle, WA
Triple Door, 216 Union Street
206-838-4309


July 28th - Portland, OR 
Rich's Cigar Store
820 SW Alder Street
Portland, OR 97205
503-228-1700
Stop by from 5PM - 6PM to meet Kinky and enjoy "Killer B" cigars and great conversation.


July 28th - Portland, OR
Roseland Theater, 8 Northwest 6th Ave.
503-221-0288


July 30th - San Francisco, CA
GreatAmericanMusic Hall, 859 O'Farrell Street
415-255-0333


July 31st - Los Angeles, CA
McCabes Guitar Shop, 3101 Pico Blvd.
310-828-8037


Aug 1st - San Diego, CA
Belly Up, 142 South Cedros Ave.
858-481-8771


Aug 2nd - Hermosa Beach, CA
Saint Rocke, 142 Pacific Coast Highway
310-372-0035


Aug 3rd - Bakersfield, CA
Fishlips, 1517 18th Street
661-303-0008


Aug 4th - Santa Cruz, CA
Moe's Alley, 1535 Commercial Way
831-479-1854


Aug 5th - Sebastopol, CA
North Bay Live, Studio E
707-542-7143


Aug 6th - Winters, CA
Palms Playhouse, 13 Main Street
530-902-0705


Aug 7th - Santa Ynez, CA
Maverick Saloon, 3685 Sagunto Street
805-686-4785

To purchase tickets, visit http://www.syvjoneshouse.com
For more information, visit http://www.mavericksaloon.org/favorite.htm