KYLE EASTWOOD: COMPOSING HIS OWN CREATIVE PATH



By Paul Freeman (November 2010 interview)

Bassist/composer Kyle Eastwoodís musical journey began on the Monterey Peninsula, continues in France, and has dazzled jazz buffs across the globe.

Kyle has been living primarily in Paris for the past six years. Heís in the U.S. for several concerts, including a return to the Bay Area for a Yoshiís San Francisco performance on Wednesday, Nov. 17 (Information: 415-655-5600; www.yoshis.com/sanfrancisco).

His superb band features Alex Norris (trumpet), Jason Rigby (saxophone), Rick Germanson (piano, keys), and Joe Strasser (drums).

Kyle grew up around Carmel and his musical fire was sparked by annual treks to the Monterey Jazz Festival with his jazz aficionado parents, Clint and Maggie Eastwood

Over the years, at the festival, Kyle absorbed the performances of such legends as Buddy Rich, Louis Bellson, Count Basie, Stan Getz and Art Pepper.

He took piano lessons, then learned guitar to appear with his father in the under-appreciated country music movie ďHonky Tonk Man.Ē In his teens, his attention turned to the bass.

Kyle developed his skills on both acoustic and electric bass, drawing inspiration from funky Duck Dunn and Motownís James Jamerson, rockís John Paul Jones, and Larry Graham, as well as jazz greats Paul Chambers, Ray Brown, Ron Carter, Israel Crosby, Dave Holland, Charlie Haden, Anthony Jackson and Jaco Pastorius.

Attending USC, Kyle studied film, contemplating a career as a director. But he began gigging around Los Angeles and the allure of music proved irresistible.

Kyle has been earning acclaim for his recordings since 1998. His latest album, ďMetropolitain,Ē displays his brilliance as both a composer and bassist. His playing is subtly driving and inventive. His songwriting is imaginatively melodic and rhythmic.

Kyle has also become an accomplished film composer. He has written music for many of his fatherís movies.

Kyle composed (with frequent writing partner Michael Stevens) the beautiful scores for ďGran TorinoĒ and ďInvictus.Ē

As much as Kyle enjoys composing, nothing compares to the exhilaration of hitting the road to perform live. He spoke with Pop Culture Classics just before launching his U.S. tour.

POP CULTURE CLASSICS:
What can we expect in terms of mix of material? Are you going to be drawing from throughout your career?

KYLE EASTWOOD:
Yeah, probably a few songs from most all the CDs Iíve done. Weíll probably do quite a bit of stuff from the last CD and we should be doing some stuff from an upcoming release that I just recorded a few months ago. Weíve been throwing a few songs from that into the set lately.

PCC:
And that was recorded in France?

EASTWOOD:
Yeah, we recorded it at the end of August, in Bordeaux, actually. Itíll be out, I think, in March next year.

PCC:
And does that take you in any new directions?

EASTWOOD:
Well, it was mostly written in Paris and itís sort of more or less my usual working band in Europe. So we kind of just set up at a friend of a friendís working vineyard. So we brought a bunch of stuff down and recorded live in his living room.

PCC:
And youíve been living in France for a while?

EASTWOOD:
I have been, yeah. I live there most of the time. Iíve been in Paris about six years now.

PCC:
The new surroundings, did they stimulate new musical ideas?

EASTWOOD:
Yeah, I guess it has its influences. Iíve had the opportunity to play with different musicians and to perform in festivals all over France.

PCC:
Do you find that thereís still a more receptive feeling towards jazz in Europe?

EASTWOOD:
Yeah, I think generally, people are more interested in it. People in France, and in Europe generally, they like a lot of different kinds of music. Theyíre not focused on one thing all the time. So people are more receptive, have more eclectic kind of tastes.

PCC:
Are they relying more on their own tastes and instincts, instead of having things foisted on them by the media?

EASTWOOD:
Probably, yeah. A bit, I would say. Even the radio over there, thereís a couple of stations in Paris, theyíll play a new pop tune and then something from the 1950s or the 1940s. Radio is a little less regimented there. More open-minded.

PCC:
You had a quartet for a while. Going to a quintet, deciding what instrumentation and which musicians would best complement your tunes, was that a big process?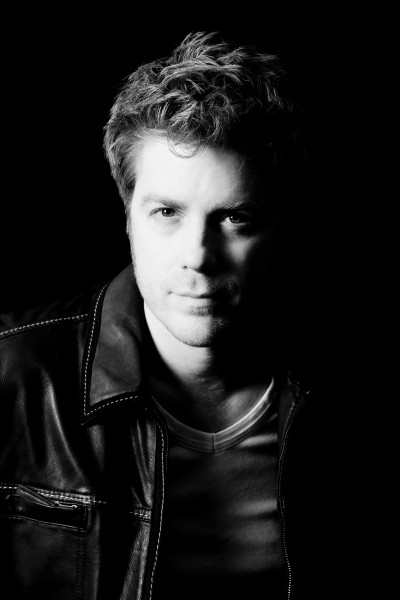 Photo Credit Rob Shanahan
EASTWOOD:
Well, I like the quintet. I like writing for two horns. That lends itself to the music I write a lot of the time.
PCC:
What is your writing process like? Do you usually write on piano? Does some of it come out of the bass?
EASTWOOD:
Occasionally something will come out on the bass, if there happens to be some bass line that drives a song. So sometimes thereís a bass line first. A lot of times, Iíll sit down at the piano and come up with a chord progression or a melodic motif and kind of work it from there.
PCC:
Is there a ton of experimentation during that process? Or do you hear it in your head fully developed?
EASTWOOD:
Itís different every time. Sometimes thereís experimenting. Usually thereís some sort of chord progression or chord changes or a melodic hook that I hear in my head, as I sit at the piano. Thereís other times when it really just comes out of experimenting. When I co-write stuff with people, sometimes Iíll come up with a little idea and then Iíll give it to them and see where can go with it. And we kick it back and forth. If it ends up going in another direction, thatís cool.
PCC:
I guess thatís part of the creative excitement, collaborating with different people, composing and playing?
EASTWOOD:
I do enjoy collaboration. If youíre writing, it can make you go in a direction you might not go in, if you were on your own. Thatís kind of exciting, kind of like jazz in general.
PCC:
Is that what attracted you to jazz originally, the adventurous quality?
EASTWOOD:
Yeah, playing with people and having the freedom to play what you want. Playing with a lot of different people, you learn a lot. Yeah, thatís what initially attracted me to it. And when I was a kid, just going to see jazz concerts with my parents is kind of what got me interested in wanting to play an instrument, just listening to somebody whoís really proficient gave me this urge to get to that level.
PCC:
You grew up primarily in Carmel?
EASTWOOD:
Yeah. When I was about one, I moved up, pretty much full time, to the Monterey Peninsula.
PCC:
And thereís so much great jazz in that area.
EASTWOOD:
Yeah, well, thereís the festival every year. So thatís a big event on the Peninsula. My parents have been going for a long time. My father was at the very first one. My parents made that a yearly outing. The first time I went was about Ď77, so I was about nine, eight.
PCC:
Even at such an early age, was that a magical experience?
EASTWOOD:
Well, it was really the first live experience I ever saw, so thatís what got me into it. I remember watching from the side of the stage sometimes, when I would go with my Dad. So, to be able to sit by the side of the stage and listen to like The Count Basie big band. I remember being very impressed by that, when I was a kid.
PCC:
And as you got a little older, were you able to talk with these people, interact, receive advice?
EASTWOOD:
Yeah, some. When I was really little, I remember going and seeing people I knew from my parents listening to around the house. Some of them I didnít know as well and didnít realize until later how influential they would be. [Chuckles]. But yeah, I got to see a lot of people over the years there. I saw Buddy Rich and Louis Bellson and Count Basieís big band when Count Basie was still alive and playing with the band. And Stan Getz, Art Pepper. people like that.
PCC:
At that point, did it seem like music might be the path you were going to pursue?
EASTWOOD:
I hadnít decided I wanted to be a musician at that point. I started taking piano lessons when I was a kid and did that for a few years. And I learned some guitar for a film I did with my father, when I was about 12. Then, a year or two after that, I sort of picked up the bass. And just sort of started teaching myself to play, just from what I knew from piano. I started playing with friends. Iíve got two friends who were very good musicians, who played in the jazz band in high school. I just started kind of playing with them. It wasnít until I was 18 or so that I started really, really getting into music and playing and studying. That was when I went full bore into it.
PCC:
Was it a benefit, that you taught yourself to play bass, so you could find your own identity on it?
EASTWOOD:
Yeah, I guess I realized that it kind of came natural to me. I had played drums. The rhythm section was something I really liked. So it kind of just felt natural. So thatís why I leaned towards pursuing that.
PCC:
Your mom was a jazz buff, also?
EASTWOOD:
Yeah, she is, my parents both are. My mom still goes out to the festival every year. Yeah, theyíre both very big jazz fans. It was kind of their pastime, when they were in their early days, when they were married, they would go clubbing, around L.A.
PCC:
And she plays piano, your Dad plays piano and your grandmother was a music teacher?
EASTWOOD:
Yeah, my grandmother on my motherís side. She was a voice teacher at Northwestern University.
PCC:
Did you know her?
EASTWOOD:
I did when I was very little. She passed away when I was about six. But yeah, I knew her a bit.
PCC:
And your parents must have had extensive record collections.
EASTWOOD:
Yeah, my Dadís got a pretty good collection. They both do. But my Dadís got quite a collection. Heís got a lot of 78s. A lot of old stuff.
PCC:
And did you dig into that collection much as a kid? Or were you listening to the contemporary music your peers were focused on?
EASTWOOD:
I did. I mean, he was playing stuff for me sometimes. I kind of got into more contemporary stuff and other styles of music. I listen to a lot of different things. Jazz is really my first love, but I like a lot of different kinds of music.
PCC:
Your Dad actually played boogie piano with you, when you were very young?
EASTWOOD:
Yeah, thatís kind of what he plays the best. He taught himself, from listening to Fats Waller records and things like that. So, yeah, I think the very first thing I learned on piano was kind of the left hand, the bass line parts, to couple of boogie-woogie piano things. That was kind of my initial exposure to bass playing. [Laughs] Heíd play the right-hand part and teach me just the left-hand parts and weíd play together.
PCC:
So, the guitar, that came out of ĎHonky Tonk Maní?
EASTWOOD:
Yeah, I had to learn some chords and some stuff, so I would look like I was playing a bit.
PCC:
You were so natural in that film. Did you think that acting might be a path for you?
EASTWOOD:
I did a little bit here and there, but I guess I was never really bitten by the acting bug, per se. I was always very much into film. And I still am. When I went to university, USC, I started there as a film major. But I was kind of getting more and more into music by that point. And I think, if I had decided to go into film, I would probably have preferred trying to direct. I was more interested in the whole process of making films, more so than being in front of the camera.
PCC:
So did you leave school at some point or did you just change your major to Music?
EASTWOOD:
I left, because I was starting to do some gigs and starting to play a little bit around Los Angeles. So I decided to take a year off and just pursue music. And I was studying with a couple different people and I wanted to just focus on that, see where that took me for a year. And that was twenty-some years ago now [Chuckles]
PCC:
And how did your parents react? Were they supportive? Or were they worried?
EASTWOOD:
They were happy. They could see I was really into it. They would have been supportive of me whatever I decided to do, as long as I was serious about it and working hard at it. Theyíre both into music and I think they were both happy that Iíd found something I was really passionate about.
PCC:
It must have been kind of cool for your father, because it always seemed like that might have been a dream for him, to pursue a music career.
EASTWOOD:
Yeah, when he was younger, if you had asked him what he wanted to do, when he was in his late teens or early twenties, he would have probably told you heíd like to have been a piano player. [Laughs]
PCC:
So once you got into the bass, at the beginning, were you emulating the greats you heard on record?
EASTWOOD:
When I was just starting out, the first things I was learning was stuff from like Motown records and R&B stuff, like James Jamerson and Duck Dunn and people like that. And some rock Ďní roll, like Led Zeppelin, things like that. I started figuring things like that out. I didnít start out trying to play jazz. I listened to a lot of different people and tried to absorb aspects of their playing that I liked and tried to incorporate in such a way that hopefully, you can make something out of it thatís your own.
PCC:
And once you did veer into jazz, were their particular players who dazzled you?
EASTWOOD:
Paul Chambers, I listened to a lot. And, of course, Ray Brown and Ron Carter and Israel Crosby and Dave Holland, people like that. Charlie Haden. And then, of course, a lot of the electric players, as well. Jaco Pastorius, of course. Anthony Jackson. Larry Graham.
PCC:
Playing acoustic, electric, double bass, does that versatility give you more colors to use, in composing, as well as playing?
EASTWOOD:
Itís nice to be able to play both. Depending on the music, I can decide which I want to play. It just depends what the song requires, stylistically. I like a lot of different styles of jazz. And a lot of different styles of music, in general. So itís nice to be able to have the different colors of different instruments.
PCC:
And when you incorporate a funk flavor or a bit of an R&B feel, is that a conscious decision or does it just naturally come out of your influences?
EASTWOOD:
Itís all stuff that Iíve sort of steeped myself in, stuff that Iíve listened to for countless hours. So itís not really a conscious decision. Itís just that all the music I like, sort of influences the stuff that I come up with and the stuff that I write. It just comes out naturally, really. I like a lot of R&B and funk music. And pop music, as well. And film music. All those things sort of creep in there a bit.
PCC:
What about working with Erin Davis [Miles Davisí son and co-producer of Eastwoodís new album] on ĎMetropolitainí? What sort of music sensibility did he bring to the table?
EASTWOOD:
Weíve known each other for a while. And heís a drummer. He has these amazing ears. He listens to everything. He goes out and buys CDs, bags full at a time, like once a week [Laughs]. He totally knows everything thatís going on. Heís a great person to have in the studio. A great extra set of ears there to give you his opinion, to listen and maybe point you in another direction sometimes.
PCC:
Did you ever compare notes on growing up with legendary fathers?
EASTWOOD:
Uh, yeah, weíve talked about it a bit, here and there. We sort of have that thing in common. Weíve known each other for a while. We met back around 1990 or something, in Montreaux, actually, when his father was over there, playing. I think it was actually one of the last big concerts that he did before he passed away. We both were living in L.A. at the time and a mutual friend introduced us. We just had a lot in common, musical taste. So we kind of hit it off very well.
PCC:
You must have had an advantage there, having focused on a different artistic path from your fatherís primary endeavors? So you donít have to deal with a lot of comparisons?
EASTWOOD:
Yeah, itís nice working with him, as well. Itís nice to be able to stay involved with film, through music. I love both mediums, both film and music, very much. So itís nice to be able to work with him and then stay involved in film through the music route.
PCC:
When you first began scoring, what was the most challenging aspect, as you dealt with the technical aspects of cueing things up and all of that?
EASTWOOD:
Well, I started out doing music, just playing in orchestras, doing sessions and stuff for films. So thatís how I initially got the idea of how it was done, saw a bit how things were orchestrated. Then I just started writing little bits and pieces here and there, for some of my Dadís films. I kind of just worked my way up from there to doing the whole score.
PCC:
ĎGran Torinoí is a beautiful score, by the way.
EASTWOOD:
Oh, thanks.
PCC:
So when your Dad would give you a scene to work on, would he tell you what mood he wanted you to set? Actually get into what instrumentation he heard in his head?
EASTWOOD:
Yeah, sometimes. I mean, it depends. Itís different. Sometimes he has a very distinctive idea of what he wants, what heís hearing for it. And then a lot of times, heíll have me look at the scene and just says, ĎCome up with something. Show me what you can come up with.í So itís nice that you get some direction and you also get some creative freedom, as well.
PCC:
Going into that whole thing, did you study some of the great film composers?
EASTWOOD:
Well, yeah. I listened to a lot of film composers over the years. Actually, Ennio Morricone is one of my favorites. He did a lot of scores for my fatherís films. Heís definitely one of my favorites. I watch a lot of movies. When I started doing it, I started paying more attention to the old films, trying to listen to what they were doing, as I watched.
PCC:
So you might have more of a tendency now to watch and analyze how the score is affecting the film?
EASTWOOD:
Yeah, I think I try and take notice more. It depends. Some films, like my father is of a mind that less is more, in the score department. It depends on the film. Sometimes film scores are subtle and you donít really notice them too much. Youíd probably notice them more if they werenít there, than if theyíre there. And then thereís the sort of scores like the John Williams scores, which are great. Theyíre kind of in-your-face, almost like theyíre almost one of the characters in the film, as much as any of the other characters.
PCC:
Many of your fatherís films featured scores by terrific jazz composers like Jerry Fielding.
EASTWOOD:
Yeah, Jerry did some.
PCC:
And Lennie Niehaus.
EASTWOOD:
Yeah, Lennie did a quite a few films with him. And, actually, watching Lennie work and playing in the orchestra on some of his scores was how I got exposed to the sort of inner workings of how itís done.
PCC:
So did you tend to ask questions or just pick things up by osmosis?
EASTWOOD:
Just hanging around and watching it being done. Sometimes I would ask him questions about things. But usually I learned just from hanging around with orchestra, playing, watching him work, watching him conduct and stuff. Sometimes Iíd get the music and hang onto his music and look at some of the orchestrations and things like that.
PCC:
And your Dadís been increasingly involved in composing. Do you enjoy seeing his musical gifts coming to the fore at this point in his life?
EASTWOOD:
Yeah, on some of the films weíve worked on together, he comes up with a musical idea or a melody, a little melodic motif. And then we incorporate that into it. It helps to build the score around that.
PCC:
And have you found that writing film scores has enhanced your compositional skills generally?
EASTWOOD:
Oh, definitely, yeah. When you have to try and write for orchestras and stuff, itís a lot of instruments. Yeah, it helps you with being able to write parts, even for small group stuff. I think any sort of musical situation like that, that you throw yourself into, you learn from. And working with different musicians definitely opens your mind up to things... and your ears.
PCC:
Do you go back and listen to your earliest work and chart how youíve progressed as a composer?
EASTWOOD:
Yeah, I think Iíve definitely grown, playing-wise and composing-wise, over the last six, seven, 10 years. But youíre always sort of your worst critic. And thereís always room for growth. But I can definitely hear where Iíve come from.
PCC:
What about the role of bandleader, is that something that came naturally to you? You were interested in directing films at one point. Is there a correlation between that and leading a combo?
EASTWOOD:
Yeah. The way I like to be a band leader is, you pick musicians whose playing you really like and try to find guys who are interested in playing in the band. I try keep a band together, the same positions, for a while. Iíve managed to do that for the last few years. Itís important to find guys that you really like, get along with personally, you like what they bring to the band, you like their style of playing. So you can direct by not giving them too much direction.
PCC:
Are you a fan of not showing off individually, but wanting the group members to just complement one another?
EASTWOOD:
Well, the music I write, I sort of like to feature everybody. I like to write music thatís sort of through-composed to do parts, but then has spaces for improvisation. There are records I like where bass plays the melody, bass records. Thatís fun. But that gets a little tiresome sometimes. Keeping a balance in the compositions and a balance in playing, itís more interesting for me.
PCC:
With the success in recording and scoring, will you always want to play live, because it offers a different kind of satisfaction?
EASTWOOD:
Well, I think thatís the most musically satisfying thing to do is to get out and play. Especially with jazz. Thatís sort of the beauty of jazz. Thatís where the magic happens. I mean, I like working in the studio and doing film scores. But itís a lot of sitting around, trying things, trial and error and editing, things like that. Getting out, playing, is the most fun.
PCC:
Do you establish long-term goals for yourself musically? Or do you just take it project to project?
EASTWOOD:
Iíd like to keep working on film scores and just trying to keep splitting my time a little bit, doing both. This year Iíve really focused on the band, writing this last album and recording it. We had a lot of gigs around Europe. And we just did a couple weeks in Asia. So Iíve been kind of busy doing that. So I havenít really done any film project this year so far. But to be able to do both would be good. Itís hard to find the time, but I do enjoy both.
PCC:
Do you consciously aim at creating music that will last, that will have a life of its own?
EASTWOOD:
Yeah, I hope so. Thatís what youíre trying to do. You just try to do your best. I try and write music that I would be happy and interested to listen to. And hopefully other people will be, as well. Hopefully it will last and people will continue to listen to.
PCC:
Has that been vital to you, to have that release that writing and playing provide?
EASTWOOD:
Yeah, thatís my big passion. Itís what I do. It takes up most of my time. So itís definitely important to me to have that outlet.
PCC:
Is there a concern about music entirely taking over your life?
EASTWOOD:
Yeah, it kind of does. Iíve actually got a bit of time off right now. Iím in New York, spending time with my daughter before I have some gigs here in the city. But yeah, especially when youíre touring and stuff, it does monopolize your time. Youíre either playing or youíre going somewhere to play. A lot of traveling. Itís fun, though.
PCC:
Your daughter, is she in her teens?
EASTWOOD:
Yeah, sheís 16.
PCC:
Is she into music, too?
EASTWOOD:
Yeah, very much. She studied piano and voice for a while. But sheís actually been playing drums for about four years or so. Sheís really getting into that.
PCC:
Does she want to play in a rock band?
EASTWOOD:
She likes a lot of contemporary music. But she grew up listening to a lot of what I listen to. So she likes jazz a bit. But she likes a lot of R&B music. She likes Earth, Wind & Fire and James Brown.
PCC:
And your sister sings. It must be something in the genes.
EASTWOOD:
Yeah, everybody seems to be into music in my family. At least a lot of siblings are. My little sister sings. Sheís got a very nice voice. And she plays piano a little bit. So everybodyís definitely got a taste for music.
PCC:
Musicís a good thing for bonding.
EASTWOOD:
Yes, it is. Itís a good thing for bonding for everybody. Even if it doesnít have words, itís something everyone can understand at some level.
PCC:
Do you find that, with instrumental music, thereís room for more imagination, taking the listener on a different kind of journey?
EASTWOOD:
Yeah, well, itís a universal language, I guess. You can listen to music from other cultures. Without words, it gives you some sort of feeling. And itís open to everyone. Itís one of the few languages that everyone can understand, in some respect.
KYLE EASTWOOD ON TOUR

MON NOV 15th  WASHINGTON  DC,USA 
Blues Alley
1073 Wisconsin Ave NW
Washington DC 20007
http://www.bluesalley.com/calendar.cfm

WED NOV 17th San Francisco,CA USA   ***
Yoshi's San Francisco
1330 Fillmore Street
San Francisco
CA 94115
http://www.yoshis.com/

THUR NOV 18th TUCSON ,AZ USA  ***
Arizona Small Business Association
Sheraton Tucson Hotel
5151 E.Grant Road
Tucson
http://www.asba.com/events/event_details.asp?id=128916

FRI NOV 19th SAN DIEGO,CA USA     
ANTHOLOGY
1337,India Street
San Diego
CA 92101
http://www.anthologysd.com/music-calendar-november-2010.html

SAT NOV 20TH MUSICIANS INSTITUTE,LOS ANGELES,CA  
The Jazz Bakery
Musicians Institute Concert Hall
1665, N.McCadden Place
Hollywood
CA 90028
http://jazzbakery.org/
 
SUN November 21st PASO ROBLES,CA USA  
Sylvestor Winery
5115 Buena Vista Drive
Paso Robles,CA,USA
http://www.thepdff.com/

SAT November 27th Monte Carlo,Monaco ***
Opera Garnier
Jazz Festival of Monte Carlo
Place Du Casino
Monaco
Tel:(377) 98 06 71 01
Showtime:8:30 pm

WED April 20th thru April 23rd  London,UK     ***
Ronnie Scotts Jazz Club
London,UK

Sat May 21st Seignosse,France    ***
Salle Des Bourdaines
Avenue Des Arenes
40510 Seignosse,France

TUES May 24th,Eysines,France    ***
Salle du Vigean,
Eysines, 
France

THURS May 25th Chatellerault,France     ***
Jazzellerault Festival
Complexe Culturel de L'Angerlarde
 44 Rue de L'Angelarde 86100  
Chatellerault
France,Nr Bordeaux

FRI May 27th Wolfsberg,Germany     ***
Movimentos Arts Festival
Wolfsberg,
Germany

SAT May 28th,Six-Fours-les-Pages,France  ***
Espace Malraux
Six-Fours-les-Pages
France

For more info on Kyle Eastwood gigs, visit www.kyleeastwood.com.