THE FINE-EST STOOGE: LARRY FINE
Jeremy Roberts' Interview with Author Steve Cox (2011)
The Three Stooges are everywhere. Indeed, their influence on modern comedy can be seen in current reigning box office stars including Jim Carrey, Adam Sandler, Jonah Hill, and Steve Carell. Channels such as American Movie Classics (AMC) and the Independent Film Channel (IFC) regularly show their classic Columbia shorts.
With a 40-year career in film, the team consisted at various times of the Howard brothers [Moe, Curly, & Shemp], Larry, Joe Besser, and Curly Joe DeRita. Curly, by far the most popular Stooge, appeared in the trio's best-remembered short subjects from 1934 to 1947, and his improvisational genius and numerous catch phrases (think "N'yuk, n'yuk" and "I'm a victim of coicumstance") quickly endeared him to audiences.
Moe, with his jet black hair styled as a bowl cut, was always the forceful, bossy leader, on and off-stage. The frizzy-haired Larry was caught somewhere in the middle, and he often received the brunt of Moe's slaps and eye pokes. Larry and Moe remained with the team until the end, and although the unfortunate deaths of Curly and Shemp proved major stumbling blocks, the Stooges soldiered on.
Much like his character on-screen, Larry was a happy-go-lucky guy who didn't worry about keeping money for very long. A kind soul, he had especially soft spots for children and the disabled, and he never refused an autograph. Larry personally wrote lengthy replies to his fan letters. By all accounts, he was a beloved individual and the most accessible Stooge.
Forced to move into the Motion Picture Country Home after a stroke paralyzed his left side, Larry refused to give up, still painting, doing the occasional personal appearance at local schools and organizations, and always inviting his fans to his room where they often got to screen a Stooge short with the legendary comedian.
Larry passed away at the age of 72. In recent years, Larry has finally gotten his due with a 240-page, coffee-table tribute entitled One Fine Stooge, available wherever books are sold. Co-written by Steve Cox and Jim Terry, the book was over thirty years in the making, and it successfully bridges every era of Larry's career.
Cox has always loved the Stooges. He even remembered where he was when Moe passed away in May 1975 from lung cancer (at a friend's house eating a snow cone).
Before Cox entered the eighth grade in 1980, he had already tracked down Curly and Shemp's widows, respectively.
But it was Morris "Moe" Feinberg, Larry's brother, who really got Cox active in The Three Stooges' world. After many long-distance phone calls to Feinberg's home in Philadelphia, Cox helped the senior citizen relaunch the original Three Stooges fan club. In fact, Feinberg dubbed him his "teen vice president."
Since those early years, Cox has written extensively on The Munchkins, Abbott & Costello, The Beverly Hillbillies, The Tonight Show Starring Johnny Carson, Gilligan's Island, Barbara Eden, Don Knotts, and It's A Wonderful Life, to name but a few. With such an impressive resume, Cox still considers his first love to be The Three Stooges.
It is fitting that his first major interview in quite some time be centered around the publication of his recent glossy tribute to Larry, "One Fine Stooge," co-written with Jim Terry (Larry met Terry shortly before his death, and Terry kept Larry's research files for 30 years until a chance meeting with Cox).
Do you recall the first time you saw The Three Stooges?
I do recall the first time I saw the Stooges. Well, at least a flash of the memory. I was just a kid, and my brother and I were watching TV after school. I was in maybe third grade or so.
The station in St. Louis (KPLR-TV, an independent station at that time) ran a promo for the upcoming shorts, and I remember my brother saying "Oh man, these guys are great…they're hilarious!" He really prepped me for some good stuff to watch on TV. I fell in love with the Stooges.
When Moe Howard's book [Moe Howard and The Three Stooges] was published in 1977, I couldn't wait to read it. That book changed my perception of the team. They became human beings at that point. I do remember that. So, my brother really introduced me to those guys and I thanked him for that in the book as well in the dedication.
Can you explain why The Stooges remain so popular, in comparison to their contemporaries such as The Marx Brothers, Laurel & Hardy, and Abbott & Costello?
COX:
The Stooges have a timelessness about them, don't they? It's hard to say why. It's like asking "What is comedy?" or "What is funny?" There's a raw comedy that those guys tune into and touch upon.
I would say they're an acquired taste, and I think that's true. I love the timing and originality they illustrate. They've outlasted, surpassed, and transcended all other vintage comedy teams in the history of film. Amazing, isn't it?
Let's assume you're talking to someone who's new to the team. What is their definitive work?
COX:
I would consider the Stooges work from 1939 to 1943 to be the ultimate in their comedy invention, the quintessential shorts starring Moe, Larry, and Curly at the top of their form. Short subject comedies such as Yes, We Have No Bonanza, Tassels in the Air, All the World's a Stooge, and others in that era remain probably my favorites.
[Author's Note: When Shemp Howard rejoined the team in 1947 (Curly suffered a severe stroke in May 1946), the Stooges had another excellent run until about 1952, producing such classic shorts as Who Done It?, Baby Sitters Jitters, and Scrambled Brains, one of Larry's all-time favorites.]
What were some of your favorite Stooge productions?
COX:
Believe it or not, I really enjoy the 1960s cartoon series with the live action footage intertwined. I saw that as a kid and loved the color footage. I love seeing the Stooges in color. When the early MGM shorts finally made it to TV showing the Stooges in early two-strip Technicolor, I was watching with my tongue hanging out…
Why did you decide to write a bio on Larry, and not Curly, Shemp, or Moe?
COX:
I must say that Larry might not be my absolute "favorite" Stooge if I had to choose. That would probably be Shemp because of his peculiarities and timing. I loved Shemp's graceful comedy and Curly's, too. Curly, of course, was an amazing talent and sorely underrated by historians.
The Larry project fell from heaven, and I couldn't pass it up. It was a gift of an opportunity. Plus, it was a book about Larry, but also ended up being a book about the Stooges. Reading it, you'll discover much you hadn't heard about the team and how they operated.
As I mentioned in the book, Larry was a Stooge for most of his adult life and you can't take one out of the other. You can't take Larry out of the Stooges and the Stooge out of Larry's life.
What were Larry's contributions to The Stooges?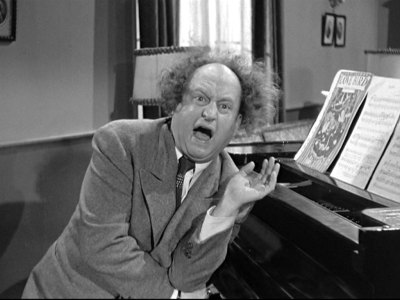 Larry gets his piano hand crushed by Shemp in a classic scene from BRIDELESS GROOM, mid March 1947 Credit: C3 Entertainment Inc. / Sony Pictures
COX:
It would be ridiculous to say Larry was the glue that held those guys together. That's so cliché, so I won't lean on that kind of thing. I think Larry contributed talent (musically and otherwise), timing, a really peculiar personality, and some fantastically funny moments.
He and Moe really didn't change much over the decades, so as the mainstays in the team, they truly held the trio together. Larry was a lovable flake, you might say, perhaps as flakey as Kramer on Seinfeld.
What is your best-selling book?
COX:
I'd say my best-selling (out of 22 titles) would have to be the book about the Munchkins from The Wizard of Oz. It was first published in 1989 for the 50th anniversary of the classic film.
The original title was The Munchkins Remember, and I've produced two more revised editions under the title The Munchkins of Oz. It just recently went out of print... after twenty years, believe it or not.
It's funny, but when my book first hit the stores years ago, some readers assumed I was a midget, since I wrote the book. I had to clarify in my bio, I'm 5-feet-6. I'm short, but not that short. I like little people. I've always been fascinated by them, especially those who went into show business.
I've kept an open file on Oz and the Munchkins, and I'll probably assemble one final revised edition in time for the 75th anniversary of the film, which is actually right around the corner.
When I started that book in the late 1980s, there were thirty-three of the midgets alive, and today there are four surviving. I'll be curious if even one is alive for the next big anniversary. I've always wondered: Who will be the last one standing?
Is there a project of yours that you're particularly proud of?
COX:
I must say that I'm probably most proud of the Munchkin book because of the sheer amount of research and painstaking problems I had to overcome and all of that which went along with locating these individuals some fifty years after they had made the film.
Most of the midgets (more aptly called little people today) were quietly living their lives in retirement in their individual cities around the country, and no one had searched like I did to locate them. I'm proud of the job I've done to locate them and to put their memories in print and document their lives.
Many of the midgets went on to make numerous appearances and greet fans all over the nation since my book introduced them to the public. And, I rather think it helped them in their later years... not only financially but provided them a happier retirement with such adulation from fans.
Some of them traveled and strutted down red carpets in all areas of the country. One Munchkin was invited to an appearance in Australia. It was something most of them never expected in their final years.
Beyond that, I love my tribute to Larry, co-written with Jim Terry. We utilized Larry's own personal scrapbooks and memories to build it. Jim knew Larry and began the project working with Larry in his last years.
Larry died in 1975, and the book's materials remained in a box for decades until, by chance, I met Jim, and we decided to resurrect the project. To me, it was like a gift from Larry himself (from above, I hope).
The project fell into my lap and turned out beautifully as a hardback coffee-table book with many never-before-seen color and b/w images. Our publisher, Cumberland House, was perfectly supportive.
Many fans have told me (and reviewed it) it's the best book written on the Stooges. That makes me feel great, especially as the Stooges were a passion of mine since my adolescence. I knew two of the Stooges, and it was a nice way to come full circle with my fascination of the legendary team.
Opening the book with the behind-the-scenes story of Larry's first book fiasco was a revelatory move.
COX:
It's funny how things you do in previous years affect projects much later on. This is one example. When I was a teenager and doing some Stooges research, I located an older man named James Carone, who had published with Larry a book of his Stooges memories.
It was supposed to be Larry's autobiography but ended up being a book about Larry written by Carone. All in all, it was a mess. It was a disastrous little book called Stroke of Luck. Larry was really pinned to the ground with the project and embarrassed by the book when it was published. It does remain, however, the first book published on the team.
Partnering with Larry Fine's brother (Morris "Moe" Feinberg), I'd purchased the last surviving copies of this book from Carone's collection and got to know Carone in his last years. He was an old guy and liked to talk about the old days, not just about Larry Fine.
Carone was kind of a blowhard, so I didn't take everything he said as fact. I knew Carone had really ripped Larry off, but he proclaimed to have made no profits from the book. If he did make any profits, they were minimal. The book was a small-time effort.
Regardless, he produced a sub-par book for Larry and because of that, Larry wished to write another book to clean things up. It took decades, but that project, which Larry began in 1973, came to fruition with One Fine Stooge. Larry came up with that title, by the way.
I had no idea Larry participated in a 1973 commercial for his book.
COX:
Larry videotaped a commercial for some local markets, one being Philadelphia – his home town. In it, he mussed up his hair (possibly for the last time to appear like a "Stooge") and advertised his book.
I've never seen the actual commercial. I have audio of it and a terrific Stooges collector and friend of mine, Scott Reboul, was responsible for actually taking a picture of the television set in Philadelphia when it aired years ago live. Scott allowed us to reprint that unique photo.
Scott provided some truly wonderful things for this book, including some photography of Moe and Larry which he took in the '70s when he met them. I wonder if videotape of Larry's commercial exists. I'd love to see it.
What were your reasons for picking the gorgeous color image of Moe, Larry, and Curly Joe as the cover?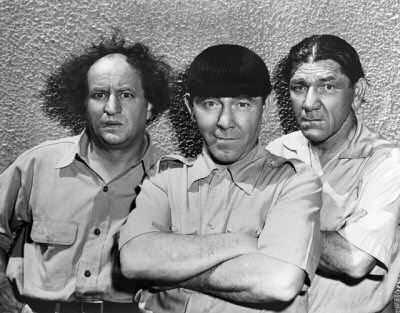 A still from the Columbia short subject, HULA--LA--LA, released November 1st, 1951: L to R: Larry Fine, Moe Howard, and Shemp Fine Credit: ShempHoward.com
COX:
We chose that particular cover shot of the Stooges (circa 1960) for several reasons: It was a beautiful "in your face" image, a true color Kodachrome portrait of the team. No other book had featured an actual color shot of the team on the cover of a book about them. It's a rare shot and was part of Larry's collection.
In addition, it features Larry front and center. The book is about him, so that worked. Had he been in the background, I think it probably wouldn't have worked as well. Besides that, it's a striking image. Really striking. It stands out from far away. Stick that thing on a book shelf, and it jumps out.
Believe it or not, we took some grief for that choice of book cover image from some hardcore fans who felt either Larry alone deserved to be on the cover, or Larry with Moe and Curly - of course, the most popular of the groupings of Stooges.
I understand that. But to us, there was no question about using it. In the publishing industry, you'd better have a powerful and memorable cover.
Can you discuss how Larry met the other Stooges?
COX:
Larry worked in several different "double acts" during his early days, even performing with his wife, Mabel, and her sister for a time. He worked in Chicago at the Rainbo Gardens in 1927 when Ted Healy was starring in a show in Chicago called A Night in Spain with Shemp Howard.
Larry met Healy and Shemp at that time. Shemp wanted out of the show and recommended Larry as a replacement. Larry then joined Moe Howard with Healy in a new show called A Night in Venice which played on Broadway and toured for a couple of years.
Shemp then rejoined the show. So, the original Stooges were actually Shemp, Larry, and Moe, a few years before the guys made their film debut at Fox in Soup to Nuts in 1930. The Stooges made their own debut on film just about the time talkies were making their nationwide emergence.
I found it interesting that Larry would often have ideas during the Columbia short years, but Moe would often rebuff him.
COX:
Many people, especially co-star Emil Sitka and director Ed Bernds, mentioned this factor. I think they rather felt sorry for Larry in that he earnestly tried to contribute some of his wacky ideas, but Moe would cancel him out swiftly and dismiss his ideas.
Perhaps rightfully so. And Moe, being a good story editor, probably did so knowing that many of Larry's ideas were too off the wall. But, that was their relationship.
Were the Stooges actually uncredited writers on their shorts?
COX:
I think the Stooges were uncredited writers on a lot of their shorts, but they added what they could when they could. You may be surprised, however, how much they stuck to the script, sometimes verbatim.
What I found surprising is how much rehearsal and set-up actually went into those shorts. As Moe put it in an interview, the comedy "didn't just happen."
Did you enjoy the Stooge shorts where the boys were split up?
COX:
Not really. I much preferred them as a cohesive team, interacting as "friends" or "brothers" as they mostly did. Individually, the comedy just didn't quite flow. That's my opinion, anyway.
Granted, they each had moments of solo hilarity in the shorts. Curly, left to his own devices, could [like shaving the ice, stuffing the turkey, or combating a bowl of clam chowder] produce comedic gems on film.
Did Curly appear in any other projects after his debilitating stroke?
I've never heard of any footage of Curly following his stroke, outside of the cameo with The Stooges in the classic 1947 short, Hold That Lion! It's amazing that there exists no interview footage of Curly or Shemp, which is too bad for all of us. I would have had a thousand questions for both of those guys.
'Cuckoo On a Choo Choo,' a 1952 short directed by Jules White, has divided Stooge fans. Why was Larry so fond of it?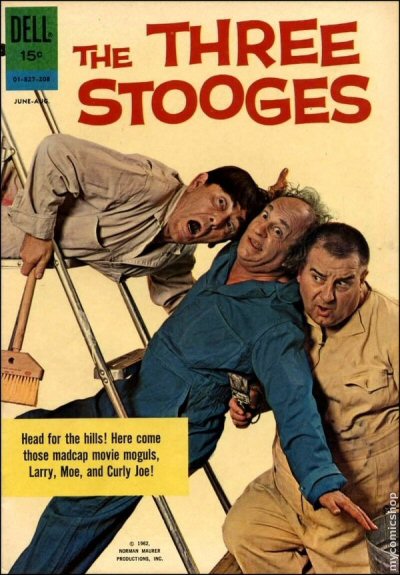 The Three Stooges, June 1962 cover of their Dell comic book Credit: C3 Entertainment, Inc. / Dell Comics
COX:
That short was one of Larry's favorites because he had a lot to do in it. He plays a T-shirted thug living on a stolen train car, showering himself with a bottle of beer and barking out orders. Supposedly, this is Larry's nod to Marlon Brando in A Streetcar Named Desire.
I think you might need to be stoned or have several blasts of scotch to get the most out of that short. Really, it is a bizarre piece of work.
How did the passing of Curly and Shemp affect Larry and Moe?
COX:
Larry never much reflected on the occurrence of his partners' deaths as much as Moe did in his own book. Not with much sentiment, anyway. Moe seemed much more distraught, mainly because they were brothers.
Larry glazed over the topics. I would have like to have explored that more with him in-person. Larry did note the financial stress it placed on the rest of the team each time they had to find a new partner. In my opinion, Moe and Larry remained much like brothers in their life.
Larry remarked in an interview that he felt that since they were both married men from the beginning of their teaming, there was no rivalry regarding women involved and that was an important factor in their feelings for each other. I really do think Larry and Moe loved each other as brothers with a sincere and honest respect for each other.
Did Larry ever consider going solo?
COX:
I don't believe so. I never learned of any indication towards that. However, he did some work directing a small production at a Hollywood playhouse in the late 1960s, and evidentially he loved it. It was a comedy play called If Men Played Cards As Women Do by George Kaufman. I don't have much more details about it, unfortunately.
I think Larry was comfortable in his coexistence with the other guys as a Stooge. The work nearly never stopped. There was a time, after the Stooges' contract with Columbia ended (after some 24 years) in 1958, they were calling it quits.
Larry briefly contemplated moving back to Philadelphia, but television was reviving his career right under his nose, and the Stooges became popular again and made a comeback. Moe and Larry brought Joe DeRita in for a third in reforming the team, and together the three embarked on maybe their most productive decade ever.
They made feature films, live television appearances, produced TV pilots, toured the country, starred in a cartoon series, recorded kiddie LP albums, published a comic book series, and plastered their own mugs on tons of merchandise. The Sixties were good to the aging Stooges.
Who were some of your favorite interview subjects?
COX:
I was really fortunate in locating Larry's own barber, who was a friend of his. She was interesting. Her name was Eddie Crispell. She gave me a wonderful interview, including details of his last hours alive.
Don Lamond, Larry's son-in-law also provided a really point-blank interview, especially with details surrounding the death of Larry's son. These were the kind of things I searched for to tell the true story of this man's life.
Larry's daughter-in-law, Christy Kraus, was a great interview. Very honest and touching. She was a neat lady and died not long after the book's publishing. She did write me to tell me she loved the book.
Frankie Avalon also provided some personal stories about his friendship with Larry and how they loved to reminisce about Philly.
This book also afforded me the opportunity to utilize interviews I'd done previously (years earlier) with people like Jules White, Emil Sitka, Joan Howard Maurer, Ed Bernds, and Larry's sister Lyla Budnick.
What were you most surprised to learn when researching Larry's life?
COX:
I was surprised to learn the depth of Mabel's alcoholism. That was somewhat astonishing. Also, how she mistreated the poor guy over the years. She gave him hell, even physically abusing the poor guy.
Also, I was intrigued to investigate the death of Larry's son, how it occurred, and how it affected Larry and Mabel. Those are life-altering areas that we cover in the book.
On the other hand, what were some of Larry's negative vices and personality traits?
COX:
I think Larry was a bit of a pushover, maybe overly trusting with many people. He gave away much of his fortune (including helping many relatives) over his lifetime and wasted sums on ridiculous schemes and investments which went nowhere.
I'm not sure he had many bad habits or traits, because on all accounts this was a very likable gentleman in all respects. He was clean, well mannered, patient, funny, and kind (loved his fans and rarely refused a request).
However, I learned he did have an affair during his marriage, which made Mabel furious; she remained somewhat mistrusting of him, especially when he traveled. This was not totally confirmed, so I left it out of the book. After all, this was supposed to be Larry's story, much of which was from his point of view, so I didn't think the alleged affair(s) was something appropriate in that context.
I'd love to hear a story about Larry's generosity or his love of children.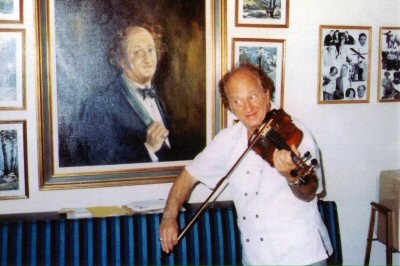 Larry Fine, circa 1968, plays his trademark violin in his Hollywood apartment, surrounded by Stooge memorabilia Credit: Courtesy of Steve Cox.
COX:
When Larry's son, Johnnie, died, Larry and Mabel made sure to take care of his widow and their grandchildren until she could get on her feet and did so for years. That shows you his sense of family responsibility and generosity.
When Larry and Mabel went back East (Philadelphia) to visit relatives, they always brought gifts and paid for dinners and helped out relatives and treated the kids royally. Many nieces and nephews have stories of such regal activities and kindnesses from "Uncle Larry and Aunt Mabel."
We also quoted Don Lamond, Larry's son-in-law, about an experience with a child following one of their live shows in the early 60s. Keep in mind that Larry was an old softie with kids; he melted around them. He loved them, and they loved him and his huge honker, his kindly nasal tone, his smile, and that perfectly shaped "chrome dome." You just want to pet that forehead.
Once, following a show, the Stooges met some young kids in the dressing room afterward, and one of the little boys told Larry that he was blind and asked to feel Larry's face and Larry let him.
He began to tell Larry how he loved the Stooges and said "I watch you guys every day." Larry had to quietly excuse himself as he began to cry. Here, this blind boy told him that he "watched" them every day, and Larry was overcome by the young boy and his enthusiasm.
The Stooges were never paid enough for their amazing body of work over the years. Were they wealthy by the end of their lives?
COX:
Moe probably made the most with some really wise investments. His family did even better, however I won't get into that topic. The other Stooges really never made out as well, Larry included. He was nearly broke when he entered the Motion Picture Country Home.
He had just a few hundred dollars in his bank account. True. I saw the statements. It's been said he gambled his money away, but he was a small time gambler; he loved the races, golf, football, baseball, boxing, and other sports in general. Nothing like say, Lou Costello's sobering trips to the track.
But Larry gave away and piddled much of his fortune. He and Mabel rented a home most of their life, with maid service, etc. They took trips, he bought furs, and it was somewhat of an extravagant life for his income. There wasn't much left when he retired.
When Curly Joe died in the 1990s, he wasn't well off financially, either. Joe Besser died with a decent amount of money in his bank account and donated a good portion to the Motion Picture Fund.
The book contains a wealth of information on Larry's final ten years, and his friendship with Jim Malinda paints a very down-to-earth view of Larry.
COX:
To me, Jim Malinda was a key interview in the book. My meeting Jim was completely a surprise - another instance where, I think, Larry was guiding me. I was directed to him on recommendation of Larry's barber, Eddie Crisbell.
I would have never found him otherwise. She remembered Jim and suggested I speak with him because she recalled them being good pals at that time. Jim was terrific and generous with memories and reminiscences of his friend Larry and freely spoke about his experiences knowing Larry in the late '60s until his death in 1975.
His recall was great, and his comments were quite frank and candid, really telling me how it was. Jim really respected and loved Larry and never took their friendship for granted. Jim was a young actor when he met Larry; he was a very cool and good looking guy back then who was attempting to get into the film business.
He and Larry struck up a friendship through a mutual girlfriend…yes, a mutual girlfriend who dated Jim and later dated Larry. Larry liked the young ladies, and I think this particular lady was in her forties or so.
What was so interesting in his interview were the wonderful details, such as his recalling where he was during the first Moon Landing in 1969. He was with his girlfriend and Larry, and all three of them were at her apartment watching the television and the worldwide event that was taking place. All of them were stunned as they watched the landing on live television.
Isn't it interesting to know where Larry was and what he was doing at that time? It would have been interesting to know where he was (as well as the other Stooges), say, when Kennedy was assassinated.
COX:
Moe made very little social commentary in his own book (Moe Howard and the Three Stooges), but then again, much of that was assembled from bits and pieces written haphazardly over the years. His daughter and son in law, Joan and Norman Maurer, completed his book posthumously, and it's somewhat riddled with errors in the Stooges history.
In fact, when that book came out, Shemp's widow, Babe Howard, insisted that Shemp was the first Stooge to join forces with Ted Healy – not Moe Howard. She was emphatic about it (and was with Shemp back then to know). She claimed Moe was making claims he did not deserve. She insisted Shemp was actually the first "Stooge." But I digress….
So back to Jim…Jim Malinda was also instrumental in helping Larry in his recuperation following his major stroke. I think Larry somehow felt that Jim might have been a surrogate son, somewhat of a replacement for his late son, Johnny. That struck me as something Larry felt at that time and Jim felt the same way. He told me so.
Jim was great in many ways, including his support of the project and his hope that Larry got his due. Plus, Jim had saved some terrific photos he'd taken of Larry and allowed me to print them.
How did Larry view his debilitating stroke?
COX:
Larry's stroke affected every bit of him: movement, speech, and I think a little of his mental capabilities. All in all, I think he made the best of it and just became accustomed to his limitations. It was his fans who were able to visit him (with his encouragement) that actually made out the best.
Here this comedy legend was accessible to all at the Motion Picture Country Home, and he openly welcomed visitors. How cool is that? He took phone calls from fans all across the country and responded to fan mail galore.
There are many actors today who recall meeting him and visiting with him, people like Bob Saget and Kevin Spacey among them. They were kids then.
I was surprised that Curly Joe, Joe, and Emil Sitka did not visit Larry while he was ill. What were their feelings on this matter?
COX:
I really don't know why those guys did not visit Larry in the home. It is a bit surprising. Emil Sitka told me he did not visit Larry after the stroke (at the Motion Picture Home); however, Emil's son states that his father's diaries suggest he did visit him during his illness.
I think that perhaps Emil visited Larry after he had his stroke – while he still resided in Hollywood (which is where Emil lived as well). Most people assume Larry went directly into the nursing home following his major stroke, but that is not so.
Larry spent time at his daughter's Hollywood home in a private apartment that was adapted for his recovery. He was there more than a year before getting into the Motion Picture Home. He suffered more strokes, and it became necessary to find a nursing home facility to care for him.
But Curly Joe DeRita worked so closely with Larry for a decade and could have visited, and he said he never did. Surely he called him, but I don't know. Curly Joe was quite obese in his final years and not very mobile.
Curly Joe attended Larry's funeral, I know that. And I attended Curly Joe's funeral in July 1993. I was one of his pall bearers. I asked his wife, Jean, if I could place a cigar in his lapel pocket, and she thought that was an appropriate send-off.
So, I sent ol' Curly Joe, the last and oldest Stooge at age 83, on his way with a nice ten dollar cigar. I like cigars myself and smoke when I'm really writing and getting swept up in the thick of some text.
What are your thoughts on the proposed Stooges remake?
COX:
To me, remaking The Three Stooges is a mistake. A big one. The current film project by The Farrelly Brothers seemed to go from an A-list cast to a Z-list cast very quickly. I just can't imagine anyone recapturing the lightning that struck for the Stooges. Good luck…that's all I can say.
Could you talk a little about why the Stooges didn't receive a star on The Hollywood Walk of Fame until the mid-1980s?
COX:
It's beyond me why the committee in Hollywood continually (for decades) passed up the Stooges when awarding the famous stars on the Hollywood Walk of Fame. Moe was irritated by it, I know. He actually said in a radio interview that the committee who decides can "take their star and stick it you know where – one point at a time."
Larry, who lived in an apartment in the late '60s right on Hollywood Boulevard, would see the cemented names and be reminded he was nowhere to be found, every single day.
Finally, after a national campaign which involved Joan Howard, two Stooges fans known as Greg and Jeff Lenburg, broadcaster Gary Owens, and the International Three Stooges Fan Club, they were given a star in 1983.
I was invited to the ceremony and represented the fan club since I was Vice President at that time, and I reported on the event and had a blast. Joe Besser attended, so that was the highlight. Milton Berle was there, too, and that lent some vintage Hollywood feeling to the event also.
It was strange because Stooges' foil Emil Sitka had not been invited, but I brought him as my guest. When the people organizing the event noticed him, they immediately asked him to speak at the event, which he did.
He also stayed and autographed photos and books and things for all of the fans—much more so than anyone else that day. And people knew exactly who he was, believe me. I won't get into the politics of why he wasn't invited in the first place, but suffice to say that he should have been one of the first on the list.
Curly Joe DeRita was just too heavyset to attend, and his wife told me his bladder problems would not allow him to get of the house. That might have been disastrous.
It still irritates me that the Hollywood committee placed their star on a side street (Vine) rather than on the main walk on Hollywood Boulevard. They deserve it much more than say, Mary Hart from Entertainment Tonight, wouldn't you think?
Project-wise, what are you up to today?
COX:
Currently I'm working on a few projects, but one includes an illustrated book about the life of Robert Wadlow, the world's tallest man, who came from Alton, Illinois. It's a fascinating story with stunning photography. I'm just trying to locate the right publisher.
How did the idea of writing about the world's tallest man come to fruition? Also, is the project finished?
COX:
My father and uncle went to a shoe fair with my grandfather years ago and saw Robert Wadlow in person. This was in the 1930s and my grandfather worked for International Shoe Company in St. Louis, the company who made Wadlow's massive size 37AA shoes and hired him to promote their product.
I'd always heard about "The Alton Giant" since I was a kid and the area of Alton, Illinois is not far from north St. Louis, where I grew up. As a kid, when you hear about an actual giant who lived and breathed in a town nearby, you listen intently.
His story always intrigued me, so I've been researching him for some twenty years. I mean, this guy was 8-feet-11 when he died, and he toured the country to meet people. His end is a sad one, and his life is somewhat tragic in one sense.
Robert languished away in a hotel room bed in Manistee, Michigan, the victim of blood poisoning. He had developed an abrasion on his ankle that progressed to an infection, and it went untreated (he had very little feeling in some of his extremities).
Following a 4th of July parade, Robert went back to his hotel room, and doctors could not get his temperature down. He did not want to be moved to a hospital. This was about a year before the introduction of penicillin for wide use in the United States, so he missed his cure by a year or so when he died in 1940. He was only twenty-two.
There is also a dramatic area in his life when he and his family sued a peculiar small-town country doctor, a man who stalked Wadlow and also wrote and published some ridiculous things about the young man. Wadlow sued for defamation but lost.
Robert only has distant cousins surviving and some nieces and nephews. Some of the family has been supportive, and others do not wish to speak about him for some reason. It's been a strange reaction across the board.
I'm working on the book now, but no, it is not finished. Just in the past year I've uncovered some astounding things about him. He was much more than a "freak" as some would describe him, and his twenty-two years on this earth were remarkable.
It's about time for a really good look at his brief life. The photography itself really is stunning and even jarring. So, I've written about midgets and giants; I'm traveling from one side of the spectrum to the other, it seems.
When not writing, what do you enjoy doing?
COX:
I love movies, vintage television, my new HD TV, blu-ray movies, live plays, musicals, collecting autographs and memorabilia, writing, family, friends, and the rest that life brings me.
Name a few of those autographs you especially treasure.
COX:
I have one from Buddy Ebsen, a Beverly Hillbillies shot of the cast with the palm trees in the background, and he inscribed to me: "Californy is the place you oughta be…" I have some gems where actors wrote their real name for me, like Don Adams signing "Donald Yarmy," his given name.
Unusual things like that intrigue me. It's difficult to pin down my favorites after thirty years of collecting. I have a really nice Dean Martin shot of he and I outside Hamburger Hamlet in Beverly Hills, and he signed it "Cheers! Dean Martin." Simple and signed beautifully. It's one of the few photos of myself I don't mind glancing at once in a while.
I also have a vintage comic book collection (mostly the '60s TV show comics, like Dell and Gold Key, with those beautiful color photo covers) signed by the stars on the covers. I have a beautiful Three Stooges comic signed by Moe, Larry, and Curly Joe which came from a friend who knew the Stooges and got it signed.
We did a little trade. That's a neat piece for me. Curly Joe actually signed my first comic book for me back in 1979 when I met him.
How did you meet Dean Martin? Seems he had virtually retired from the public eye.
COX:
I met Dean Martin many times in the early 1990s because he would frequent the restaurant, Hamburger Hamlet in Beverly Hills as a regular thing for dinner on Sunday nights. Keep in mind, Hamburger Hamlet is not some hamburger joint, it's a really nice place to eat with a terrific bar with a beautiful, comfortable atmosphere.
He seemed to like the place immensely because he went there every Sunday night, almost religiously. I'd say hello sometimes in the restaurant and it was a common thing to see him sitting in the bar and having his usual angel hair pasta dinner and a drink, usually alone.
Most people did not bother him, but there were times when some fans overstayed their hello and the bartender would intercede. I saw that happen a few times. Or a celebrity would stop by and say hello.
I noticed Jerry Seinfeld very respectfully approaching him one evening and talking with him briefly. Also, Elizabeth Montgomery was having dinner there one evening and as she left she said hello and gave him a kiss on the cheek. (I realized later they'd made a movie together in the early '60s.)
Dean was not in good condition at that time, unfortunately. He moved very slowly like a 99-year-old man with that old man shuffle and his body had just begun to deteriorate. But there he was on Sunday nights.
Dean didn't say much usually, but was unfailingly kind to fans when coming and going outside the restaurant. It was a treat to meet such a legend and talented guy like that.
One time I spoke with him about the Three Stooges and asked him to sign a photo I had of him with the Stooges from the 1963 western 4 For Texas, costarring Frank Sinatra, where he delivers the triple-slap to the guys. Dean said, "I was just givin' them what they gave everybody else."
Does Larry have many surviving family members today?
COX:
Larry has grandchildren and great grandchildren surviving in addition to his son-in-law, Don Lamond. Of course, there are nieces and nephews on both the East and West Coasts.
Larry's legacy is still planted firmly in the Philadelphia area where he came from. The actual building where he was born and grew up is a restaurant called Jon's with a giant mural of Larry's face on the outside wall.
Larry was telling jokes until the very end. Does one come to mind?
COX:
I loved Larry talking about flying in airplanes. Someone asked him why he was afraid to fly. He said, "I'm not afraid of flying…I'm afraid of crashing."
You were only eight when Larry passed away in January 1975, but it seems you guys are kindred spirits.
COX:
Somehow I really feel like we collaborated on his book, so I think I did talk with him in a sense. I spoke to him at his grave, and I hope he heard me. I know he guided me. I just know it. Things worked out too beautifully for this book.
And to me, that book turned out far and above Moe Howard's book, not only in construction, content, and design, but also with accuracy as well. I think Larry would have loved topping Moe on that note.
Roberts describes himself as: "a freelance writer who loves reading biographies, watching classic movies, going to concerts, listening to music. Investigating pop culture, including anything from the '30s to the present, is a lifelong passion of mine. Everyone has a story to tell, and if I've been a good listener and asked questions, then I've done my job." You'll find many of his terrific interviews at www.examiner.com/pop-culture-in-national/jeremy-roberts.