LEE ROCKER KEEPS ROCKIN'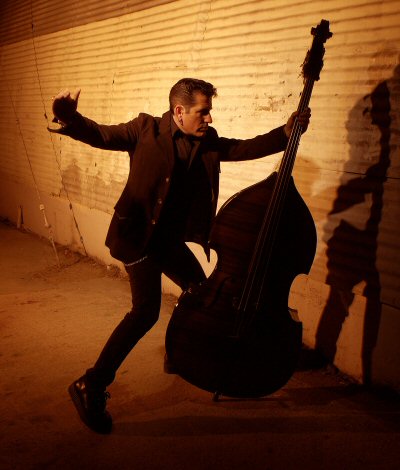 Photo Courtesy of Alligator Records

by Paul Freeman [2009 interview]

"Black Cat Bone" (Alligator), the new roots rock CD from Lee Rocker - bassist/vocalist/songwriter - ranks among his most dynamic works. With a topnotch band comprised of Jimmy Sage on drums and Brophy Dale and Buzz Campbell on guitar, Rocker delivers sizzling songs, mostly original, with smokin' covers of two tunes - one a Bob Dylan composition, the other made famous by Hank Williams.

Despite critical acclaim, the album doesn't stand a chance of equaling the commercial success that Rocker's first band, the Stray Cats, managed at its peak.

"It doesn't bother me," Rocker says. "It's a different time, a different business. I'm really proud of this band and of this record in particular. It's getting out there, getting great radio play. I'd love for it to sell 10 million copies. I think it should. But it won't, not with the way the record business is these days. And that's fine."

"Black Cat Bone" was recorded over a span of nine months. "In the old days, we might go in and knock out an album in a couple of weeks. But I find that taking some time, getting some distance, helps to gain perspective. I like to take my time with it and linger."

It helps that his band is now a finely oiled machine. "Brophy and Jimmy have been working with me for 10 years. We really understand each other and how we play. I understand their musical vocabulary. So it's cool."

After making the songs work in the studio, Rocker was eager to perform them live. "It's really been a blast. It's always a great feeling to get out there with some new music.

"Touring is such a different world from writing, which is solitary and you're in your little bubble. On the road, you're getting feedback from the audience. It's energy. It's a whirlwind of travel."

Rocker says it's a good time for the Americana genre. "The music business has changed, to the point where there really aren't record stores anymore. You've got your highly commercial stuff that the still-existing big labels go out and push. Then you've got artists who have their niches and their cult things. Where I am now, it's a nice-sized, cult following. I'm in Europe a lot, touring in the States a lot. And I feel really supported and appreciated."

Some of the original rockabilly artists eventually lost their vigor and played by rote. Lee Rocker's fervor has never ebbed. "I love what I do. I'm really passionate about it. I have fun. And I think that shows through the music.

"Carl Perkins, up 'til the day he had a stroke, was just ripping it up on stage. He did a fantastic record late in his career called 'Go, Cat, Go!' I think the guys who get stale or grow bitter are the exceptions."

Lee Rocker and band create a frenzy during live sets. He's a consummate showman. "That came naturally. I love seeing a band that's got some show to it. I like to see people who move around, have some energy, sweat and passion. I love seeing the Rolling Stones, seeing Jagger bounce around on stage. Not that everyone has to go out and do that. But I'd rather listen to a record, if the show's not going to be entertaining.

"Playing the upright bass kind of lends itself to that. Since I started as a kid with the Stray Cats, I've always been hyper and happy to be on stage. The adrenaline kicks in."

Rocker's son Justin, 17, plays guitar and daughter Sadie, 15, plays electric bass. Born Leon Drucker, Rocker comes from a musical family. His parents are both classical clarinetists. His father has played with the New York Philharmonic for a record 59 years.

"Music's been such a big part of my life. I wanted to pass that on. My kids love music. If they continue with it, that's their own choice. But it's one of the great things in the world and you've got to get your feet wet with it, you know?"

His parents listened to jazz and were receptive to their son's rock 'n' roll records. "There are really only two kinds of music - good and bad. My parents, like most musicians I've ever come across, were pretty damn open-minded."

On Long Island in the '70s, most of his school pals had never heard of rockabilly. Prog rock, Southern rock and punk reigned. Rocker stumbled across old blues and rockabilly records on his visits to Greenwich Village record stores.

"Punk and rockabilly have some elements in common - energy and passion. They have a power."

With buddies Brian Setzer and Jim Phantom, he formed the Stray Cats. By '79, they had become sensations at such popular N.Y. punk venues as CBGB's and Max's Kansas City.

Rocker spent this past summer on a Stray Cats reunion swing through North America. "It was the first U.S. tour in 15 years. It was great to work with Jim and Brian. My focus at this point is my Lee Rocker records. But it's great to have the Stray Cats as something that every once in a while we can have some fun with, do some gigs. So when the situation's right, we might do it again."
---
FORMER STRAY CAT STILL LOVES THAT ROCKABILLY
By Paul Freeman [2003 interview]
Long after the original Stray Cats' last meow, founding member Lee Rocker struts his stuff as the upright bassist and vocalist in his own rockabilly revival band.
The Lee Rocker Band, also featuring guitarists Brophy Dale and Tara Novick, has a new CD, "Bulletproof."
"I'm lucky," Rocker says of his group. "We've played together long enough that we've got this unspoken communication. I feel like it's the first time since the Stray Cats that I've got a group that's got that kind of spark and communication. You can just do things, as opposed to having to map it all out.
"Onstage, we're doing most of this record, plus songs from the last four solo records that I've done, and we're having fun doing a few of the Stray Cats numbers, like 'Rock This Town' and 'Stray Cats Strut' most every night. And then we'll do some classic rock 'n' roll, some Chuck Berry or Gene Vincent or Eddie Cochran. We've got huge list of songs and it changes every night."
The band recorded "Bulletproof" over an 18-month period. Usually it takes Rocker six to eight weeks. "Normally, I'll be in there constantly until I finish the record," Rocker says. "This I did with a lot of stops and starts. I'd be touring, then I'd come back to it and do another day, then another week. Doing it over a long period of time helped give me a certain perspective on it. It was just a different way of working, which I liked."
He knew what he wanted it to sound like. Rocker celebrates rockabilly's roots while adding his own fresh ideas.
"It's a matter of putting your own stamp onto what's a traditional American form of music, like blues, bluegrass or jazz. If you bend it too far, it breaks and it's no longer rockabilly. The elements there include the upright bass, the twangy guitars and the slap- back echo on the vocal, all this stuff that goes back to Memphis, 1956, at Sun Studios. It's a matter of putting your take on it, doing some different things, but knowing where that line is and not crossing it."
That goes for original tunes or covers of pop songs.
"I'm really happy with the Lennon-McCartney song we did, 'I'll Cry Instead,'" Rocker says. "Carl Perkins, in the mid-'80s, introduced me to George Harrison. We worked together a bit and knew each other over the years. When George passed away, I started listening to the whole Beatles catalog and thought, 'What is there that I can do my take on?' That one came up. With the Beatles, it's tough. You're definitely on sacred ground, in a way. But I think we managed to take it, do something different with it and make it work."
Rocker says rockabilly remains vibrant because it's basic. "It's the birth of rock 'n' roll," he says. "The original rock 'n' roll is rockabilly music. Ground zero was Memphis, Tennessee, in 1956 with Elvis and Johnny Cash and Carl Perkins and Jerry Lee Lewis over a handful of years. It's just that abandon and energy and realness that it has. Real forms of music all stand up. Put on a John Lee Hooker or Willie Dixon record in blues; John Coltrane in jazz. The real stuff stays fresh. It's product that gets stale. This music isn't a product. Rockabilly music is alive and well and living in the underground."
Rocker's rockabilly draws a diverse crowd in terms of background and age. "There's hard-core rockabillies out there who grease up their hair and have tattoos. That segment is out there at shows and picking up our records. You get older people who might have been listening to this music the first time around, or the second time around with the Cats in the '80s. Then there's a whole new generation. It's pretty amazing.
"There's a whole scene. It's like punk rock. There's an underground cult of this music that's everywhere, not just in the States. Over the years, I've toured everywhere from Moscow to Tokyo to South America. There's people that search this music out and love it all over the world."
Rocker's musical odyssey began with his 1961 birth in Long Island. In those days, he was known as Leon Drucker. His parents are classical clarinetists. His father plays for the New York Philharmonic. His mother performs with the American Chamber Ensemble. Rocker started playing cello at age 6.
"I'm glad I studied classical music, but at 13, I railed against it. Over the teenage years, I played electric bass and discovered jazz, blues and rockabilly music. All of those musical forms that I loved had upright basses. So I went to the upright. The cello had given me a really good background for that, being fretless. It helped with hand position and the technical end. The upright is such a physical instrument, you get into a physical rhythm with it."
Rocker's parents remained supportive. "Their line on things is that there are really only two kinds of music -- good and bad. They're down at shows all the time, albeit with cotton in their ears," he says with a laugh.
On July 5, the original Stray Cats will reunite for their first live performance in 10 years at the Orange County Hootenanny Festival. Part of this is due to last year's passing of Clash leader Joe Strummer. "We came up at the same time as the Clash," says Rocker. "We were all in London together, in the summer of 1980. We had moved there and hooked up with a lot of the other musicians, Joe and the Clash, the Pretenders. Joe's passing really hit all of us. They were just about to do a Clash reunion and never got the opportunity to do it. So we all kind of took that as something we should pay attention to."
This could be more than a one-off. "We'll do the show on the 5th and take it from there. This year is pretty much mapped out for everybody. I'm touring a lot with my band and supporting the 'Bulletproof' record. But 2004, it's definitely a possibility ... unless something bad happens at the show," Rocker adds with a laugh. "But I would love to do other gig."
For the latest news and tour dates, visit www.leerocker.com.