LESLIE WEST: MOUNTAINOUS GUITAR TALENT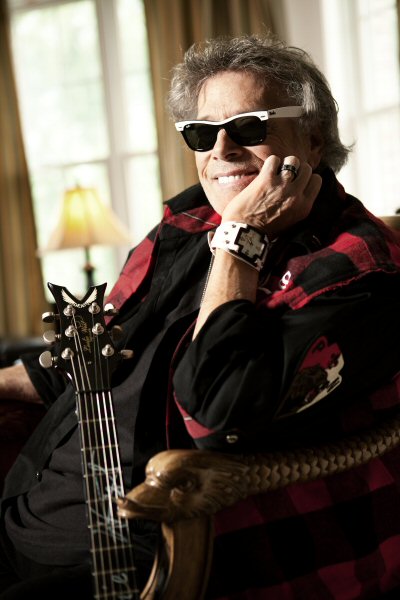 Leslie West, photo by Justin Borucki
By Paul Freeman [March 2016 Interview]
You can't keep a good man down. And that definitely goes for elite musicians. Leslie West suffered through a partial leg amputation, in 2011, a complication of diabetes, but soon returned to high-powered performances and recordings. He still stands among rock's greatest guitarists.
Though he's revered by his peers and fervent fans, West doesn't always receive the recognition he deserves from the general public.
While gaining valuable experience with seminal Long Island garage band The Vagrants, West met record producer Felix Pappalardi (Cream, The Youngbloods).
West founded the heavy-rocking, bluesy band Mountain and invited Pappalardi to join on bass and backing vocals. They played the Woodstock Festival and a few months later, Mountain's "Mississippi Queen," featuring West's searing vocal and unforgettable guitar riff, became a monster hit.
After Mountain, West enjoyed success with West, Bruce (Cream's Jack Bruce) and Laing (drummer Corky Laing).
Guitarists such as Jimi Hendrix, Johnny Winter, John McLaughlin, Joe Bonamassa and Eddie Van Halen have been honored to jam with him. Richie Sambora, Michael Schenker and Van Halen have listed West as a key influence.
West recently released a new album, his 16th solo project, "Soundcheck." It's a powerhouse, encompassing many moods and featuring a number of impressive guests.
He puts his own stamp on such familiar tunes as "You Are My Sunshine" (with Peter Frampton), Tracy Chapman's "Give Me One Reason," Lieber & Stoller's "Stand By Me" and Curtis Mayfield's "People Get Ready." The basic tracks of "Going Down" were laid down a decade ago and include contributions by Bonnie Bramlett and keyboardist Max Middleton (Jeff Beck). Queen guitarist Brian May has delivered a solo on that number, to complement West's own majestic lines. The closing track, a rendition of Willie Dixon's "Spoonful," originated in 1988 and teams West with his friend, the late Jack Bruce.
West originals on the album include the electrifying opening number, "Left by the Roadside to Die," and an acoustic piece, "A Stern Warning," dedicated to his pal Howard Stern.
A force of nature, West rocks on.
POP CULTURE CLASSICS:
The new album sounds great. The chance to explore different moods, different guitar tones, is that part of the challenge and the motivation for you?
LESLIE WEST:
Yeah, I've been doing that all my life, actually, I picked some really, really good songs, and wrote some good songs and it all came together… better than normal. The tones that's just the way I play. I'm working on my sound every day.
PCC:
So even after spending countless hours playing, you're still discovering new things on the instrument?
WEST:
Yeah, that's all it takes is one little thing, sets me off and then whoah! It sets me on a road. That's what you try to do - you try to get lucky.
PCC:
When you're able to bring a whole new feeling to a familiar song like "You Are My Sunshine" or "People Get Ready," is that exciting for you?
WEST:
Well, "You Are My Sunshine," I'd love to take credit for it, but, at this point in my life, I'm pretty long in the tooth and I'd rather be honest. I was watching the "Sons of Anarchy" TV show. And I heard in the background, they were singing that song. Acoustic. They changed it from the major key, as we know it - happy. [sings first few bars of "Your Are My Sunshine"]. I heard what they were doing and I said, "Wait a minute! They changed the key from major to minor!" So I started working on the arrangement. I said, "Let me see if I can do this." I worked on the arrangement and I sent it to Peter Frampton, who I wanted to play on the album. And he wanted to do it, too. He couldn't believe the sound of the song. I told him what I just told you. That's what I call getting lucky.
PCC:
Really all the covers, things like "People Get Ready," all have a fresh sound to them.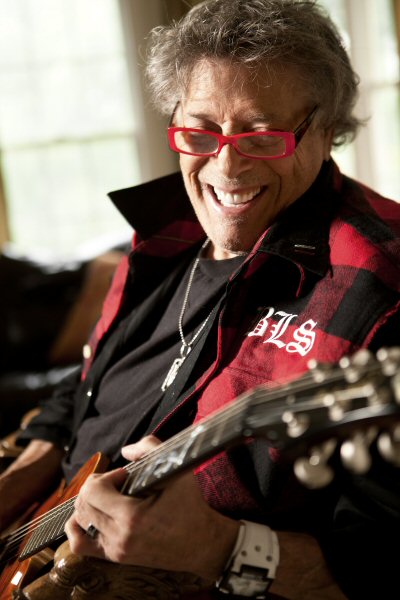 Leslie West, photo by Justin Borucki
WEST:
"People Get Ready" I've been doing on stage for quite a few years. I didn't want it to sound like the Jeff Beck version. But it's quite a song. It was Curtis Mayfield that wrote that. It's fantastic. I would have never done a song like that, 15, 20 years ago. Now I have a little time to work with. I don't have to do an album every week.
PCC:
Working with Frampton and Brian May on the new album, what do you most admire about their individual guitar styles?
PCC:
I've known Peter for 45 years. We toured together, when he was with Humble Pie. With "Frampton Comes Alive." He's made it four different times. I've known him. And we've never recorded together. But we've been on God knows how many tours together. So finally, the opportunity came up. And it blew me away, that finally I'm going to record with Peter. I love the guy so much. We've had the same agent. It's amazing. One of the songs he wrote, "Penny For Your Thoughts," Penny was this girl he was in love with. It was our secretary [laughs]. That's how close we were. Mountain's road manager was Peter's road manager. He's now Joe Satriani's manager, Mick Brigden. What is it, seven degrees of separation?
The Brian May thing, I did that thing, "Going Down," a long time ago. A friend of mine, Jon Tevin produced it. He's worked with Wilson Pickett, Steve Cropper. He asked me to do it a long time ago. There's some great players on that cut.
It's not just May. It's Max Middleton, the keyboard player, the original piano player on it. So many great people. Bonnie Bramlett's on this thing. I saw Brian May's name there, but we did our parts separately. I never heard him play. Jon produced this album for Don Nix, who wrote the song "Going Down." And Don doesn't play an instrument. And so I don't know what Jon did with Brian. He mixed him down. I called Jon back and said, "Listen, I'd love to do the song, but I don't have the master files." He said, "I have them in my office. I'll send them to you tomorrow. You've just got to sing it." Don Nix originally sang it. So I played it and I notice on track 15, there's Brian May's guitar. I said, "Oh, this is horseshit! [Laughs] This has to be heard!" I said, "Jon, call up Brian, and tell him I want to use it, but I want to feature him." Brian said he'd be flattered.
So there you go. I'm playing the lead all up until around, I'd say, maybe two minutes and 50 seconds, something like that. And then Brian plays from there on out. Listen, Brian May doesn't do too many projects, besides Queen. I think we opened for Queen, the Leslie West Band, back a long time ago. I think it was in Indiana. And it was the night we found out that my partner, Felix Pappalardi was shot. And that's when I first remember meeting Brian.
And so, haven't got that much time now, man. I'm 70 years old. And have all this history to draw back on. Luckily, I still have part of my memory.
PCC:
And a rich bank of memories it is.
WEST:
Well, it's nice you picked those tunes. "You Are My Sunshine," "People Get Ready" are my favorites. "Going Down," probably my favorite guitar song. And every guitar play worth his f—king salt has probably jammed on that song. And it's funny the guy who wrote it can't even play it [laughs]. But he wrote it!
PCC:
The original tunes on the album have such fire. Apparently your passion for music has never wavered
WEST:
It did for a while. And then, when I lost my leg, it's been almost four years, I had just finished doing an album, "Unusual Suspects," and it was all mixed and finished. If it hadn't been finished already and then lost my leg, I probably wouldn't have continued it. I didn't want to do anything then.
So the first cut on the new album, "Left by the Roadside to Die," that's what I felt like. And my wife Jenny wrote the words. And it starts off with a synthesizer. I played that on a guitar and my keyboard player, David Biglin, I said, "David, can you play this on a synth?" And sure enough. It's not what you expect to open a Leslie West album.
All of a sudden, I got the urge to play again. I read somewhere, the football player who played for the Giants, Lawrence Taylor, who had a big problem with drugs, but he said, "It's not how many times you get knocked down. It's how you choose to get up." And I thought about that.
PCC:
And "A Stern Warning," that reflects your bond with Howard Stern?
WEST:
Obviously that song is dedicated to Howard Stern. I had an acoustic instrumental on the Mountain "Climbing!" album ["To My Friend," a tribute to Pappalardi]. Howard and I email maybe 10 times a week. And he emailed me one day, he said, "I'm listening to Mountain, 'Climbing!,' the song, 'To My Friend.' What is that about?" I told him. So, since he brought it up to me, I said, "You know what? Let me write part two." And my father used to always say to me, "Listen, my boy, I'm going to give you a stern warning. You pull that shit again…" I thought, that's great, I'm going to call the song 'A Stern Warning' and dedicate it to Howard. I never would have thought he would pick that song to listen to. He has great taste… and not just because he likes my stuff.
I talk about groups with him. Like, for example, you ever heard of a group called The Royal Bloods? From England, two guys, guitar and drums. And the biggest f—kin' sound. And Howard turned me on to them. Amazing. The Royal Bloods. Check them out. They're not the same sound, but they're sort of a little bit like The Black Keys, one of my favorite groups.
He's got great taste. He's got a great ear. In fact, when he was on the show "America's Got Talent," judging, his critiques were valid. I don't know what the hell the other ones were talking about - Howie Mandel and the two broads there. But Howard knows his shit, man.
PCC:
Bonnie Bramlett, bringing her into the project - was she an old friend?
WEST:
Bonnie was on the original version. And I knew Bonnie. Mountain was on the Joe Cocker Mad Dogs and Englishmen tour. And I met Bonnie. And I knew her also from this Festival Express years ago that went across Canada with all these groups - Delaney & Bonnie, Janis Joplin, The Dead, The Band, Mountain - it was a big festival. And there was a department store in Canada called Eaton's, like the Macy's of Canada. And they had flatbed cars and a whole train that went across Canada, stopping along the way, doing concerts. And I hung out with Bonnie there.
And I saw that Jon got Bonnie to sing on it, so now, when we remixed it and I sang it, I had to match my voice to hers. My engineer Mike Goldberg did a great job matching it, because I'm not really good at harmony and stuff like that. Thanks to ProTools, he managed to make me in time with her. So yeah, there are some great people on that album - beside Brian May and Bonnie Bramlett and Max Middleton, Bobby Whitlock, the organ player from Derek & The Dominos, it's just great. And to have all that to draw back on - besides being good, you gotta be lucky.
PCC:
And being able to reach across time and team up with Jack Bruce, that must have been special.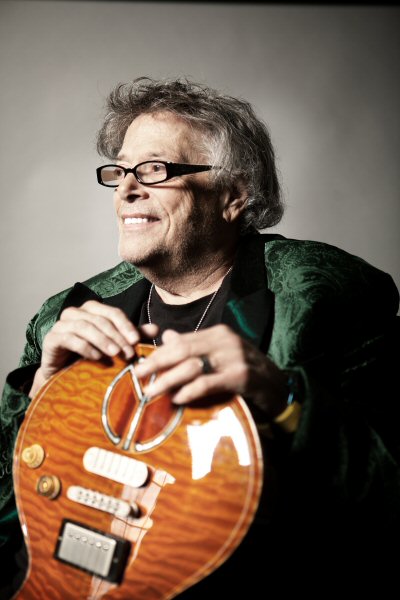 Leslie West, photo by Justin Borucki
WEST:
You know I was in the group West, Bruce & Laing with Jack? Well, Jack, so many great musicians have died this year and quite a few of them really meant something to me - Johnny Winter, I just played on his last album. My engineer Mike engineered it for him, because Johnny liked the sound of my album so much and he wanted to get Mike to mix it. And Mike won the Grammy and Johnny won the Grammy. Well, I'm on his album and he played a cut on my last album, Mountain's "Still Climbing."
And then Jack Bruce, he came up to a studio in New York, it must have been 15 years ago, maybe more. I did an album called "Theme," man, and I asked Jack if he'd play on it, because, you know, Jack wrote "Theme From An Imaginary Western." I think Mountain made it famous, because we put it out. Jack had it on a solo album. So he came up to do my album. I asked Jack, he said yeah, he'd love to.
This club in Poughkeepsie, New York called The Studio, I found out Jack was already there recording live, wanted to know if we'd come and do a show the next night, unannounced, no advertising. So we went and played. My engineer at the time, Paul, managed to record the show on a stereo tape deck.
And I listened back to it and said, "My God, I'm trying to clone Eric Clapton!" And Joe Franco played drums on it. And it was my tribute to Jack Bruce. It was very sad, sad, sad. He had a liver transplant. And he was drinking again. I played a tour with his son, Malcolm, a few years ago. And Malcolm, certain songs, he sounded just like his father. He sang "Theme From An Imaginary Western," you'd swear it was Jack.
We lost a lot of great people in the last year or so - Joe Cocker, Glenn Frey, Johnny Winter, Jack Bruce, a couple other guys. Ben E. King, he lived in the next town from me in Jersey. But I never would have thought to sing "Stand By Me." The girl that sang it with me on the album, she's the daughter of my writing partner, Joe Pizza. And her name is Ariela Pizza. She's 16 years old. I said, "You want to try to sing this? I'll sing the chorus. You sing it with your sweet voice and we'll see what it sounds like." And sure enough, it worked, man. Some people who reviewed the album thought it was Bonnie Bramlett. I said, "No, she's 16 years old [laughs]." I don't know what the hell I was doing at 16, but it didn't sound like that.
PCC:
When you did start playing, who were the original inspirations, musically? Who made you want to pick up a guitar?
WEST:
You know who Jackie Gleason was, right? Well, he used to have a TV show besides "The Honeymooners." There were only 39 episodes of "The Honeymooners," altogether. But on Saturday night, Jackie Gleason had a show called "The American Scene Magazine," where he did all these characters - Ralph Kramden, Joe the Bartender, The Poor Soul - he did all these people. My uncle, my grandmother's brother, was one of the writers on the show.
And so my grandmother said, "Come on, let's go see the Jackie Gleason show." He was doing it in New York City. And we get in there and some guy gets up and makes an announcement - "Due to the summer, Jackie will be replaced by Tommy and Jimmy Dorsey's Stage Show." They had a big band, Tommy and Jimmy Dorsey. And I'm ready to cry. I wanted to see Jackie Gleason. And the guy says, "In tonight's cast, Elvis Presley!" So there I am, watching Elvis, shaking his hips and playing guitar. That's when I knew I wanted to play.
PCC:
It must have been electrifying, early Elvis.
WEST:
You know, in those days, it was live television, you couldn't get up and leave. When we found out Jackie Gleason wasn't going to be there, I was making so much noise, crying, stomping my feet, in the audience, that they wanted to throw me out of there. I was like nine or 10. And you couldn't leave. So imagine that - I was forced to watch Elvis Presley.
PCC:
Then it was a long process from there, to finding your own voice on the guitar?
WEST:
Guitar? My aunt got me a ukulele. I played the f—kin' ukulele for the first few years. And then I got a guitar that was a four-string, like a ukulele. I played a four-string guitar for years, until finally, my Mom sent me to guitar school. And after two lessons, the guy threw me out. I was so used to playing a four-string guitar, when I got the six-string, I pulled the two back strings off the guitar. He says, "You can't do that!" [Laughs] I didn't know what to do with those two extra strings, man. I was playing the ukulele. So I finally forced myself into learning it and all of a sudden, I just fell in love with the guitar for some reason.
PCC:
And then the experience with The Vagrants, was that a learning time?
WEST:
Yeah. We were learning how to walk. My brother was in the group. He was the bass player. He and the rest of the guys in the group were in the same grade in high school. I was three years ahead of them. And do you know who Waddy Wachtel is? He taught me how to play the guitar. We lived in the same building in Forest Hills, Queens, in New York. And I'd hear a Beatles song come on the radio and I lived on one side of the building and then you take the elevator down and go up the other elevator on the other side of the building. And by the time I got there with my guitar, he already knew the Beatles song. And he'd show me the Beatles song. He showed me how to play the guitar. I didn't know shit.
We reconnected over the years. And it's amazing, he is the consummate musician, man. He is the leader of other people's bands, like Jame Taylor, Stevie Nicks. And he also was very close to Warren Zevon. Bobby [Waddy's real name] never had his own group, but he was always part of somebody else's group. And he's such an incredible player, because he can emulate anybody.
PCC:
And then when Mountain started, did you have a sense that was group was going to achieve something special?
WEST:
No, no, no. I just talked Felix into joining the group, playing the bass, because he produced two cuts for The Vagrants, way back. I gave him a con job. I said, "Look, let's form a group, man. We sound so good." The time was right. Blind Faith was starting out and Cream was over. I didn't know anything, man. We were throwing darts, throwing pins at a map, whatever. Maybe we'll get lucky and it'll land on one good town.
Well, one of my friends was in 20, 30 groups. I was only in The Vagrants, Mountain and West, Bruce & Laing. I always felt lucky about that.
PCC:
What's been the most satisfying aspect of the life in music?
WEST:
That people listen to my guitar playing and say something to me. One example, we played B.B. King's, a couple months ago in New York City. And my wife tells me Paul Allen's security team want to know if they can scope out the exits and entrances. You know who Paul Allen is? Bill Gates' partner. That Paul Allen. Paul Allen's a big fan of mine. Paul Allen's got this place in Seattle called The Experience. It's a big museum. And we played there, but he was out of town and couldn't come to the show. So he wanted to come to B.B. King's. On the night, I said, "Look, the place is oversold. We've got standing room four-deep in the back of the bar. Where are they going to sit?" She says he's sitting in the first row, right in front of you."
Sure enough, the lights go down before we come out. I see two bodyguards bring him and a beautiful blonde to this table. So I'm watching him enjoy the show. He had two other bodyguards there, too. When you're worth that kind of money, you have to have a security unit. So I watch him, he's eating. He's having sliders. He was like having a great time. And after the show, right before I finished, all the bodyguards came over and they took him backstage, so I'm figuring he can come back and we'll meet.
Well, I had a meet-and-greet. A lot of people signed up for it and they pay a lot of money for that. And he knew that I had to do that, but he wanted to know if he could come back and meet me before I did that. He didn't have that kind of time, to hang around for two hours. So we ended up meeting and talking for like 40 minutes. First thing I see, when I get into this big dressing room, he's sitting there. I said, "Oh, my God, my hero! I change guitar strings. You change the world." And we talked and I gave him a Leslie West Mississippi Queen model of my guitars, by Dean Guitars. I have a picture of him playing the damn thing. Really cool, man. He is a pretty good guitar player. He's got a collection of guitars. He's got some of Hendrix's guitars in that museum. He's got to have maybe three or four million dollars worth of guitars hanging up in that place.
And I started doing an interview. I said to him, "How'd you come up with the name Microsoft?" He said, "I came up with it. Bill said to me, 'We've got to come up with a name for the company.' I said, 'Let's see. What we're doing is very small. And it's software… How about Microsoft?' Bill says, 'Yeah, let's go with that!'" I said, "I read this somewhere, is it true? Did you talk Bill Gates into quitting Harvard to start Microsoft?" Paul said, "Yeah, his mother wouldn't talk to me for nine months." Can you imagine? Poor Bill Gates, quit Harvard, what was he going to do with his future? [Laughs] Having Paul Allen come to see me, and meeting him, was a thrill. I can't think of a better thrill, over the last 10 years than that, man.
For the latest news on Leslie West's thrilling music, visit www.mountainrockband.com.