LILITH FAIR 2010: A CAUSE FOR CELEBRATION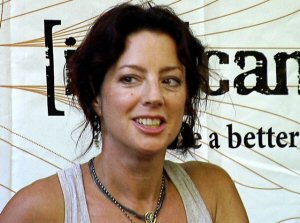 Sarah McLachlan at Shoreline Amphitheatre, Mountain View, Ca., July 5, 2010
Text and Photos By Paul Freeman
The celebration of women in music continues.
Sarah McLachlan has breathed new life into her musical love child. And the Bay Area welcomed the reborn Lilith Fair with open arms.
A good-sized, enthusiastic crowd attended the Shoreline Amphitheatre date and what they experienced was thoroughly satisfying on all levels.
A warm, communal vibe swept through the venue. Smart concertgoers arrived early, so they could catch the impressive talent presented on small stages. (The lineup changes from city to city).
First up was Terra Naomi, winner of Lilith's local talent search contest for California. She's a polished, engaging performer with an amazing voice who should soon be headlining main stages.
A Fine Frenzy (alt singer-songwriter-pianist Alison Sudol) has already established herself as one of today's most compelling artists.
Led by Blake Hazard and John Dragonetti, The Submarines offered an irresistible brand of harmony-laden, indie sunshine pop.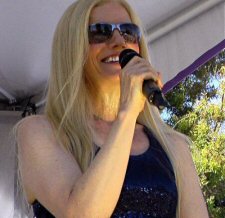 Ann Atomic
Ann Atomic delivered a powerful set, as did Kitten.
Singer-songwriter Susan Justice and band presented strong vocals, alluring melodies and well crafted lyrics.
Many of these artists returned later to the ABC Music Lounge for acoustic mini-sets in an even more intimate setting.
Main stage excitement began with rising star Colbie Caillat. She delighted the audience with such hits as "Bubbly" and "Lucky" (with her guitarist standing in for Jason Mraz on the Grammy-winning duet). Daughter of Ken Caillat, who co-produced Fleetwood Mac's biggest albums, she brought the throng to its feet with an exhilarating version of "Go Your Own Way."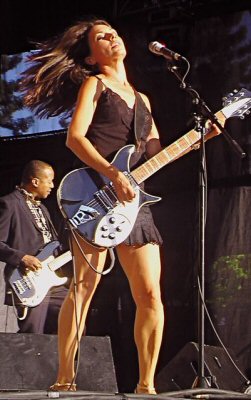 Susanna Hoffs of The Bangles
Next up, classic pop-rock with The Bangles. If you haven't seen them live, you might be surprised by how terrifically entertaining they are. Original band members Susanna Hoffs and sisters Debbi and Vicki Peterson dove joyfully into tight instrumentation and spot-on, three-part harmonies. They opened with their electrifying interpretation of Simon & Garfunkel's "A Hazy Shade of Winter." That seemed like it would be difficult to top. But the band kept building, from one catchy song to another, including "Manic Monday" and the ballad "Eternal Flame." A number from their upcoming album was just as winning as their chart sensations. The Bangles pleasing sound harkens back to the fun and energy of the British Invasion era. "Walk Like An Egyptian," exceeding the recorded version, gave way to a blistering rendition of The Who's "Magic Bus. "At 40 minutes, their set left listeners craving more.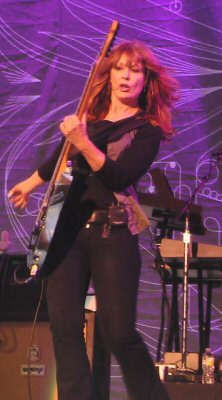 Nancy Wilson of Heart
Miranda Lambert followed with a collection of country tunes (such as her first number one, "The House That Built Me") and soulful rock, including a fiery performance of The Faces' "Stay With Me." Her exuberant vocalizing and down-home personality earned cheers from fans.
The Wilson sisters, Ann and Nancy, fired up the audience with such potent numbers as "Crazy On You" and "Barracuda." Ann's unbridled vocals and Nancy's sizzling guitar work turned the heat up in the Mountain View evening. They previewed the title track from their soon-to-be-released "Red Velvet Car" album.
"Angel"-voiced Sarah McLachlan was the final shining performer on the brilliant bill. Her performance of such favorites as "Possession" brimmed with emotion. She also introduced several fine numbers from her new "Laws of Illusion" album. To close this memorable day, she welcomed the rest of the cast back to the stage for a stirring "Because the Night."
Many of the performers joined in a press conference. McLachlan pointed out that, in the late 90s, Lilith was originally created in an atmosphere where promoters were reluctant to book more than one female-fronted act per show and radio programmers dictated that only one female artist could be played within the same hour.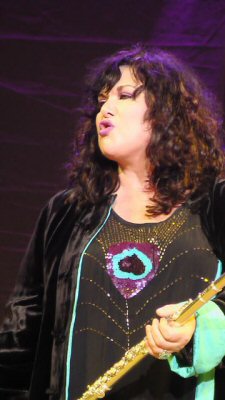 Ann Wilson of Heart
McLachlan said, "I'd like to think that the success of Lilith, in the three years that it ran, changed attitudes and proved that women are a powerful force in the music industry and, obviously, a lot of people enjoyed the music that we were all making. People came out in droves.
"There's still a lot of work that needs to be done, but for me, the festival isn't so much about that as about creating a sense of community, for us as musicians, as artists and as women. Rarely do we get the opportunity to spend time with other female artists, hear their stories and understand what they're going through. So, for me, this sense of community that was created last time, was really powerful. And I think that went out into the audience, as well. And we all got to feel that we were involved in something bigger than ourselves."
Nancy Wilson thanked McLachlan for giving birth to Lilith. "It's a really important thing in the greater scheme of cultural imprint. Even though Lilith Fair caught a lot of flack, along the way, it's like one step forward, three steps back, the step forward is there, in the culture."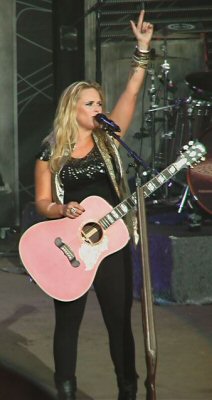 Miranda Lambert
Miranda Lambert was thrilled to be part of the event. "It's out of my comfort zone, but it's cool, because there are so many different women that have something great to offer and I'm going to try to stand back and watch and learn as much as I can."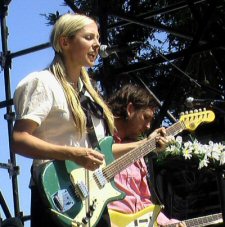 The Submarines
The Submarines' Blake Hazard had just played a Lilith date at the same venue where her band had played an indie rock festival. "My favorite part of that other festival was in the girls room, when all the girls in the band were coming in and peeing. So when we were asked to play Lilith, I was like, oh my God, I'm not going to have to hang out in the girls room. It's so cool!"
Terra Naomi and Susan Justice reveled in the Lilith experience. "The audience is so gracious and amazing. It was a pleasure to play," Justice said.
Naomi added, "I'm super-excited to be here, everyone on this panel has inspired me, personally. As an artist, you can feel somewhat isolated and sometimes, you're even encouraged to be, to separate yourself and differentiate yourself. And I love the idea of women, coming together, making music together."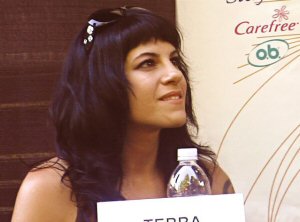 Terra Naomi at Lilith Press Conference
Lilith Fair also raises funds for worthwhile causes. The 2010 edition spotlights the i4c campaign (which stands for I foresee a better tomorrow). It's aim is to encourage a responsible economy that's concerned with people and planet, as well as profit.
At Shoreline, McLachlan presented a local organization, The Bay Area Women's And Children's Center, with a generous check, a portion of ticket sales.
McLachlan said, "For me, the idea of giving back to the community is that you, as individuals who come to the show, are also giving back to your community by coming and being a part of it. It's an awareness thing. It's recognizing that we all have a part to play in making the world a better place."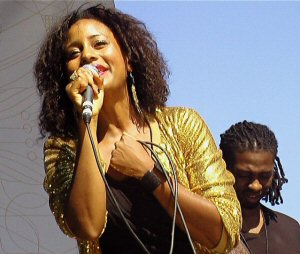 Susan Justice
Lilith Fair has definitely made the world a better place and is striving to continue to do so. This year, tours and festivals are battling a tough economic climate. But those passing up a chance to attend Lilith are denying themselves one of the summer's greatest pleasures.